If you're looking for easy toddler activities then we've got you covered with this list of 50 EASY activities for toddlers. If you've got a 1,2,3 or 4 year old looking for activity ideas then bookmark this list!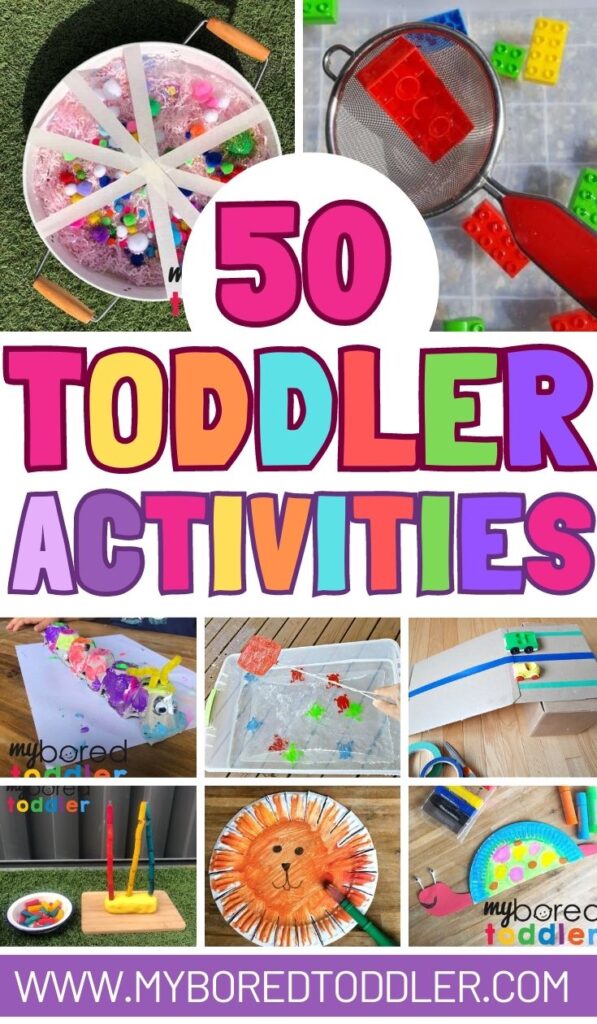 Some of the questions I hear all the time in my toddler Facebook group are:
What are some easy activities to do with my toddler?

What activities can my 2 year old do?

Who has some easy activities to entertain a 1 year old?

My 3 year old is looking for easy craft ideas - what do you suggest?
If these questions sound like something you would be asking then you will love this list of 50 activities for toddlers that you can do at home.
No fancy materials required - these activities use basic craft supplies and toddler items you probably already have at home.
50 Easy Toddler Activity Ideas
A fun paper plate craft - I always keep a stack of paper plates in my craft trolley as they can be used for so many toddler activities.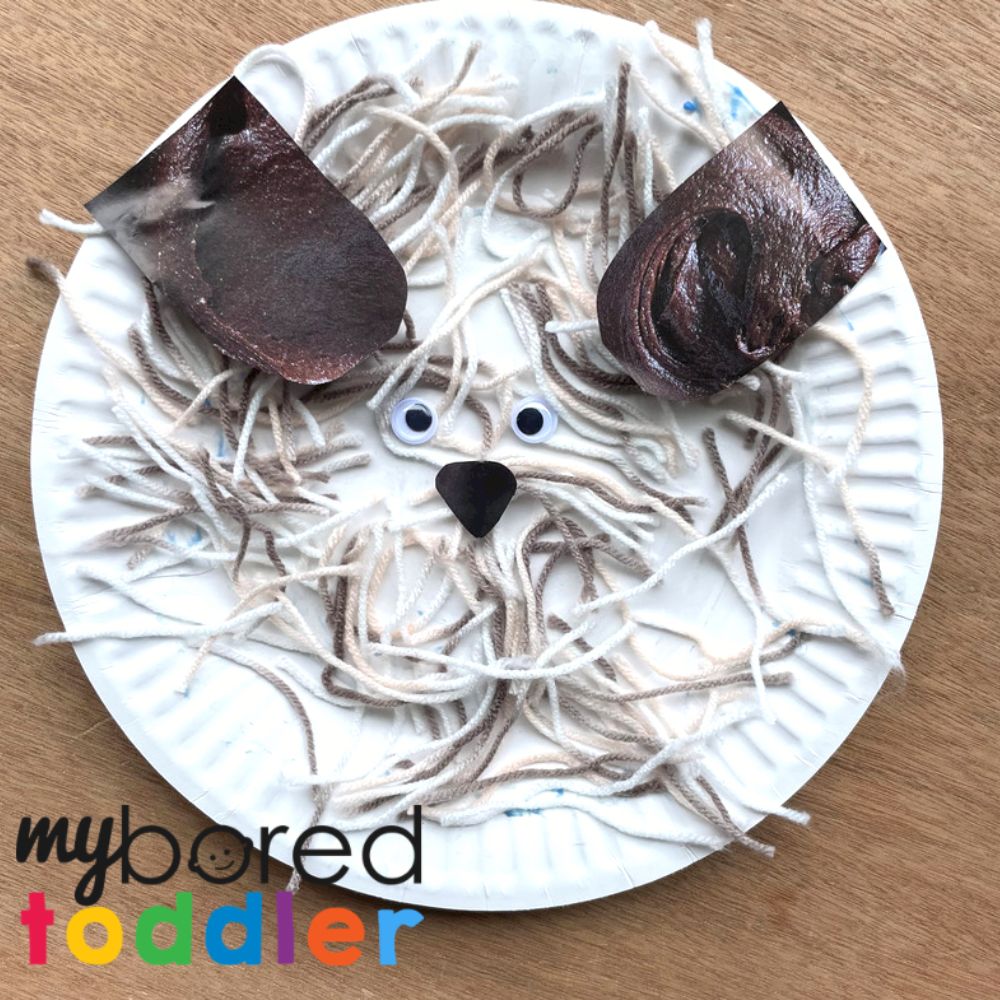 This is a fun toddler activity idea that children LOVE! A little bit of setup is required but it's such a fun summer activity for toddlers.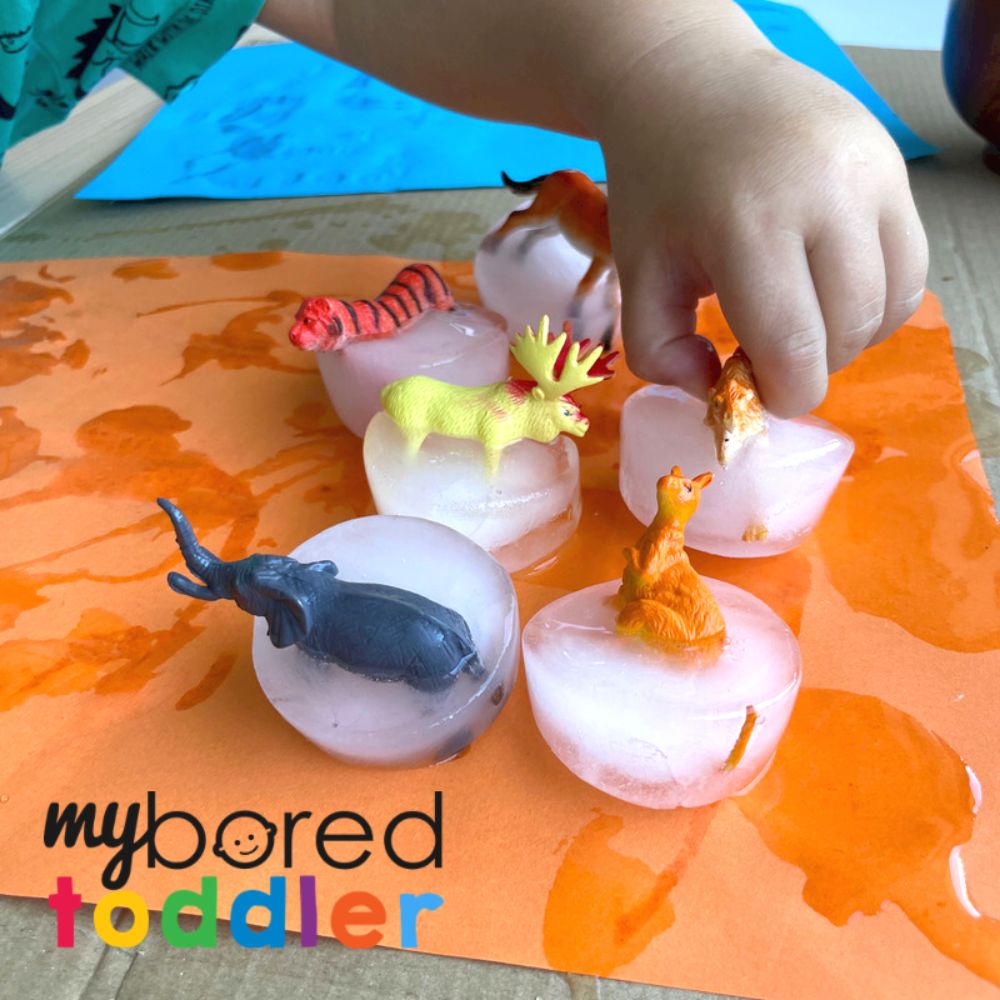 This crazy hair cut craft is such a great toddler fine motor activity idea.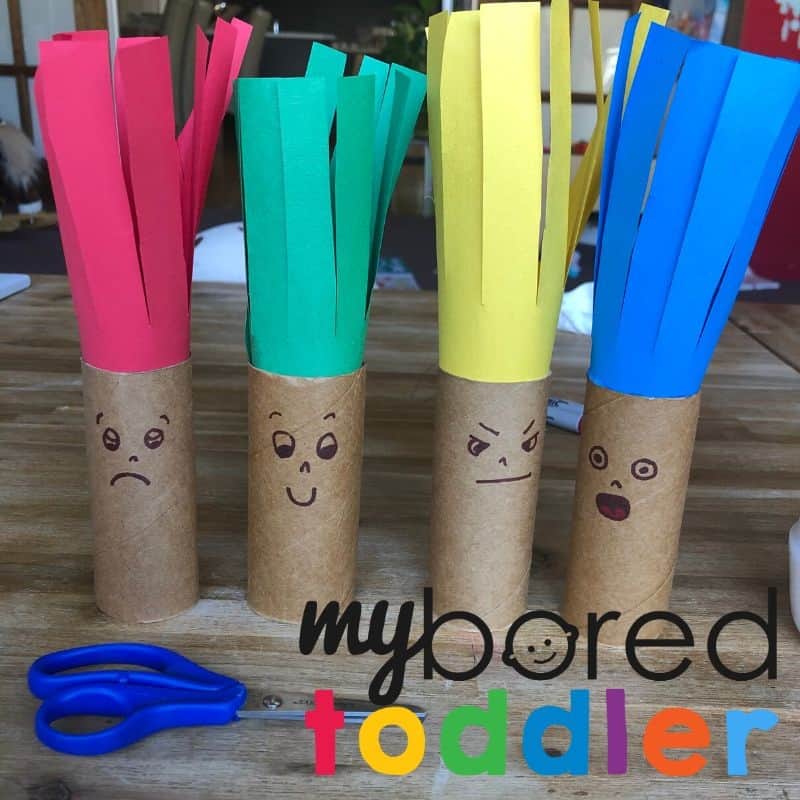 Sometimes the best toddler activities are the easiest ones! This is a great toddler painting activity idea and so easy to set up.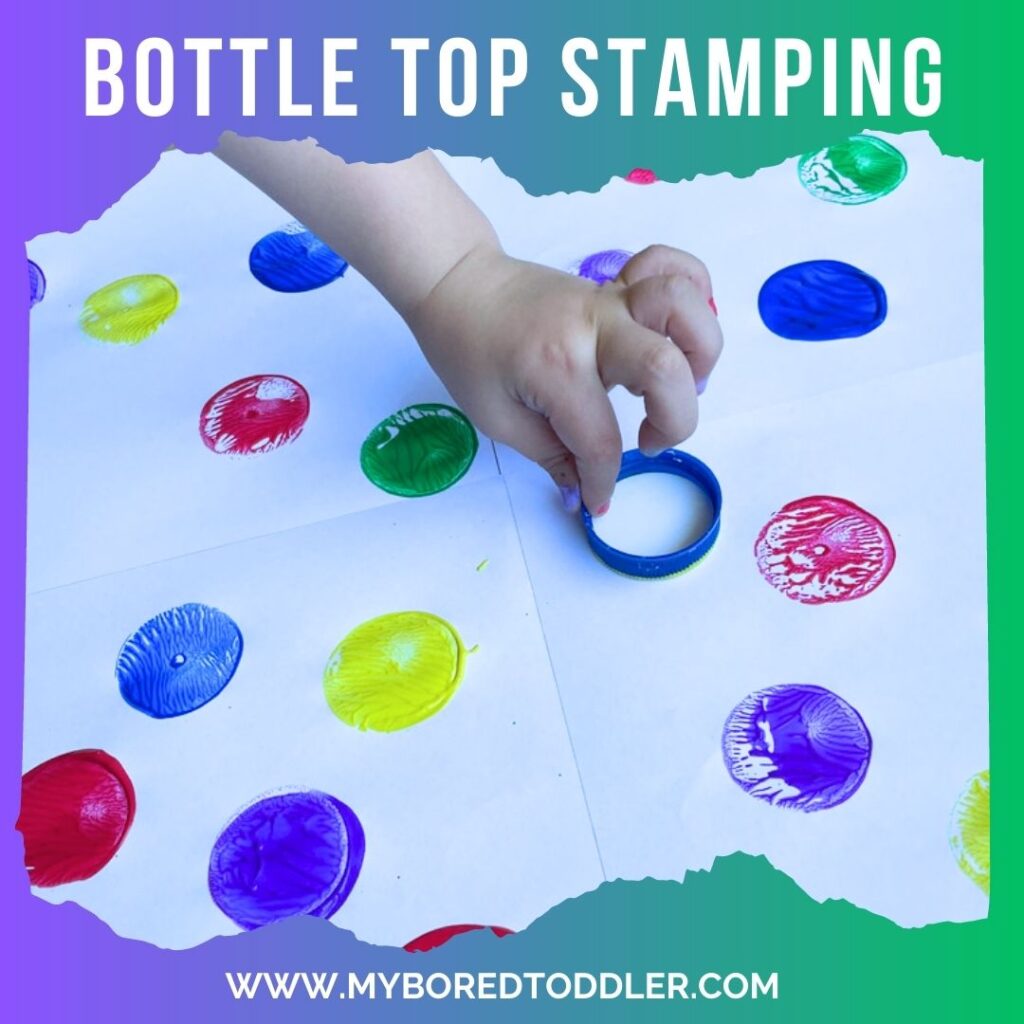 I know you have some blocks at home but if you're running out of activities to do with your toddler then try some of these creative block and building ideas.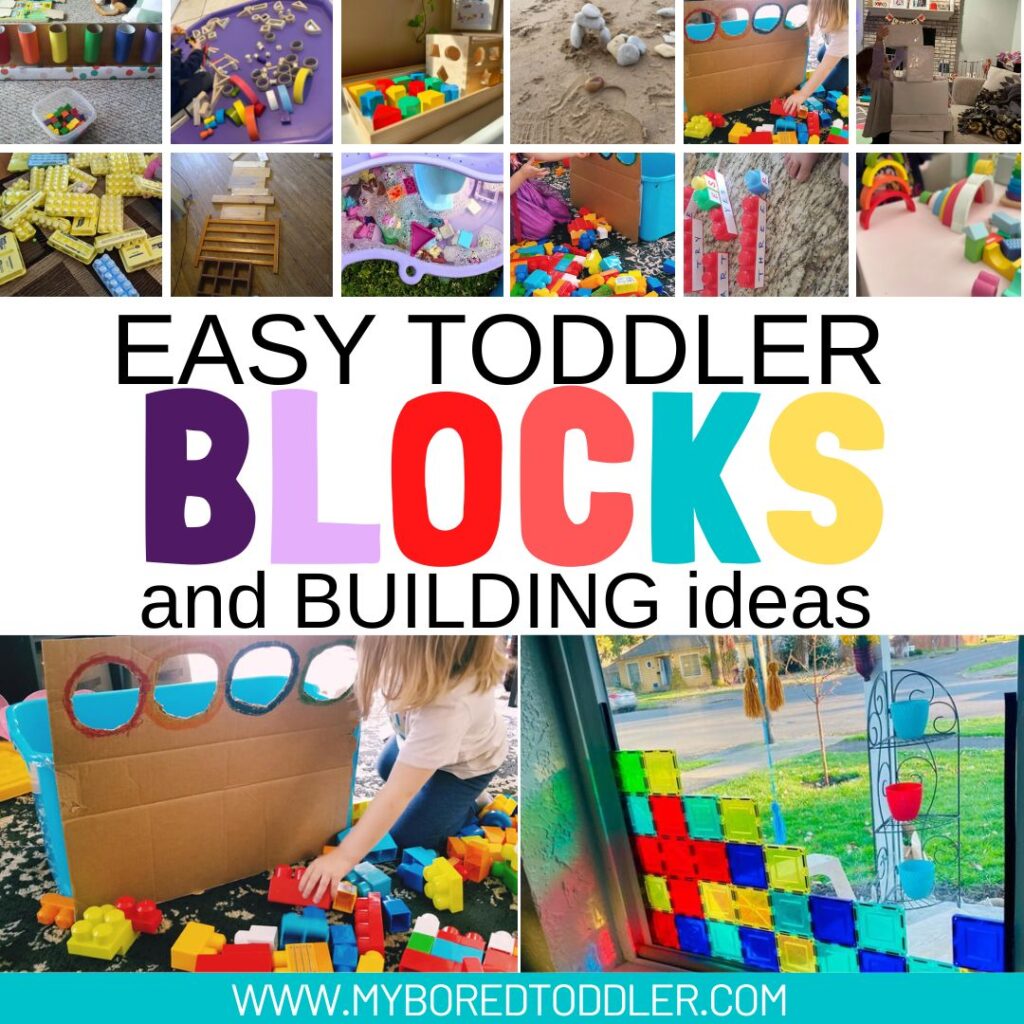 If you've never tried this painting activity you have to give it go. See how easy salt painting is HERE.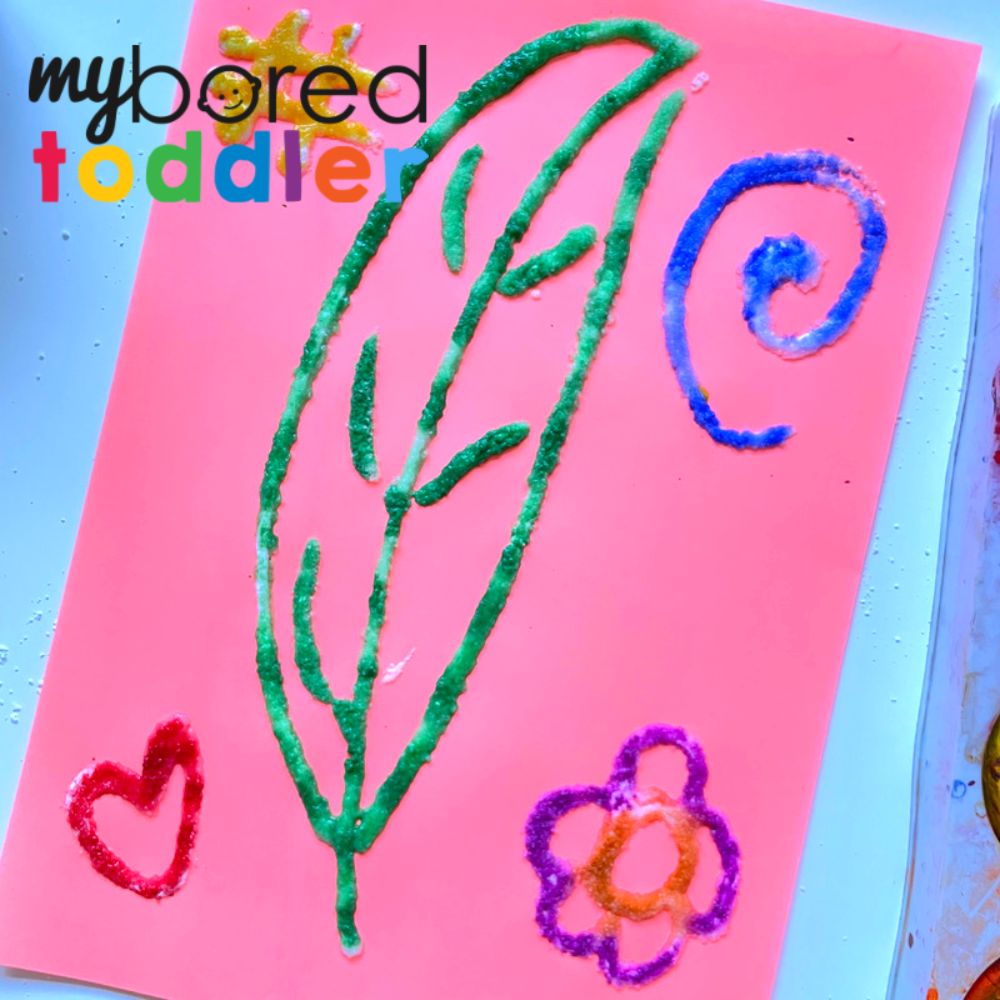 Bugs in Mud - Taste Safe Toddler Sensory Bin
Add some messy play to your toddler activities with this taste safe bugs in mud sensory bin. I guarantee this will be a popular activity idea!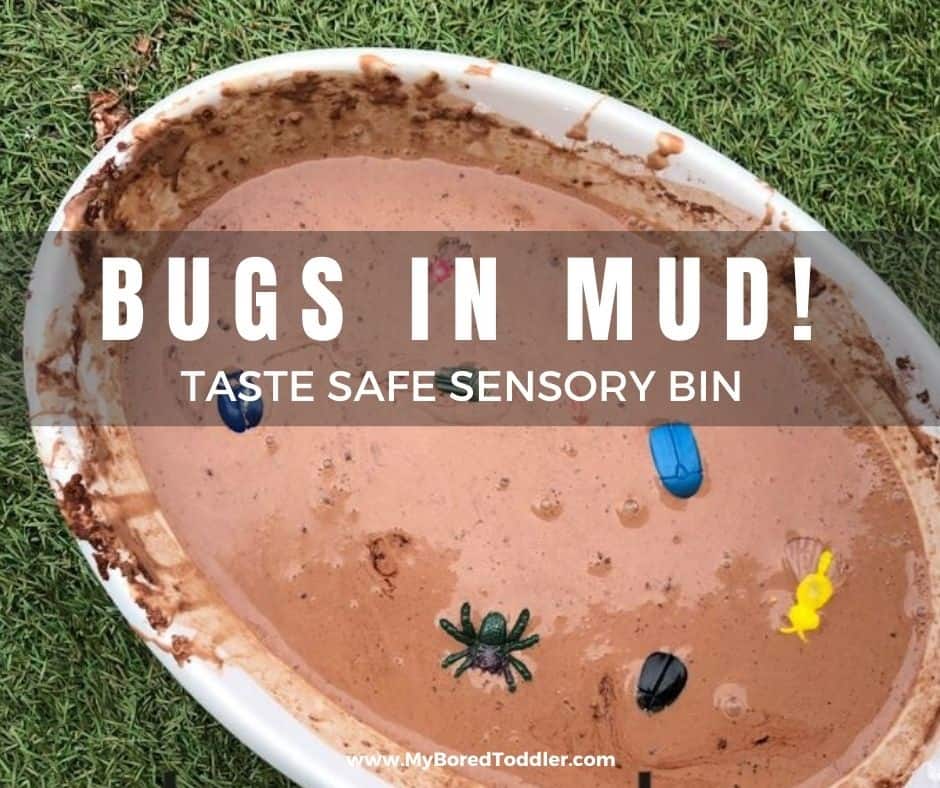 This water play activity is one of the easiest toddler water play activities to set up. Fill up a tub of water, add some blocks and let your toddler scoop them up! So simple.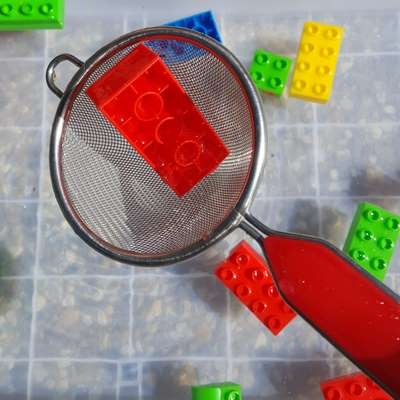 This paper plate craft is so easy to make - perfect as a younger toddler activity idea as a 1 or 2 year old could easily enjoy joining in this activity.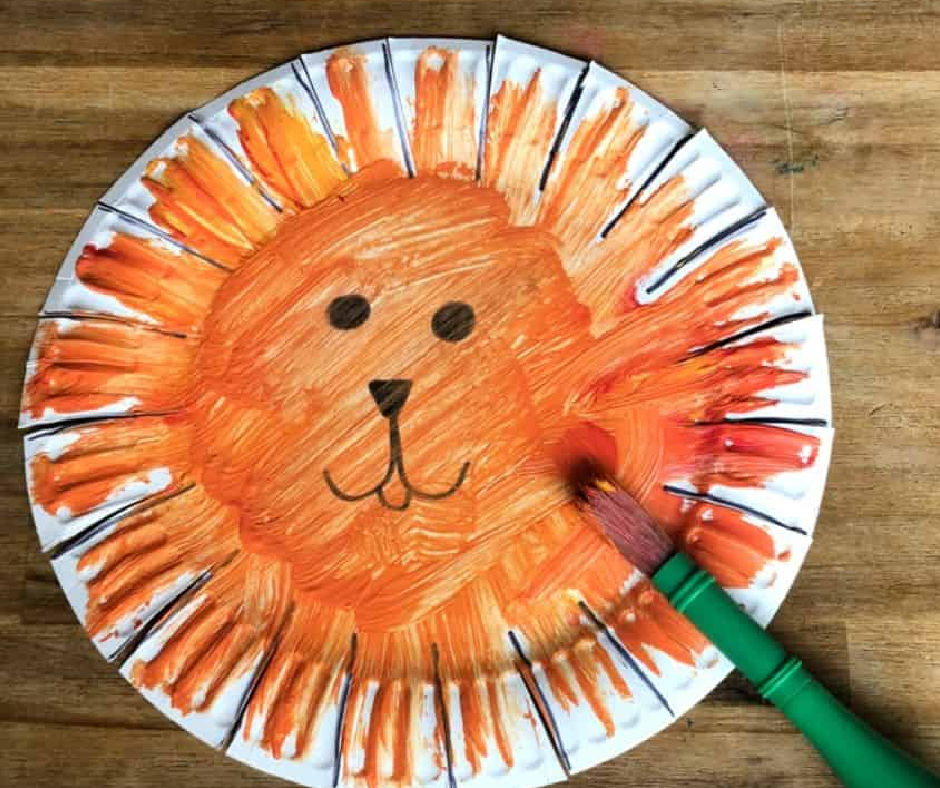 As a teacher this was always a popular activity for toddlers - it's great that we up-cycle an old egg carton and the children love making this after reading The Very Hungry Caterpillar.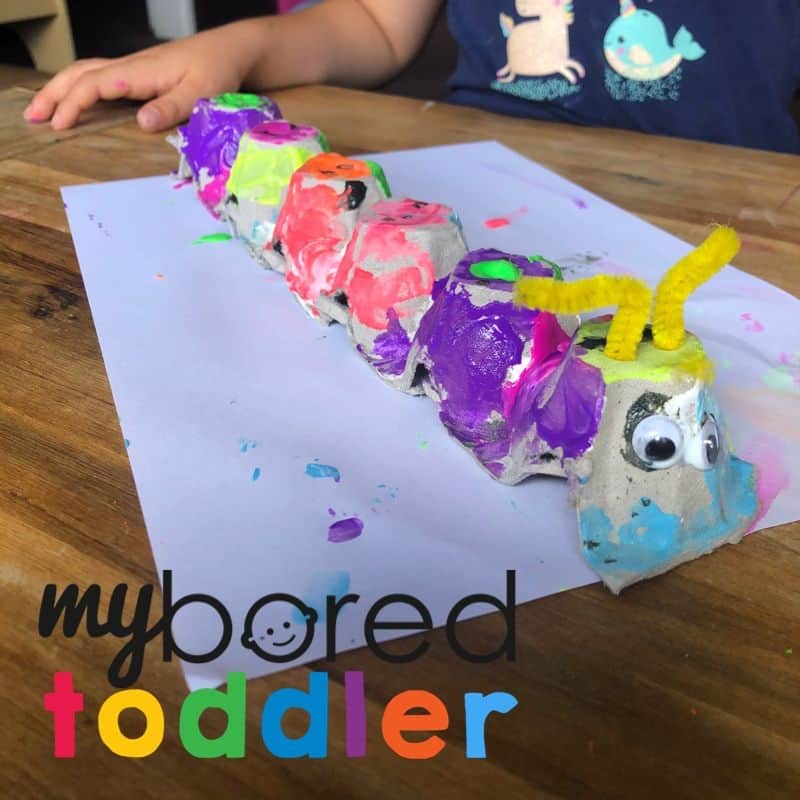 Do you remember doing this when you were younger? Coin rubbing is such a fun and easy to set up toddler activity.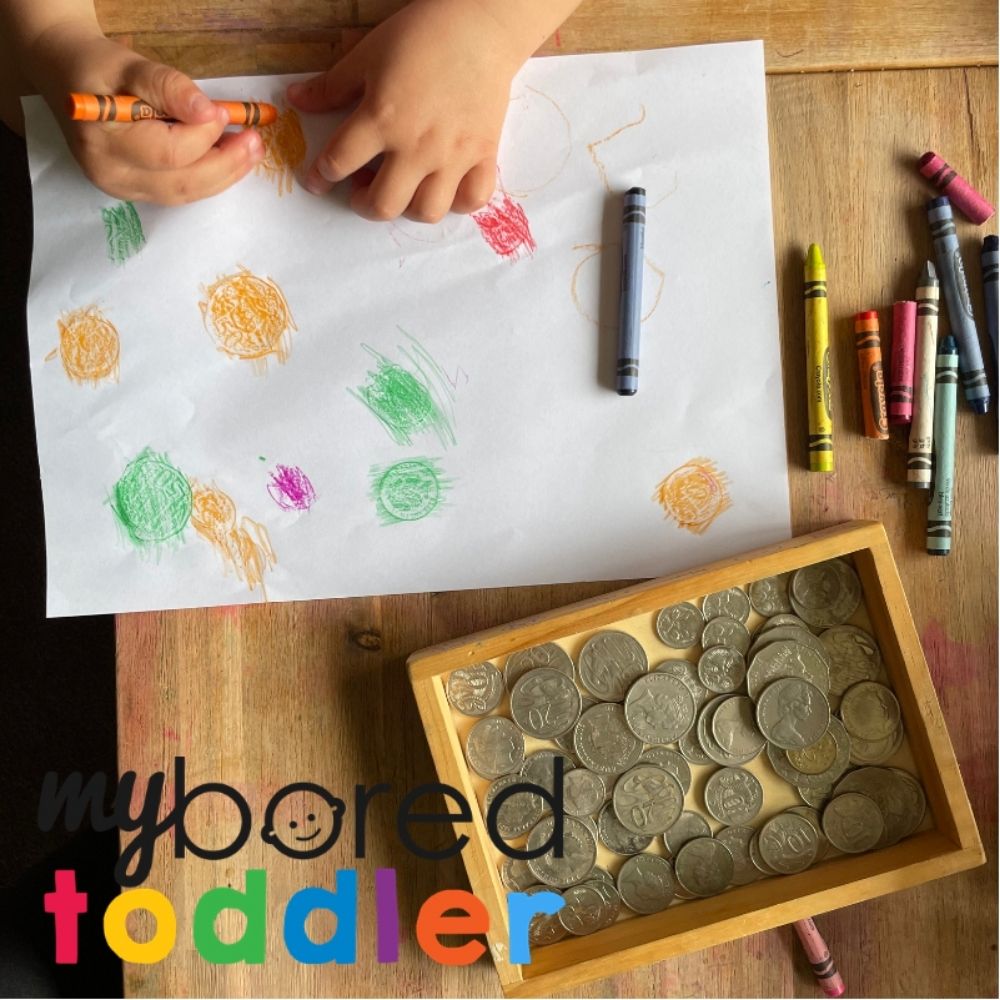 There are more ways to paint than just using a brush! This squeegee painting activity is an activity that toddlers of all age have fun with.
Another easy toddler water play activity idea. Add some flowers to a tub of water and let your toddler scoop them out. You can use real or artificial flowers for an easy toddler activity idea.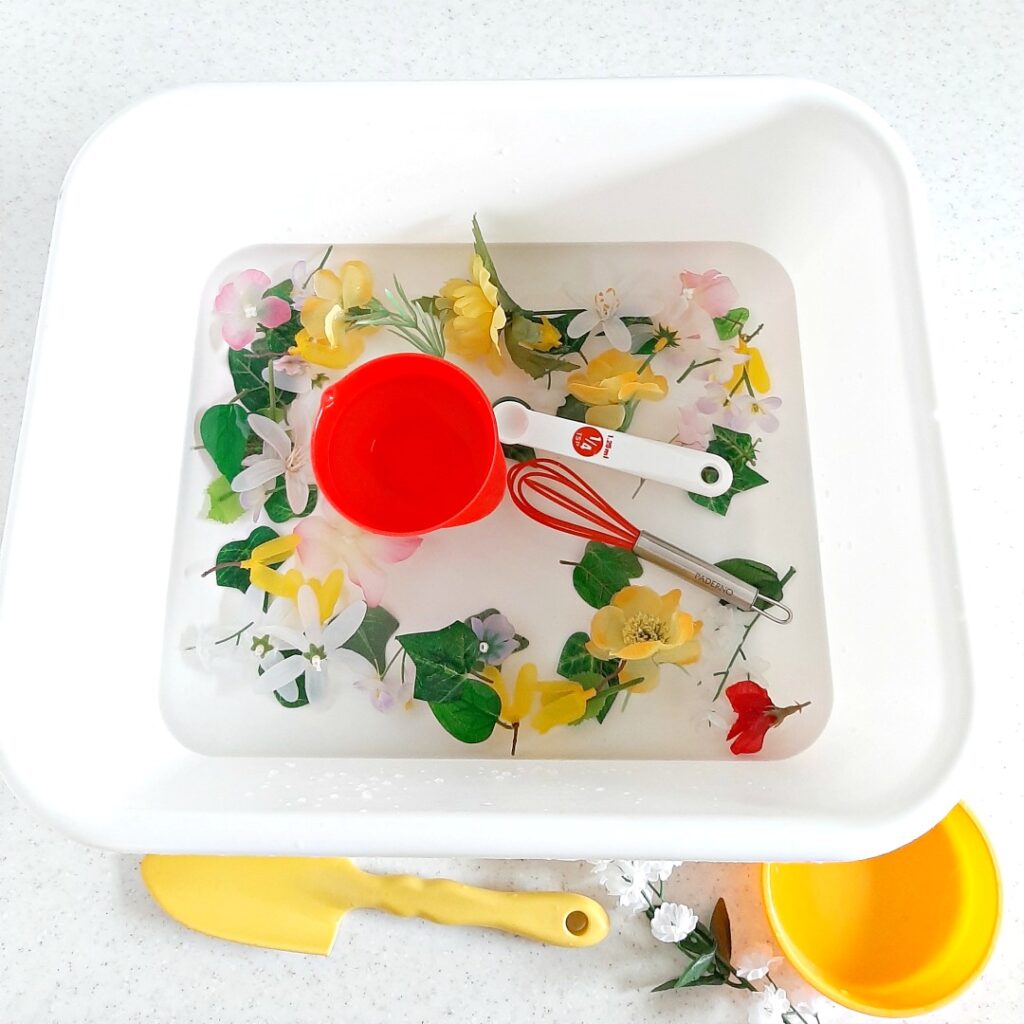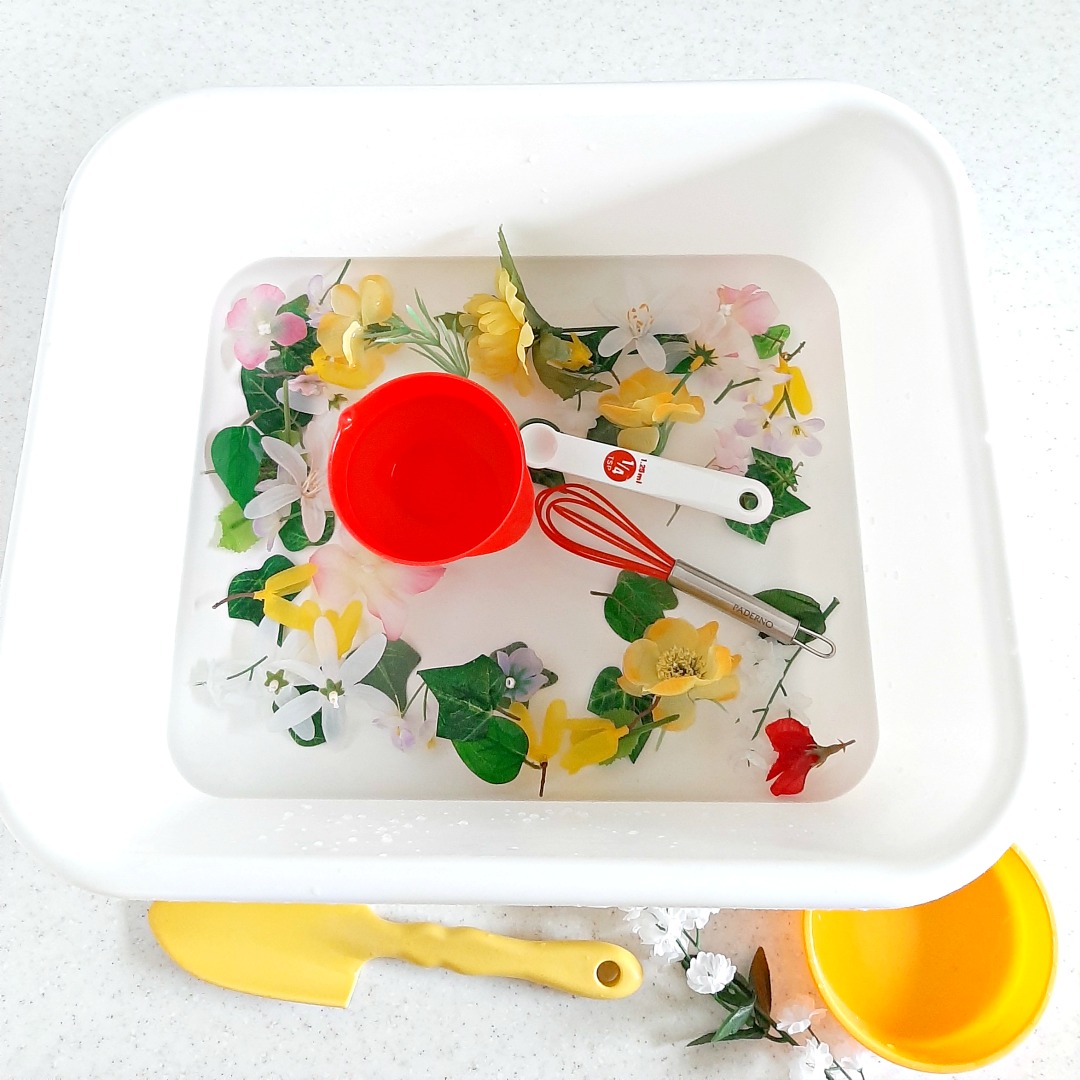 You don't need to over complicate a scavenger hunt, especially for toddlers. Give them a color and then hunt around your house finding whatever items you have that are the same color. Easy!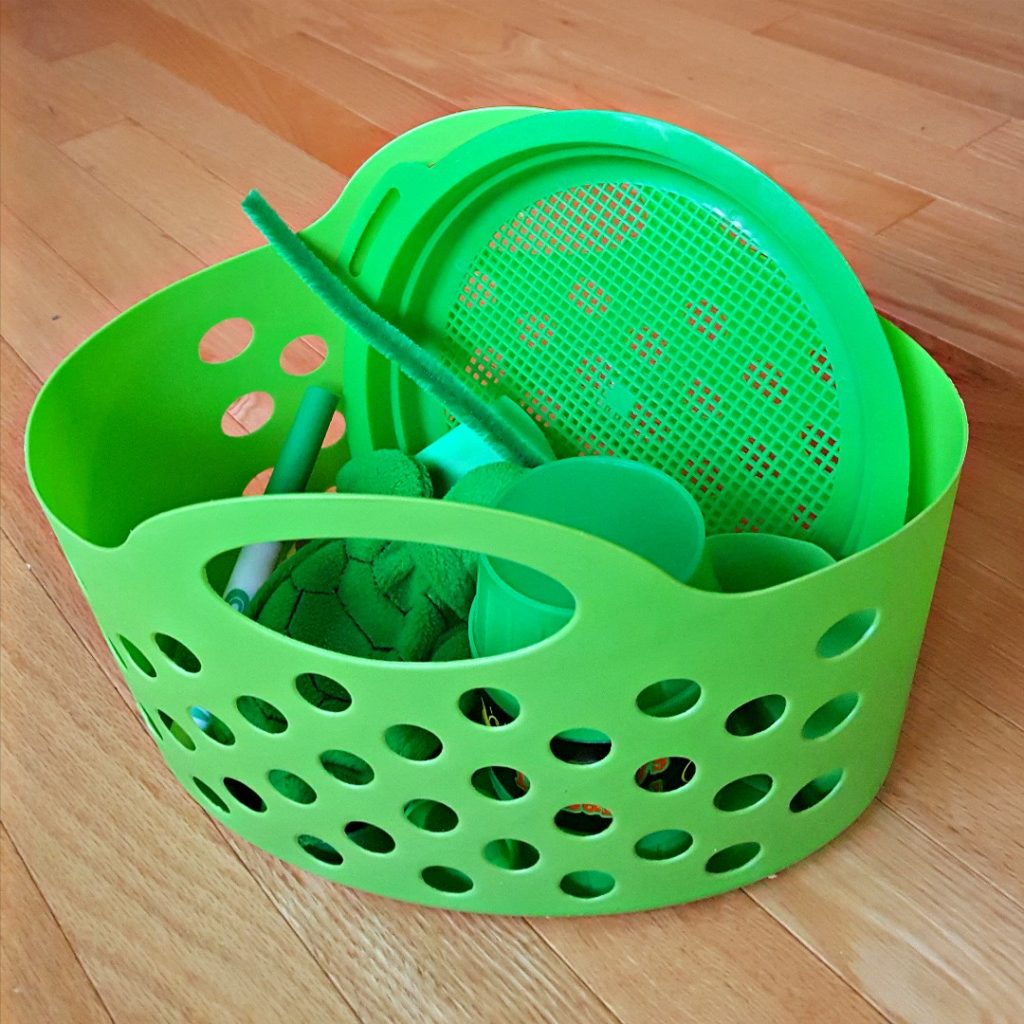 Pom Pom Whisk Fine Motor Toddler Activity
I always love toddler activities that require minimal setup - for this one you need a kitchen whisk and some pom poms.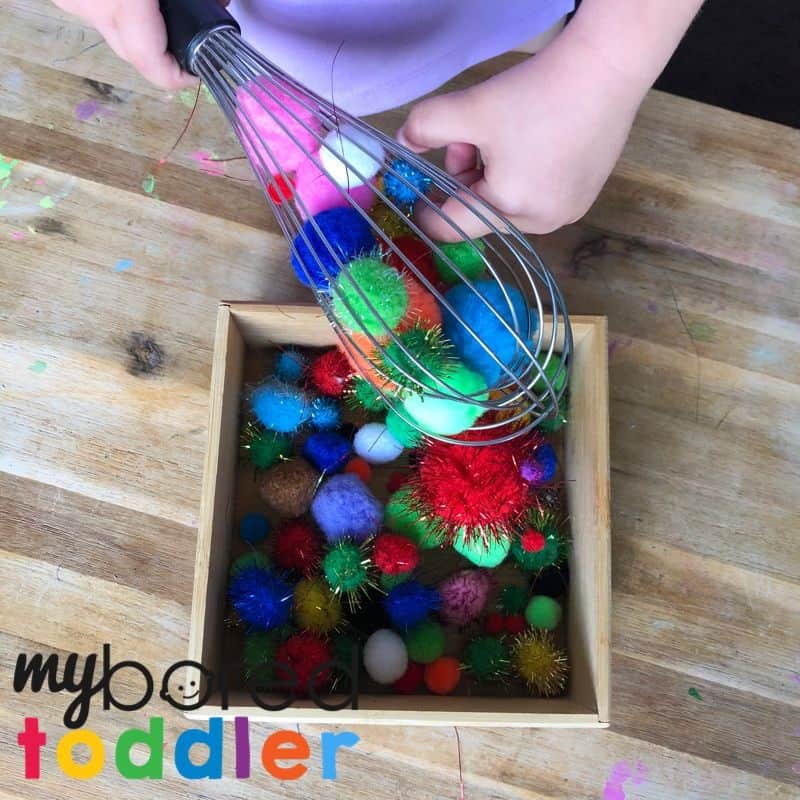 This is another super easy activity for toddlers - washing their toys. Fill up a bucket with soapy water, give them a clean cloth and let them wash them. We've done this with toy cars, dolls, ponies, dinosaurs etc. Whatever plastic toys you have. So much fun!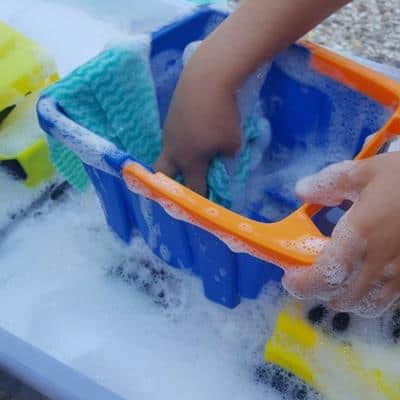 This fizzing sensory bin for toddlers is easy to set up and a great way to keep your toddler entertained. See how to set up your fizzing toddler sensory bin HERE.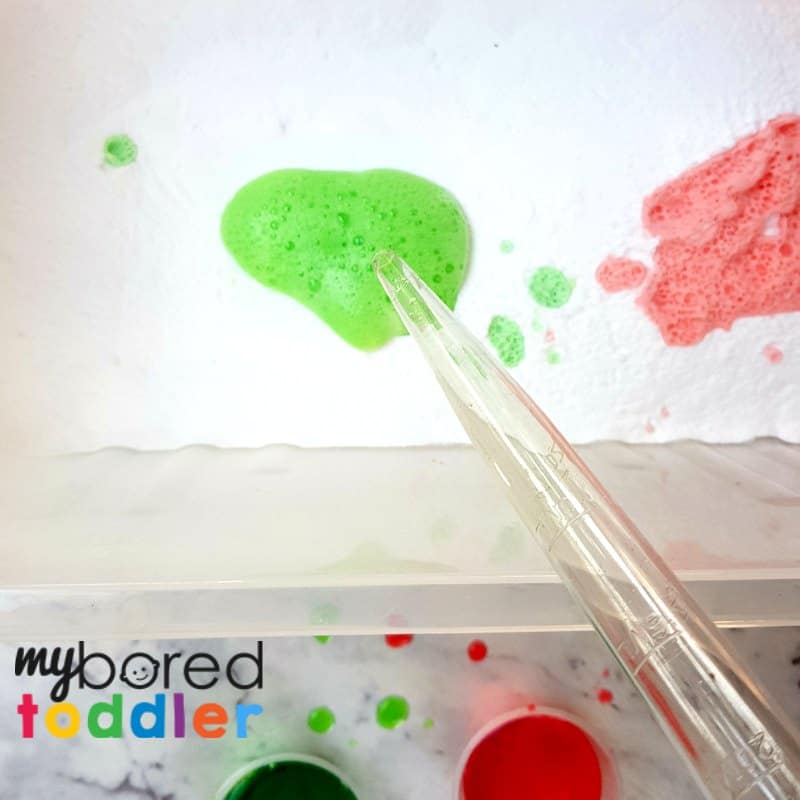 Another fun toddler craft activity is a paper plate snail. This is another one of those toddler activities that's great for a play group or play date too.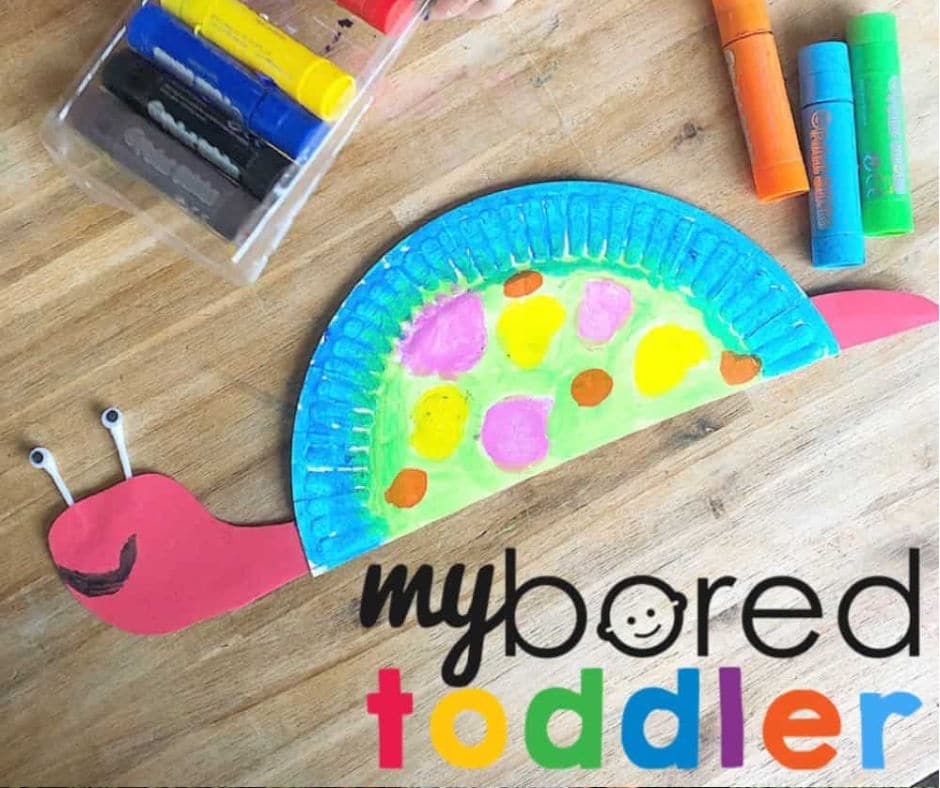 Shredded Paper Dinosaur Sensory Bin
You don't need to make a sensory bin too complicated - this one uses shredded paper as the base and then add some sticks and items from nature and some toy dinosaurs.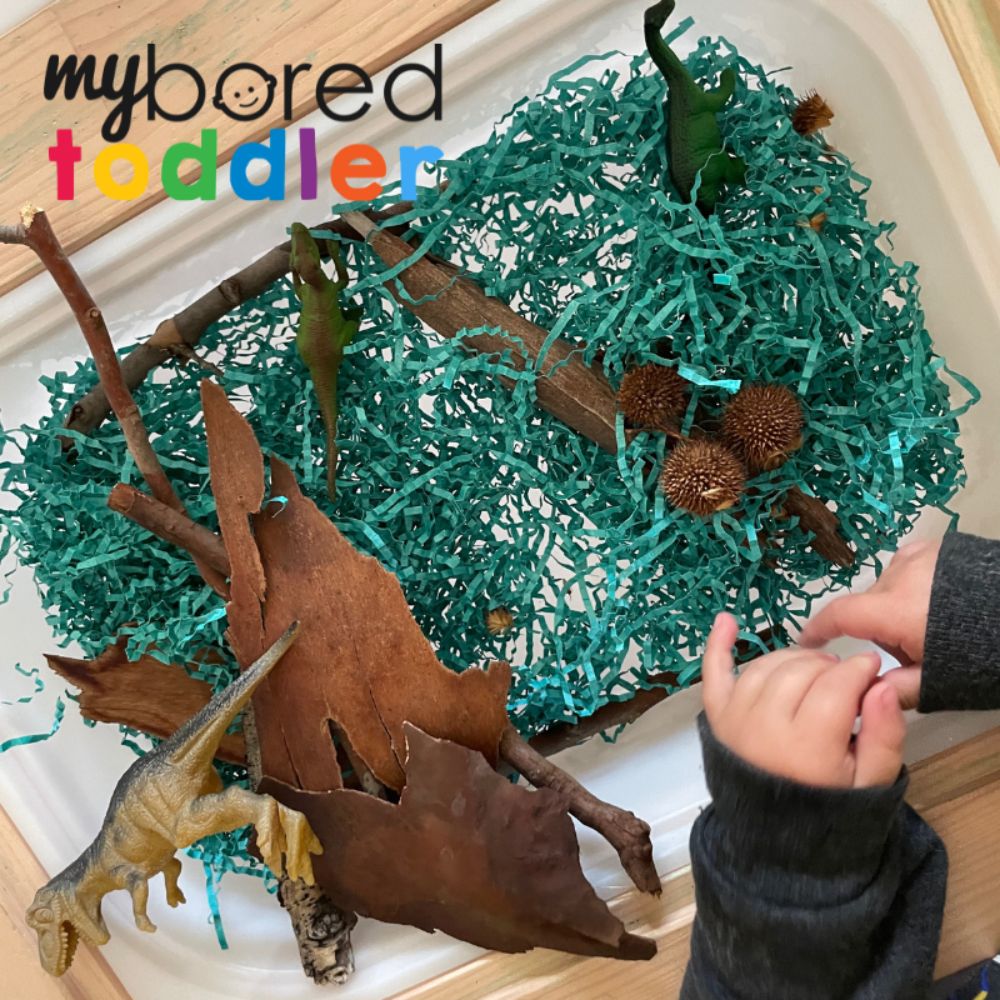 Apple stamping is a really popular Fall toddler activity but it can easily be done year round.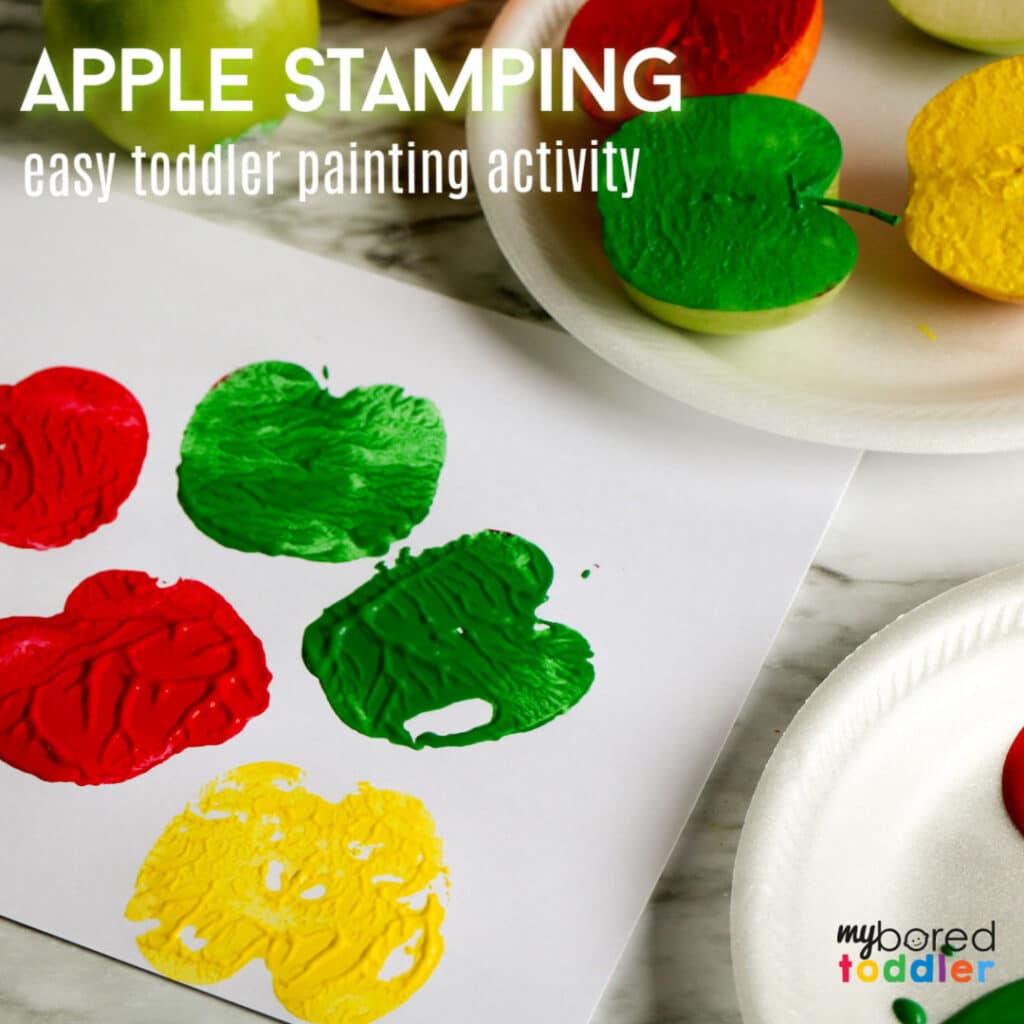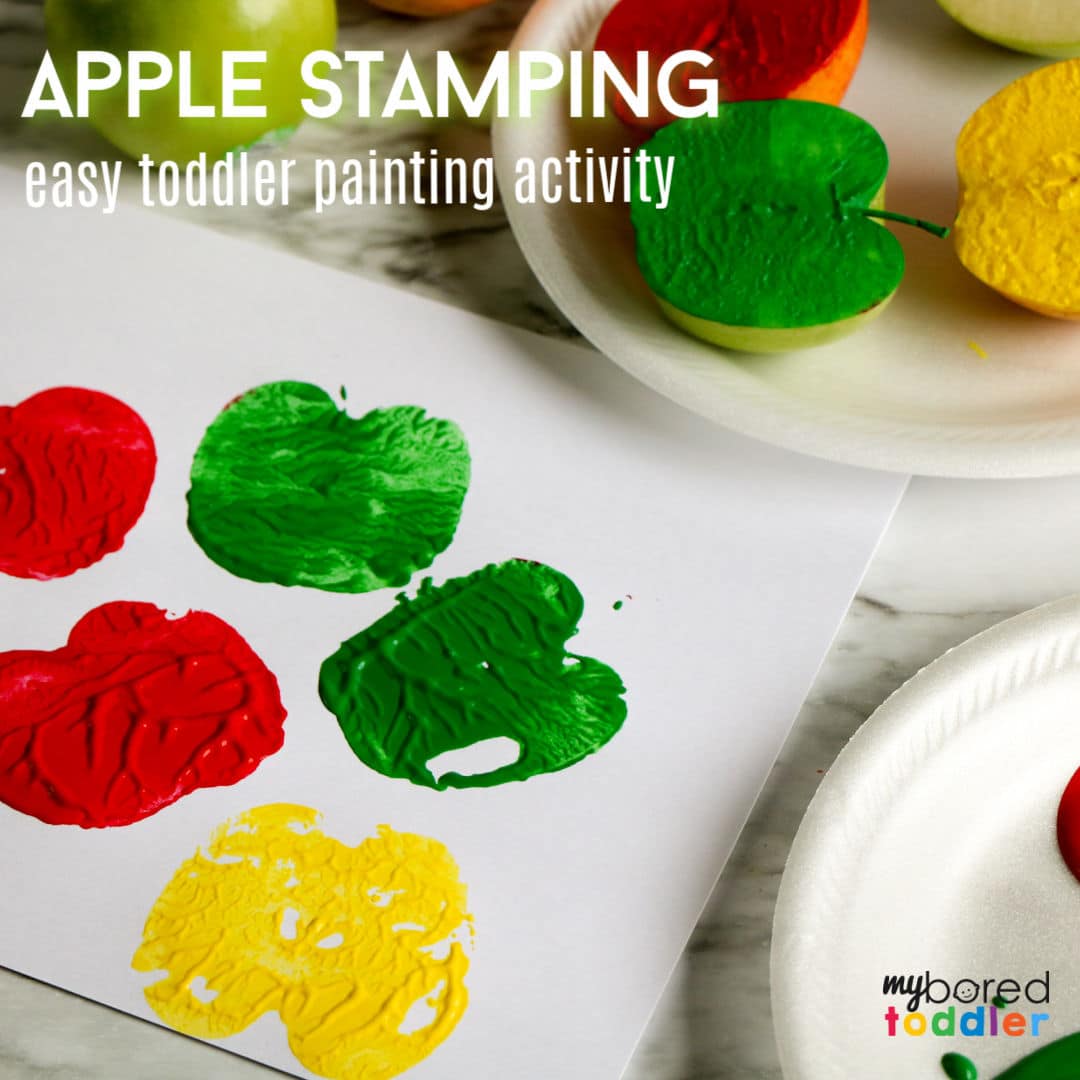 Color Changing Water Play for Toddlers
This activity looks harder than it really is - all you need is water, food coloring and some toys. See how we set up this fun color changing water play toddler activity HERE.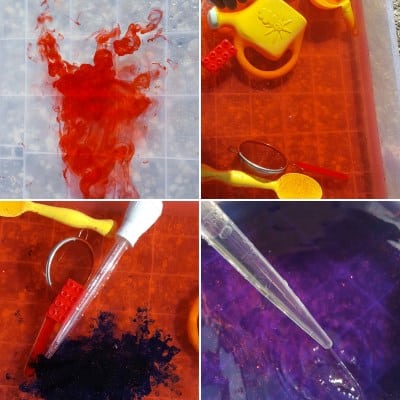 Take a look outside and see what flowers or herbs would make a fun pattern to paint with - another fun painting activity for toddlers.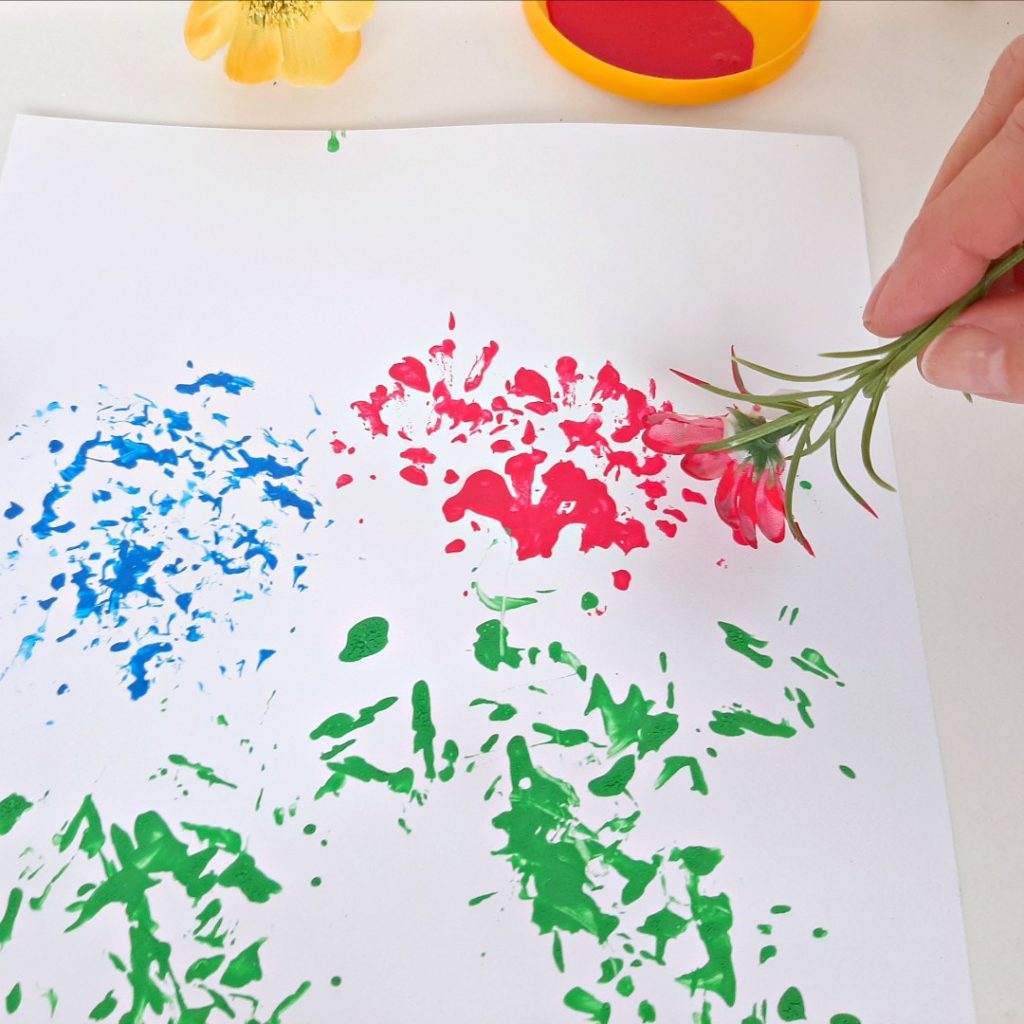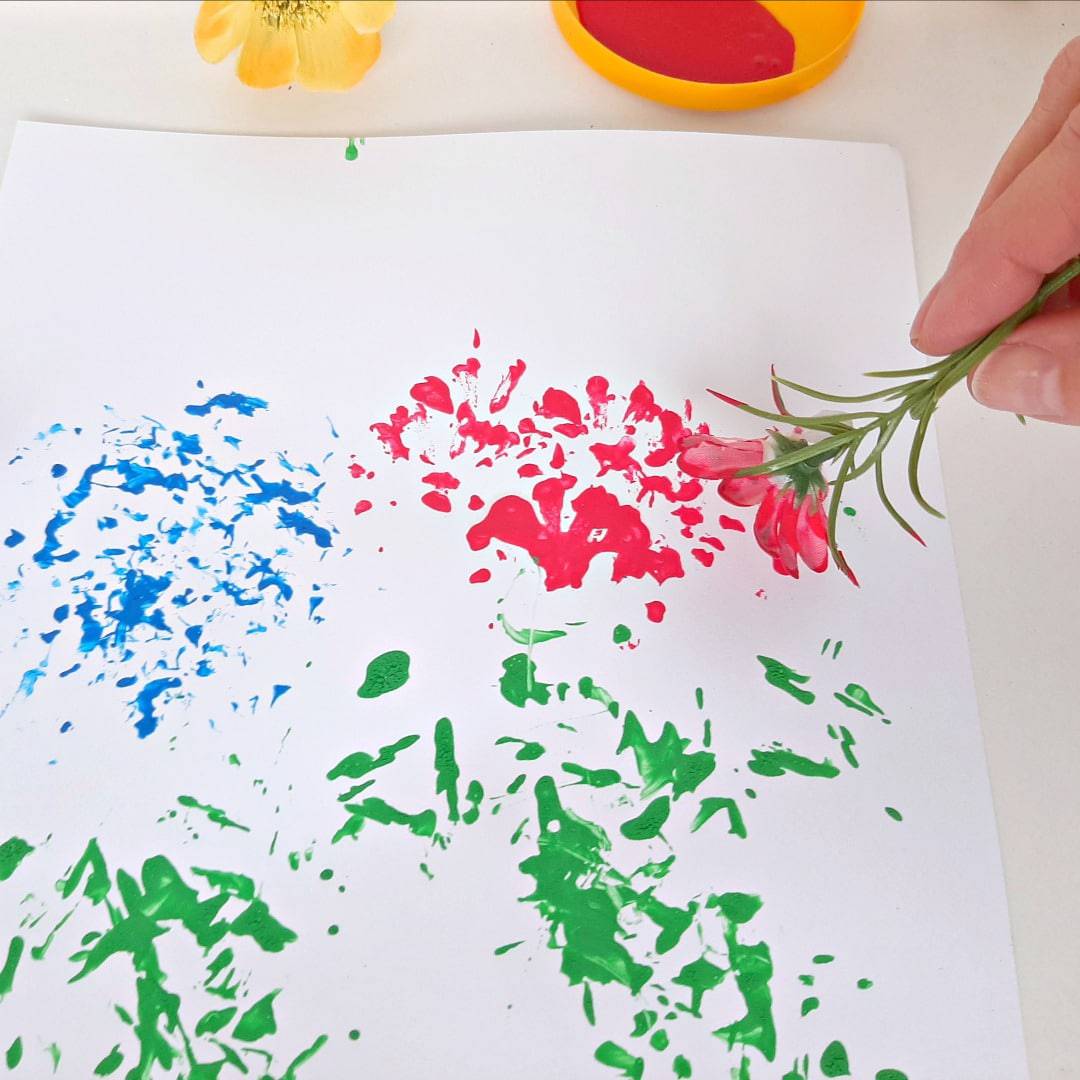 Super simple activity for the car or truck obsesses toddler! Get some tape and make 'roads' for your cars. Easy and fun!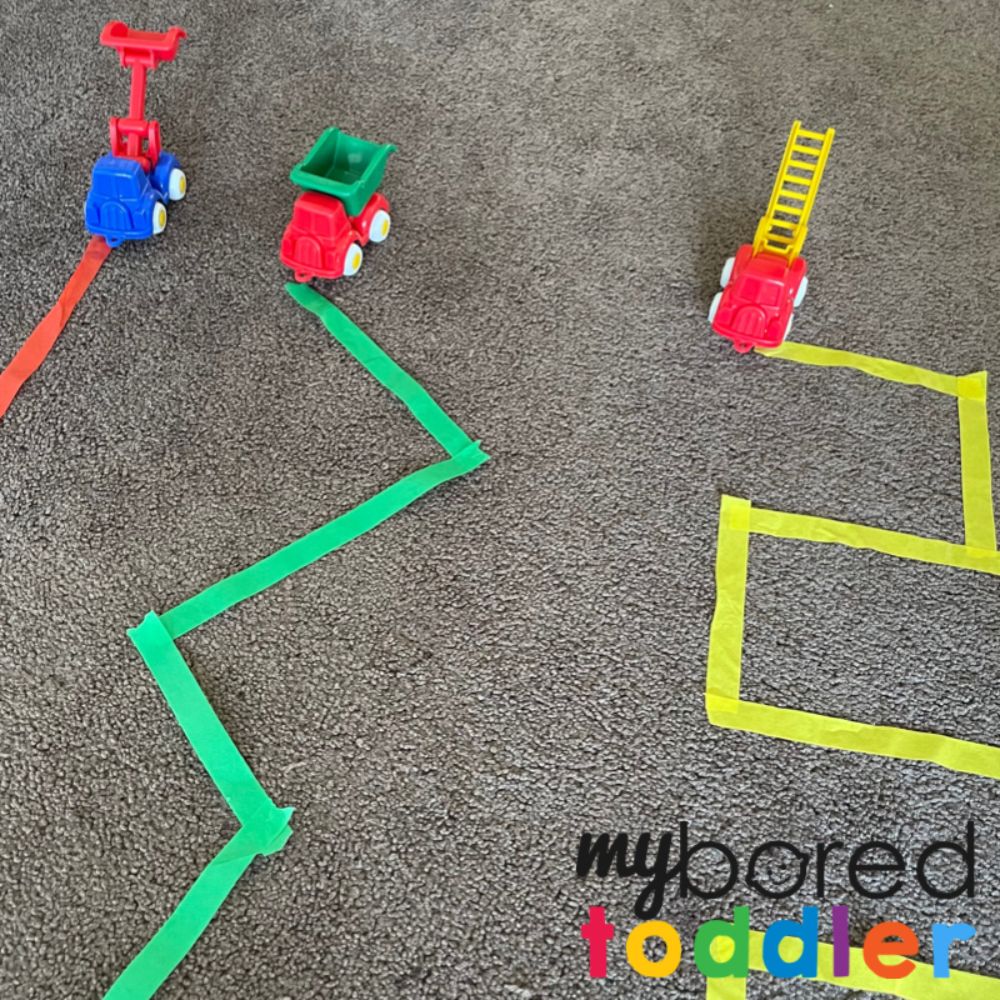 Nothing fancy need for this toddler activity either! Get some cardboard tubes and see what items you can build and stack with them. Simple!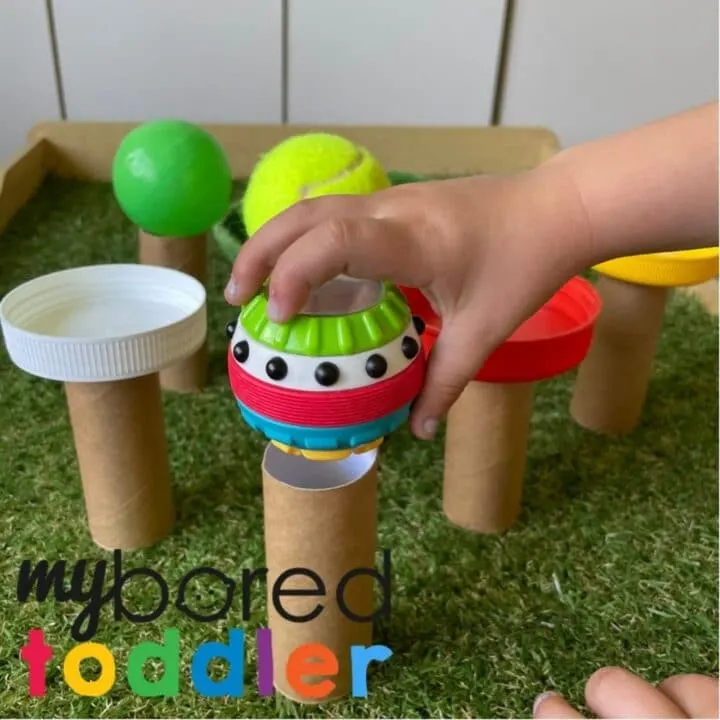 This is SO. MUCH. FUN! Get out the toy cars and trucks, some large paper sheets and paint with them!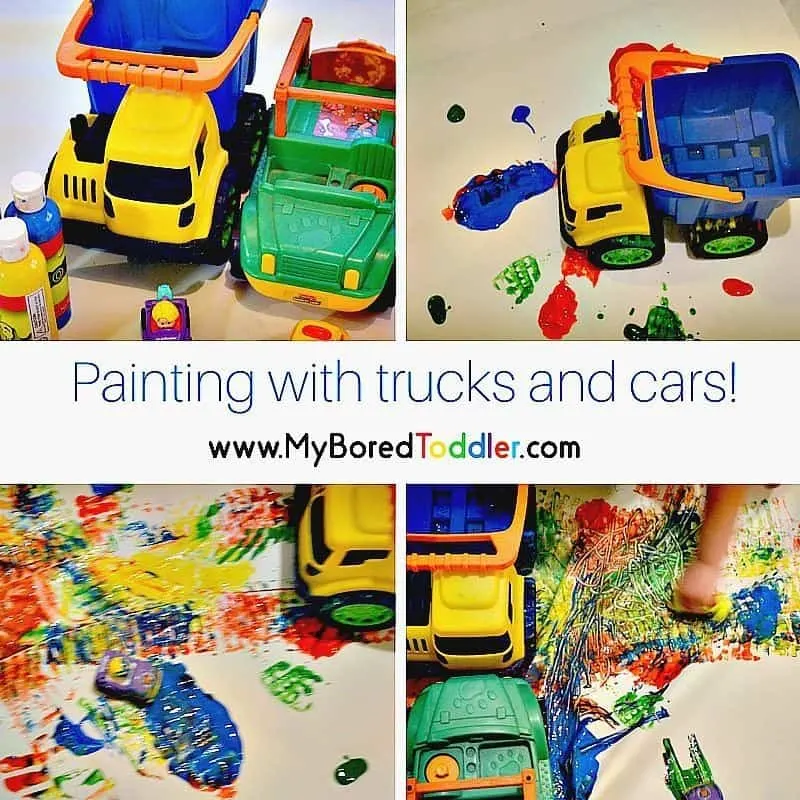 Another fun toddler fine motor activity idea - see how to setup your pom pom rescue activity HERE.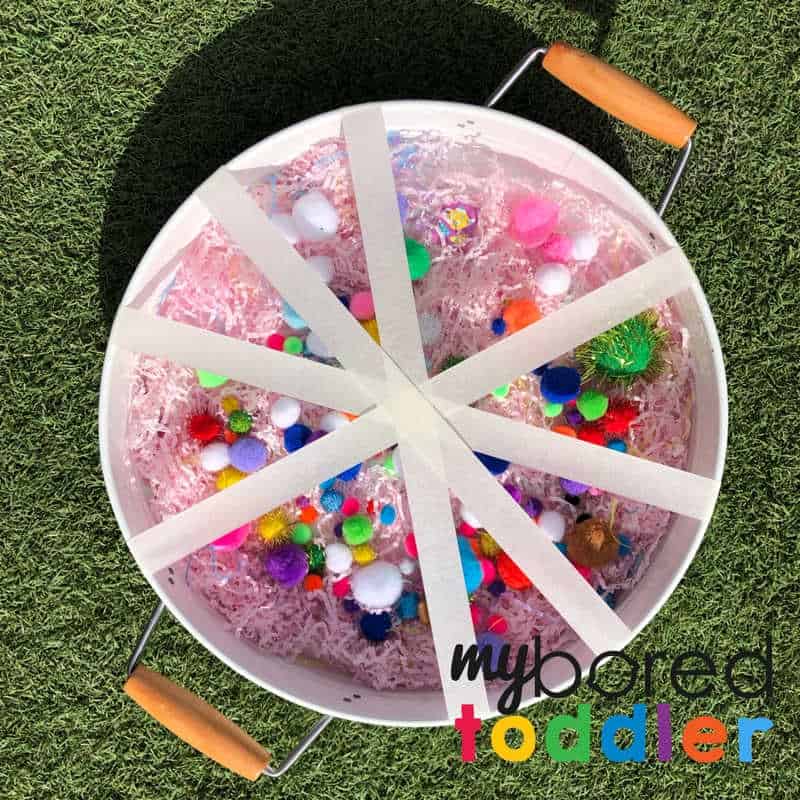 Humpty Dumpty Band Aid Activity
Can you help put Humpty together again?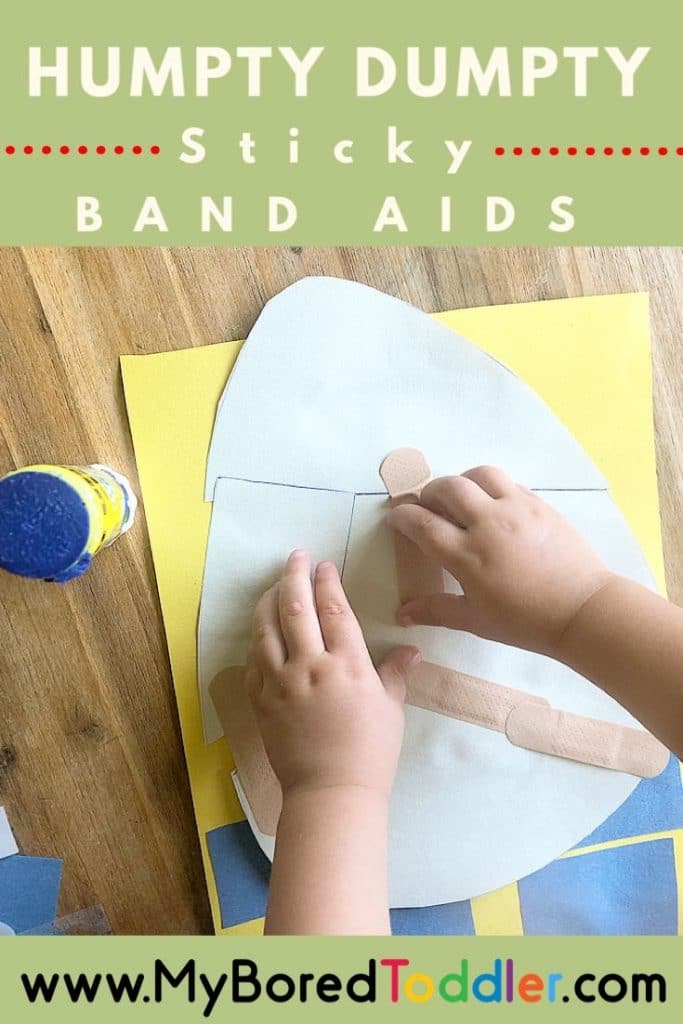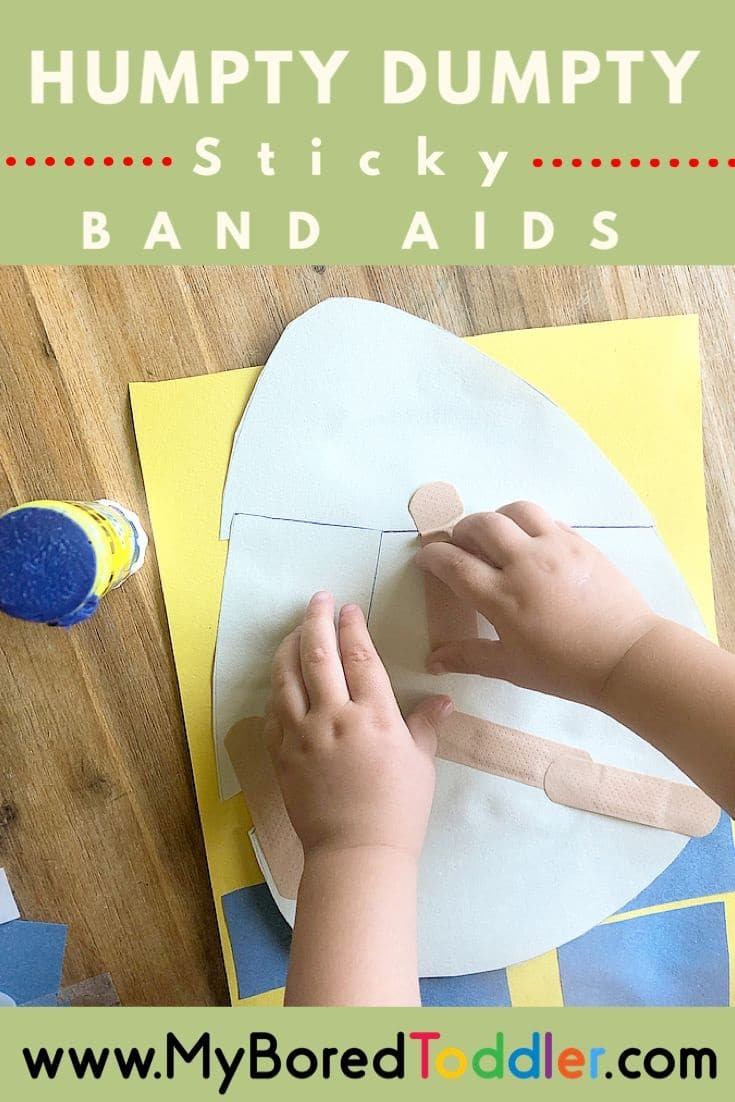 Trace around a toy or make a shape and then use painters tape to create an outline. Fill it with blocks for a fun 'puzzle'.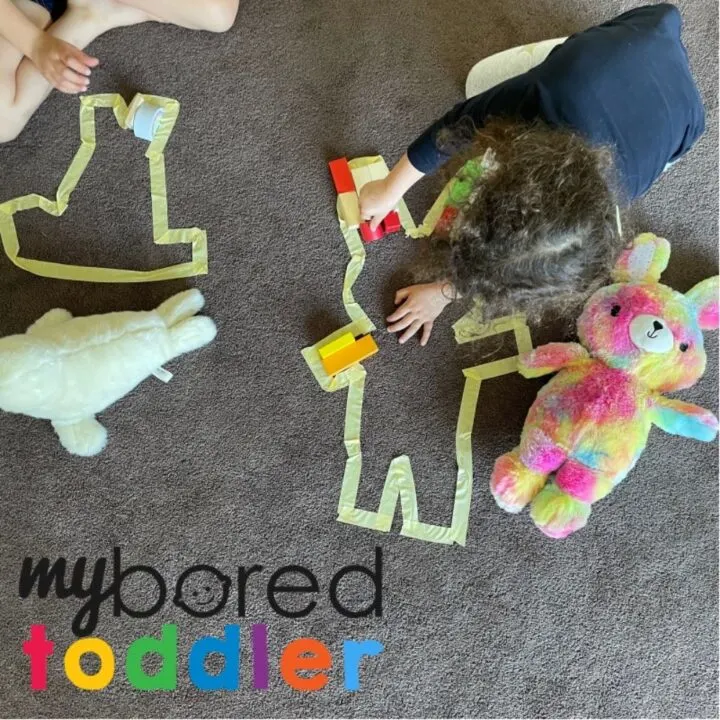 Make this fun giraffe craft using cheerios.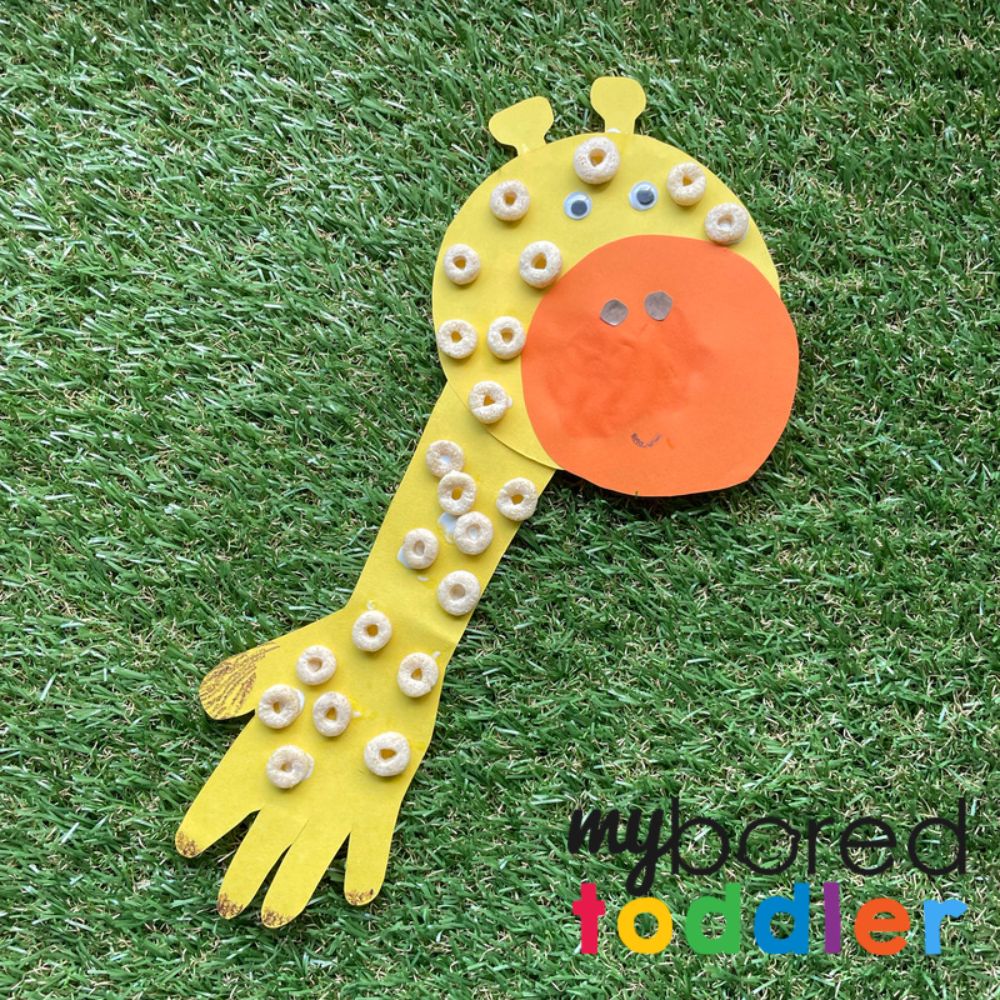 Another fun toddler sensory bin idea, a toddler activity that is always popular.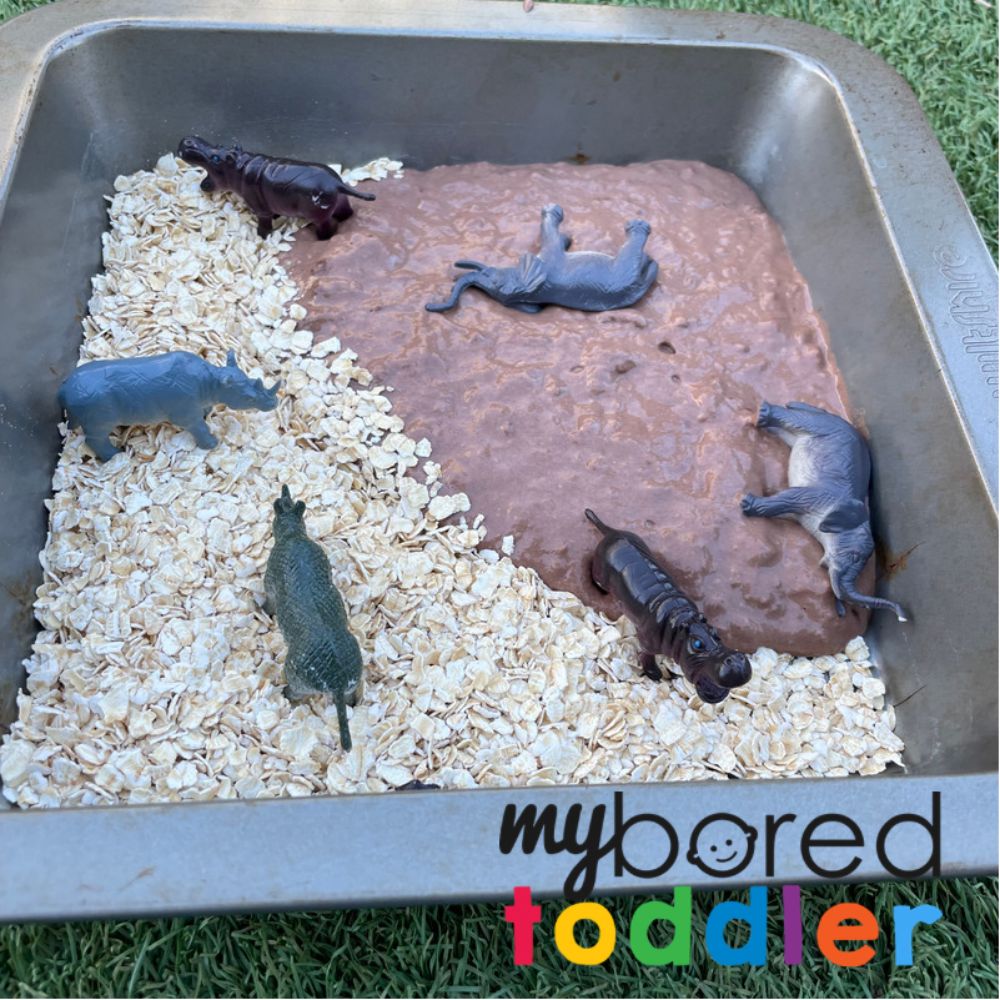 Another one of the easiest toddler activities to set up - blow up a balloon and stick stickers on it! Then play a game of keepy uppy!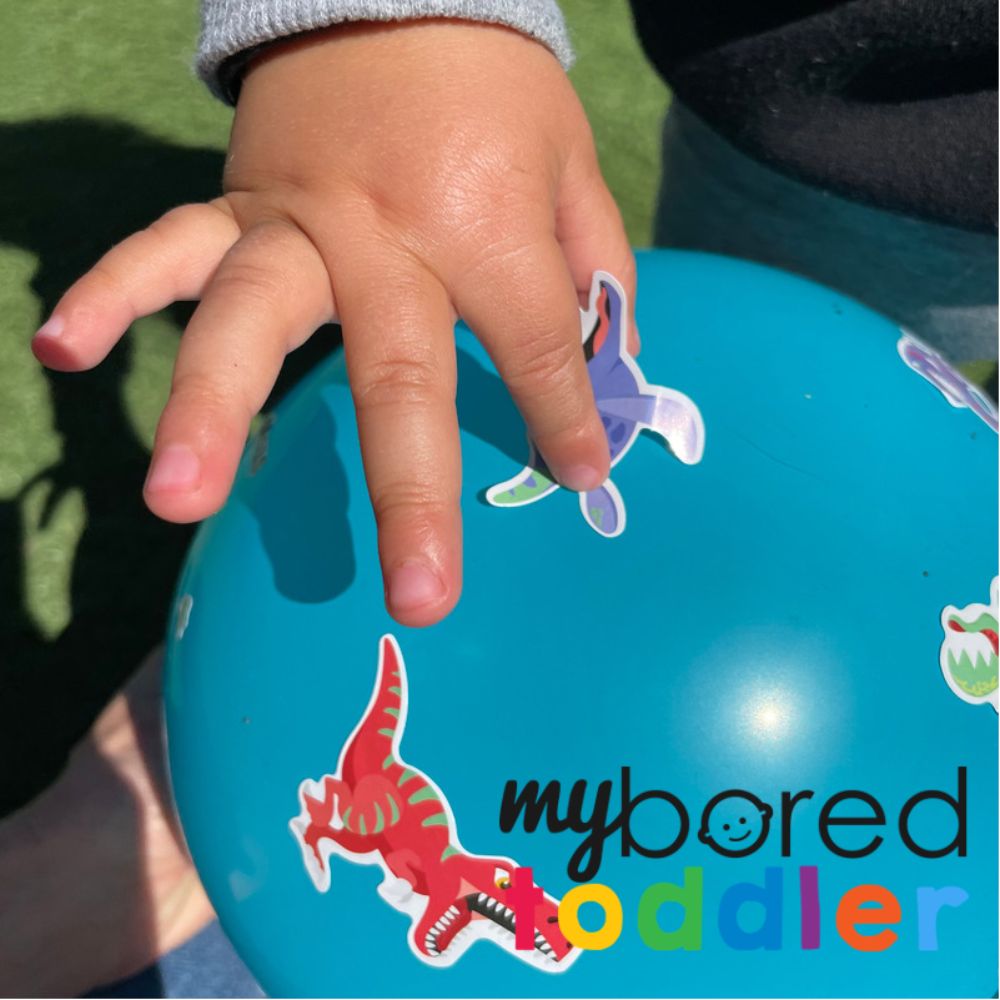 So easy to make! Get the recipe HERE - you can then add whatever toys you like to the soap foam.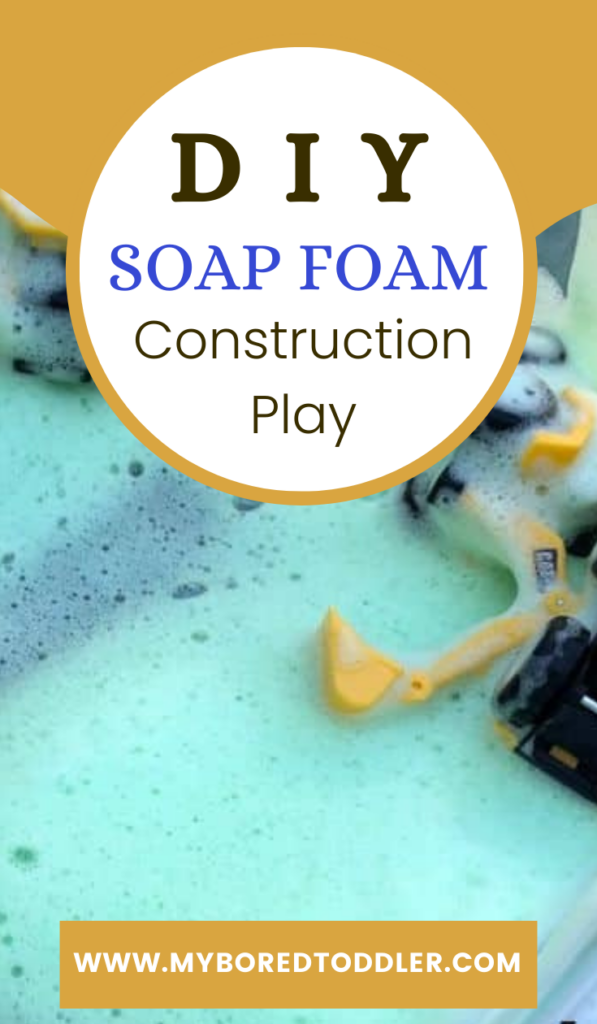 Easy Butterfly Painting Toddler Craft
Make this easy butterfly craft - a fun Spring toddler activity idea.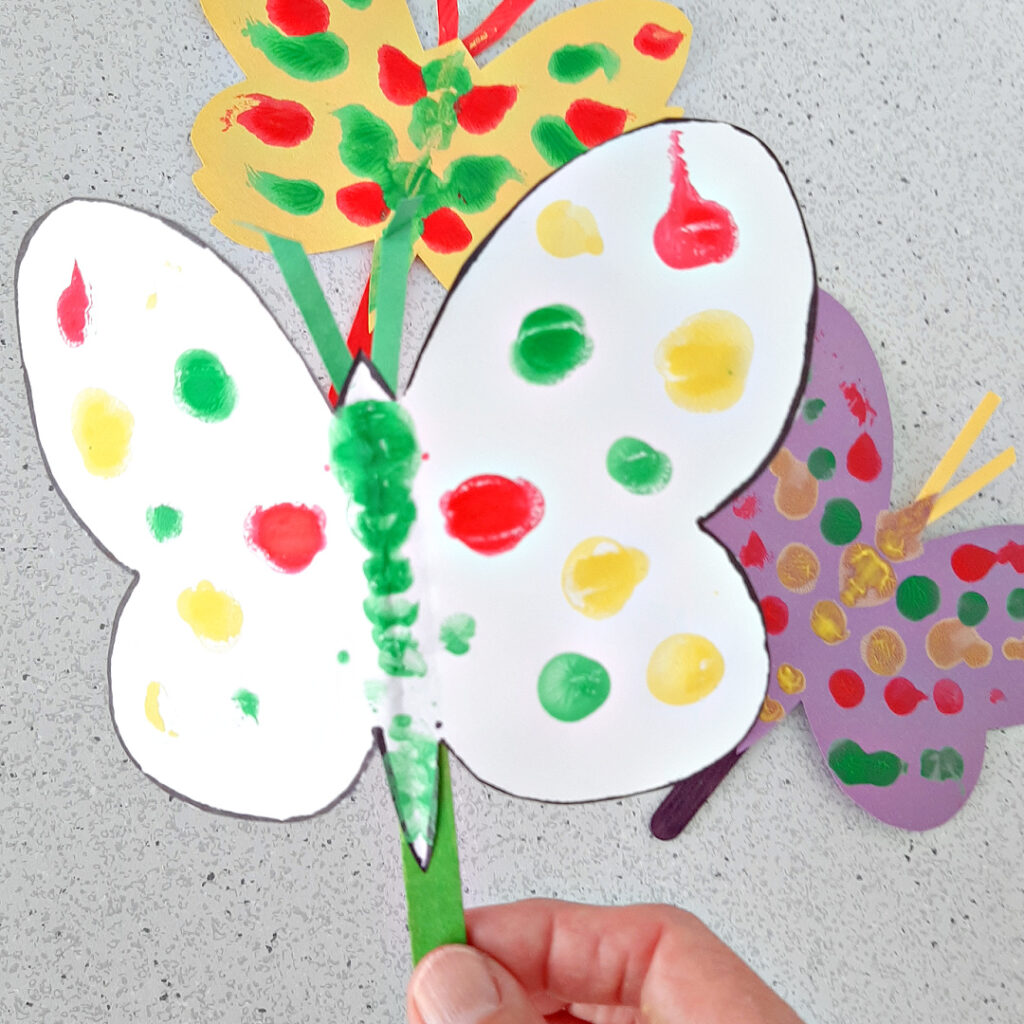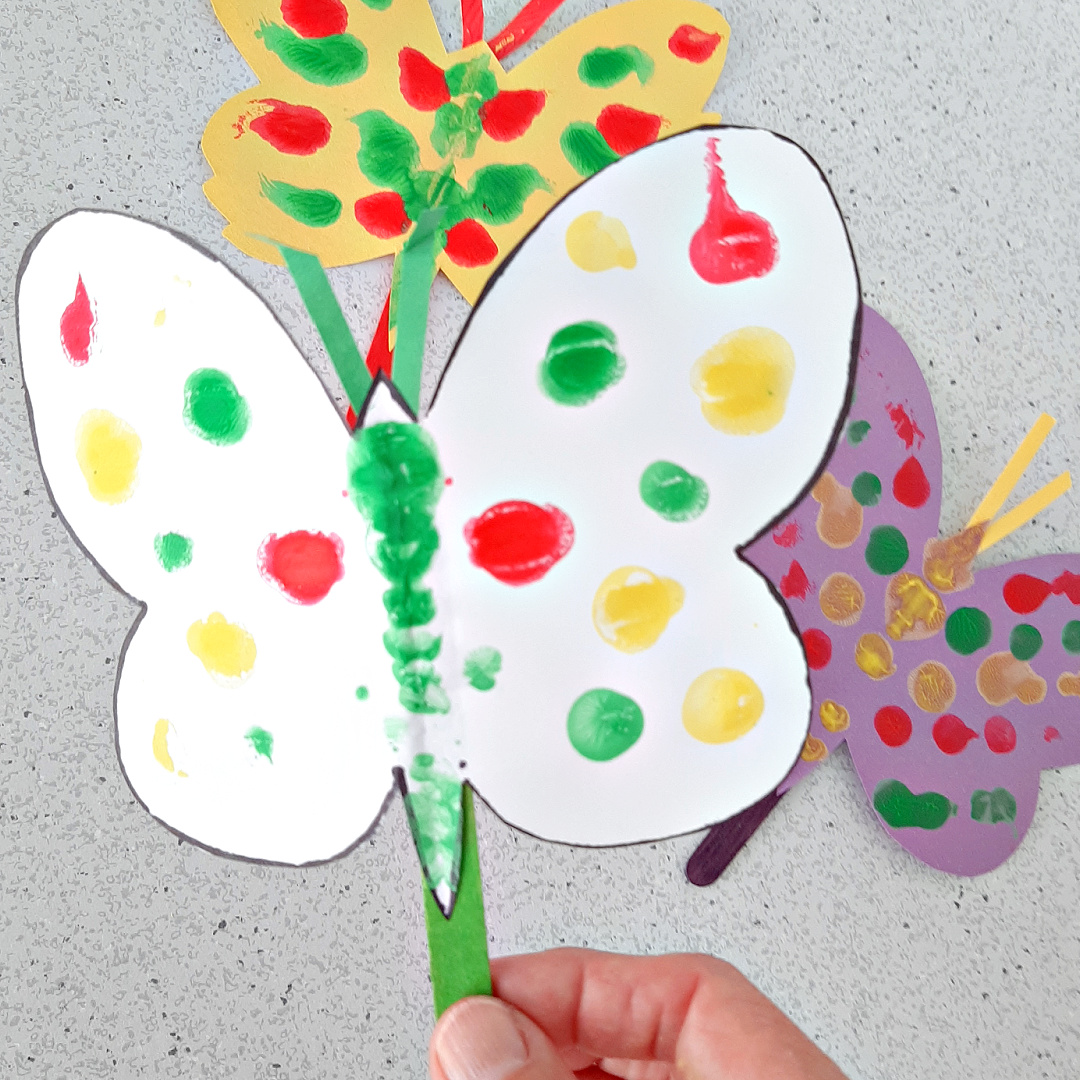 Use toys you already have to make imprints in the playdough - an easy toddler activity that you can easily adapt to whatever theme or topic your toddler is currently interested in.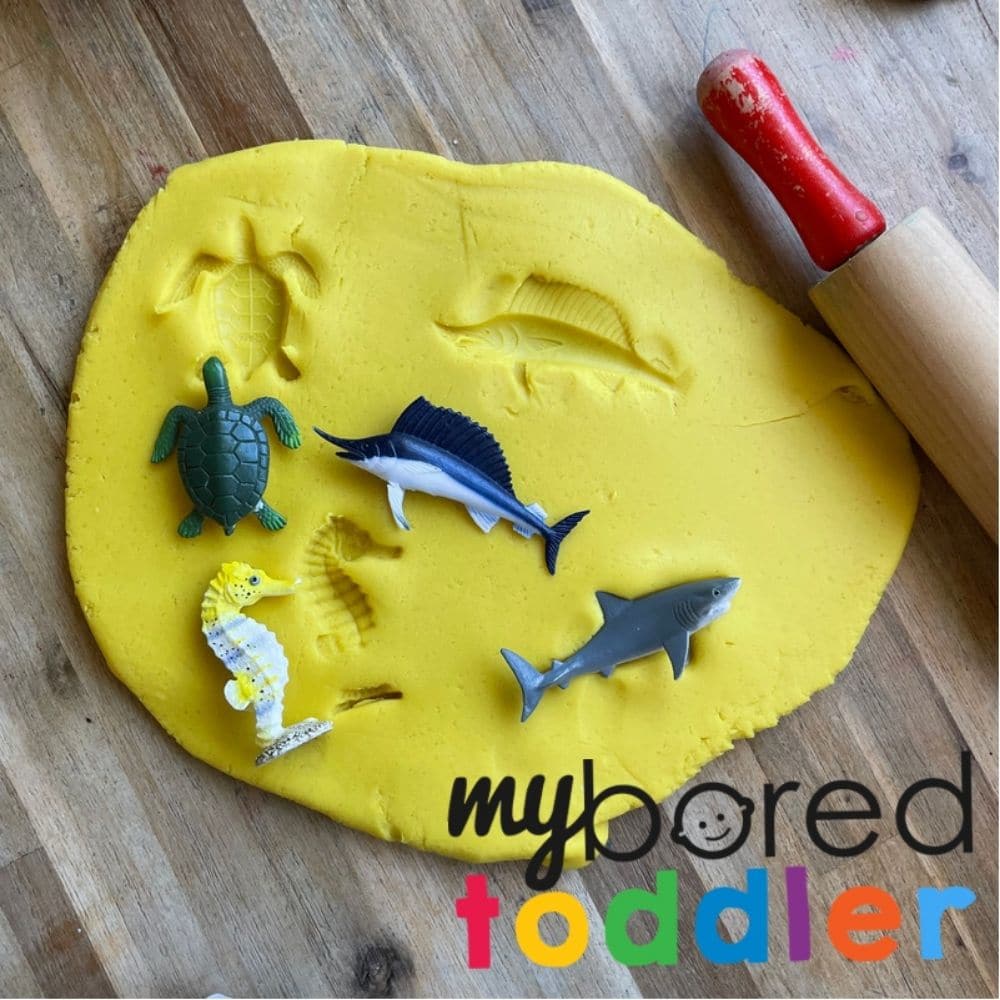 An EASY fine motor activity that's perfect for 2 or 3 year olds. Use a baking rack and get pipe cleaner / Chenille stems and thread them through.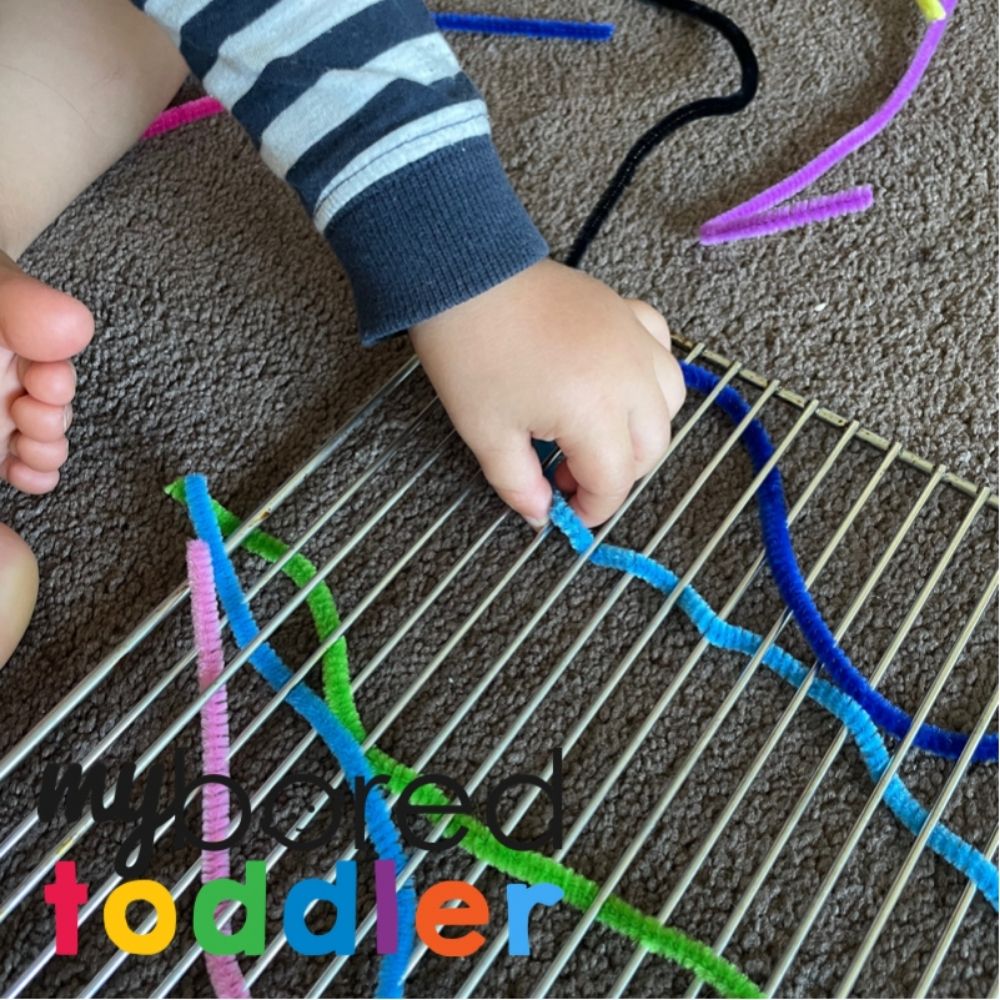 If your toddler loves sensory bin try this fun Jumbo pasta sensory bin.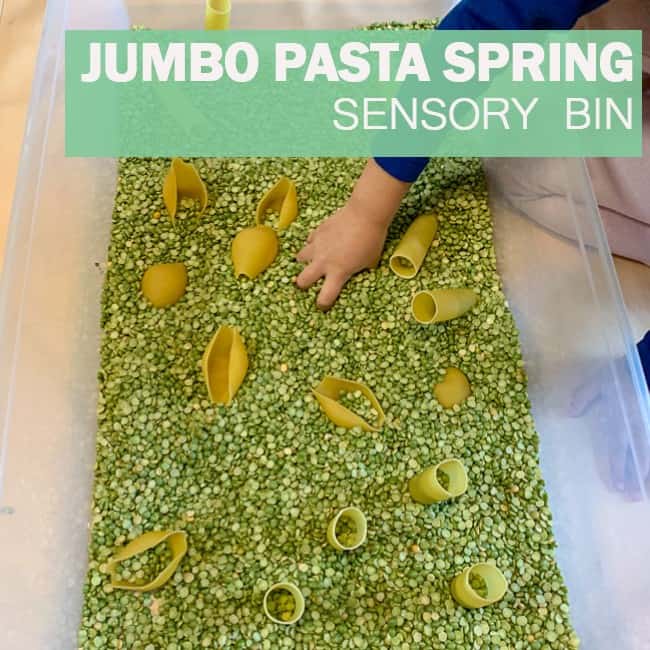 This is a great craft for your older (2 or 3 year old) toddlers. By rolling up the paper tentacles they are working on their fine motor skills too.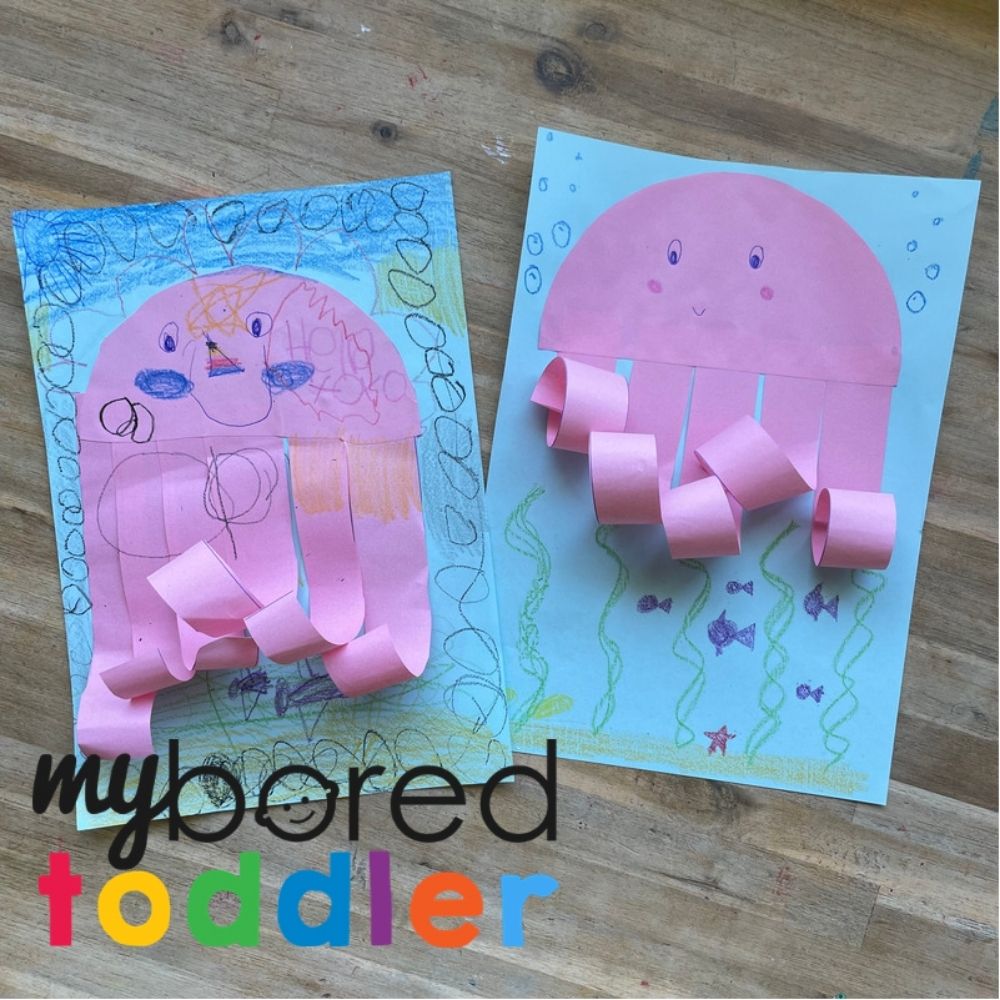 Get out your toy animals and see what footprints they make when used as a painting tool.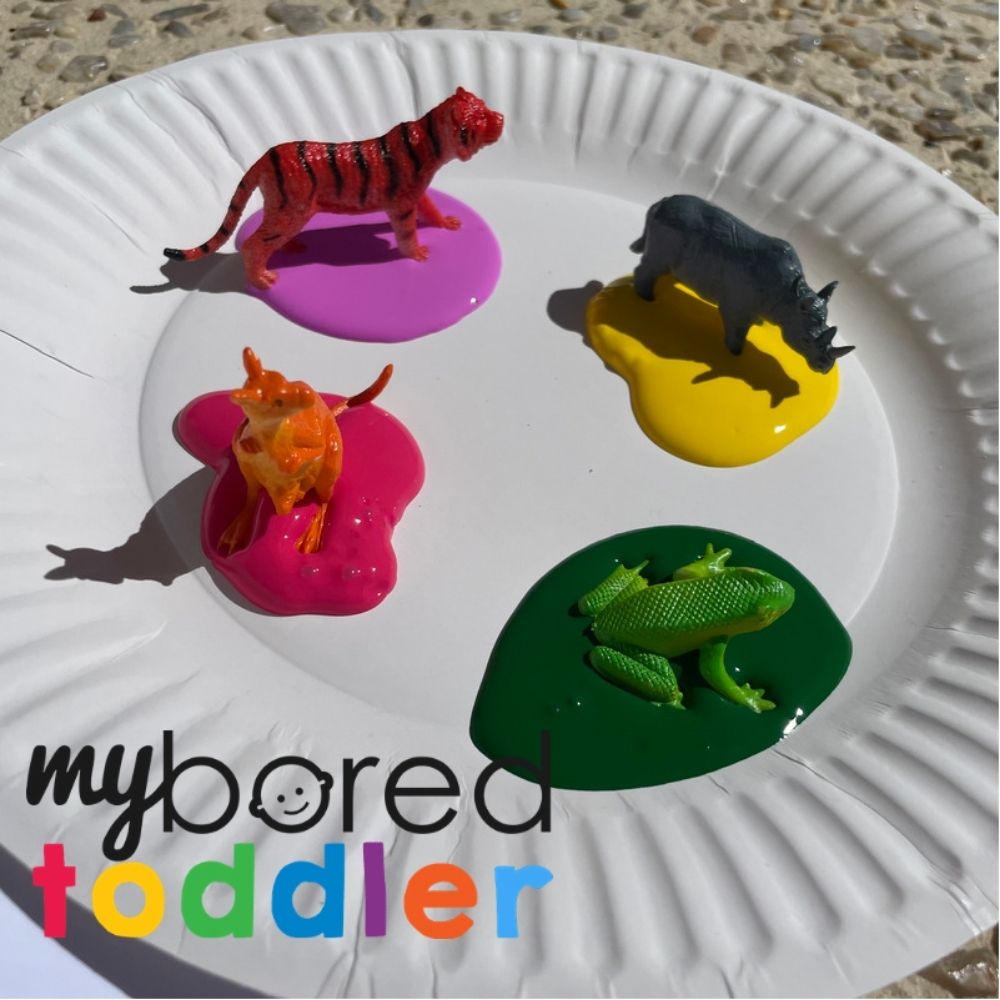 A fun and quick toddler activity to set up - hide some bugs in playdough and have your toddler find them.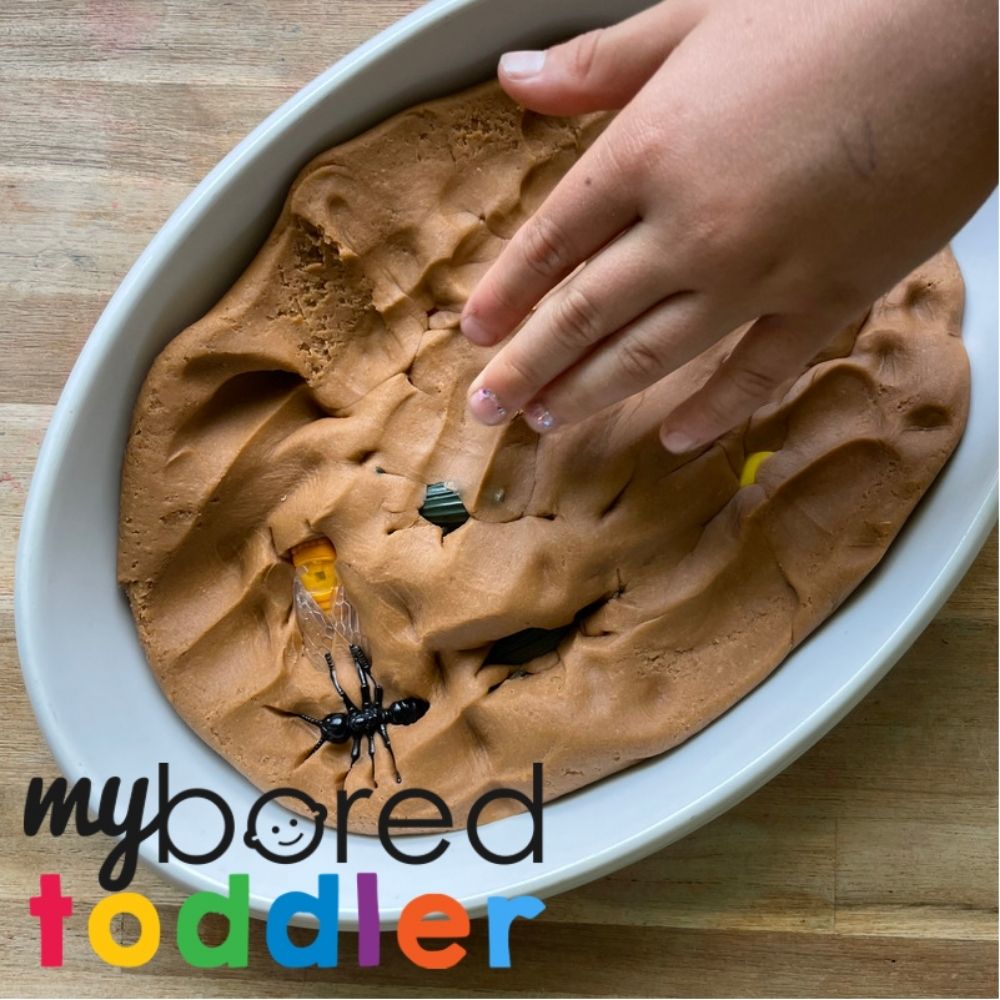 Pom Pom Sorting Using a Pop It
Remember those pop it's that were all the craze a while ago? Use them as a way to sort pom poms - a perfect activity for 3 or 4 year old toddlers.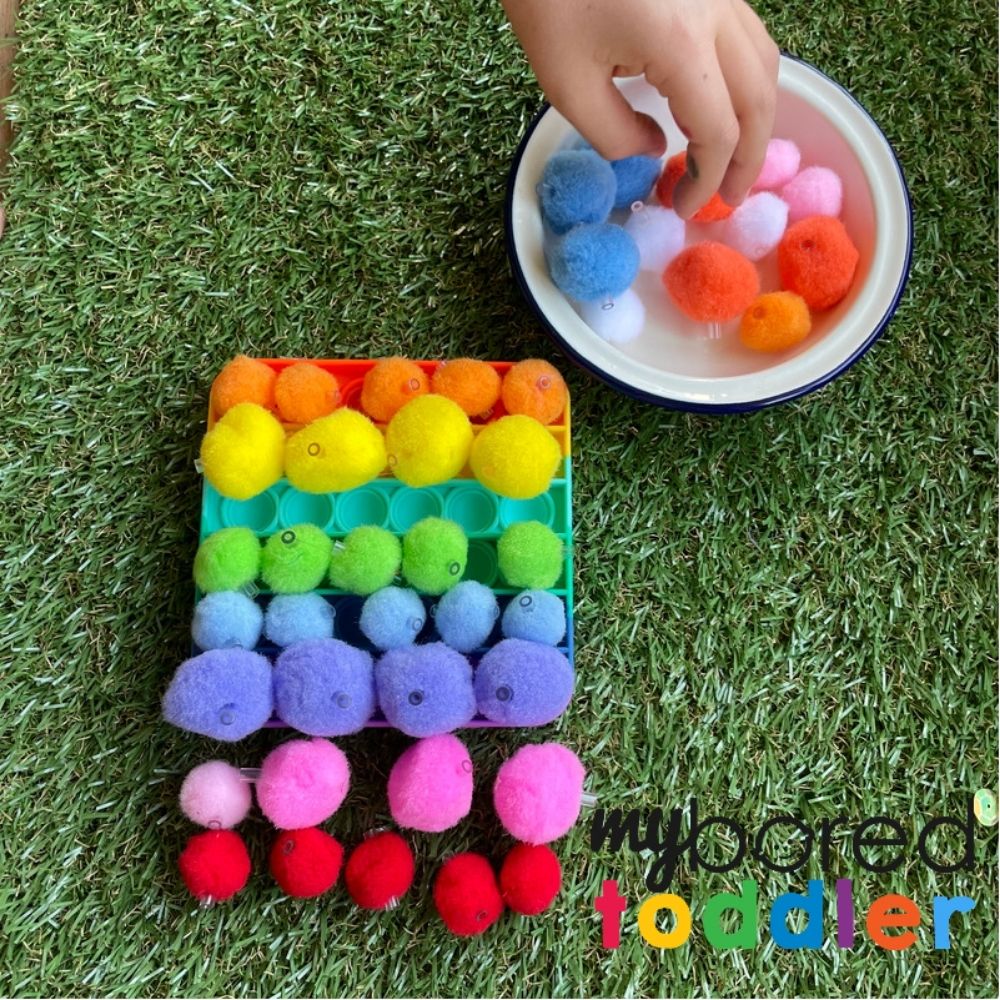 Does your toddler like lining up toys? Around the 18 month to 2 year old age range this seems to be something they all love to do. Set up some painters tape and some toys and let them line them up.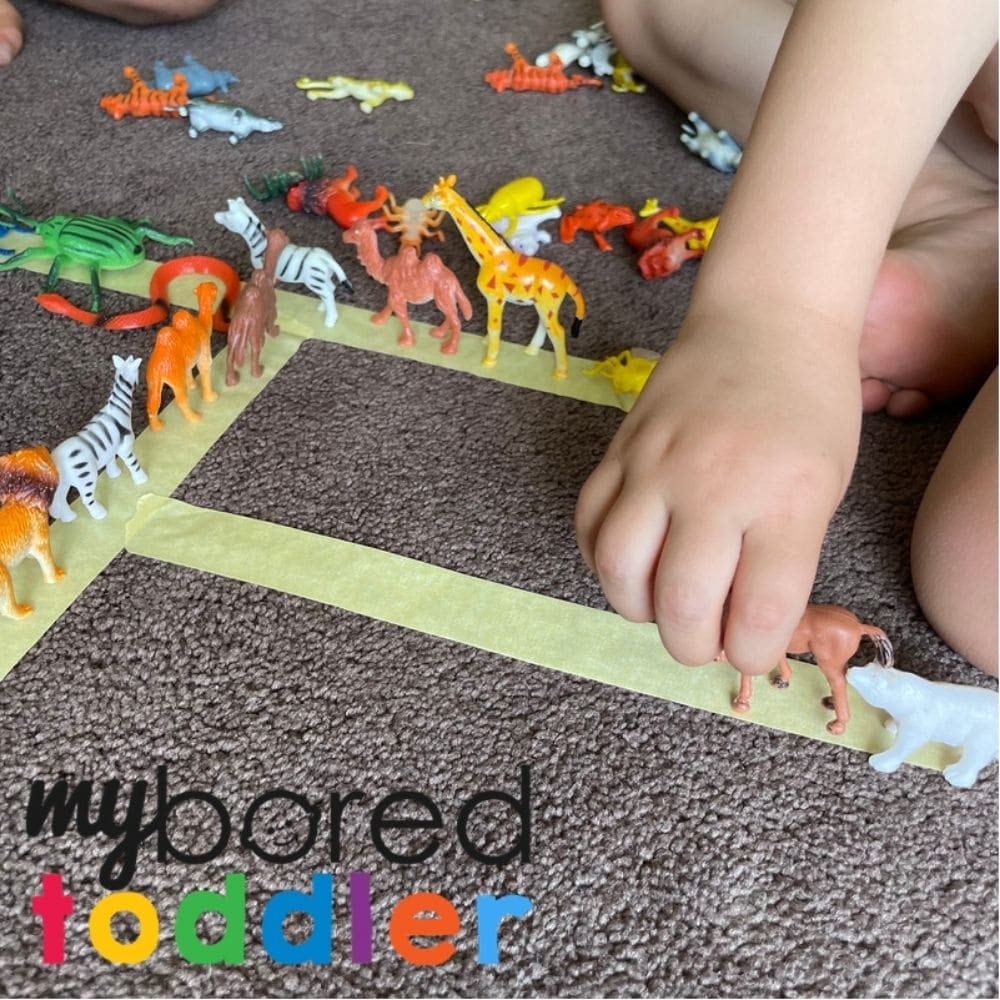 An easy toddler painting idea - use different colors to explore the different seasons.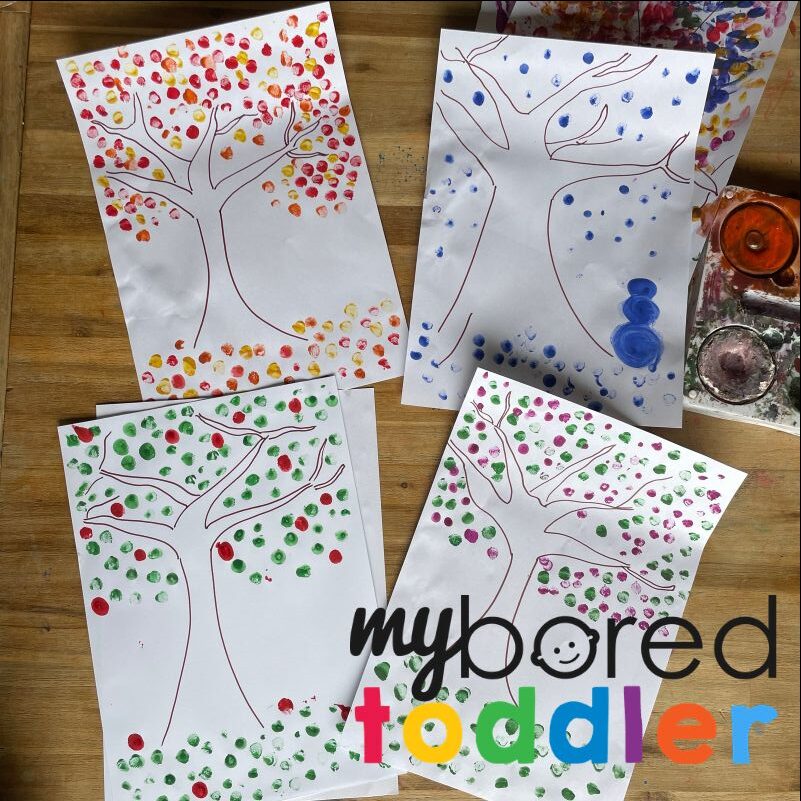 You could use any animal or picture for this idea. Draw the outline and then use scrap paper or an old newspaper to fill in the outline.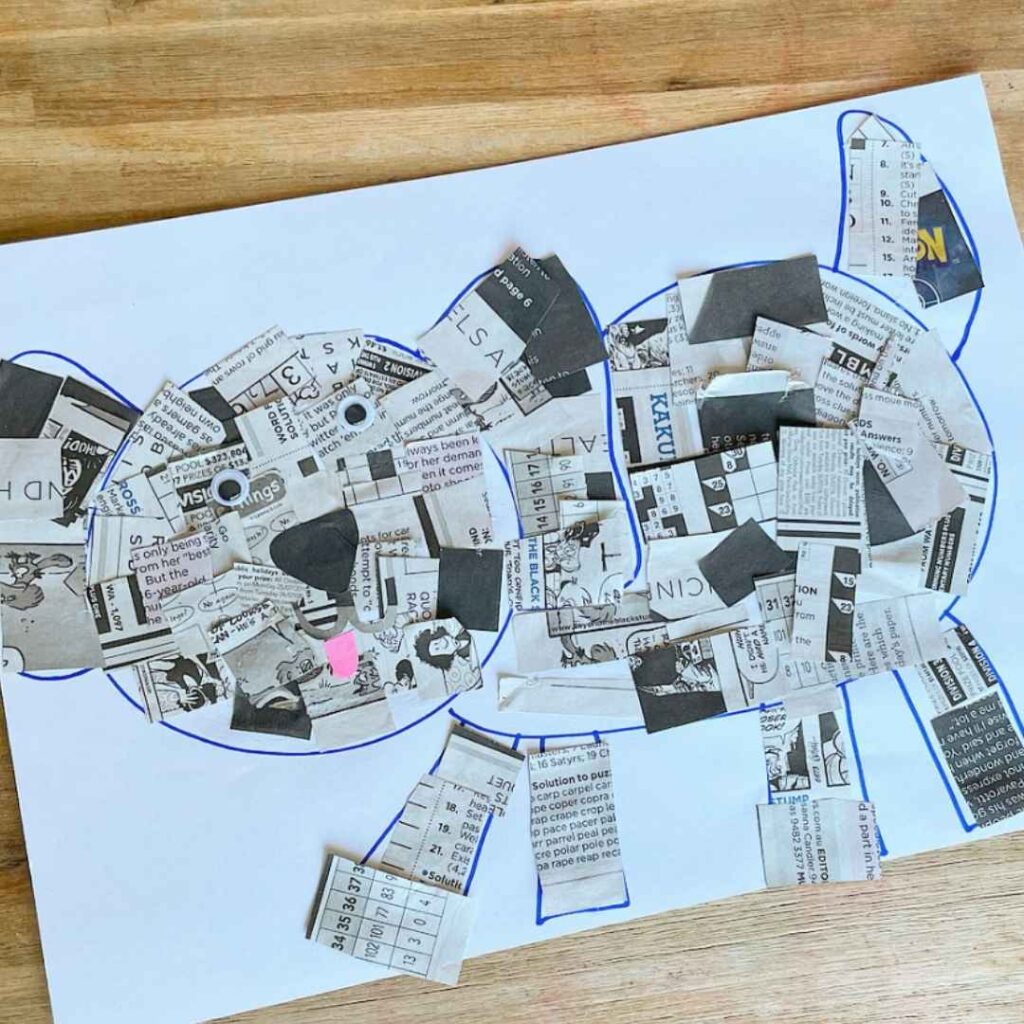 Use sponges as a way to let your toddler paint - you can easily make your own shapes. We used a circle and a rectangle to make this simple sun painting.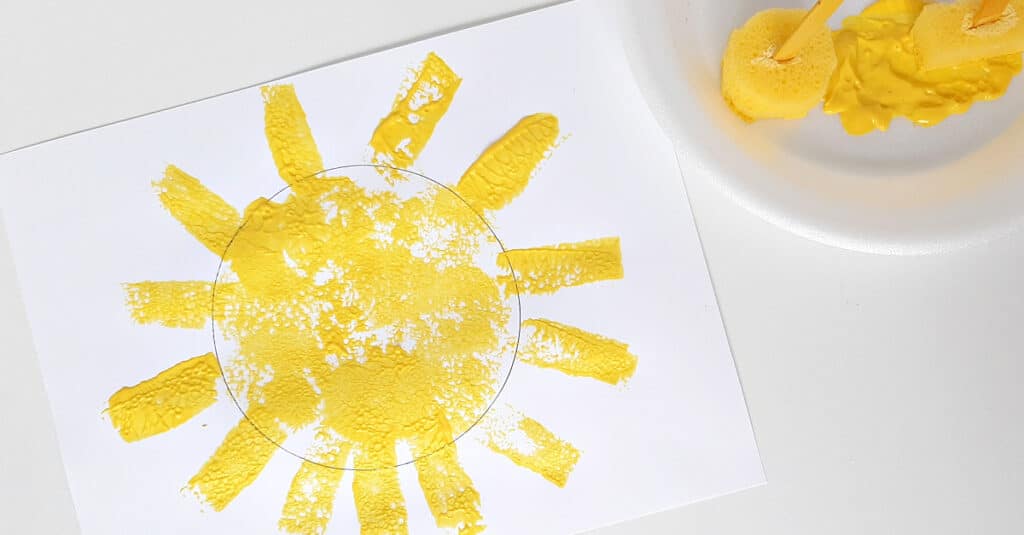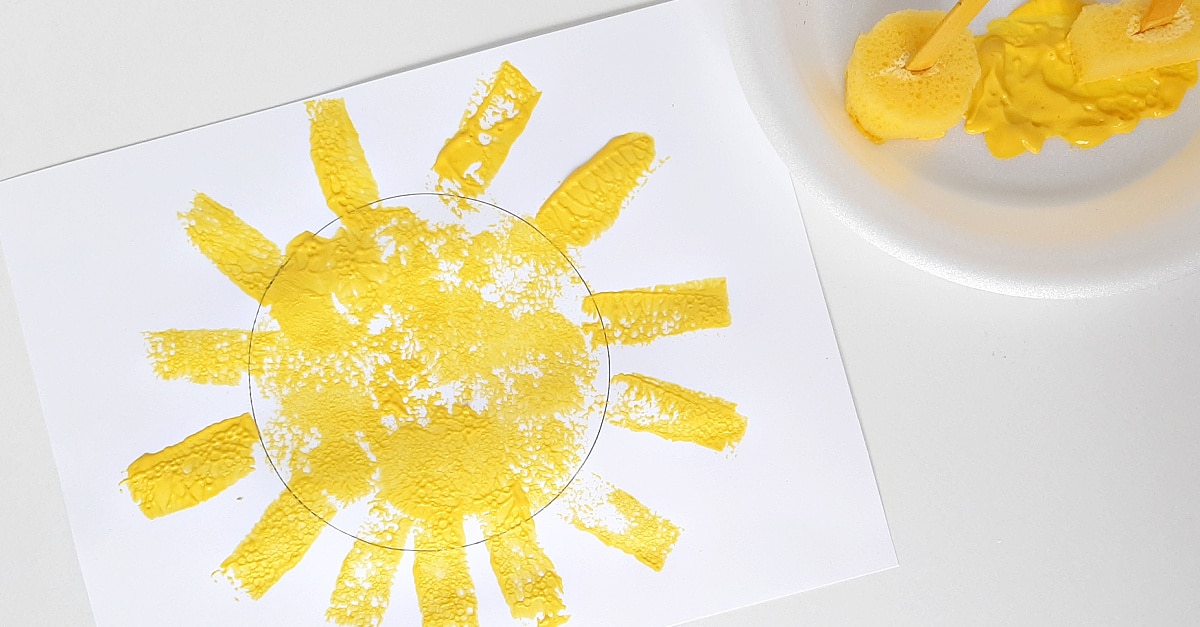 An easy and very popular toddler activity - tape toys down using masking tape and have them pull the tape off to get to the toy. Another great toddler activity for your 2 and 3 year olds.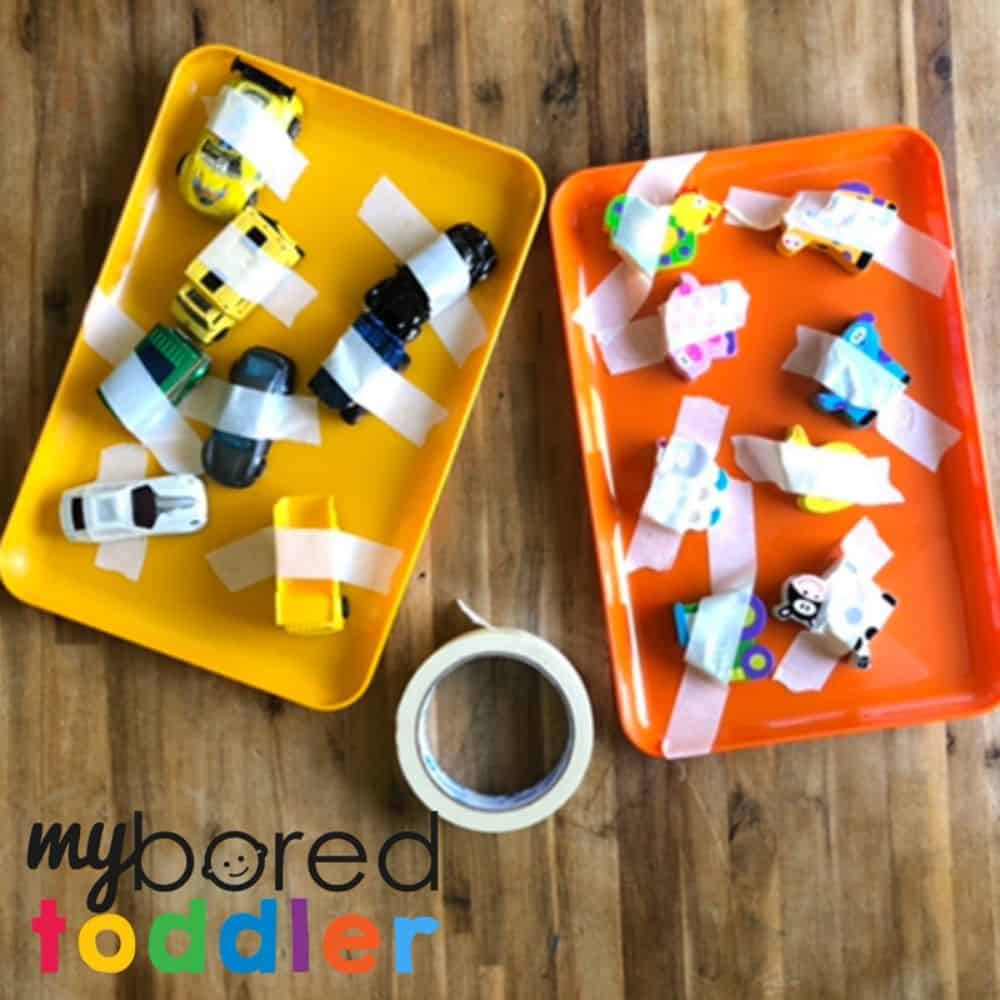 Easy Coloring Sorting Activity for Toddlers
Quickly set up this color sorting activity by placing colored paper around the room and then using colored Popsicle sticks.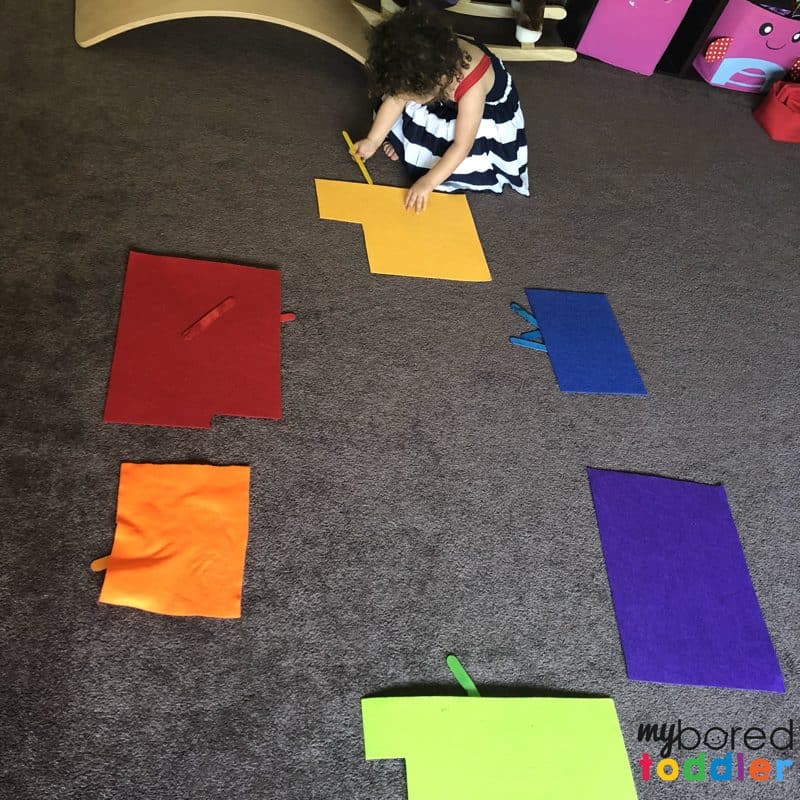 Use old boxes to easily make a ramp to race your toy cars down - an easy activity for the car obsessed toddler!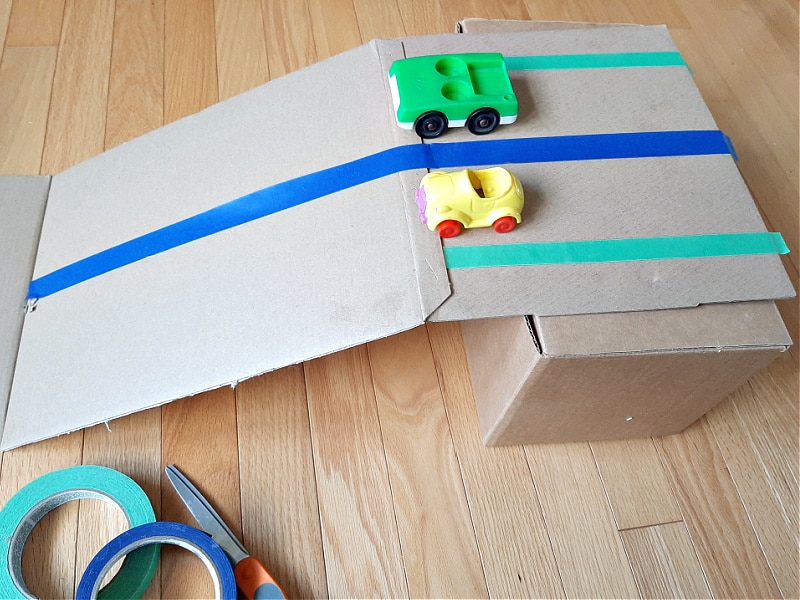 Pasta Threading with Playdough
Another fun and easy activity idea - use playdough and pasta for a fun threading activity. See how to set it up HERE.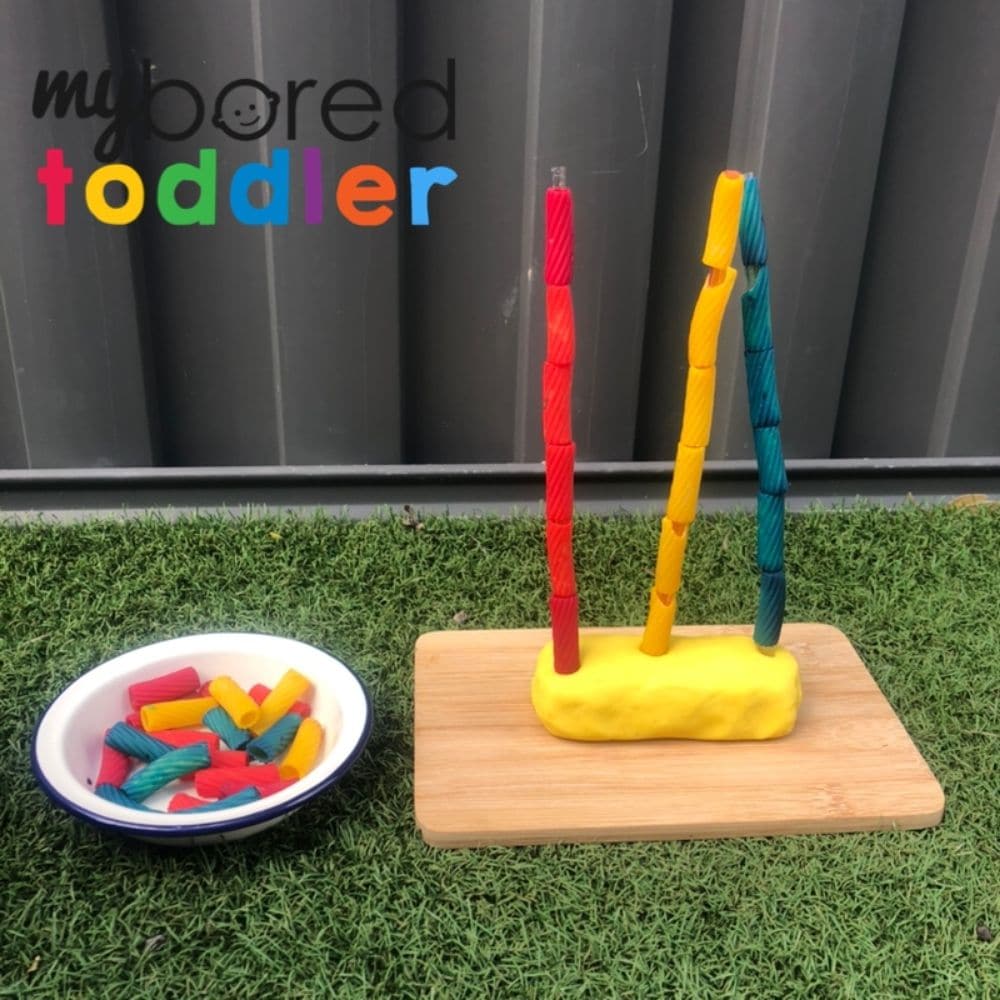 Combine a nature walk and collection with a toddler craft with this fun activity idea.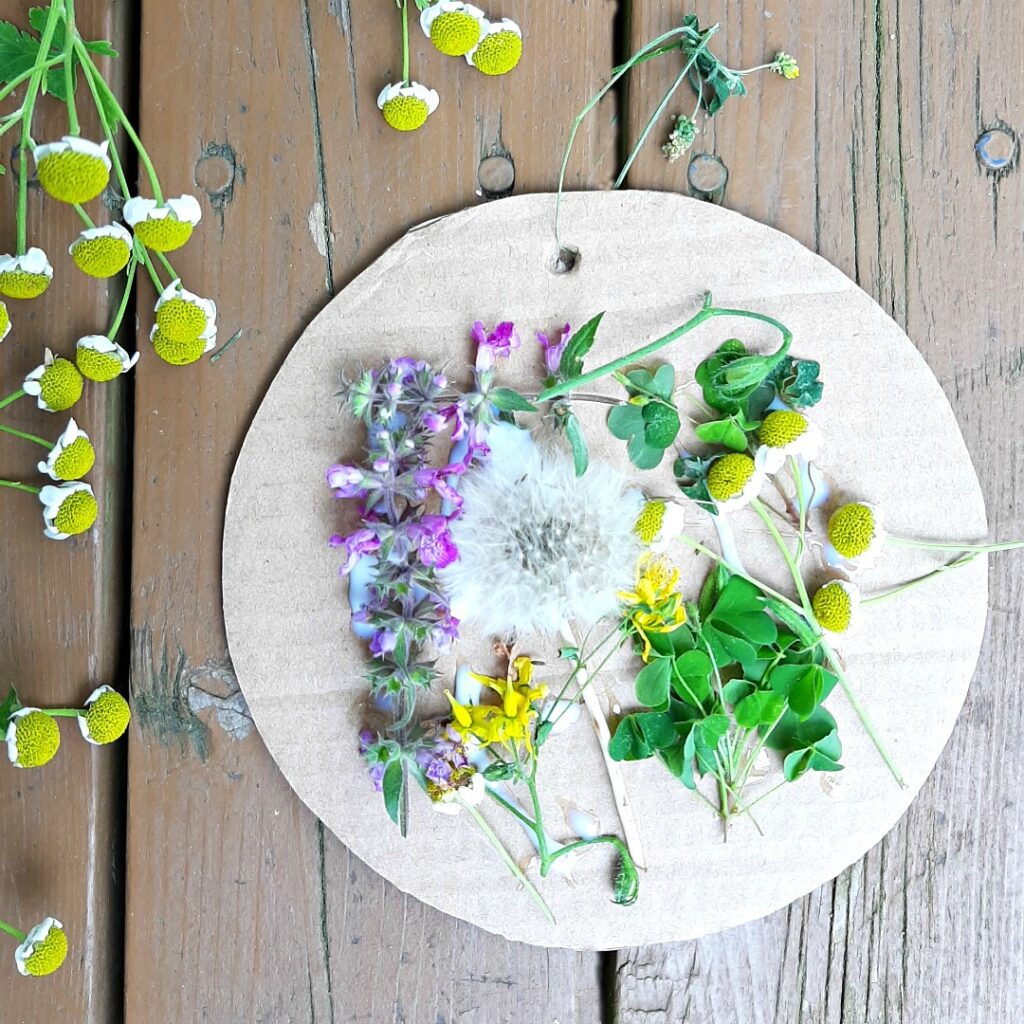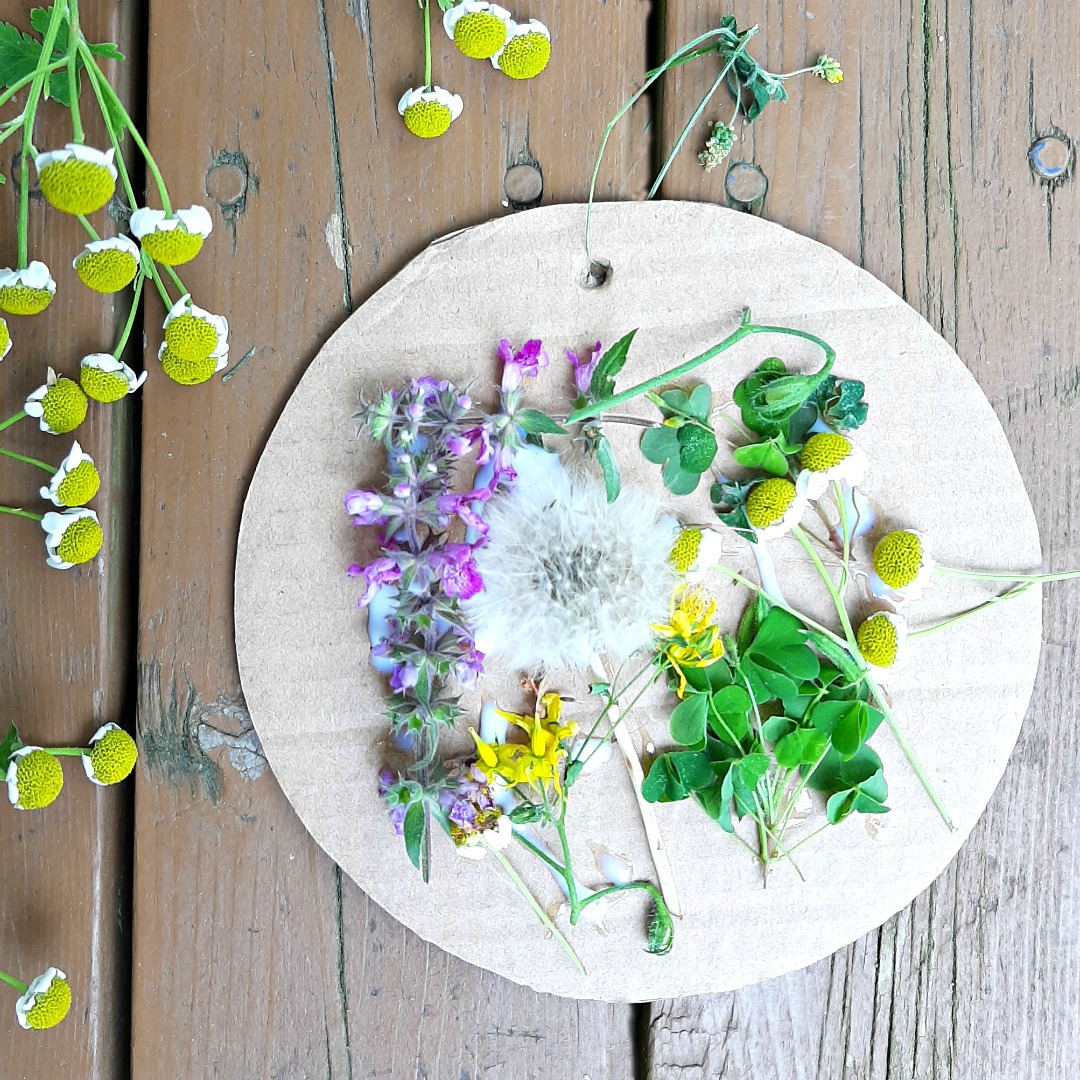 This is an EASY but very fun activity for toddlers of all ages. Get a cheap fly swat and let them at it!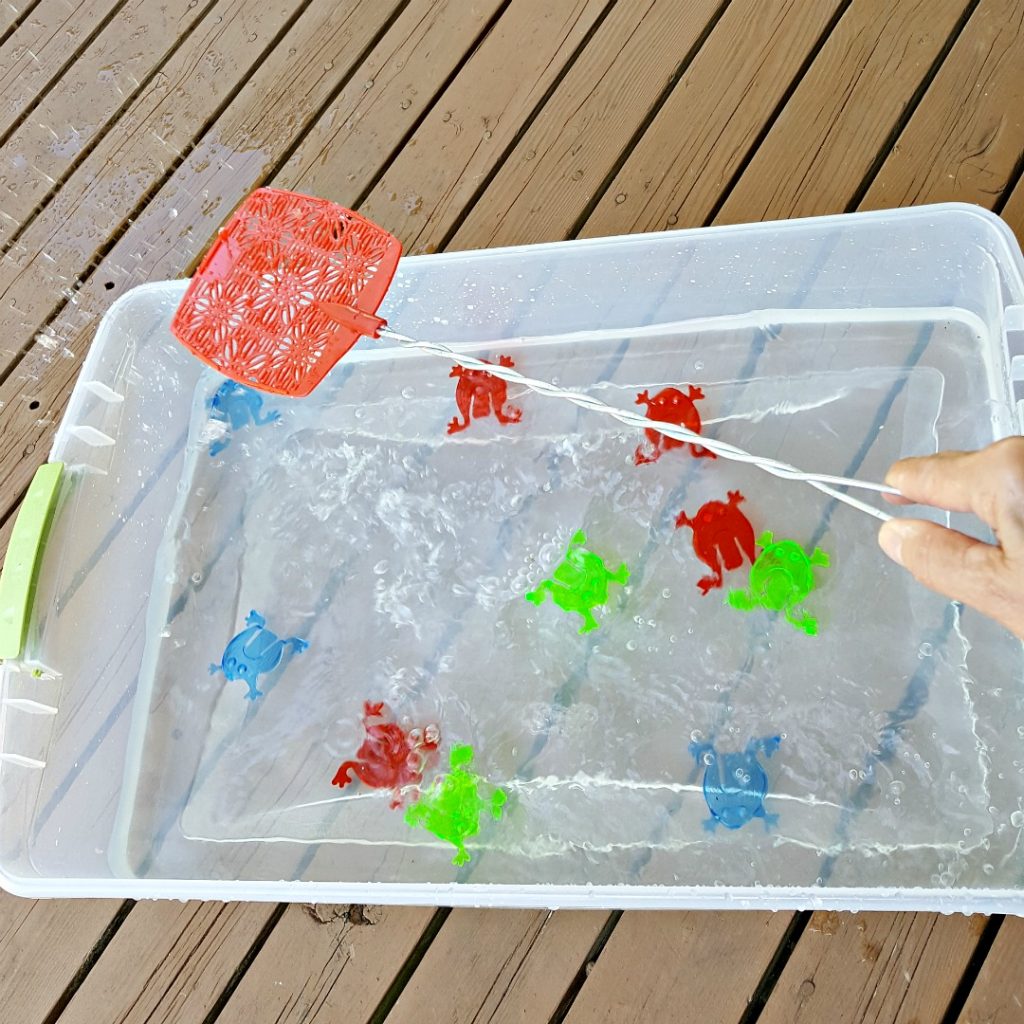 So, here's the deal! When it comes to toddlers, keeping them engaged in all sorts of activities is like giving their little minds and bodies superpowers!
These 50 toddler activities we've shared are a total game-changer. Seriously, you'll unlock endless moments of fun, learning, and bonding with your little munchkin.
Don't forget - these activities aren't 'just playing' - their is so much research out there that toddlers LEARN through play! What are you waiting for? If you enjoy these activities please let us know which one was your favorite.
Follow us for more toddler activity ideas