Toddlers can be quite rigid with their interests. This Fine Motor Pick & Pull activity is a versatile way to appeal to your toddlers latest, trending interests. Using what you have at home already, there is no fancy equipment required to set up this fun activity!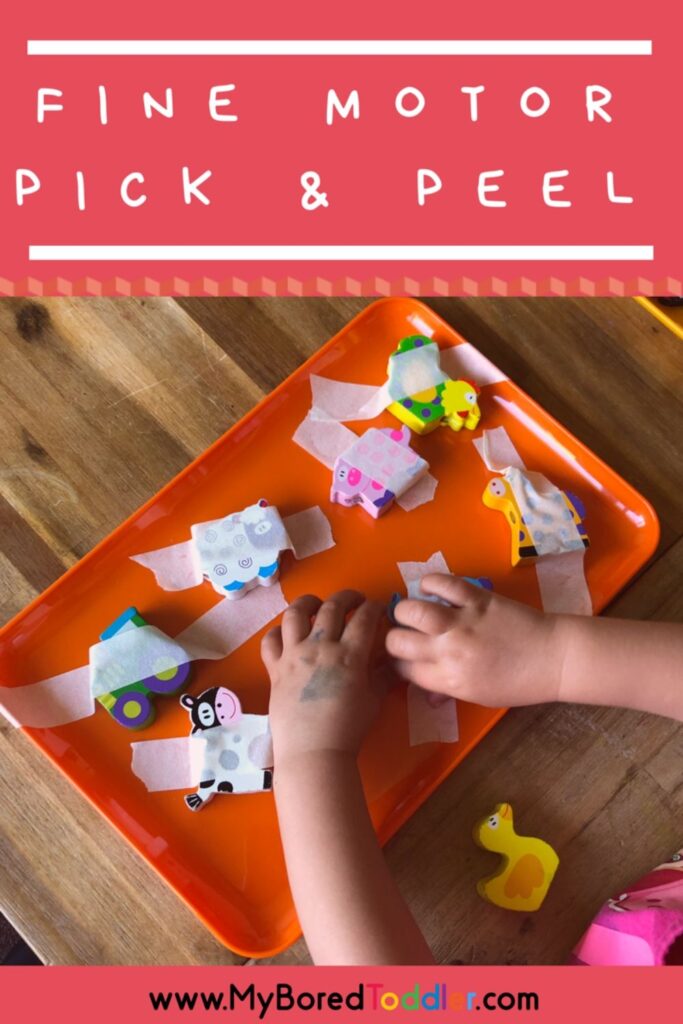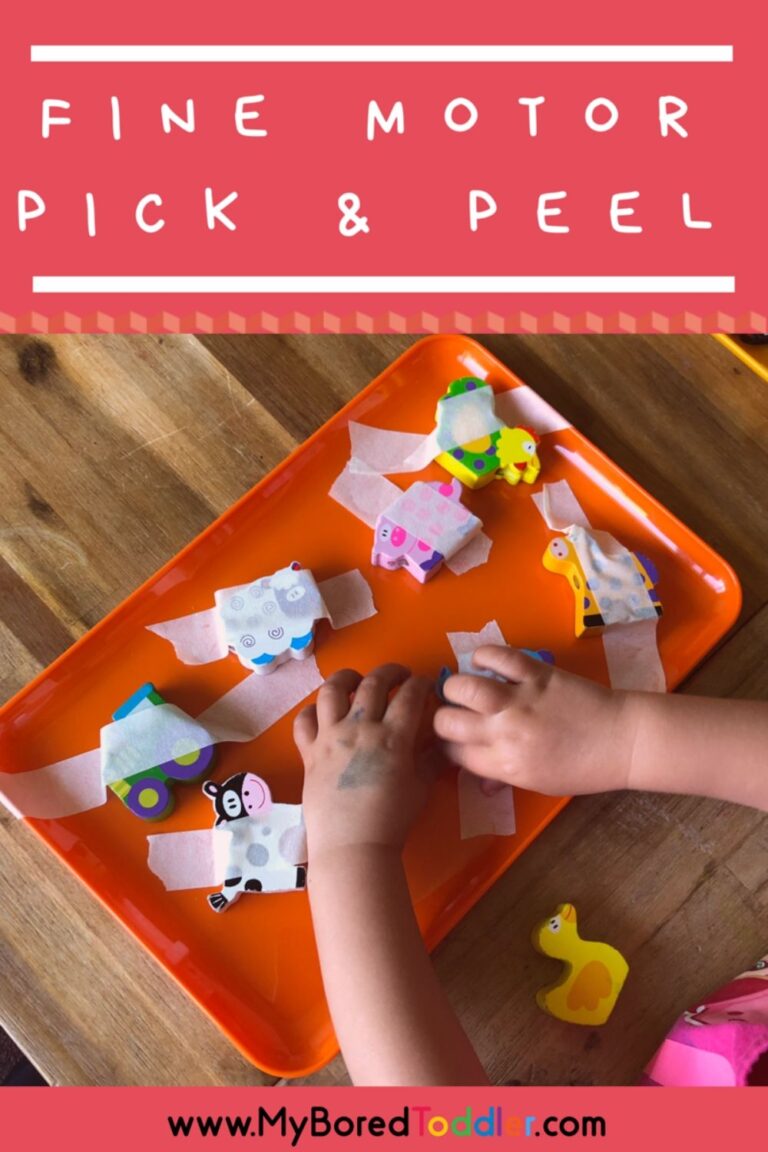 Fine Motor Pick & Pull
Do you need a no-frills activity to occupy your toddler? This activity literally takes just minutes to put together and is always a success at our place!
Change the theme to suit your child's interests, feed their curiosity or expose them to something new. Using their fingers to manipulate the little end piece of the tape, gripping the loose section with their fingertips, and pulling the tape is a great fine motor workout too!
Today we set this activity up in two ways, to appeal to two little people's interests.
What you need to make

you Fine Motor Pick & Pull: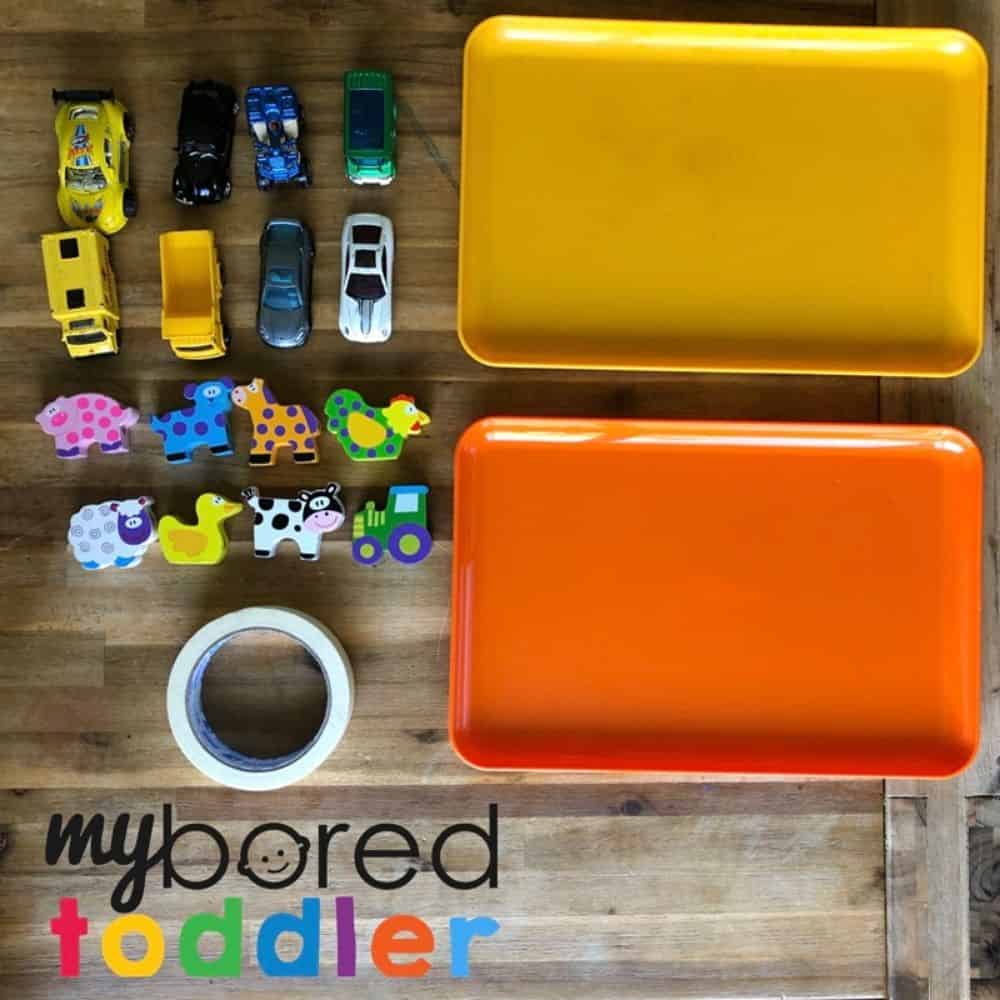 This activity is so versatile! You could use a variety of toys, puzzle pieces, natural resources (sticks, stones, leaves, flowers), kitchen utensils… the opportunities are endless! You could also switch the tray for your child's highchair tray.
How to

set up your Fine Motor Pick & Pull

activity:
Setting up this activity can be done in the flurry of a spare moment and it is so easy! Simply secure your toys to your tray using the lengths of your tape. Yes, it is that easy!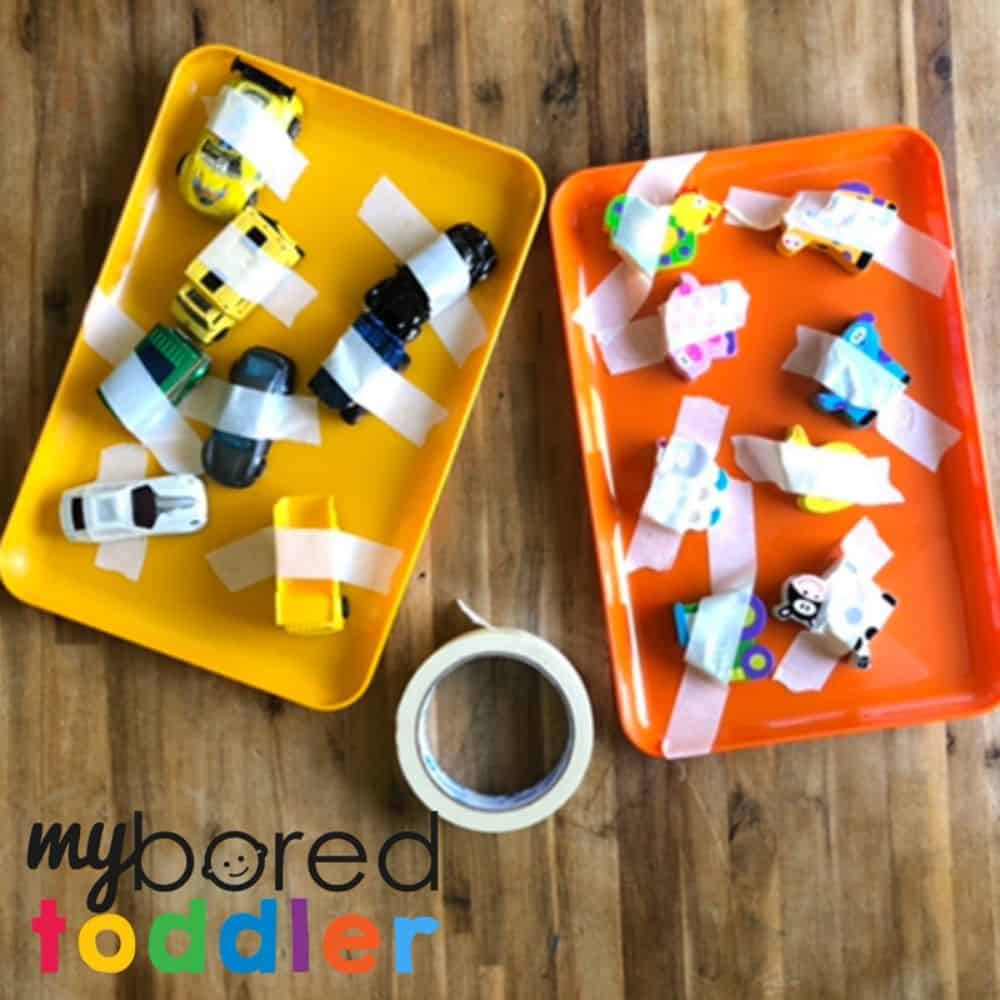 Consider having the tape strips running in different directions to encourage your child to use different hand positions to complete the task. You could secure some from top to bottom, others left to right and then why not throw in some diagonals as well.
If this is your child's first time, perhaps consider leaving the odd corner raised here and there to increase chances for success as a little confidence booster for them. If your child is well-practiced, push that tape down tightly to make the task more challenging for them.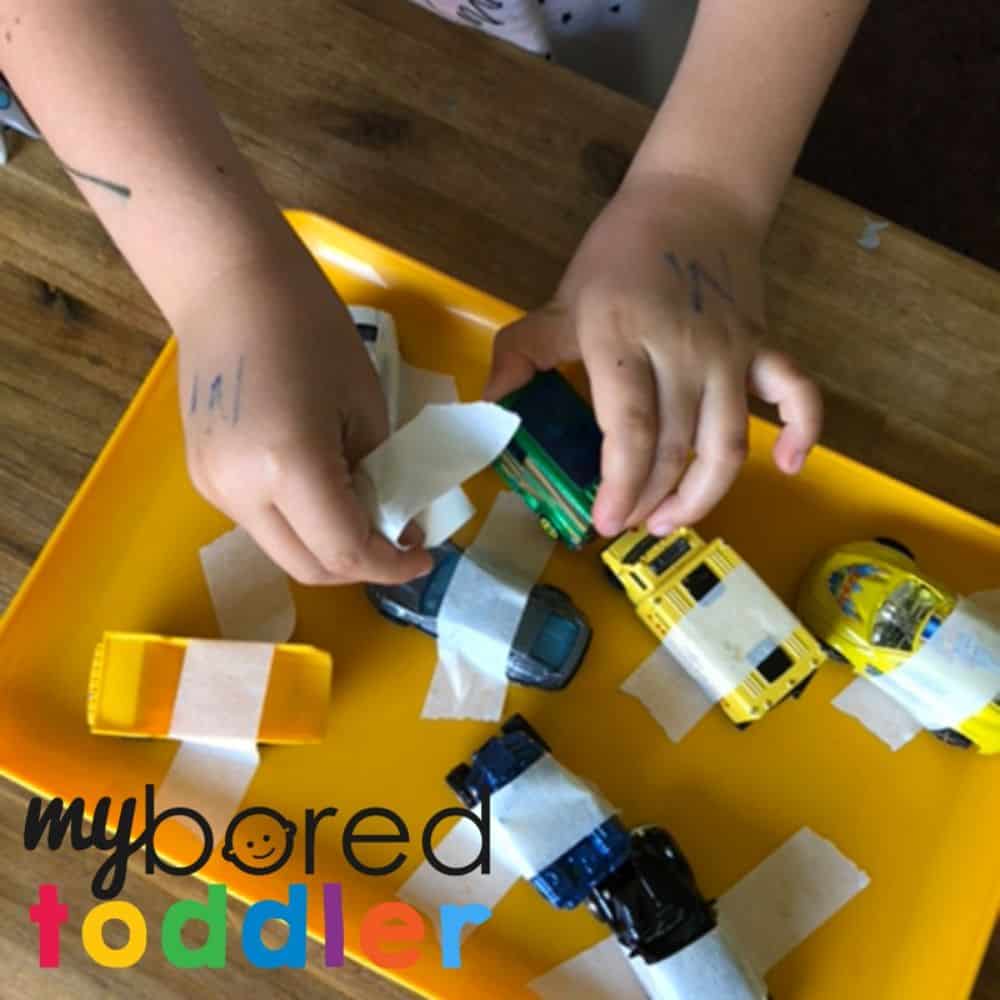 As they are peeling the tape to rescue their beloved possessions, why not start some conversations about what they are doing?
How does the tape feel?
Who do you know that has rescued someone?
What do you like about this challenge?
If we were to set this activity up for your brother, which toys would you use?
What have you found is the best way to peel the tape?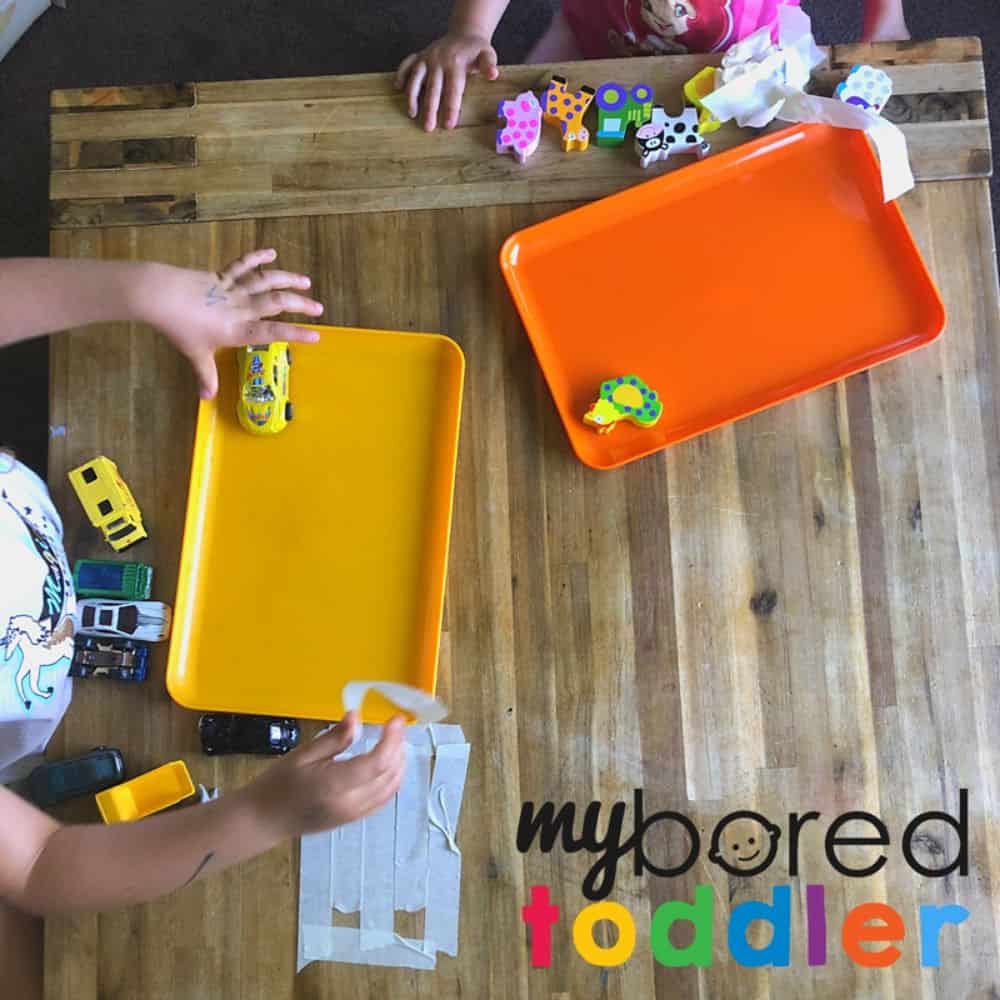 Grasping the free edges of the tape and manipulating it loose is a great way of strengthening the small muscle groups in your toddler's fingers and hands.
This activity will also have them practicing other important life skills such as bilateral coordination (using both left and right hands together to complete the task), problem-solving strategies, and logical thinking.
Both Miss 2 and Miss 5 love rescuing the toys. This Fine Motor Pick & Pull has helped us ease through many witching hour and post-nap challenges. Easy to set up, engaging, and fun – it ticks all the boxes!
So which theme are you going to use to set up your toddlers' Fine Motor Pick & Pull?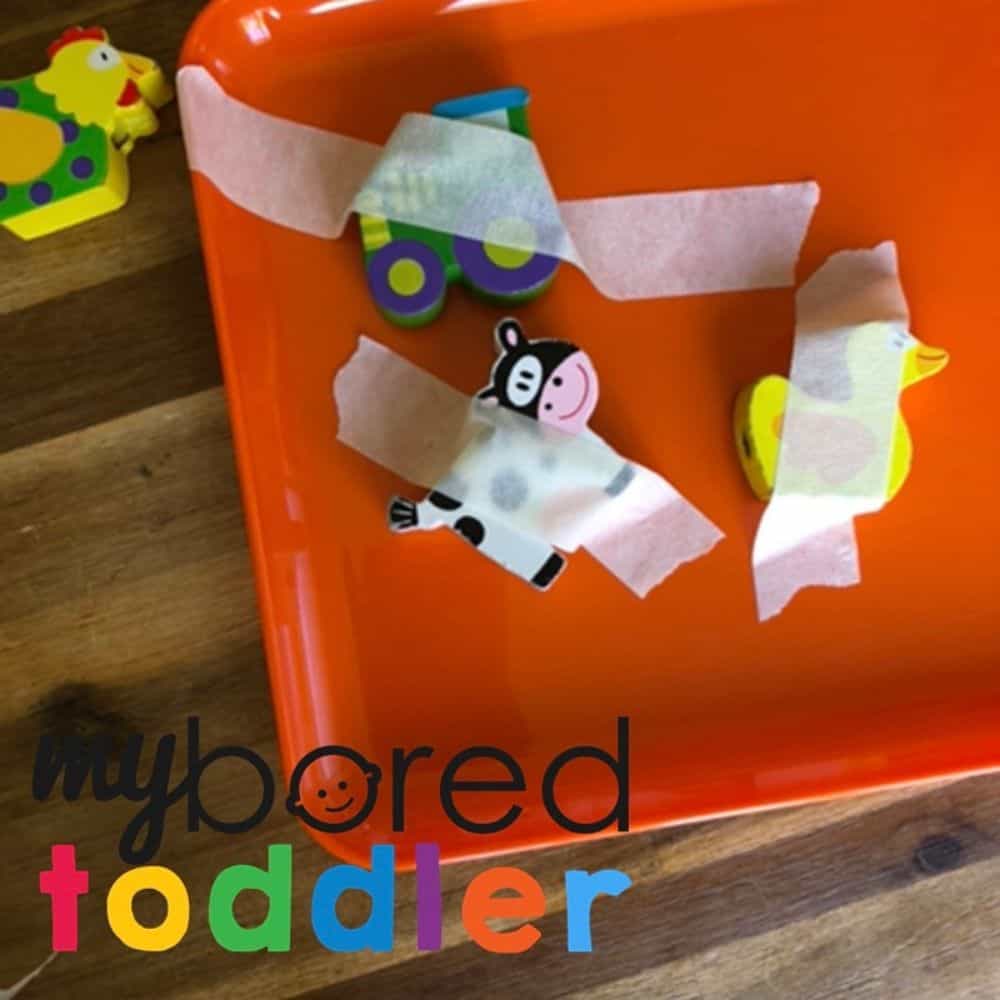 For more fun toddler activity ideas why not join our Facebook Group or follow us on Instagram – follow @myboredtoddler and use #myboredtoddler.
SOME MORE FUN TODDLER ACTIVITY IDEAS YOU MIGHT ENJOY ARE:
Crazy Hair Fine Motor Toddler Craft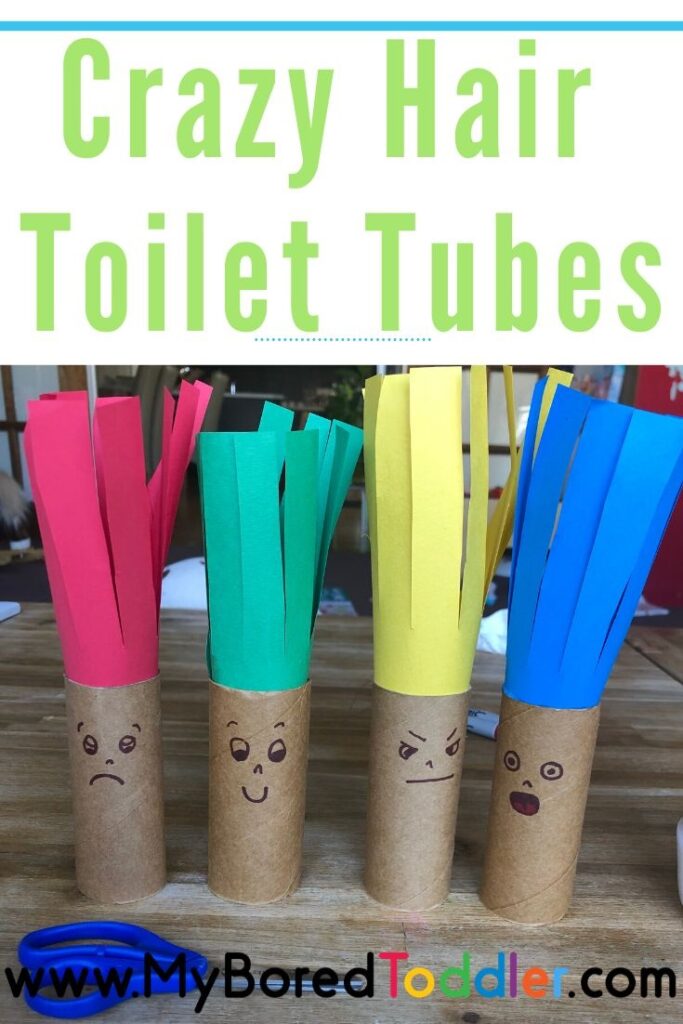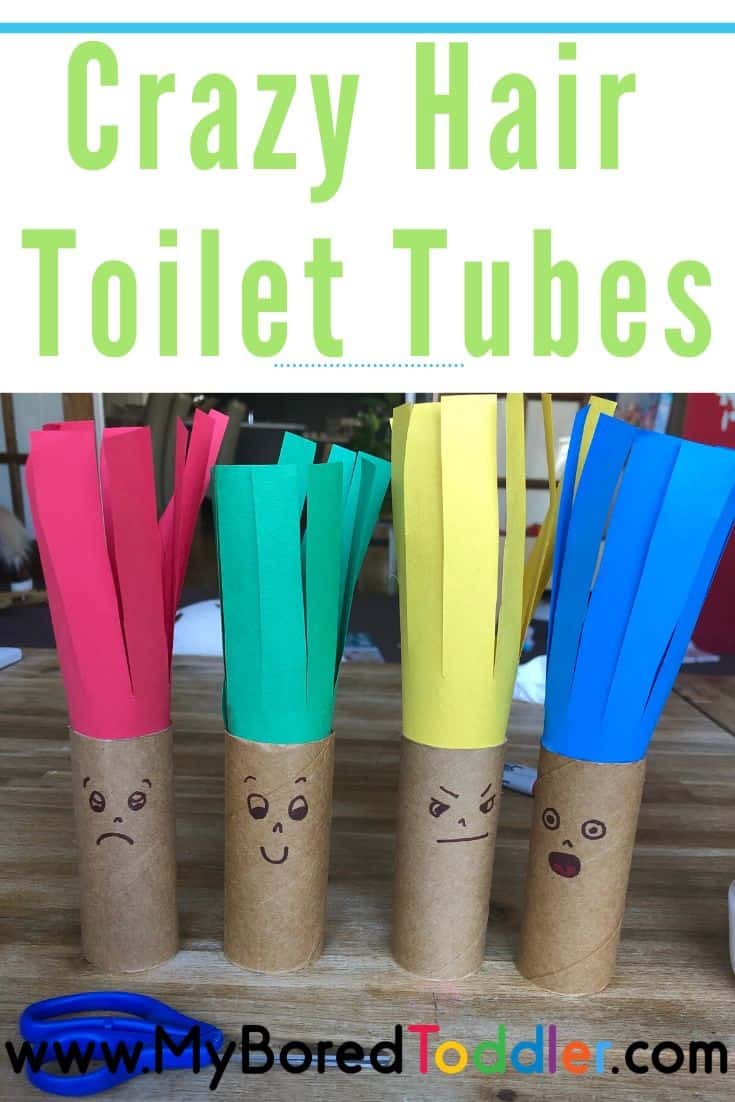 Straws and Spools Fine Motor Activity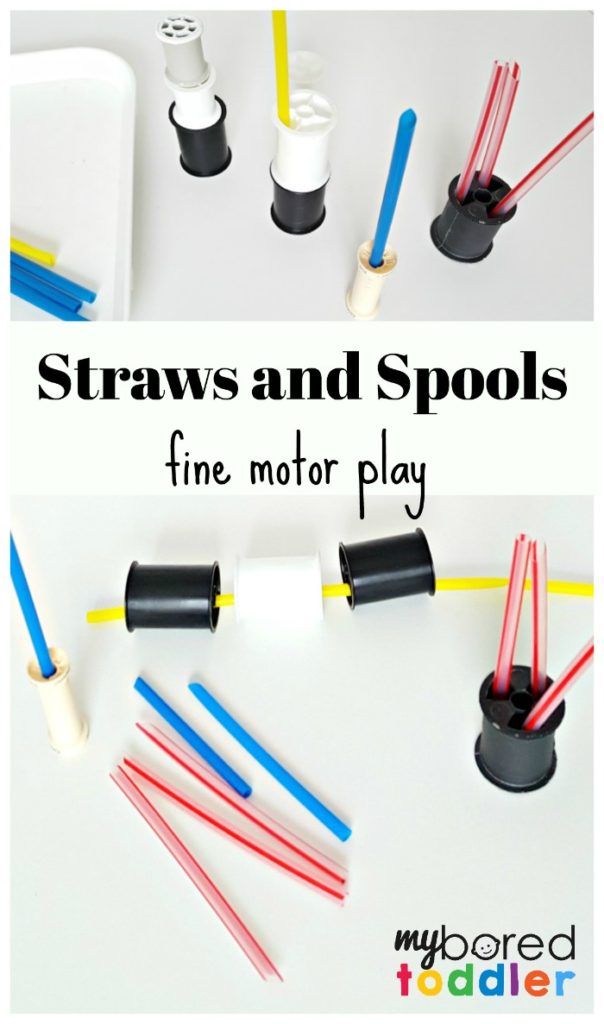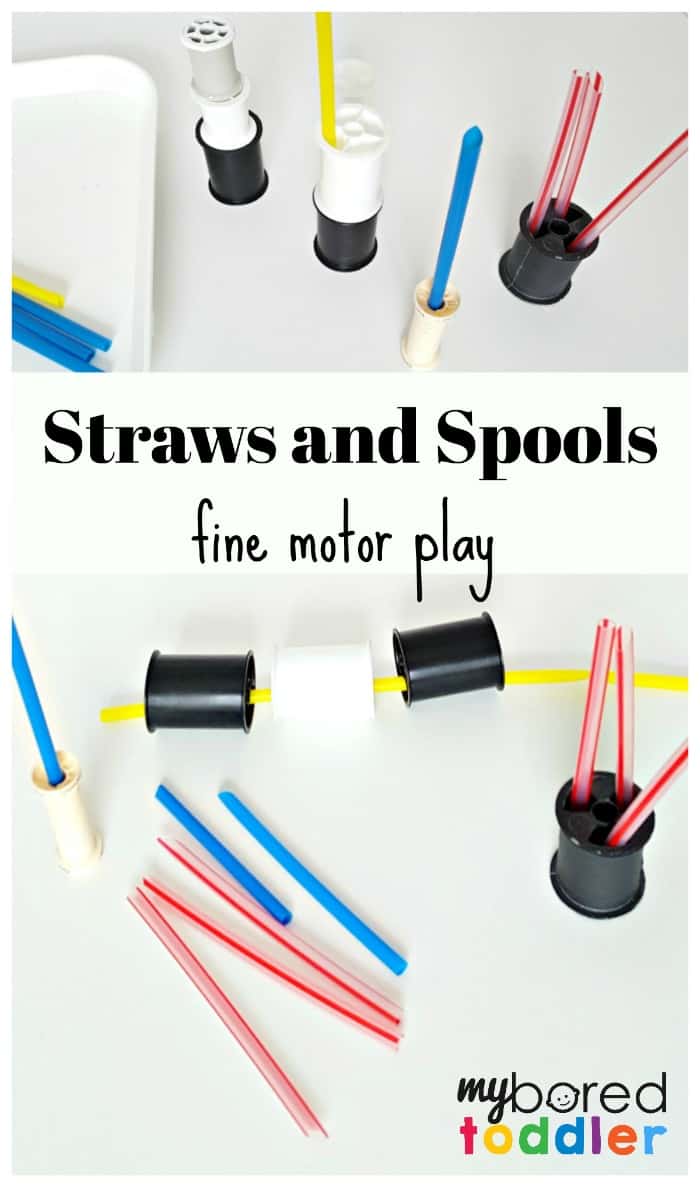 About the Author:
Dani is a busy stay at home Mum of 3 and early childhood teacher in training who is passionate about play based learning throughout early childhood. For educational play ideas that you can do at home and parenting tips visit Play Inspired Mum Check her out on Instagram andFacebook