Make a fun flower and water sensory bin! Fill a plastic tub with water and artificial flowers for some awesome sensory play.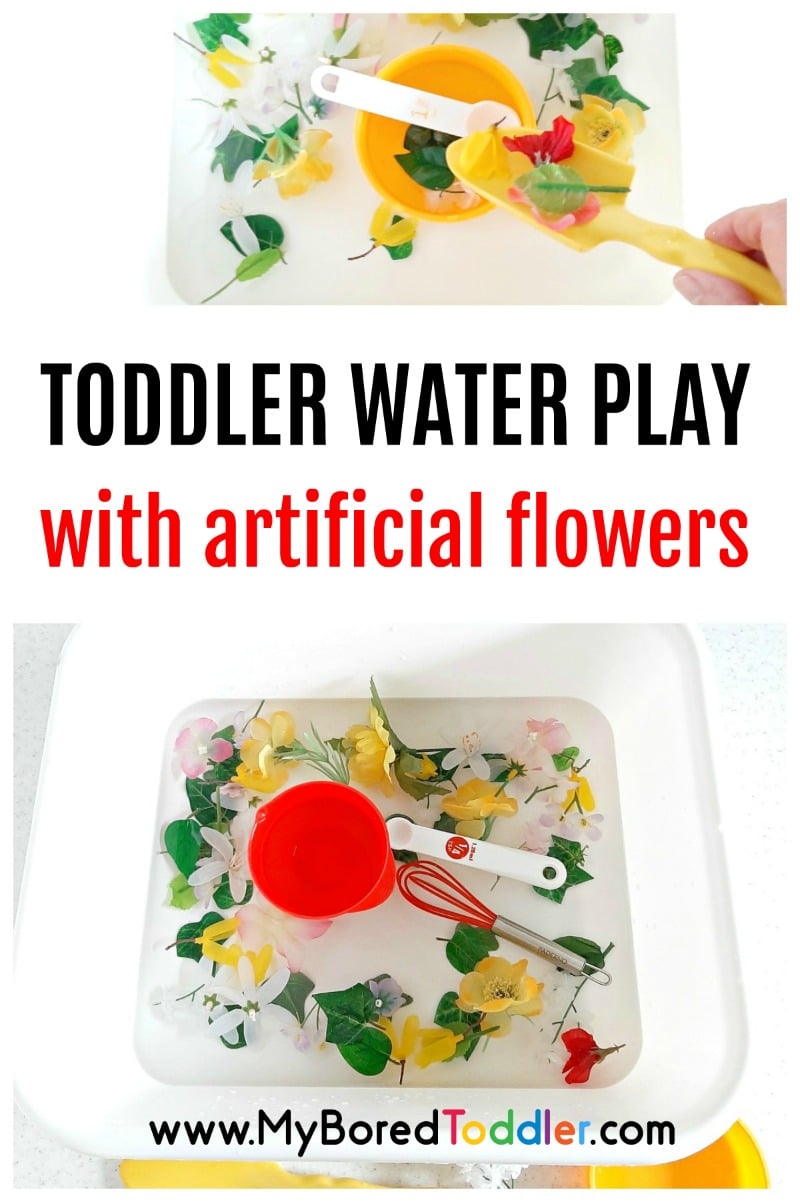 Water & Flower Sensory Bin
Toddlers and preschoolers will love splashing in the water with their hands as well as with flower stems. The colors and textures of this water play are an invitation to play that your toddler can't resist.
When you provide a plastic bin filled with water and colorful artificial flowers, you create a sensory activity that's filled with play and learning! Toddlers can experiment with the materials in many different ways to engage fine motor and sensory skills.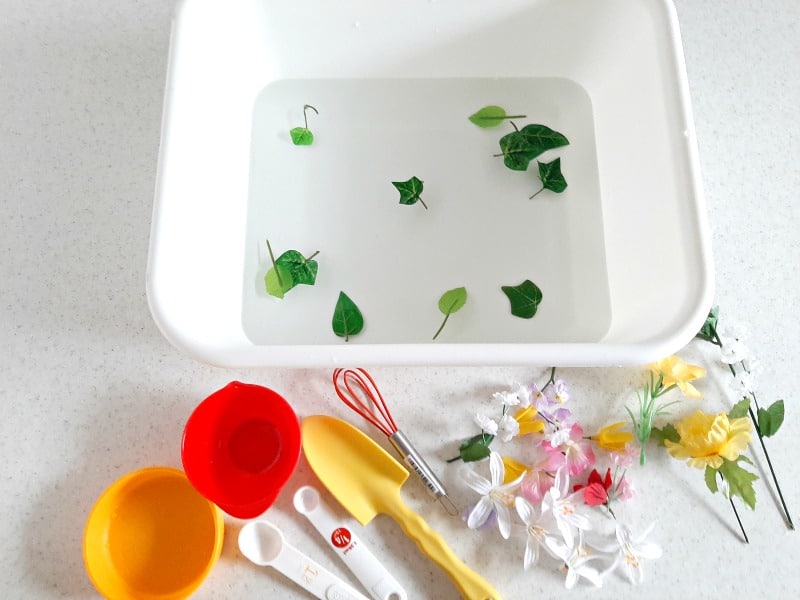 To set up the activity, place a plastic basin on the floor. Add water. That's it! The size of the basin can be whatever you have on hand, and it doesn't need a lot of water to prompt play and exploration.
Artificial flowers are easy to find in a craft or department store. Include different colors and types of flowers and leaves.
Provide utensils and bowls to prompt imaginative play and hands-on exploration. Sprinkle a few leaves into the water to invite your toddler to add other materials to the basin.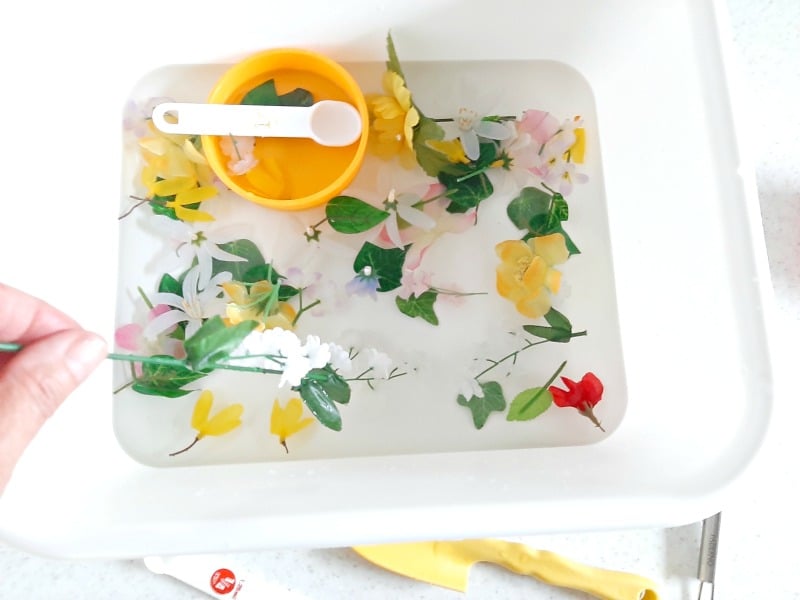 Divide the main stem into individual flowers to create a handful of smaller flowers with petals and a short stem. They are easy to cut away from the main stem with scissors.
Leave a long stem on a couple flowers. Your toddler can hold the stem to splash and stir things around in the water.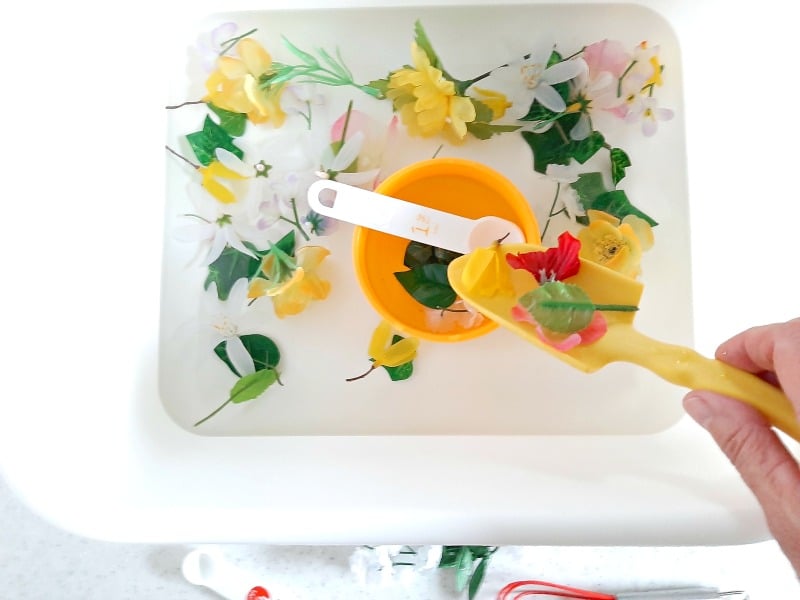 Observe the materials as you play with your toddler. Guide the play with words and actions.
What happens to the flowers when they get wet? Do they feel different or look different? Do they sink or float?
Let's scoop up flowers and leaves with the shovel and put them into a bowl.
Stir the soup with a spoon or whisk.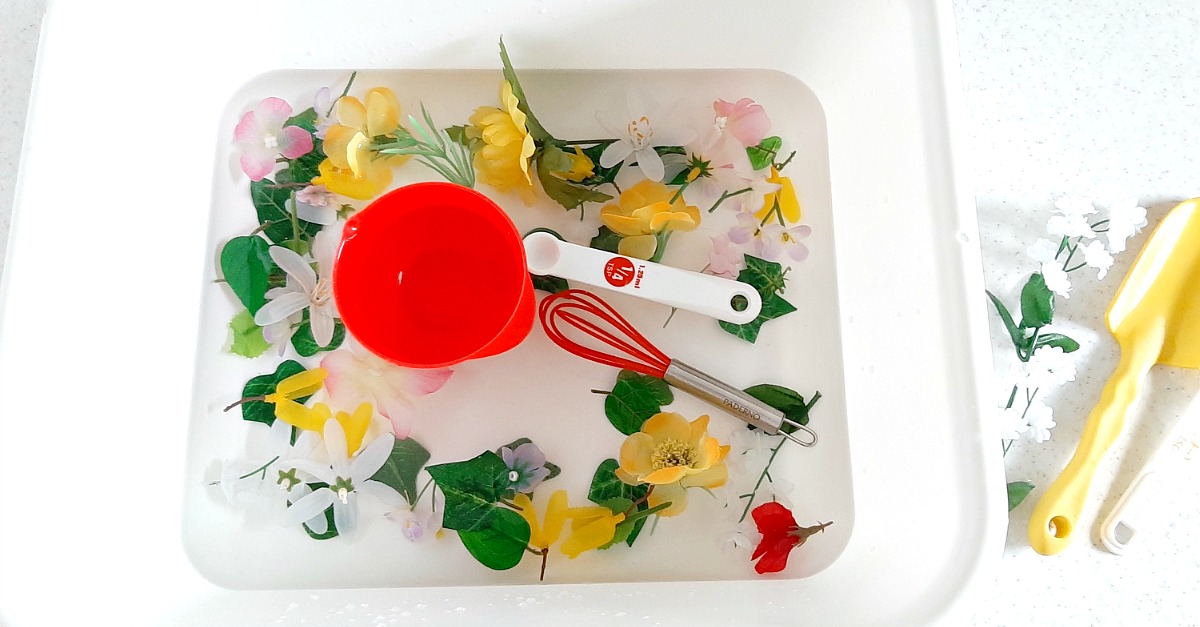 Water play is a simple yet beneficial activity for toddlers. The colorful materials and warm or cool water provide lots of sensory experiences, and opportunities for imaginative play. The bin is easy to set up, and the benefits are definitely worth a little messy play.
To cut down on mess, be sure to cover a large area under the basin with plastic, or even a thick blanket that can be hung up afterward to dry.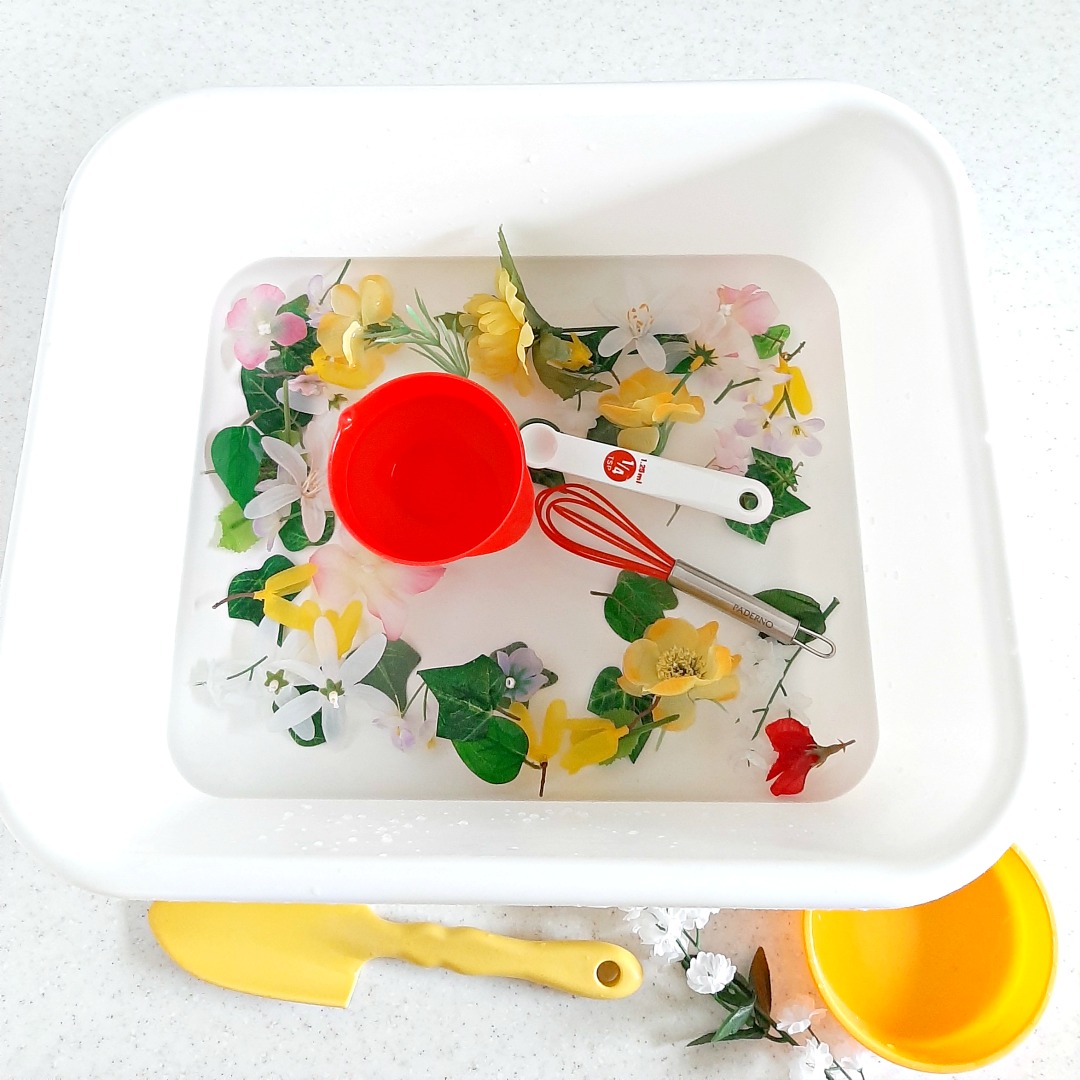 The artificial flowers can be scooped out of the basin when the play is ended and spread on a towel to dry. They can then be stored in a container to be reused in crafts, water play, sand play, or other activities.
Artificial flowers can easily be used in toddler activities all year round. They provide low-cost, low prep, colorful sensory play for toddlers.
For more fun toddler activity ideas why not join our Facebook Group or follow us on Instagram – follow @myboredtoddler and use #myboredtoddler.
SOME MORE FUN TODDLER ACTIVITY IDEAS YOU MIGHT ENJOY ARE: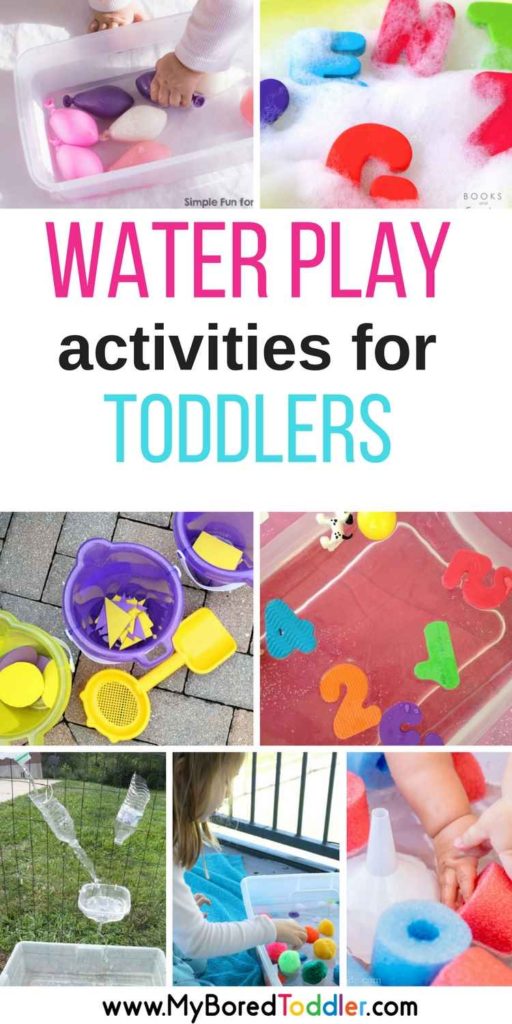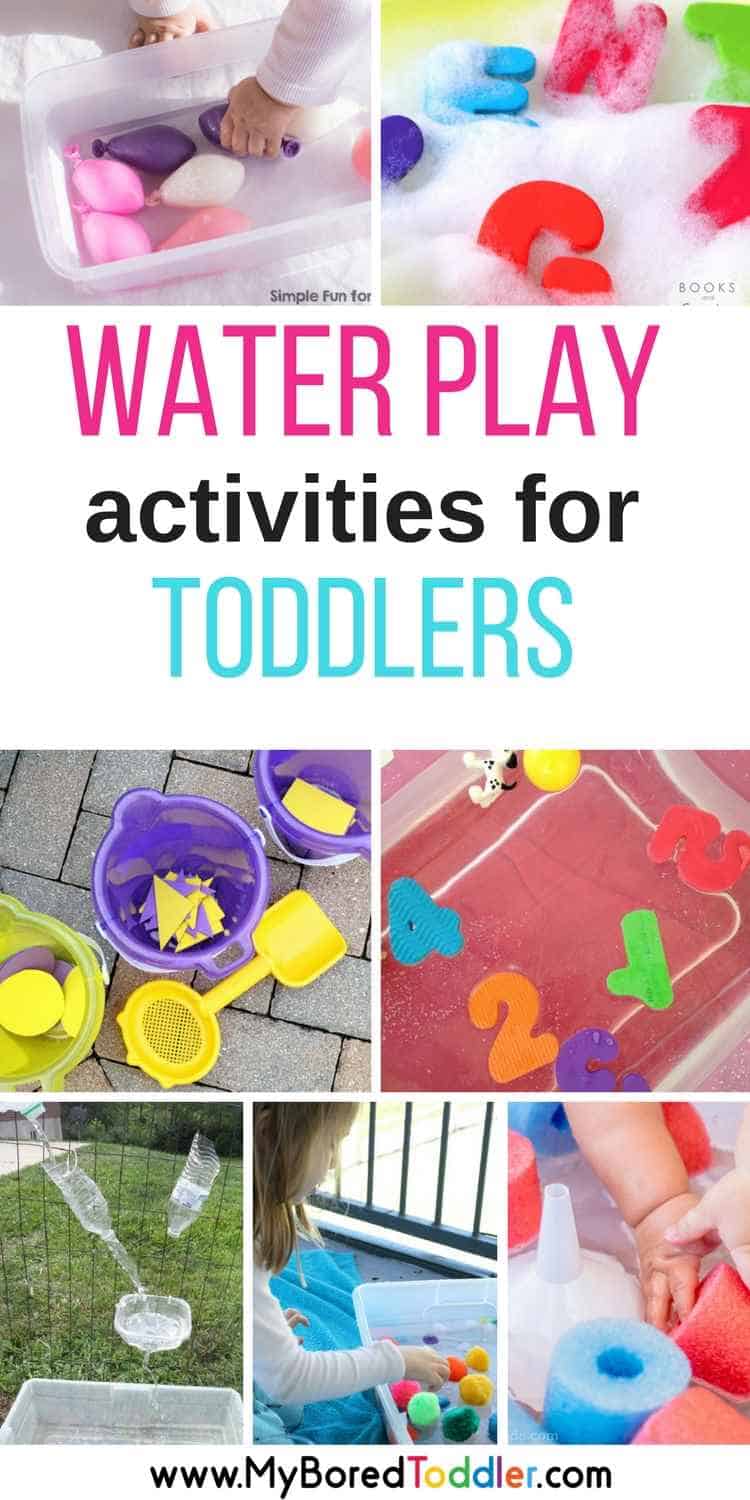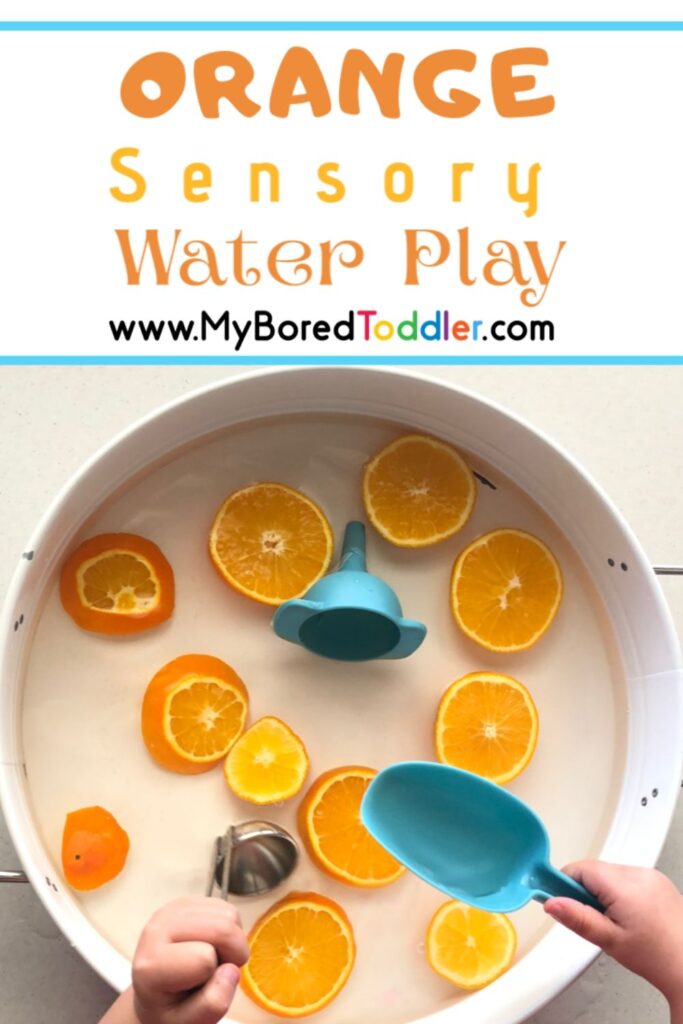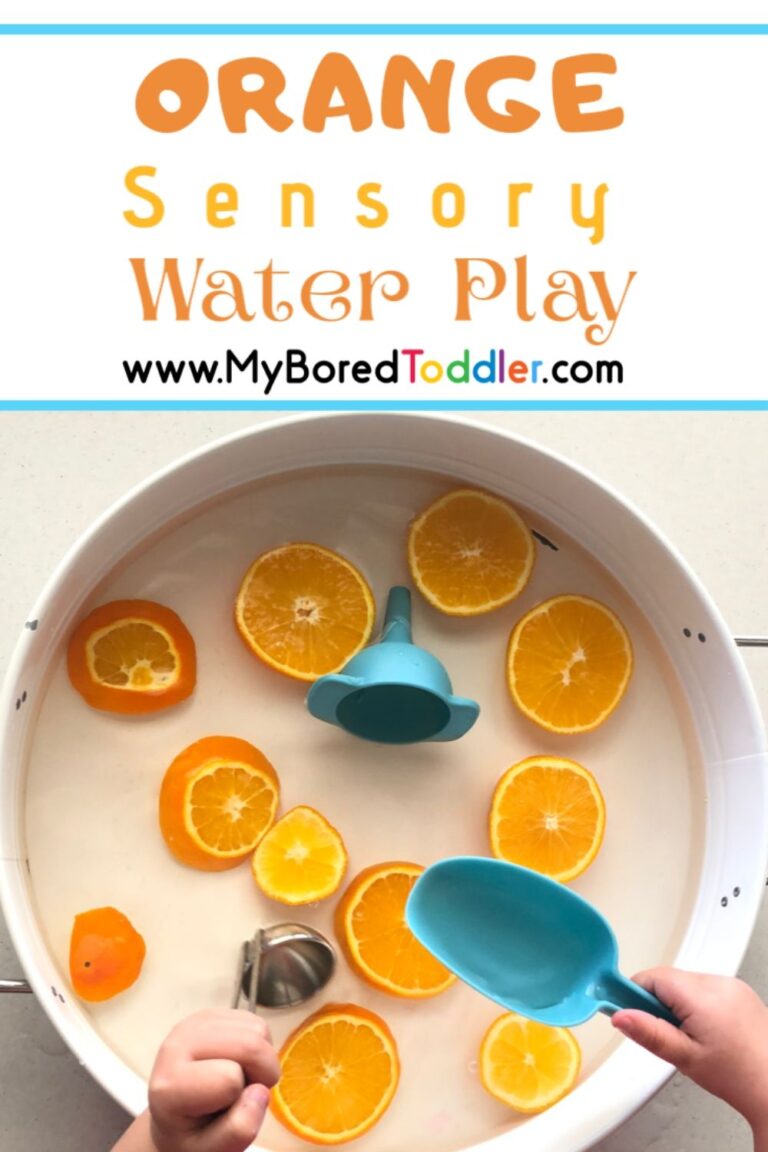 About the Author
Heather is a former preschool teacher and founder of preschooltoolkit.com, a website providing early learning resources for teachers and parents. She focuses on creating fun crafts and activities that engage developmental skills while promoting hands-on learning through play. Follow her on Facebook, Pinterest, Twitter, Instagram