Let's explore butterflies with a finger painting activity! Toddlers will love these beautiful paper butterflies they can use as puppets in fun pretend play.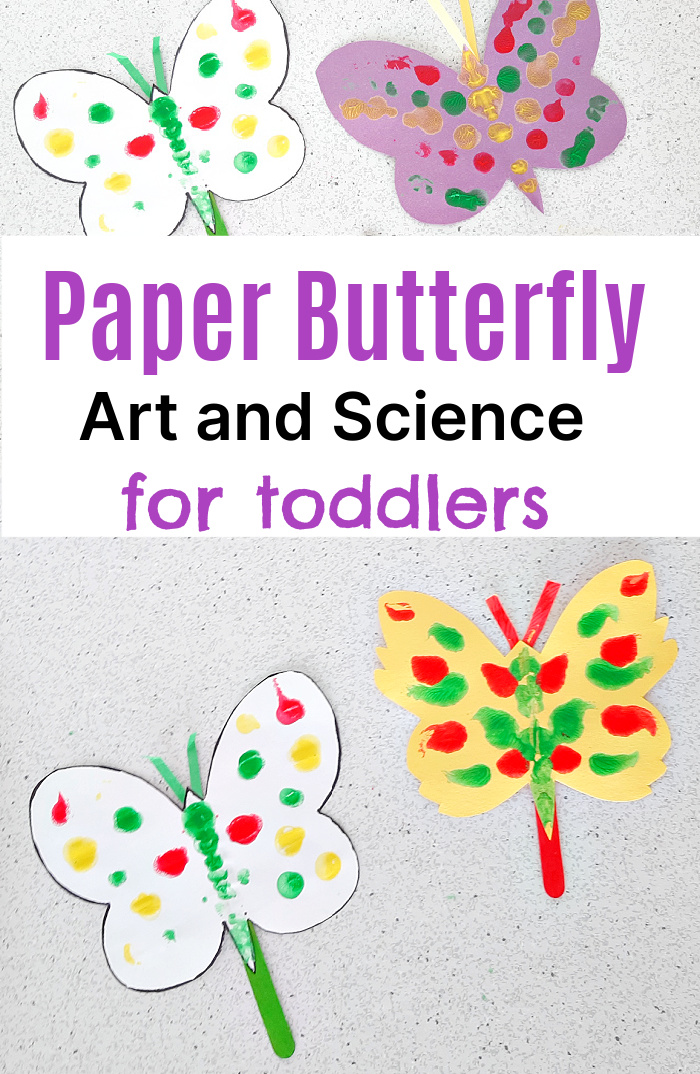 Butterfly Finger Painting Art Activity
Tis the season for all things bugs and insects, especially beautiful butterflies.
Spring and summer fun includes observing butterflies outside in nature and creating butterflies indoors with this easy finger painting activity.
This craft is beneficial for supporting scientific discovery along with fine motor and creative skills.
As little scientists, kids get to explore the transfer of paint patterns, and the bilateral symmetry evident in butterfly wings.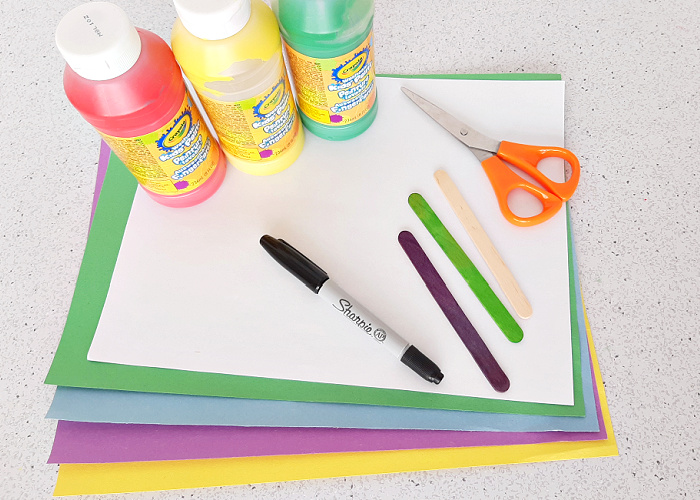 What you need for a finger painted butterfly craft
You can use plain or colored paper. Choose a lightweight paper like tissue paper, or a sturdier paper like construction paper or cardstock.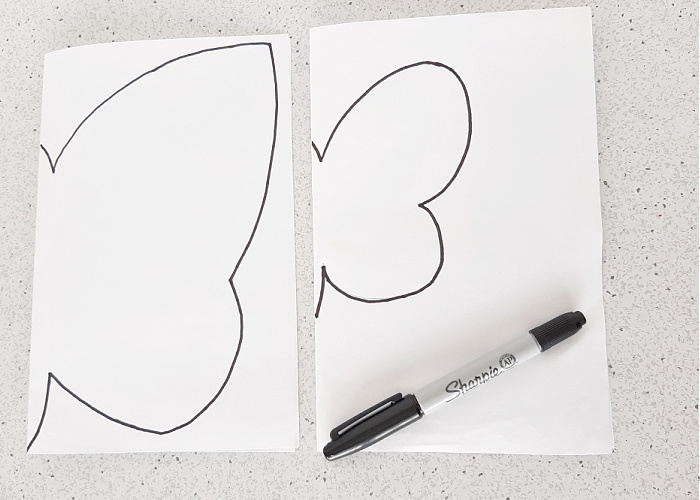 Instructions
Draw half a butterfly outline on the fold of a piece of paper. The pattern can be large or small.
A larger pattern will allow you to do a complete handprint on one side of the butterfly if preferred instead of painting with fingertips.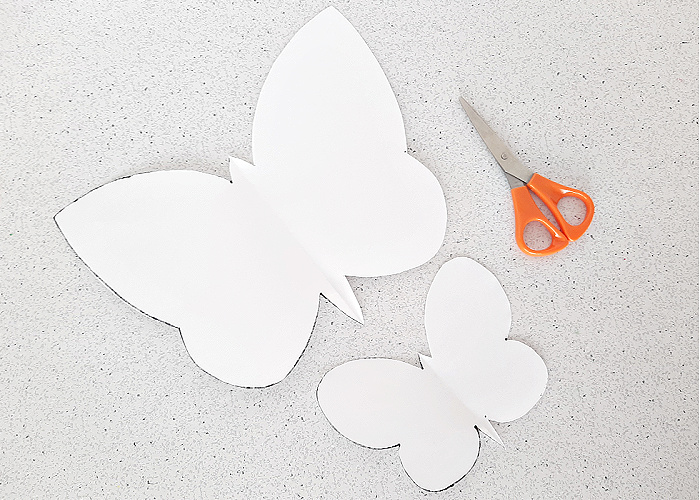 Cut out the pattern. Unfold to reveal the butterfly shape.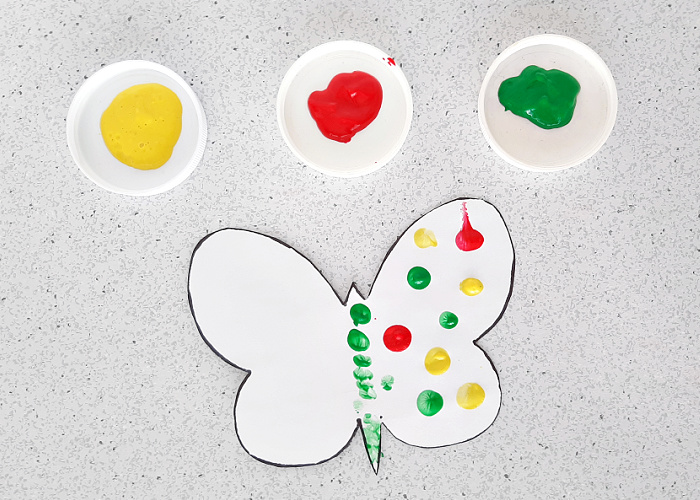 Pour craft paint into jar lids or onto foam tray.
Finger paint one side of the butterfly only, as well as the body.
Two or three different paint colors allow for a colorful design, but you can easily use just one color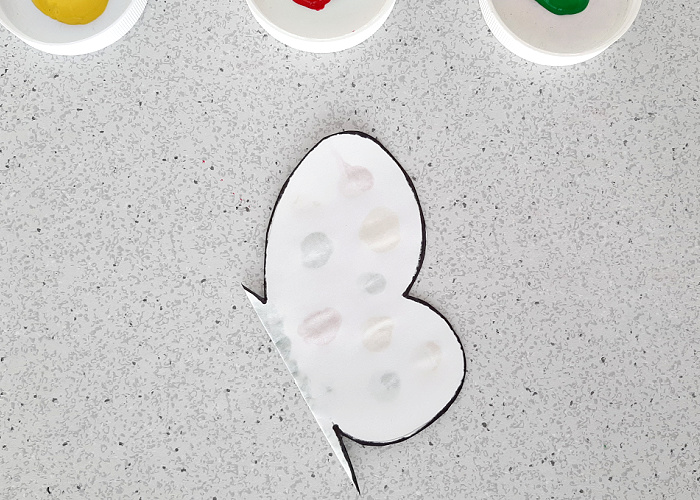 Fold the unpainted side of the paper over onto the painted side.
Press paper gently with palm or fingertips to transfer paint.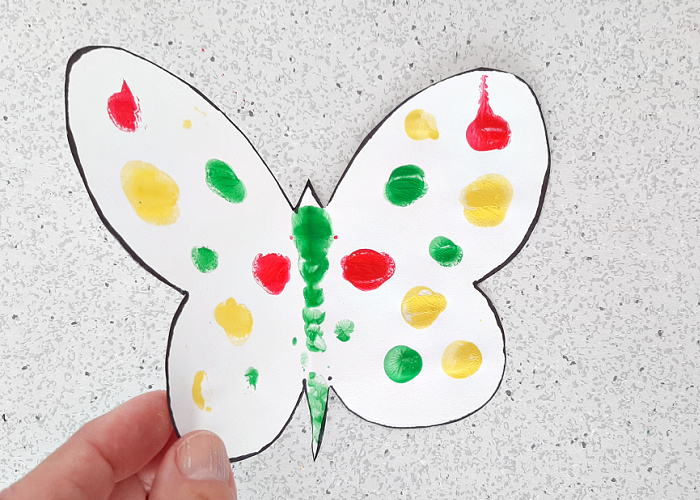 Open the paper to reveal the butterfly with two painted wings.
Talk about how the two sides look alike.
What colors can you see?
Do the wings look the same? What is different?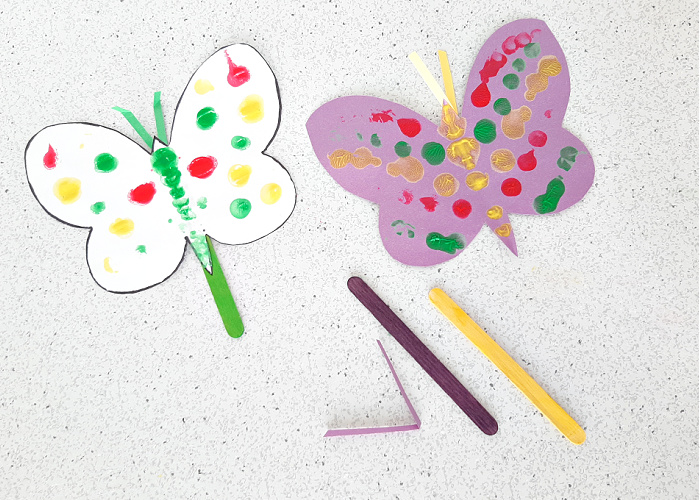 Finish the craft by gluing the butterfly body to a craft stick or dowel. You could even glue the butterfly to a twig to add a natural element to the craft.
Fold a narrow strip of paper to glue to the butterfly for antennae.
Choose matching colors or different colors to create your own unique butterfly.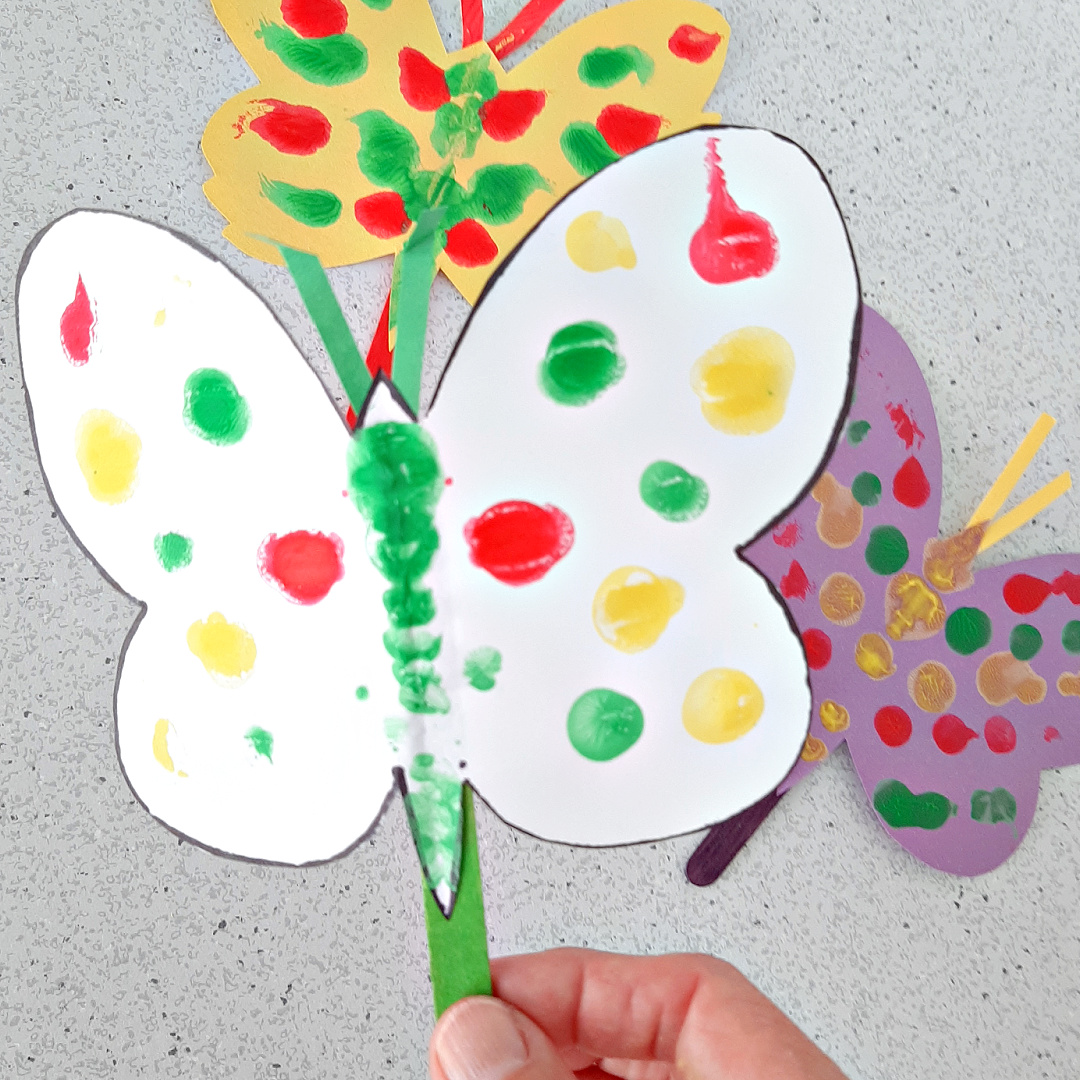 Gently move the stick up and down to move the butterfly wings.
Kids of different ages can make butterflies together for a family activity.
Use the puppets in gross motor play, swooping over the lawn, flapping paper wings.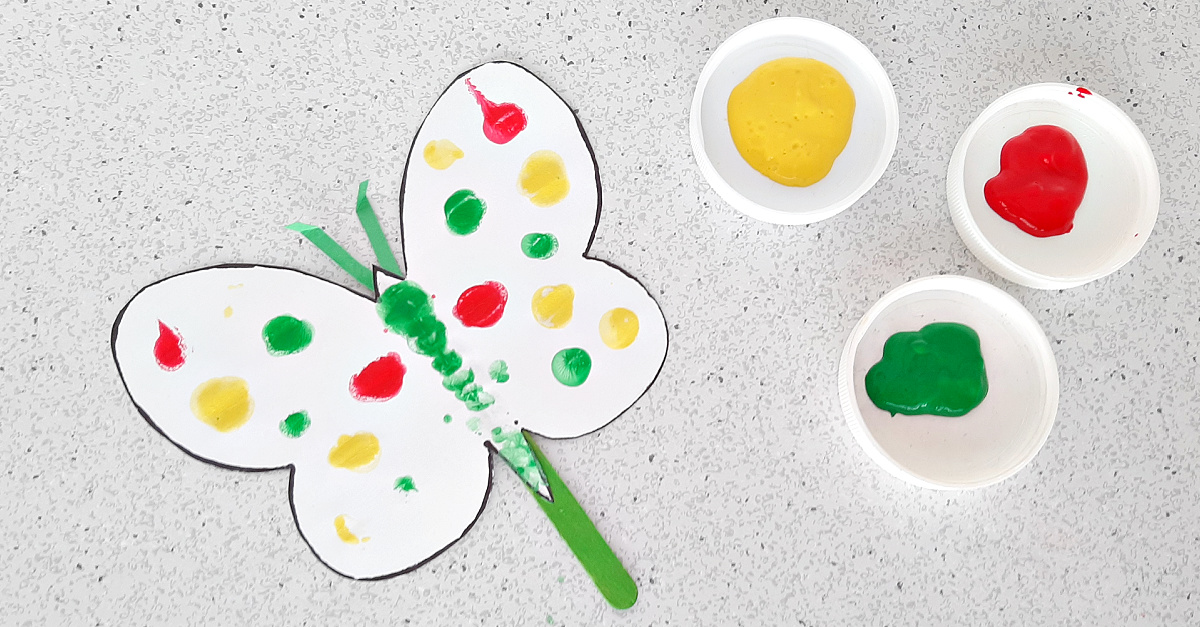 This simple activity introduces scientific observation while providing a fun art process for your toddler.
Display these pretty butterflies at home or in the classroom to welcome summer!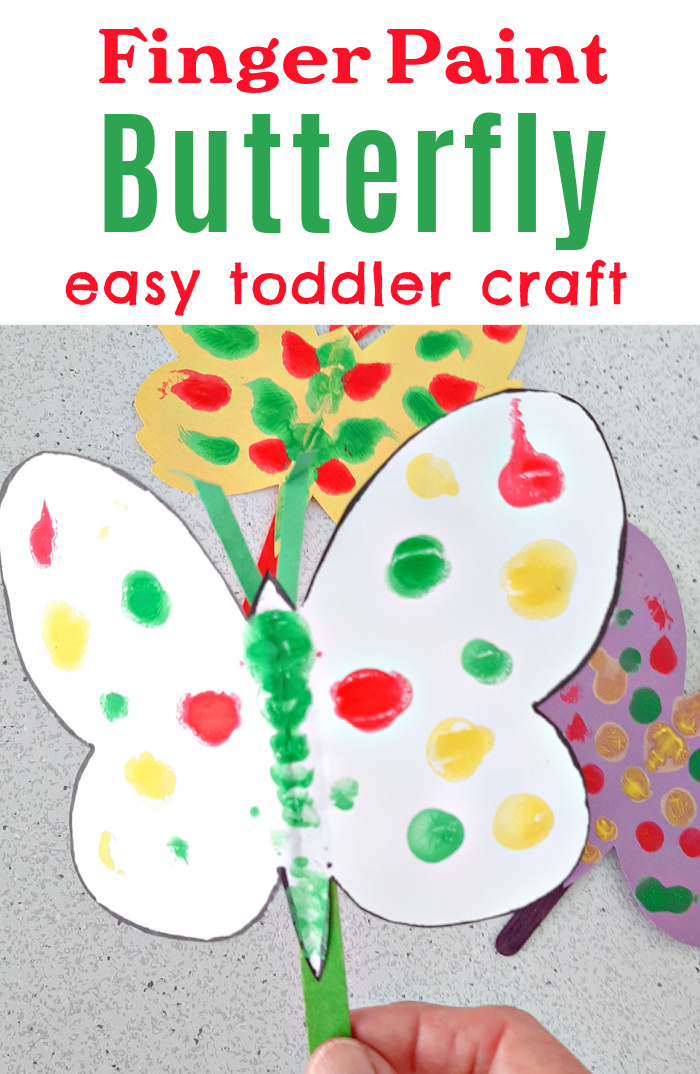 If you enjoyed this sun painting activity we would love to see a picture - share it on Instagram (use #myboredtoddler and tag @myboredtoddler) or share it in our Facebook Group.
SOME MORE FUN TODDLER ACTIVITY IDEAS YOU MIGHT ENJOY ARE: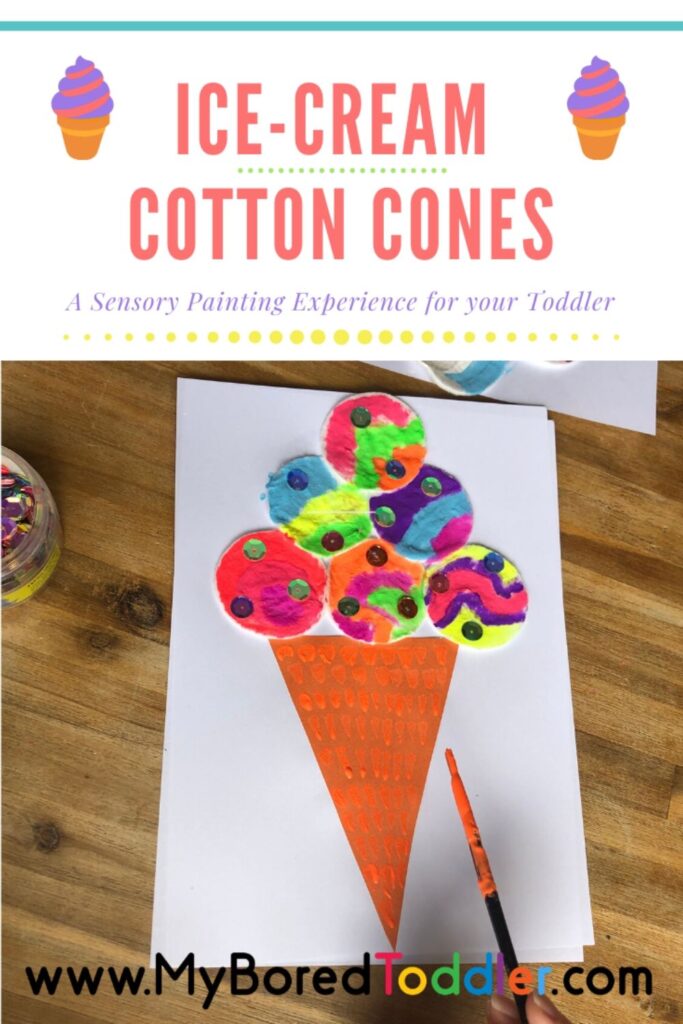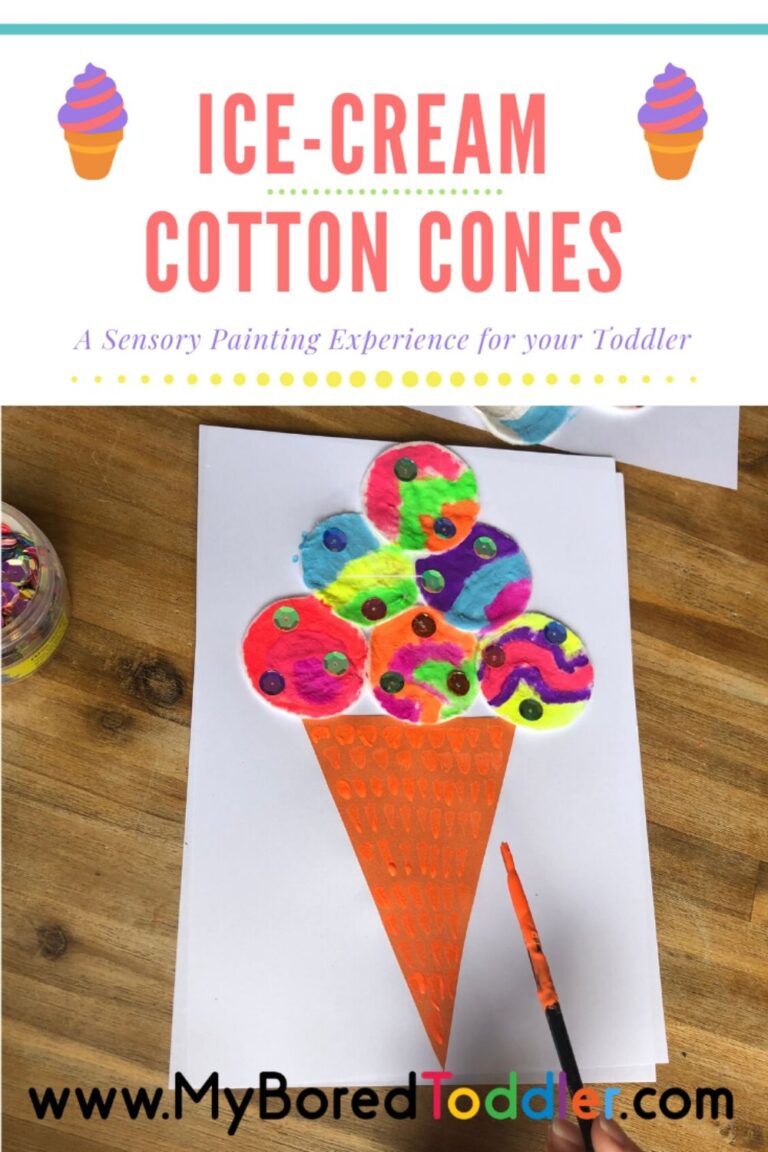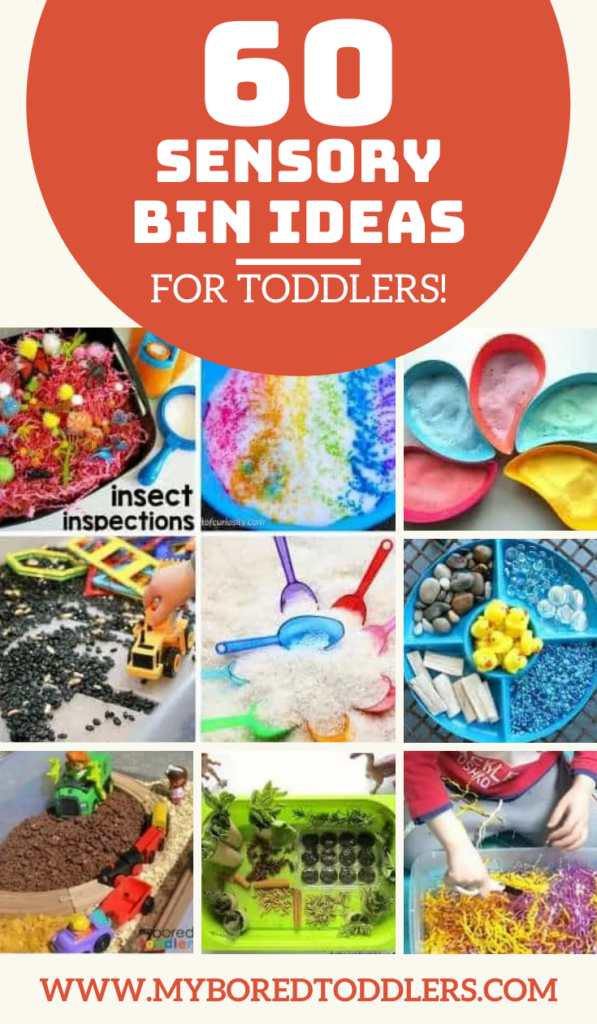 About the Author
Heather is a former preschool teacher and founder of preschooltoolkit.com, a website providing early learning resources for teachers and parents. She focuses on creating fun crafts and activities that engage developmental skills while promoting hands-on learning through play. Follow her on Facebook, Pinterest, Twitter, Instagram