Learn about the four seasons with this fun finger painting idea. Its messy, and fun and educational. Your toddler's art will become a useful visual guide showing the cycle of the seasons. Seasons finger painting is a great way to explore this scientific topic!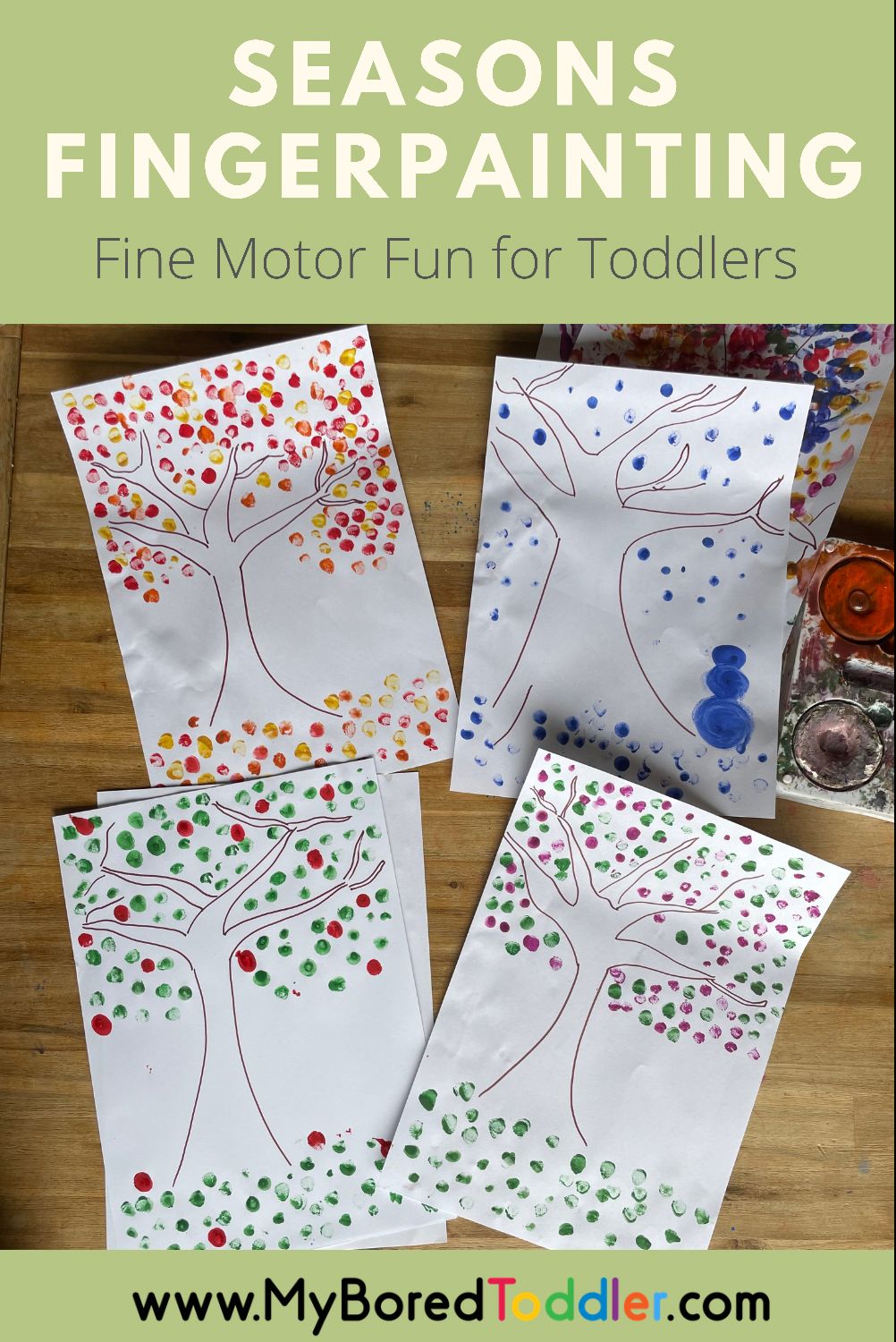 Seasons Finger Painting
Finger painting is always lots of fun. It's a welcomed excuse to get a bit messy and explore different colours and how they interact with each other.
This hands-on toddler art idea doubles as a valuable lesson about the weather too. Discover the pattern that is the four seasons, colours that represent each one and how nature responds to each one.
What you need to make your Seasons Finger Painting art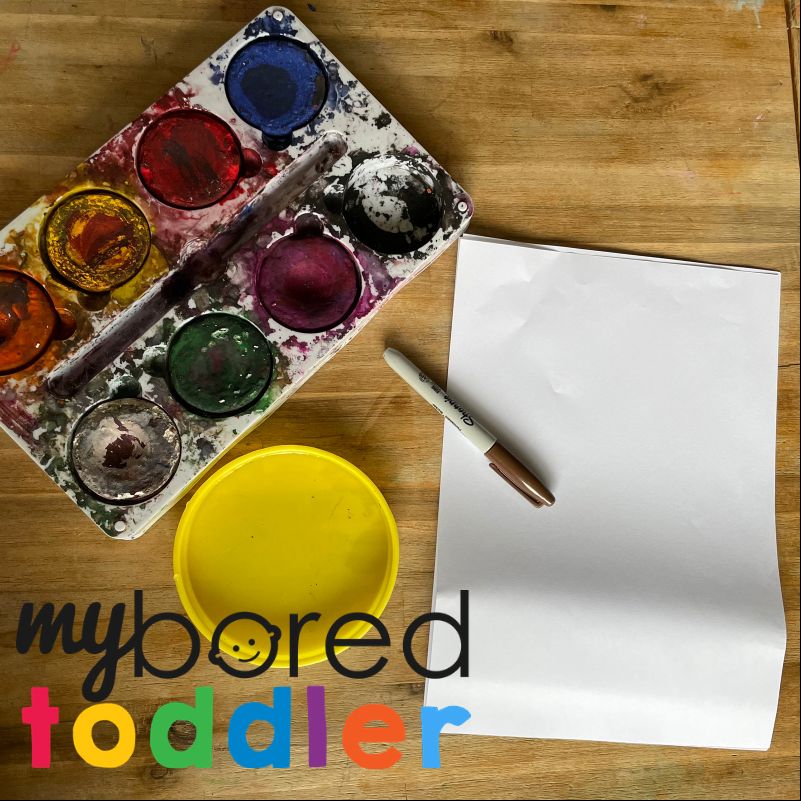 We used water colour paints however you can easy swap this out for whatever type of paint you have on hand – pun not intended!
If your toddler shy's away from getting their hands messy, they can still be included in this art idea. Cotton tips or cotton balls with a peg are great alternatives that will still offer a wonderful effect.
You never know, given the opportunity to dip a fingertip into the paint without the pressure too, might just give them more confidence to actually try it.
How to set up your Seasons Finger Painting activity
Using your sharpie or marker, draw a tree trunk and branches on each sheet of paper. Each page will be representing one of the four seasons; Summer, Autumn, Winter and finally, Spring.
Your trunk doesn't need to be perfect. Your child won't mind at all if it is not gallery ready. Please mind to leave room for the fingerpainted leaves and some ground cover.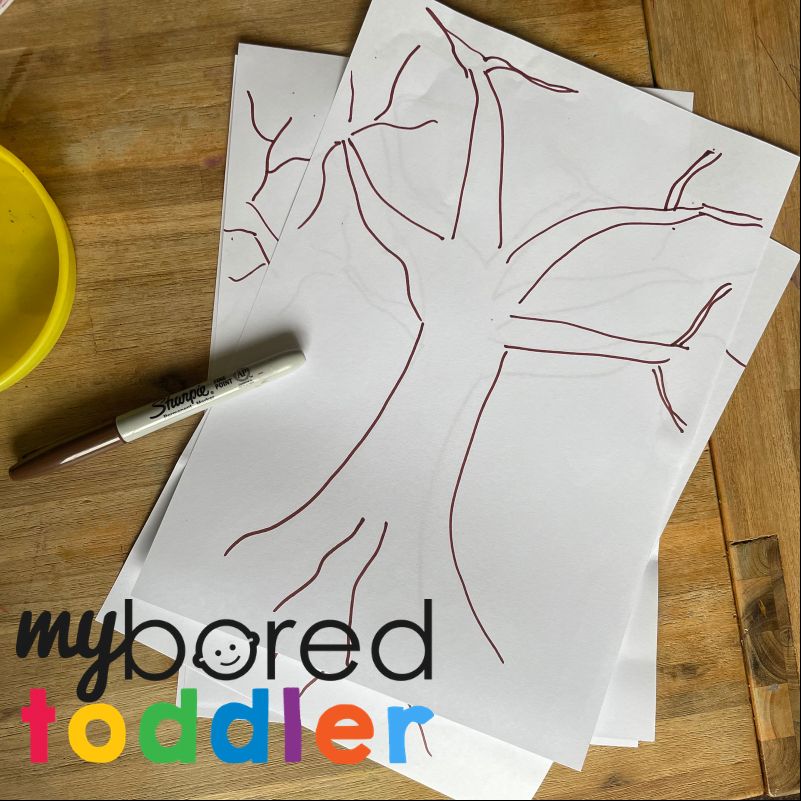 Now the real fun begins. A quick conversation about the seasons will offer an understanding as to why we are limiting colours, rather than using the entire palette at once.
We started in winter. Our deciduous tree's branches remained bare to protect the tree from the weight of the falling snow and water loss during harsh winter conditions. We used blue paint to represent the falling snowflakes and frost that comes with winter.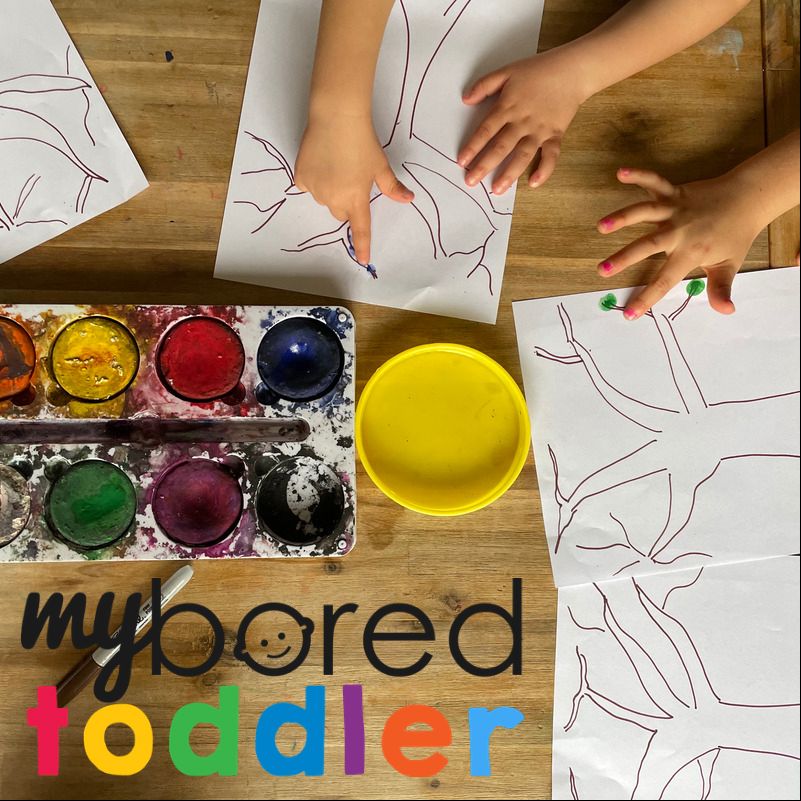 After winter comes spring. Fresh growth and beautiful bright flowers return to the tree as the weather warms up. We use green paint to represent the new growth and pink to represent the flowers. Lovely bright flowers invite friendly bees which pollinate the flowers which then turn into fruits over the months to come.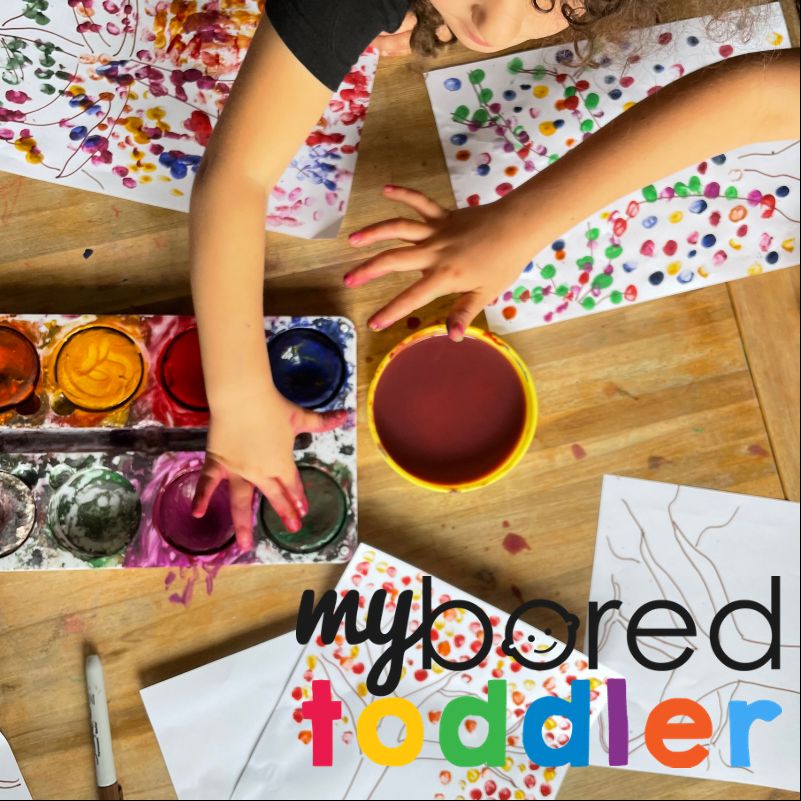 In Summer the leaves are still lush and green. Fruit begins to ripen thanks to the bees of spring. We use a darker green to represent the deeper, mature leaves of summer and red paint to represent the fruit growing.
Come Autumn, the days get shorter and cooler. Leaves no longer have as much chlorophyll; what makes them green. As the Autumn months roll by, the leaves turn to gorgeous shades of oranges, reds and yellows. We use these exact colour paints to represent this time of year.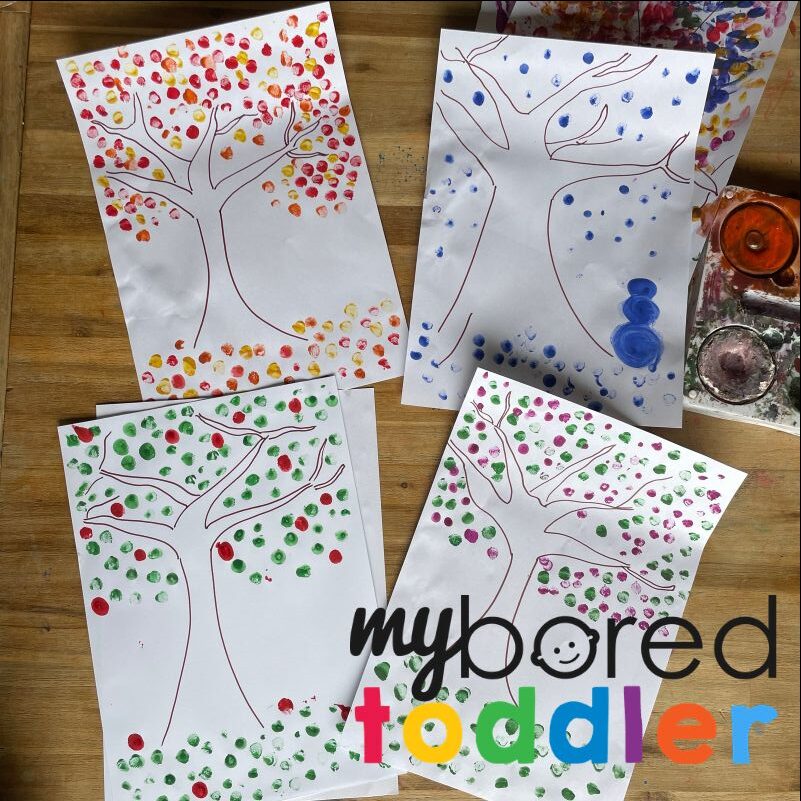 The process of actually painting the trees is so simple and loads of fun. Simply dip a finger into the paint, then press it to the page. A light touch will reveal a small fingerprint leaf. What happens when a firmer print is made? How many times can your child dot their finger before needing to reapply? These are all topics you can chat about while you are finger painting with your toddler.
This simple fingerpainting activity opens up so many conversations surrounding the seasons and cycle lots of trees go through each year. Seasons finger painting is messy, engaging and offers plenty of real learning and developmental opportunities. Don't the trees look great hanging on your art display too!
We would love to see your toddler's paintings - join our Facebook Group or share on Instagram (tag @myboredtoddler).
Some more fun toddler painting ideas
20 Painting Ideas for Toddlers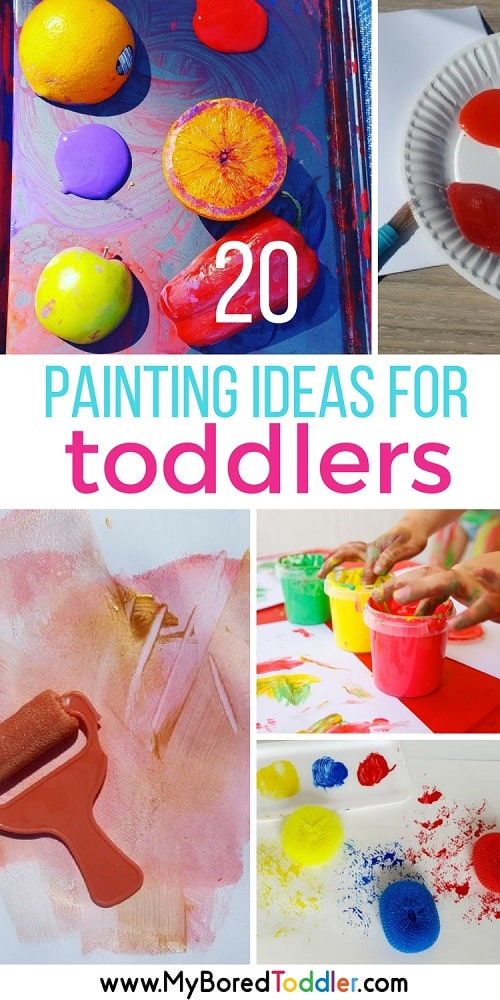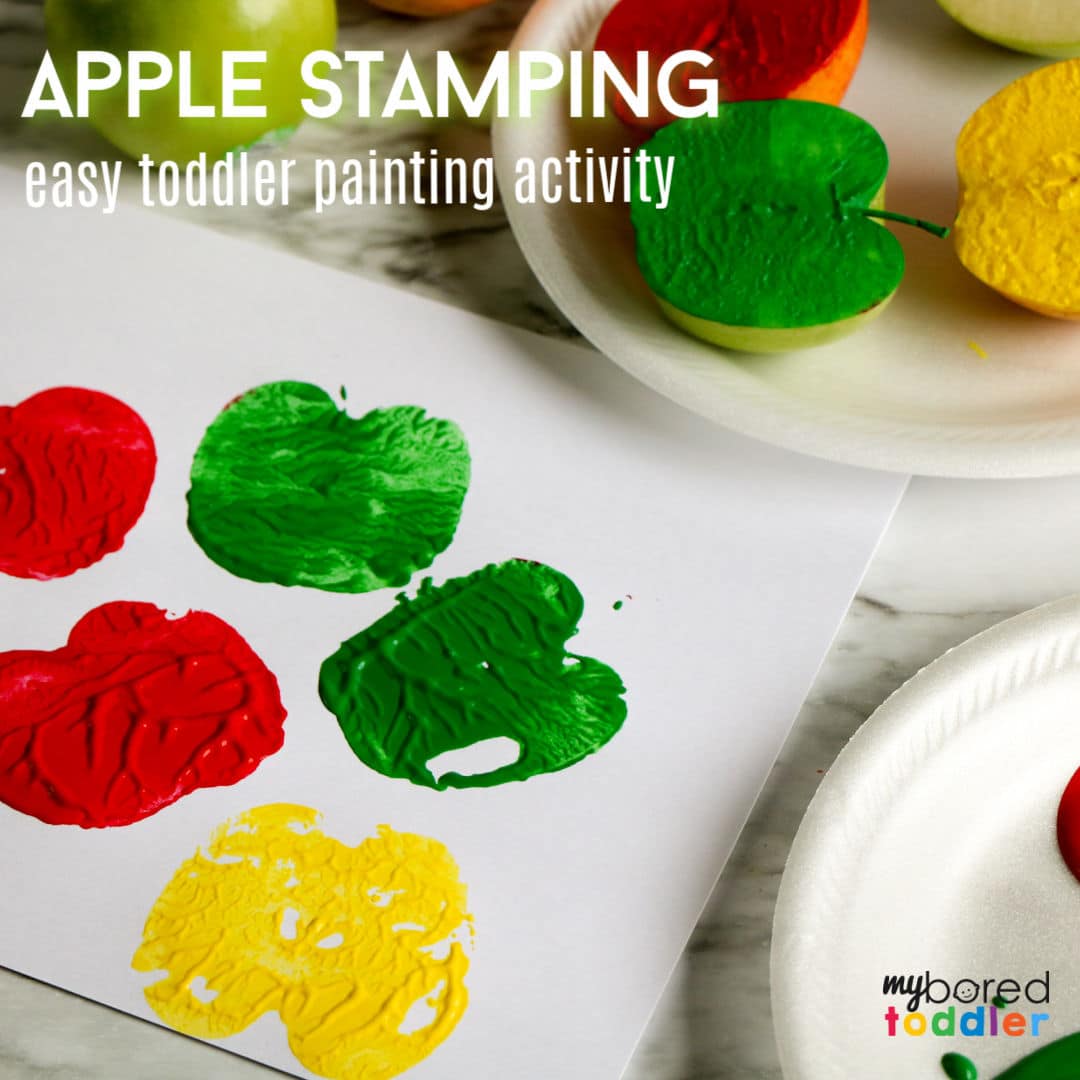 About the Author
Dani is a busy stay at home Mum of 3 and early childhood teacher in training who is passionate about play based learning throughout early childhood. For educational play ideas that you can do at home and parenting tips visit Play Inspired Mum Check her out on Instagram andFacebook