So many toddlers love playing with bugs! Let's just face it, they are fascinating little creatures aren't they? Slipping and sliding under leaves, logs and stones. Each variety are so unique and unusual. Some have obvious wings and others suddenly appear from under a metallic looking exterior. Does your toddler love bugs? Here is a fun, engaging activity that is full of Bugs in Mud!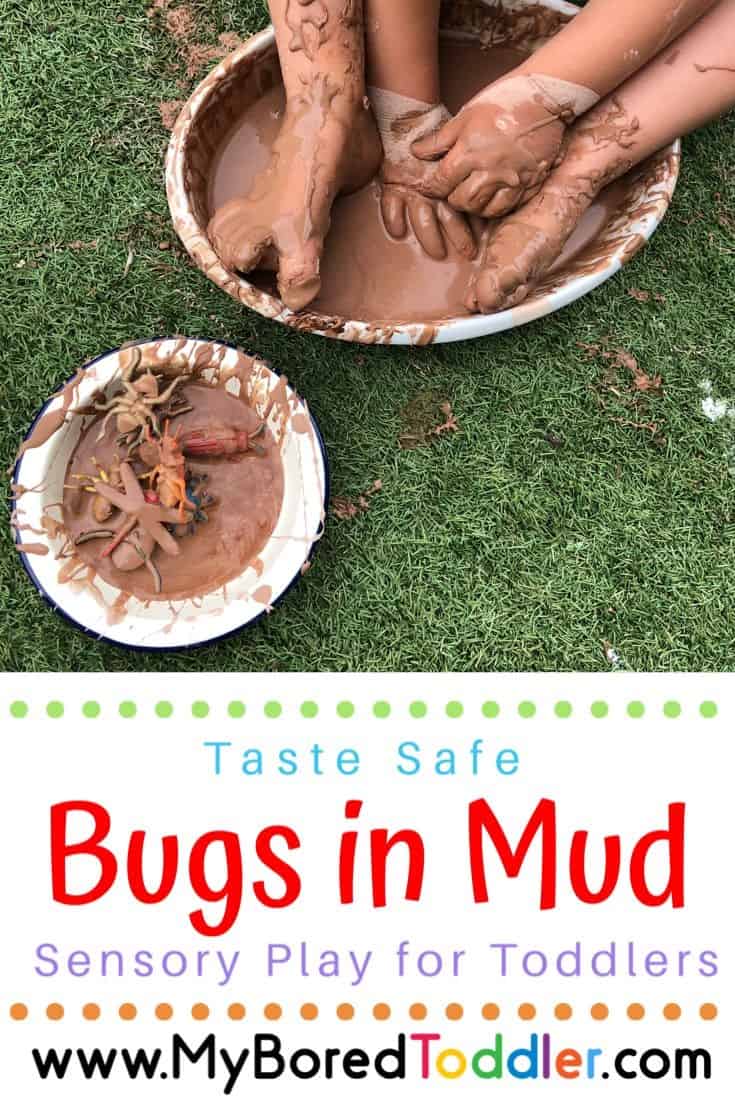 Bugs in Mud - Taste Safe Messy Play
We are loving all of our Bug & Insect activities at the moment. The book Mad About Minibeasts is getting read a LOT too! If you've never read it I recommend getting it from your local library or you can find it HERE on Amazon.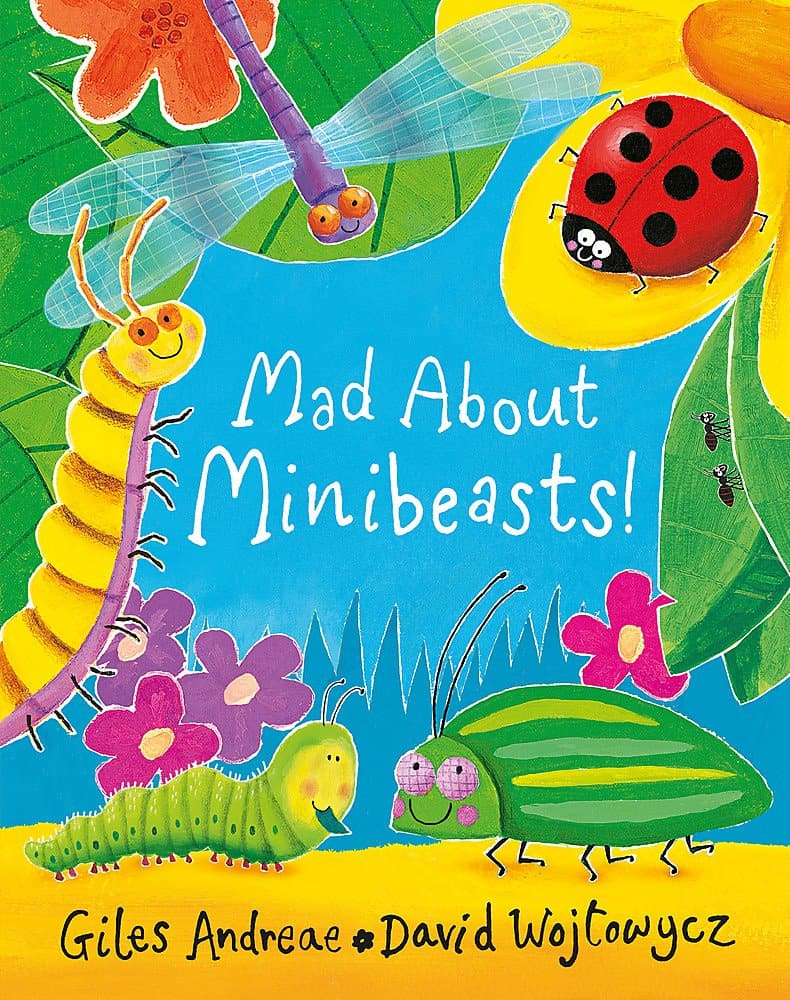 Bugs in Mud combines two elements that spark curiosity and discovery. Firstly, there is ooey, gooey, sensory chocolate oobleck and secondly colourful creepy crawlies!
Oobleck is such a fascinating sensory play medium. It holds the values of both a liquid and a solid! Squeeze it and under pressure it remains firm however as soon as that pressure is released, it flows freely like a liquid.
Mixing it with some delicious cocoa and it smells amazing! It also makes the perfect play medium for some taste safe muddy bug play.
What you need to make Bugs in Mud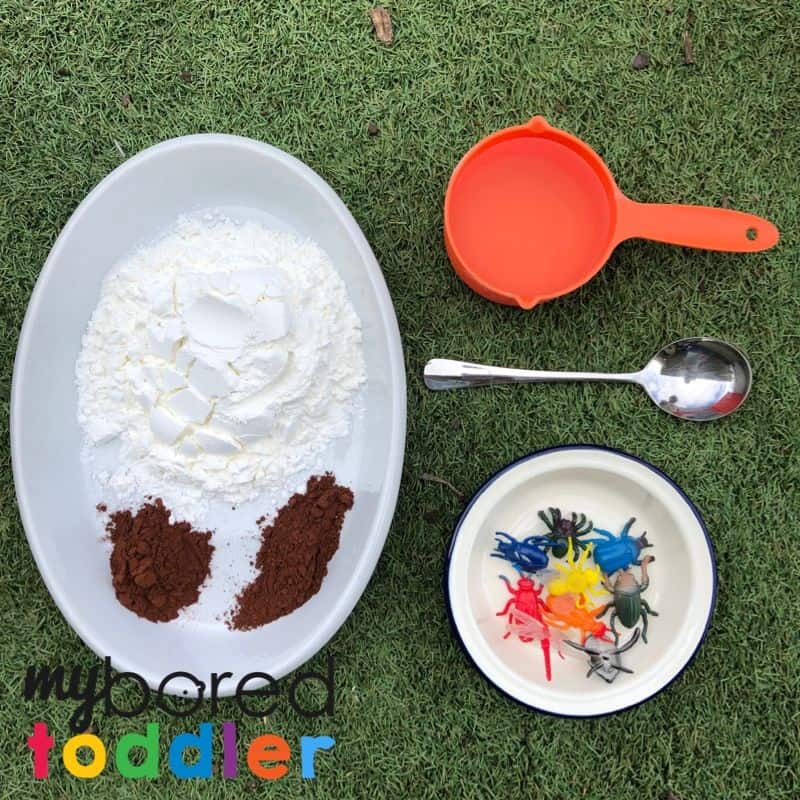 Play tray or shallow dish (We used a casserole dish)
1 cup of Corn Flour (Corn Starch)
2 tablespoons cocoa
¾ cup water
Extra cornflour
Spoon
Insect Toys - we really like THESE ones.
Bowl
How to set up Bugs in Mud activity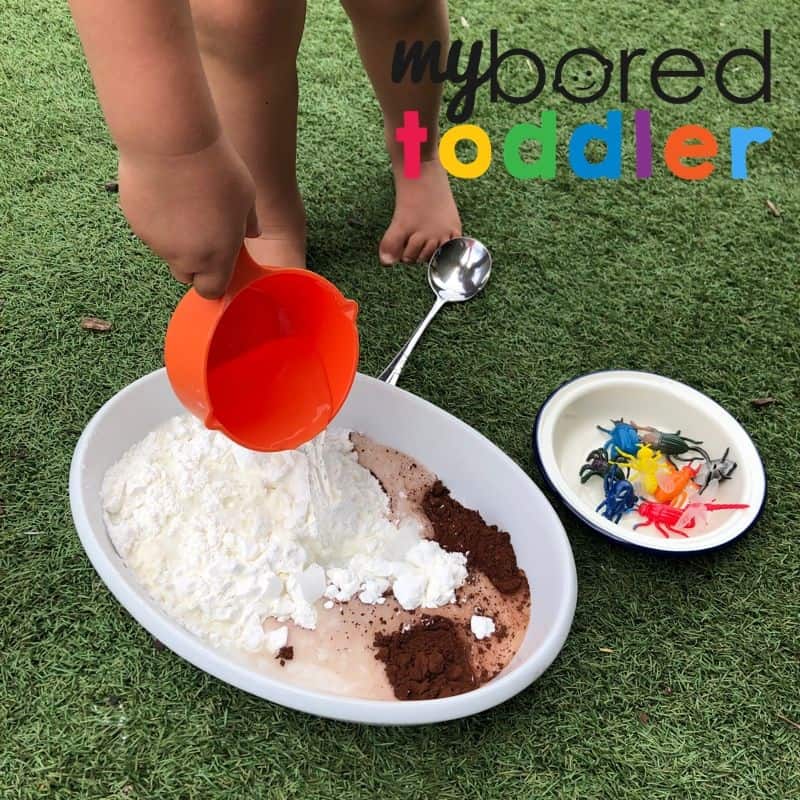 To make your yummy smelling, ooey, gooey oobleck simply mix together your 1 cup of Corn Flour, Cocoa and water in your play tray.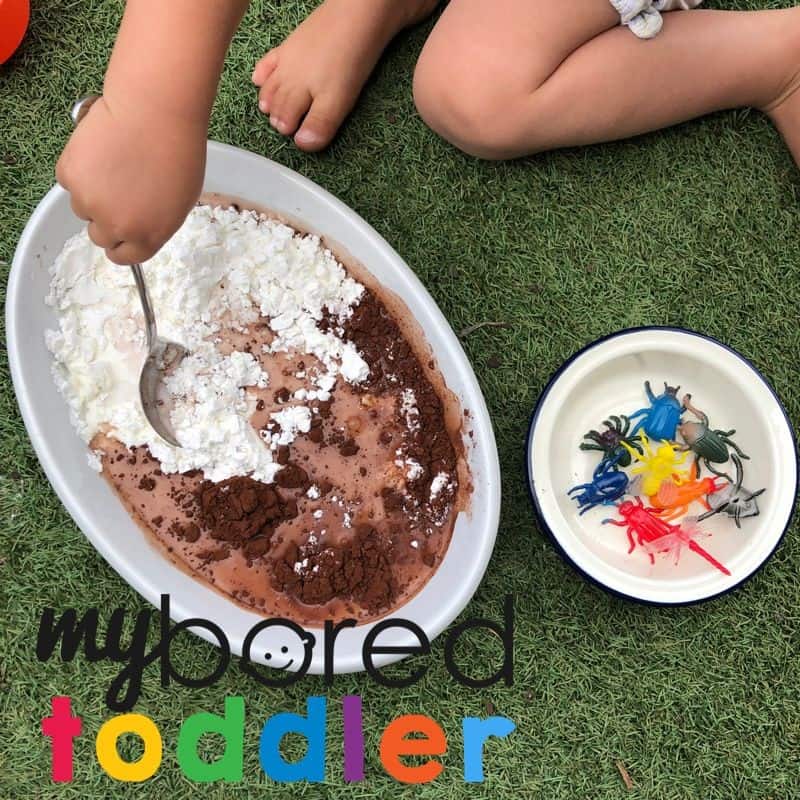 You can use your spoon or jump into the mess a little sooner and blend the ingredients with your fingers! It will start off quite stiff but does loosen up if you keep it moving. Miss 2 loved squishing the white little balls of corn flour that were floating on the surface -great for fine motor and hand eye coordination!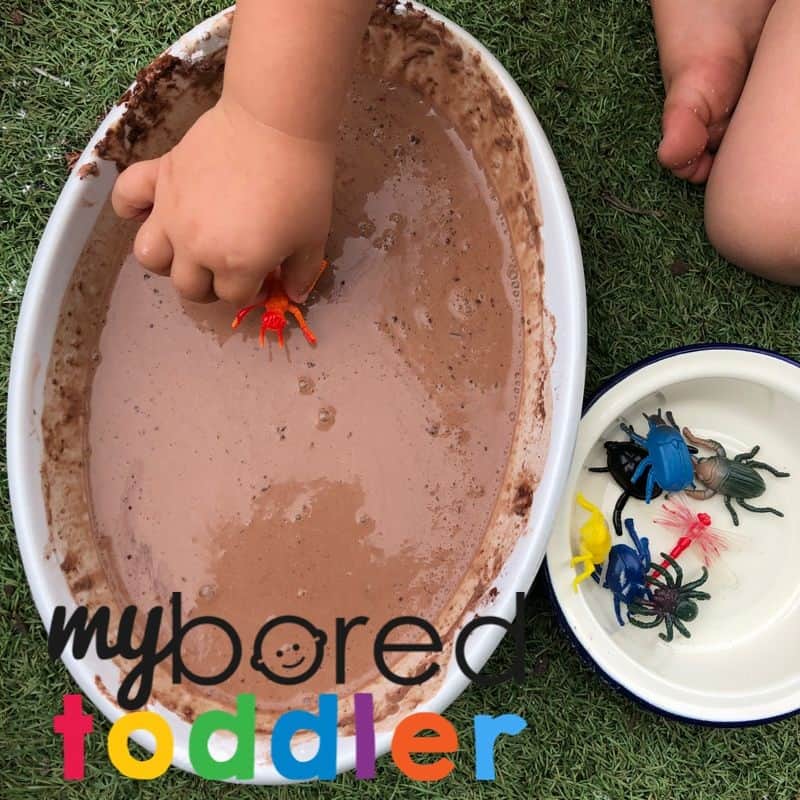 Oobleck consistency is a very individual choice. Some like it runny and others prefer it thicker. Simply add cornflour until you are happy with it.
Today we were after quite a consistency that was thick enough for the bugs to sink into but thin enough that it ran and was super messy!
If you add too much cornflour, please don't worry! Just add a little water! In fact, read to the end to find out what we did with ours after leaving it to pick the older kids up from school.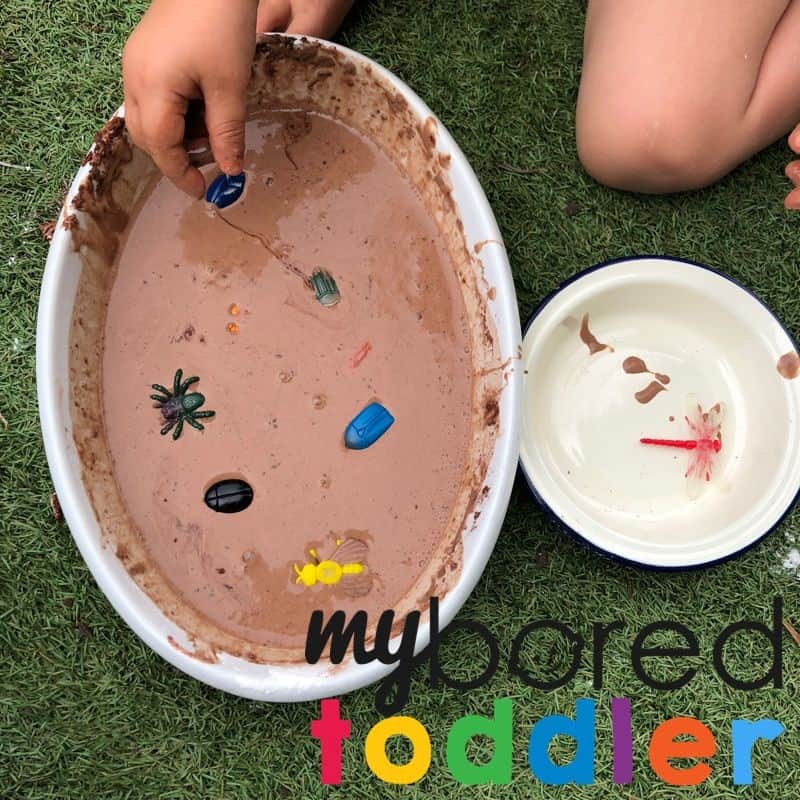 I gave the job of placing the bugs into the muddy oobleck to Miss 2. She is going through the 'I can do it' stage of development and knew it would play to her new found independence.
She scattered our insect toys through the mud. Watching each one sink to the depths of the mud opened up lots of conversations around sink and swim and how different insects sank quicker than others.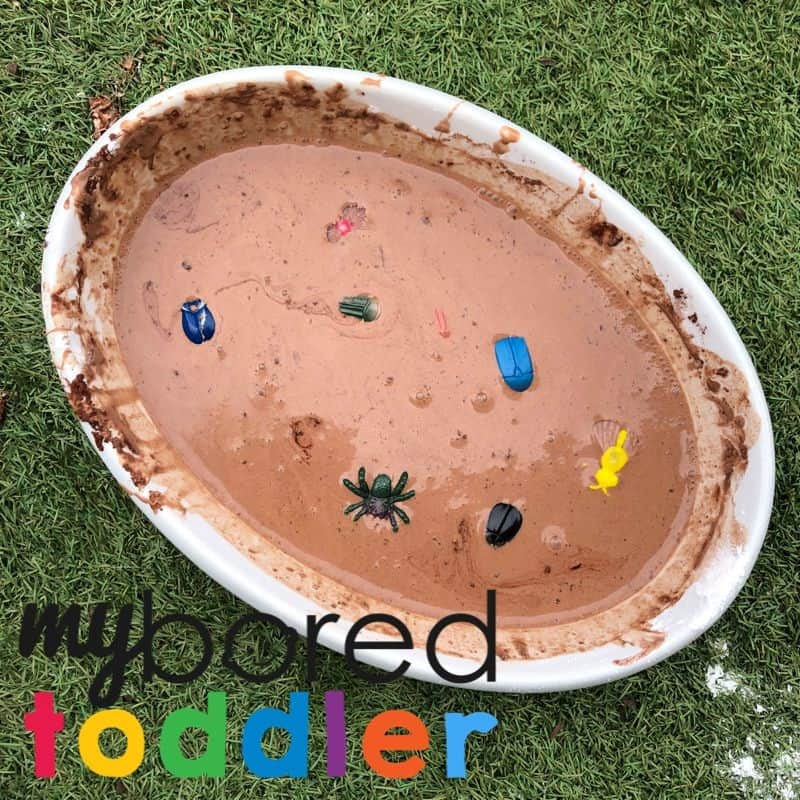 Miss 2 needed no invitation to begin exploring. Each of the bugs had nestled into the thicker oobleck that now lined the base of our casserole dish.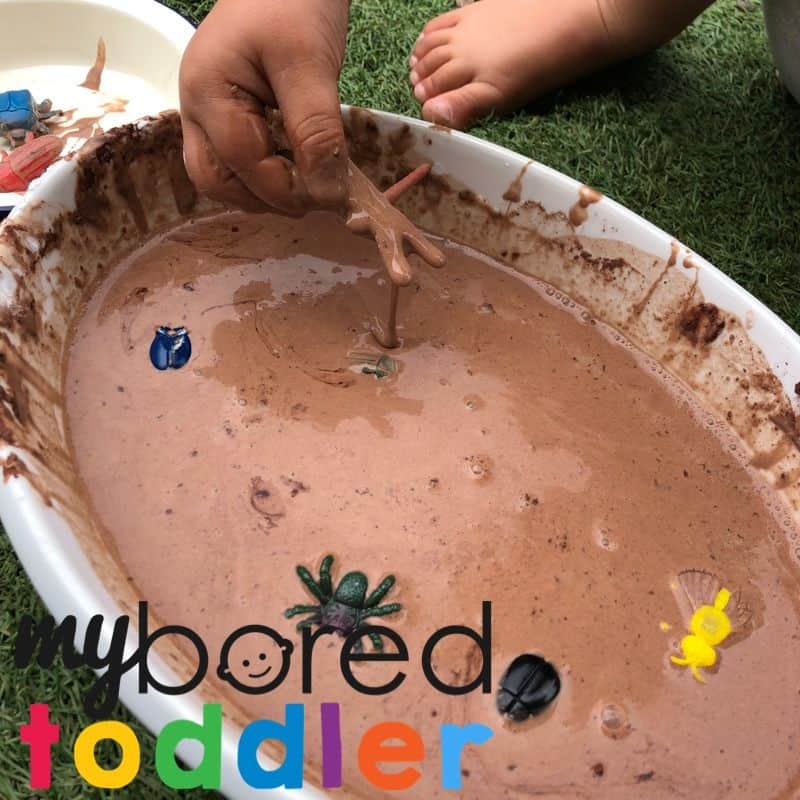 As she slid a fingertip under the insect, a vacuum offered a small resistance that was released with a pop! Every motion that her fingers made in the goop was rewarded with a slurp and thick stream of brown 'mud' streaming around them. We counted the bugs as we found them and put them into the bowl. We discussed visible attributes the bugs had
Colours
Number of Legs
Wings or no wings
Most likely found on the ground
Most likely found up high
Before too long not only were a pair of hands exploring the play tray but so were a pair of feet! Miss 2 got lost in totally indulging in the sensory experience! She began to notice the colour difference that the oobleck made on her arms and legs as it dried.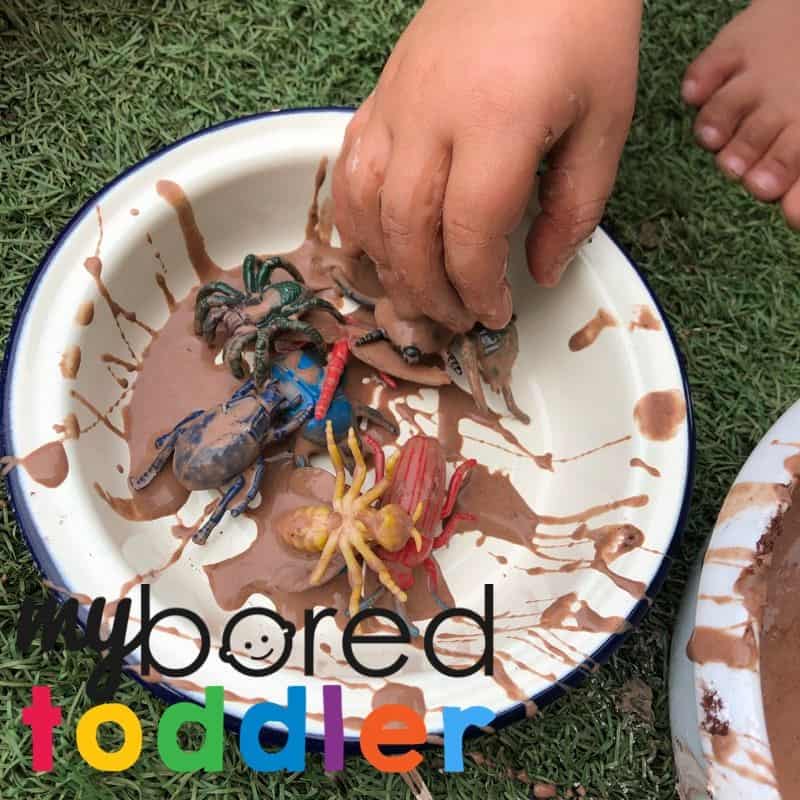 After a good half an hour of play, I did need to drag her from her fun to wash up for school pick up. As you can imagine, she was not happy but was grateful to learn that she could continue her play once we got home. Upon collecting her siblings form school and returning, Miss 2 was upset to discover that the entire dish had set hard!
Both her and her sister were thrilled to learn that simply adding a splash of water would revive the oobleck for a second round of play!
Sensory play has long been known to have many learning benefits. Every movement of the hands and fingers strengthens the fine muscle groups required for tying shoes, doing up buttons and holding a pencil.
With each curious poke of the ooey gooey liquid, a question was being answered, 'What will happen if I do this' and 'What will it feel like'. If you think your child would shy away from putting their hands in the 'mud', why not pop it into a ziplock bag? They can still experience sensory fun without getting their hands dirty.
Bugs in Mud is messy and so much fun! Team it up with some counting and question and answer filled conversations and you have an activity that will help build a solid foundation to developing a love for learning! What else could you put in this divinely scented goo?
If you enjoyed this activity you'll also love our Dinosaur in Mud sensory bin too!
For more fun toddler activity ideas why not join our Facebook Group or follow us on Instagram - follow @myboredtoddler and use #myboredtoddler.
Some more fun toddler activity ideas you might enjoy are:
Insect & Bug Activities for Toddlers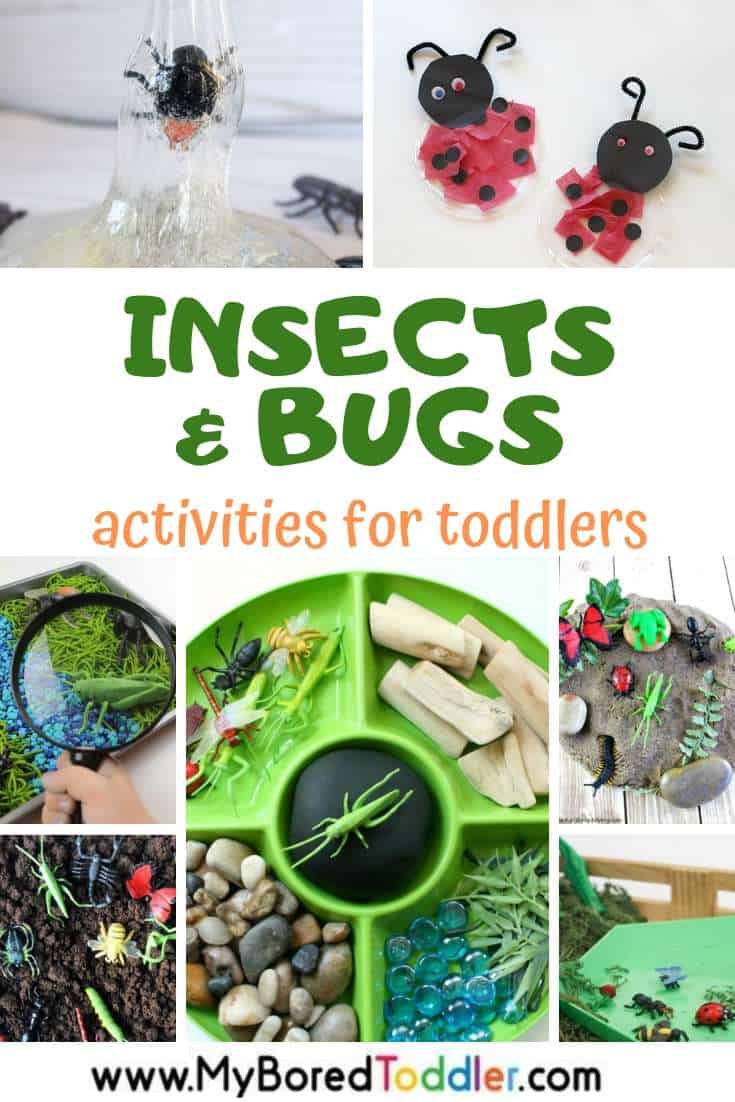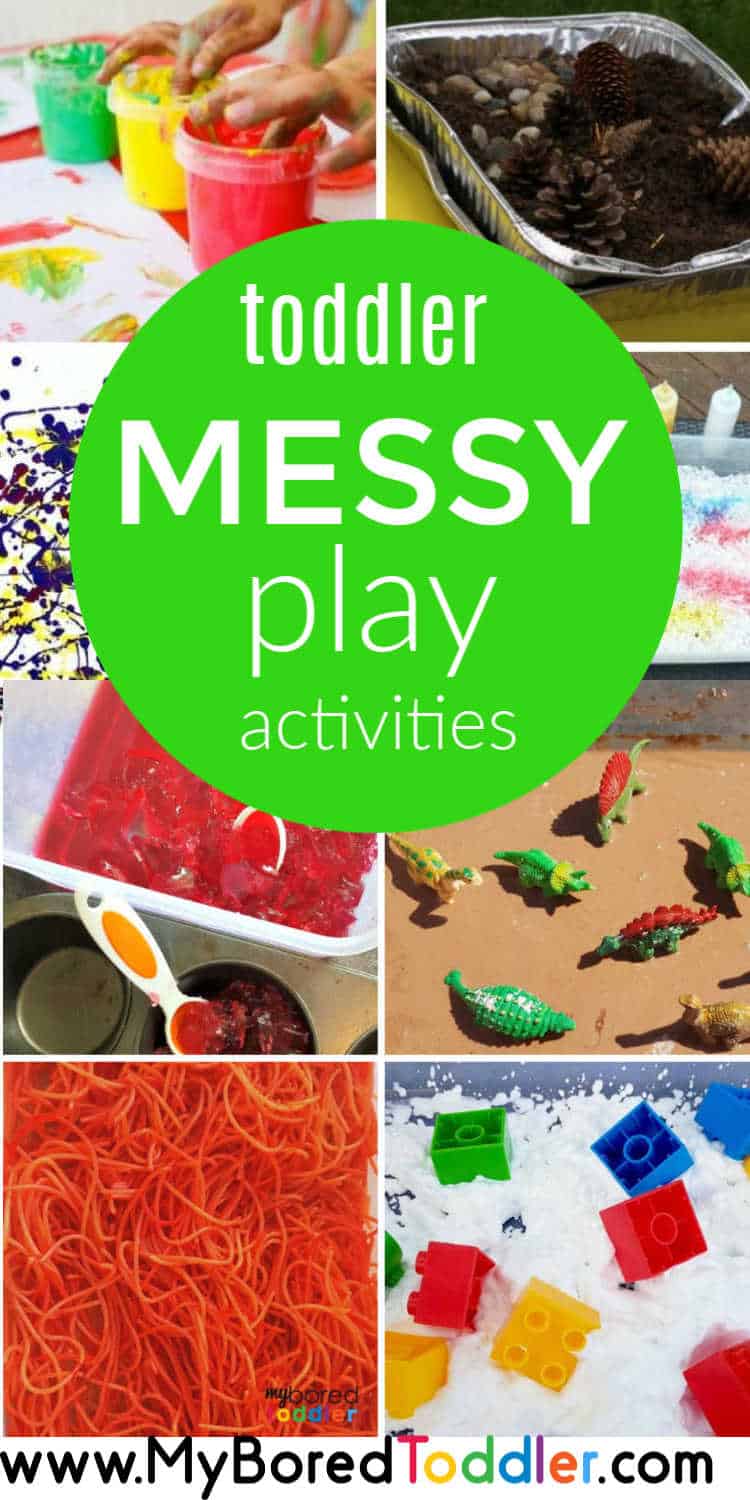 About the Author:
Dani is a busy stay at home Mum of 3 and early childhood teacher in training who is passionate about play based learning throughout early childhood. For educational play ideas that you can do at home and parenting tips visit Play Inspired Mum Check her out on Instagram andFacebook