How amazing is this jumbo pasta sensory bin! I love finding new ways to play with different food items. They're generally safe for my kids (aged 4 and 14 month old twins) and they're always super fun to play with! Here is an easy to create spring sensory bin that my kids simply loved!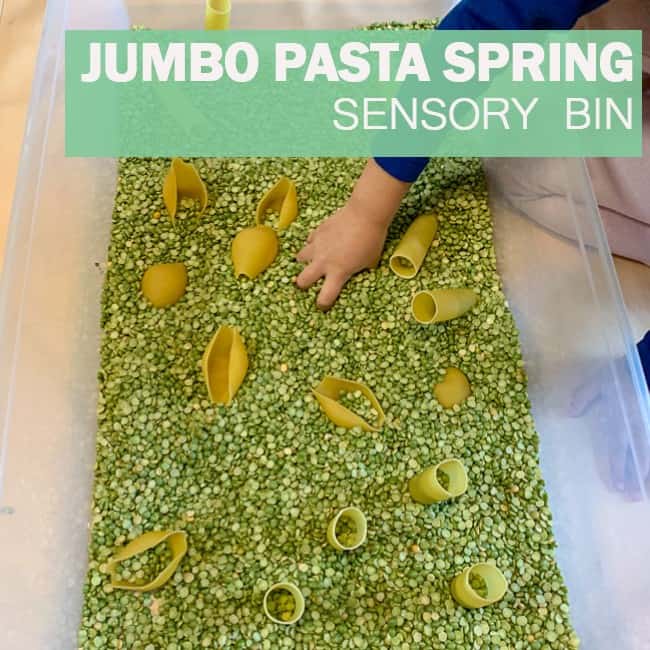 Jumbo Pasta Sensory Bin
Written By Mandisa Watts of Happy Toddler Playtime.
Looking for more fun sensory bins for your toddler? Check out 21 Amazing Sensory Bins for Toddlers & Preschoolers and 7 Easy Sensory Bins for 12 Month Olds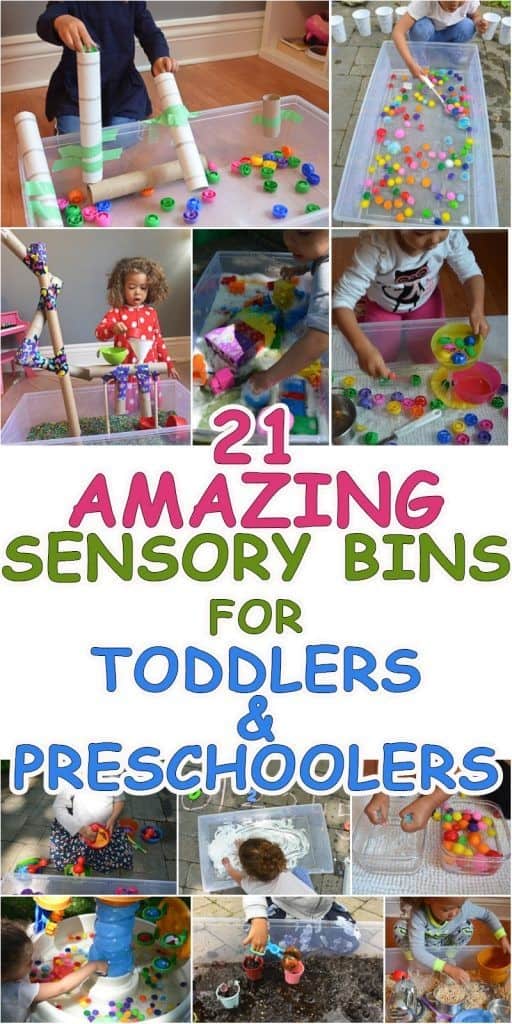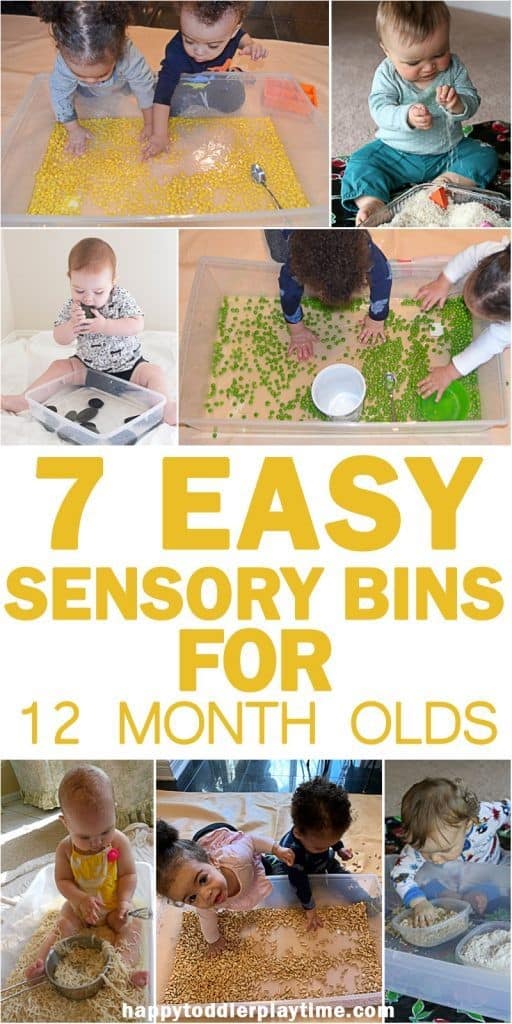 What you need for a Jumbo Pasta Sensory Bin
• Large Sensory Bin
• Split Green Peas
• Jumbo Pasta Shells and Tubes (Tortiglioni)
Here's How to Set Up Jumbo Pasta Sensory Bin
The set up for this spring sensory bin is very easy. Spread out a large picnic blanket, sheet or shower curtain on the floor and grab your large sensory bin. Fill it with dried green split peas and large pasta shells and tubes (or tortiglioni). Add measuring cups and spoons for scooping and digging. The jumbo pasta shells and tubes also make great scooping and pouring tools.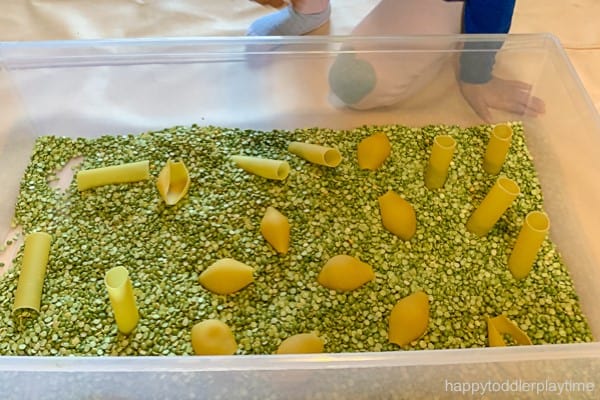 How They Played with their Jumbo Pasta Sensory Bin
My 4 year old immediately loved this! I thought she might be a bit bored at first but right away she turned this simple bin into a fun spring garden using her imagination!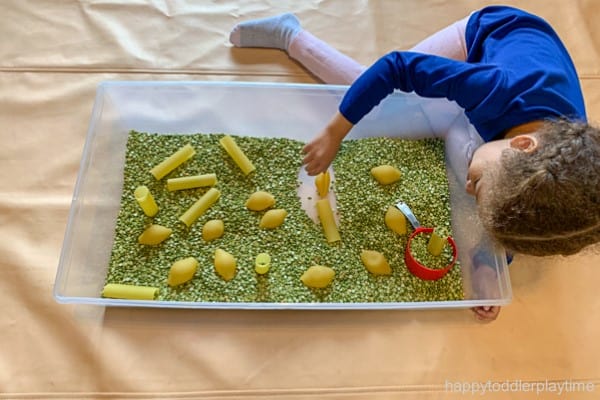 She turned the jumbo shells over and they became snails. Then she stood the jumbo tubes up right and they became flowers! It was magical to see her play!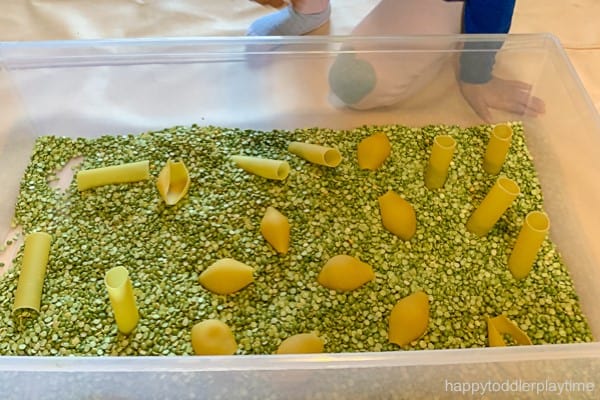 My 14 month old twins loved digging their hands into the split peas and using the shells as tools to push and scoop!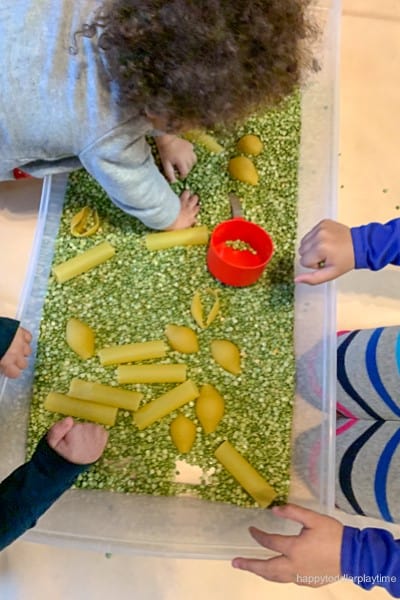 Sensory Bin Tips
Here are a few tips I used to help keep sensory bin play fun for everyone (including me!). First, I don't use a lot of filler. The less they have the less mess they can create. Second, I always try to sit and play with them. I put them on my lap and show them how they should play. Third, I give them tools to keep their hands busy like small scoops or spoons. Fourth, if my twins start throwing even after I gently remind them not to, I remove the bin and revisit the activity at another time.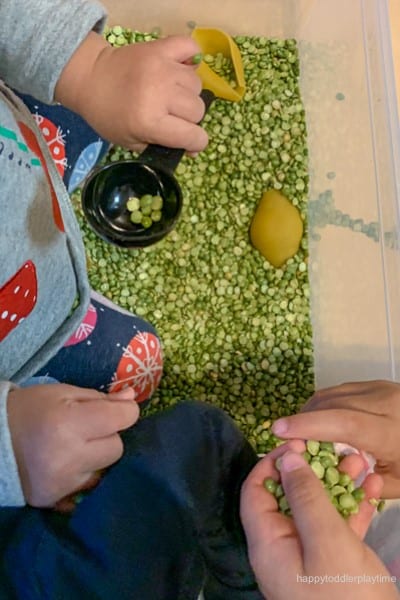 If all else fails, I remember that sensory bin play is a skill that needs to be taught and learned. Give your little one time to develop and they will eventually come around. I know mine will!
Big Hit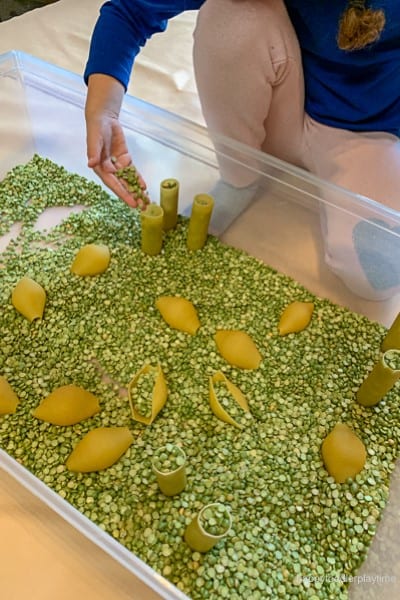 Despite the mess, this was a big hit with all my kids. The split peas were super easy to clean up and although a few of the jumbo pasta shells and tubes broke they were also easy to clean up.
WILL YOU TRY JUMBO PASTA SENSORY BIN WITH YOUR LITTLE ONE? Pin it for later!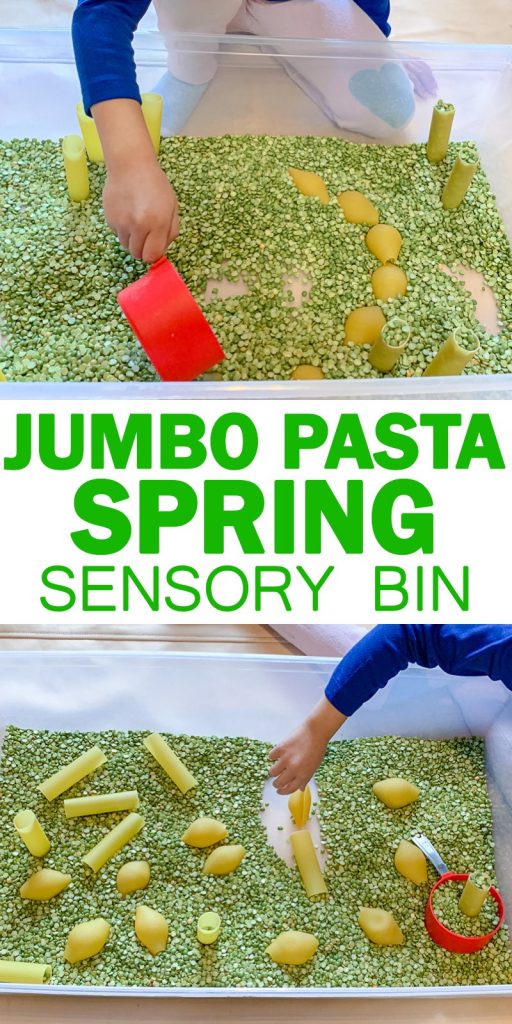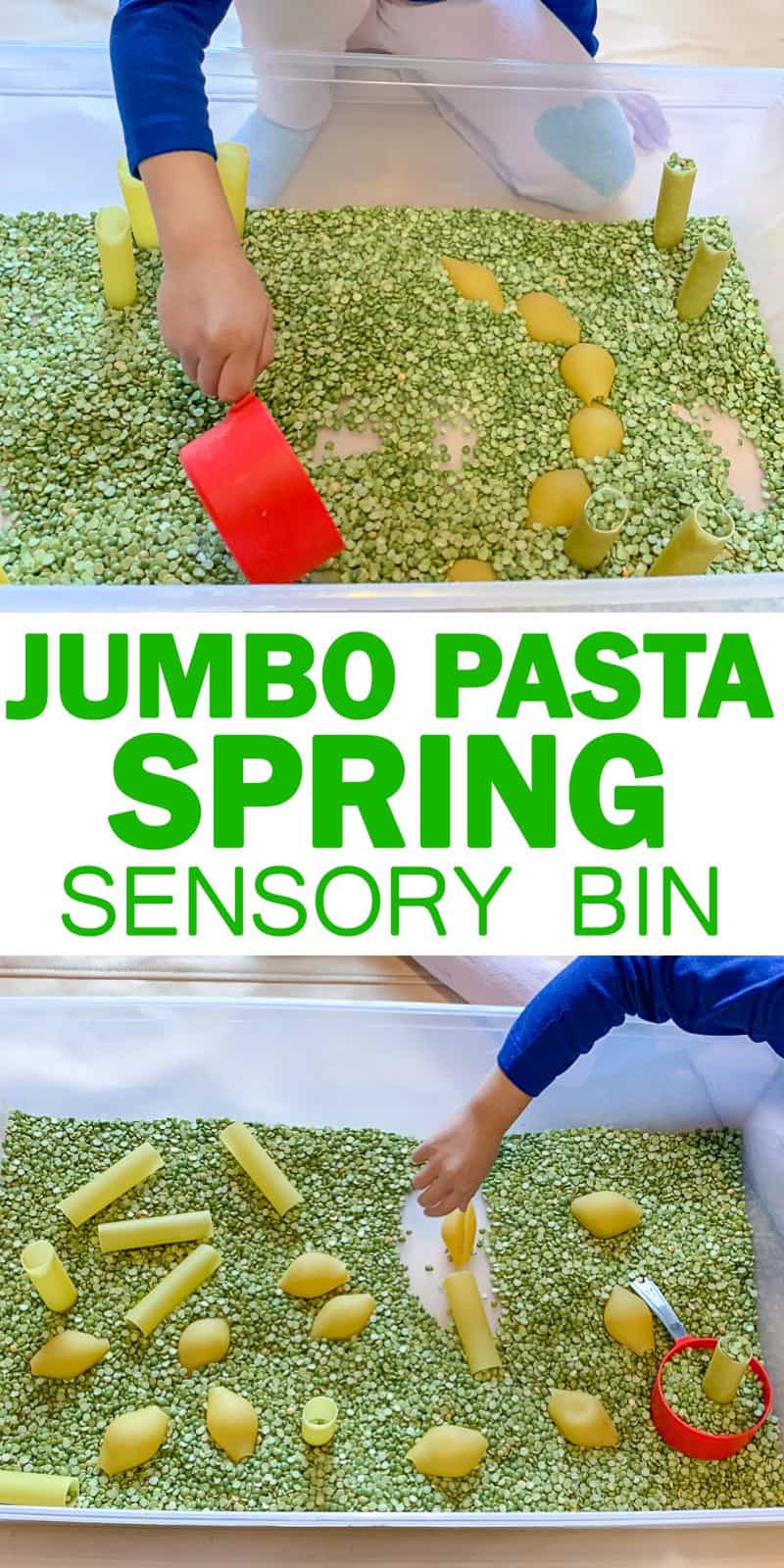 About the Author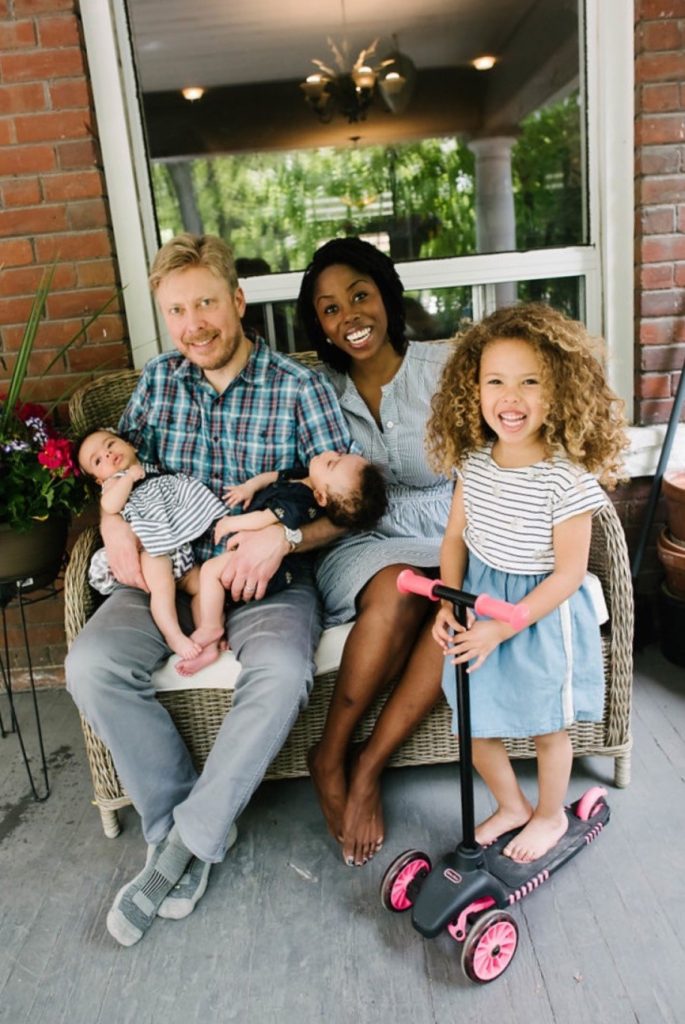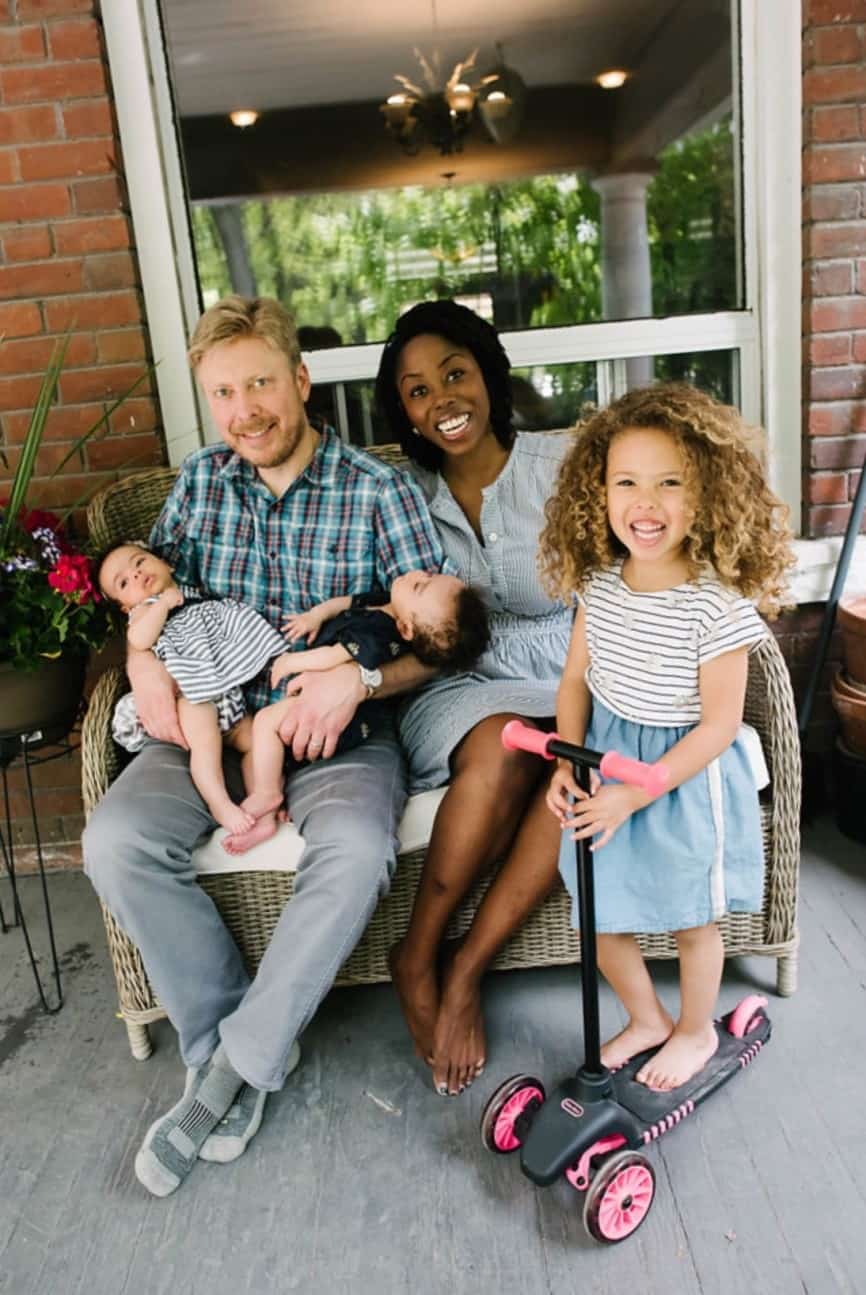 Mandisa Watts is the creator and owner of Happy Toddler Playtime, a kids' activities blog for ages 0-6. She is the mom to three happy kids (ages 4 and 14 month old twins). Before working from home she was a CPA in Toronto, Canada. Now she's a busy stay-at-home mom who loves expressing her creative side by sharing all the fun and easy ways that she keeps her kids busy. Follow along in her journey on Instagram, Pinterest and Facebook!
If you loved this jumbo pasta Spring sensory bin some more toddler activities you might also like are:
Spring Sensory Bins for Toddlers