Salt painting is a great hands-on painting activity for toddlers and parents alike. Something is grounding in watching the colours spread across the salt with the gentlest touch of the paintbrush. Salt painting is super easy to set up and is effective. Create wall hangings, greeting cards, or even personalized bunting!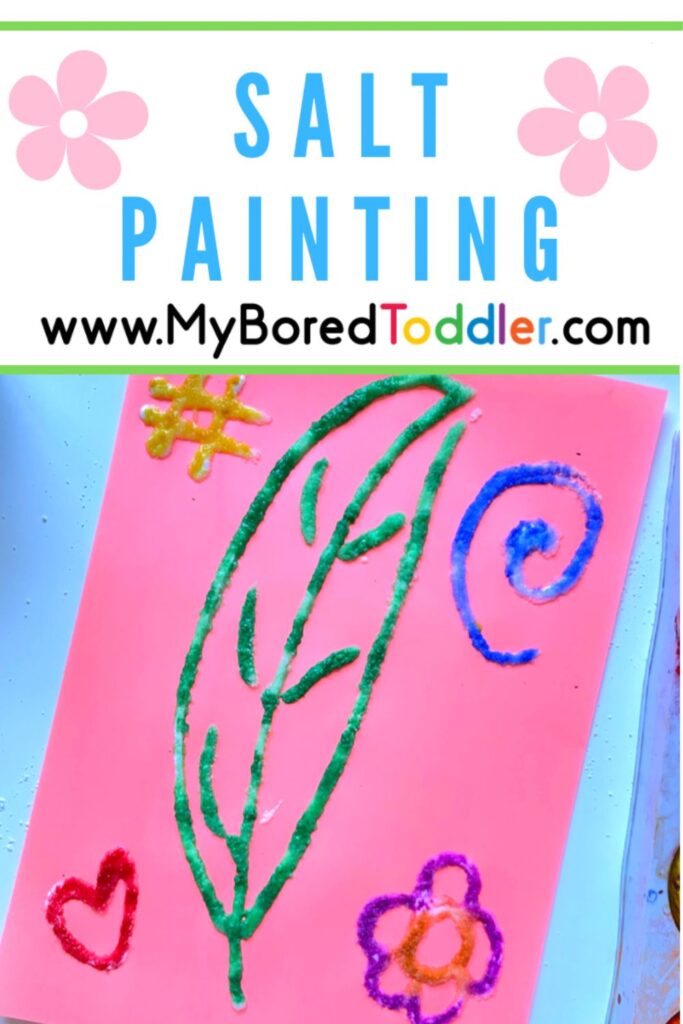 Salt Painting - Toddler Activity Idea
Salt painting is a method of painting that involves a touch of science and a whole lot of imagination. The liquid spreads between the grains of salt via capillary action, pulling the colours along with it. It's fascinating to watch and create a beautiful effect.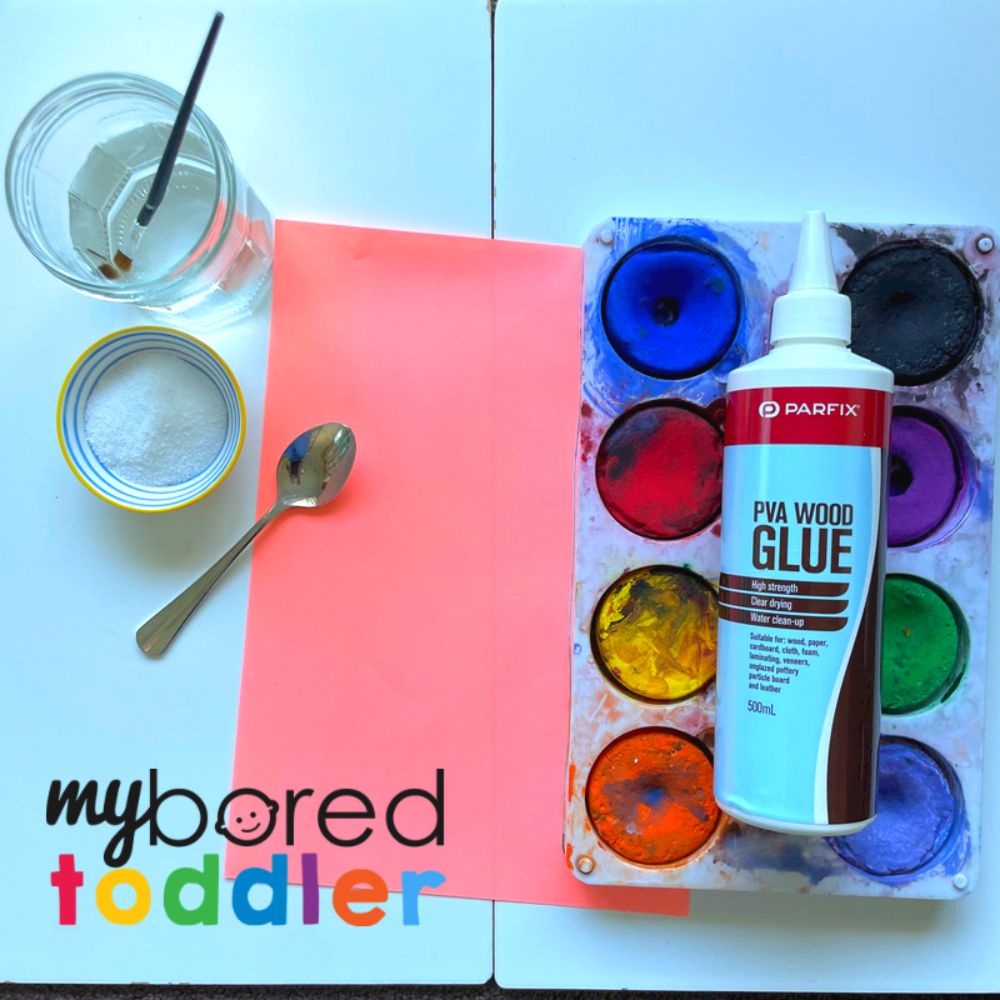 What you need for salt painting:
We used table salt to create the masterpiece pictured. In the past we have also used Epson salt with great success.
There is so much potential in regards to a surface to paint. We used paper this time however you could use cardboard, box, canvas or even pieces of bark or dry leaves as a surface for your salt painting. If it holds glue, you are good to go!
If you don't have water color paints, water coloured with food colouring is a useful alternative that is really effective.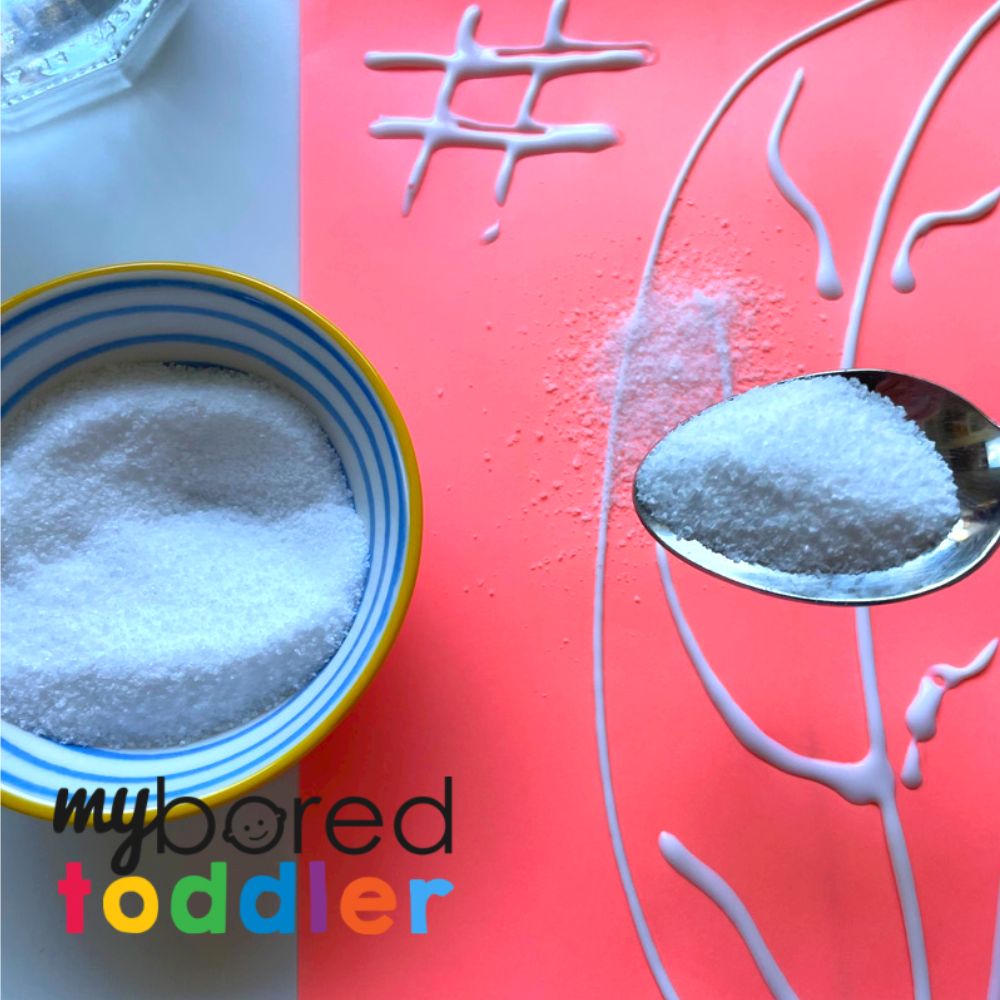 How to create a salt painting:
To begin, create a design using the glue. You could pre-draw a template to trace over with the glue or use a page from a colouring book for inspiration.
Ensure that the glue line is solid.
Sprinkle the salt over the glue, ensuring that the glue is completely covered in salt. You could use a spoon or simply pinch the salt and sprinkle it over the glue.
Once the glue is covered in salt, it is time to add the colour. You may either wait for it to dry or paint straight away. It makes no difference.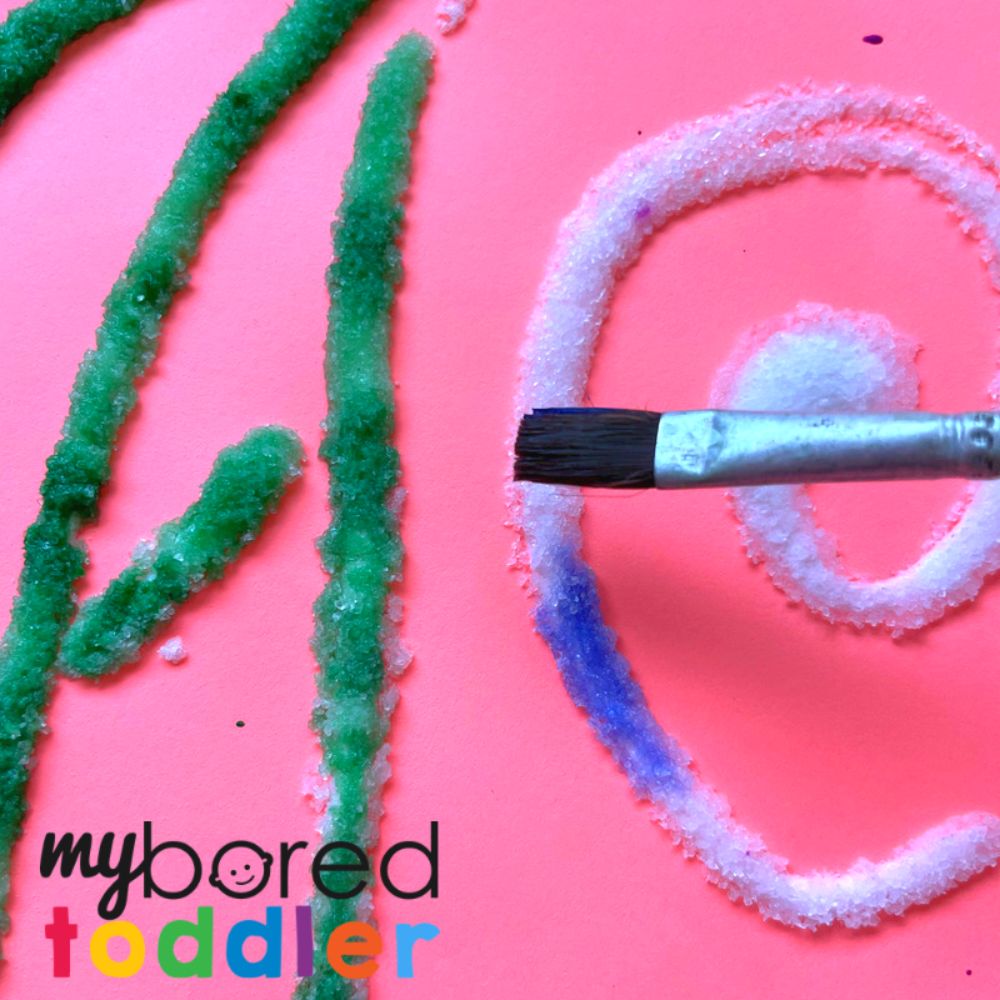 Ensure that the paint brush is saturated with the watercolour paint. Gently touch the wet brush to the salt. This is the magically part of this painting idea. The salt sucks the colour from the brush and it spread beautifully along the grains of salt.
Add colour to the salt design until you are satisfied with the colours.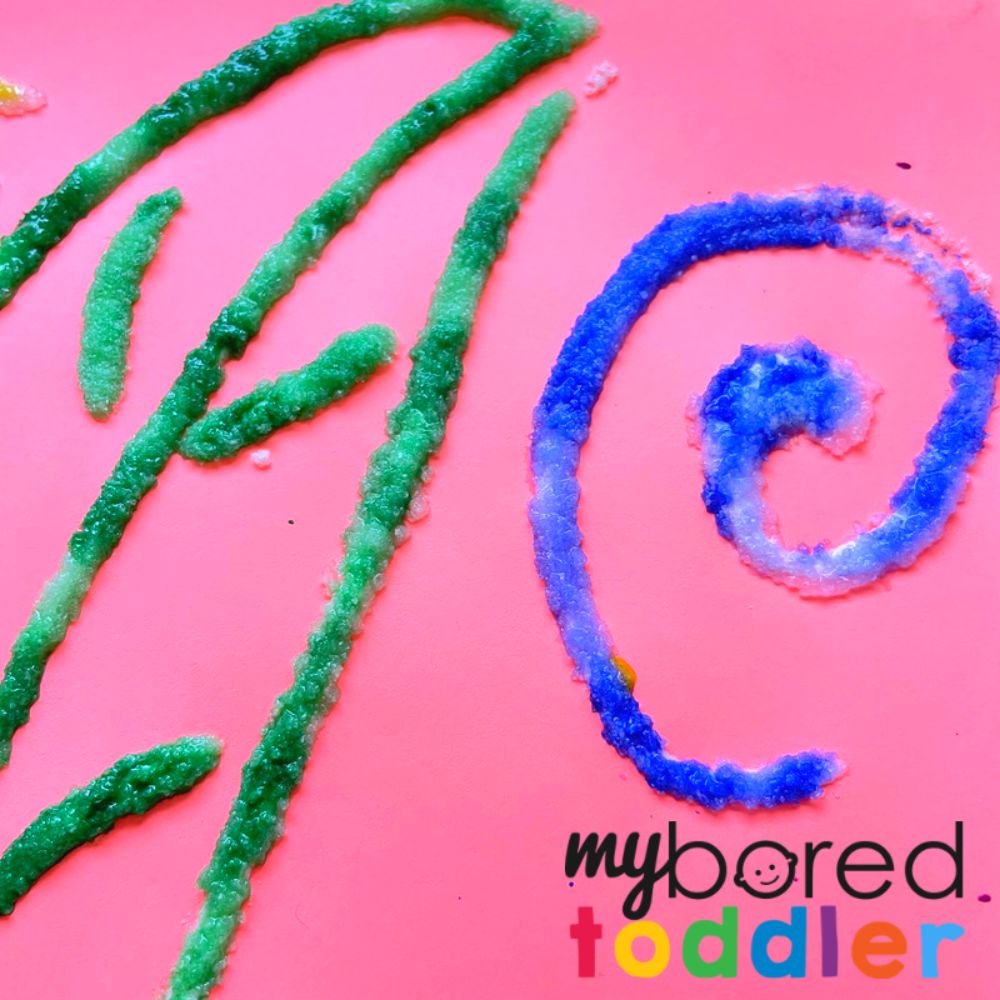 Blending colours is really effective when painting the salt. As the colours dry they tend to intensify resulting in a lovely design. Watching the colours travel across the salt is a great reward for a gentle touch of the brush.
This activity requires a gentle, patient hand. This can be challenging for some toddlers however the learning is in the process the creating of art, not just the end result. Salt painting is well worth the investment!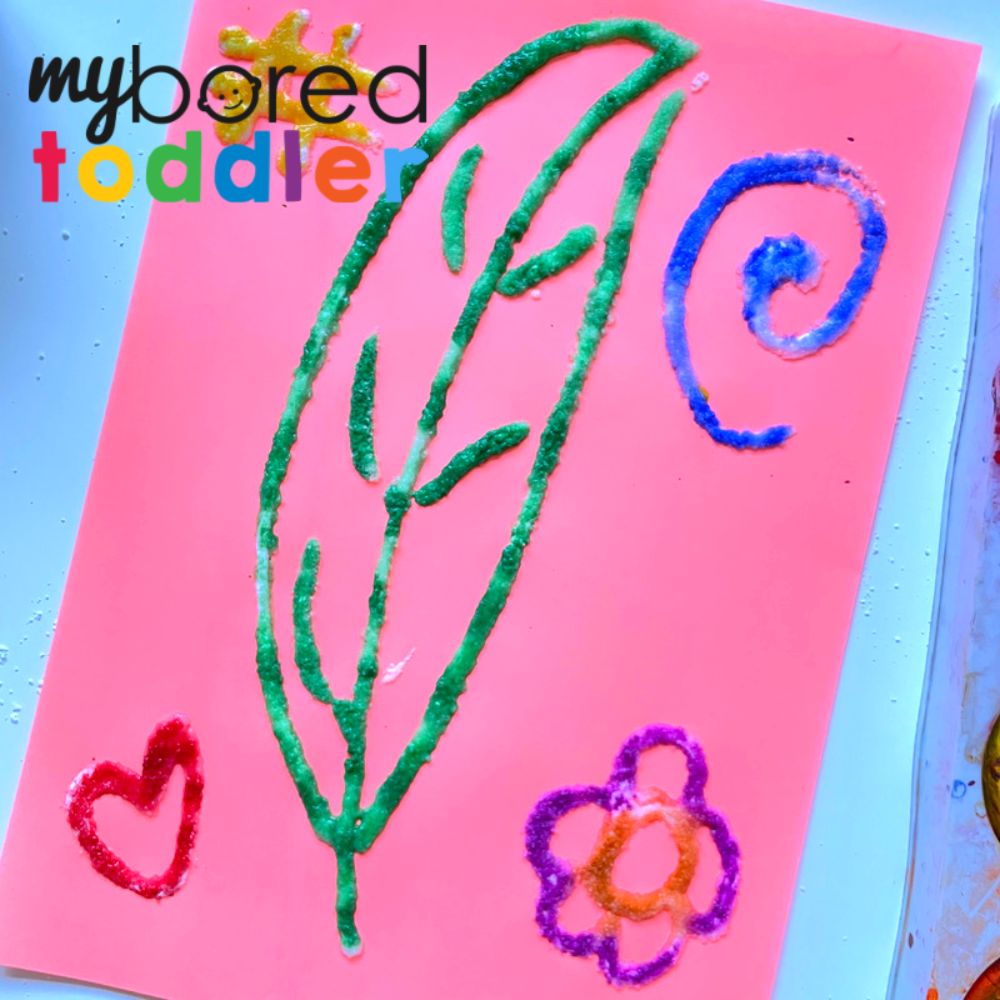 For more fun toddler activity ideas why not join our Facebook Group or follow us on Instagram – follow @myboredtoddler and use #myboredtoddler.
SOME MORE FUN TODDLER ACTIVITY IDEAS YOU MIGHT ENJOY ARE: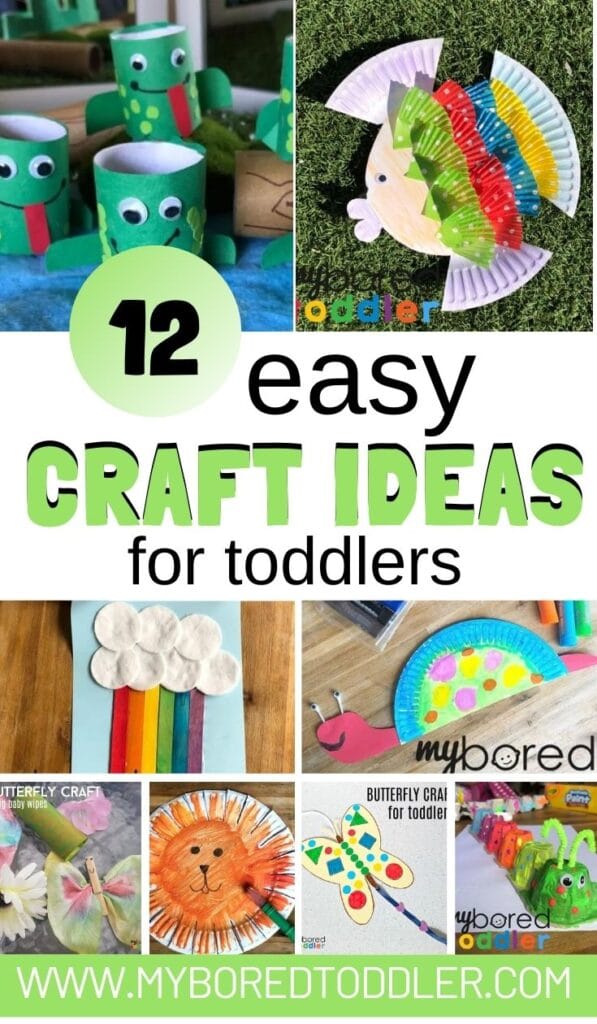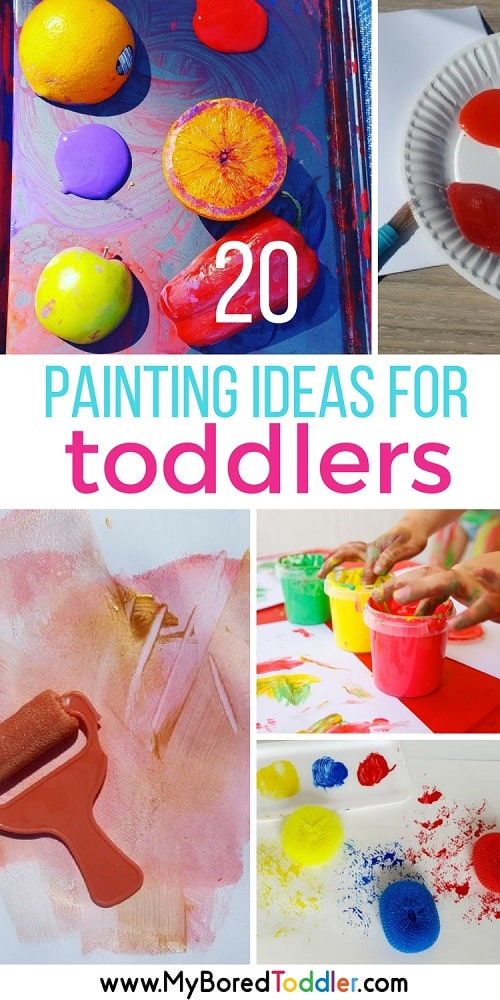 About the Author
Dani is a busy stay-at-home Mum of 3 and an early childhood teacher in training who is passionate about play-based learning throughout early childhood. For educational play ideas that you can do at home and parenting tips visit
Play Inspired Mum
Check her out on
Instagram
and
Facebook