If you have some zoo animal figurines and an ice cube tray, you are set for this easy set-up sensory play activity.
There are so many benefits to encouraging your child to explore sensory play activities. That being said, when parents hear sensory play, they assume messy play automatically.
Well, what if I said this toddler activity ticks the boxes that make it sensory play and hits a low score on the mess factor? Happy days? I think yes.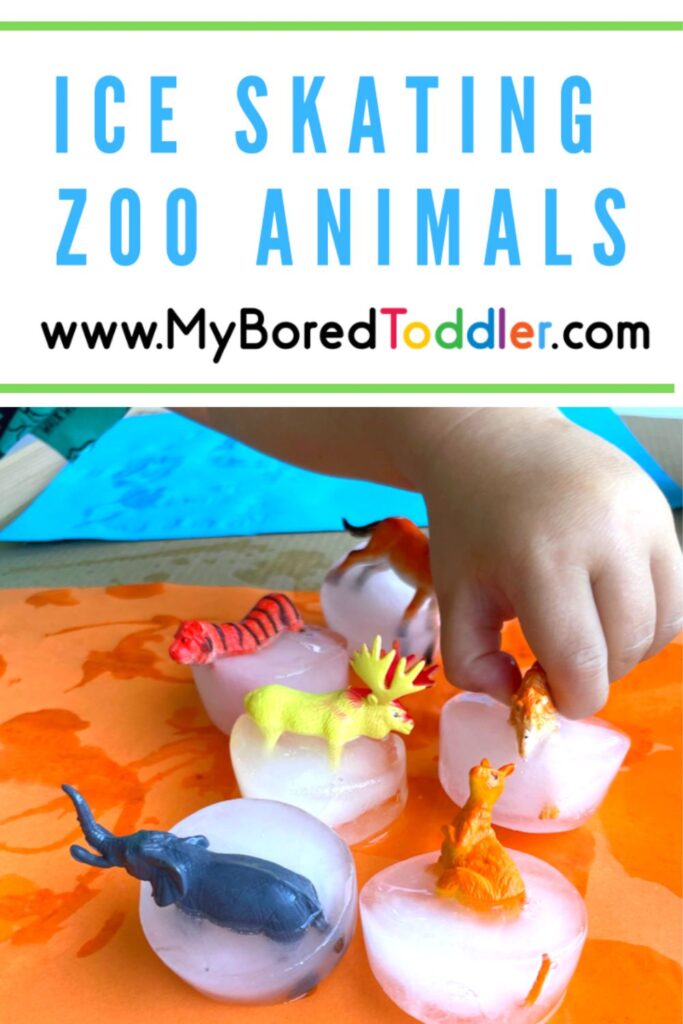 Ice Skating Zoo Animals - Easy Toddler Activity
Working animals into your play adds loads of opportunities to practice making sounds, building vocabulary, and so many more valuable speech and language development skills.
Your little ones will create different sounds and explore different tongue and lip placements to create each one. You can use prepositional language to describe where certain animals are in relation to others.
Vocabulary can be built using inspiration from the animal's diets, habitats, life cycles, etc. Our ice skating zoo animals activity levels up your animal play by simply adding water... and freezing it.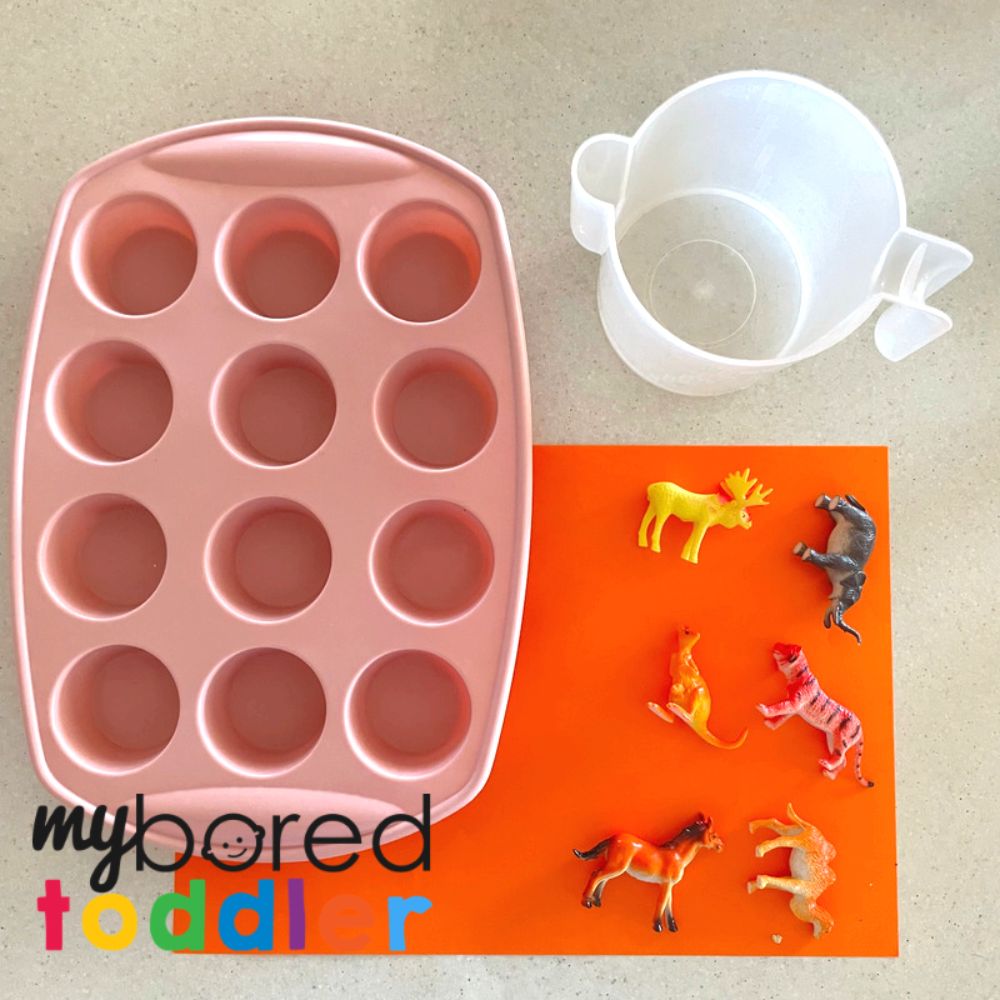 What you need to make Ice Skating Zoo Animals:
Water
Jug (optional)
Tape (optional)
Toddlers have developing motor skills. Encouraging broader motions of their arms by working on vertical surfaces helps them establish foundational strength and coordination for fine motor skills.
So while the tape is optional here, if you have some masking tape and a vertical surface such as a cupboard door, window, or easel, there are benefits to encouraging those big sweeping motions made by the larger muscle groups in your child's arms.
The coloured paper shows the stream made by the ice more so than uncoloured paper. This can be a great way to encourage cause-and-effect learning.
If you don't have coloured paper on hand, cardboard is another handy resource to use.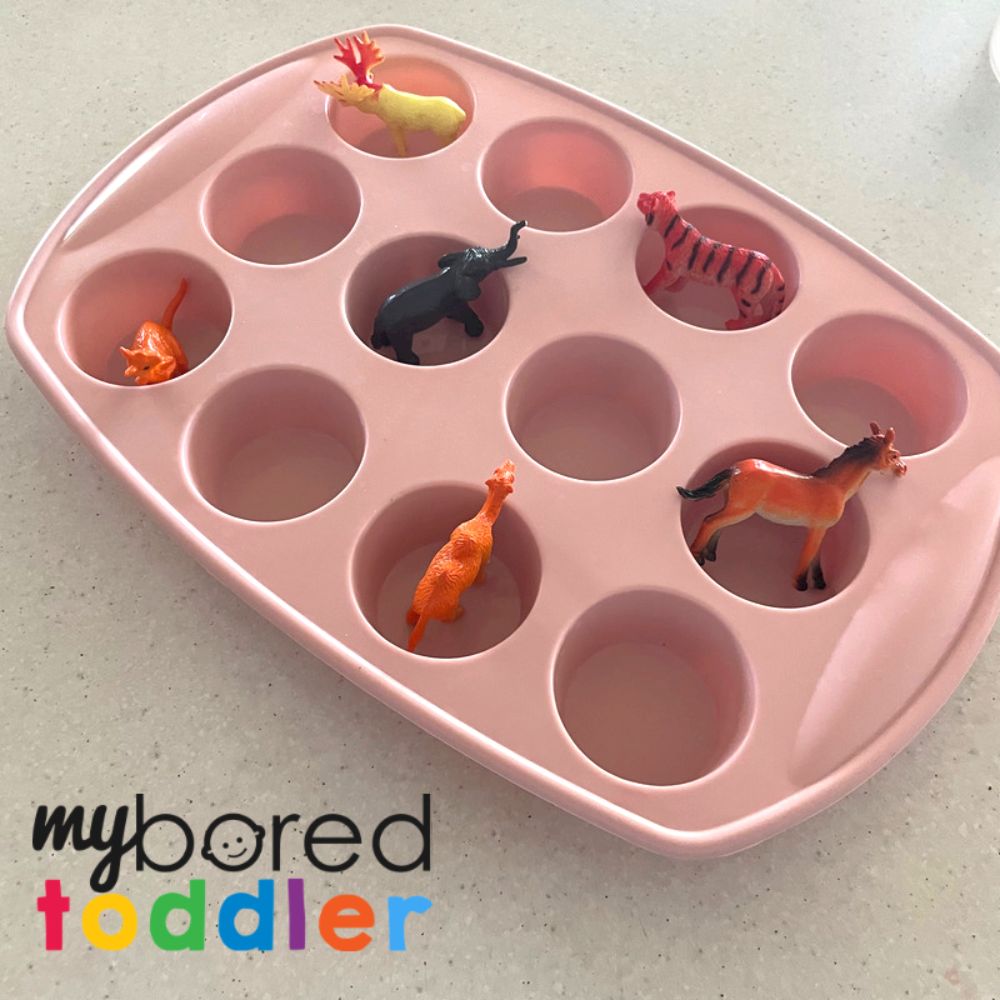 How to set up Ice Skating Zoo Animals:
Creating your ice skating zoo animals is super simple. This is a great activity to have set up ahead of time to pull out a calm-down activity or allow Mum to chop up the vegetables for dinner.
Place a zoo animal in the wells of the ice cube tray.
Fill each well with water. This can be done by your toddler too! Having them help set up is a great way to have your toddler invest themselves in the activity making them more likely to join in and reap the rewards later.
Place the ice cube tray on a level surface in your freezer.
How long the ice cubes will take to freeze depends on the size tray you have used. Allow for four hours to be sure.
Remember, they can be made ahead of time for play another day too! Once frozen, simply pop them out of the ice cube tray and store them in a ziplock bag or freezer-safe container.
To prepare your play space while waiting for the ice cubes to freeze, simply tape the coloured paper to a vertical surface.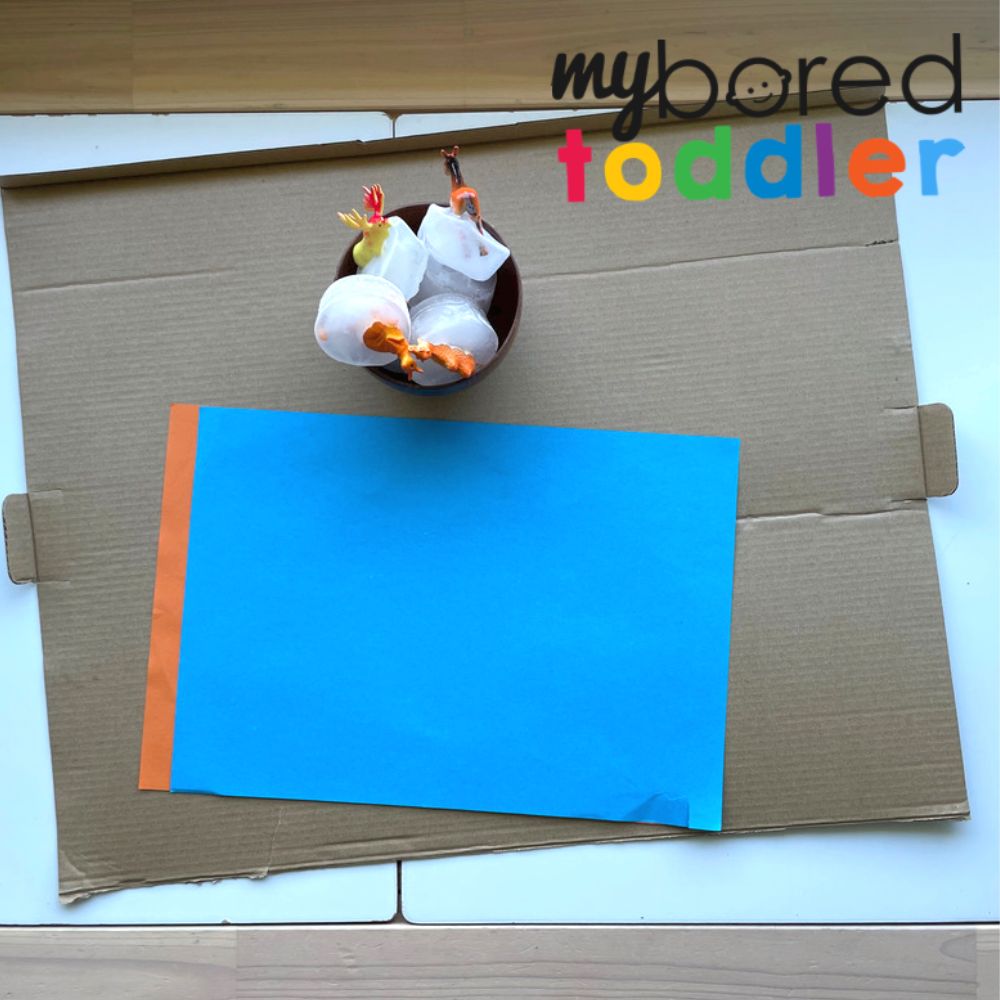 Once the ice cubes are frozen, they can be popped out to play.
Encourage your toddler to use the animal much like the handle of a paintbrush and paint with the ice on the paper. The ice will leave a stream behind it, showing the animal's path.
You can also take them outside and paint with the ice on the paving or driveway too.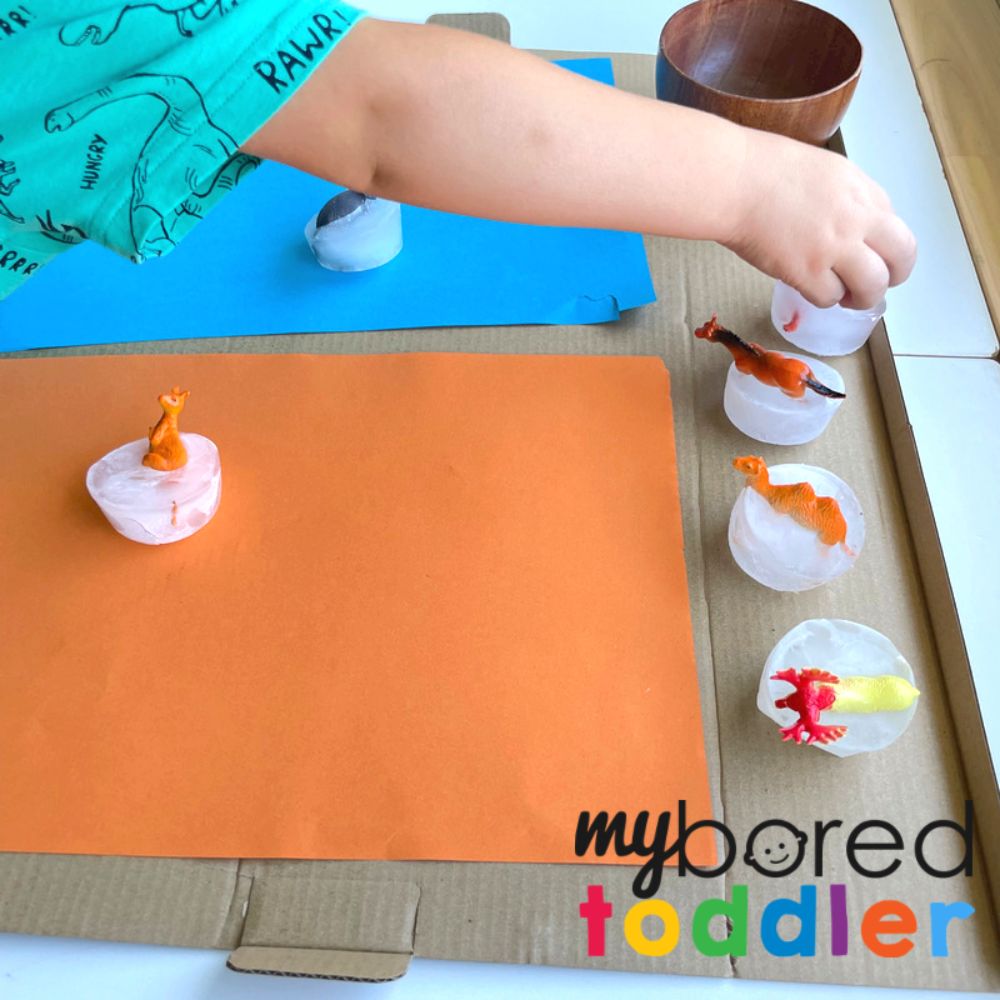 Moving the ice cubes over the tray will have your child developing skills transferable to so many different areas in their lives. This seemingly simple Ice skating zoo animal activity is a great way to engage your toddler in meaningful play.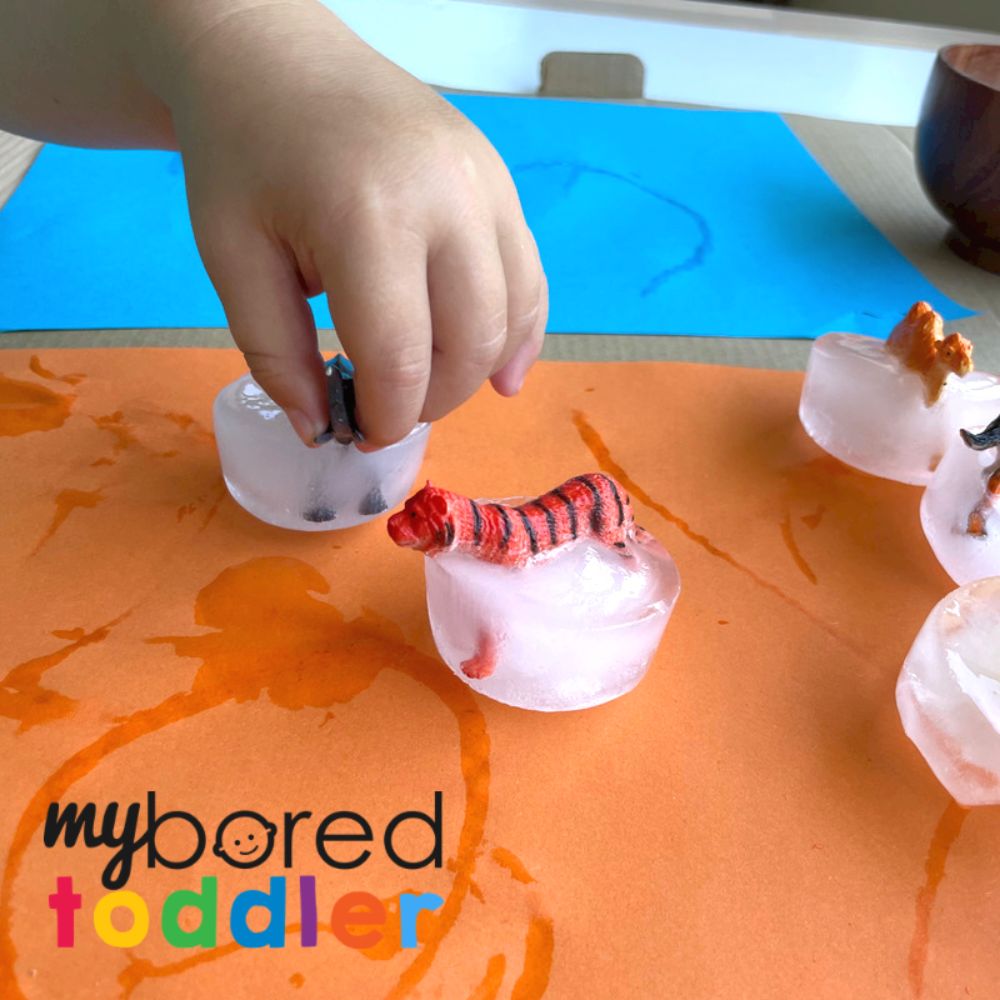 So where are you going to take your ice skating zoo animals first?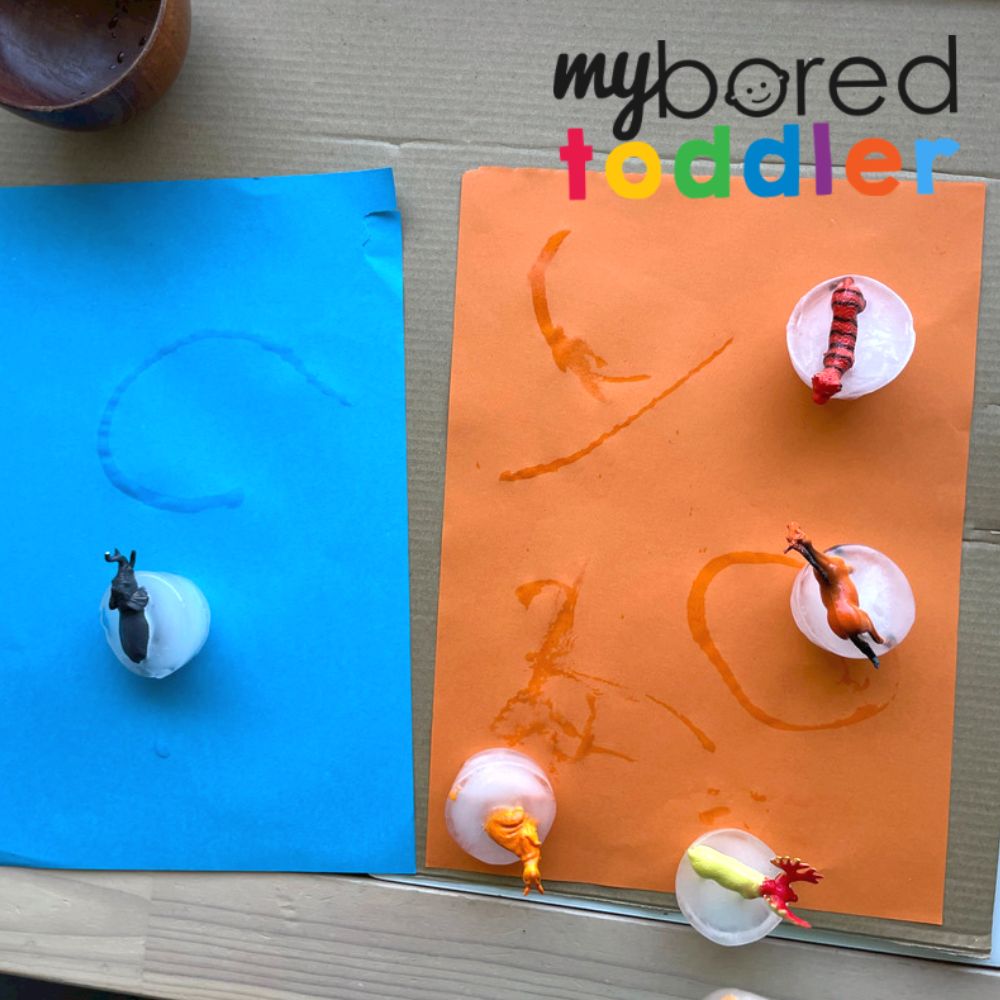 For more fun toddler activity ideas, why not join our Facebook Group or follow us on Instagram – follow @myboredtoddler and use #myboredtoddler.
Follow us for more toddler activity ideas
SOME MORE FUN TODDLER ACTIVITY IDEAS YOU MIGHT ENJOY ARE: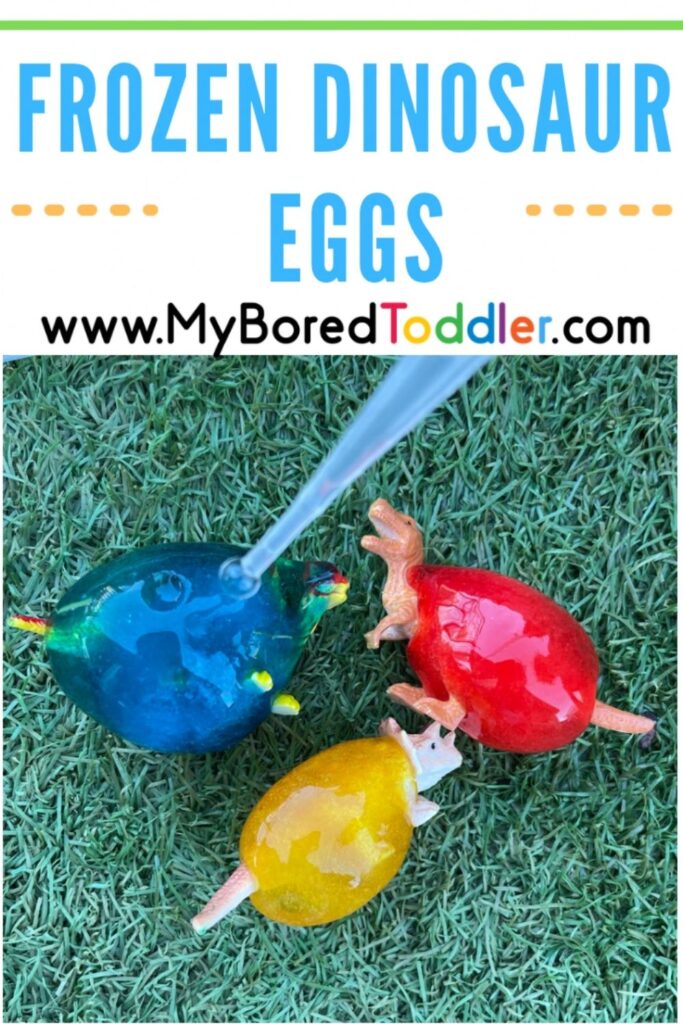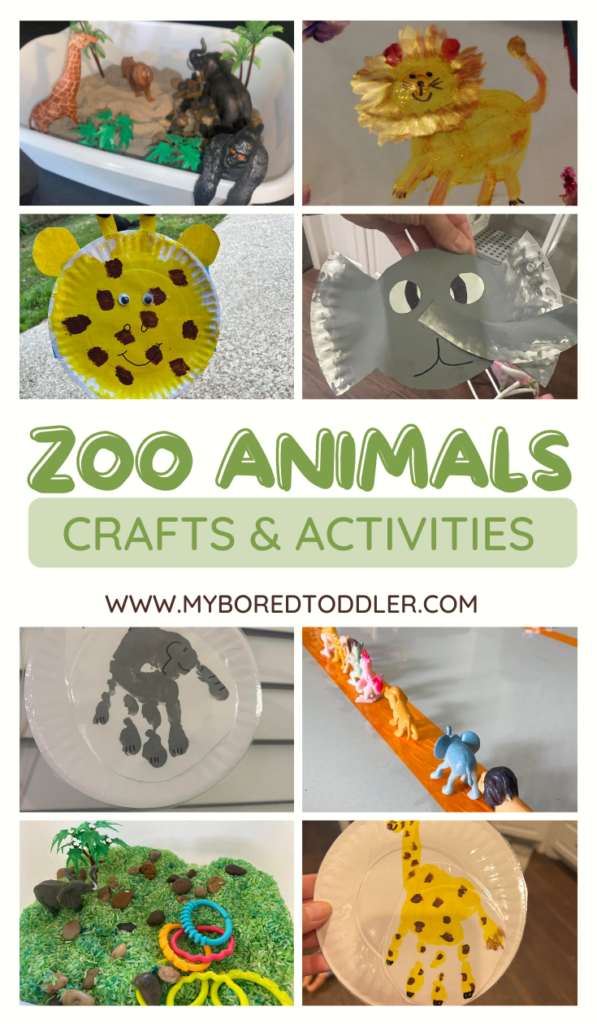 About the Author
Dani is a busy stay-at-home Mum of 3 and an early childhood teacher in training who is passionate about play-based learning throughout early childhood. For educational play ideas that you can do at home and parenting tips visit Play Inspired Mum Check her out on Instagram and Facebook