This pom pom whisk activity is an excellent fine motor activity for toddlers. Most of the times it is often the simplest of activities that can engage our toddler's curiosity and keep it! This Pom Pom Whisk activity is one of those very activities. Such a simple concept, however even after setting this up for years now, it is still one that both my girls cannot resist.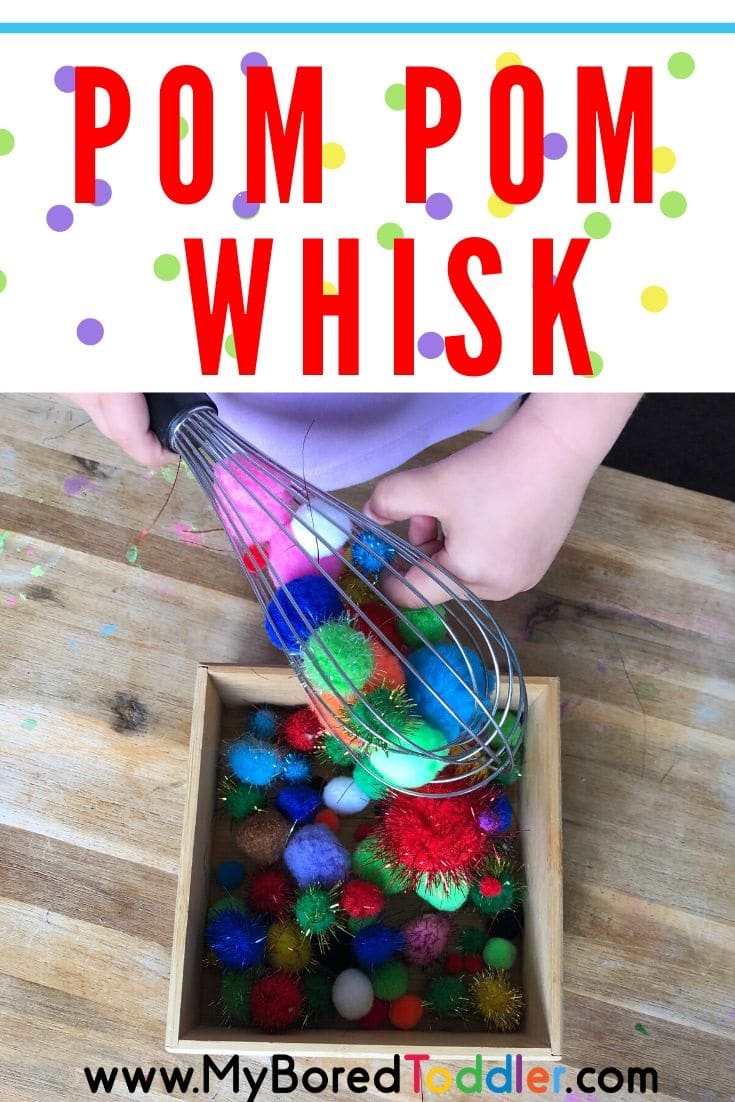 Pom Pom Whisk
This toddler activity ticks so many boxes. It's sensory, involves problem solving skills, cause and effect, logical thinking and even involves some all-important, fine motor skill development. Setting up is a breeze and can be done within minutes.
This Pom Pom Whisk activity, is perfect to fill in ten minutes, give Mum 10 minutes for a warm cup of tea or her to make a start on dinner while their little one is busy, exploring and manipulating the pom poms.
What you need to make Pom Pom Whisk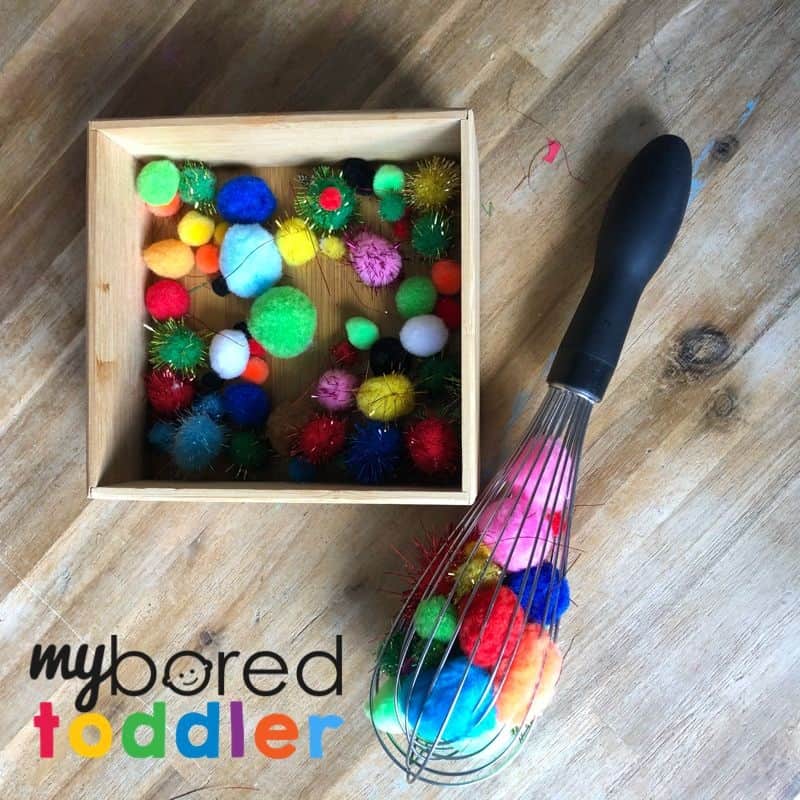 How to set up Pom Pom Whisk activity
One of the beautiful things about this activity is that it is so simple to set up. There really is no reason you couldn't have it set up within minutes of collecting your materials- well other than your unpredictable little one!
To set up your pom pom whisk, all you need to do is push the pom poms between the 'spokes' of the whisk so they settle within the wire frame. You can put as little or as many as you wish. If you would like to make it easier for your younger toddler, why not start with a small handful? As they become more confident, you can always add more, making the pom poms tighter and that little bit more challenging to remove.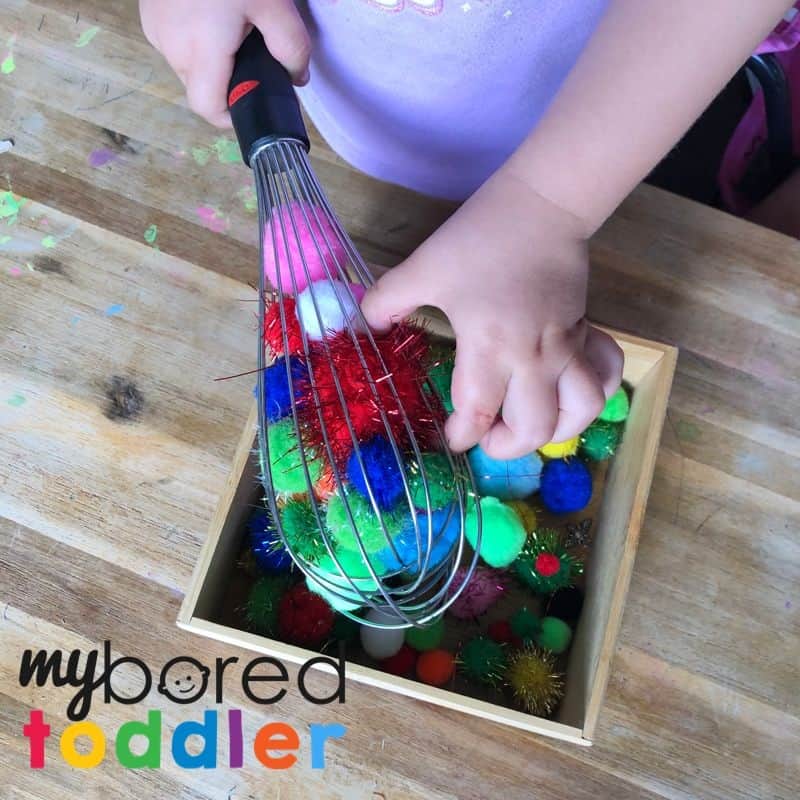 While you toddler is playing with their whisk, so many conversations may be initiated. You can discuss colours, textures, sizes and prepositions. Ask them to tell you what they are doing, why they are choosing that pom pom, and what they think might happen. All these questions will help your toddler develop further comprehension of the task at hand and engage higher order thinking.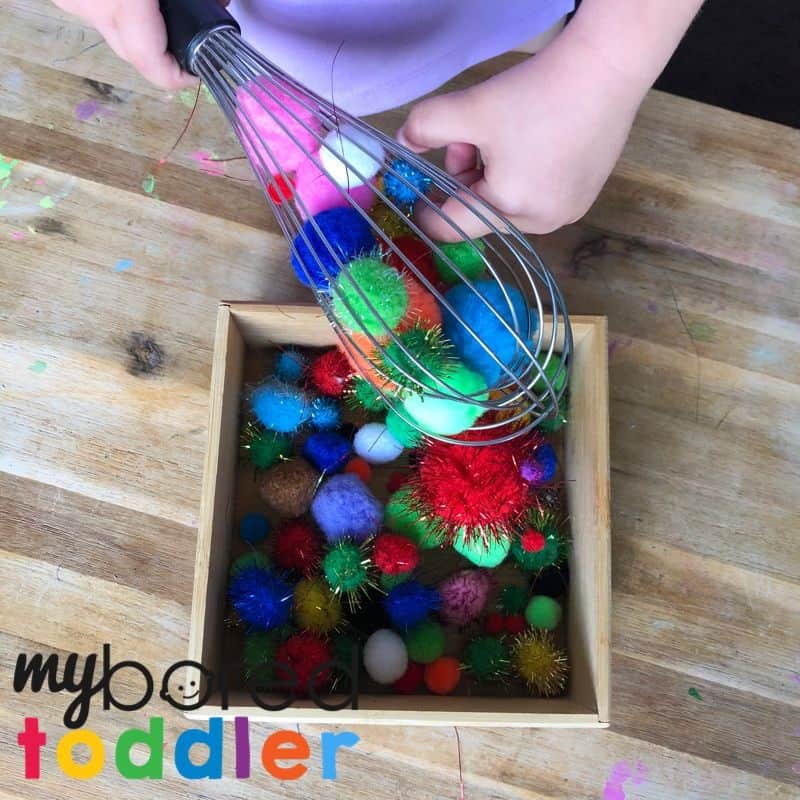 We have been using this activity to fill in a spare ten minutes since Miss 6 was just shy of her first birthday (with supervision of course). Both her and Miss 3 have always loved getting the pom poms out as soon as they are presented with their pom pom stuffed whisk. Now they are older, I will fill the whisk to start with before passing it to one, once she removes the pom poms, she places them back in the whisk before passing to the other. Great for turn taking and for children who find structured activities soothing.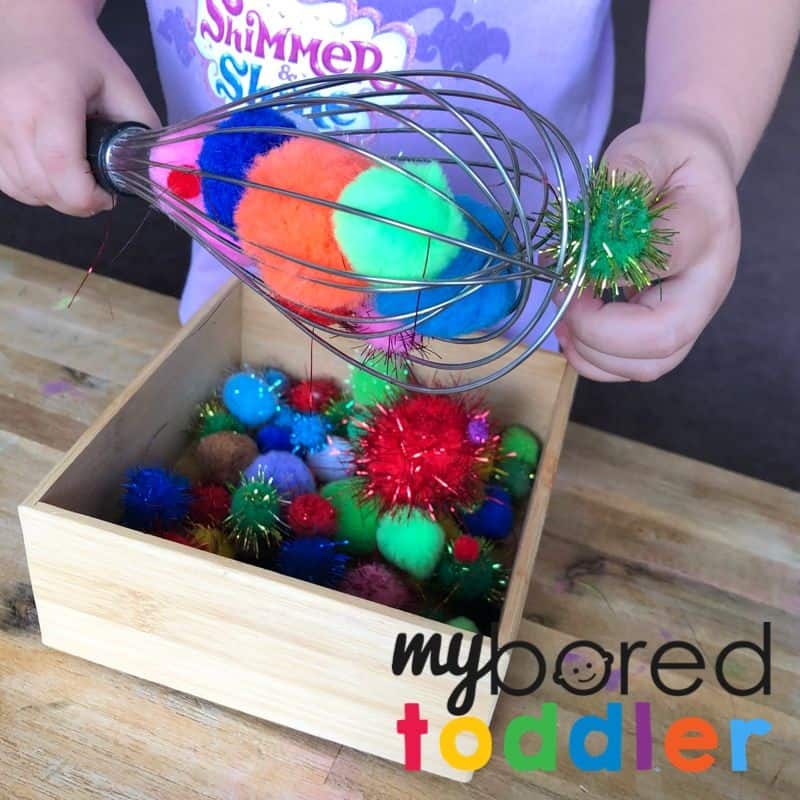 This pom pom whisk activity really is versatile and can be used to target many developmental milestones, or just to let Mum down a cup of coffee. Do you think your little one has the perseverance to pull each of the pom poms out or do you think they are more likely to shake them out? Either way, fun is fun!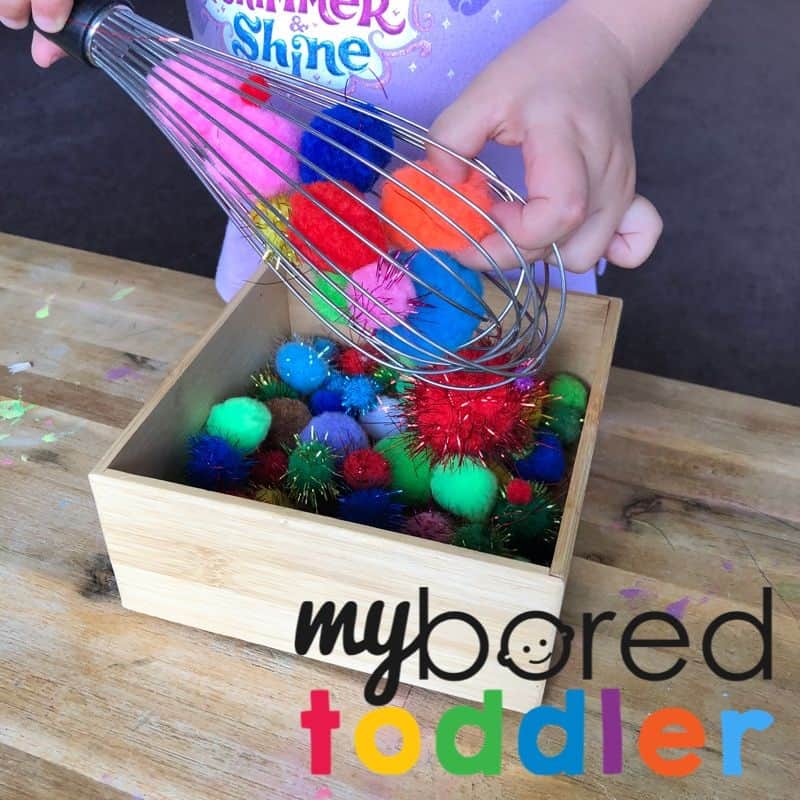 If you enjoyed this pom pom whisk fine motor activity idea why not join our Facebook Group where we share lots of great toddler activity ideas. You can also follow on Instagram - follow @myboredtoddler and use #myboredtoddler so we can all see.
Some more toddler activity ideas you might enjoy are: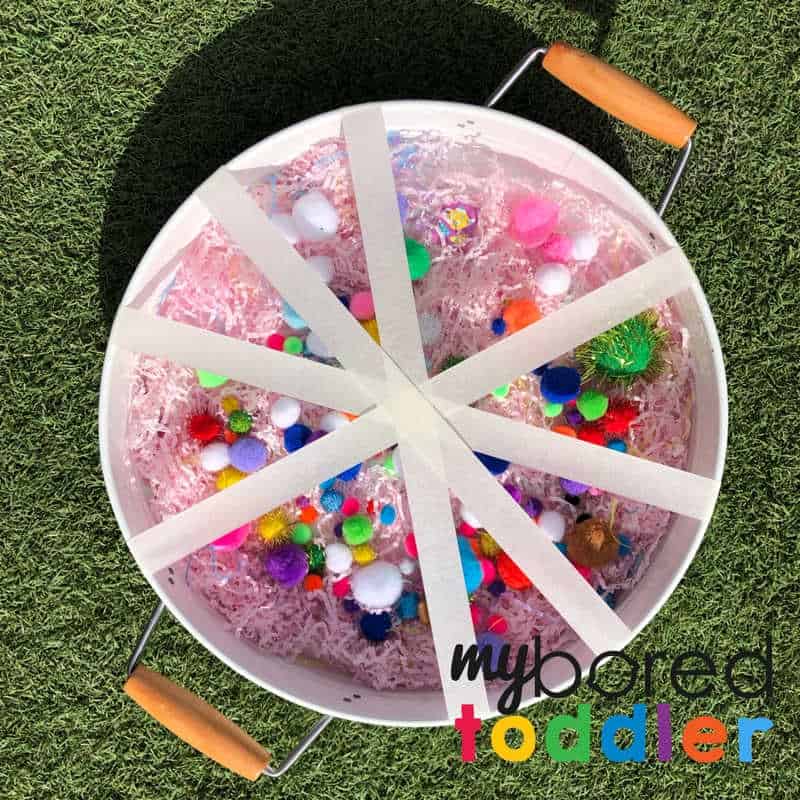 Fine Motor Activities for Toddlers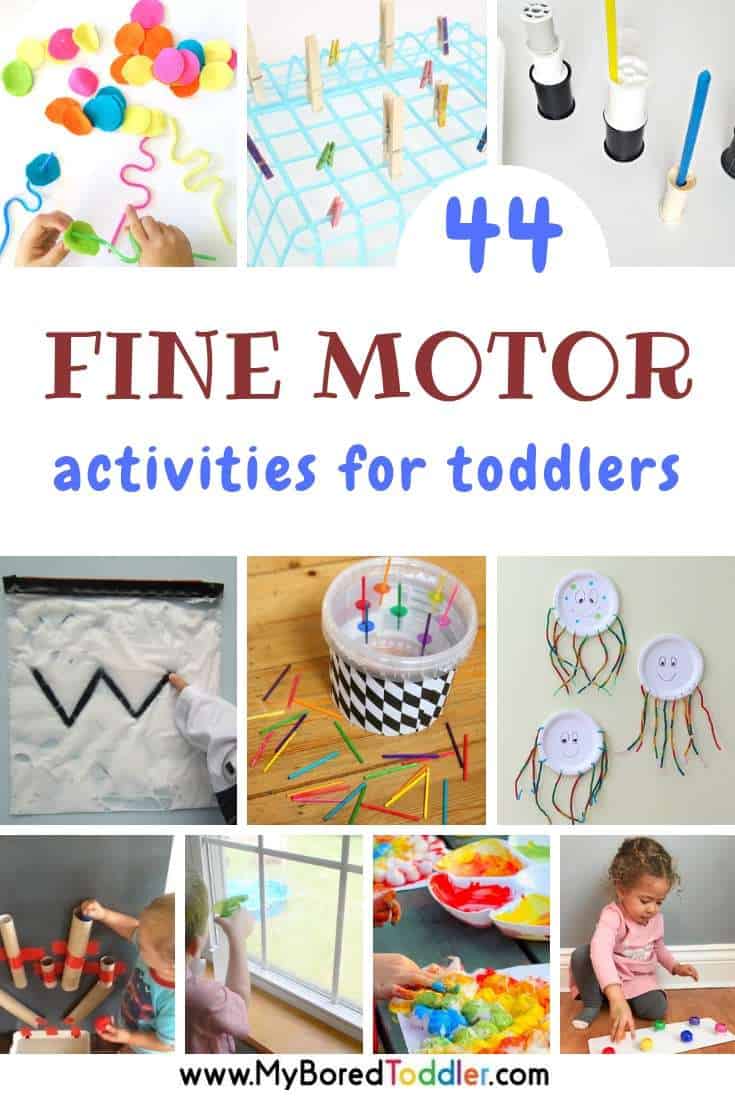 About the Author:
Dani is a busy stay at home Mum of 3 and early childhood teacher in training who is passionate about play based learning throughout early childhood. For educational play ideas that you can do at home and parenting tips visit Play Inspired Mum Check her out on Instagram andFacebook