We've been focusing on color activities for toddlers this week, which meant it was the perfect time to set up our colorful fizzing sensory bin with vinegar and baking soda. This activity is always a fun one and it's great to add a bit of science to our activities.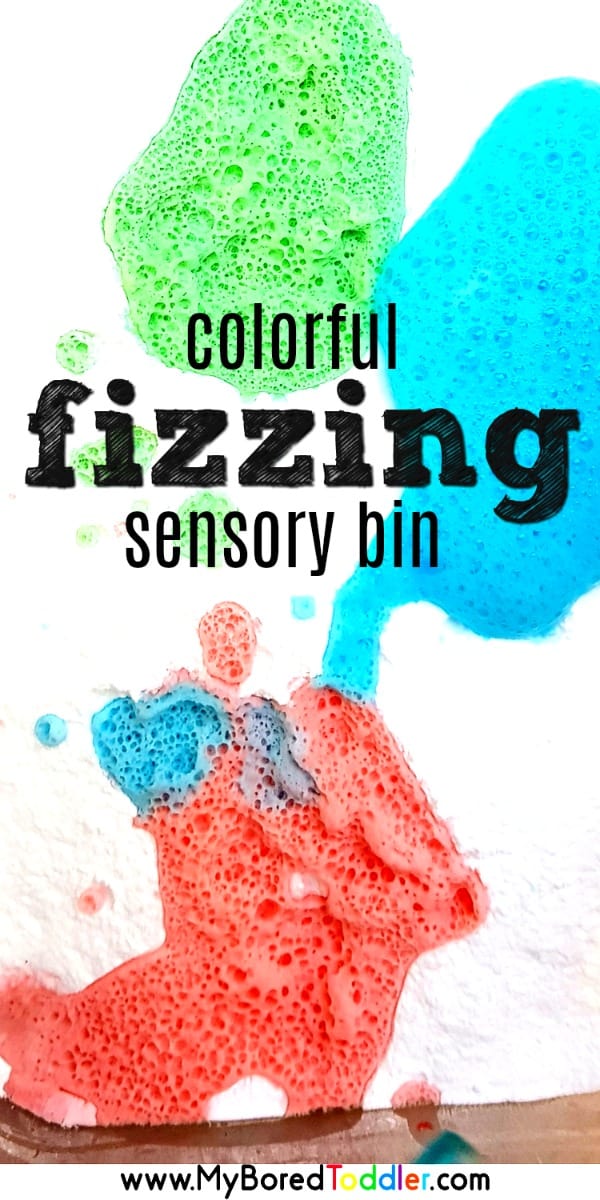 Colorful fizzing sensory bin with vinegar and baking soda
I'm sure you've seen the reaction of vinegar and baking soda before, and it's a perfect sensory play activity for toddlers and preschoolers. The addition of some food coloring makes it even more fun. If you love this activity you might also enjoy our FREE 10 Day Simple Sensory Bin Challenge (sign up HERE).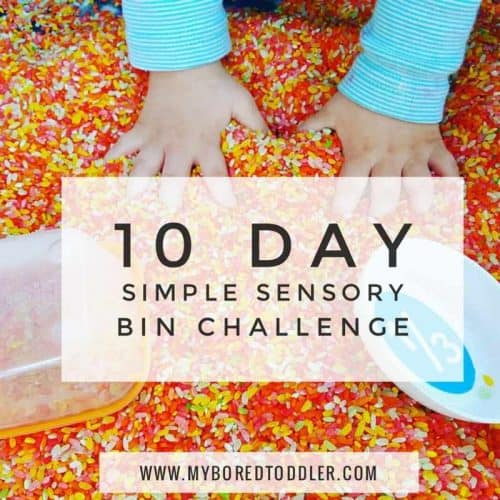 A colorful fizzing sensory bin is an inexpensive toddler activity to set up. Assuming you already have a container, you'll spend less than $10 for everything you need. The main item that I love using in this activity is the turkey baster. It's great for fine motor skills, and the fact that it's larger than a medicine dropper means that it's easier for little hands to use. You can get one for less than $4 HERE on Amazon or you can normally find them at your dollar stores. If you have any leftover baking soda and vinegar you can always try making this DIY Volcano. You can also continue the science theme with these solar science experiments.
What you need to make a colorful fizzing sensory bin
The items needed for this sensory bin are pretty basic. You will need: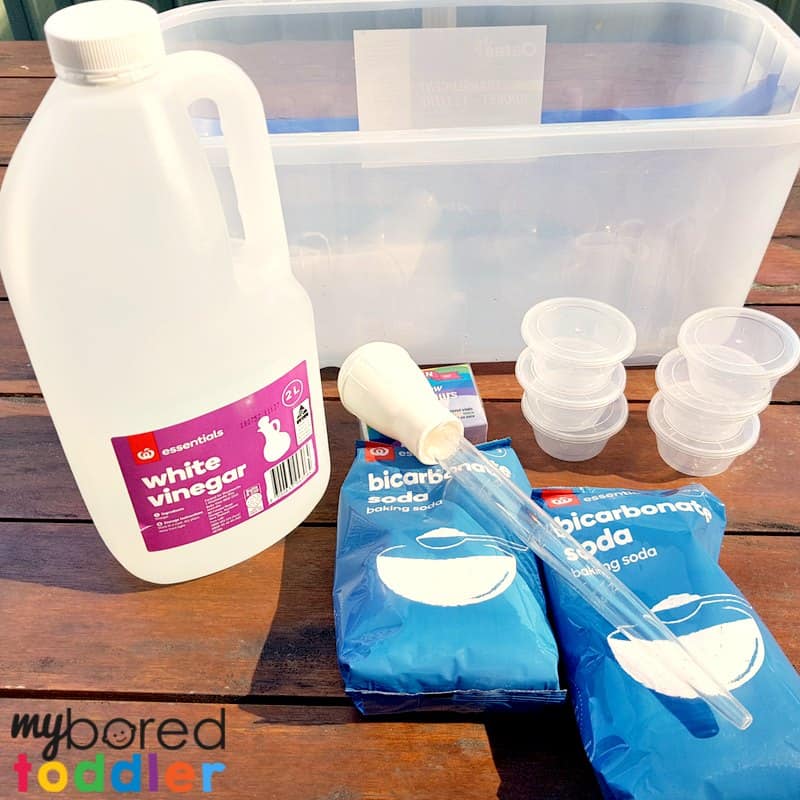 How to set you your fizzing colorful sensory bin
Fill up your container with the baking soda.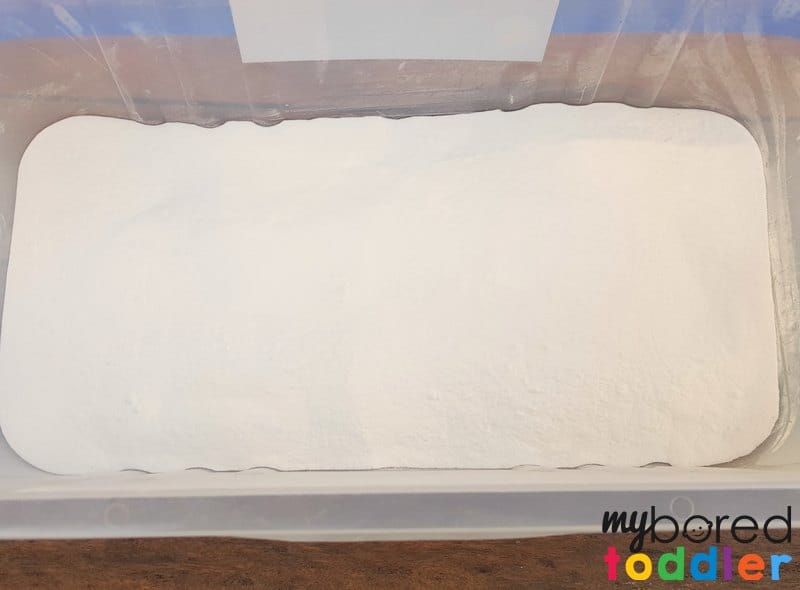 Add a few drops of food coloring to each container. You can mix the colors to make new ones if you like (we mixed blue and red to make purple).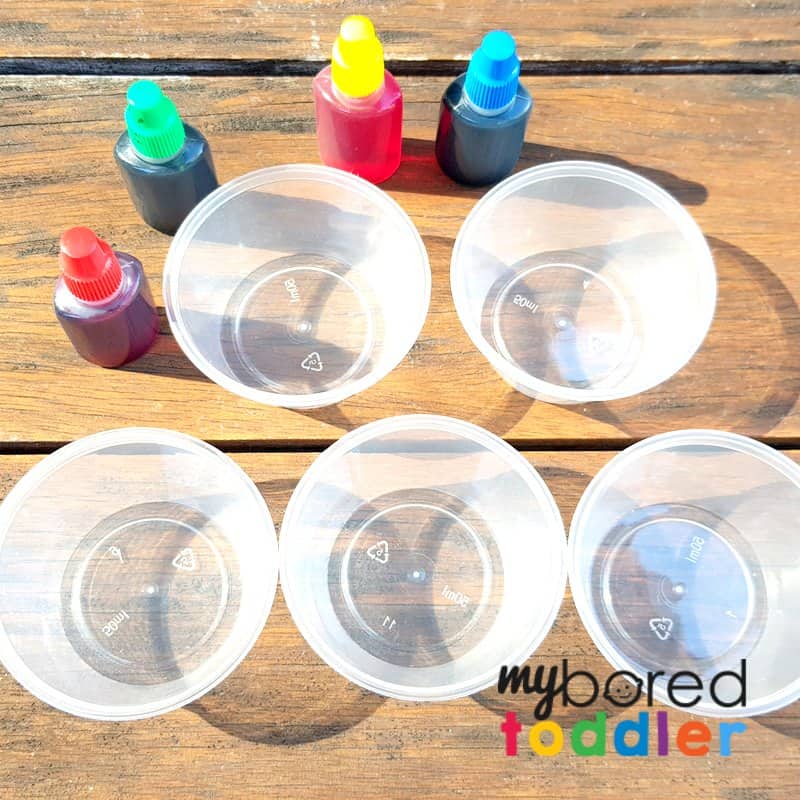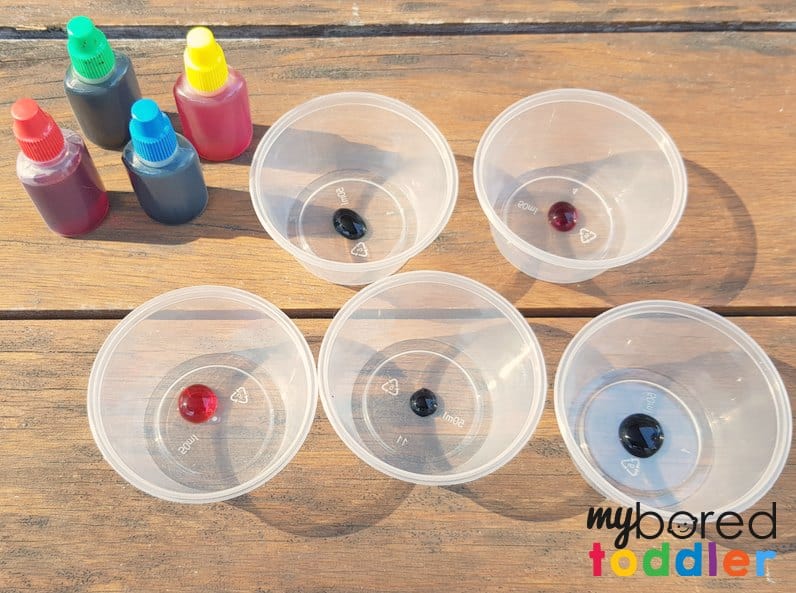 Add the vinegar to your food coloring. Don't those colors look inviting!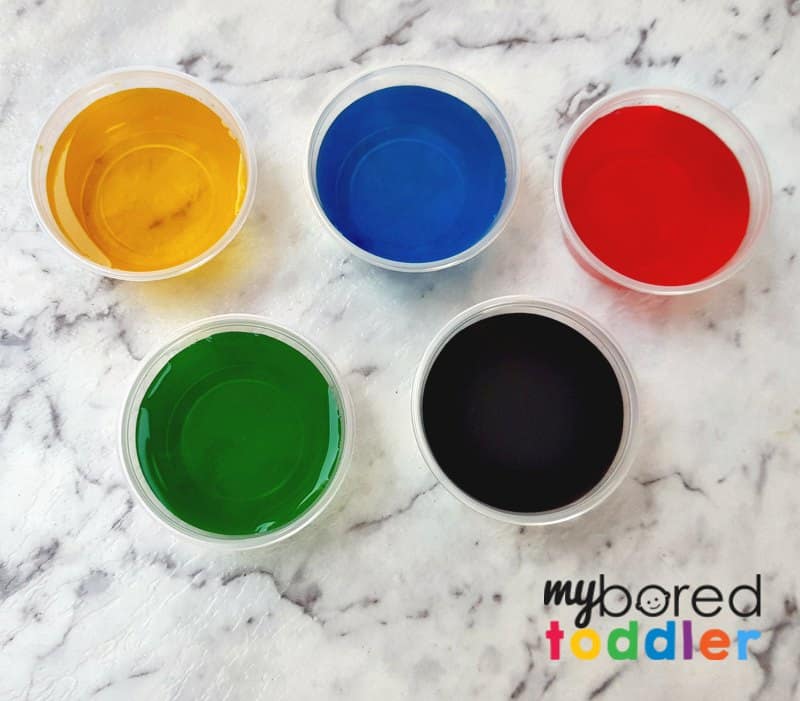 Let your child have the turkey baster and pick up some of the colors. They may need to be shown how it works but normally get the hang of it quite quickly. For the younger toddlers you can help them with this bit and let them do the squeezing part.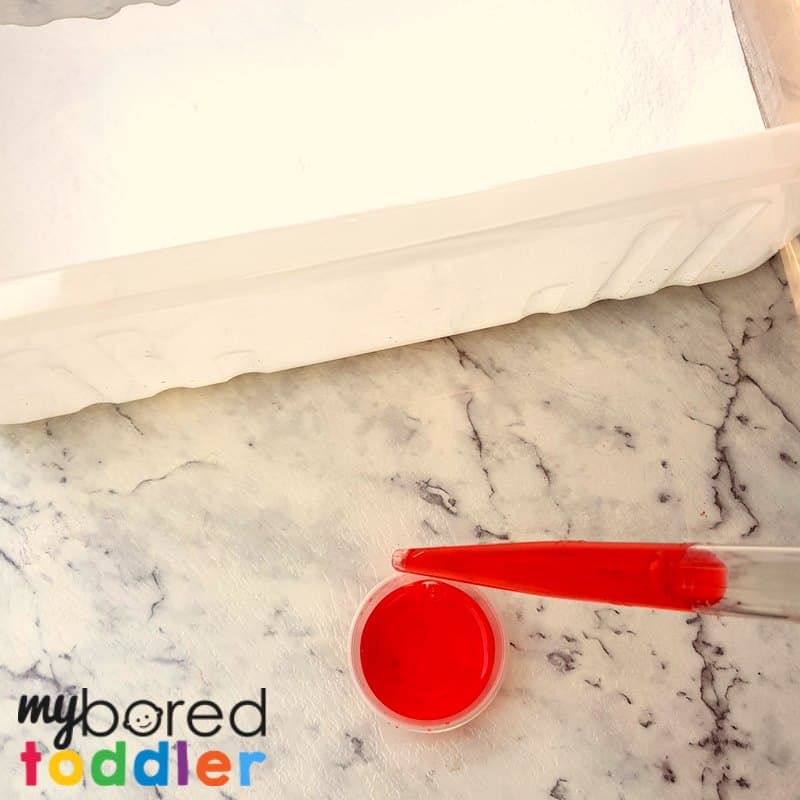 Let them squeeze the colored vinegar into the tub and watch it fizz! Some great questions to ask during this time are:
What do you think will happen?
What does it look like?
What does it smell like?
Can you hear it making sound?
What do you think will happen if we add another color?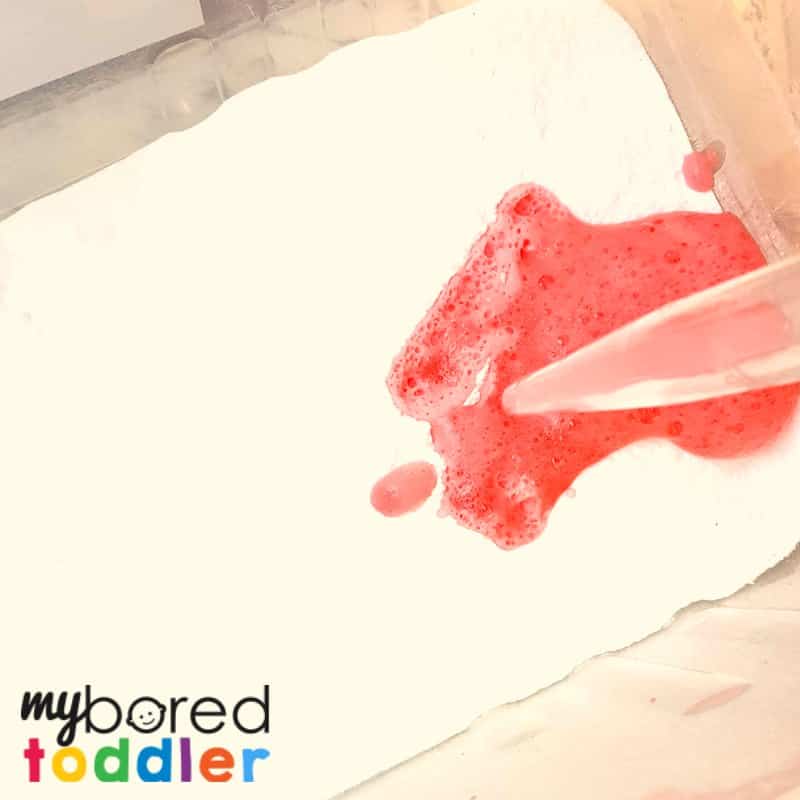 Add some more colors!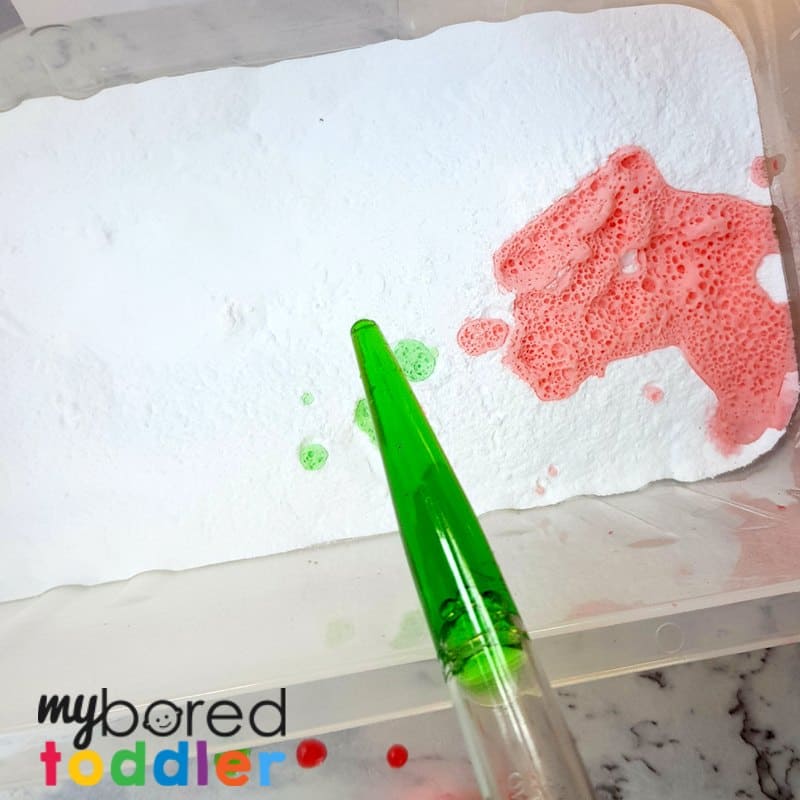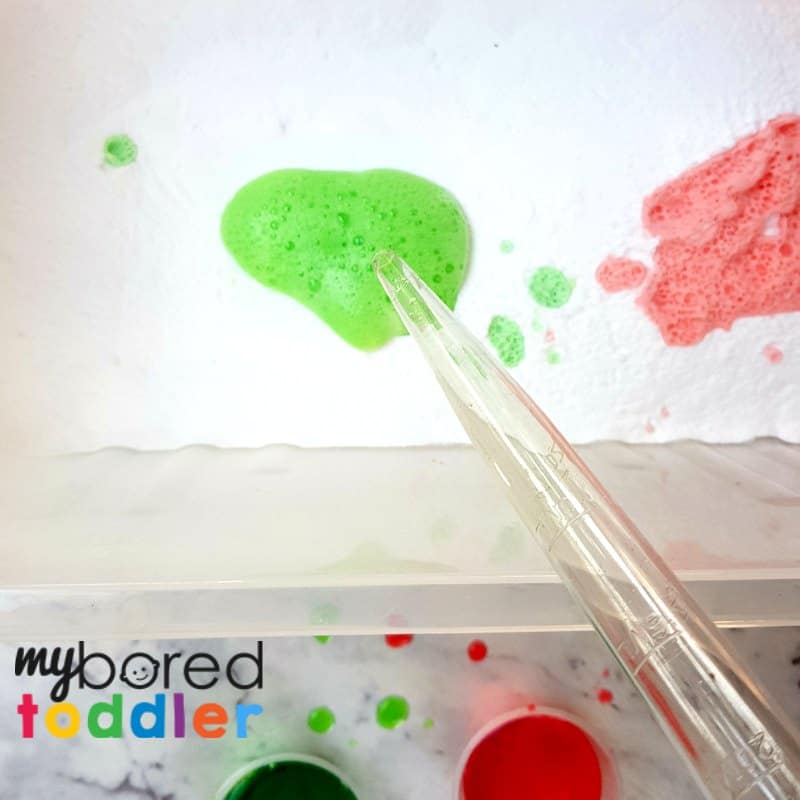 The children will have heaps of fun choosing different colors and seeing the patterns that it makes.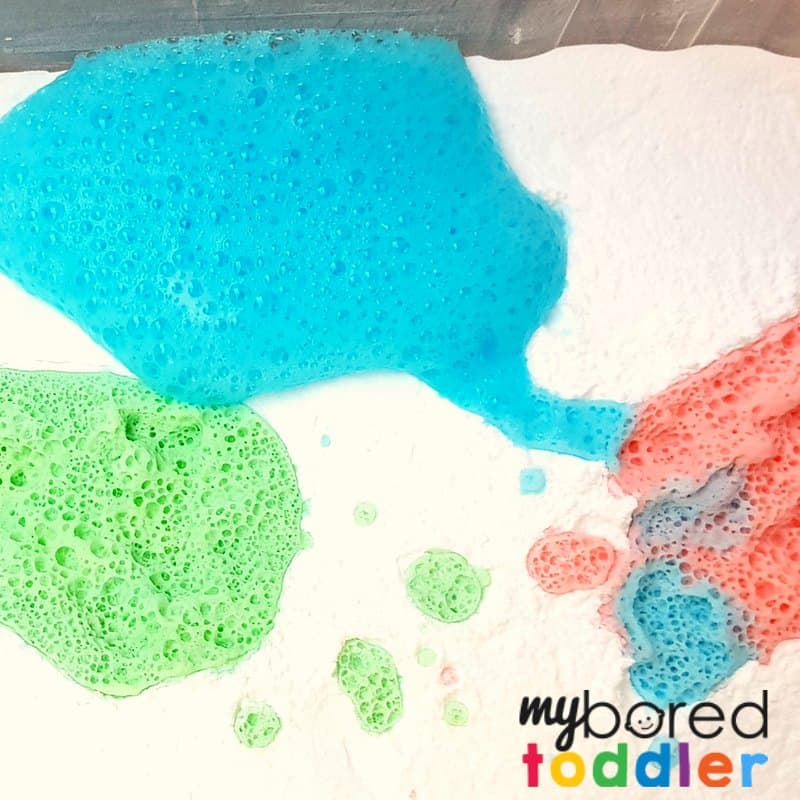 As you go on the sensory bin will get messier and the colors will mix but that's the fun of it! We actually extended this activity by adding dinosaurs to it at the end (we love these ones). This worked well as by then it was a big brown mess!
If you enjoy this colorful fizzing sensory bin using baking soda and vinegar then I'd love you to share a photo over in our Facebook Group or on Instagram (use #MyBoredToddler)
If you want to do more toddler activities I'm sure you'll love these: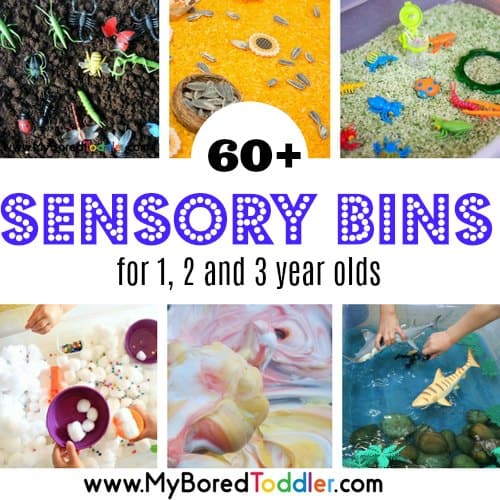 Color Activities for Toddlers