There are so many toddler painting ideas that there's no excuse for not getting out the paints now. From simple brushes to finger painting and everything in between – here are 20 easy toddler painting ideas.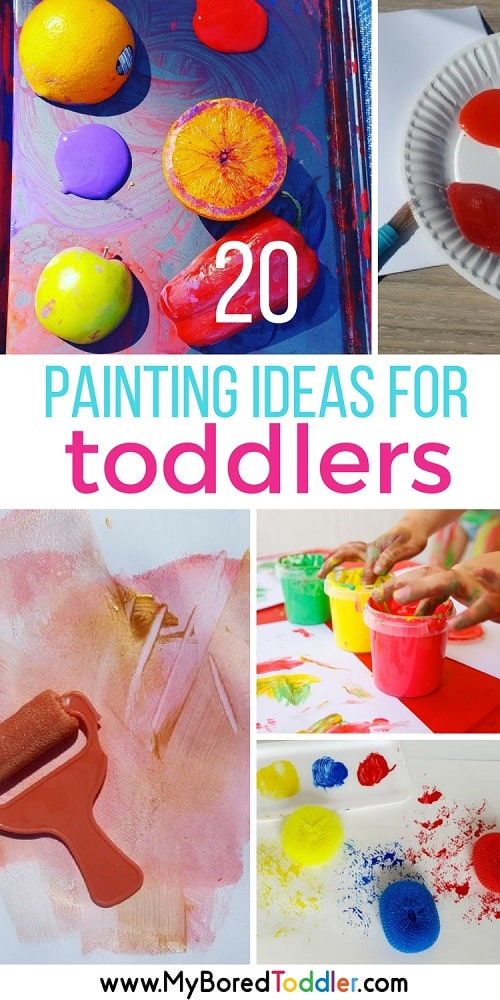 Toddler Painting Ideas
For those of you who have been taking part in our 10 Day Toddler Painting Challenge, congratulations for making it all the way to the end!  If you would like to take part you can sign up here and start at the beginning. For today's challenge I'm throwing it out to you – your choice! It's time to get creative and come up with your own painting activity for today. You can go back and use one of the methods we have already tried or experiment with some new ideas. Make sure you share your paintings in our Facebook Group and on Instagram – #MyBoredToddler . I'm looking for some pictures to add to this post too so yours might get featured!
If you're stuck with what to paint or how to paint with your toddler then these toddler painting ideas have you covered!
Don't forget that you can find my list of all the painting items you need to paint with a toddler HERE. 
20 Toddler Painting Ideas
Painting with brushes – never forget the most obvious! Larger handled paint brushes like these ones are best for toddlers.

Finger Painting – it's messy but you know they'll love it!
Painting with trucks and cars

Fruit and Vegetable painting prints

Giant Outdoor Painting

Painting with Pot Scrubbers

Butterfly Paintings

Stamping with cookie cutters and blocks
Painting on Bubble Wrap
Don't forget to share your photos in our Facebook Group and over on Instagram – use the hashtag #MyBoredToddler so you can see what everyone else is doing too!
Remember that if you have yet to take part in our 10 Day Toddler Painting Challenge you can sign up HERE (it's free!)
Some more posts you might enjoy are: