Water play for toddlers is such an easy toddler activity idea.
If you want to mix up your water play for babies and toddlers then this list of great activities will keep you going!
Water is one of the easiest sensory play activities to set up for babies and toddlers and a great toddler summer activity when the weather warms up.
Water Play Activities for Babies and Toddlers
Water play is one of my favorite Summer activities for babies and toddlers.
It's such a versatile and easy to set up activity and my own children have had hours of fun playing with water. Setting up water play activities can be as simple as using a water table, or you can get a bit more creative like some of the ideas listed below.
What do toddlers learn through water play?
While not every activity has to have a learning element to it, it's always amazing how much incidental learning happens during play.
The beauty of water play is that it's an open-ended activity - there's no right or wrong way to play. It's about exploring and seeing what happens.
Just a few of the ways that toddlers learn through water play are:
Cause and effect (what happens if I tip the cup up? What happens when I splash something? Does it sink? Does it float?)
Problem Solving - they are learning why things happen (if I tip the cup up, it pours out - if I want to keep the water in, I need to keep the cup the right way up).
It's calming (well it can be!). There's something about scooping and pouring water that can calm toddlers down (older children too)
Water play encourages language skills - while they are playing they are surrounded by rich language - either by talking or listening. You (or they) are using mathematical words (counting, measuring etc), scientific words (float, sink) along with asking and answering questions.
Water play is also pretend play - they're not just 'playing in water' they're creating a harbour with boats, washing toys at a vet, creating a car wash scenario etc. This is very valuable imaginative play!
What water play table is best for toddlers?
This is a question that gets asked a LOT in our Facebook Group and there's no one right answer. Honestly, anything you can fill with water that's safe works just fine. The 2 ways that our group members seem to recommend the most are:
A Plastic Container like these under the bed storage containers (available HERE on Amazon). I've always liked these as I also use them for our sensory bins too.
A stand alone water table is also a great investment. While there are some great ones with all the bells and whistles, I recommend keeping it simple and then you can use the container for sensory bins too.
I like one like THIS, especially as it has a lid too (available HERE on Amazon).
Water Play Ideas for Toddlers and Babies
Let's get started with our fun water play ideas for toddlers and babies! The idea of water play is to keep it simple - don't overthink it and you'll find that it becomes a favorite toddler activity!
I'd love to see photos of your water play activities so make sure you share your photos in our Facebook group or on Instagram - tag #MyBoredToddler so we can all see them!
Start out simple with some basic water play with scoops and cups!
Mix it up and add some color to your water play with this Color Changing Water Play
Pull out your Lego or Duplo and do some Block Scooping
Water Play with Sponges - no expensive items required for this one - grab some clean sponges and let them play!
3 Little Ducklings Water Play - take your toys from your bath (they don't have to be ducks - any bath animals will work). It's interesting how they become more interested in a toy when you change the setting - their bath toys become fun again when you add it to the water table.
Frogs on a Speckled Log - this one is a fun one
Get out your toys, add some bubbles and I guarantee this one will be popular. Add a cloth and a towel to dry them with. We've done this with cars & trucks, dinosaurs, ponies and dolls - the possibilities are endless!
Soap Foam - we did ours with a construction theme but any toys in here will work. See how to make your soap foam HERE.
We asked our Facebook Group members for some of their toddler water play ideas and here they are!
@thrifty_crafty_mama shared this great idea - rainbow ice. A drop or two of food coloring in each cube. She used large ice cube trays and I've found similar ones HERE.
Malar from our Facebook Group shared this great pic - fishing for toys using a net. I love the idea of using the paddling pool. You can get sea animals HERE and a similar net HERE.
Liss from our group set up rubber ducky races - what a great idea!
Yvette stepped up her bubble game, filling the whole paddling pool!
Jomary used her water table to set up water painting!
Water Scooping with Teddy Bears
Rachel set up a fun and easy water scooping activity using the colored teddy bears (get them HERE) and some colored cups. You could sort these, scoop them, stir them etc. So many fun activity ideas.
Simple Water Play for Toddlers
Cathy shows us how easy it is to make a fun water play activity - just add some random items from around the house. Don't overthink it!
Color Sorting with Water Droppers
Malin shared this color sorting water play idea - She used empty egg cartons, droppers (get my favorite toddler friendly ones HERE) and food coloring to experiment with mixing colors.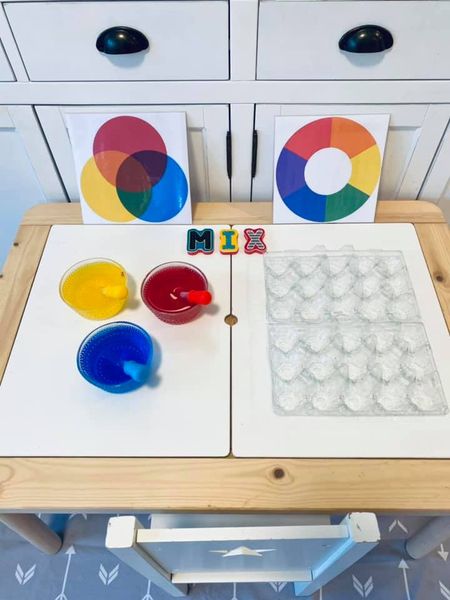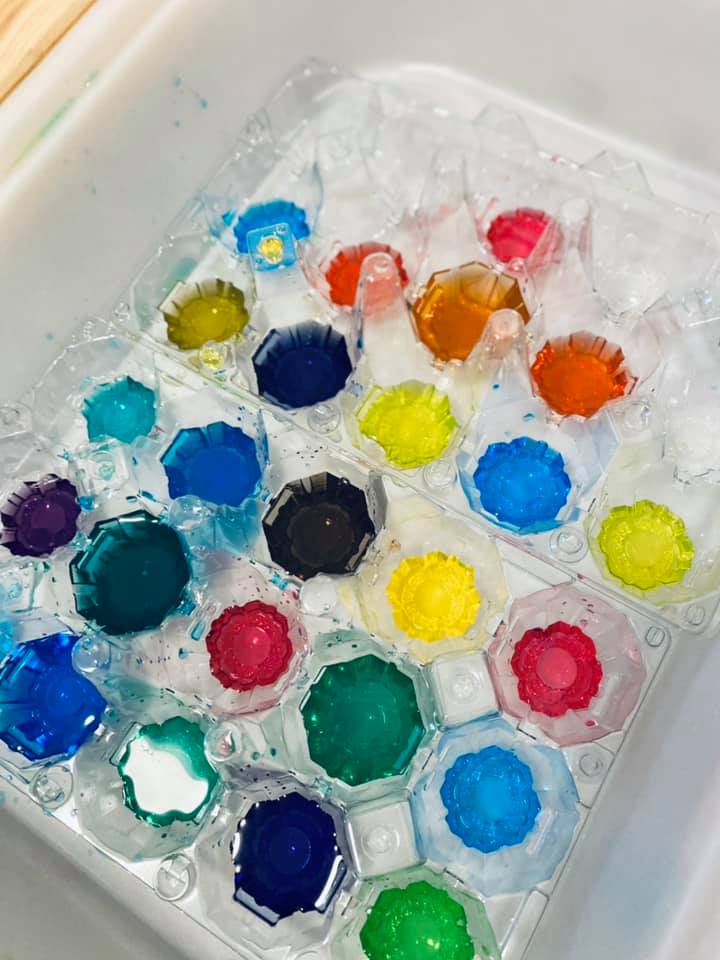 Abby also set up some color mixing using food coloring and egg cartons. She set her water play activity up by filling the circles with plain water except for one of each color with food coloring.
Even More Water Play Ideas for Toddlers
We found more great baby and toddler water play ideas from some great websites. Check them all out below.
Bubbles and Letters Sensory Play from Books and Giggles
Spring Flower Sensory Soup from Crafts on Sea
Tot School at the Beach from The Educator's Spin On It
Pom Pom Squeeze Water Play from Fantastic Fun and Learning
Red, White and Blue Water Sensory Bin from Simple Fun For Kids
Color Matching Water Play from Sugar Aunts
Pom Pom Squeeze Water Play from Fantastic Fun and Learning
Water Balloon Sensory Bin from Simple Fun for Kids
Underwater Glitter Sand Sensory Play from In the Playroom
Car Wash Sensory Play from My Mundane and Miraculous Life
Alphabet Water Tracing from Artsy Momma
Lavender/Purple Water Bin from Sugar Aunts
Water Blob from There's Just One Mommy
Painting with water from My Bored Toddler
Put the Fire Out Water Play from Best Toys 4 Toddlers
DIY Paint Shower from Thinking Outside the Sandbox
Mrs Wishy Washy's Farm Book & Water Play from Sunny Day Family
Pool Noodle Sensory Bin from Sugar Aunts
Underwater Doggies Book & Water Play Activity from Sunny Day Family
Baby Sensory Water Play from The Imagination Tree
DIY Water Wall from There's Just One Mommy
I'd love to see photos of your water play activities so make sure you share your photos in our Facebook group or on Instagram - tag #MyBoredToddler so we can all see them!
Some other posts you may like are: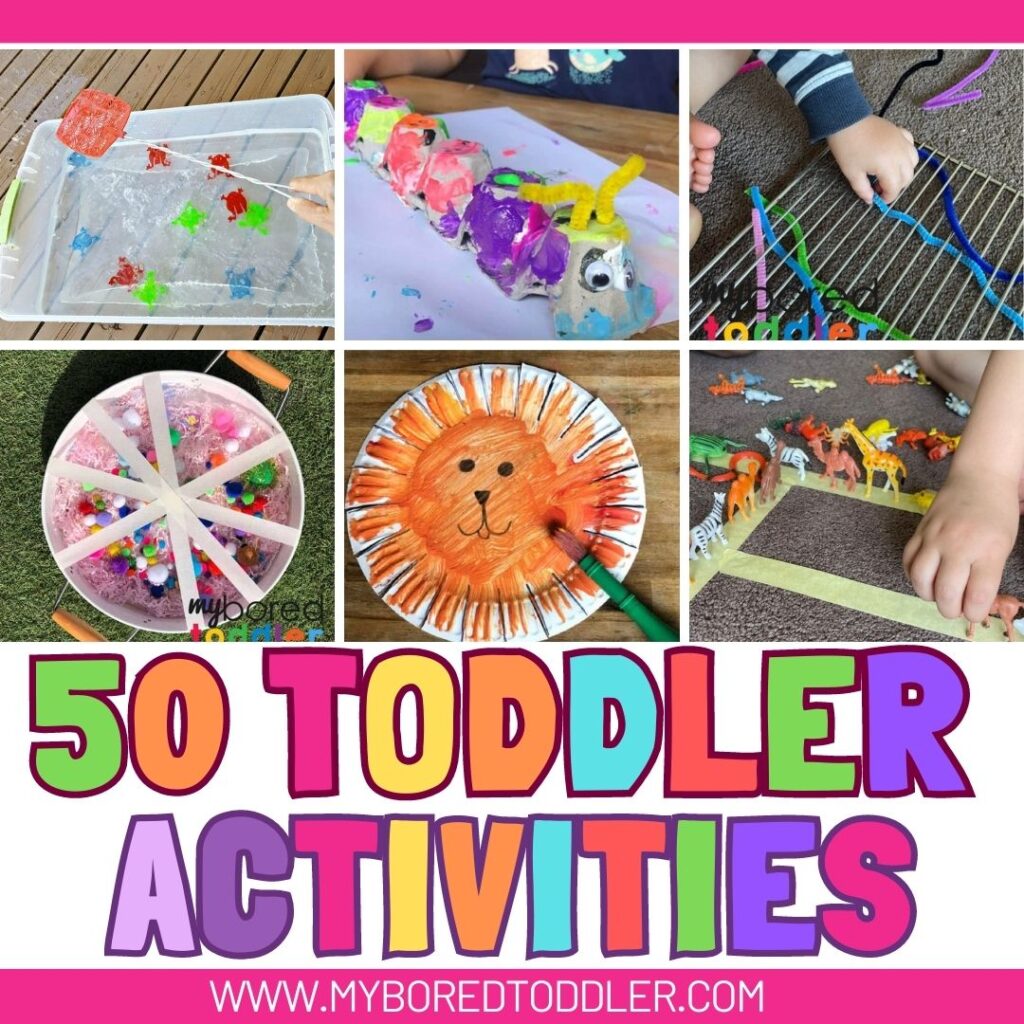 Spring Crafts for 2 & 3 Year Olds
Summer Activities for Toddlers
If you loved this water play activities for babies and toddlers post why not PIN IT to Pinterest