Easter Egg Process Paintings for Toddlers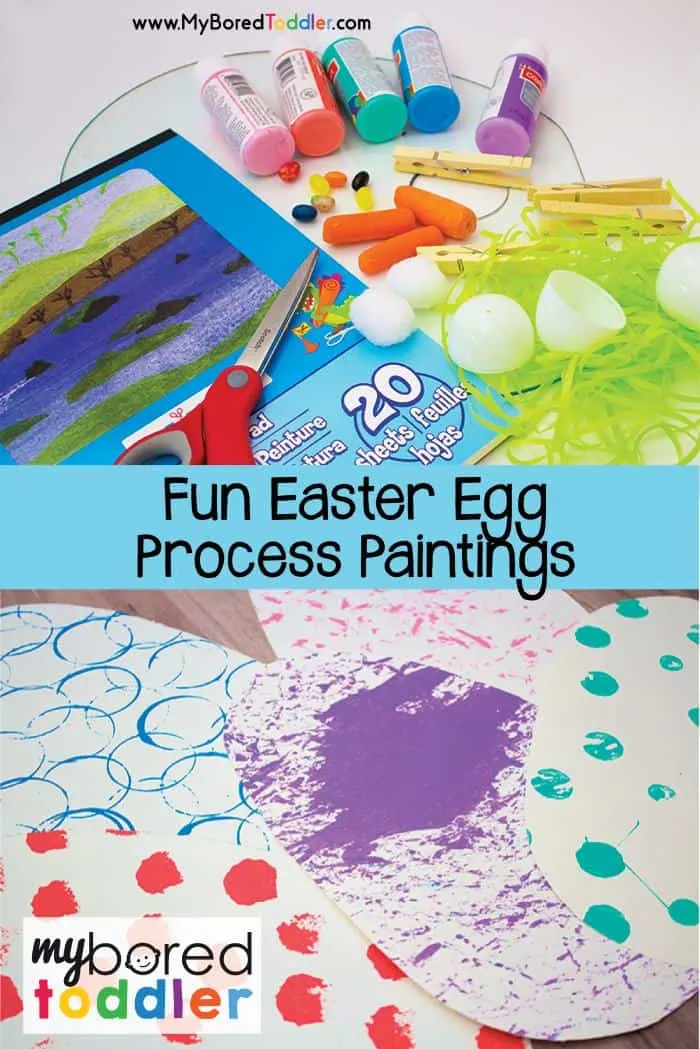 Even with all the snow on the ground, my oldest has been busy jumping into spring and Easter projects. I decided my toddler needed a chance at some of the fun. We put together some simple painting ideas for him to create paper Easter eggs. Each painting process is simple, open ended, and inspired by the Easter holiday for extra fun!
This project is extremely flexible. Choose paint colors that match your home decor so your toddler can help with your spring decorating. If you don't have every painting tool on hand, you can skip some. You may have ideas for other Easter themed painting tools to incorporate- go for it. There's no right or wrong with this craft, as long as your toddler is given the opportunity to create in novel ways.
Easter Egg Process Paintings
You Will Need: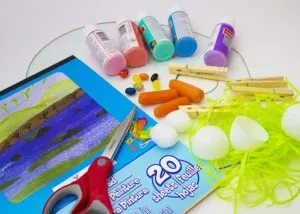 Paint - we recommend this washable paint.
Painting tools. These can vary based on what you have available.
We used:
How to make Process Art Easter Eggs
We opened the plastic egg to create circle stamps. We dipped the flat end of the open eggs in the paint and stamped all over the paper.

By placing a piece of paper. some jelly beans, and a small squirt of paint into an old cardboard box, we created a noisy way to decorate eggs. Close the box up and have your toddler give a good shake. They'll love the noise and physical activity as the jelly beans paint an abstract pattern on the paper. It was especially interesting for us to see how our jelly beans added some of their own color to the paper!

The carrots were used as another fun stamping option. Adults can carefully cut the tip off of a carrot to create a flat stamp surface. Kids can dip the flat end into paint and stamp all over their paper. We used a thinner carrot and a thicker carrot for a bit of variety.

By pinching a large pom pom with a clothes pin, we created bunny tail painting tools. They can be used either as stamps or paintbrushes on the paper.

Typical plastic Easter grass is the perfect material for creating an unusual paintbrush for a novel approach to art. We knotted a bunch of strands in the middle and pinched it with the clothespin. Using the scissors we trimmed the strands of grass down to make them more manageable. Dipping the 'paintbrush' into paint created a fun opportunity to try out a new way of painting.

When each paper was completely dry, we used the scissors to cut the papers into large egg shapes. After cutting them out, we hung the Easter eggs through out our home to start spreading a bit of Easter cheer.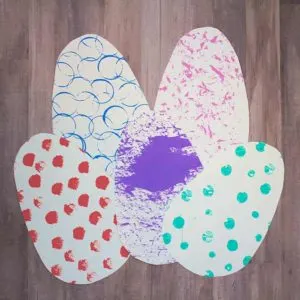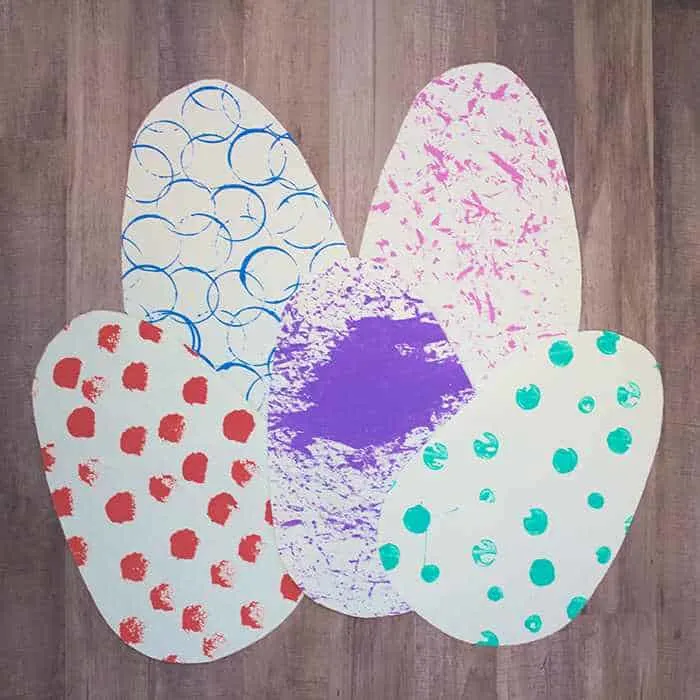 I hope you're able to incorporate some of these ideas into your child's own art projects. What other unconventional tools for painting does your family like to use?
Make sure you check out more of our fun Easter Activities for Toddlers here.
About the Author
Kate is a former fashion designer turned semi-reluctant stay-at-home-mama. She enjoys using her design background to encourage a lifelong love of learning and literacy in her sons. Visit her at Homebound But Hopeful to stay up to date on craft and learning activities inspired by popular children's books. You can follow Kate on Instagram, Twitter, Facebook and Pinterest.
More Toddler Activities!
If you want to keep your toddler busy makes sure you subscribe to our weekly newsletter and follow My Bored Toddler on Facebook, Twitter, Instagram and Pinterest.
If you enjoyed this activity here are some more that you may enjoy: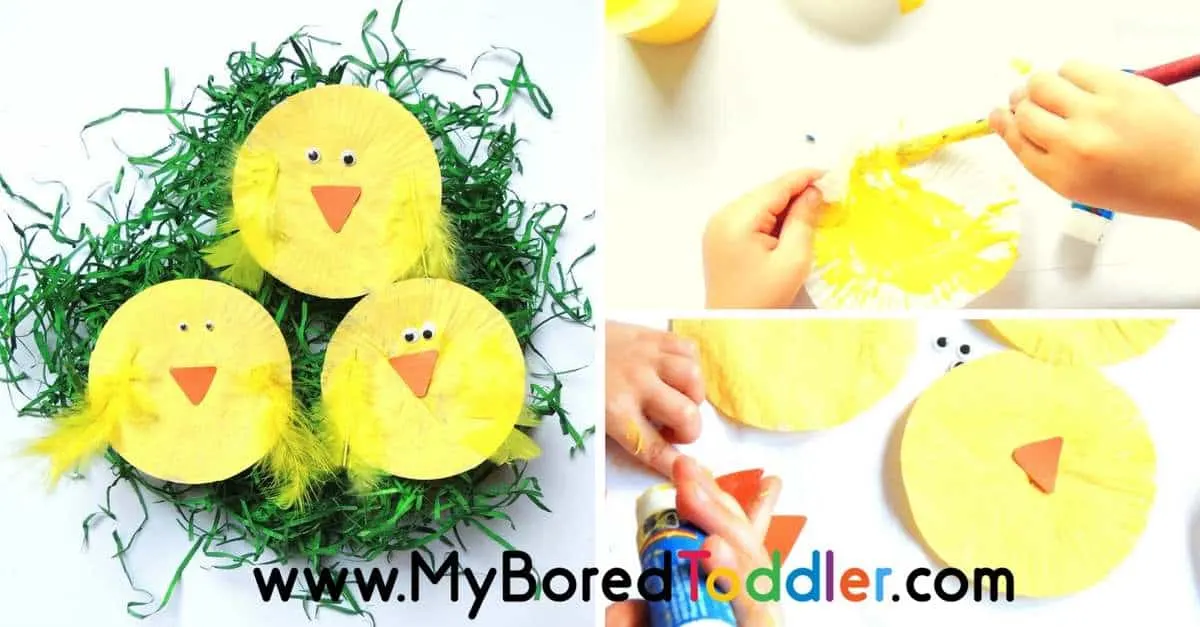 Easy Striped Toddler Easter Eggs