250+ Sensory Play Ideas for Toddlers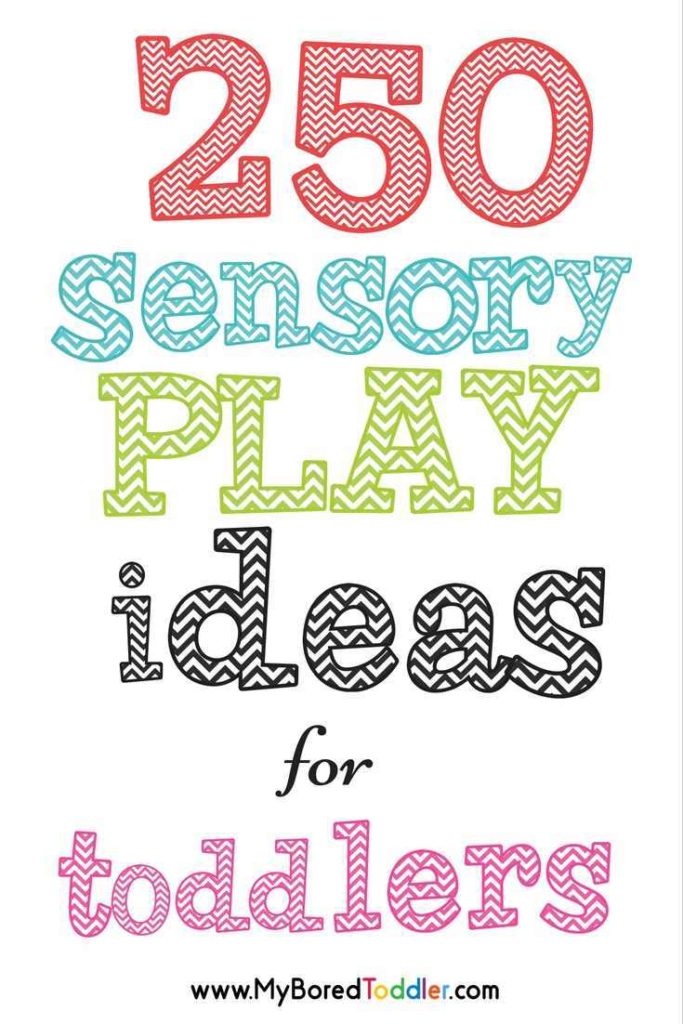 Are you looking for sensory play ideas for toddlers? We have a fantastic collection with over 250 fun sensory play activities. Sensory play is something that you can start with babies and they make perfect activities for one and two year olds. Many preschool and kindergarten teachers include sensory play in their classroom planning as well, although these work just as well at home.
What is Sensory Play?
Sensory play is play that engages the senses of sight, smell, touch, taste and hearing. Sensory play should encourage children to explore, create, experience and of course play. Sensory play can be as simple as adding a few drops of essential oils to play dough, using textures in craft or going on a nature walk and listening to the sounds you hear.
Why Is Sensory Play Important For Toddlers?
Sensory play is about more than just having fun. A great article on early childhood education found that just by using a sand and water table, the children were exposed to so many different learning opportunities including:
Problem solving (how to get the water in or out, how to move the boat through the tunnel, how to fill up the container)
Learning how items work. By including scoops, droppers, cups, funnels etc, children are discovering how to manipulate items, and how they work.
Developing language skills. While playing children are exposed to new language – words like rolling, pouring, sinking, floating are just some words that will naturally be incorporated into the activity.  Even if your toddler is too young to talk, listening to you talk about these things exposes them to this language. You'll be amazed how much they pick up!
Social Skills.  As soon as you have more than one child playing that the sand and water table they start to explore the skills of cooperation, sharing and working together.
Fine Motor skills. Squirting water with a turkey baster, pouring water into a funnel, picking up the small items in the sand are  are all activities that encourage fine motor skills.
Math skills. A simple act like pouring water into a cup is an early form of measurement. You can also count items that you find, or how many cups of water you pour out. The language of mathematics is easily incorporated into sensory play. Words like bigger, smaller, longer, shorter, full, empty, more and less are teaching languages of mathematics.
Science. Even toddlers can begin wondering 'Why?'. Even if they can't verbalize their thoughts, they are exploring why things happen and examining the cause and effect of their actions.
Creativity. Sensory play often encourages pretend play. Making cup cakes out of play dough,  pretending that the water is the ocean, that their toys are real etc. Reasons why you shouldn't avoid sensory play
I often hear parents say they avoid sensory play because it is too 'messy', but sensory play is about more than messy play (and well managed messy play doesn't have to be as messy as you may think). Some tips when engaging in messy sensory play at home include:
Put down a plastic mat. It makes cleaning up so much easier. I love these ones.
Keep the wipes handy
Take the activity outside
Contain the activity to one area. I love sand and water tables for this reason. We use ours outside and it's easy to hose it down at the end of the day.
Store items in air tight containers. Items like colored pasta or colored rice can easily be stored in containers ready for the next time you want to play.
Store messy items away from children. This may sound obvious but almost everyone has an experience where the children get into the paint or the glue while you're not looking. While I keep many sensory play items accessible, there are a lot that get stored way up high!
What do I need to get started with sensory play for my toddler?
This post lists many great sensory play ideas for toddlers, including some very simple sensory activities and some quite elaborate ones too. If you are just getting started with sensory play, there are a few key items I would start with.
Sensory Play Ideas for Toddlers Ultimate Activity Guide!
Now for the fun stuff! There's no excuse for your toddler being bored or not exposed to sensory play with these great ideas. There's over 250 of them!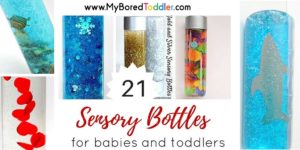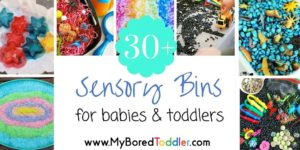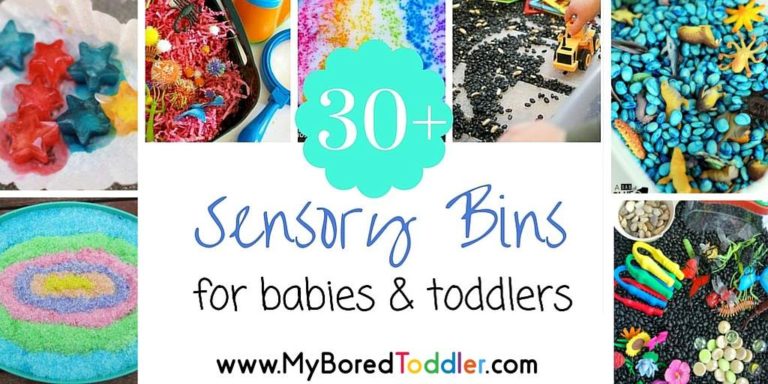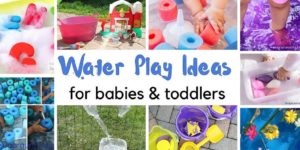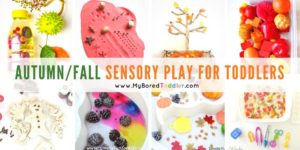 Halloween Sensory Toddler Play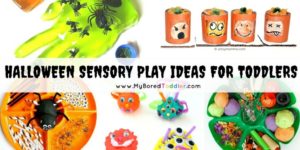 If you love these activities, make sure you subscribe to our weekly newsletter and follow us on Facebook, Twitter,  Instagram and Pinterest.