This edible ice cream dough sensory play activity is a great summer toddler activity idea!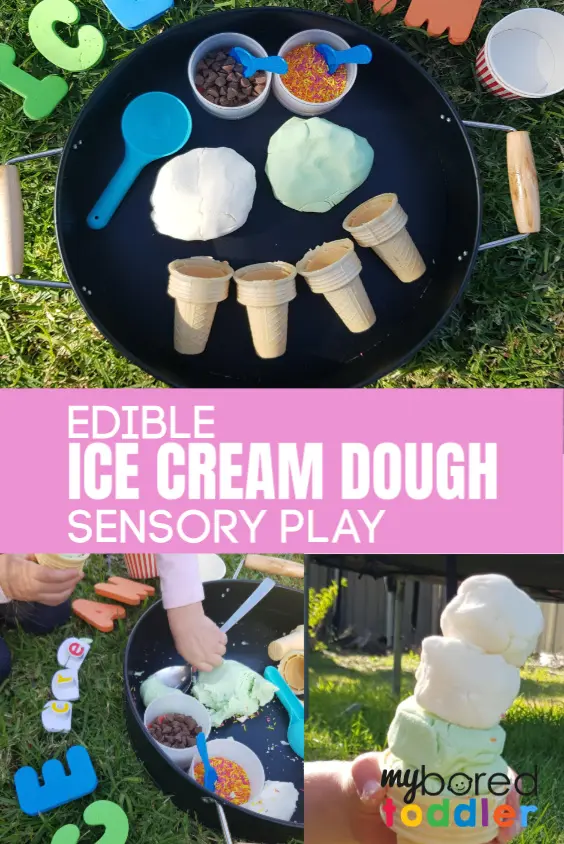 This is a guest post from Lisa at Teaching My Two Little Ratbags
One of favourite things about making sensory bins for my girls is that it can also be STEM for adults. When I added the ingredients for this one to our weekly shopping list, I certainly had my husband wondering what I was up to.
We have been learning the letter "i" and having lots of fun with ice-cream related activities in the process.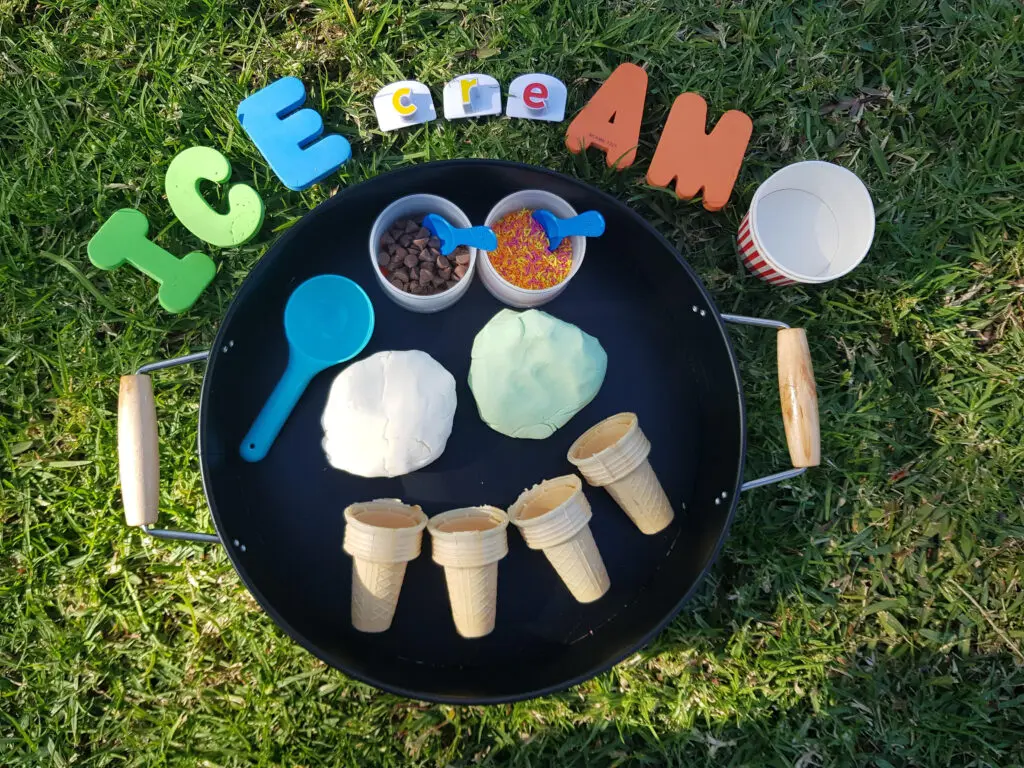 What you will need to make Edible Ice-cream Dough
• 1 cup of frosting
• 2 cups of icing sugar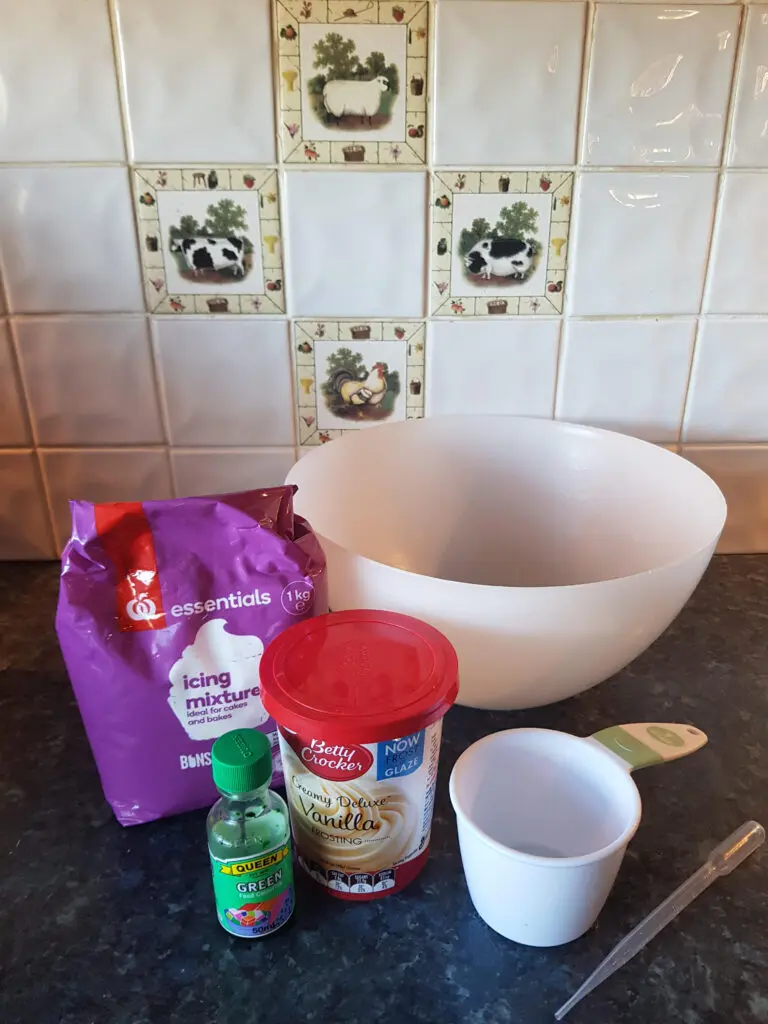 Gradually add the icing sugar to the frosting. I used a ⅓ cup for measuring. The first 4x ⅓ cups of icing sugar I gradually added cup by cup and mixed into the frosting with a spoon. The last 2x ⅓ cups I kneaded and folded in with my hands, once the mixture had become less sticky and easier to handle.
Perfect your dough as needed. Towards the end, my dough started to crumble and get a little dry so I added 2x tsp of frosting, then it was slightly sticky so I added a few pinches of icing sugar until I had it just right.
I separated my ice-cream dough mix into two, keeping some aside as vanilla, and adding some queens green food colouring to the other half to replicate Mummy favourite "Choc Mint".
You could also add peppermint essence to this, or try other flavour colours.
How to setup your sensory bin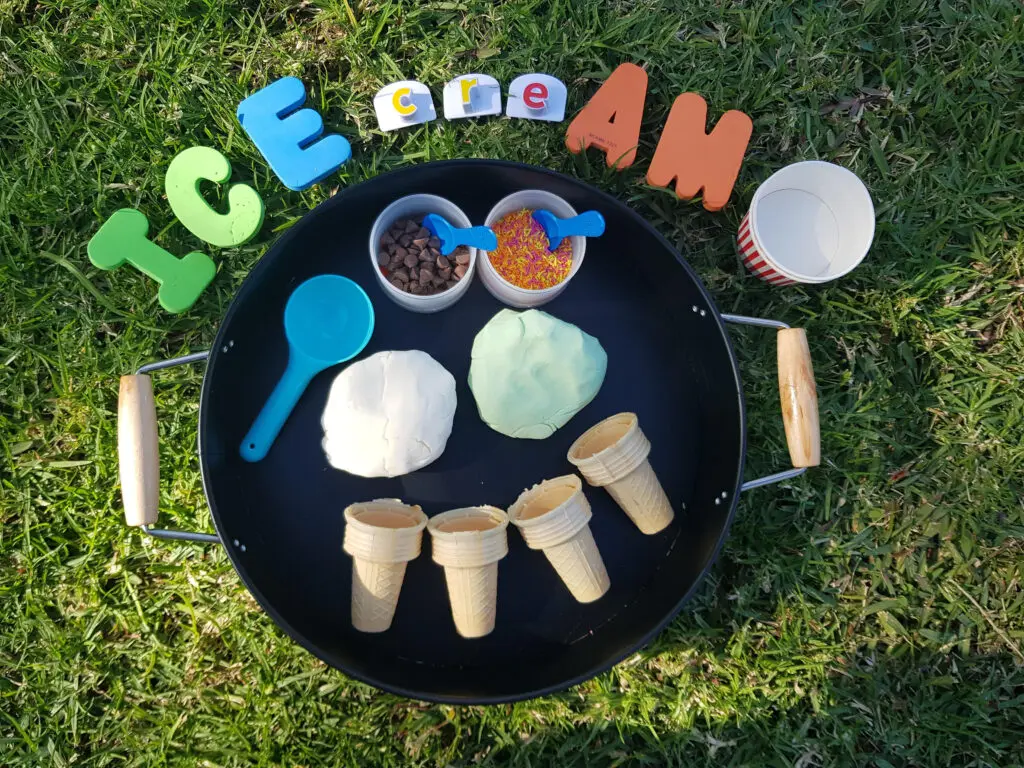 Simply place your dough in a tray with some ice-cream making essentials
• Ice-cream scoop
• Toppings
• Ice-cream cones (you can get plastic reusable ones like these if you don't want to use real ones)
I kept our sensory bin entirely edible by providing real ice-cream cones, sprinkles and chocolate chips, but you could also use used coloured rice, beads, buttons or cutup straws as topping options.
How they played with their edible ice cream dough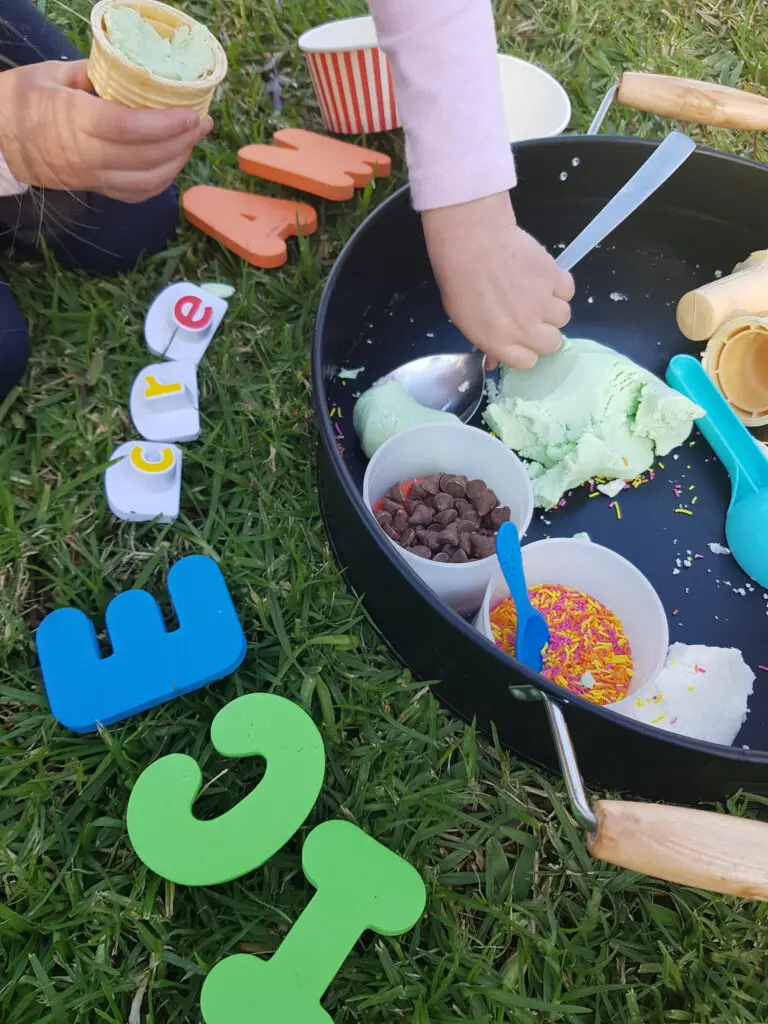 This tray was great for scooping practice, they made Mummy her favourite "Choc Mint" ice-cream and stacked them tall.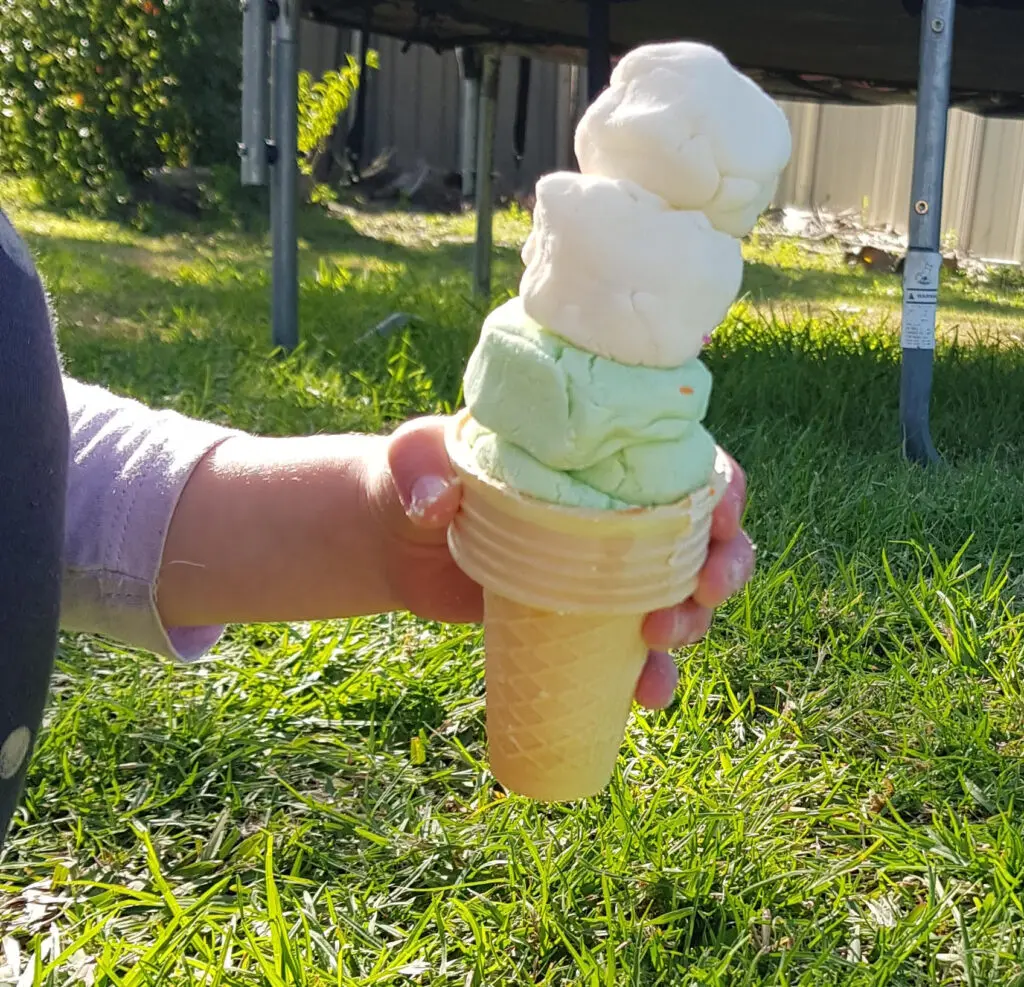 The dough was also easy to manipulate and roll in their hands, almost identical to real playdough, I had them completely fooled until I told them to give it a taste!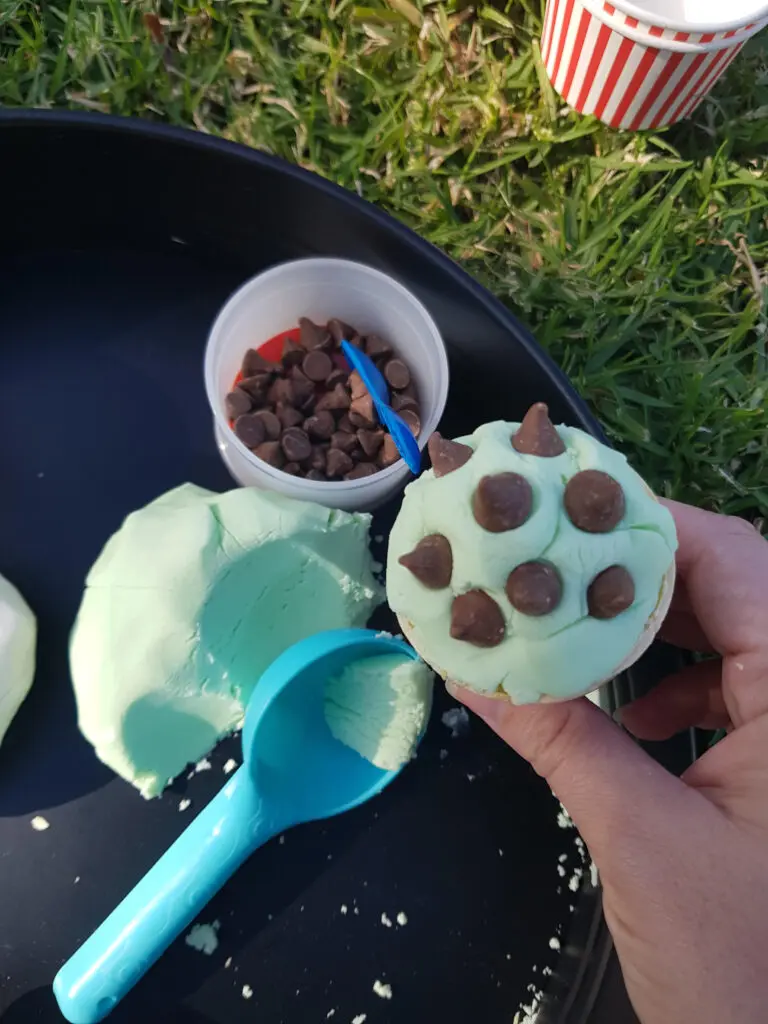 I could have actually gotten away with them not eating it but where's the fun it that.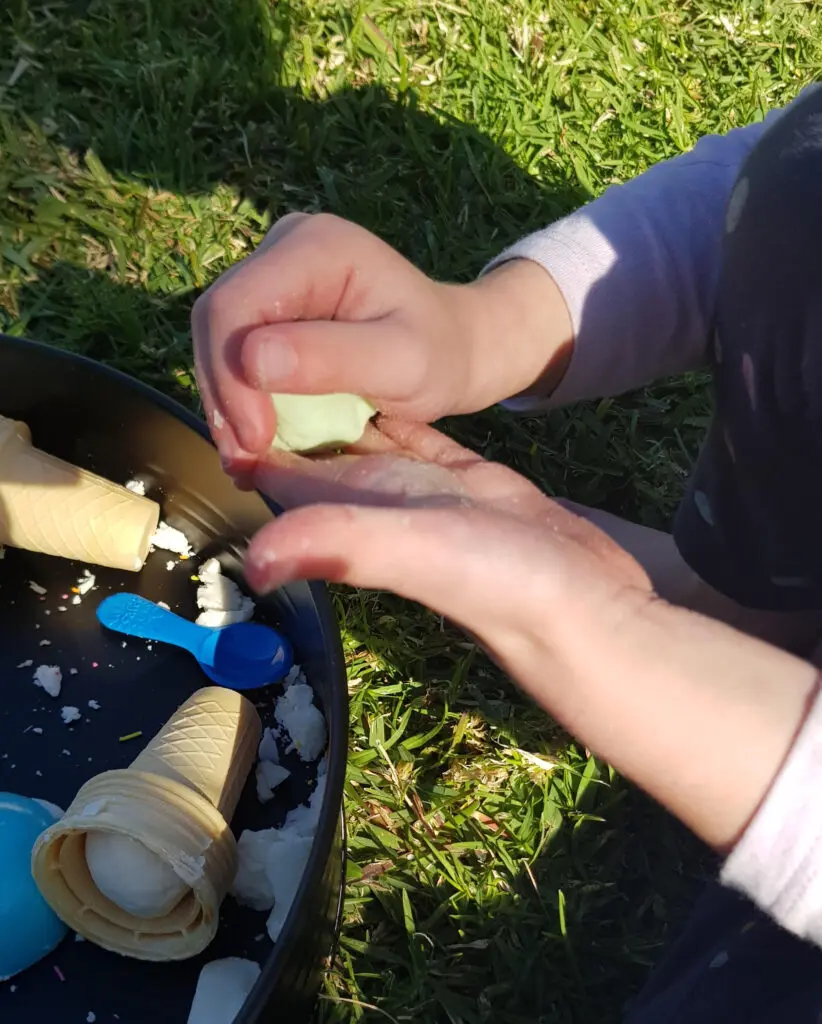 They enjoyed continuing to make and have a real taste of their ice-creams, I did however supervise and make sure only a little was consumed by my little sweet tooth rugrats.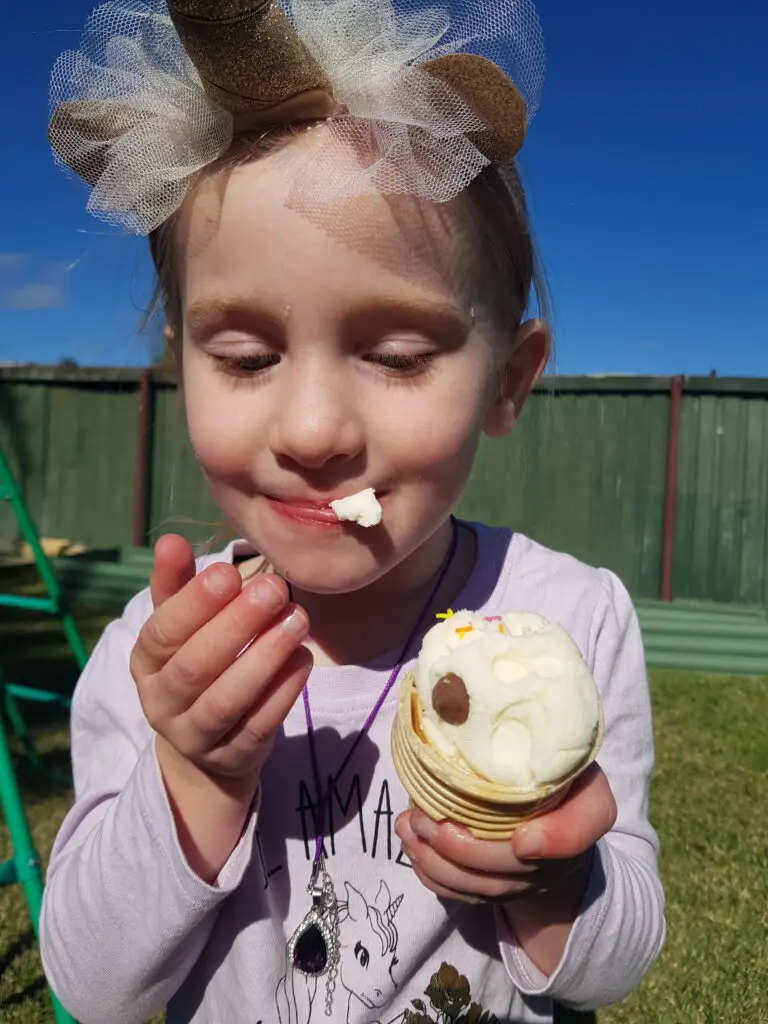 About the Author
Lisa Thomson is a mum of two girls 5 & 4 years. She is a busy stay-at-home/therapy parent who enjoys using her imagination and DIY skills to create fun learning opportunities to encourage her kids to grow and explore. Follow her as she shares her play ideas on Instagram
Looking for more ice-cream play activities? Check out these great ideas:
Frozen Ice-cream Oobleck
Ice-cream Shop/Delivery Truck Dramatic Play Setup
Ice-cream letter 'i' writing tray
If you enjoyed this activity we would love you to share a picture in our Facebook Group or over on Instagram (follow @myboredtoddler and use #myboredtoddler so we can all see)
Some more sensory play ideas you might enjoy are: