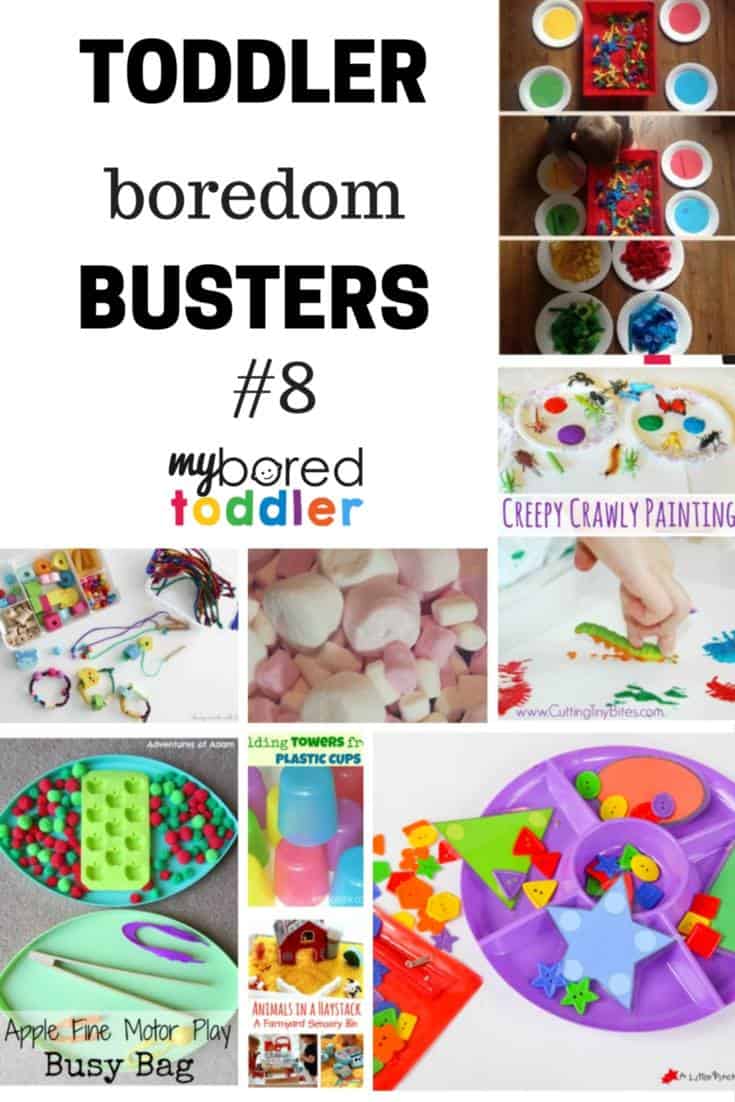 Do you have  a bored toddler? Are you looking for fun toddler activities? We've rounded up some of the best activities to keep your little one busy!
These posts have been hugely popular, and are one of our most visited posts each month. If this is your first visit here, make sure you check out our other Toddler Boredom Buster posts.  If you missed our last post you can view it here.
Many of these activities are taken from our Toddler Fun Friday link up, where creative toddler ideas are shared each week.  All of these activities and many more can be found on our Pinterest boards, so make sure you follow us. Make sure you visit the wonderful sites that these activities are from and have a look around their sites for more great ideas.
Our featured activities for this week are: 
Sorting Shape Activity from A Little Pinch of Perfect
Marshmallow Sensory Play from Kidz Activities
Apple Fine Motor Play BusyBag from Adventures of Adam
Zoo Animal Texture Sensory Bin from Craft Create Calm
Crunchy Box from Busy Toddler
Farm Animal Sensory Bin from Playground Park Bench
Creepy Crawly Painting from Cutting Tiny Bites
Plastic Cup Towers from Apple Green Cottage
Threading Fun from Always Made With Love
Outdoor Bubble Wrap Painting from Mummy Musings and Mayhem
Color Sorting Game from The Routine Queen
If you have loved this post, please make sure you check out our other Toddler Boredom Buster posts
. You may also like our Creative Painting Ideas for Toddlers feature.
If you want to keep your toddler busy makes sure you subscribe to our weekly newsletter and follow us on Facebook, Twitter , Instagram and Pinterest.