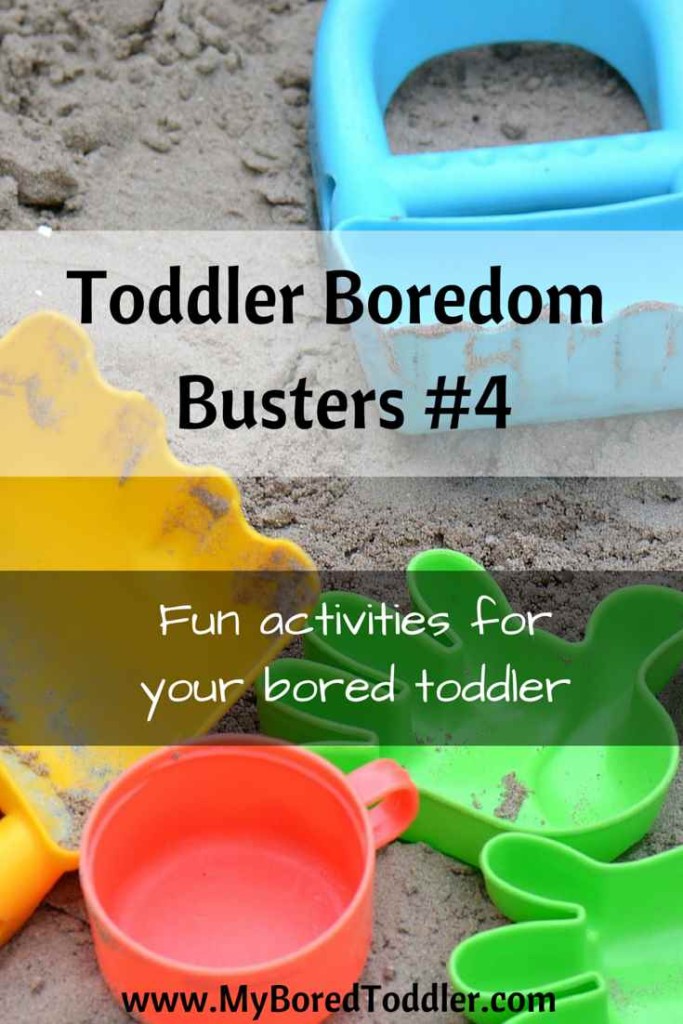 I can't believe we're up to the 4th installment of Toddler Boredom Busters. These posts have been hugely popular, and are one of our most visited posts each month. If this is your first visit here, make sure you check out our other Toddler Boredom Buster posts.  If you missed our last post you can view it here.
These activities are taken from our Toddler Fun Friday link up, where creative toddler ideas are shared each week.  All of these activities and many more can be found on our Pinterest boards, so make sure you follow us.
Let's get started with this week's great activities for toddlers! 
Shopping for Letters from A Little Pinch of Perfect
This is a great way to teach letter and number recognition. You can use it for teaching colors or animals too.
Simple Toy Car and Box Play from The Way He Plays
If you have too many toilet paper rolls hanging around the craft box you need to make this!
Magnet Stencils from Mosswood Connections
I really love this idea, and it is excellent for using when travelling or when you know you'll be waiting for a while.
Rainbow Ribbon Run from A Little Pinch of Perfect
Nothing beats some outdoor fun – add some ribbons and it just got even better.
Swat It! from Cutting Tiny Bites
This is another great game to teach letter and number recognition.
Some great free toddler printables from Mama Bee Simple
There are some excellent free printables here. My favorite is the Shopping List.
Fizzing Water Colors from Mini Monets and Mommies
Paint + Fizz = Toddler Fun!
Ice-Cream Parlor Invitation to Play from Playground Park Bench
I love this great way to encourage pretend play, and what child doesn't love an ice-cream parlor.
Printable Finger Puppets and Poems from Mom on the Move
Print your own finger puppets to go with some great toddler songs.
Fruit & Veggie Stamping from Kidgredients
You really can paint with anything!
If you have loved this post, please make sure you check out our other Toddler Boredom Buster posts
. You may also like our Creative Painting Ideas for Toddlers feature.
If you would like to receive new toddler activities each week make sure you sign up to our weekly newsletter (top right) and stay in touch on Facebook, Twitter and Pinterest.