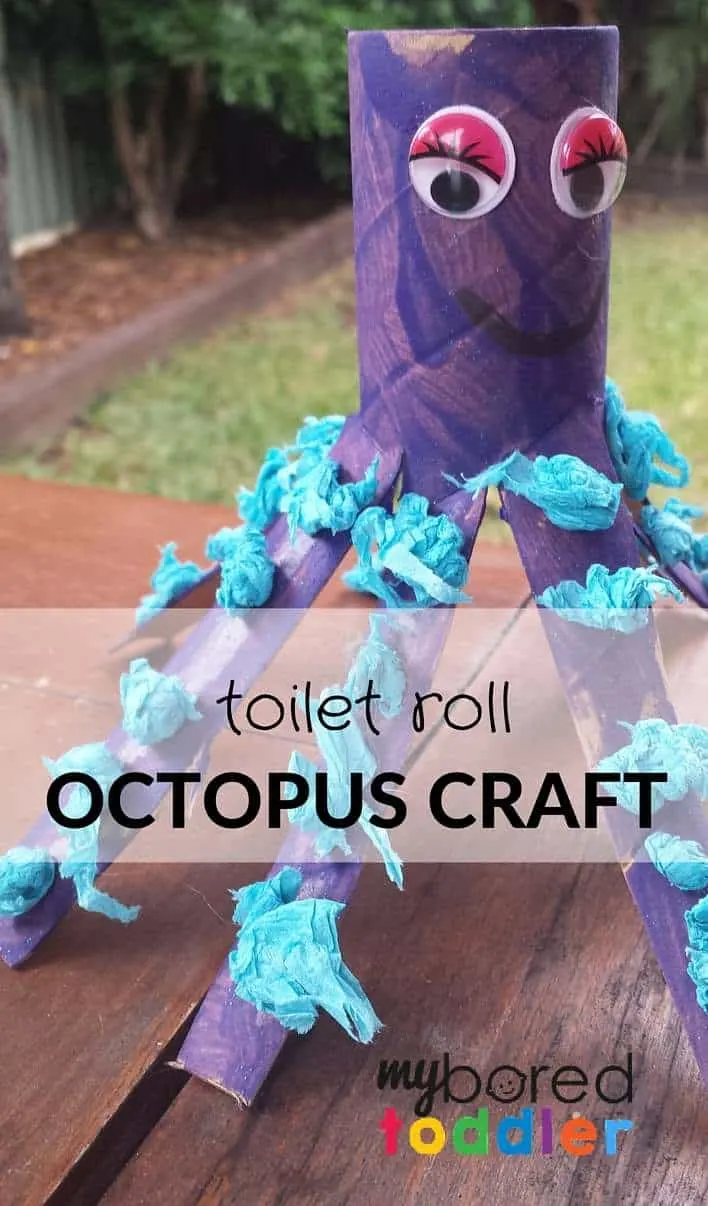 *This post contains affiliate Links
We had lots of fun this week with our book inspired toddler craft activity. We have been reading one of our favorite books - Commotion in the Ocean by Giles Andreae. If you haven't read his books before you need to buy or borrow them now! They're fabulous for toddlers and preschoolers and you'll find them in almost every early learning classroom.
We're taking part in Read it, Make it - a book inspired craft challenge, and my girls decided that they wanted to make the Octopus and the Jellyfish from Commotion in the Ocean. The advantage of having a toddler craft box is that we had all of the items we needed ready to go. They are all easy to find if you don't have them already.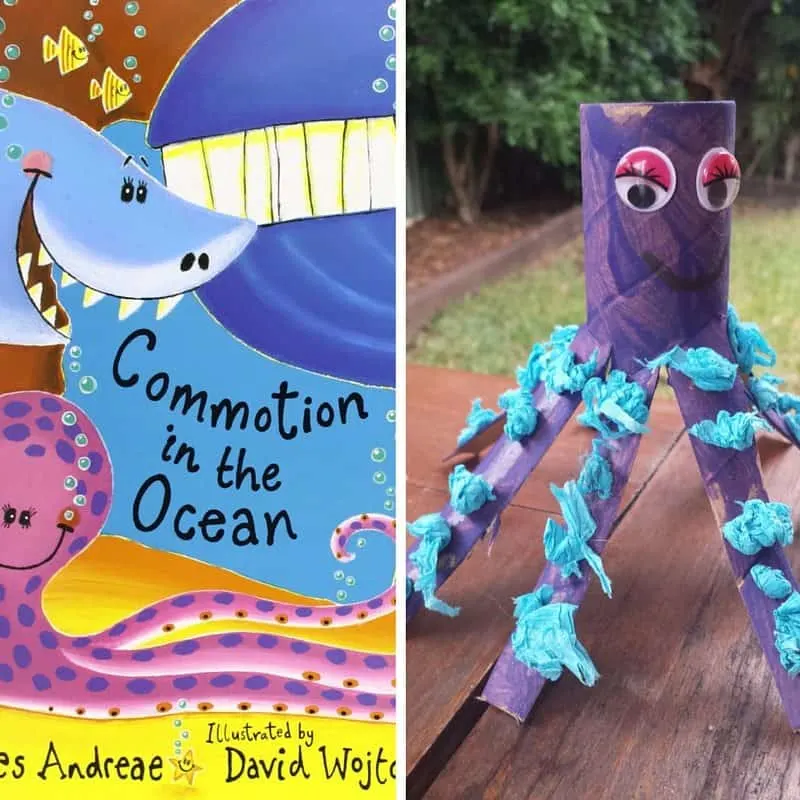 Octopus - What you need: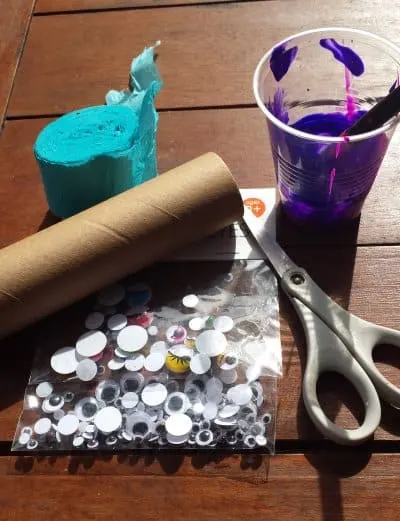 Toilet Roll (if you don't like using the real ones you can always buy these from craft stores - we used slightly longer rolls to make longer tentacles)
Googly Eyes - these are a pain to glue on so I recommend the ones with the sticky backs
Scissors (you'll need adult ones to cut it properly)
Good quality glue. I like this one.
What to do:
Make 8 cuts in the toilet roll (stop at the top ¼ of the roll)
Paint the toilet roll purple and wait for it to dry
Tear off small strips of crepe paper and scrunch them up into small balls (tearing and scrunching are great fine motor activities)
Glue the scrunched up crepe paper onto the tentacles
Glue on Googly Eyes
Draw on a mouth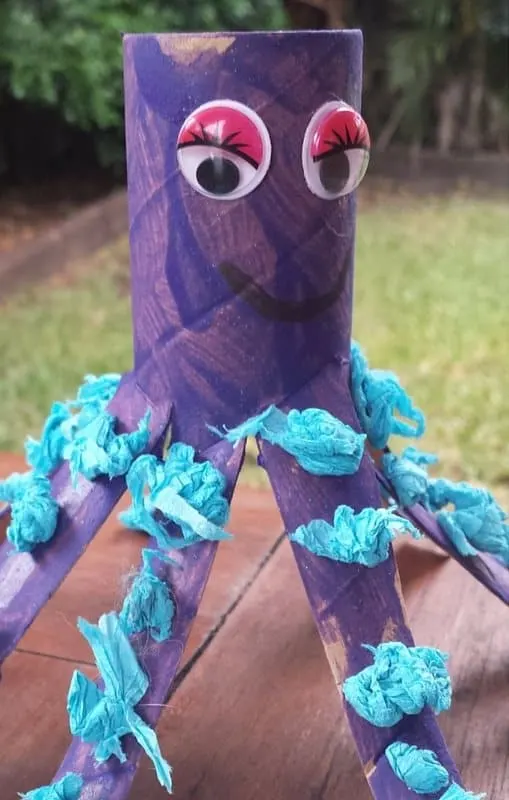 We were originally only going to make the octopus, but I was talked into making the jellyfish too! You can find the instructions for these here, and we changed the colors to match the book (well sort of... my 2 year old absolutely wanted orange crepe paper instead of white, so that is what we got!)
You can find more fantastic Read It- Make It activities here.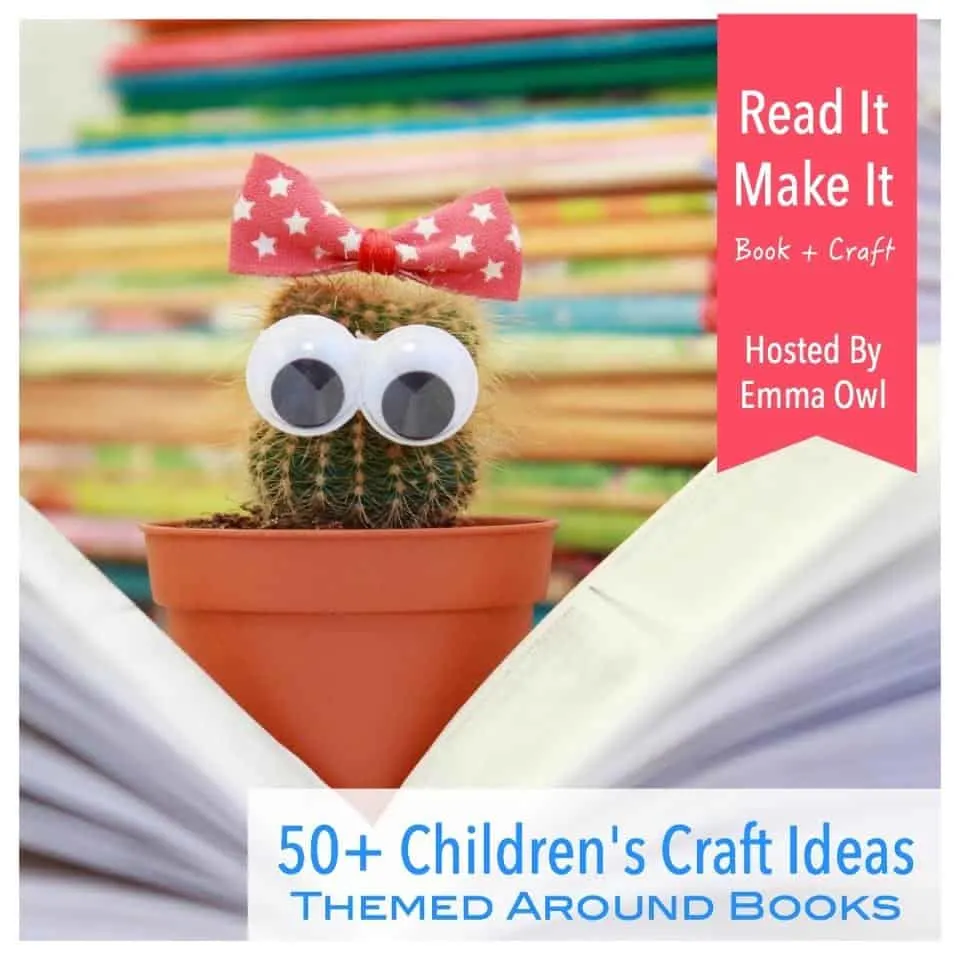 If you want to keep your toddler busy makes sure you subscribe to our weekly newsletter and follow us on Facebook, Twitter, Instagram and Pinterest.
Some posts you may enjoy are our Toddler Boredom Buster Series, Toddler Painting Ideas WITHOUT using a Paintbrush and Toddler Boredom Busters
Some other fun craft activities are: