This fun train craft is a easy toddler craft and is great for fine motor skills and pretend play too! You can even add a hanger to decorate a toddler space with this train craft.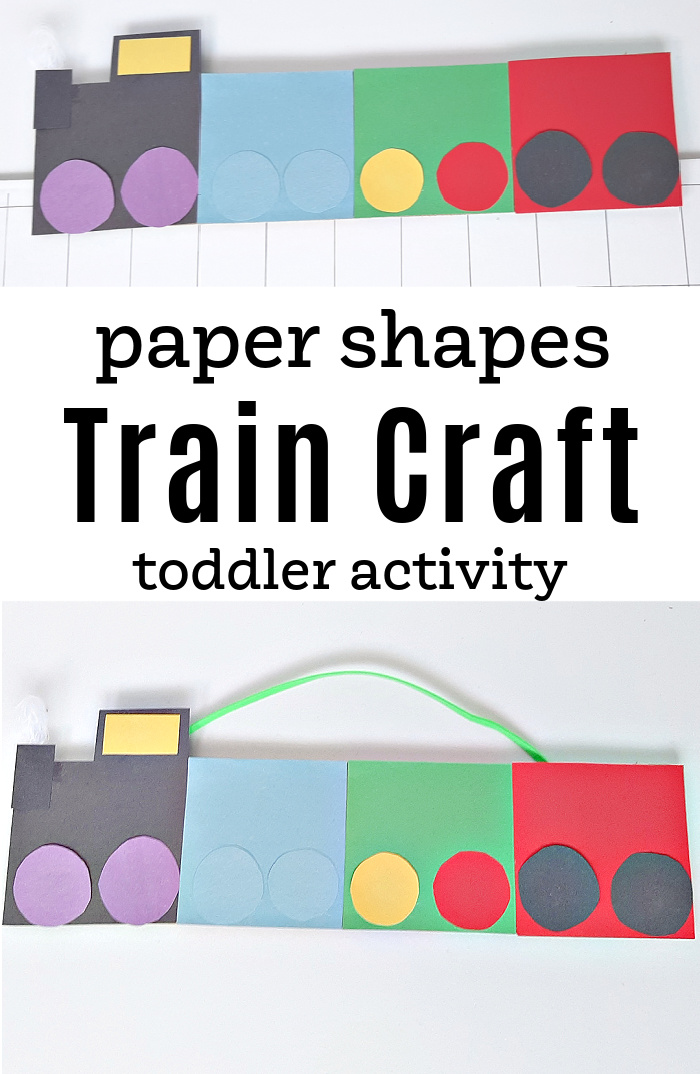 Paper Shapes Train Craft for Toddlers

Paper Shapes Train Craft For Toddlers
Trains are exciting in so many ways for little kids. They have big noises, big movements, and big tracks to move on. Toddlers like to imitate their sounds and movements in pretend play.
Train crafts help us explore all things 'train' with preschoolers. Make this cardboard and paper shapes train to inspire creative play.
What you need for a paper plate train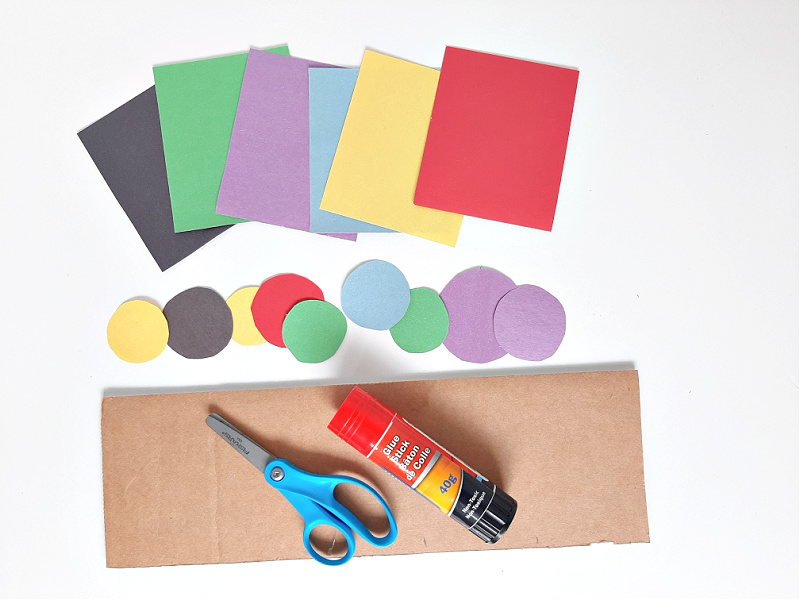 Construction paper in different colors
Sturdy cardboard
Scissors
The size of the train will depend on the size of the cardboard base you provide for building the train.
This cardboard frame measures approximately 4 x 15 inches (10 x 38 cm). The train cars are roughly 4 inches square.
You can provide scissors and paper for your child to cut out the train cars in his own way. Otherwise, cut out squares or rectangles of construction paper beforehand to fit the cardboard rectangle.
The number of train cars will depend on their sizes and shapes, and the size of the cardboard frame.
The train engine is cut out with a cab for the engineer, all in one piece. You could cut out a separate piece and glue it onto the engine later if preferred.
How to Make a Shape Paper Train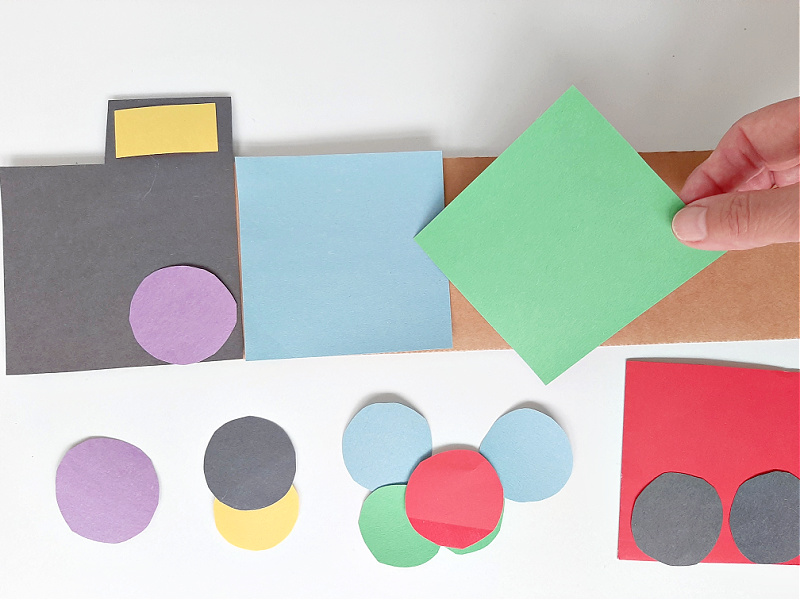 Before you start gluing the paper train cars to the cardboard base, encourage your child to decide how to build the train. Experiment with the colors and shapes. Identify and name them with your toddler.
Which piece will go first? What color will come next? How many train cars will you use to make the train?
Arrange and rearrange the pieces with your toddler.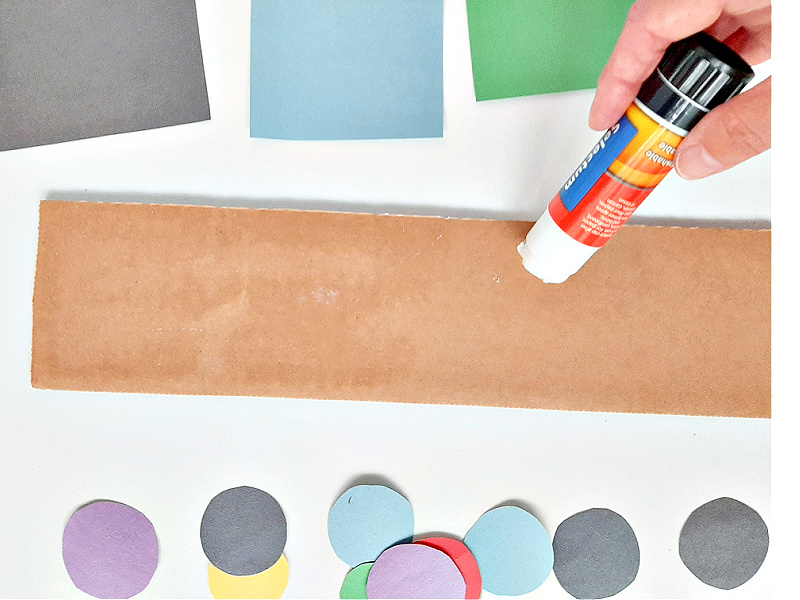 When you're ready, spread glue over the cardboard, then start gluing the paper pieces in place. The pieces can be overlapped or spread apart to make everything fit the way your preschooler prefers.
This craft doesn't have to be perfect! The process is more important than the result. Every child's creation will be different.
The benefit to your toddler is in the fine motor, math and creative skills that are being engaged.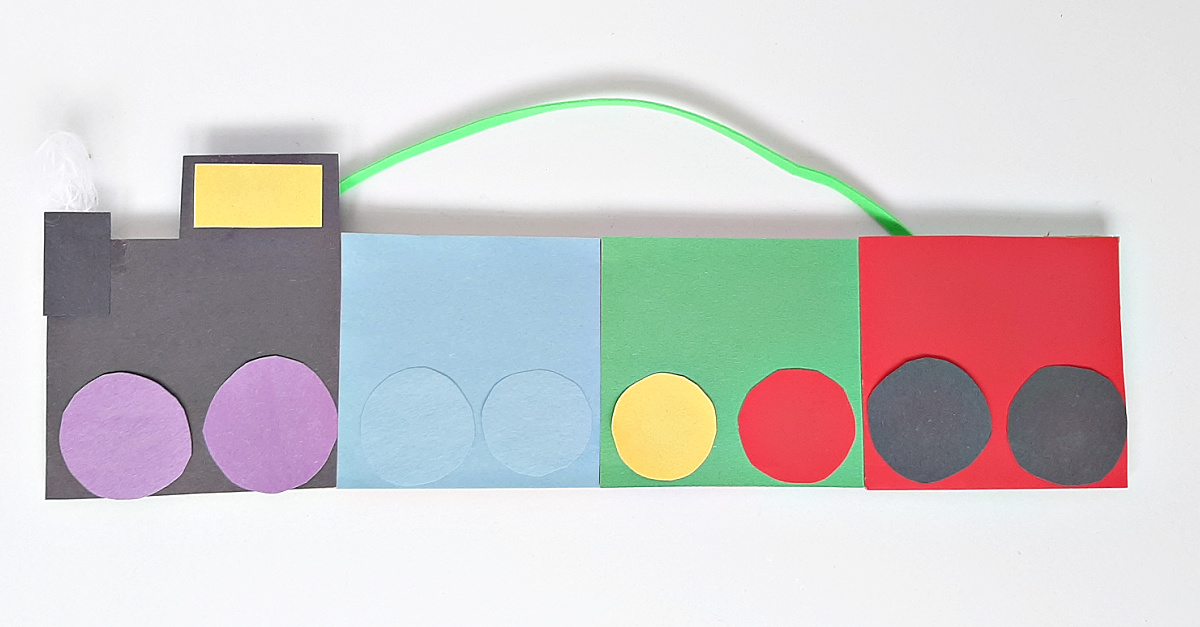 Glue wheels onto the train cars and engine. Cut out a paper window to add to the cab of the engine.
Cut out a paper smokestack and glue some wispy cotton fluff for smoke.
Talk about the shapes and colors as your toddler plays.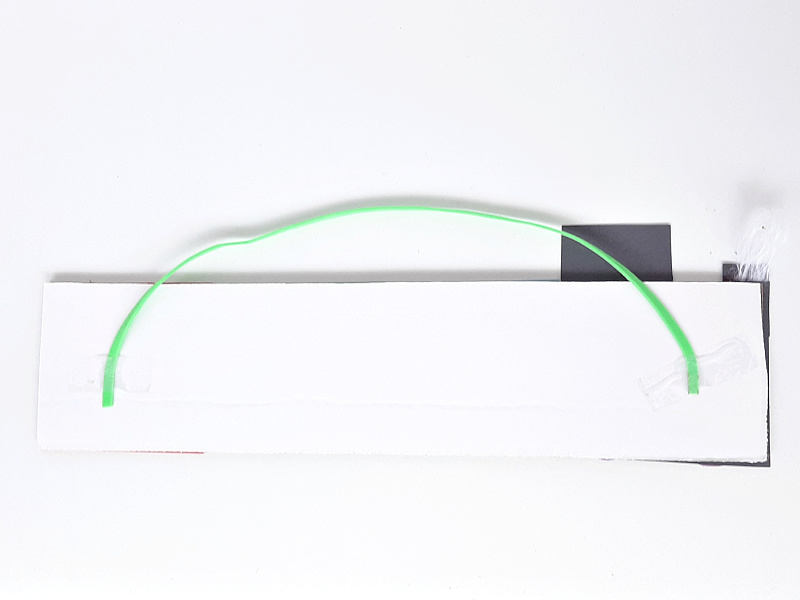 Once all the paper pieces are securely glued in place, add a hanger to the back with a piece of string or ribbon.
Your train is ready to hang on the wall, or use for some awesome pretend play.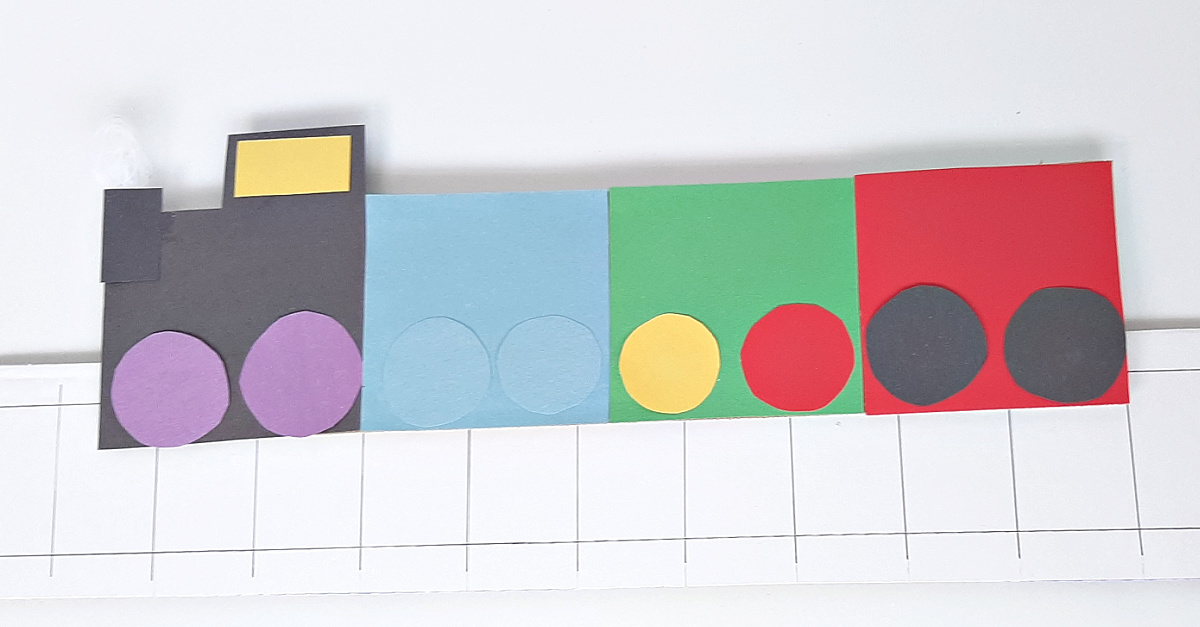 If your toddler wants to play with the train, the sturdy cardboard should stand up to some pretend play. Be as creative as you like with the activity. Add props and other play ideas according to your toddler's interest and skills.
Build a train track on the floor or on a large piece of cardboard with masking tape or markers.
Set up a town with cereal box houses and toy cars to extend the play.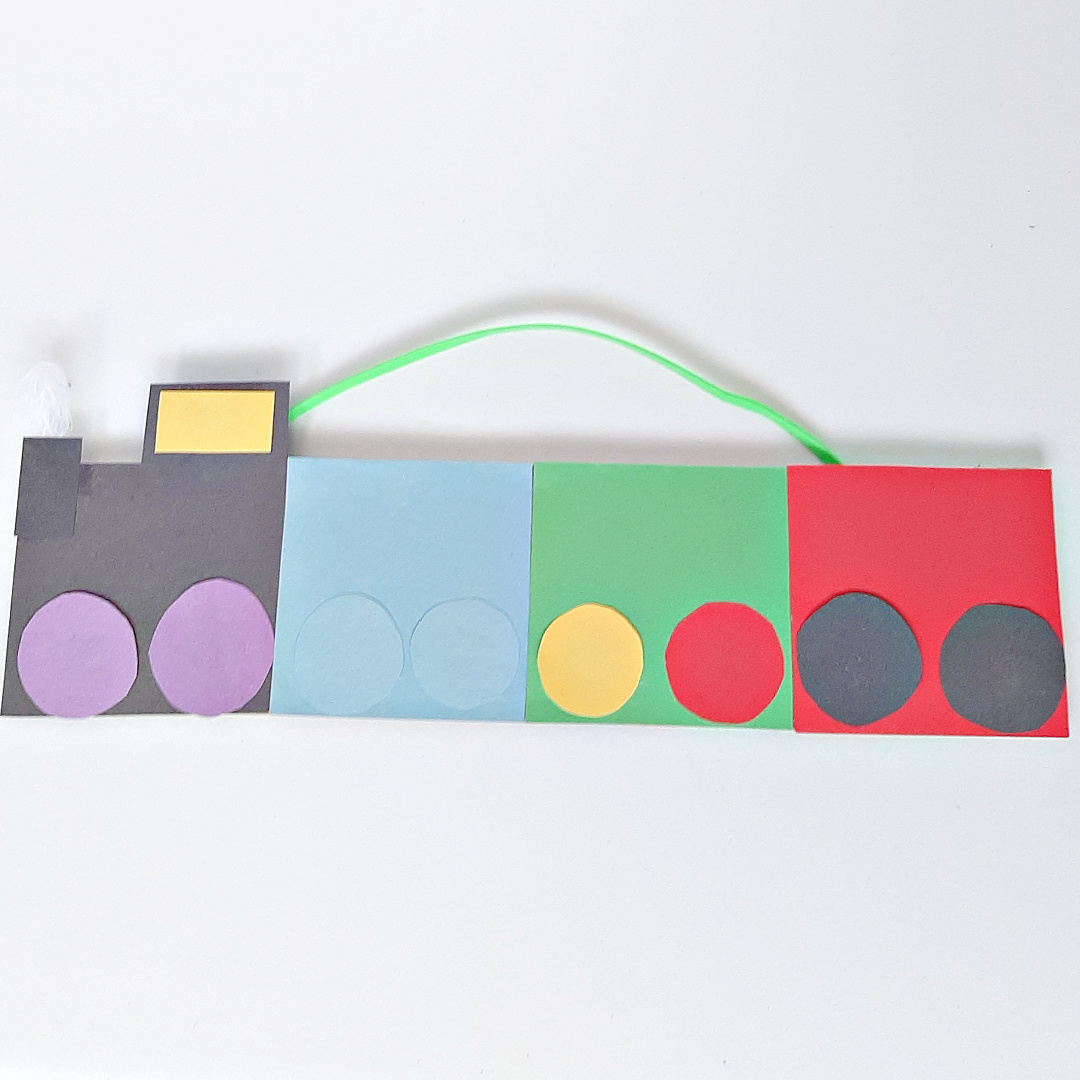 This is a fun activity for your toddler. It supports fine motor work and initiates imaginative play.
Let your toddler lead the way when it comes to choosing colors and making patterns and shapes for the train.
A train craft this simple is easy to provide any day of the year!
If you loved this post why not share a picture in our Facebook Group or on Instagram. Follow @myboredtoddler and use #myboredtoddler so we can all see!
SOME MORE FUN TODDLER ACTIVITY IDEAS YOU MIGHT ENJOY ARE: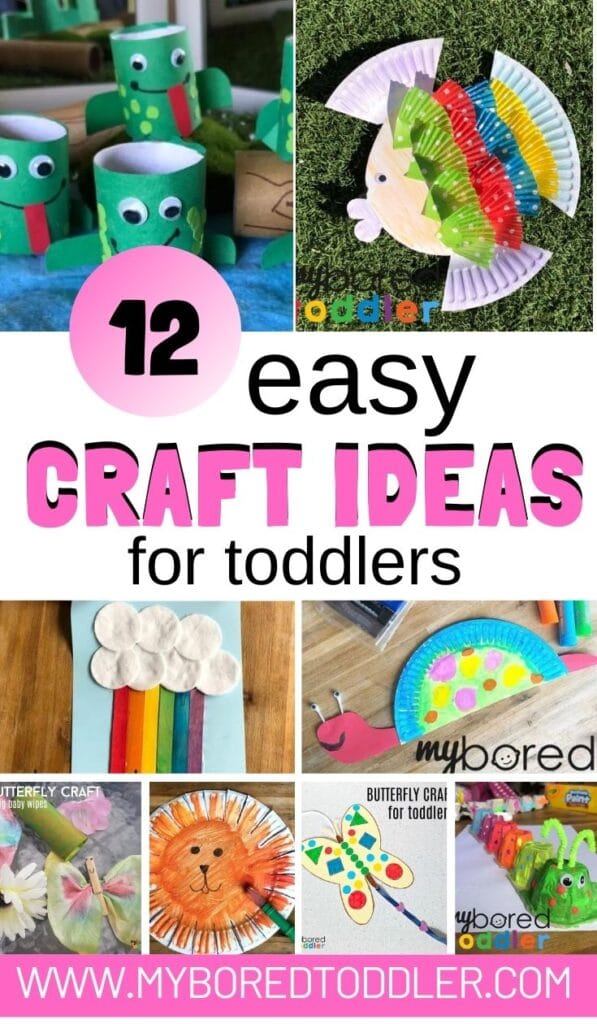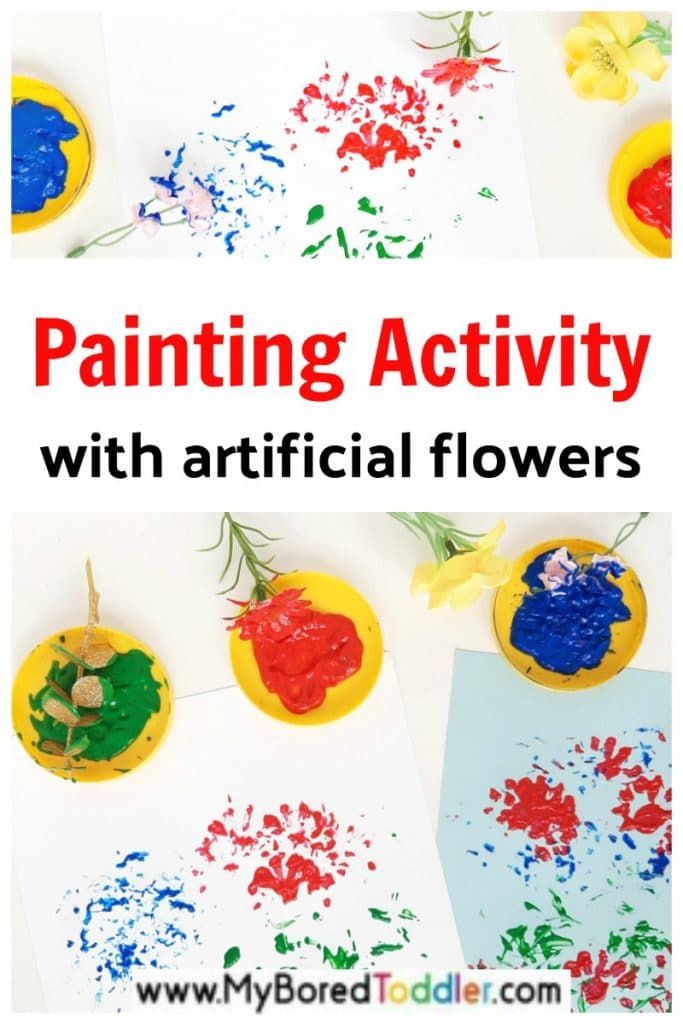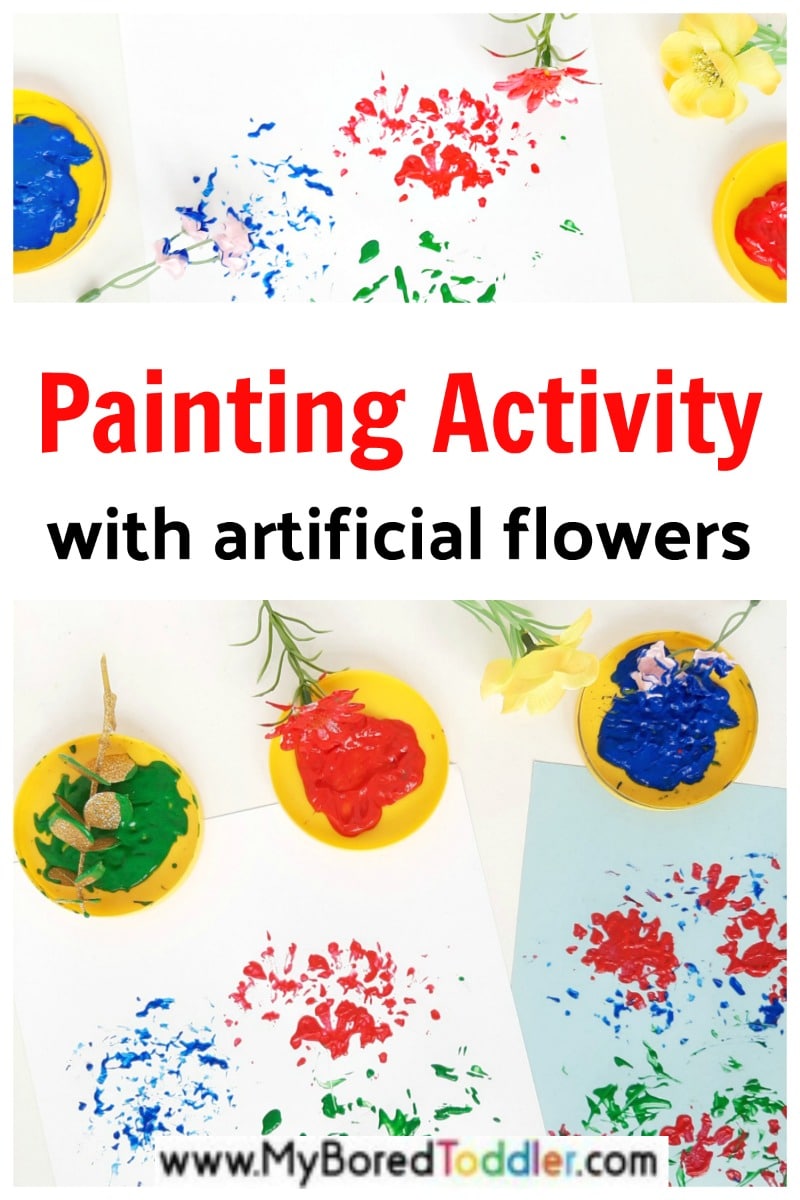 About the Author
Heather is a former preschool teacher and founder of preschooltoolkit.com, a website providing early learning resources for teachers and parents. She focuses on creating fun crafts and activities that engage developmental skills while promoting hands-on learning through play. Follow her on Facebook, Pinterest, Twitter, Instagram