I love updating this list of non chocolate Easter gifts for toddlers each year. Without fail, every year the discussion comes up in our Facebook group and on social media about what to gift toddlers and younger children for Easter. Most of you are looking for non chocolate Easter gifts for toddlers, mainly due to the age of your child. While I'm not advocating no chocolate ever (honestly, I LOVE my chocolate), it's something that a lot of parents aren't keen on their babies and toddlers having yet. For this reason I've put together some great non chocolate Easter alternatives that I know you're going to love!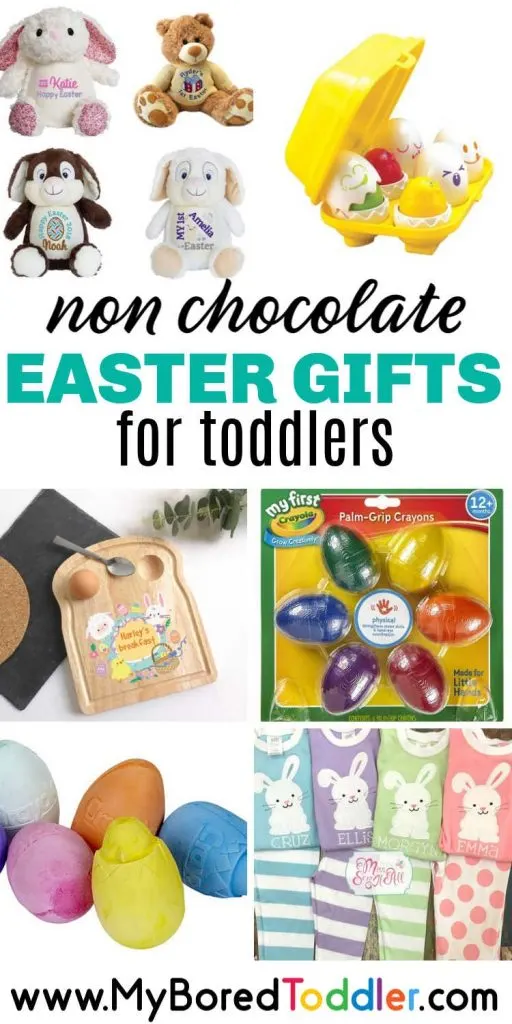 Non chocolate Easter gifts for toddlers
Are you looking for non chocolate Easter gifts for toddlers? I'm definitely not a 'no chocolate' parent, but Easter can become overwhelming with the amount of Easter eggs and chocolate bunnies that they receive from family and friends. If you have a child in this age group there's a good chance they've never even tasted chocolate and if they're too young to ask for it or even know what it is, why give it to them. At this age, I prefer to limit my children's chocolate intake and include non chocolate Easter gifts for them. My eldest daughter doesn't even really like chocolate (can you believe that!), so I've had to think of alternatives. This is a great list to pass around to family and friends too who will be so excited to celebrate Easter with your children, but may need a few ideas!
While I've seen many lists like these around, most are aimed at older children, so I thought I would share my recommendations for great non chocolate Easter gifts for toddlers. I'd love to know if you have any other suggestions.
The best non chocolate Easter gifts for toddlers
These gorgeous teddy bears would make a memorable first Easter gift for a baby and a beautiful keepsake for a toddler. They are available with a variety of designs and they really are beautiful! You can find the full range HERE.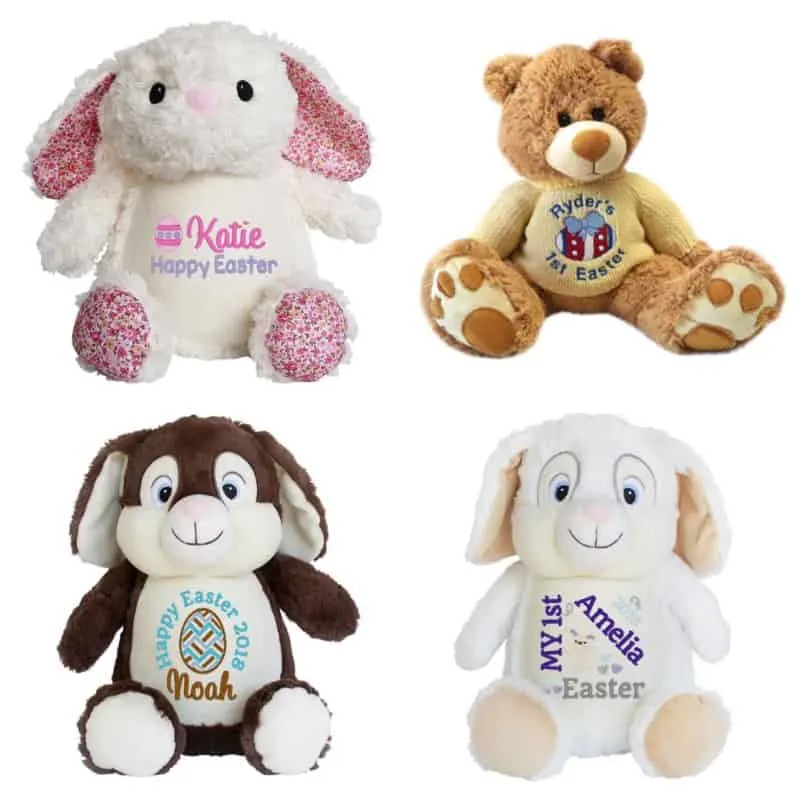 It's been a tradition in our house that the Easter bunny brings new pyjamas and there are so many cute ones to choose from. I really love these cute personalized bunny ones from Etsy - available HERE.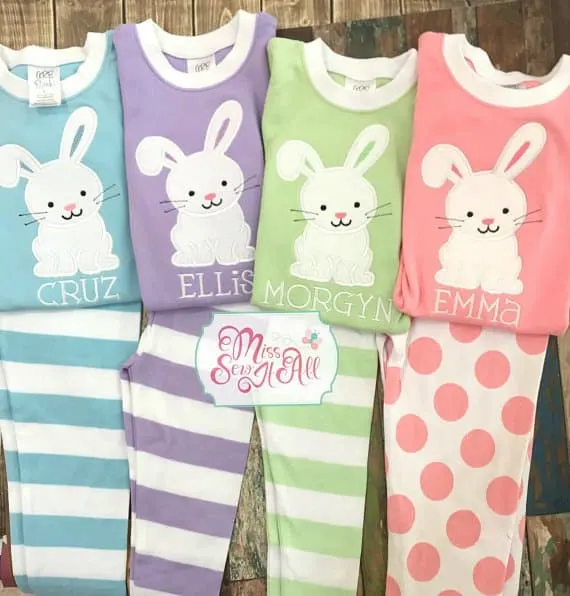 These are one of my favorite toddler toys, and Easter is the perfect time to gift them to a toddler. I guarantee they will play with these over and over again! You can get them HERE.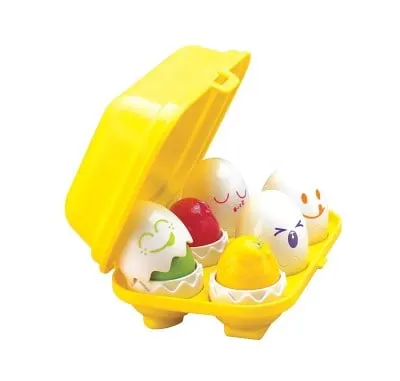 Peppa's Easter Egg Hunt Book
As a teacher I love any opportunity to buy children's books and there are some great Easter ones around. Peppa's Easter Egg Hunt is always popular but there are lots of other great Easter books too. You can get Peppa's Easter Egg Hunt HERE from Amazon. You can also see some of other favorite Easter Toddler Books HERE.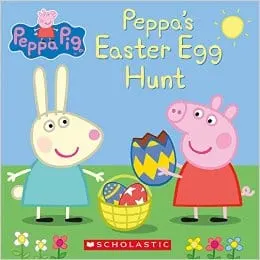 Egg Cup or Egg Board
Boiled eggs with bread soldiers are one of the few meals my toddler enjoys and a fun egg cup certainly increases the chances of her eating it! I normally recommend a new egg cup but this year I've found these gorgeous personalized Dippy Egg Boards and have fallen in love with them! You will need to order them early to get them in time but they would make a great Easter morning breakfast - available HERE.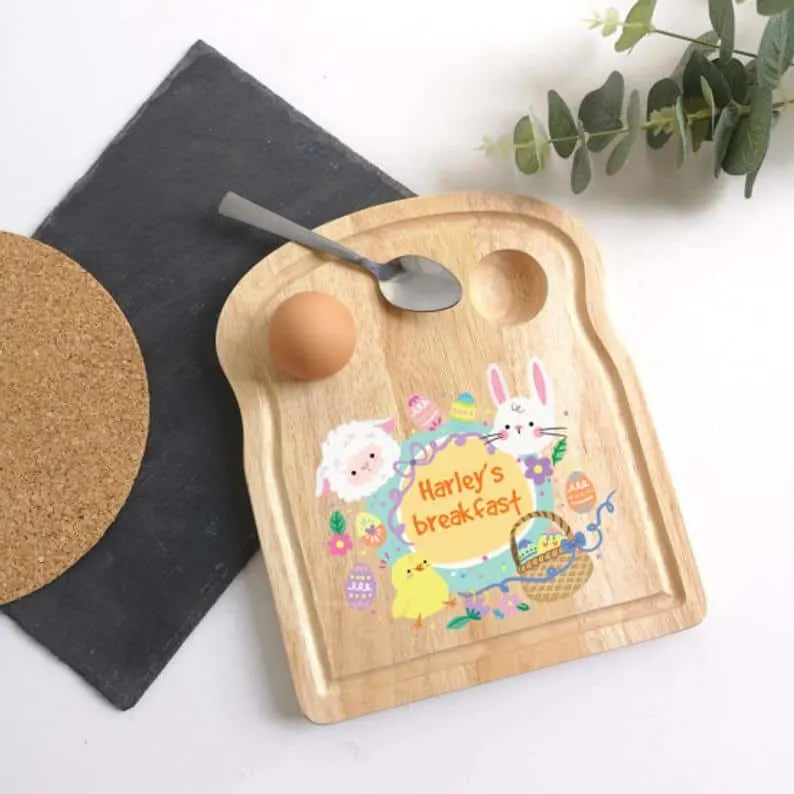 Crayola Egg Shaped Crayons
These crayons are designed especially for toddlers, allowing them to grip them in the palm of their hand. They also happen to be egg shaped which ties in perfectly with Easter! Available HERE.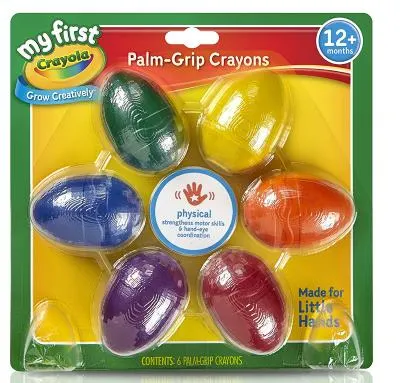 Crayola also makes an egg shaped Chalk if you prefer this instead. You can get this HERE from Amazon.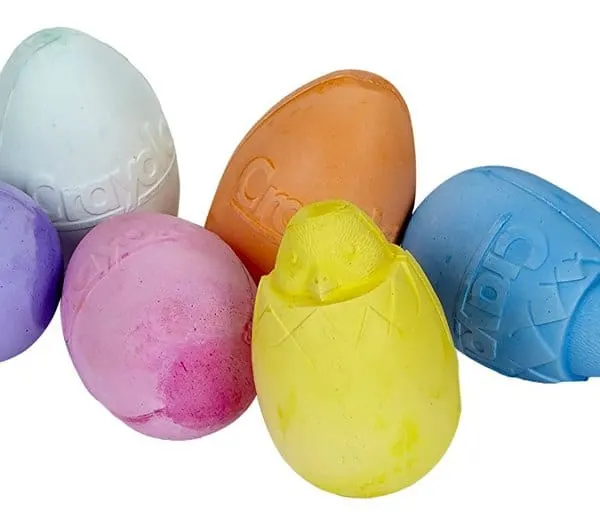 Play-Doh Surprise Eggs
Play-doh is a great toy for toddlers and these play-doh filled eggs are perfect for a toddler friendly Easter egg hunt. They'll have just as much fun hunting for these as they would chocolate eggs, and they get to play with them afterwards. Available HERE.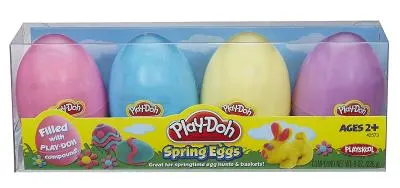 Bunny Push and Pull Toy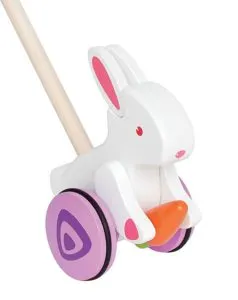 If you don't have a push and pull toy for your toddler you should definitely get one! We have similar ones to this at home and they have been very well used. Even my 5 year old still gets her very old one out now and then and plays with it. This Bunny Push and Pull Toy is perfect for Easter and will last much longer than some chocolate eggs. You can find this one HERE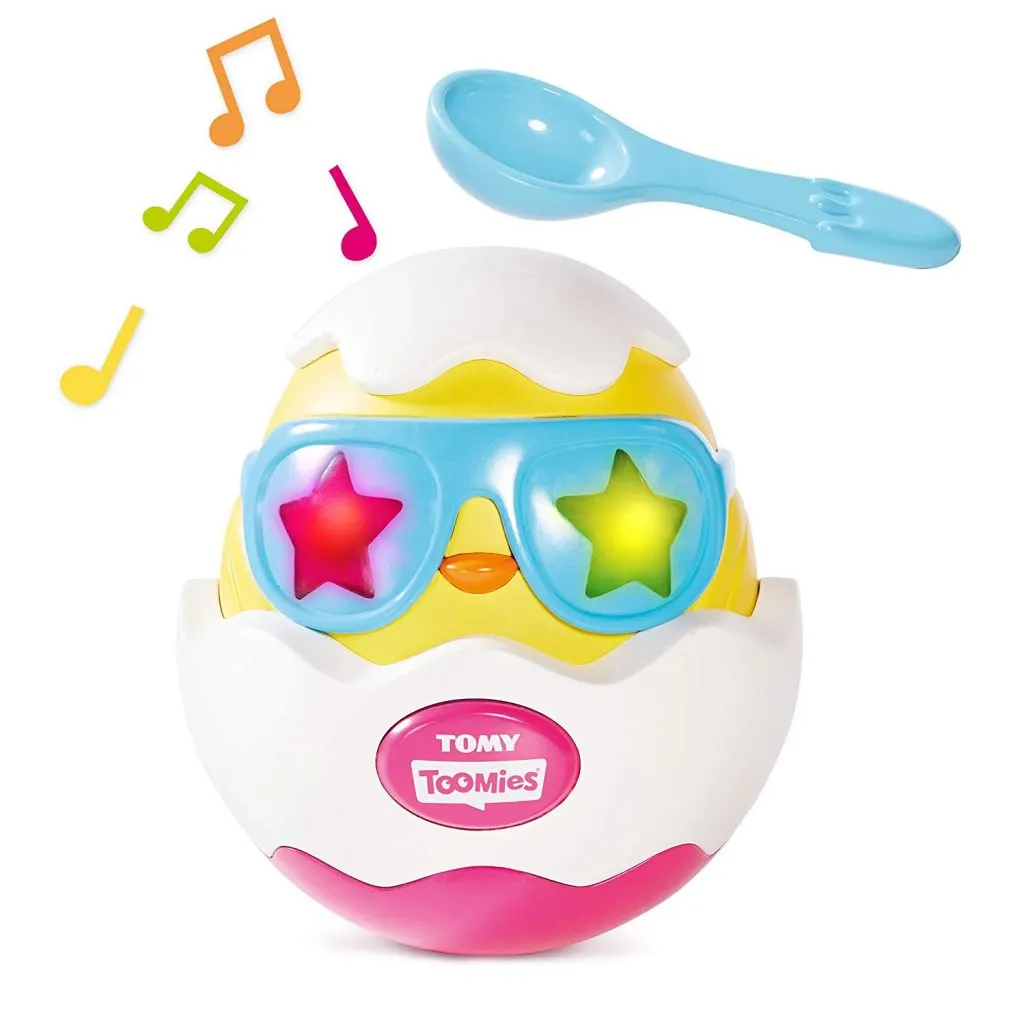 This is a fun Easter gift idea for a music loving toddler! With lots of different features, it makes a fun addition to any Easter basket. Get it HERE on Amazon.
If you want to keep your toddler busy makes sure you subscribe to our weekly newsletter and follow us on Facebook, Twitter, Instagram and Pinterest.
Some more Toddler Easter Ideas you may be interested in are:
Simple Easter Bunny Painting for Toddlers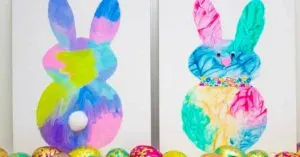 Easter Chick Craft for Toddlers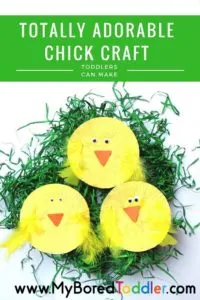 Easter Activities for Toddlers