I've put together a list of the best wooden toys for toddlers as I've had lots of requests for ideas over in our Facebook Group. I recently put together some of my favorite 1 year old gift ideas and some personalized gift ideas for toddlers. Wooden toys are often more expensive, but you are paying for quality, often hand made items that last forever!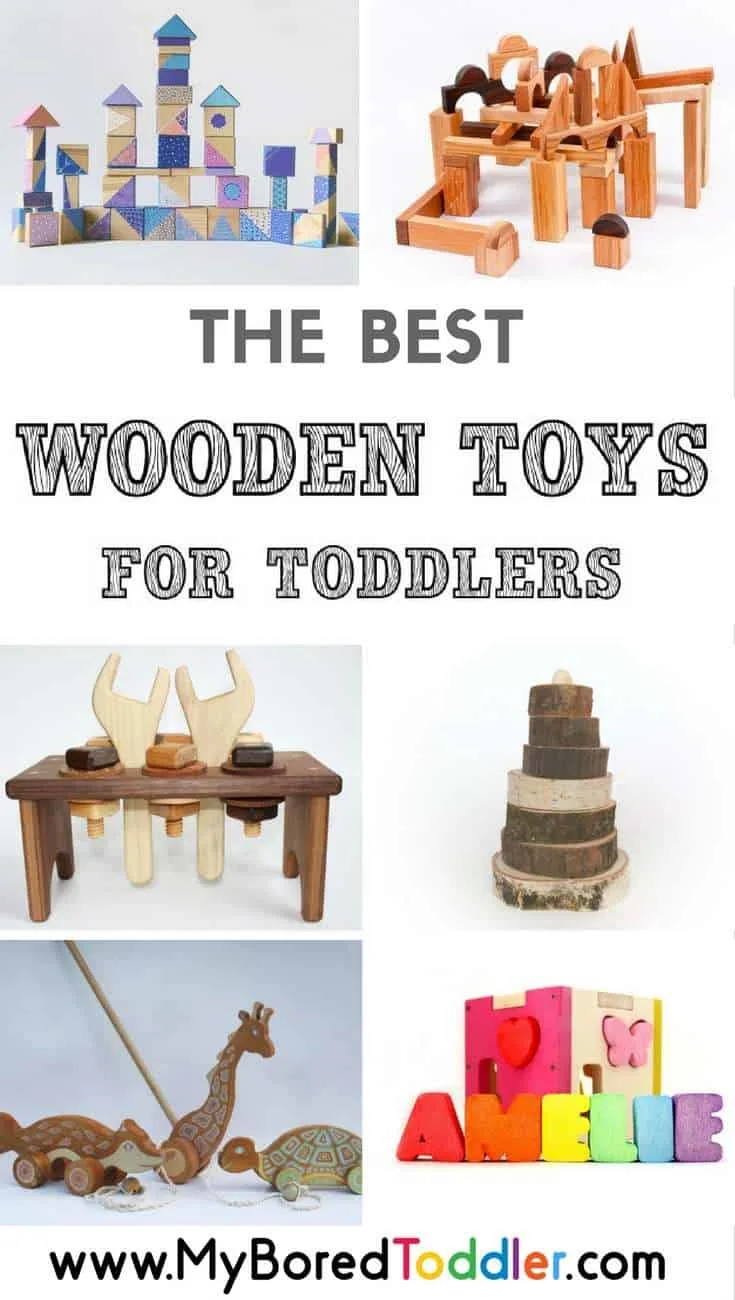 Best wooden toys for toddlers
I've just had the very fun task of finding the best wooden toys for toddlers. "What can I buy for a toddler?" is a question that comes up all the time, and grandparents and other family members will often ask what to buy for a 1 year old or a 2 year old. In the past I have found it is easier to give them a list of ideas for them to choose from. Unless you actually have a toddler, it can be hard to remember what the age appropriate toys are. I like to recommend gifts that encourage creativity and prefer gifts and toys that will last a long time. I also like to gift books for toddlers and younger children, as I know they will get a lot of value out of them.
Handmade toys are such a lovely toddler gift idea, and wooden toys are my favorite. Thanks to places like Etsy, it is easier than ever to find handmade toys for toddlers, and we have sourced some of the best wooden toys for toddlers. These toys also make beautiful and memorable gifts for baby showers too.
Best Wooden Toys for Toddlers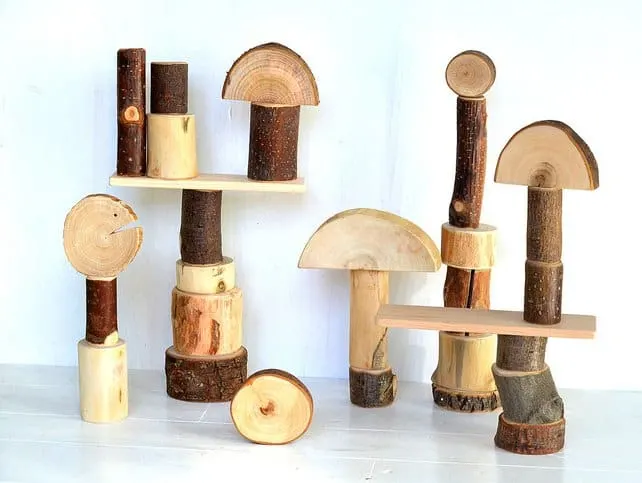 As a parent and a teacher, I honestly believe that blocks are some of the best toys you can buy for any young child. They learn so much from them - building, sorting, creating, imagining and so much more.
These handmade wooden blocks are similar to the styles that you will find in quality preschool and early educational settings. They have been around for years, and even with all the new toys available, are still one of the most popular toys I see children playing with. If you buy these for a one year old, you'll find they'll still be playing with them when they're five or six, just in different ways. They even come with a lovely storage box (not that toddler's ever put anything away, but it's nice to dream!). You can get these blocks HERE on Etsy.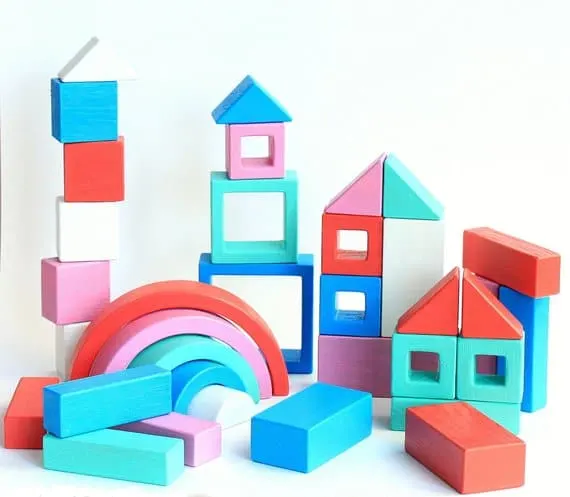 Still on the theme of blocks, these hand painted blocks are simply stunning. The quality difference between these blocks and the cheap patterned blocks you find at department stores is huge. This is definitely a toy that you would buy for your first child, use for all of their siblings and then save them for their children. Available here.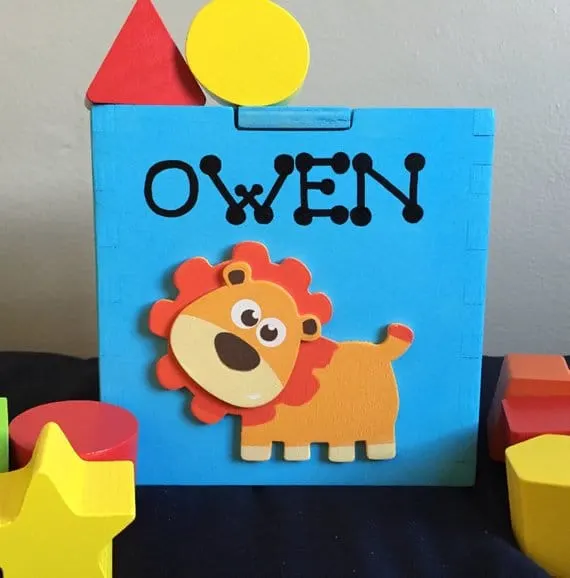 This handmade shape sorter would make such a great gift for a toddler. As well as being lots of fun, shape sorters encourage early learning skills in mathematics. Without even thinking about it, toddlers are learning colors, positions, sorting and shapes. You can get these ones HERE on Etsy.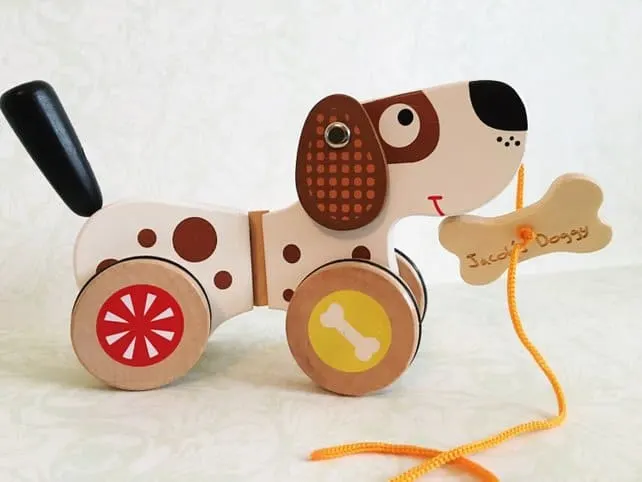 For those toddlers who are crawling or have just discovered their walking legs, these beautiful personalized pull along toys will definitely be a popular choice. I love the cute designs, especially the dog! These are all hand cut and painted, and are eco friendly. See the full range HERE.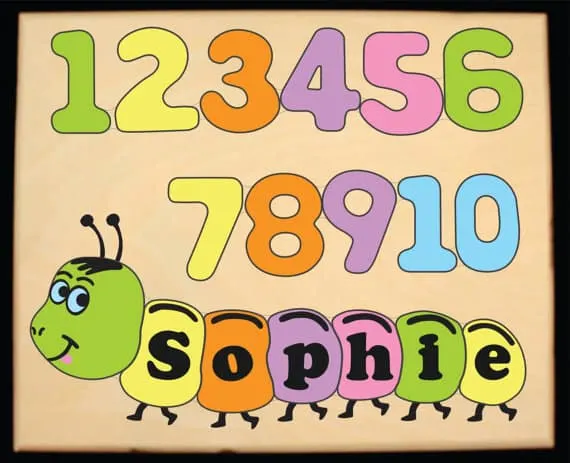 I love puzzles and they are one of the gifts (along with great children's books) that I always give as presents. Puzzles have more benefits for toddlers than many people realize.They promote fine motor skills along with ,problem solving, spatial awareness, positioning and patience. The advantage of this puzzle is that it also teachers number and name recognition. It's also really cute and a great personal gift. Different colors are available and you view the full range HERE.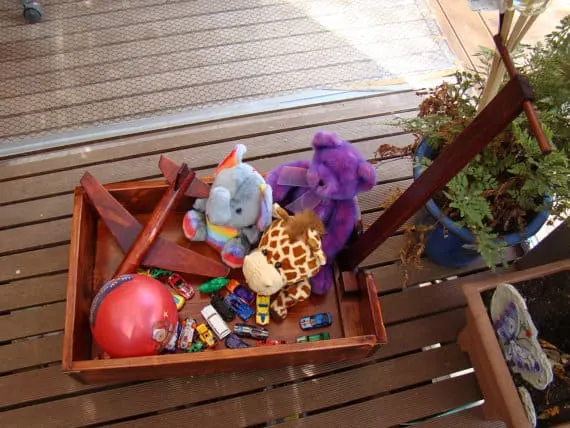 The wagon is a toy that has been around forever and it's still a toy that all toddlers love. My children love theirs and it's always a popular toy when friends come to play. The play opportunities with wagons are endless, and this wagon is beautifully hand made and sure to become a treasured family item. You can find it here.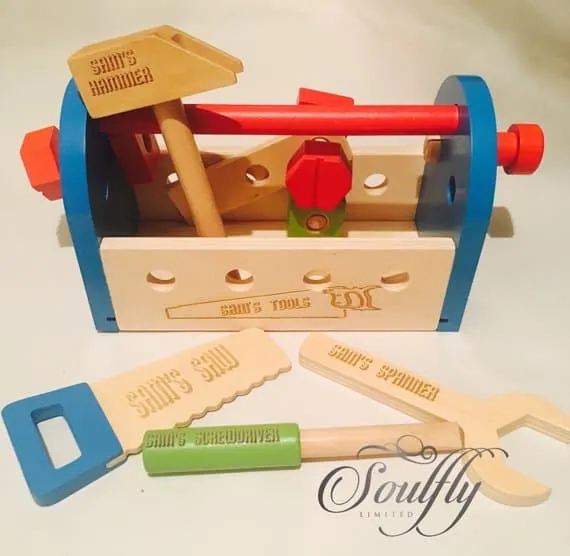 Isn't this adorable. This is such a gorgeous gift and one that I know will make many boys and girls happy. As well as encouraging pretend play, this tool box also encourages gross and fine motor play. If you are looking for a unique gift for a toddler then this is definitely one to consider. The workmanship that has gone into this hand made toy is amazing! Find out more about it here.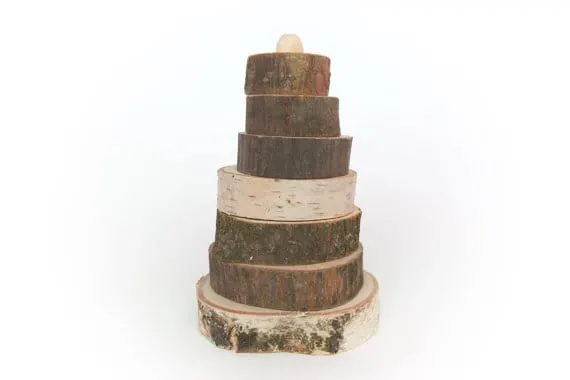 A stacking frame is a classic baby and toddler toy and you generally find them made of flimsy plastic. This wooden version is stunning and probably one of the most best wooden toys for toddlers that I have come across. What a beautiful piece of nature for your toddler to play with. Each stacking frame is totally unique and is a wonderful gift idea for a toddler. Find it here.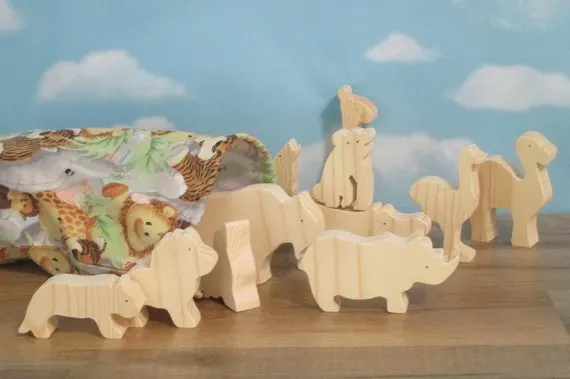 Pretend play is such an important part of early learning, and these wooden farm animals would be involved in so many great play activities. From pretend play to sensory bins, these are sure to be a hit. These are safe for children and beautifully made. Different sets are also available. You can find the full range here.
If you want to keep your toddler busy makes sure you subscribe to our weekly newsletter and follow us on Facebook, Twitter, Instagram and Pinterest.If you enjoyed these ABC Activities for toddlers, make sure you and check out our other posts including:
Some more posts you may enjoy are: