Are you looking for toy ideas for a 1 year old? With so much to choose from it can be hard to find age-appropriate toys that encourage creativity and are educational too. I've put together some of my recommendations for the best toys for a 1 year old below. If you have a 2 year old you need THIS LIST and we have 6-12 month olds covered HERE.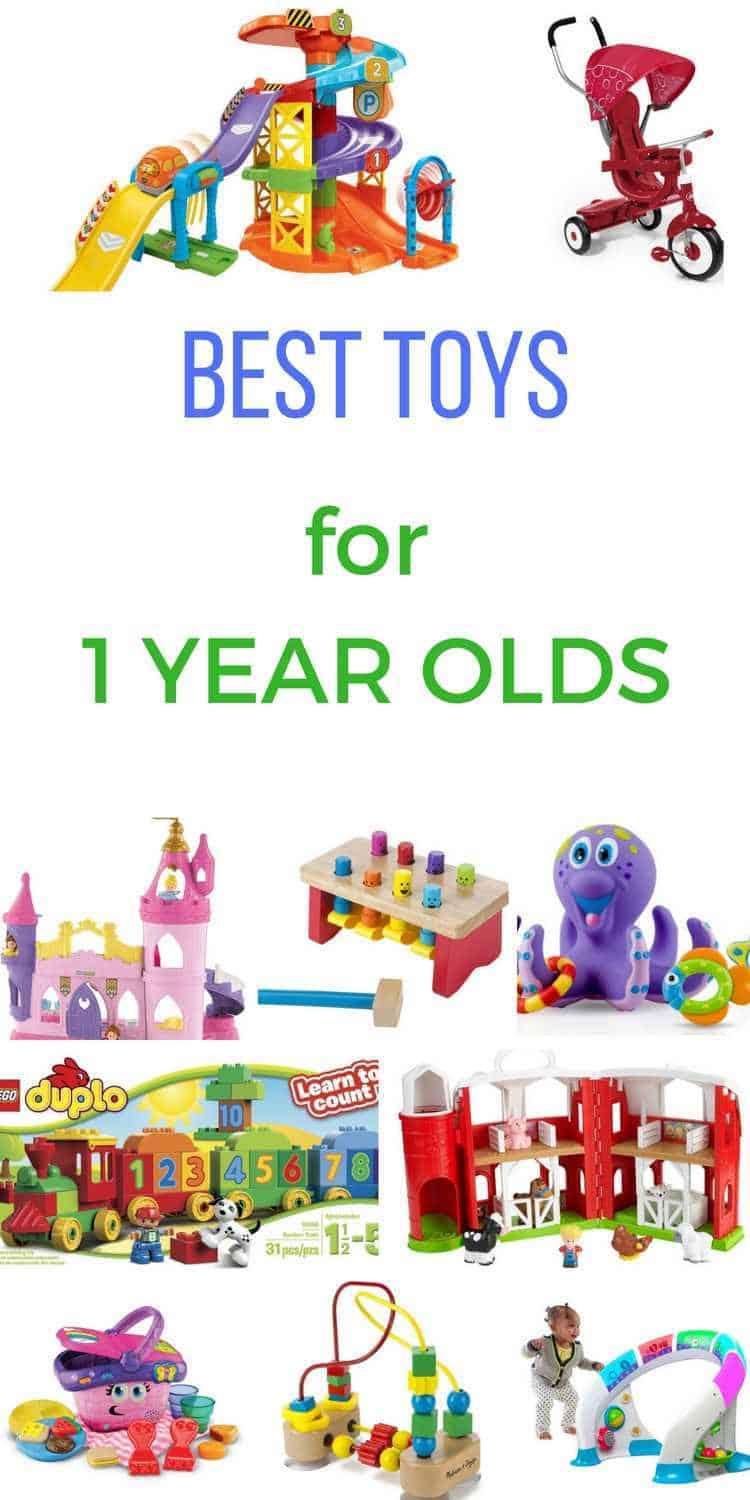 Best Toys for 1 Year Old for Christmas 2019
Have you ever wondered what to buy a 1 year old for Christmas or for their birthday ? Finding the best toys for a 1 year old can be tricky, especially if you are buying for family or friends. The ages on the boxes aren't always the best thing to go by, so we've asked lots of parents in our Facebook group which toys their kids loved when they were 1 year old, and combined that with our own reviews to put together this list of the best toys for a 1 year old. We have updated this list for Christmas 2019.
The links provided all lead directly to the product in Amazon to make it easier for you and if you sign up for a free trial of Amazon Prime you get free 2 day shipping. Most of these are also available at most leading department stores and toy stores.
Best Toys for a 1 Year Old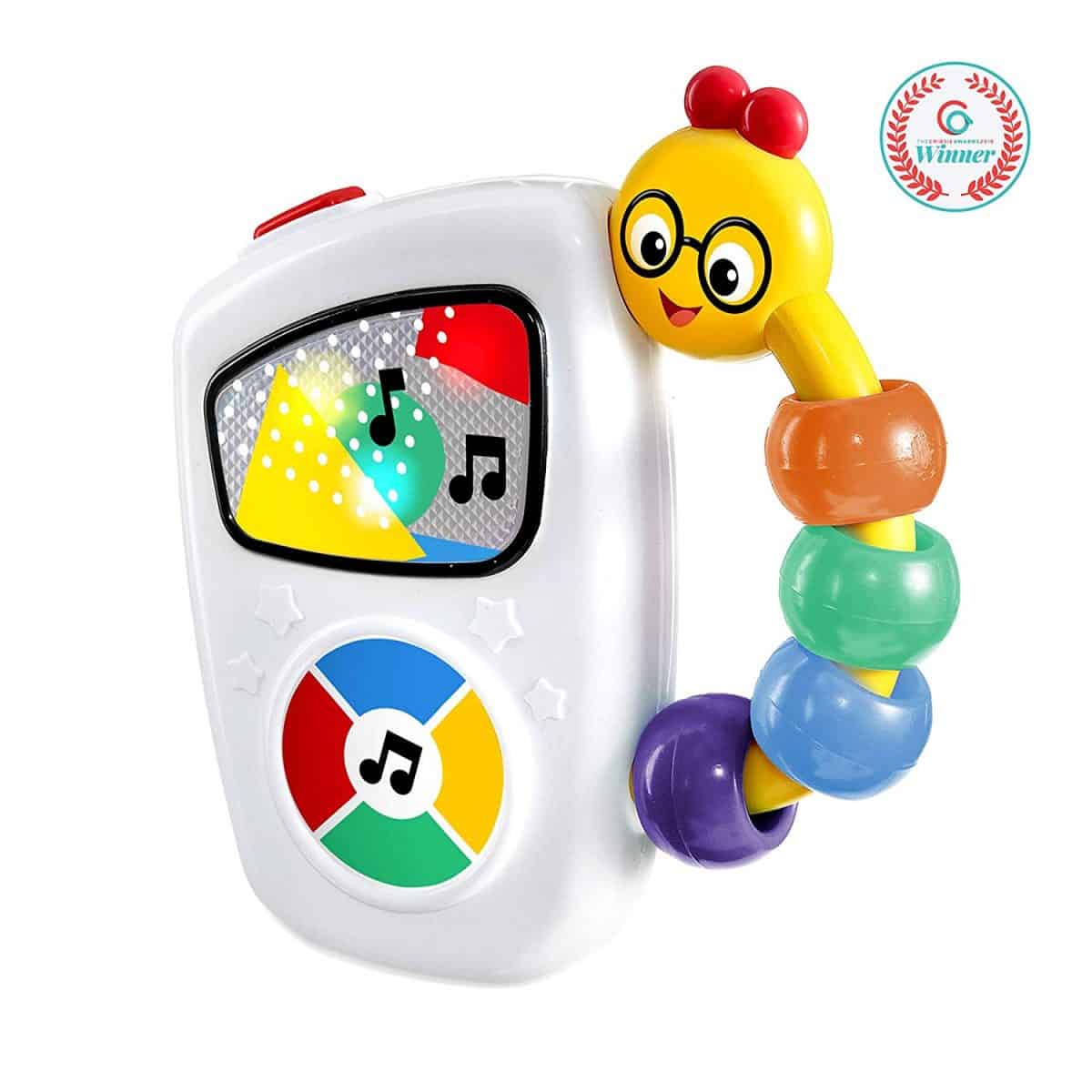 The Baby Einstein range has proved time and time again to be a quality brand. The Take Along Tunes is the perfect size for small hands, with big buttons and an easy handle to grab. Your child can easily switch between songs by pressing the buttons and there's some lovely classical music tunes (Mozart, Chopin and more), rather than just your regular (slighly annoying) toddler toy music! BUY NOW from Amazon HERE
VTech Toot Toot Drivers Train Set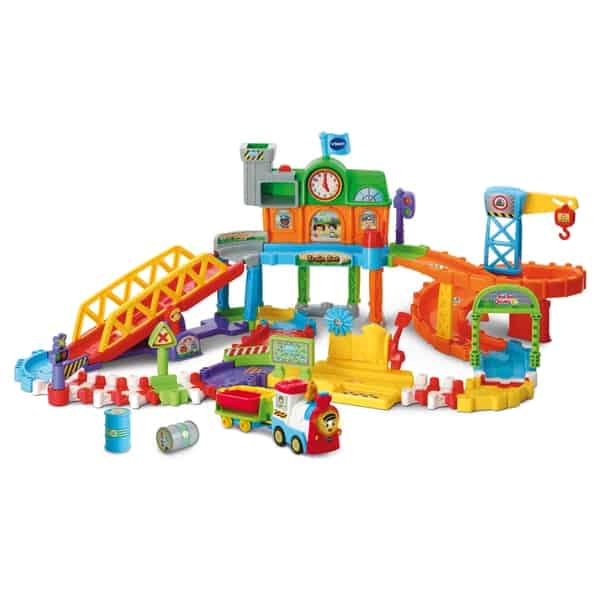 The VTech Toot-Toot Drivers Train Set is a perfect gift for a 1 year old and it's the kind of toy that you know they will still be playing with for years to come. It encourages pretend play with a swinging bridge, opening and closing gates and railway switches. This train set uses smart point technology to allow the vehicles to respons to different location with phrases, music and fun sound effects. You can build the track layout any way you want with flexible tracks, watch the cute motorised train and its wagon chug along the tracks into the station, over the bridge, down the ramp and load up using the crane! You can get this one from Target and Big W and it retails for $69.95. You can read more about it HERE.
Nuby Octopus Hoopla Bathtime FunThe Nuby Octopus is great for playing in or out of the bath. The Octopus floats and makes for a fun bath toy. It's also one that's nice to take outside too. Your 1 year old will love throwing the rings and trying to get them on the Octopus's legs! You can get this one HERE.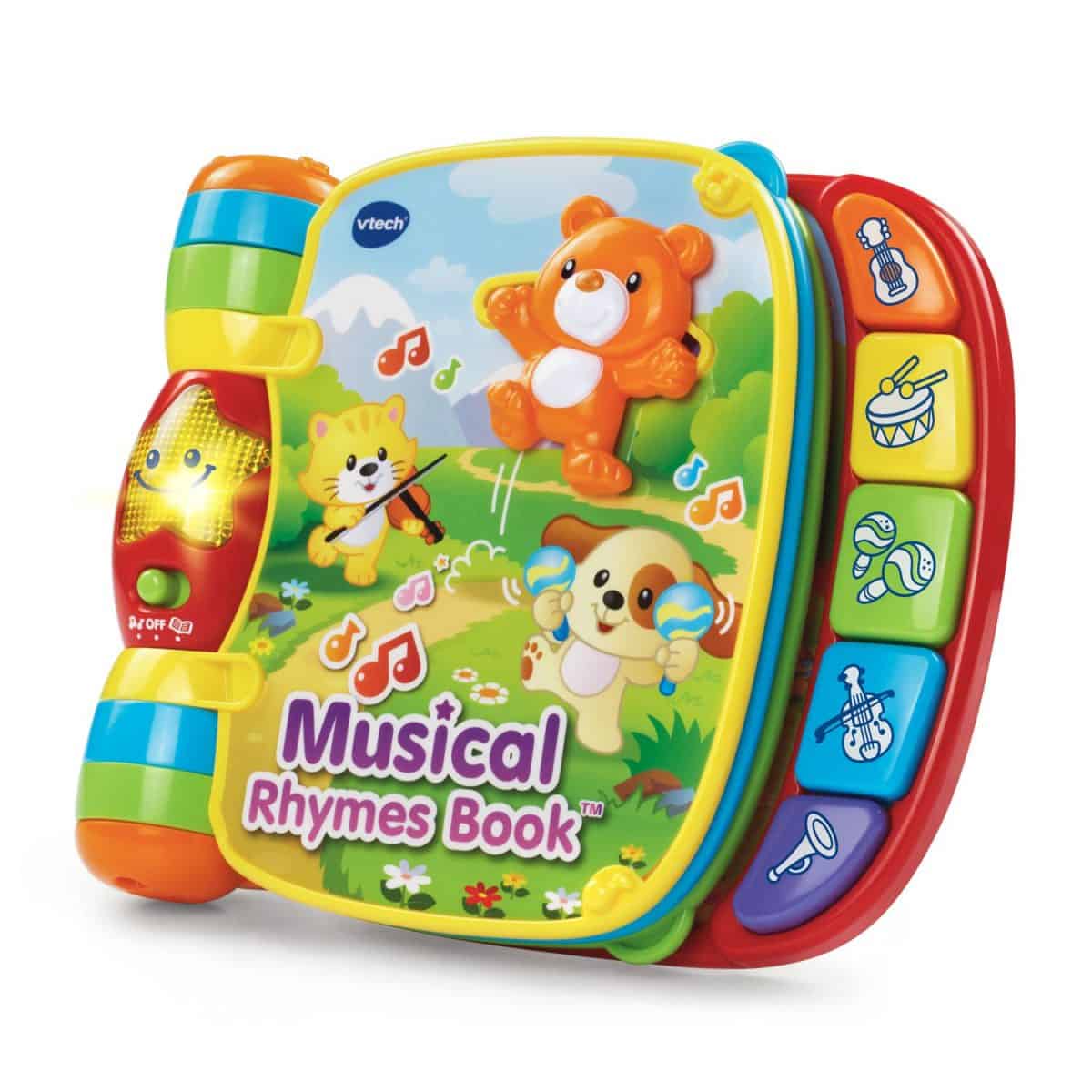 This is a great book for when you want a few minutes to yourself! Your child can easily press the buttons themselves. It comes with easy to turn pages and over 40 songs, stories and instrument sounds. This one is sure to be a hit! You can get it HERE.
've yet to meet a child that doesn't love trucks and this one is one of my favorites. When you drop a rock into the truck it counts them for you. It also plays music, says phrases and teaches about colors. Definitely one to add to your shopping list.BUY NOW from Amazon HERE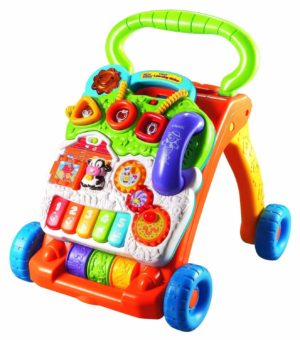 e've tested out a lot of walkers by now and this one is my pick. It comes in a few different colors and the reason I love this one so much is that there is so much to play with! As well as it being a walker, you can lay this flat (you can remove the legs) for tummy time and use all of the fun tools on the front. The wheels work well on carpet too (not all of them do) which is a plus. We passed ours onto friends and it is still going strong years later.BUY NOW from Amazon HERE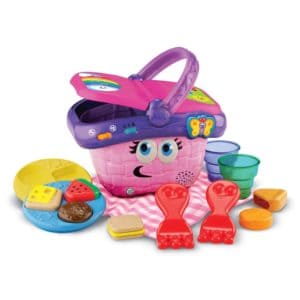 Every child loves a picnic and there is hours and hours of pretend lay fun ahead with this toy. This is one that you'll find your child uses even when the batteries have run out (or you have "forgotten" to replace them)! BUY NOW from Amazon HERE
Fisher Price Little People Farm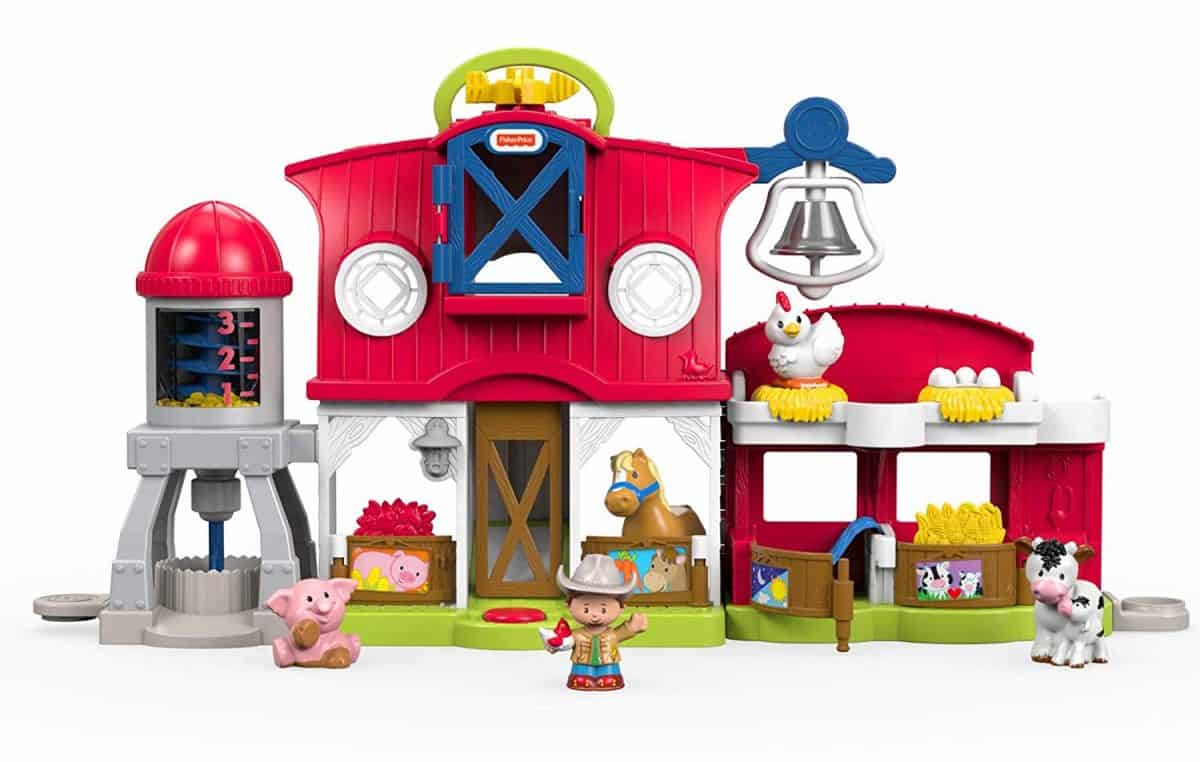 adore the Little People range and we have a LOT of them, but I love the farm the best! We have used these toys in so many farm activities and in a lot of our sensory bins too. These toys encourage pretend play which is exactly what you want in an early childhood toy.BUY NOW from Amazon HERE
Fisher Price Little People Princess Castle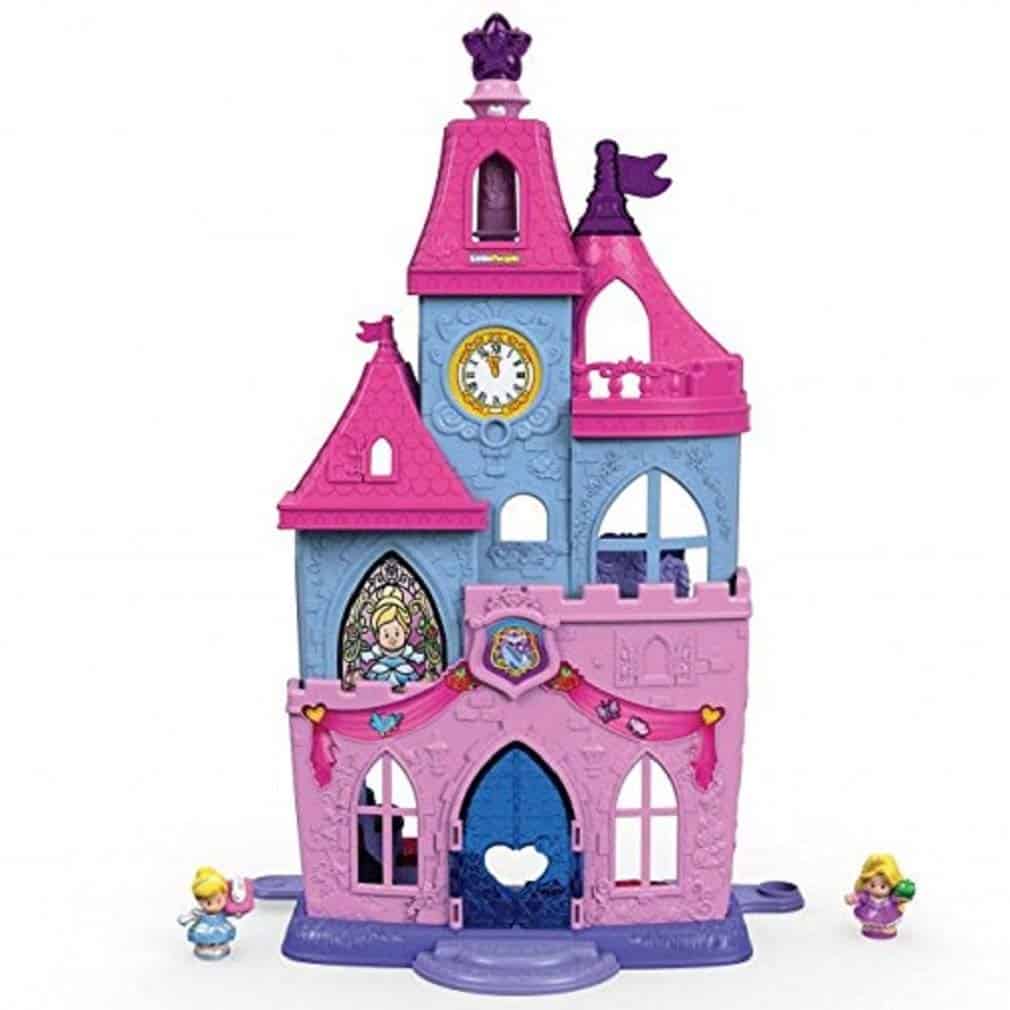 This is one of Amazon's best sellers and I can see why. As I mentioned above, this kind of toy encourages pretend play and includes items you can use over and over again in so many different uses. This has been a huge hit in our household and is a toy that you will get years and years of play out of. BUY NOW from Amazon HERE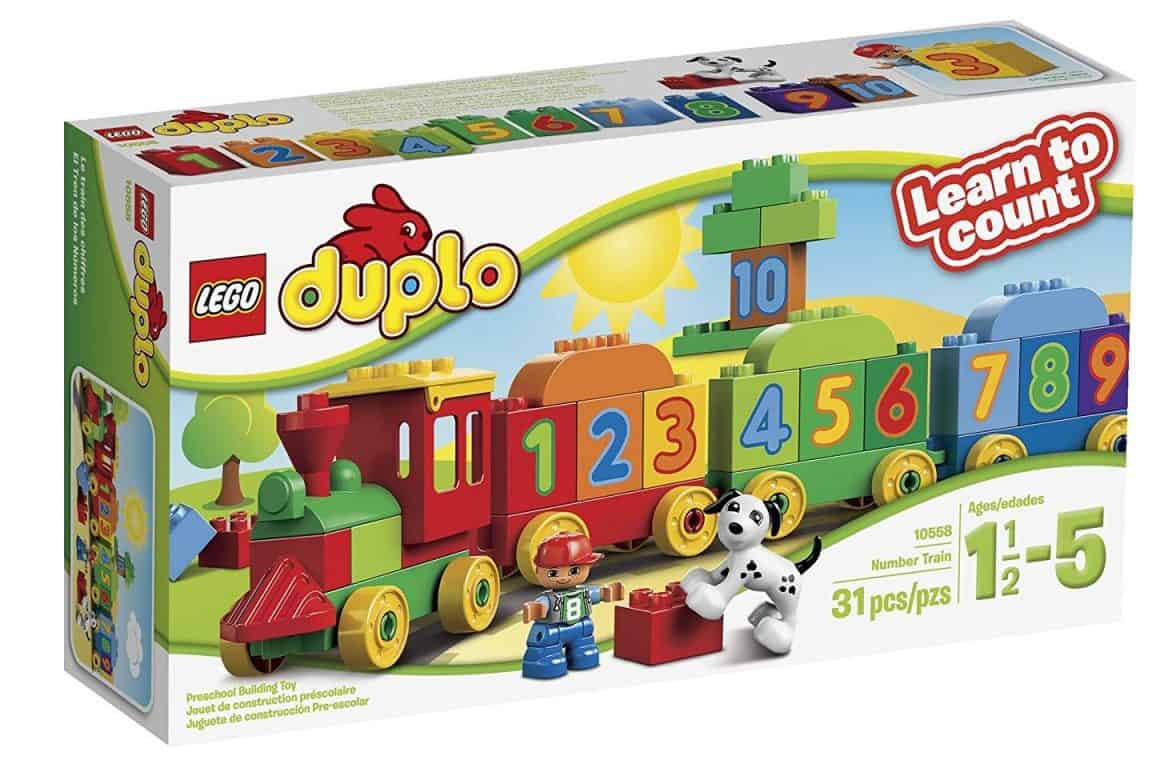 We LOVE Duplo in our house and this train makes a great first birthday or first Christmas present. It links to all of the other Duplo ranges and this one encourages counting too. This is my go to present for friend's children! BUY NOW from Amazon HERE
VTech Busy Learners Activity Cube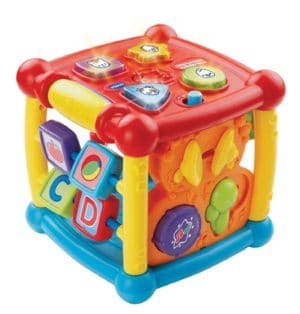 BUY NOW from Amazon HERE
If you don't have an activity cube you really should get one! This is a great starter activity cube. We had this one constantly out in our lounge room and we would also pack it up and take it to the park to play with too. As well as entertaining your child, there are a lot of fine motor skill activities on this too.
This is such a simple toy, but whenever we pulled it out at playgroups it was always popular. The children love banging the wooden pegs. I loved that it didn't need any batteries (yay!) and this was another one that was played with for many years.BUY NOW from Amazon HERE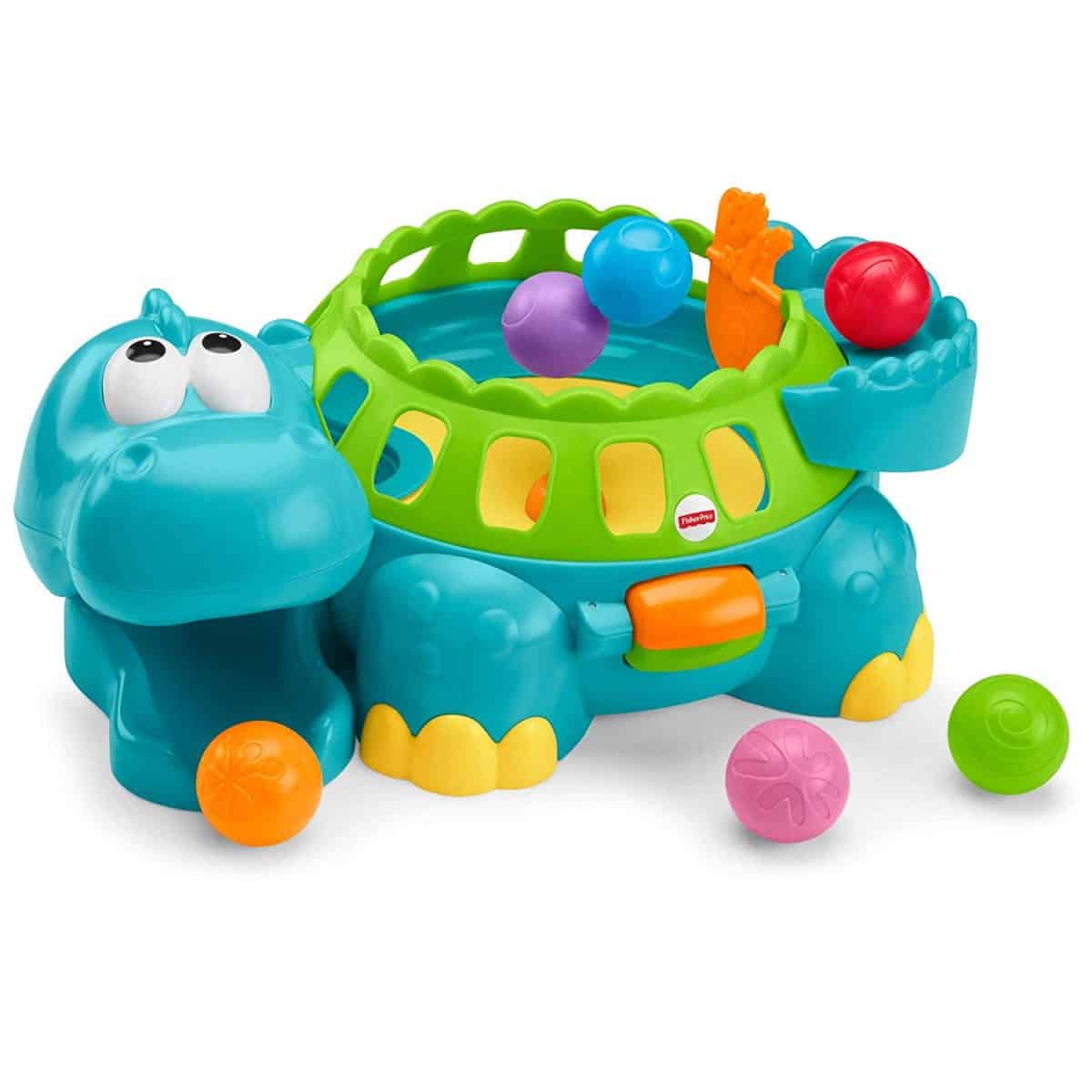 The popping of these balls will have your child giggling away! This is one where you'll often have them saying 'more' and it's a really fun toy that I know they will love. The balls pop out of his belly and it's a great way to encourage your child to crawl after them too. Get this one HERE.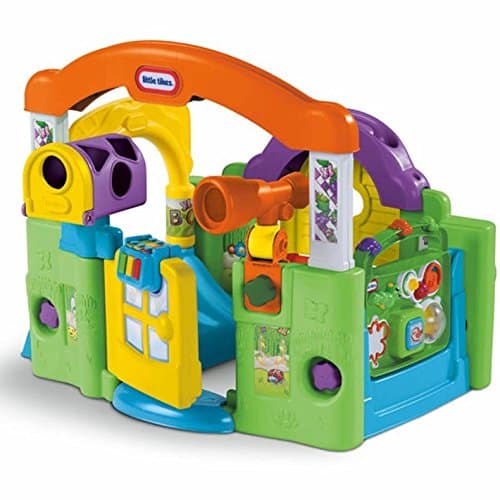 The Little Tikes range are always great quality and this is a fun gift if you're looking for a bigger item to purchase. It comes with all the bells and whistles you would expect and is large enough that they will be able to play in it for at least a few years. This is another toy that encourages a lot of pretend play as they get older. I highly recommend this one. Available HERE.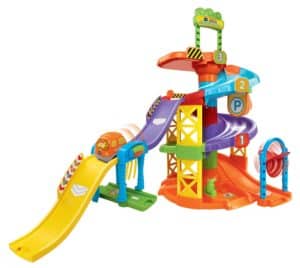 I've yet to meet a child that doesn't love playing with cars and ramps. The Vtech Go has 2 different courses and has 6 smart point locations (meaning it makes noises or something will happen when the cars get to that spot). This always very popular. BUY NOW from Amazon HERE

Wagons are a great toy for learning to walk. If they're not at that stage yet, the blocks will provide hours of entertainment, not to mention the added bonus of teaching number and letter recognition. I always recommend blocks for this age group and this toy has the added bonus of a cart to pull around too! BUY NOW from Amazon HERE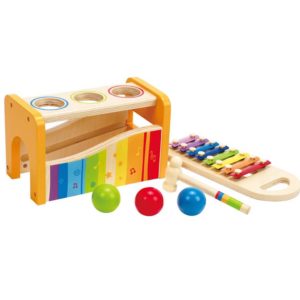 This is a great multifunctional toy - with the musical elements and the tapping bench this is perfect if you are pressed for space. It's a toy that we would often pack up and take on our holidays or to friend's houses. BUY NOW from Amazon HERE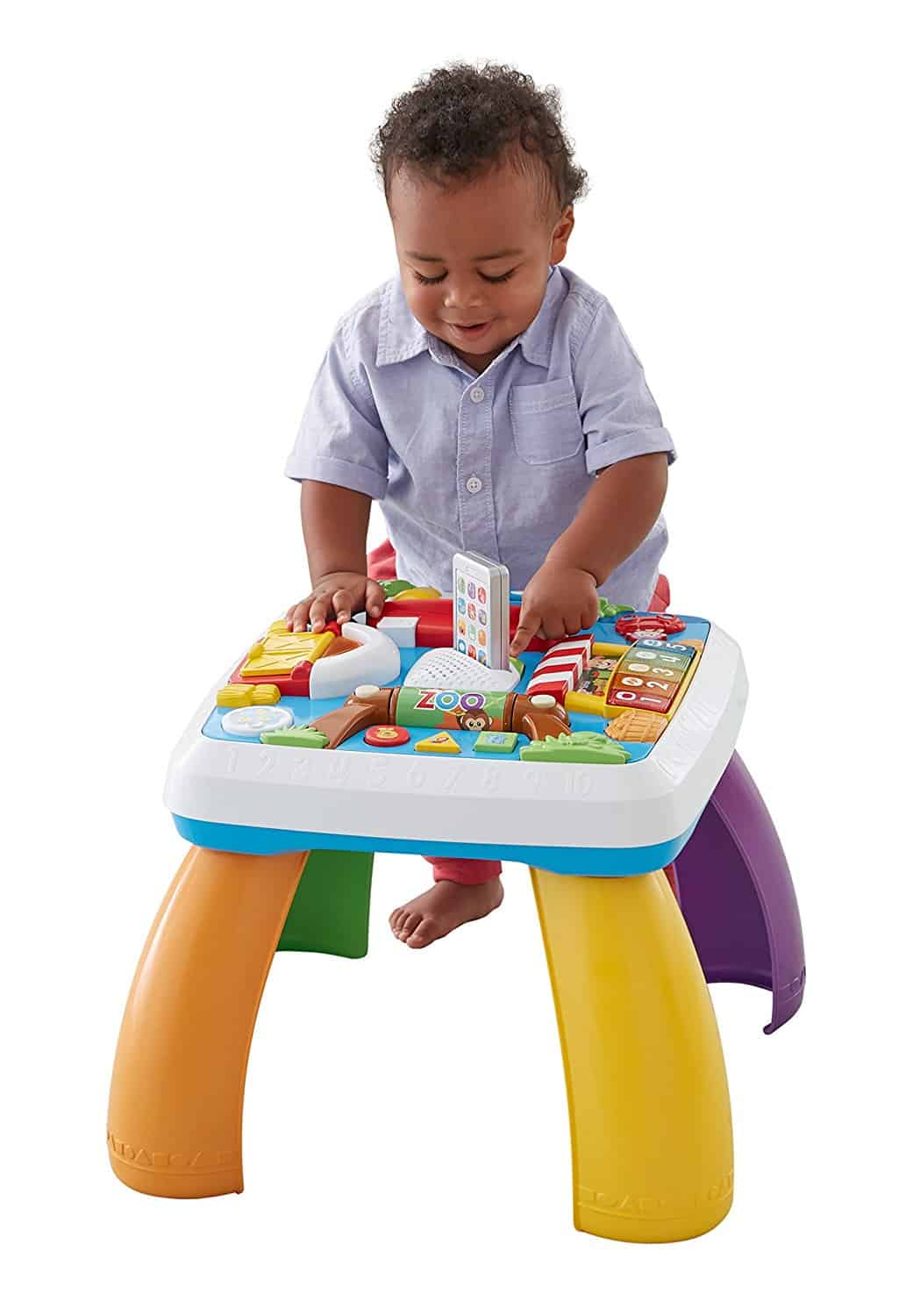 Just like the Walker was a must, an activity table is something that I think every one year old can benefit for. Like the walker, you can take the legs off this for a tummy time or sitting activity for the younger ones, but when you have the legs on it's great for encouraging them to stand up. With lots of activities to keep them busy this is one toy you'll find you'll keep out all of the time. BUY NOW from Amazon HERE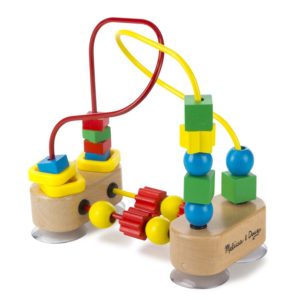 These mazes are gret for encouraging toddler to grasp the beads. They develop their fine motor skills and most importantly this toy is silent!!BUY NOW from Amazon HERE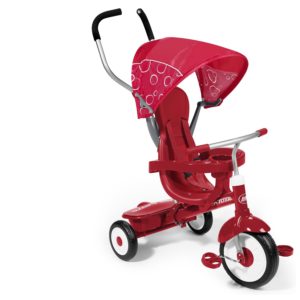 This is a great purchase if you're looking for a bigger gift idea for a 1 year old. These convert from being a cart (with straps) to push your child in to a proper trike. We've still got the trike part of our old one. It was great for walks to the park. BUY NOW from Amazon HERE
I hope you've enjoyed these gift ideas for toddlers as much as we have. If you have any more great toy ideas please share them in our Facebook group. If you want to keep your toddler busy makes sure you subscribe to our weekly newsletter and follow us on Facebook, Twitter, Instagram and Pinterest.
If you are looking for more Christmas activities for toddlers you'll love these ideas: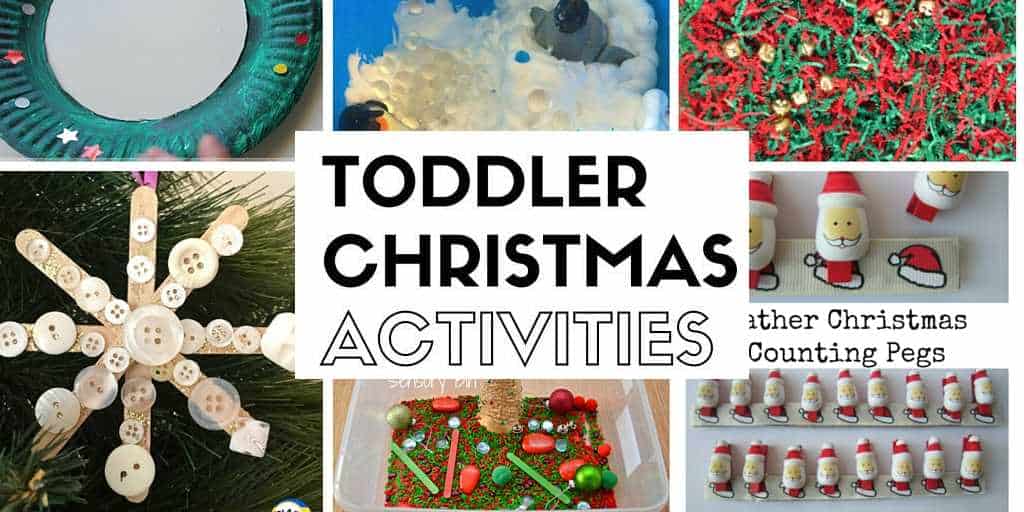 Christmas Sensory Play Ideas for Toddlers