Let in snow, let it snow! Enjoy a winter day indoors with this easy Winter toddler craft. Kids can create snowy pictures with fluffy cotton and torn paper in this fun process art activity.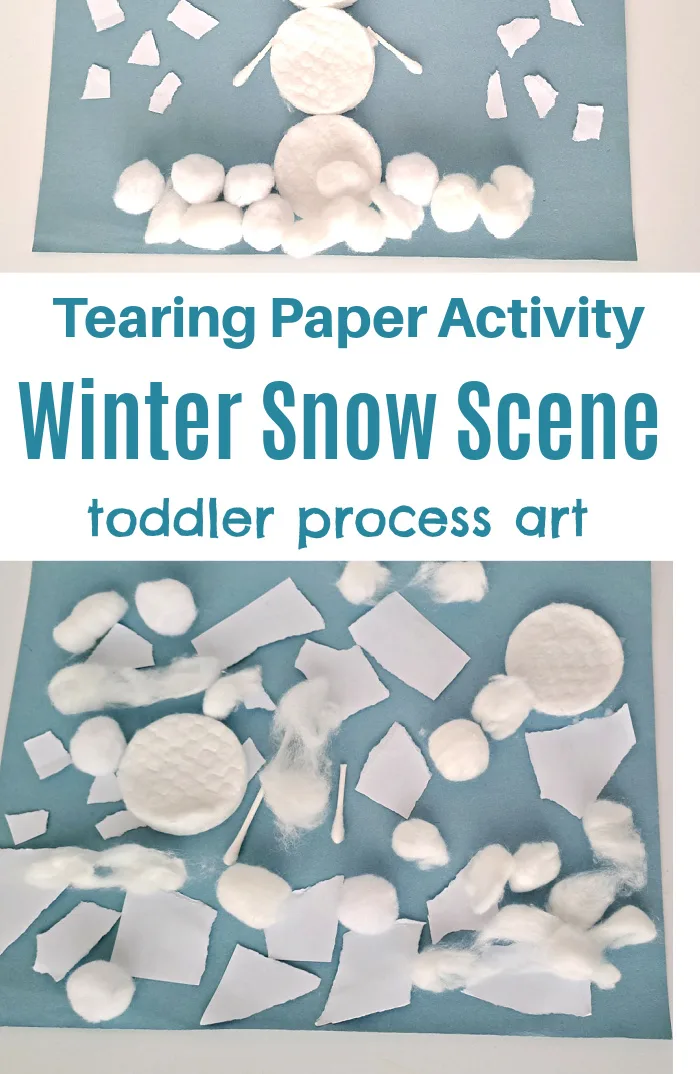 Winter Paper Tearing Craft for Toddlers
On a day when it's too cold to enjoy the snow outdoors, extend the fun indoors with a simple snow-themed craft.
I like to match this activity up with a related books like one of these picture books about snow.
The goal of the activity is to promote hands-on fun and creativity, with interesting sensory play opportunities. Kids will also get to explore the color white.
Since this is a process art activity, the supplies you provide will inspire the end result of the project.
Kids can experiment with their choices of items, and the placement of items on the canvas.
Keep it simple with just a few craft items covering a variety of textures.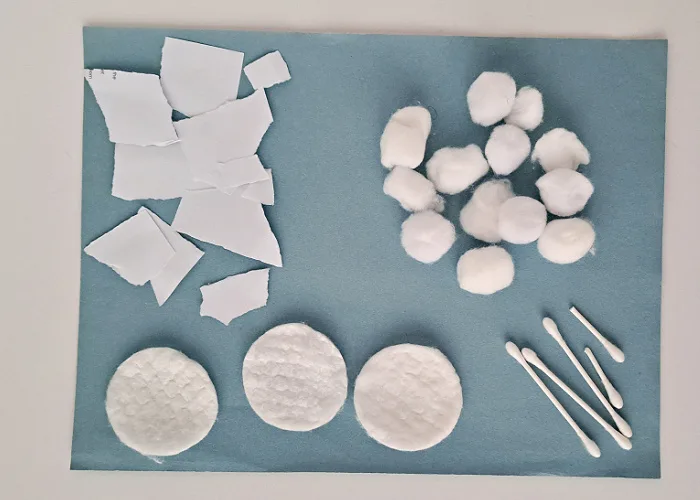 Supplies:
Use any white products you have available - textured papers, tissue paper, labels, crayons or markers, to inspire creativity.
Provide plain white pieces of paper for your toddler to tear. This is great fine motor work. You will likely end up with a few different sizes and shapes.
Cardstock or even cardboard provide a sturdier canvas than construction paper for an activity like this with a mixture of materials. But you can use whatever you have on hand.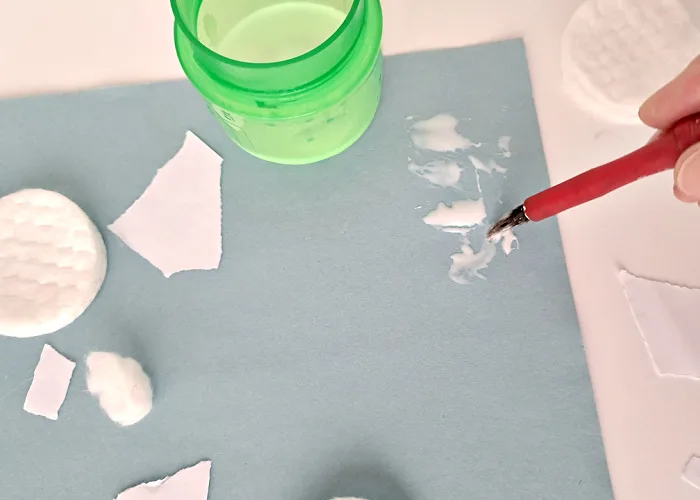 Use white glue or glue sticks. Apply the glue for each individual item, or cover the canvas with glue before you start.
If you use white school glue, you can pour some in a jar for your toddler to apply with a paint brush. Or your toddler can simply drop dabs of glue from the bottle.
Encourage your toddler to add and remove items before gluing everything in place. Handling the various small items is also great fine motor work, along with tearing paper and spreading glue.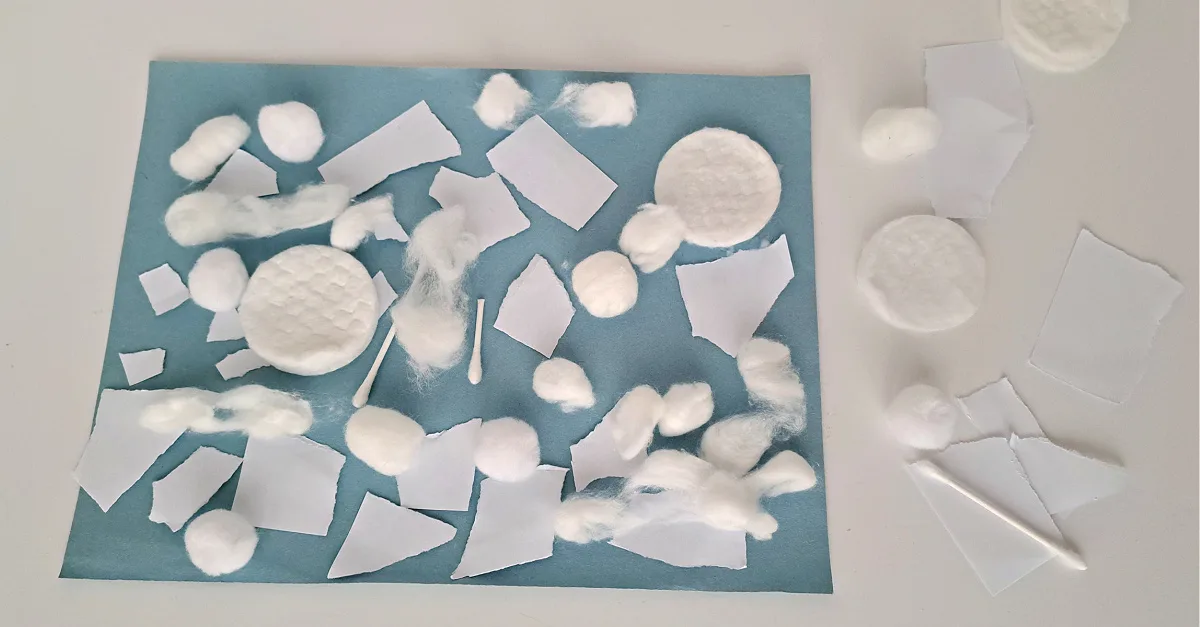 Process art allows kids to explore and create at their own pace and in their own way. A winter snow scene craft is easy to put together and needs few instructions.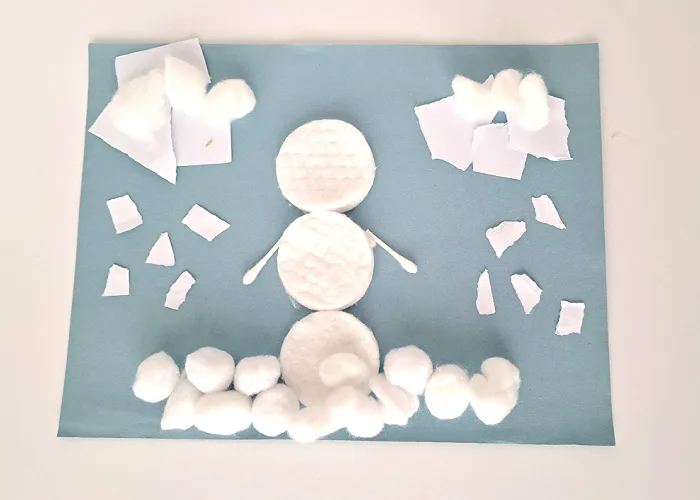 Participate with words and comments as your toddler plays, but allow him to decide where the pieces should go and what they should be. Offer suggestions or ideas as it seems helpful to guide the play.
The cotton pads are perfect for inspiring a snowman!
Do you want to make some snowflakes?
How many circles do you need for the snowman?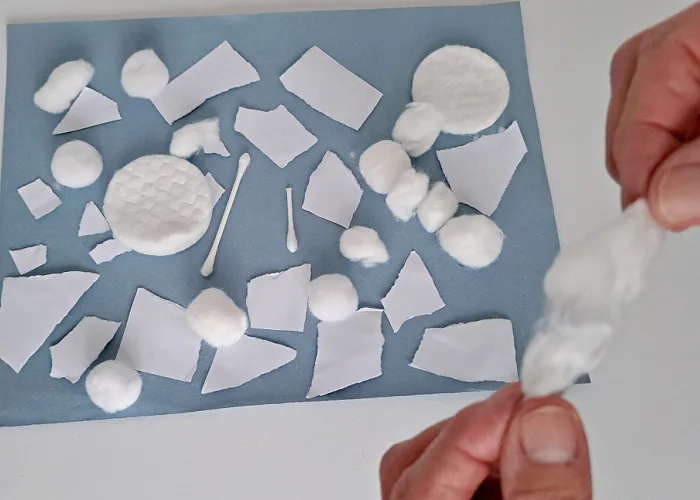 You can also show your toddler how to pull the cotton balls to create wispy clouds or fluffy snow.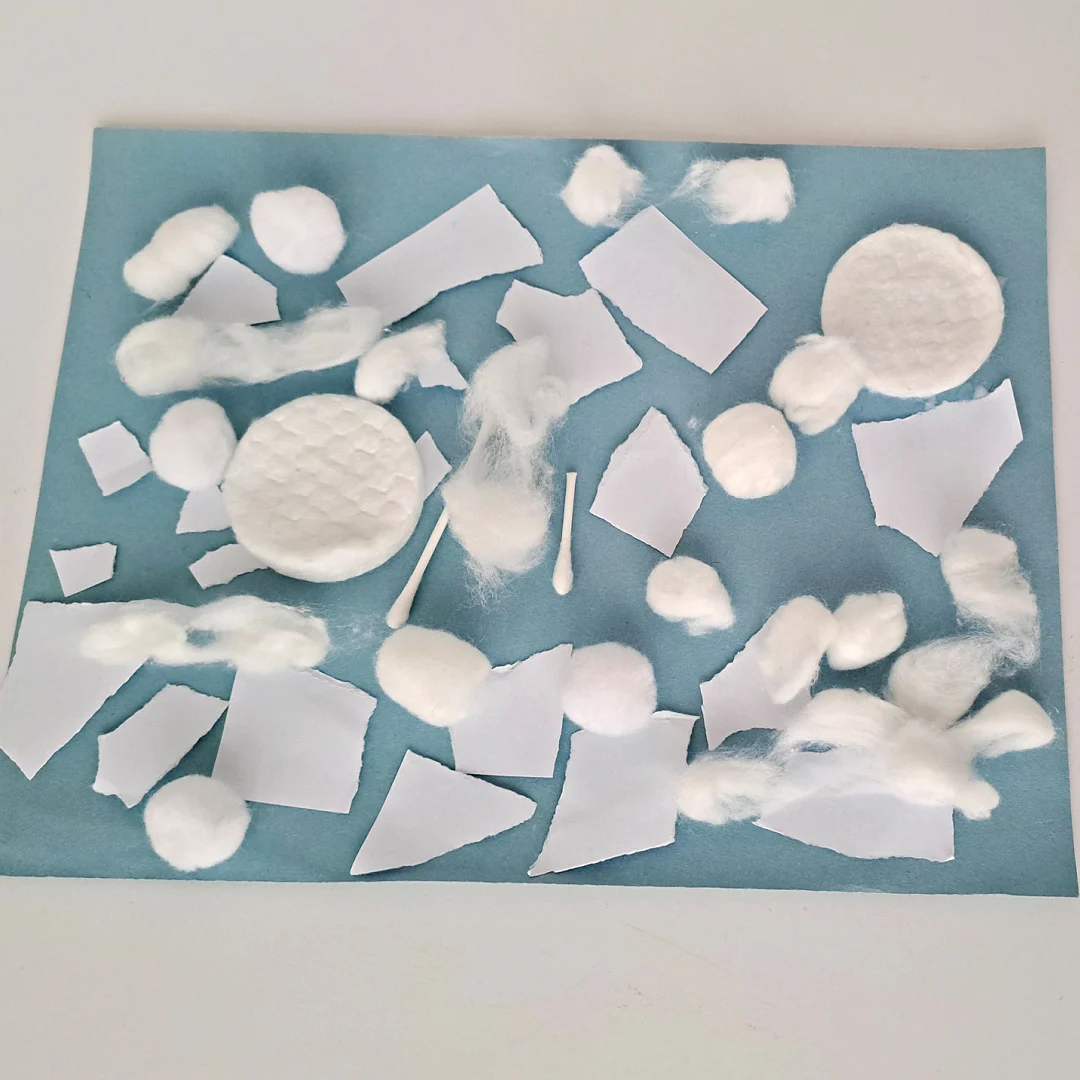 Independent activities like this winter craft also provide some much needed free time for a busy mom. It's a great activity for your toddler to work on while you are tending to a new baby or making dinner.
Your toddler will benefit from practicing early learning skills like decision making and creativity as well as using language to describe the process.
Have fun with this snow-theme art activity!
We would love to see your Christmas crafts - join our Facebook Group or follow us on Instagram - use #myboredtoddler so we can all see.
SOME MORE FUN TODDLER ACTIVITY IDEAS YOU MIGHT ENJOY ARE: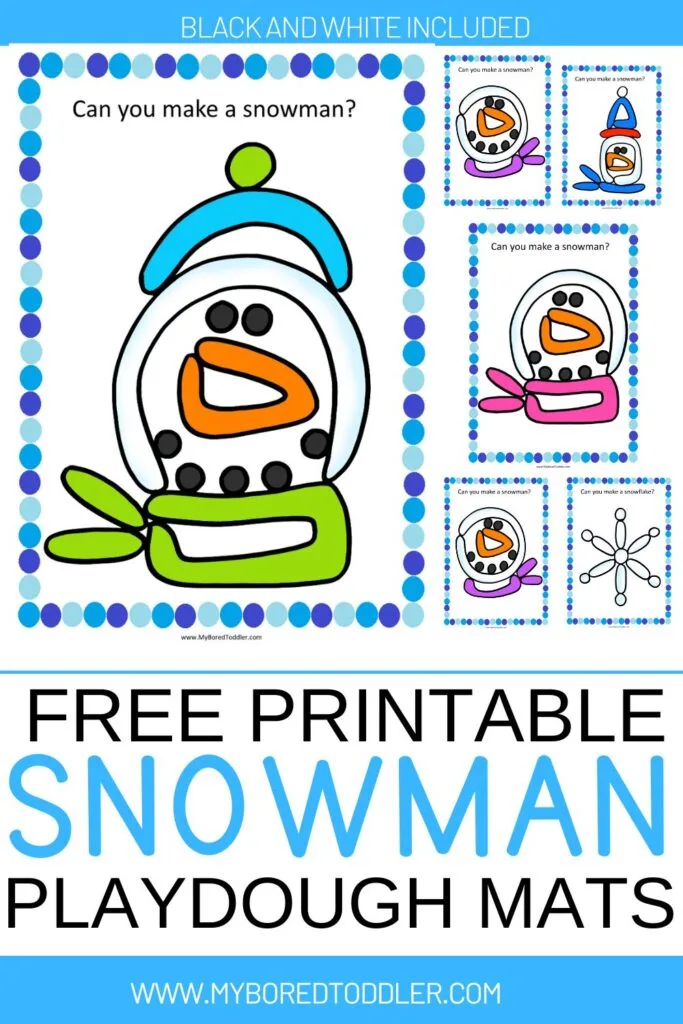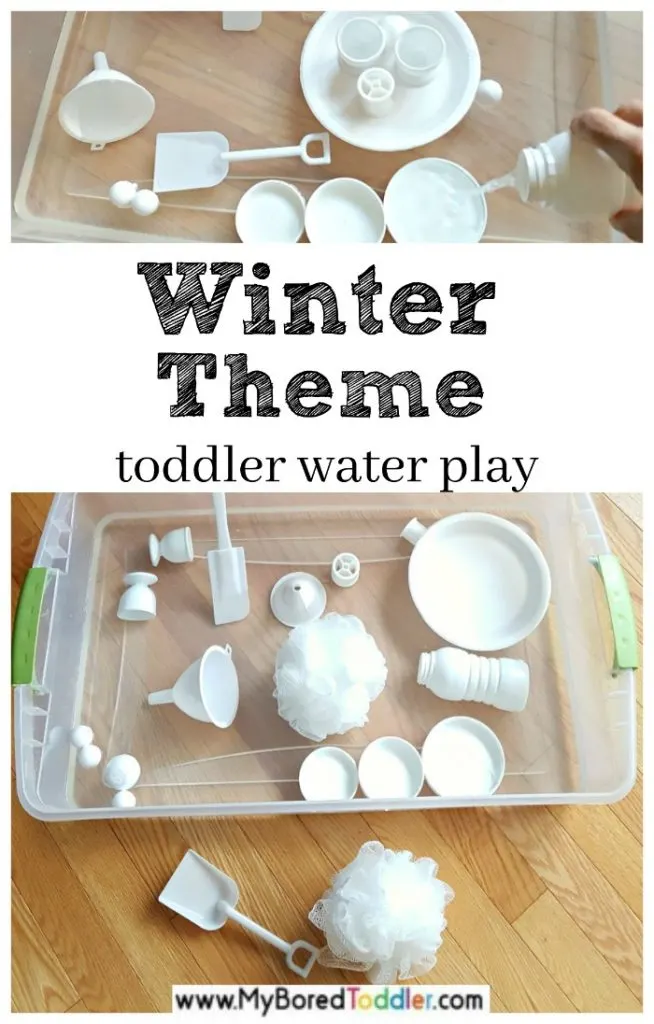 About the Author
Heather is a former preschool teacher and founder of preschooltoolkit.com, a website providing early learning resources for teachers and parents. She focuses on creating fun crafts and activities that engage developmental skills while promoting hands-on learning through play. Follow her on Facebook, Pinterest, Twitter, Instagram