Raking leaves in the sand box is such an easy activity! Colored leaves and sandbox tools combine for some awesome Autumn / Fall sensory play for toddlers. Welcome the fall season into the sandbox with this simple raking autumn leaves activity. Such a simple fall Toddler sensory bin that's quick and easy to set up too!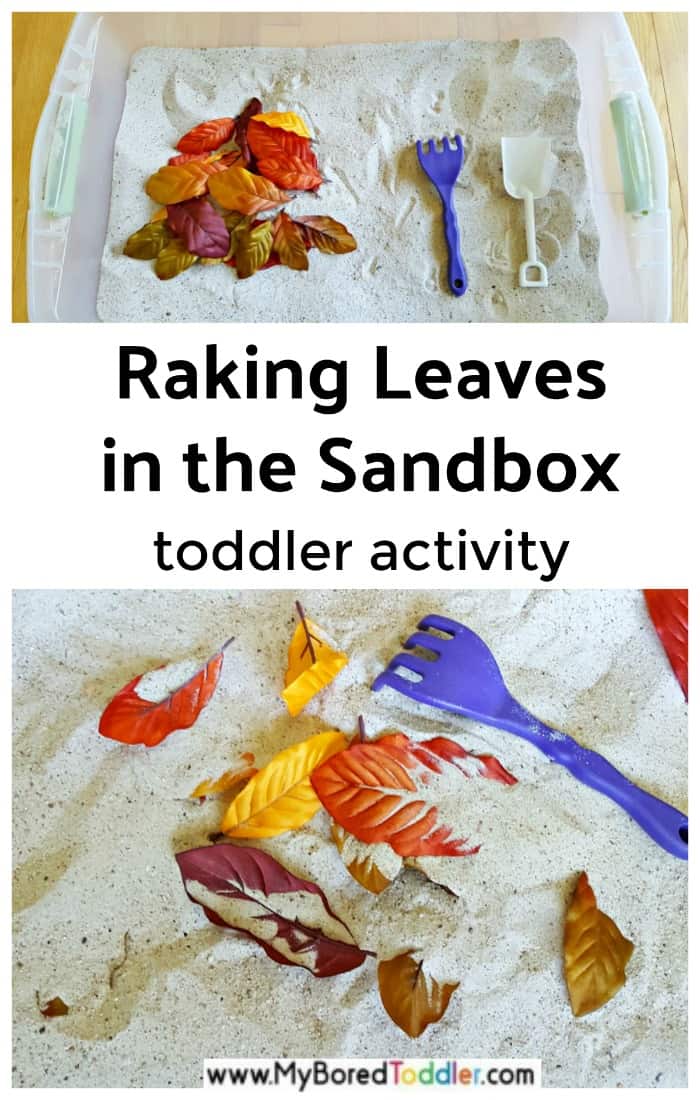 Raking Leaves Fall Sand Play
The sandbox is a fun place for sensory play for toddlers. The textures and colors of the sand, the variety of toys and digging tools, all provide interesting play options.
The fall season offers even more opportunity to experiment with colors and textures by adding leaves, acorns and other seasonal items to the sensory bin.
Create an amazing invitation to play with this simple sandbox activity.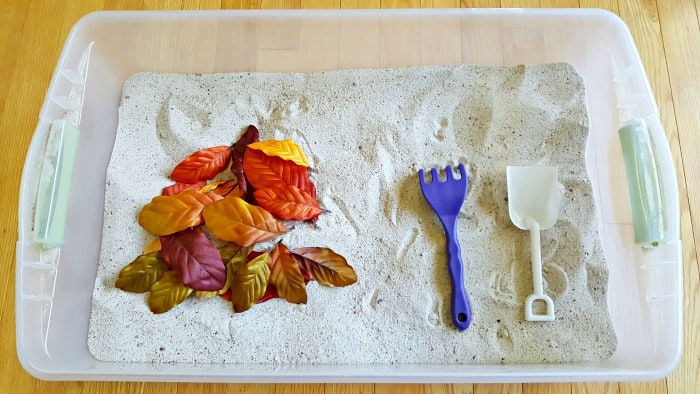 Use large leaves that are easy for your toddler to handle.
The sandbox bin doesn't have to be very big, just large enough to accommodate a couple inches depth of sand and some toys or digging tools.
Choose a bin that can be carried outside for outdoor play when weather allows.
Provide just a few toys at a time so your toddler is not overwhelmed.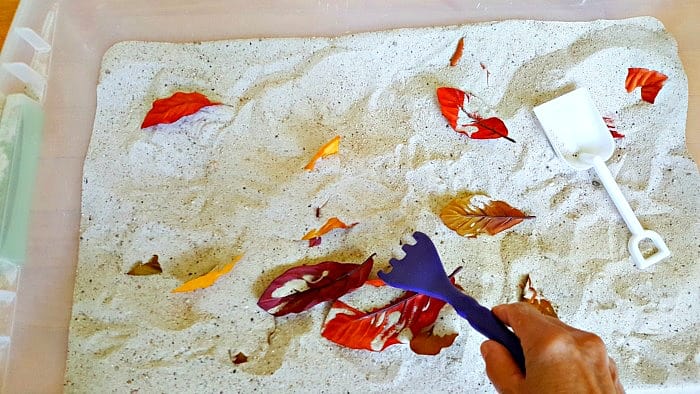 Your toddler will want to experiment with the leaves and sand tools right away. Allow some time for him to engage with the materials in his or her own way, putting the emphasis on making this a child-led activity.
Guide your toddler through the motions of raking and digging, promoting fine motor skills as he plays.
Rake leaves into a pile.
Bury the leaves with the shovel, then dig them up again.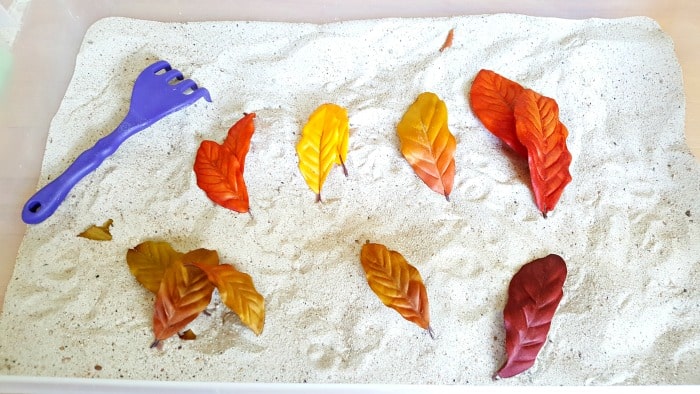 Practice language and cognitive skills by engaging your toddler in simple learning activities.
Count and sort the leaves, name the colors, or arrange leaves in order from smallest to biggest.
Can you rake the red leaves into a pile?
Let's count the yellow leaves.
Here is the largest leaf. Can you find the smallest leaf?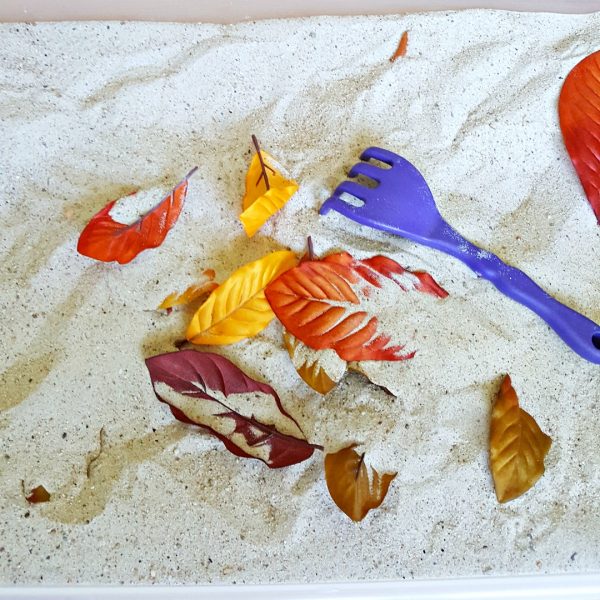 A sandbox activity is easy to set up and can easily become part of your daily routine. Spread a sheet or plastic liner on the floor under the bin to contain the overflow. This helps with easy cleanup.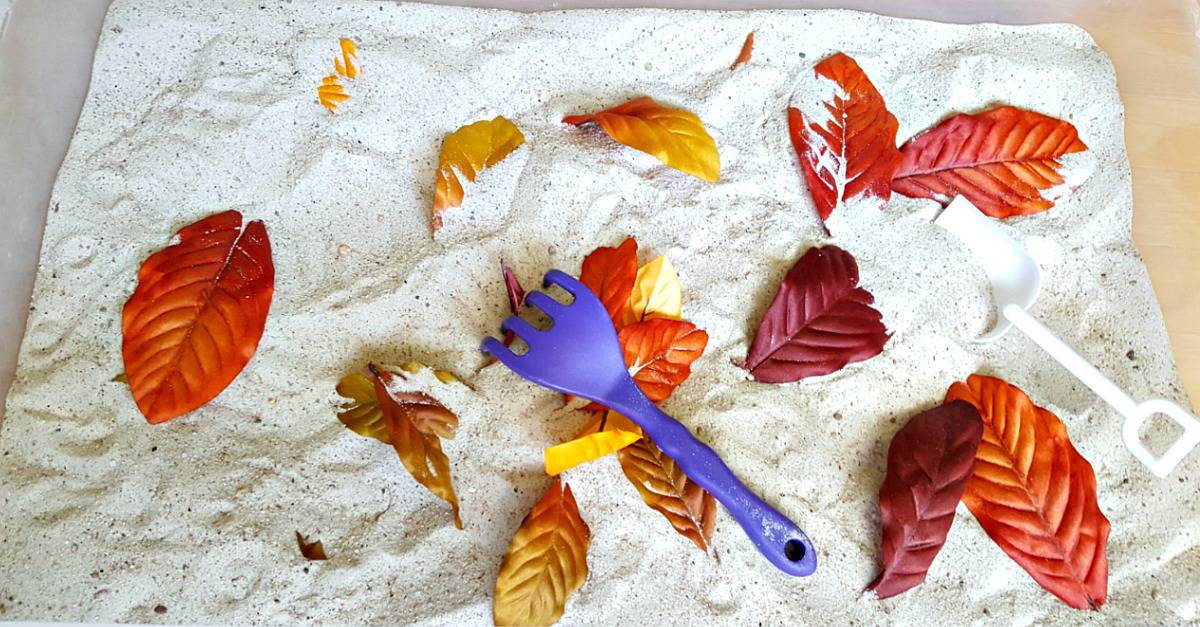 Providing different learning opportunities helps build gross motor and fine motor skills, as well as cognitive skills. Kids learn by becoming aware of their surroundings using all their senses, making a sensory bin a welcome tool.
If you loved this Fall leaf raking sensory bin I'd love to see some photos! Pop over to our Facebook group and share a picture or use #MyBoredToddler on Instagram so we can all see! I always like to regram a few of my favorites! You can also follow us on Facebook, Twitter, Instagram and Pinterest
Some more activities you might enjoy are:
Fall sensory bins for toddlers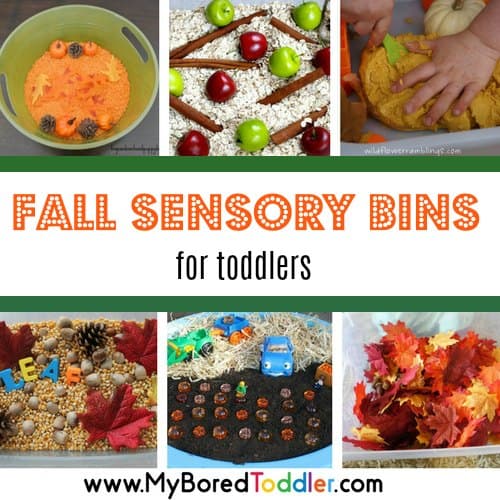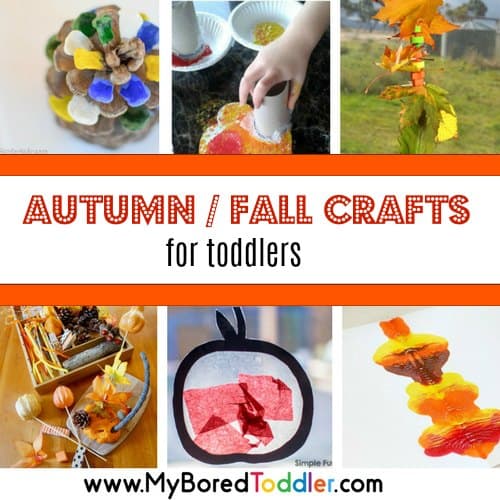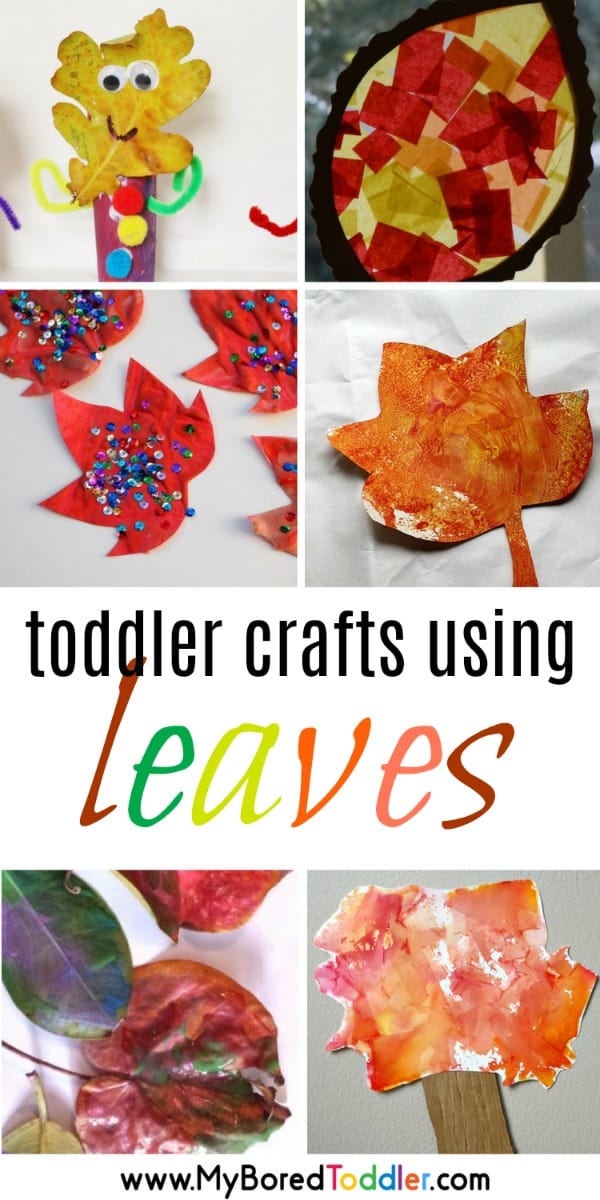 About the Author:
Heather is a former preschool teacher and founder of preschooltoolkit.com, a website providing early learning resources for teachers and parents. She focuses on creating fun crafts and activities that engage developmental skills while promoting hands-on learning through play. Follow her on Facebook, Pinterest, Twitter, Instagram and Google+