Heart-Racing Toddler Valentines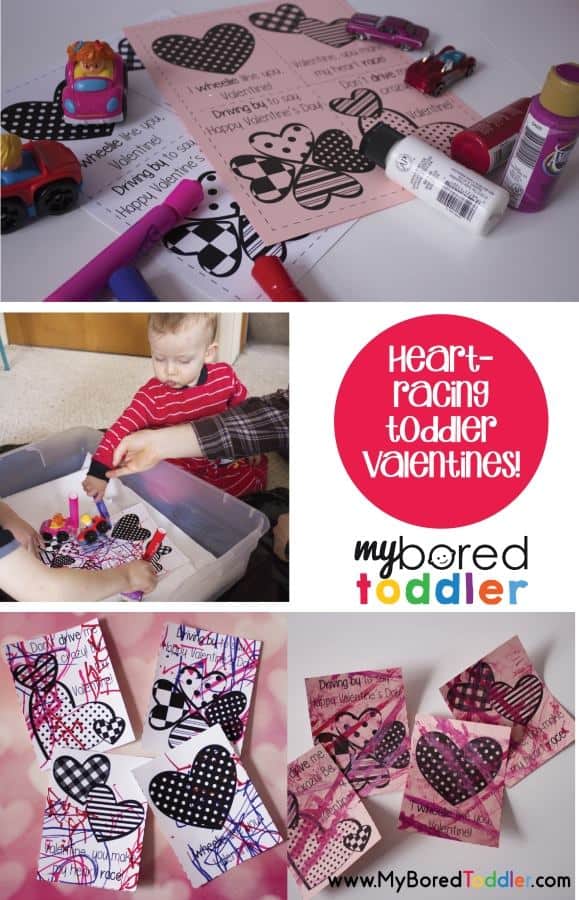 My youngest is nearly 18 months old now, and over the past month or so, it's been fun to watch his understanding of toys really blossom (you can find some of our favorite toy recommendations here). Within the last few weeks, he finally started to get what cars are all about, racing them across the floor, and making the classic "vroom vroom" sound while he does. Since he is a young toddler, he's a bit of a busy body, and has little patience for most crafts or activities I organize for him. I decided to capitalize on his newfound love for cars by incorporating them into a Valentine's Day craft.
My goal was to create a simple Valentine that young kids could help to make for parents, grandparents, caregivers, etc. I aimed to create a project that could be made with craft supplies many parents or teachers already have around the house, because who needs to make an extra run to the store?! The cards you'll create are very abstract, which is always a good thing when working with toddlers- leaving art open ended without a distinct 'finished product' raises their chances for success significantly.
We took two different approaches to the project. They produce very similar results, but one has the potential for significantly greater mess than the other. So think about your patience level and desire to clean up later before you dive in!
You will need: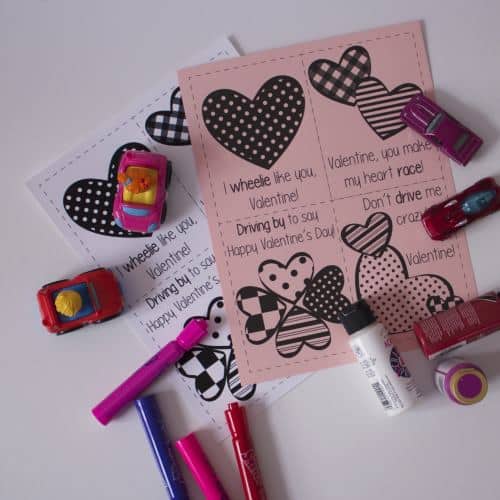 - heart racing valentine printable PDF (click the link to download)
-Paper to print on (we used plain white and pink paper, anything works)
- toy cars
- washable markers (we love these ones) & tape (option 1)
- washable paint (option 2)
- scissors (we like these toddler safe ones)
- optional: shallow plastic tub (helps to contain the mess)
Instructions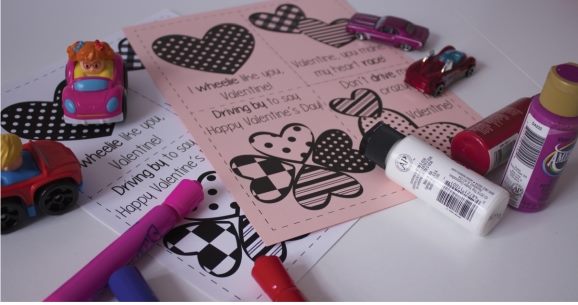 For option 1, we taped markers to the back of the cars, making sure the tip of the marker would just hit the paper when it was being 'driven'. If it's too high, it won't leave a mark and will frustrate everyone. Too low, and you may end up with some very squished marker tips- especially if your kiddo is as heavy handed as mine!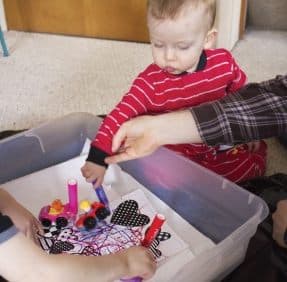 We set my son up with the marker-car combos and encouraged him to check it out. He required some prompting and demonstration from my husband as well as my oldest before he really started to get into it, but once he got the hang of it, he really seemed to enjoy himself.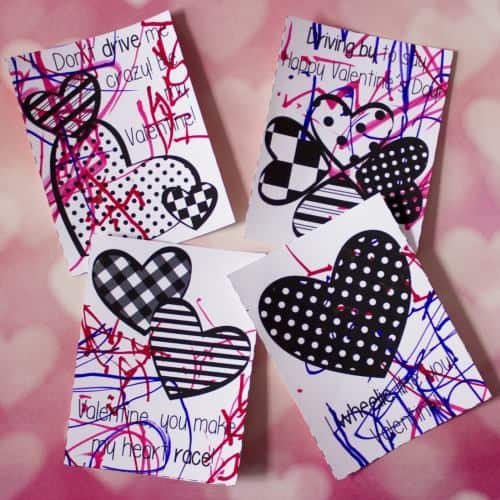 For the messier option, number 2, we encouraged my son to use his cars dipped into paint to create tracks all over the Valentine's. This interested him less, as he's not a particularly big fan of getting messy. I can see this being a huge hit with the kiddos that love slime or finger painting. It definitely adds an additional sensory element to the project, which could be a lot of fun.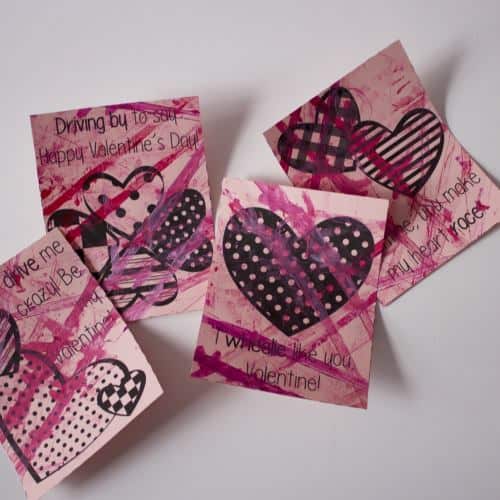 When both sets of Valentines were completely dry, we cut them apart. We'll flip them over to write a quick message to the recipients, and then they'll be all set for Cupid to deliver on February 14th.
About the Author
Kate is a former fashion designer turned semi-reluctant stay-at-home-mama. She enjoys using her design background to encourage a lifelong love of learning and literacy in her sons. Visit her at Homebound But Hopeful to stay up to date on craft and learning activities inspired by popular children's books. You can follow Kate on Instagram, Twitter, Facebook and Pinterest.
More Toddler Activities!
If you want to keep your toddler busy makes sure you subscribe to our weekly newsletter and follow us on Facebook, Twitter, Instagram and Pinterest.
If you enjoyed this activity here are some more that you may enjoy:
30 + Valentine's Day Activities for Toddlers