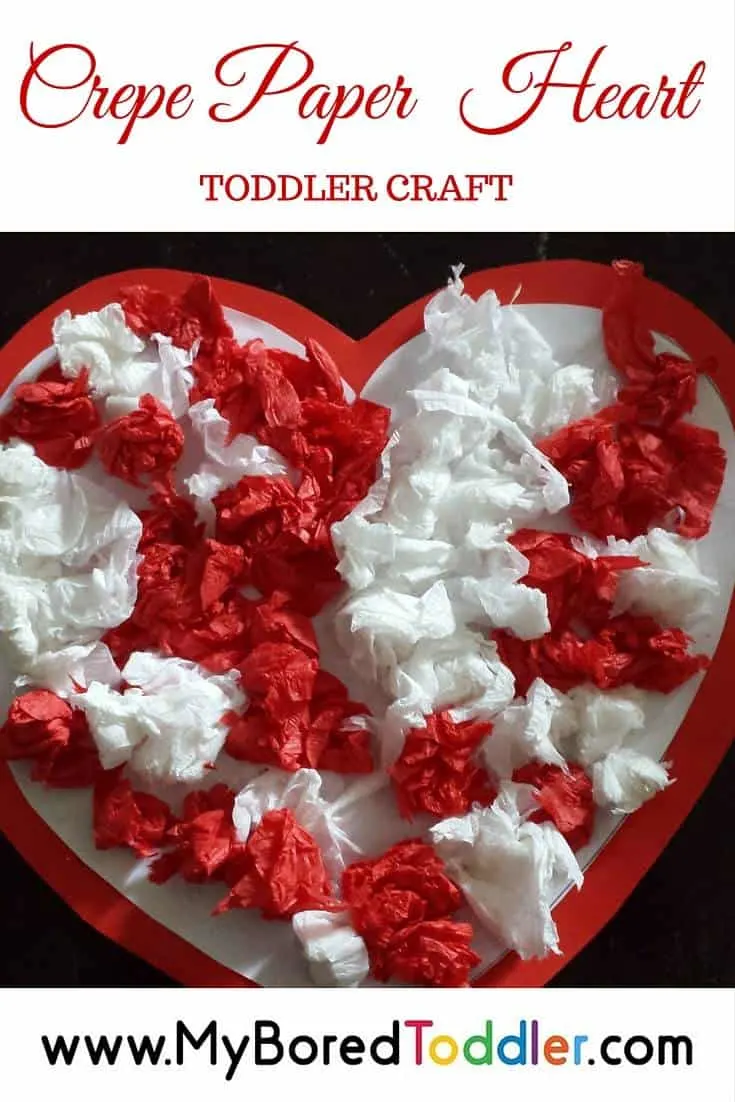 With Valentine's Day not too far away I thought we would get a head start on some simple toddler Valentine's day craft ideas. This fun activity is very simple requiring only crepe paper, glue and paper. Too easy! It was so simple that I left my husband in charge of this one and it still turned out well!
As simple as this activity is, it actually involves some great fine motor activities which are perfect for toddlers. Ripping, scrunching and gluing area all excellent fine motor activities. Don't be tempted to jump in and do these things for them (except for the younger toddlers of course).
What you need
What to do
Draw a heart shape on the white paper (I did this myself, but you could always print one up if you prefer).
Cut out the heart shape.
Have your toddler rip pieces of crepe paper in red and white

Have your toddler scrunch up the crepe paper into tight balls

Glue the crepe paper balls onto the heart shape.

Let the heart dry

Glue the heart onto the red card or paper

Cut out the red card leaving a 1cm border.

Do you have any favorite Valentine's Day activities? I'd love to hear about them in the comments below.
If you enjoyed this Valentine's Day activity you will also like our Toddler Sticker Hearts, Strawberry Scented Playdough and our great round up of Toddler Valentine's Day Activities.
This post has been part of a Valentine's Day Kid Craft Challenge. For more great Valentine's Day craft ideas you might like to visit the sites below:
Washi Tape Heart by The Resourceful Mama
Heart Handprint Keepsake by CraftCreateCalm
St. Valentine Paper Puppet (printable pattern & tutorial) by Maria Magdalena Living Ideas
Heart Suncatcher by Raising Little Superheroes
Valentine's Day Heart Wreath by Raising Fairies and Knights
Valentine's Day Advent Calendar For Kids by Play Dough & Popsicles
Valentine Luminary by The Gingerbread House
Valentine Paper Lanterns by Kidz Activities
Valentine's Day Playdough with a free printable by Crafty Mama in ME
If you want to keep your toddler busy makes sure you subscribe to our weekly newsletter and follow us on Facebook, Twitter, Instagram and Pinterest.