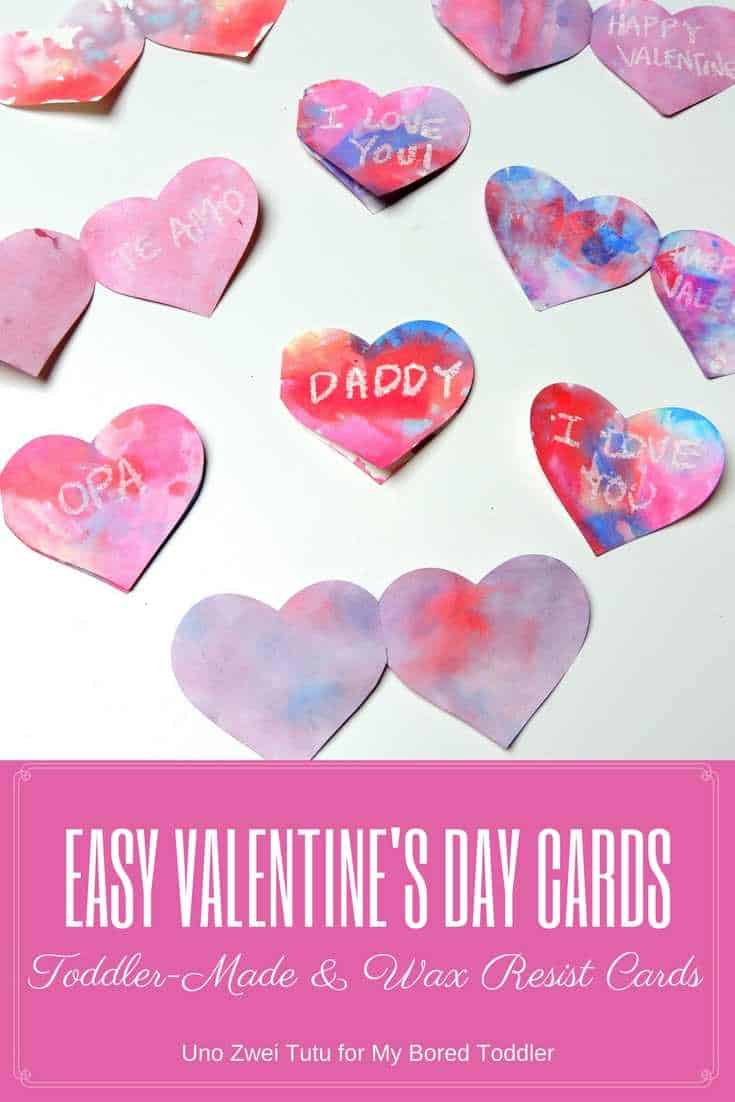 Are you looking for an easy craft to make this Valentine's day with your toddler? Our Valentine's Day Activities for Toddlers have been very popular, and these cards are beautiful and so easy to make.
Last year, I left my 2-year-old daughter alone for a few seconds. When I came back she discovered that it was possible to turn crepe paper into paint.
It was a messy discovery but we have enjoyed different ways of making art with crepe paper ever since.
Now that Valentine's day is coming we decided to use crepe paper once again to make cards for our beloved family members.
How to make wax resist Valentine's day cards
Valentine's day is not a traditional holiday in Colombia (where I come from) or in Germany (where I live with my family). But it's becoming more and more popular here and it has turned into one of my favorite holidays.
It gives my two-year-old daughter and me the perfect excuse to remind people we love how important they are for us.
The best thing about these Valentine's day cards is that they can be made almost independently by a toddler. The only thing you'll need to do is write the receiver's name or a message on the card, your little one can do the rest.
Supplies
How to make your own wax resist cards with crepe paper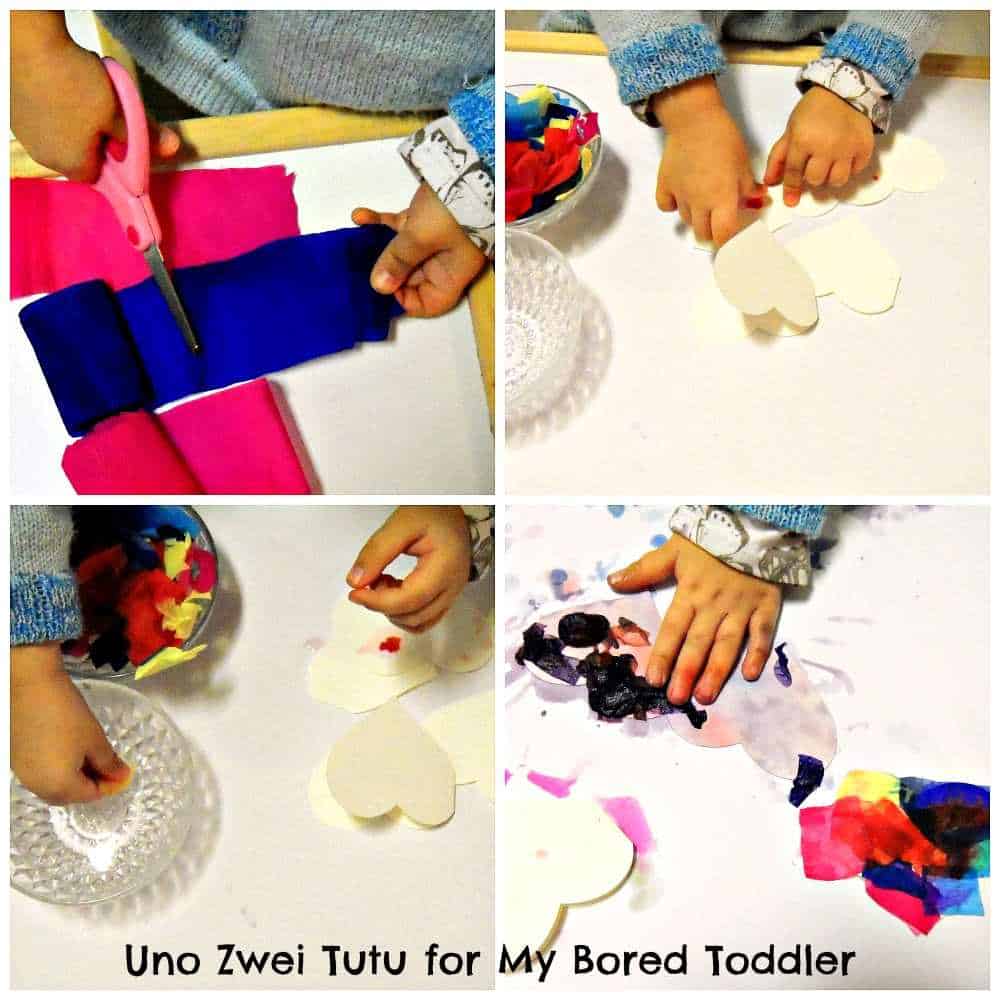 Step 1. Prepare a few pieces of watercolor paper by folding it in the middle.
Step 2. Cut a heart shape out of the folded paper making sure you have an overlap so that you end up with one card that unfolds (not two heart shaped cards).
We used a sizzix machine that I bought years ago to make the heart shape. I love it because my daughter can make the cards independently and she has a lot of fun using it (a heart shape is difficult for a 2-year-old to cut). If you don't have a
If you don't have a sizzix machine don't worry just outline a heart shape on your paper and cut it before handing it to your toddler to paint.
Step 3. Write the receiver's name or a little love note on the card using a crayon.
Step 4. Now is time to prepare your working space. Cover your table with and old table cloth or some newspaper because crepe paper can stain your working surface (believe me, I have experience with this). We love this splash mat from Melissa & Doug.
Step 5. Invite your toddler the cut small pieces of crepe paper.
If your child is still not confident with scissors she can tear the crepe paper instead.
Step 6. Let your toddler dip the pieces of crepe paper in water and use them to paint on the cards.
This part is the most fun. My daughter had a blast using the paper to paint the cards in different ways. Be aware that it can be quite messy but if you cover your working surface properly it will be easy to clean.
Fair warning: crepe paper can stain hands.
Step 7. Let the cards dry overnight.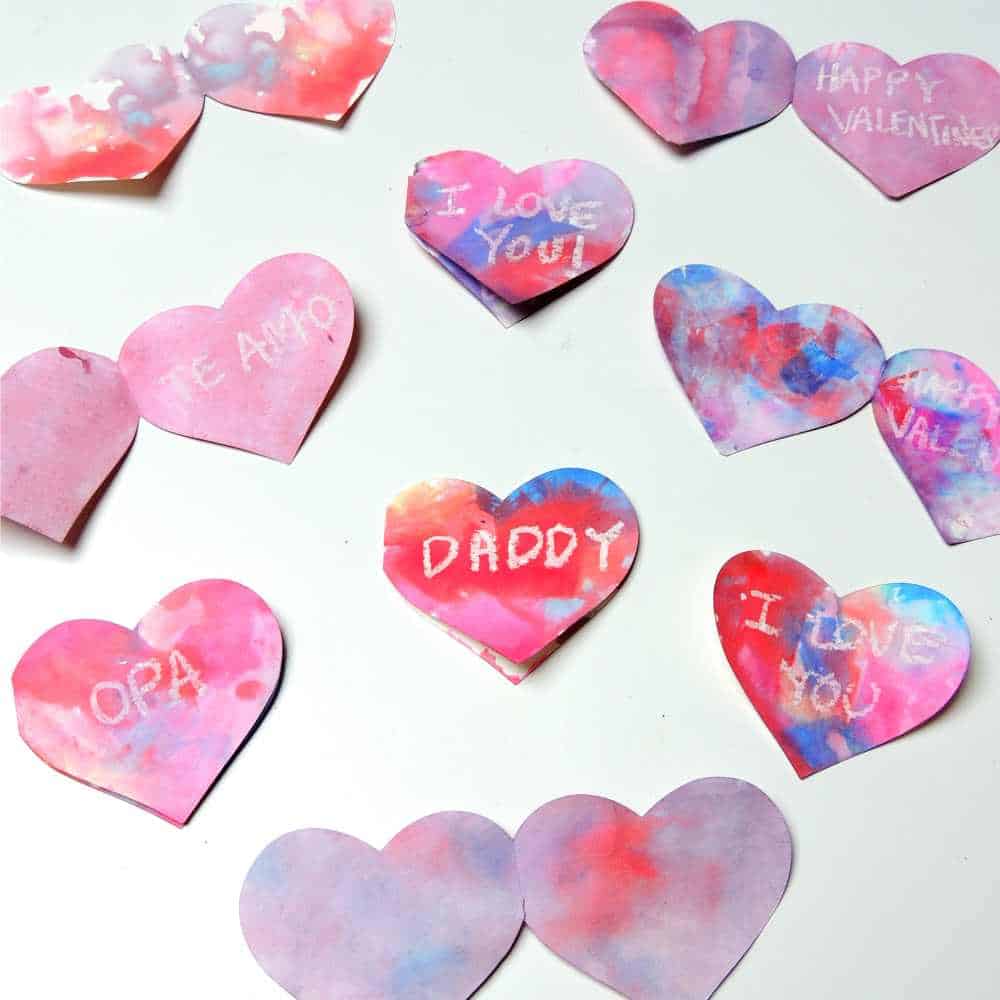 Enjoy!
These cards are so easy to make and are perfect for every occasion from Valentine's day to birthday.
If you want to keep your toddler busy makes sure you subscribe to our weekly newsletter and follow us on Facebook, Twitter, Instagram and Pinterest.
About the Author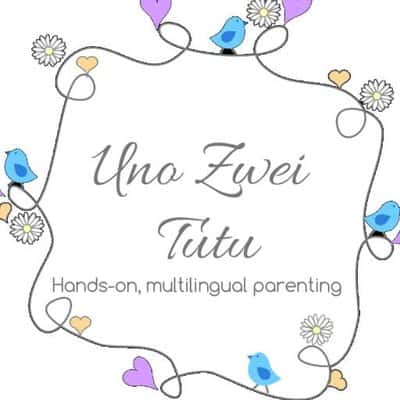 Isabel Arango is the owner of Uno Zwei Tutu - a multilingual parenting website full of great toddler and preschool activities, with a hands-on Montessori approach. You can follow Isabel on Instagram, Twitter, Facebook and Pinterest.
If you enjoyed this activity here are some more that you may enjoy:
30 + Valentine's Day Activities for Toddlers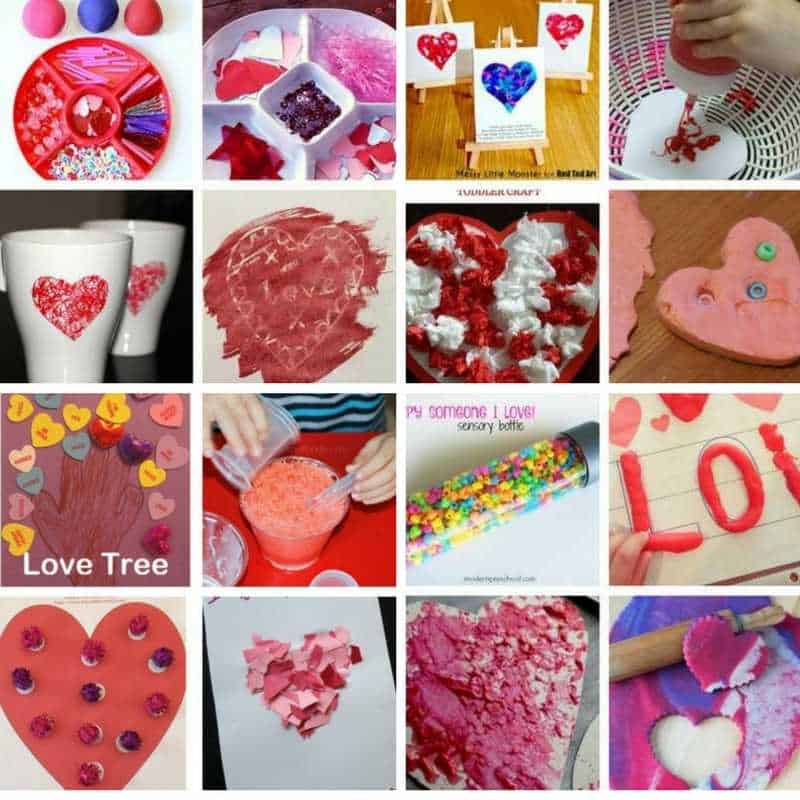 Paper Plate Crafts for Toddlers