Wiggly Worms Lacing Activity for Toddlers
When it comes to toddler pull toys, what could be more fun than a wiggly worm you make with your child? This is a hands-on activity that engages kids fine motor and creative skills as they build a wiggly character for pretend play! It's also perfect for a Valentine's Day Activity too.
Part of the fun in making your own props for games and activities is choosing the items that go into your project. We are always looking for ways to recycle household materials for crafts and activities. The supplies used in this activity are everyday items you have at home that can safely be handled by your toddler or preschooler.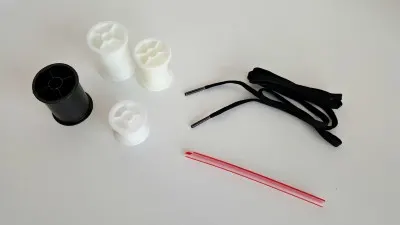 Materials for a Wiggly Worm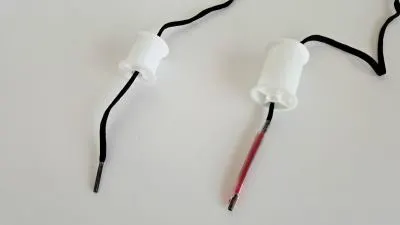 Instructions for making a Wiggly Worm
Thread a cord through spools. If the shoelace or cord you are using is firm enough, your child can push it through a hole in the spool.
If the shoelace is too wide or flimsy to poke through the holes, put one end of the shoelace or cord through a straw approximately 2 inches (5cm) in length and tape in place. This will give your child a nice firm end to put through the spool.
Pushing the cord through the holes around the center hole of the spool, rather than through the center hole, may be easier for your child as the surrounding holes are larger. But this may be determined by your child on his own as he experiments with lacing.
Tie one end of the cord with a knot to prevent the spools from slipping off.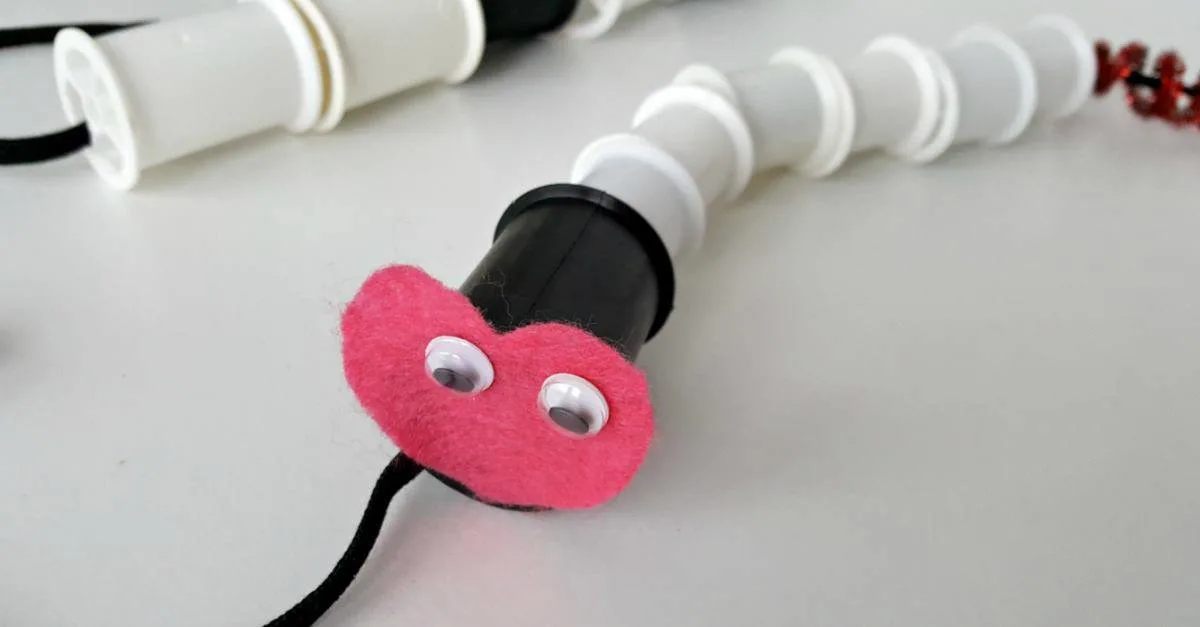 You can finish your wiggly worm with a felt heart shape face and craft eyes. Kids like nothing better than gluing googly eyes to their creations to make them into characters for pretend play.
You can make a tail by curling a glittery chenille stem around one finger and slipping it over the extra cord with the knot at the end of the worm.
This activity takes little preparation and few materials. Kids can have fun with lacing to create a new toy, or lace and unlace the spools many times to experiment with sizes and colors of spools. The possibilities are waiting to be discovered!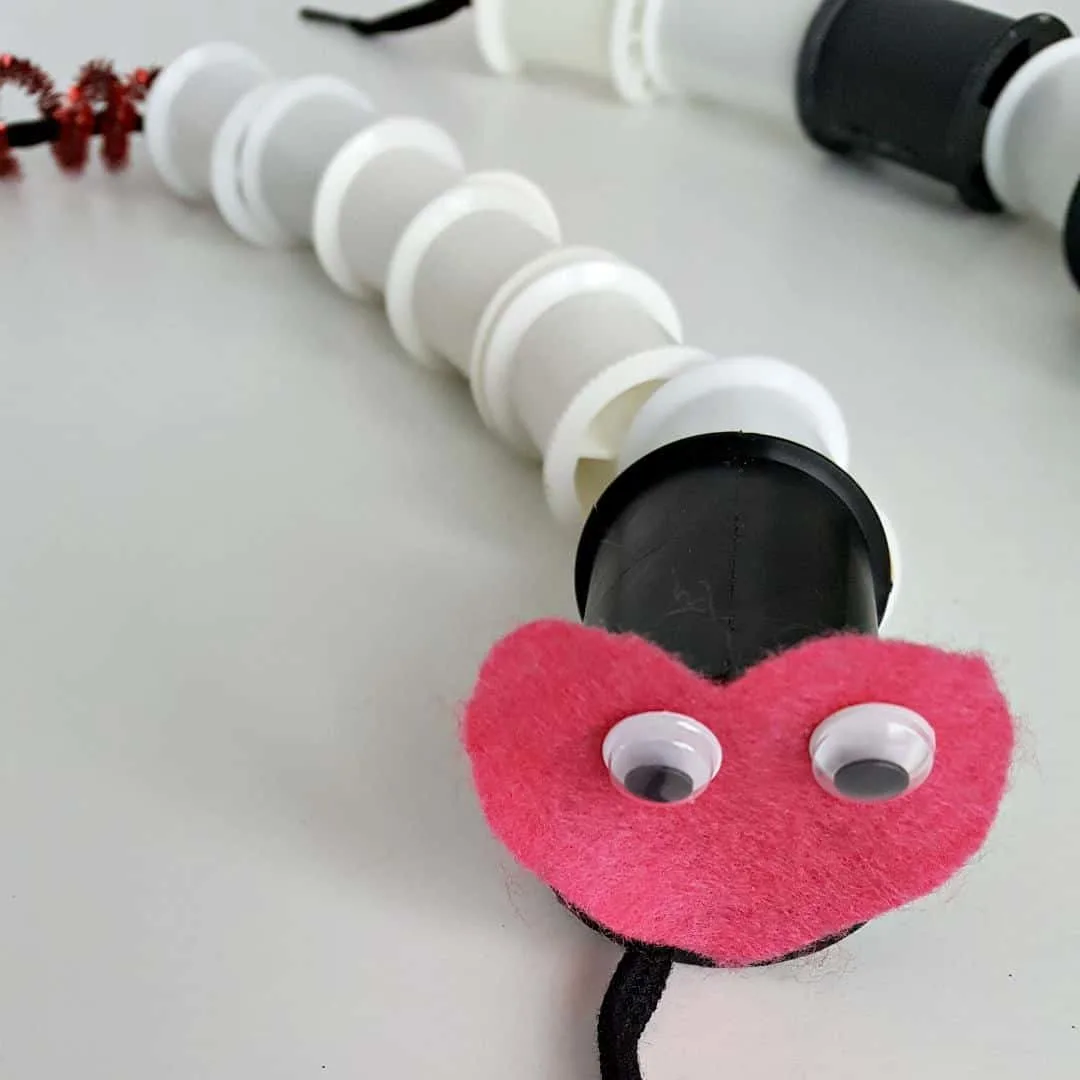 About the Author
Heather is a former preschool teacher and founder of preschooltoolkit.com, a website providing early learning resources for teachers and parents. She focuses on creating fun crafts and activities that engage developmental skills while promoting hands-on learning through play. Follow her on Facebook, Pinterest, Twitter, Instagram and Google+
More Toddler Activities!
If you want to keep your toddler busy makes sure you subscribe to our weekly newsletter and follow us on Facebook, Twitter, Instagram and Pinterest.
If you enjoyed this activity here are some more that you may enjoy:
30 + Valentine's Day Activities for Toddlers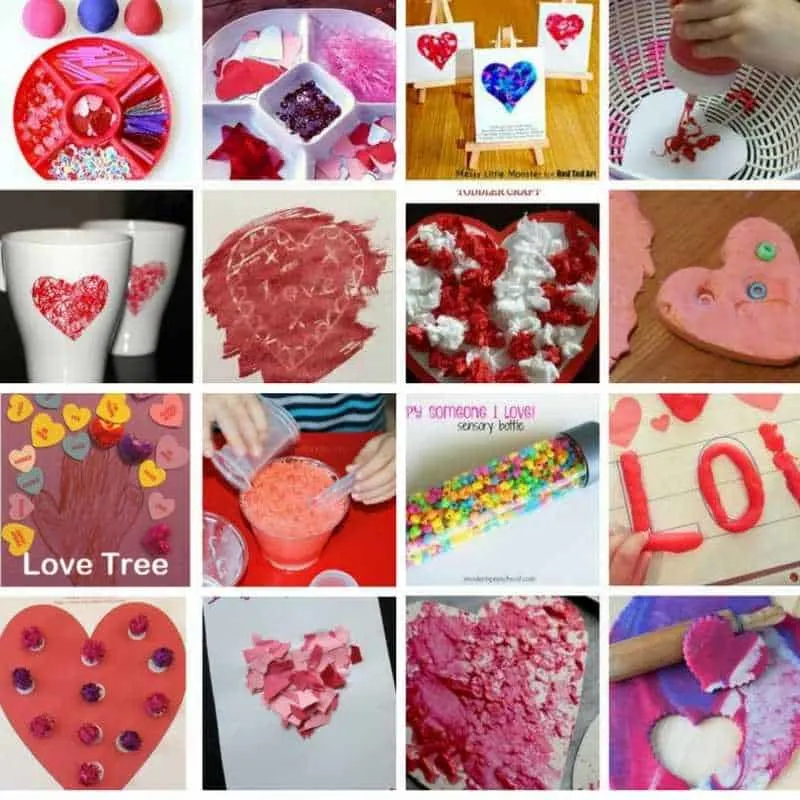 Paper Plate Crafts for Toddlers