This Toilet Tube Mummy is an easy Toddler Halloween Craft idea.
Toilet tubes or cardboard tubes are usually a resource that every family has close at hand.
This simple and effective Halloween Toilet Tube Mummy is a great way to use up some toilet rolls and only needs a few tickets of loo paper and some googly eyes.
Simple and effective craft time fun!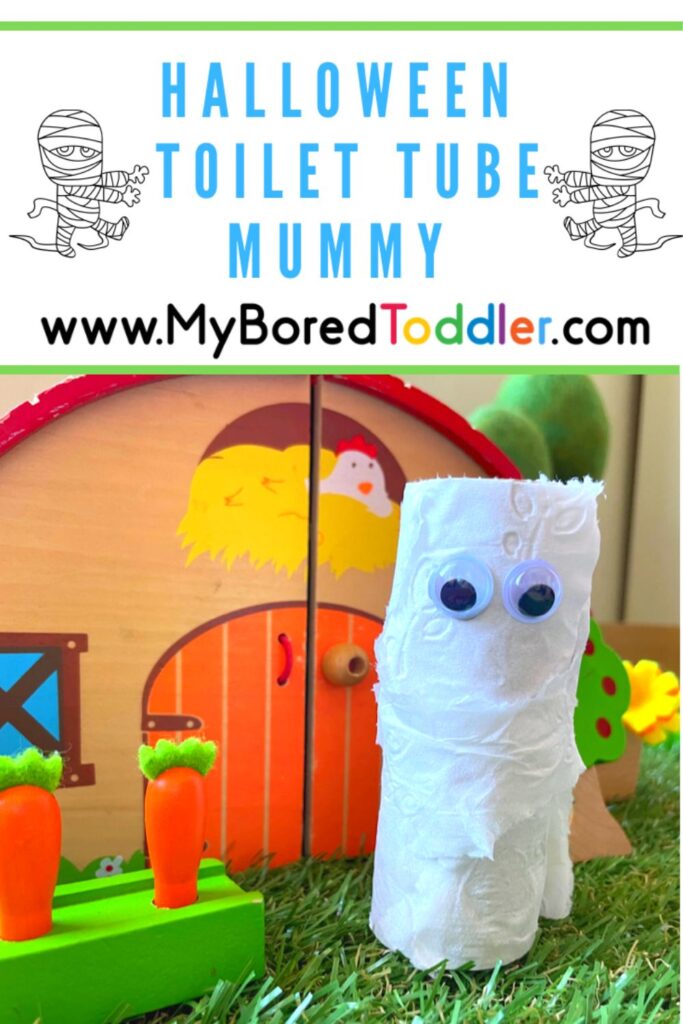 Halloween Toilet Tube Mummy Craft for Toddlers
Toilet paper acts differently when used in crafts compared to everyday copy paper.
This makes it an interesting material to add to our toilet tube craft. If you have a spare ten minutes to fill, this simple craft idea takes little time to set up, and you will have a cute Mummy puppet to add to your play in a jiffy.
The toilet paper is a little fiddly to work with. This makes it a great material to engage your child in developing their fine motor skills and hand-eye coordination.
Position the paper sections opposite their dominant hand to encourage your child to cross their midline -another important skill that can be developed while making their toilet tube mummy.
Reward perseverance and your toddler will have their very own DIY toy to remind them of how they didn't give up.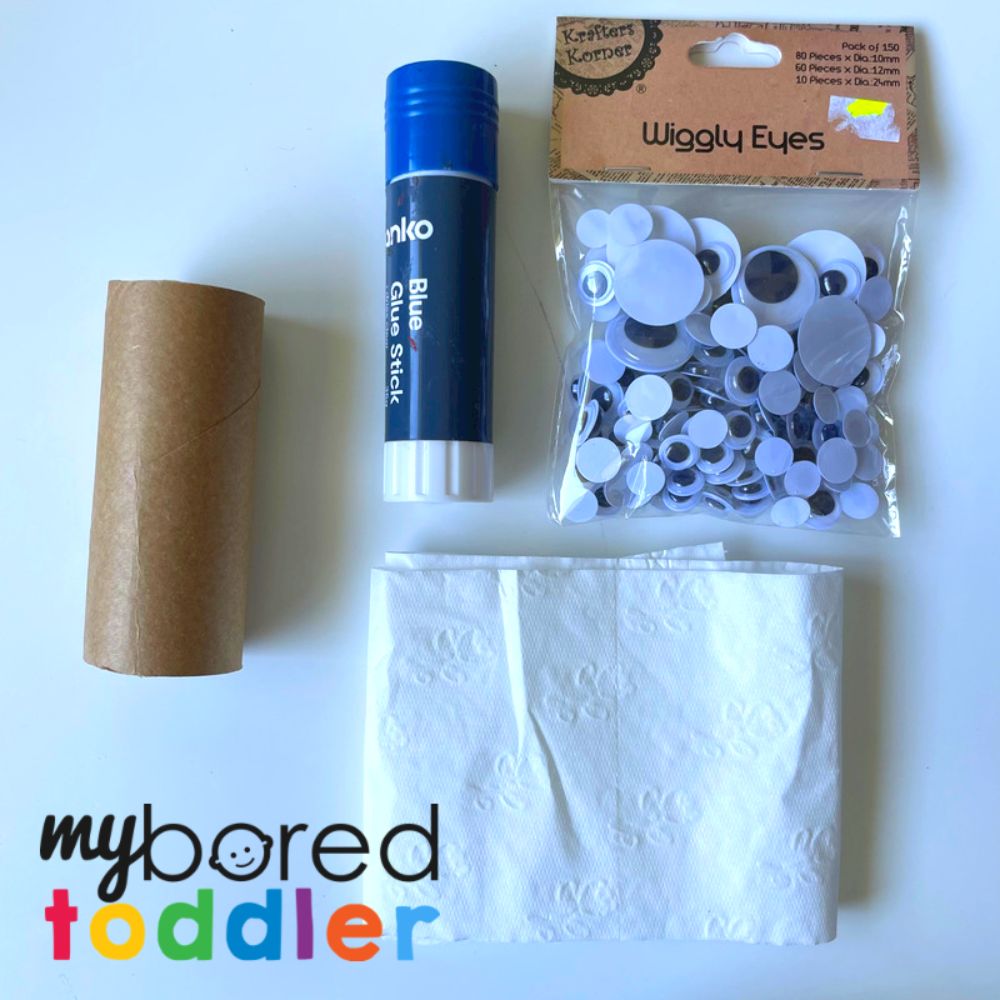 What you need to make a Halloween Toilet Tube Mummy:
We used toilet paper here to add another sensory element to our crafts. Toilet paper feels and behaves differently when compared to regular paper.
Feel welcome to swap this out with standard paper or newspaper if preferred.
How to make a Halloween Toilet Tube Mummy:
Creating a toilet tube mummy is a great introduction to toddler paper crafts.
To create a rustic look, tear the toilet paper into squares.
Apply glue to a section of the toilet tube.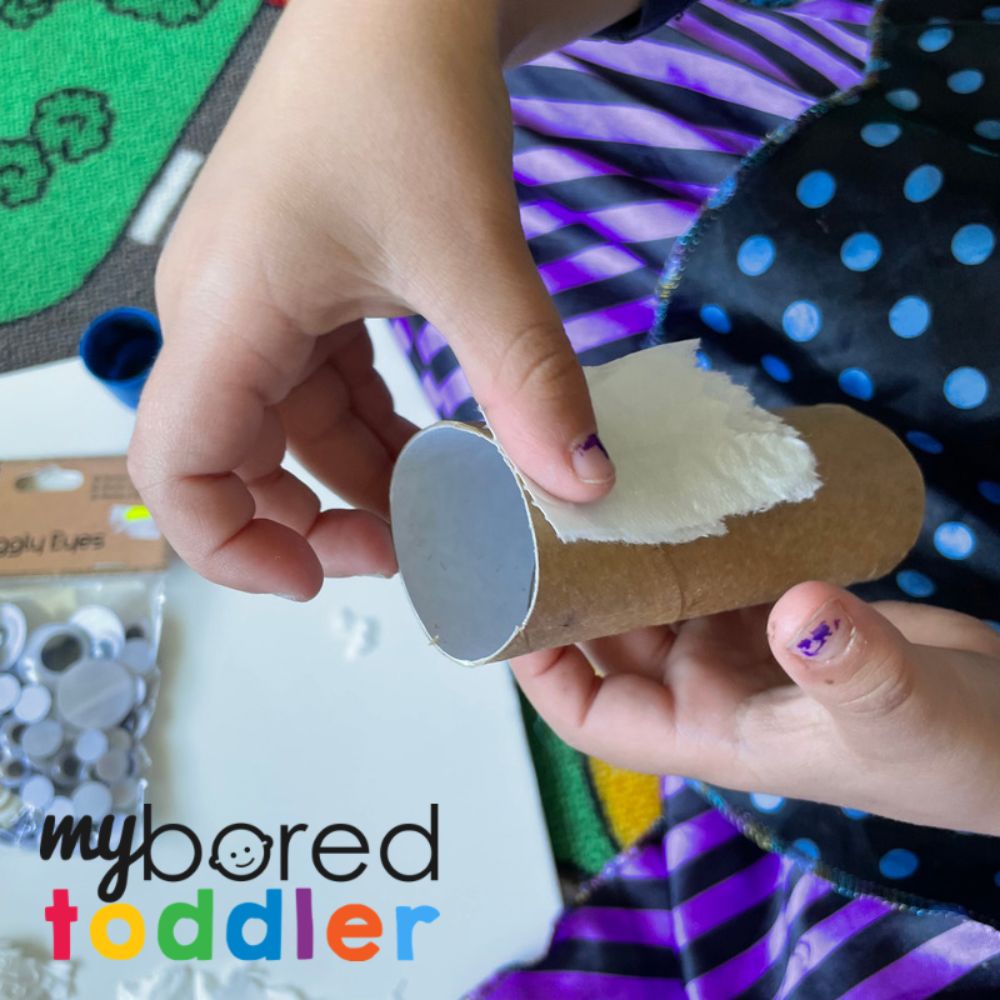 Press on some toilet paper squares to cover the glued area before moving to the next section.
Working in sections is a great way of breaking up the craft to keep toddlers engaged and prevents sticky fingers.
Repeat applying glue and the toilet paper squares until the entire tube is covered in toilet paper.
Once complete, apply glue to the googly eyes and position them on the toilet tube. Applying glue to the eyes is much more efficient than toilet paper bunches and lifts easily.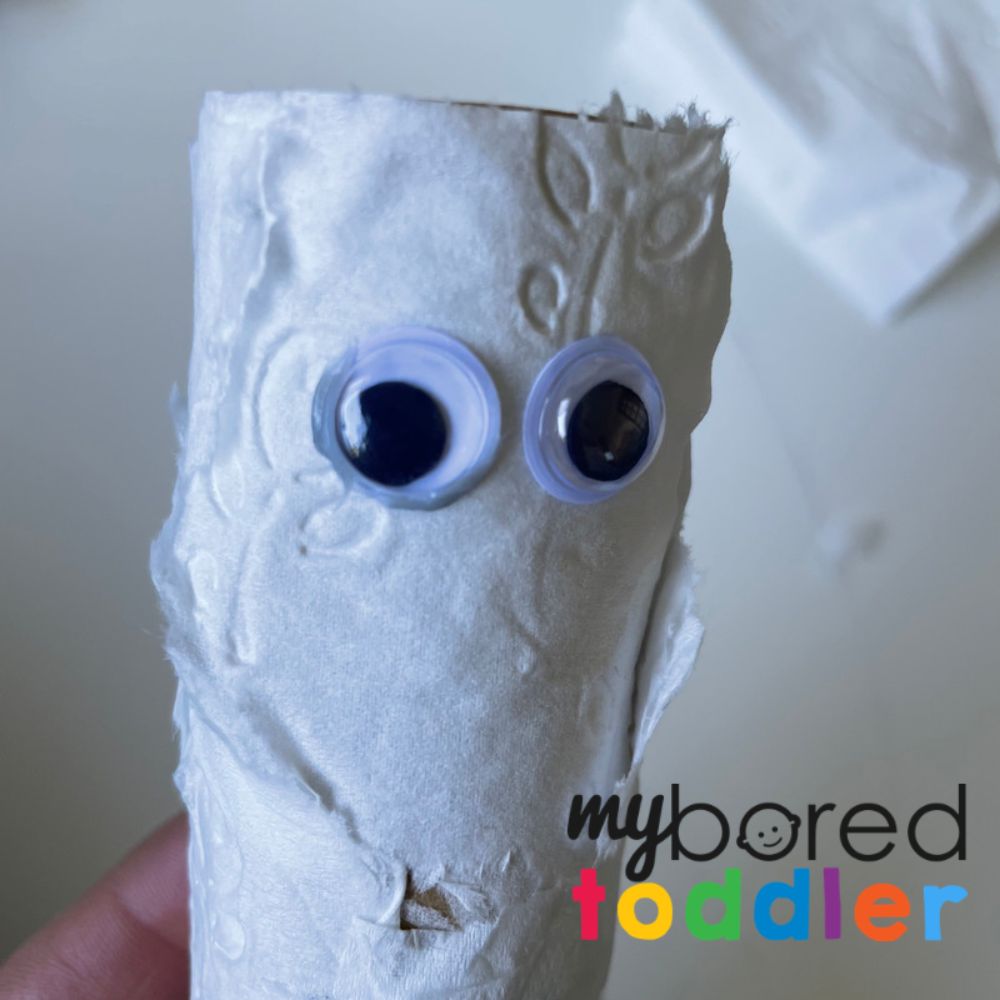 Once dry, you can use your Halloween toilet tube mummy to decorate a seasonal table or make many to thread together and make bunting. Why not make other Halloween crafts and bundle them together to create a festive decoration feast?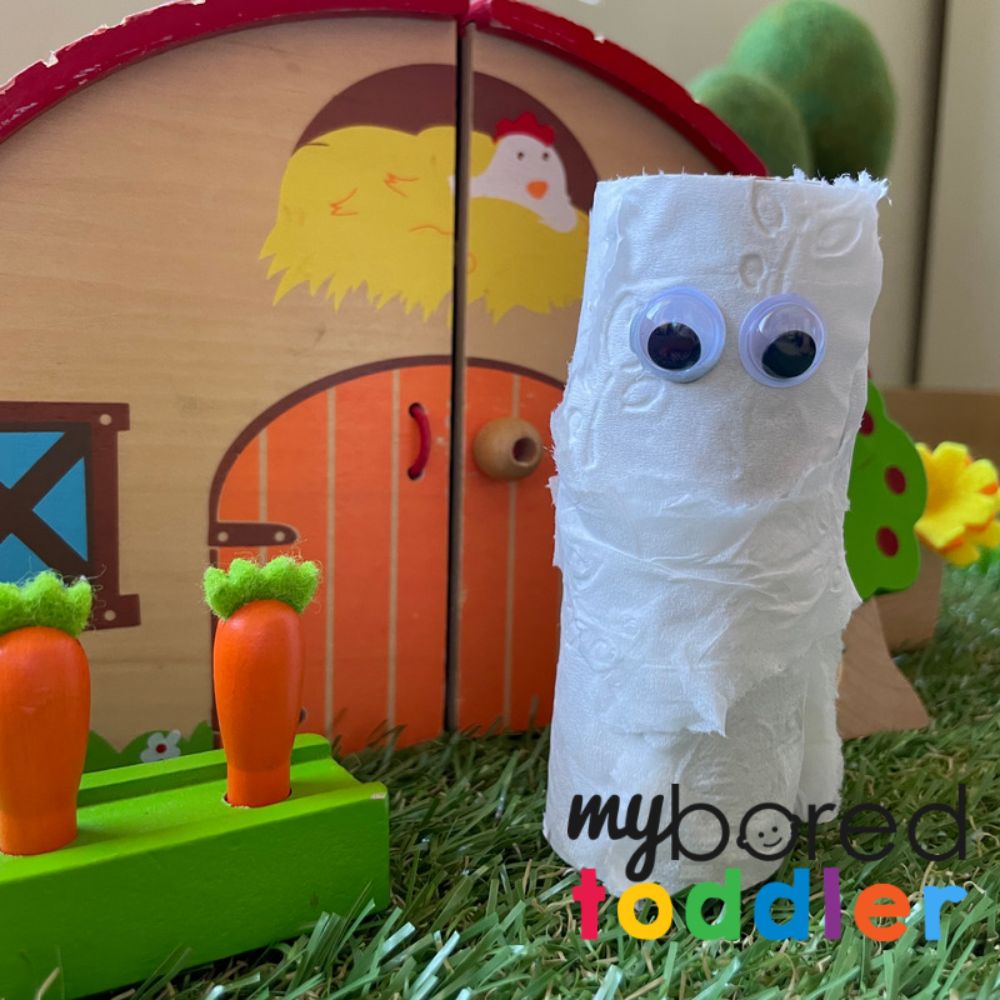 For more fun toddler activity ideas, why not join our Facebook Group or follow us on Instagram – follow @myboredtoddler and use #myboredtoddler.
SOME MORE FUN TODDLER ACTIVITY IDEAS YOU MIGHT ENJOY ARE: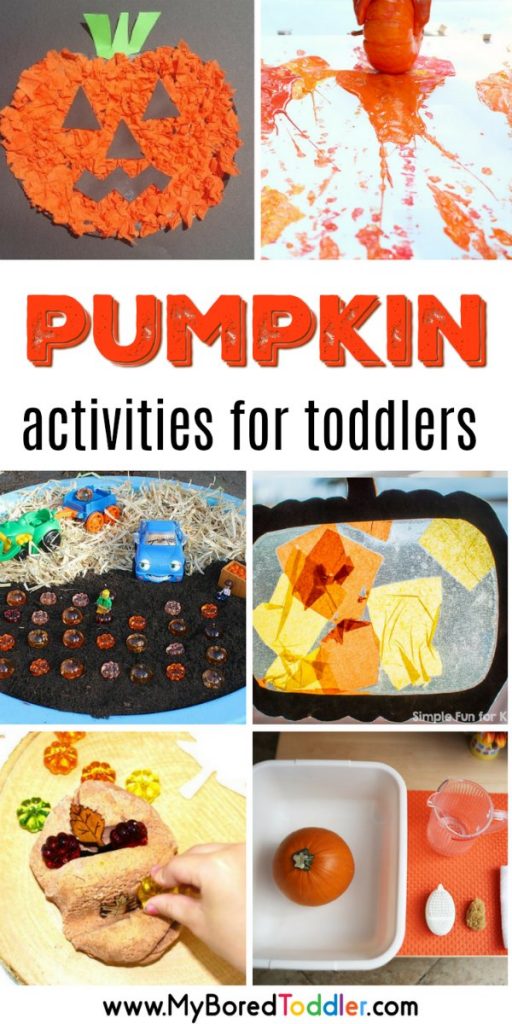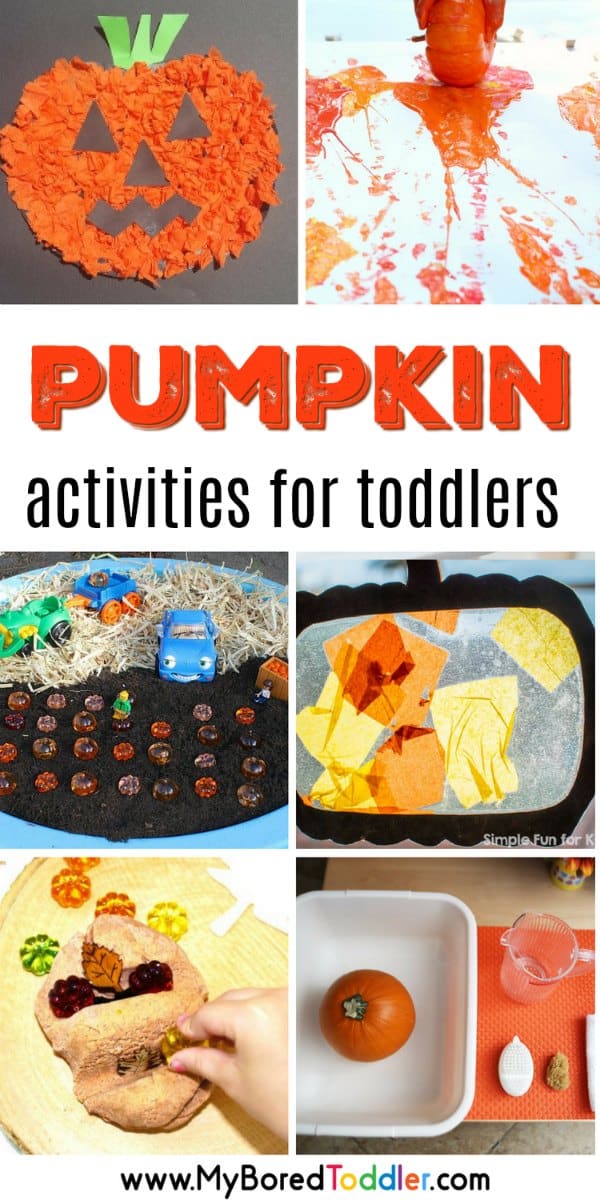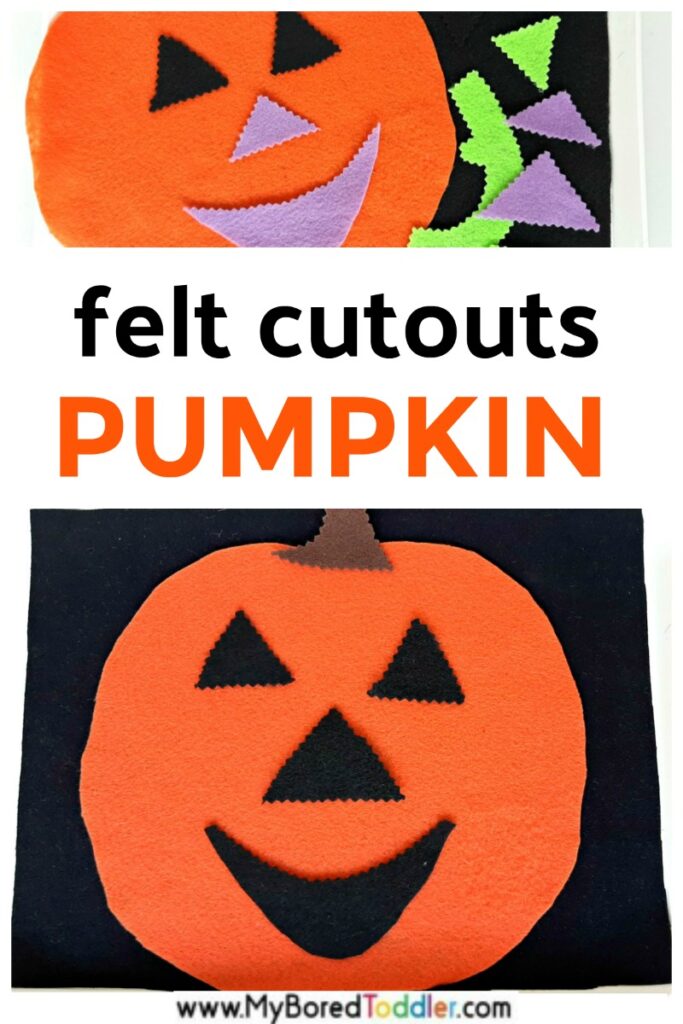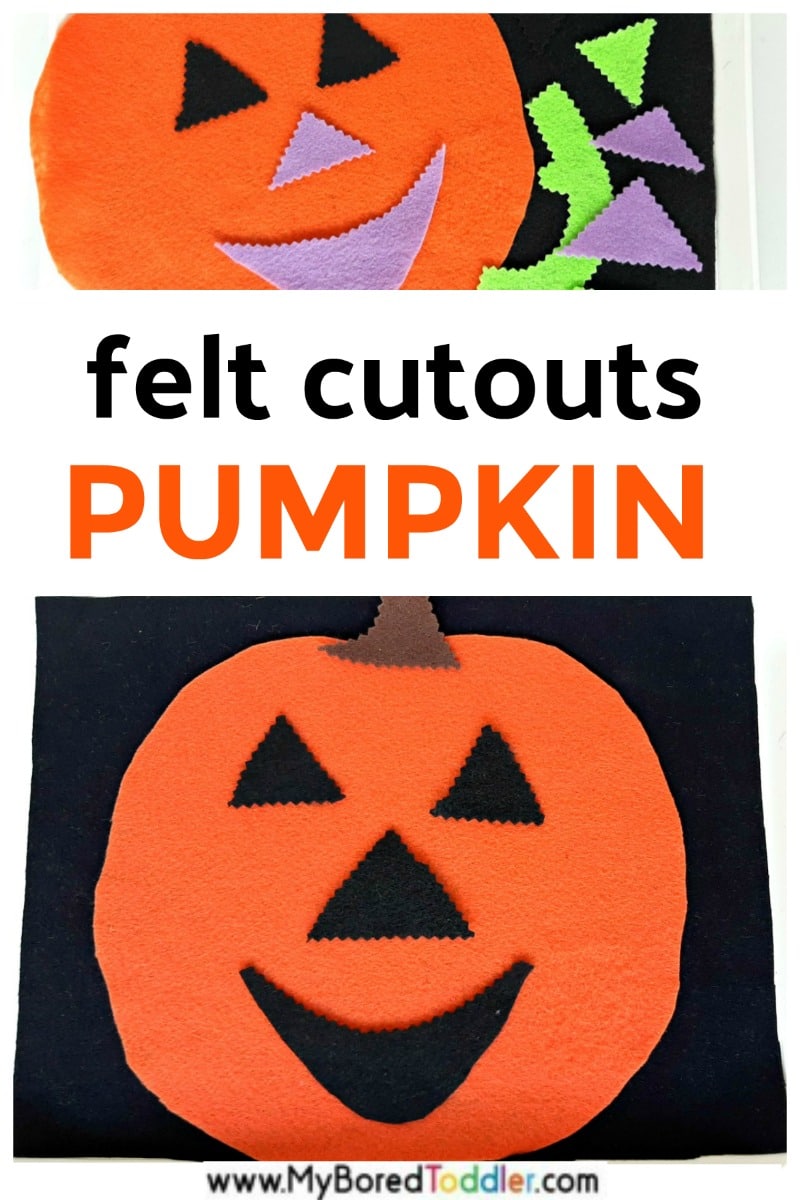 About the Author
Dani is a busy stay-at-home Mum of 3 and an early childhood teacher in training who is passionate about play-based learning throughout early childhood. For educational play ideas that you can do at home and parenting tips visit Play Inspired Mum Check her out on Instagram andFacebook