This murky pebble rescue is a great toddler water play activity idea.
Water play is a solution to so many toddler issues.
If your toddler is cranky, add water. If your toddler is overstimulated, add water.
Witching hour? Add water.
Water play is a great go-to for grounding and resetting emotions. This murky pebble rescue is a quick activity to set up that takes regular water play to another level.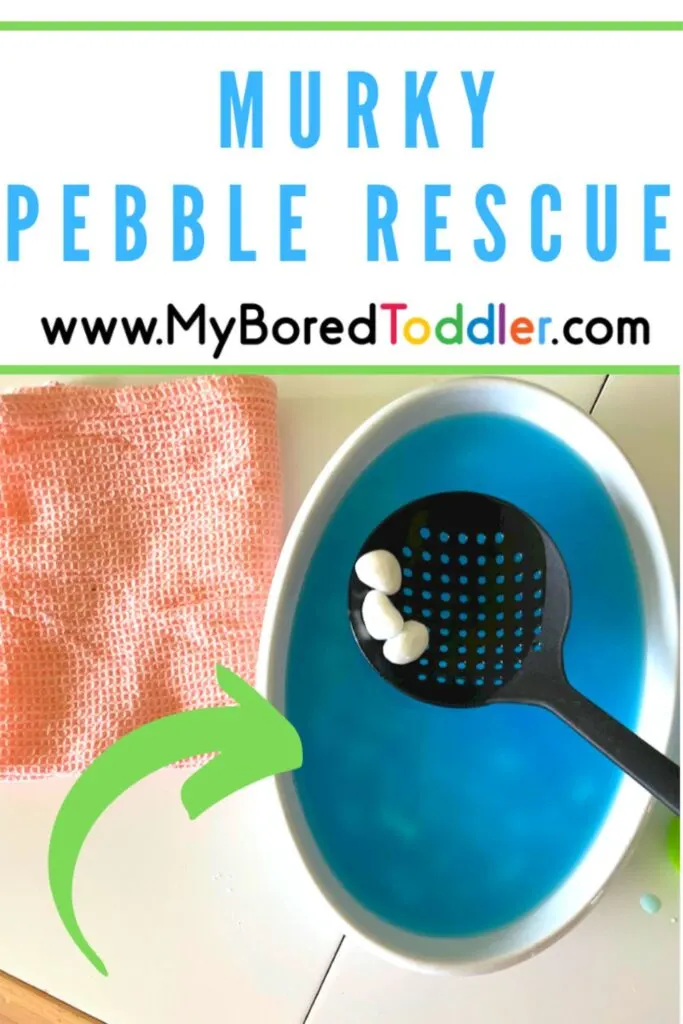 Murky Pebble Rescue Water Play Activity
Coloured water has been a go-to on our water play itinerary for years. Only recently have we discovered the extra fun a sprinkle of magic powder can bring.
The transparent water suddenly goes cloudy, keeping the trinkets below the surface a secret from wondering eyes.
Typically the first thing the kids do is reach into the pot and start exploring with busy hands.
To keep things interesting, we added one of our favourites from the kitchen to make a very simple transfer activity. The slotted spoon was perfect for lifting pebbles from below the surface of the murky water.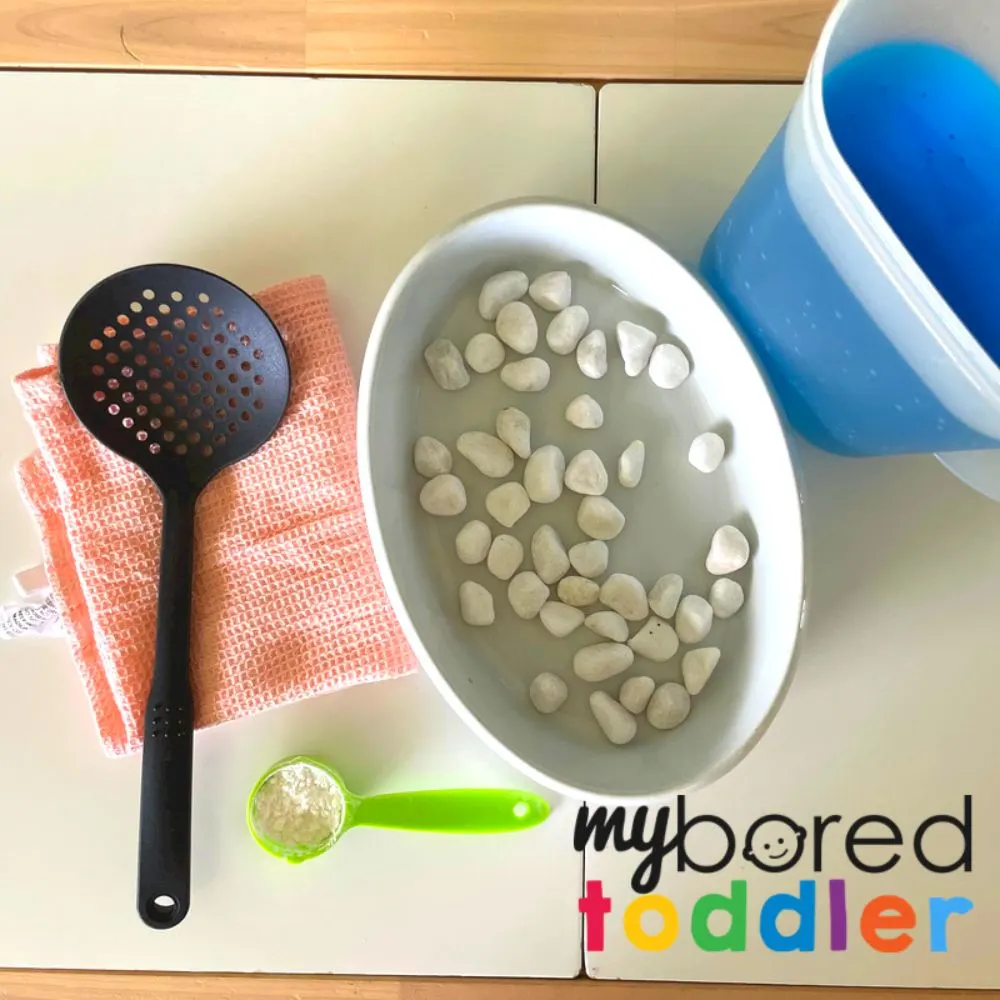 What you need to create a murky pebble rescue:
This is a versatile activity. If you don't have pebbles, look around to see what else you have on hand that may work.
Remember that we would like these treasures to sink out of sight in the murky water. Just to let you know... Lego floats. Tried that one already!
We sued a baking dish as the weight of the dish kept it stable and from tipping over.
If you have a toddler that may try and lift the dish, a baking tray could be a safer alternative. We wouldn't like any toes being hurt from a baking dish being dropped onto them.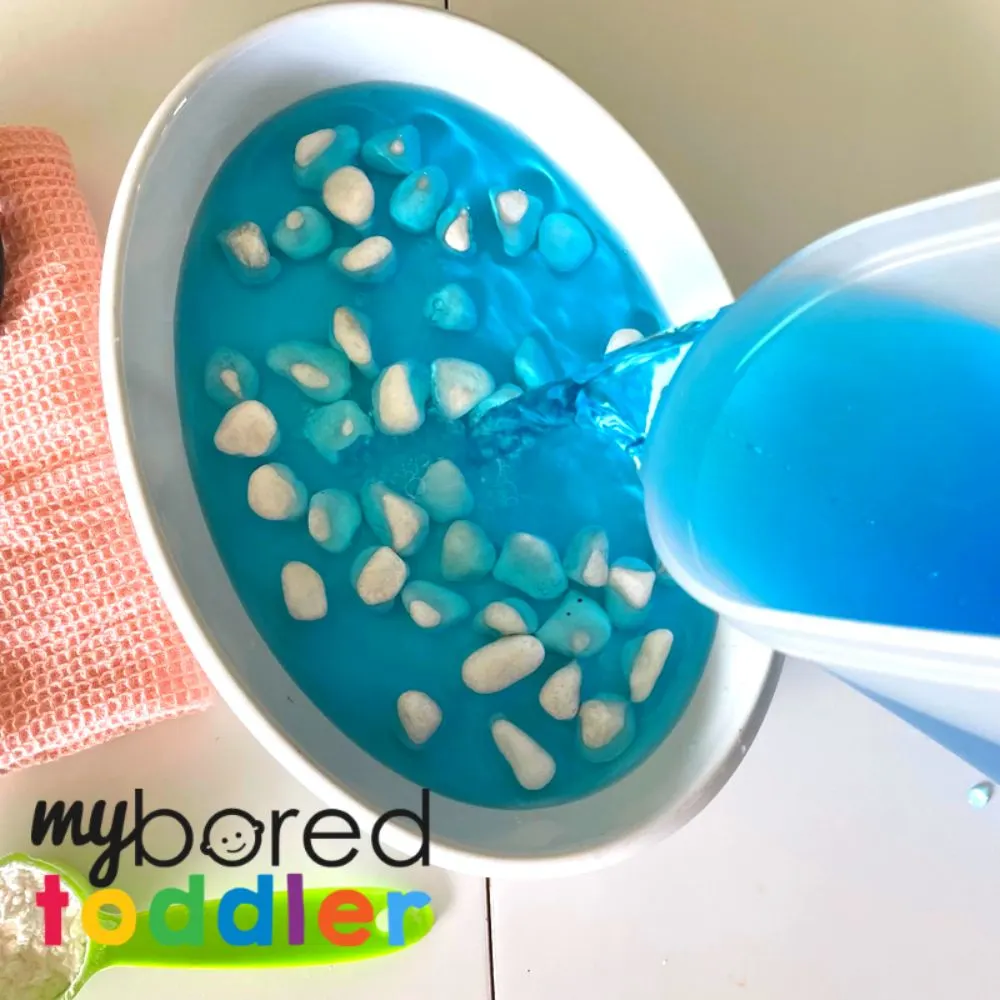 How to set up a murky pebble rescue:
This water play activity really is very easy to set up. You can go from gathering your resources to play within a few moments.
Add your pebbles to your baking dish.
Add your food colouring to the water. Less colour can mean cleaner hands. If you do end up being a bit generous and your child's hands take on the colour, have them help clean the dishes with some dish soap in the water.
Usually, that's enough to lift the colour from our hands.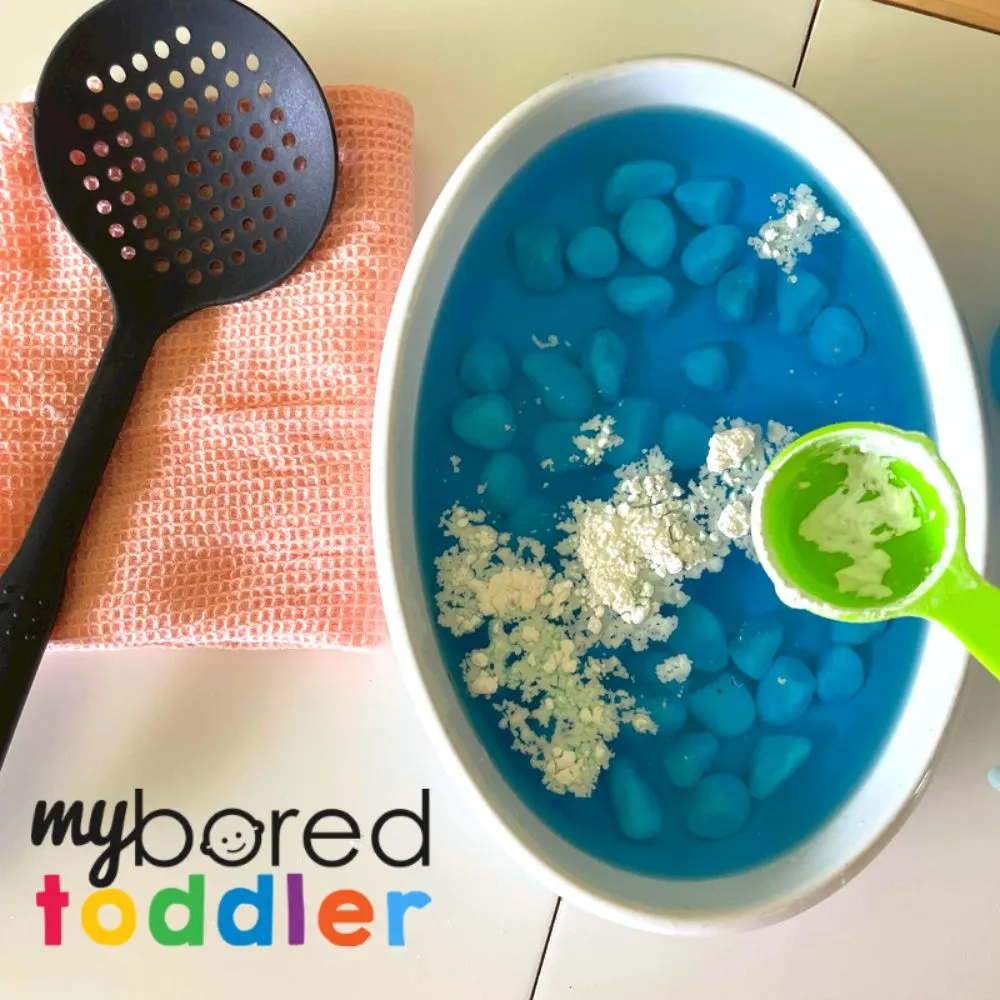 Sprinkle in the corn flour and run your hands through the water until it has mixed in.
This is an opportunity to ask your toddler how the water is different and to watch the colours swirl. As the corn flour settles, a gentle nudge of the dish can send a ripple effect across the surface of the water.
After some observation, it's time to start scooping!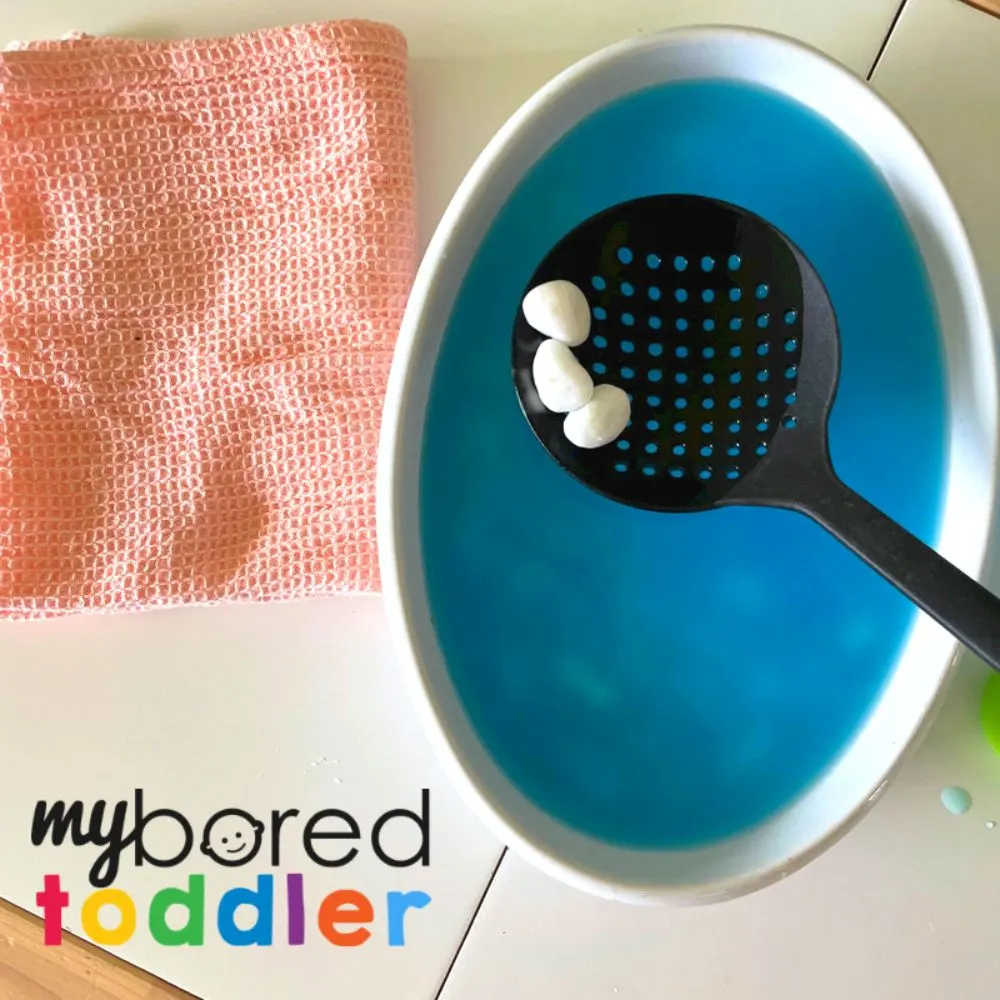 Use the slotted spoon to scoop the pebbles out of the water and place them on the tea towel.
With some clever positioning, this activity can be useful for practicing crossing the midline.
Place the tea towel opposite to your child's dominant hand to encourage them to move their hand across their body.
This murky pebble rescue to easy to set up and can be a great grounding activity for your toddler.
Use larger river stones to reduce the chance of choking and it can be a great object permanence activity for your baby too!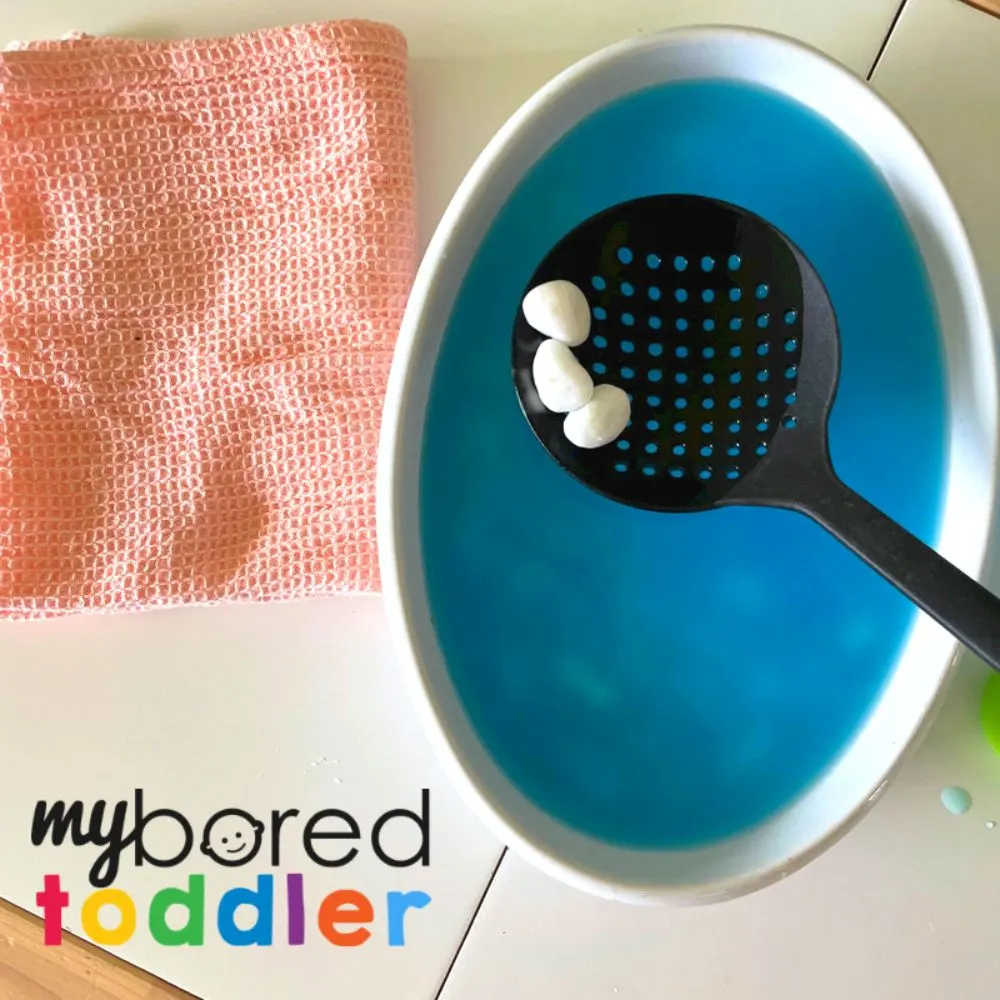 For more fun toddler activity ideas why not join our Facebook Group or follow us on Instagram – follow @myboredtoddler and use #myboredtoddler.
SOME MORE FUN TODDLER ACTIVITY IDEAS YOU MIGHT ENJOY ARE: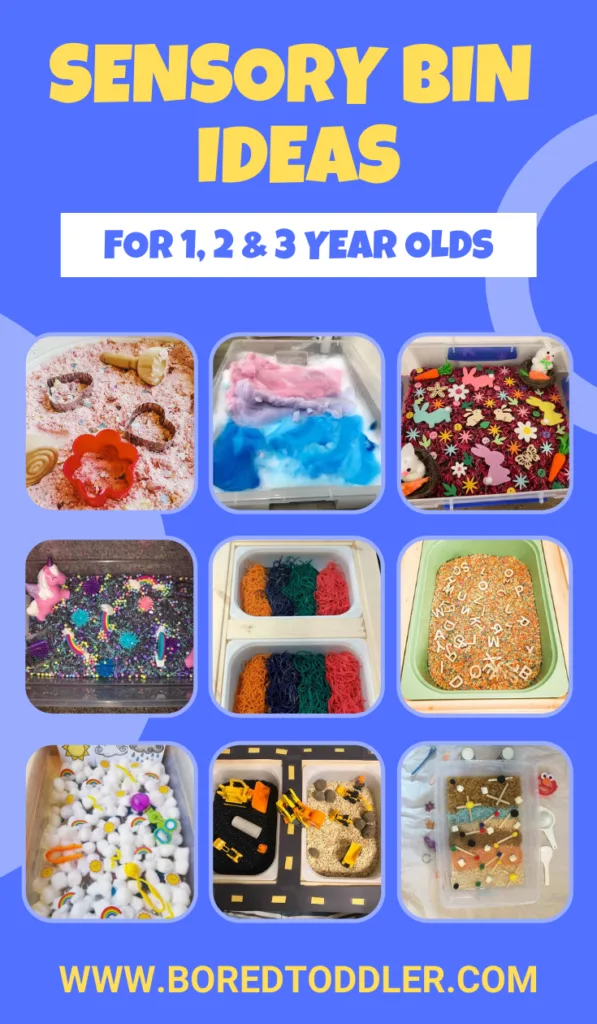 About the Author
Dani is a busy stay-at-home Mum of 3 and an early childhood teacher in training who is passionate about play-based learning throughout early childhood. For educational play ideas that you can do at home and parenting tips visit Play Inspired Mum Check her out on Instagram and Facebook