Toddlers and dinosaurs are such a great mix! These frozen dinosaur eggs are a quick toddler dinosaur activity to set up and have in the freezer for another day.
Whether it be to fill in a scheduled activity or as a grounding activity for the witching hour, these dino eggs are a fun way to entertain your toddler!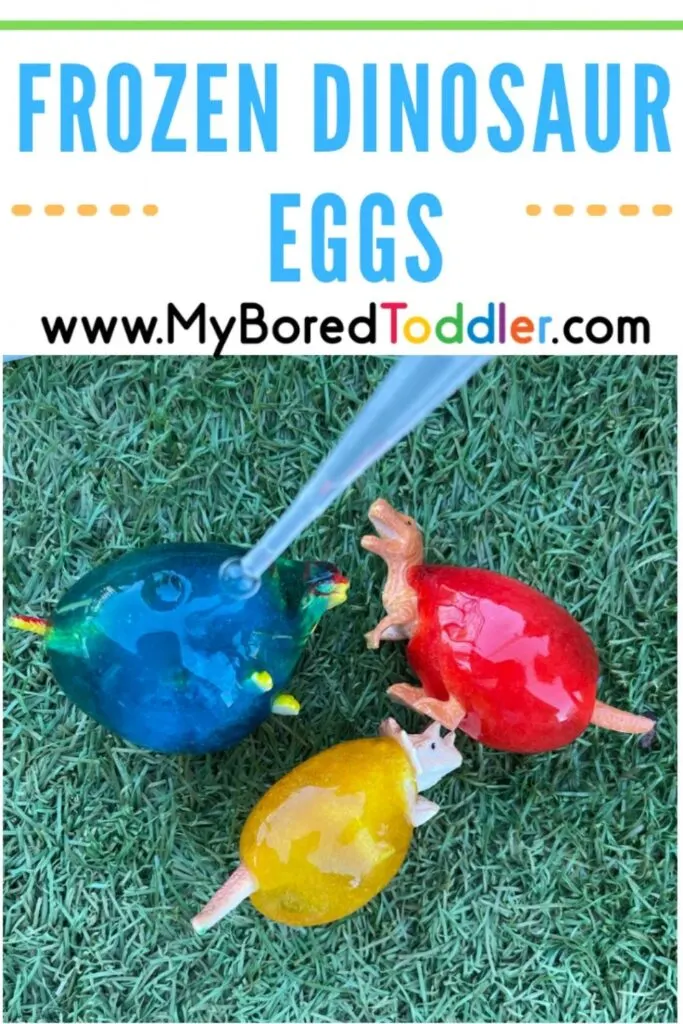 Frozen Dinosaur Eggs
Sensory play need not be something to shy away from. These Frozen Dinosaur Eggs are easy to make ahead for simple dinosaur sensory play set up in minutes.
Teamed up with some pipettes and you have an engaging fine motor activity to do at home with your toddler.
What you need to make Frozen Dinosaur Eggs:
I chose to colour our eggs blue, red and yellow. The goal was to experiment with melting different primary colours together to see which secondary colours we could create.
For less mess sensory play, leave them uncoloured. Your frozen dinosaur eggs will still look amazing and there will be no concern for coloured fingers being loose in the house!
How to make Frozen Dinosaur Eggs:
These dinosaur eggs are so simple to make and kids really do love them!
Simply open the balloon as wide as possible before slipping the dinosaur inside. If you place a few fingers into the opening of the balloon and work your way below the, shall we call it the neck of the balloon, the balloon can be opened much wider.
Mind that pointy tails and feet aren't putting too much tension on the rubber. Position the balloon around the toy, to reduce the likeness of the rubber being pierced.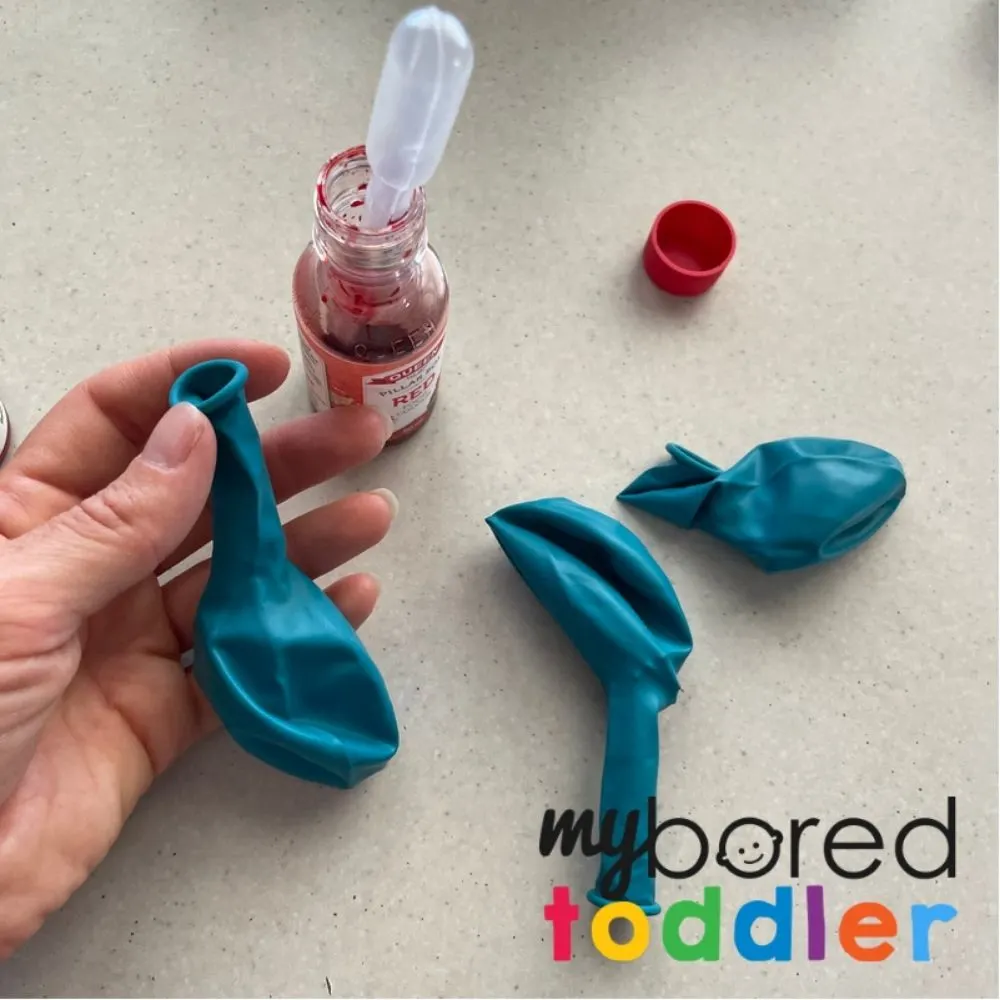 If you are using food colouring, add a couple of drops into the balloon.
Fill the balloon with water before tying it off, much the same way if it were filled with air.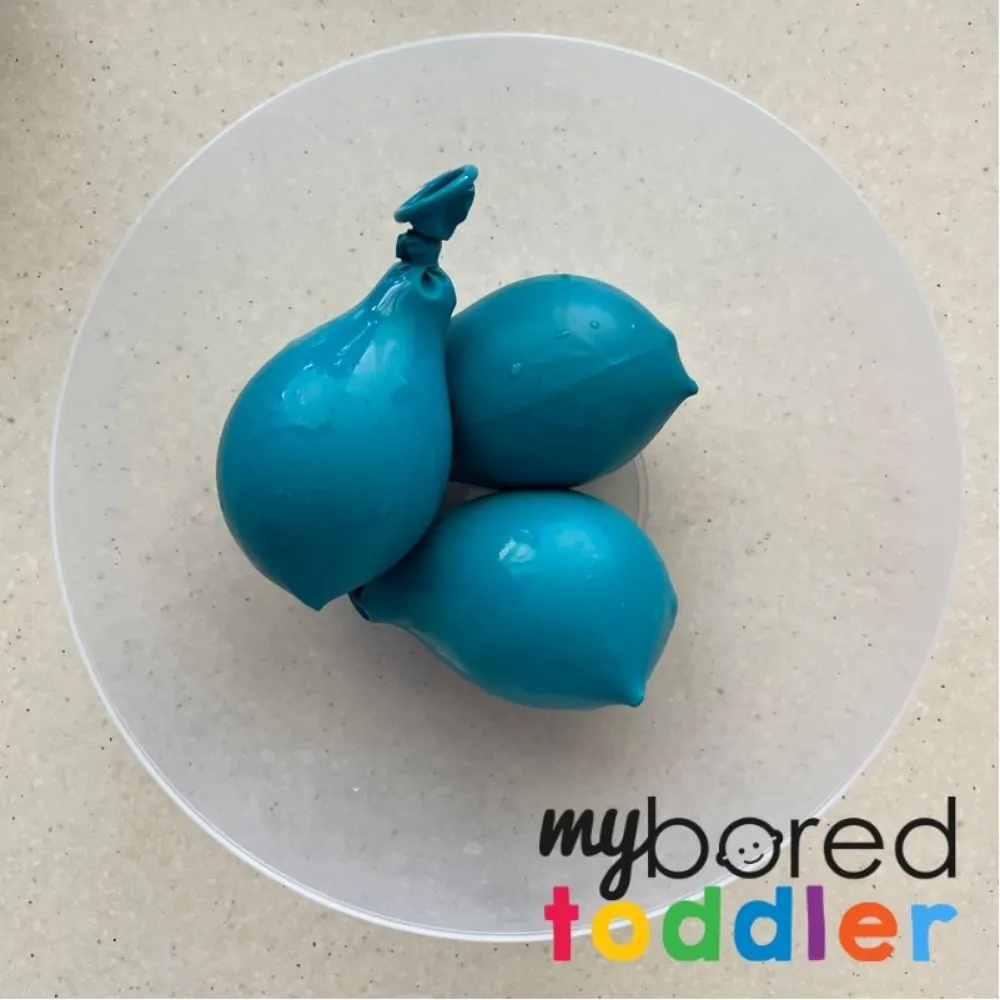 Place the balloon into your freezer until hard. We had ours in for around 6 hours before they were frozen solid.
Remove the balloon by piercing the rubber and pulling it from around your frozen dinosaur egg. I gave this challenge to my children. They loved trying to spot the dinosaur that was concealed behind the rubber as they were trying to slip it from around the egg.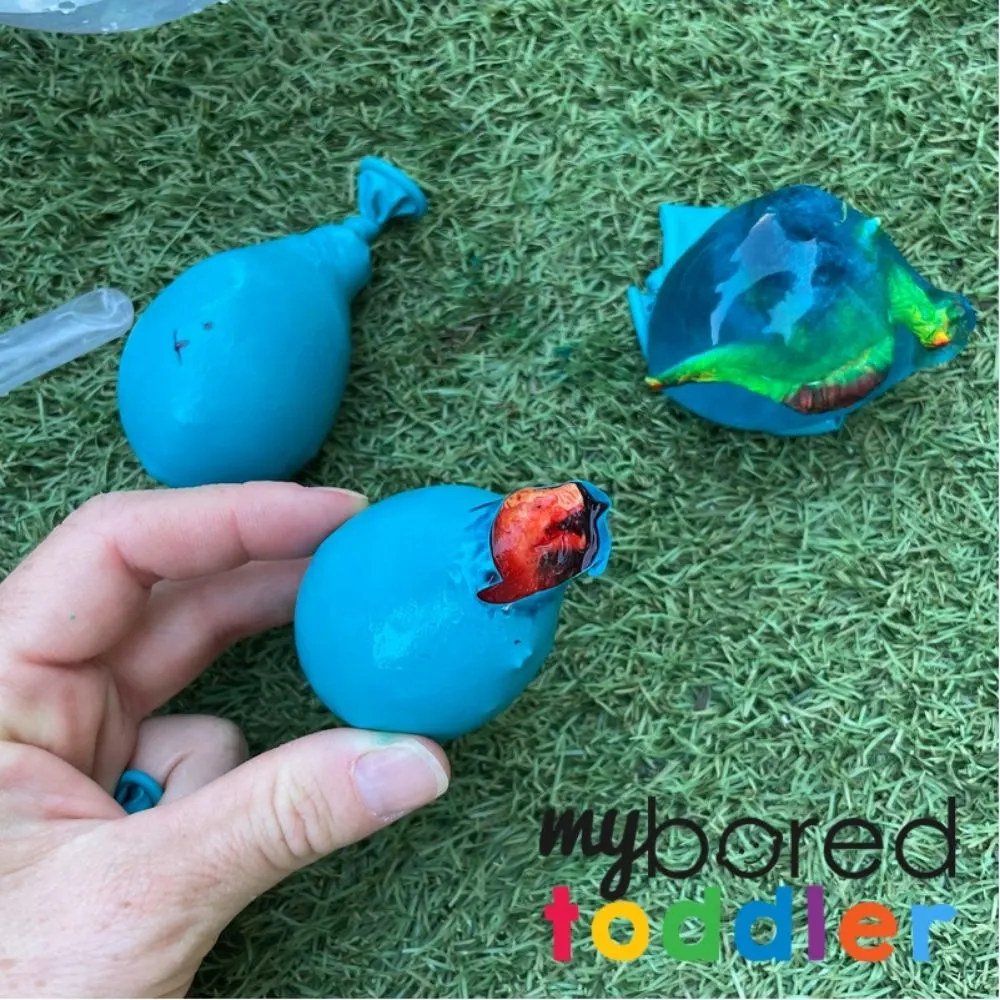 Teamed up with a bowl or warm water and some pipettes, the children were busy compressing the pipettes before watching the water stream in as they relaxed their hold. They then squeezed the water over their eggs to hatch their dinosaurs.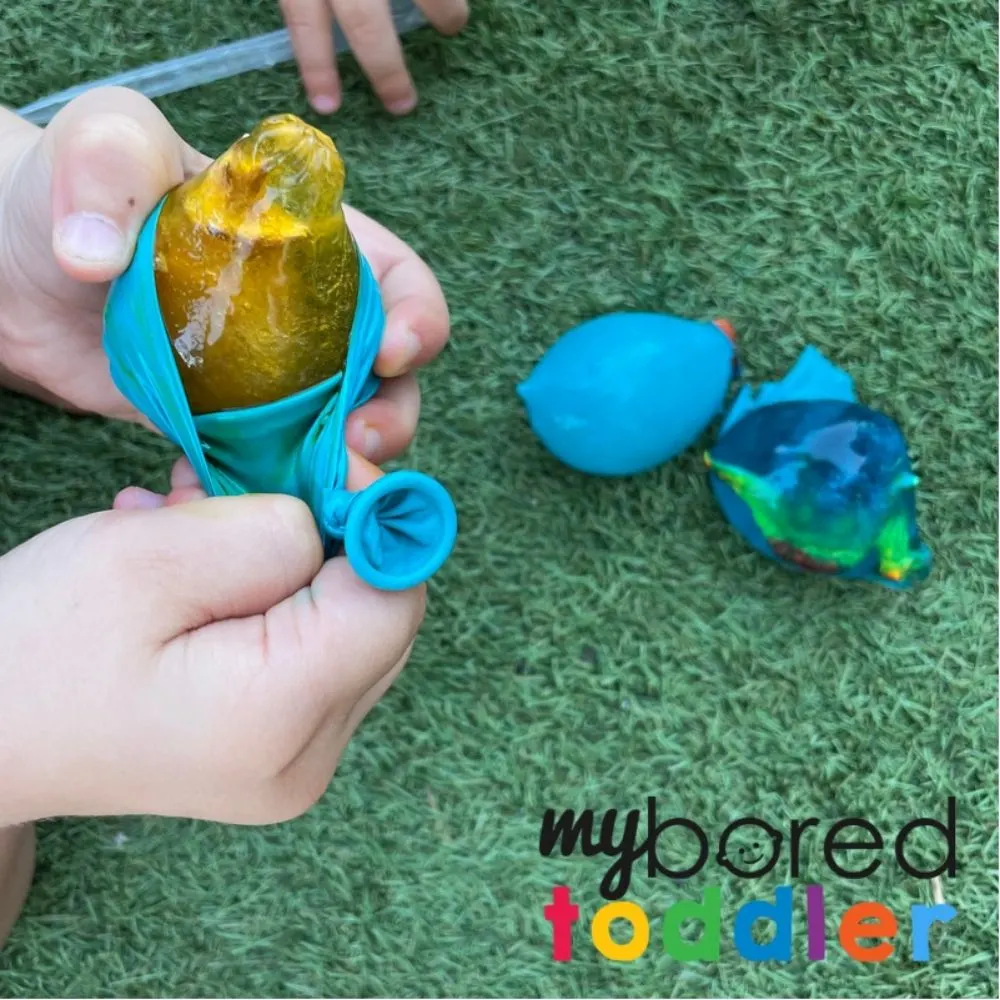 The dinosaur eggs ended up bobbing about in the water. As the eggs melted the water took on the colours. The girls loved watching the colours swirl together. Mr 16 months loved throwing them just as much!
The girls were then busy racing each other to see who could hatch their dinosaur first. Fingers were squeezing those pipettes like it was no-ones business!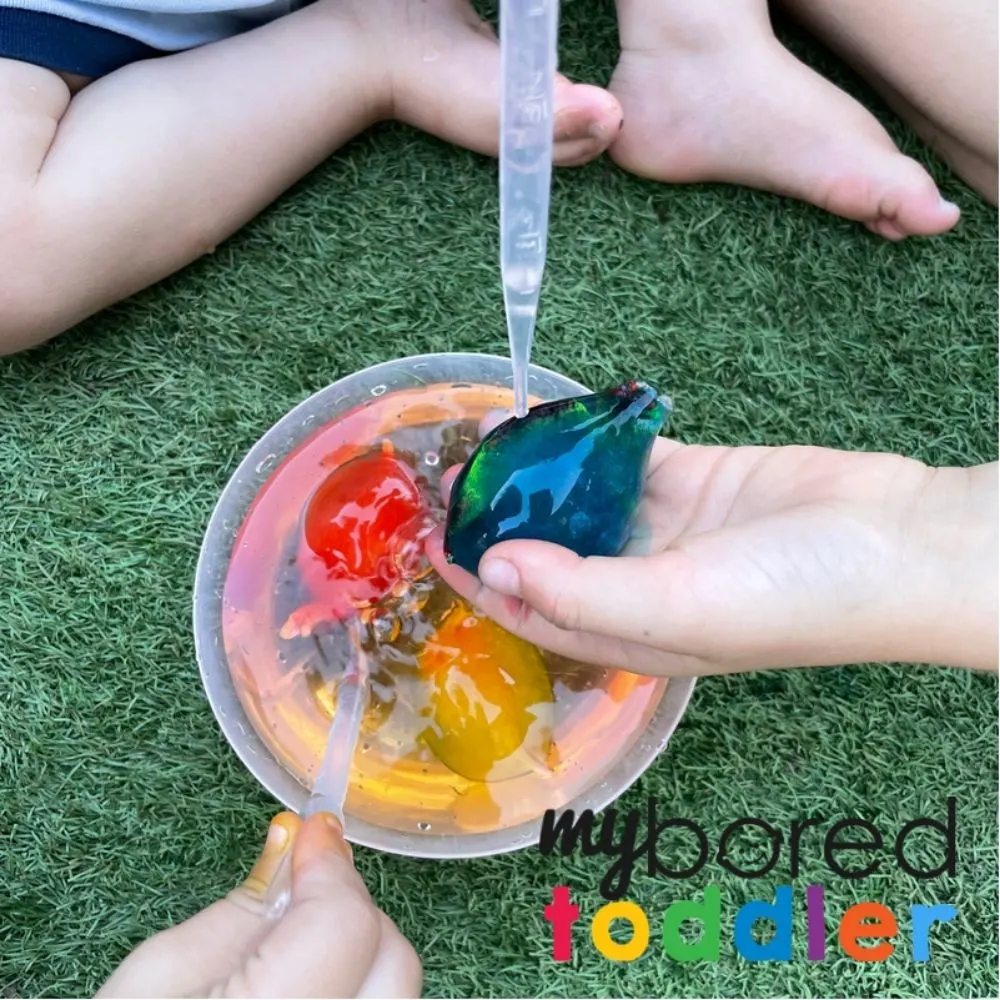 These frozen dinosaur eggs were a hit across the table. All three loved hatching out the dinosaurs. They have already put their orders in for more! I'm wondering what would happen if I mixed a little corn flour into the mix to make them a little opaque.
What else could you add to your eggs?
For more fun toddler activity ideas why not join our Facebook Group or follow us on Instagram – follow @myboredtoddler and use #myboredtoddler.
SOME MORE FUN TODDLER ACTIVITY IDEAS YOU MIGHT ENJOY ARE:
Dinosaur Activities for Toddlers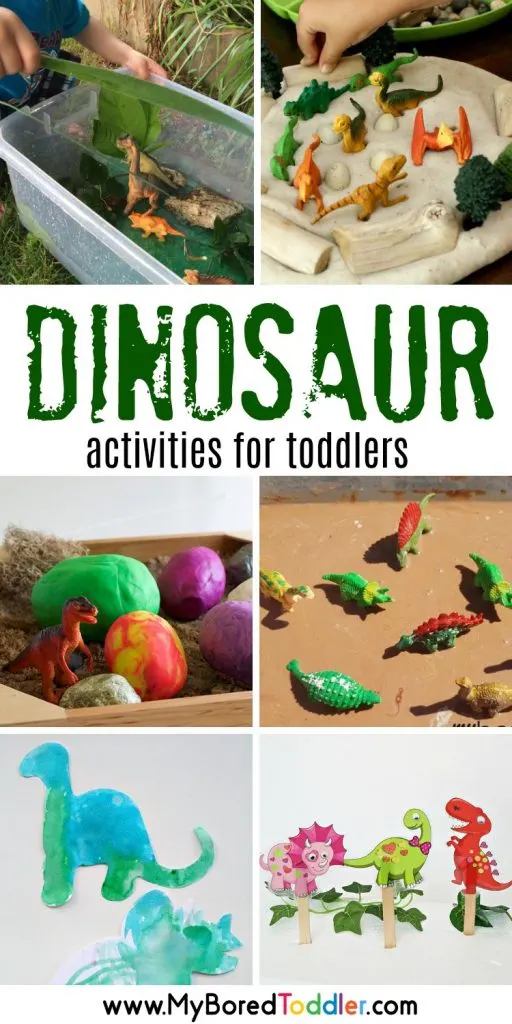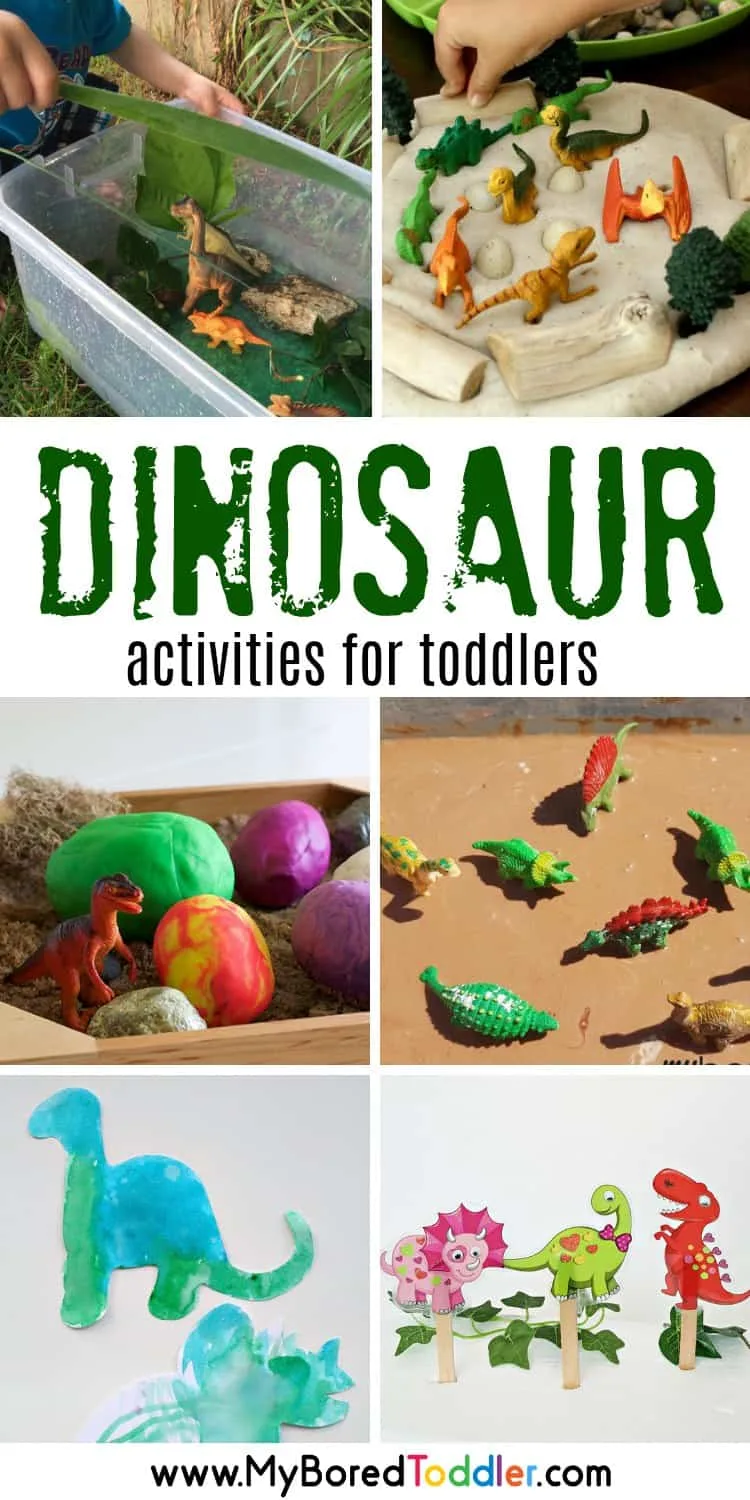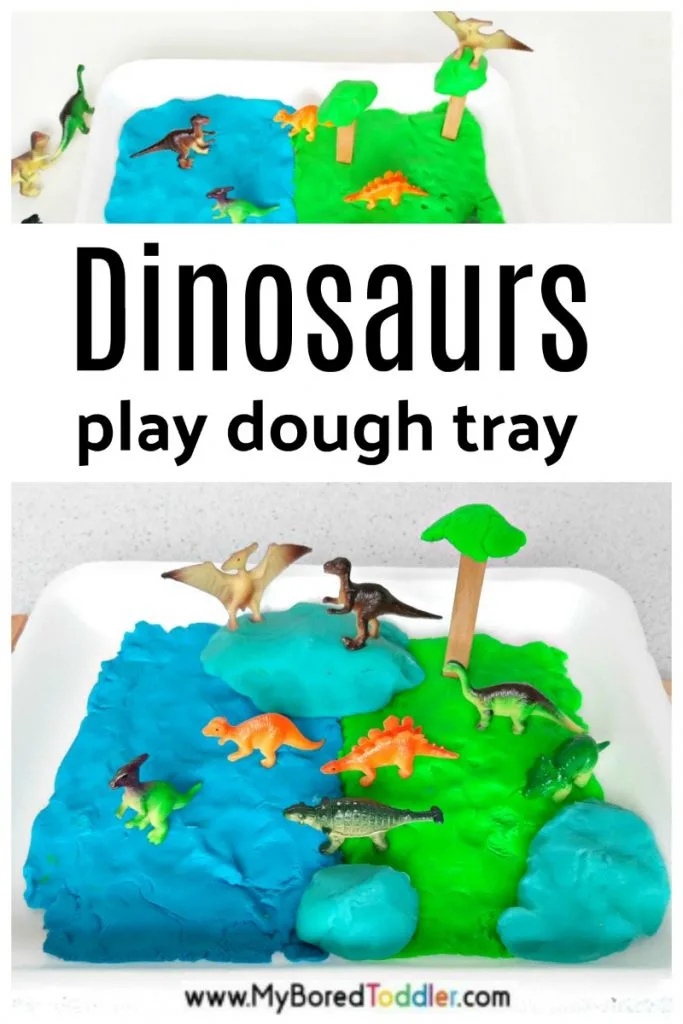 About the Author
Dani is a busy stay-at-home Mum of 3 and an early childhood teacher in training who is passionate about play-based learning throughout early childhood. For educational play ideas that you can do at home and parenting tips visit Play Inspired Mum Check her out on Instagram andFacebook