How inviting does this dinosaur small world look! Create a small world environment with play dough where dinosaurs can stomp and roar. This play dough activity is easy to set up and so much fun for toddlers.

Dinosaur Small World Play with Playdough
A dinosaur theme invites awesome pretend play and we have been enjoying lots of dinosaur themed activities this week. Toddlers can role-play dinosaurs themselves, which is great for engaging large motor skills, or they can create a small world with mini dinosaur figures, which supports fine motor skills.
If you want to match this activity to a book you can see our favorite toddler dinosaur books here. A good one for this activity is Noisy Dinosaurs - available HERE.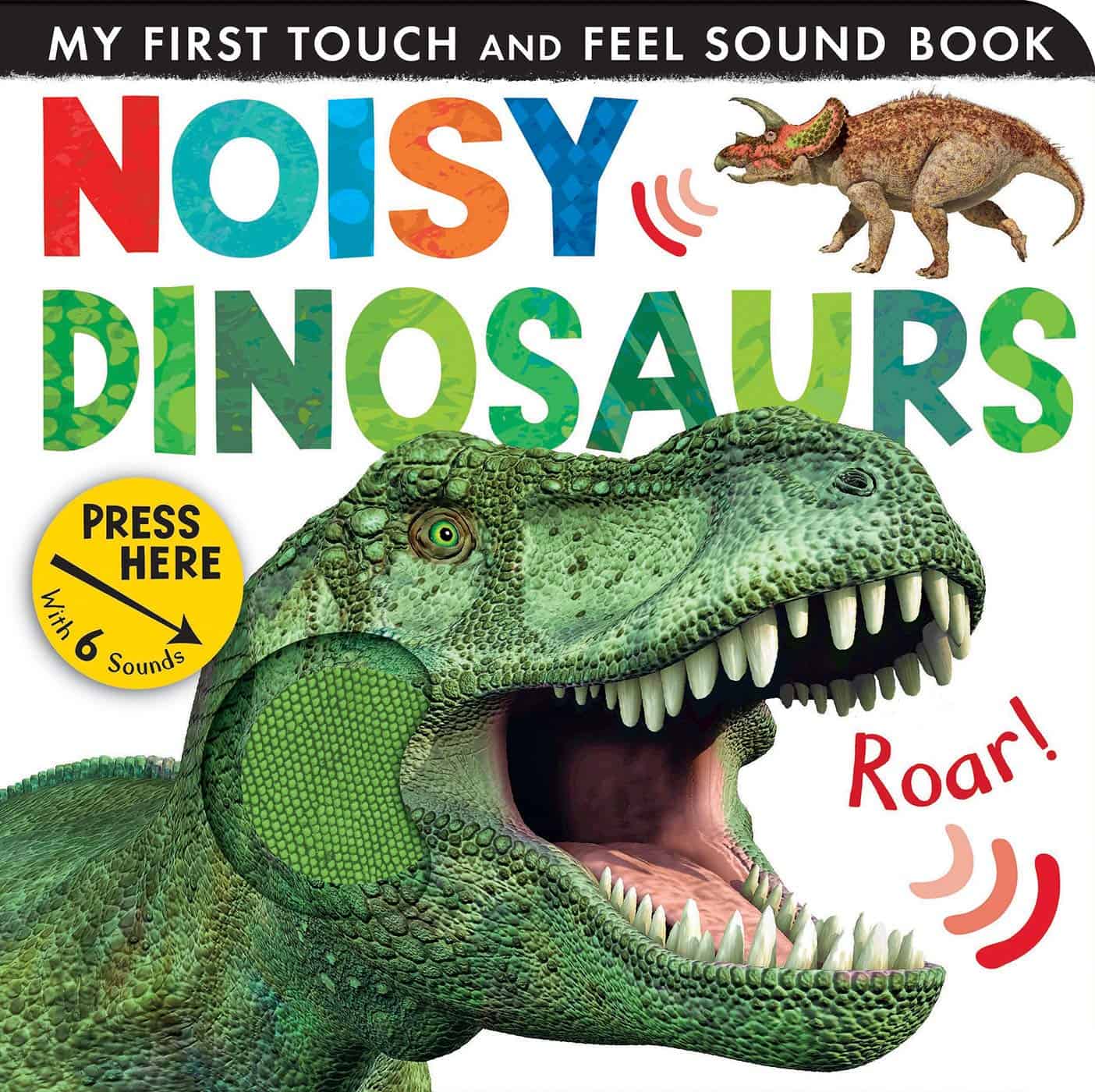 Supplies for dinosaur small world play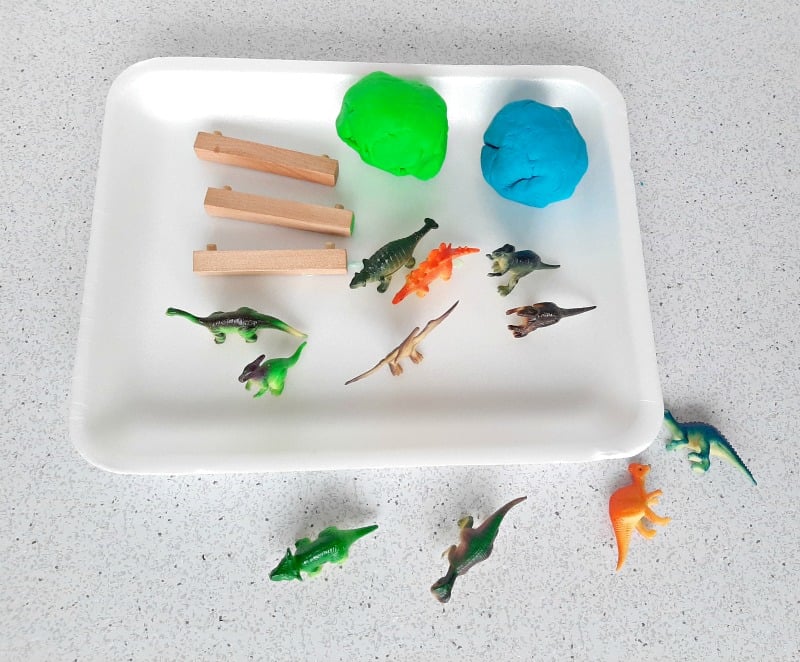 Play dough - a pack like this is such great value for money.
Craft sticks or similar props (for tree trunks)
Dinosaur figures - I recommend the Safari Ltd Toobs if you are looking for high quality ones.

Small tray or recycled foam tray
You can use store-bought or homemade dough for this activity. Use whatever wood pieces you have on hand for the tree trunks - even clothespins or frozen treat sticks will work.
How to set up your dinosaur play dough small world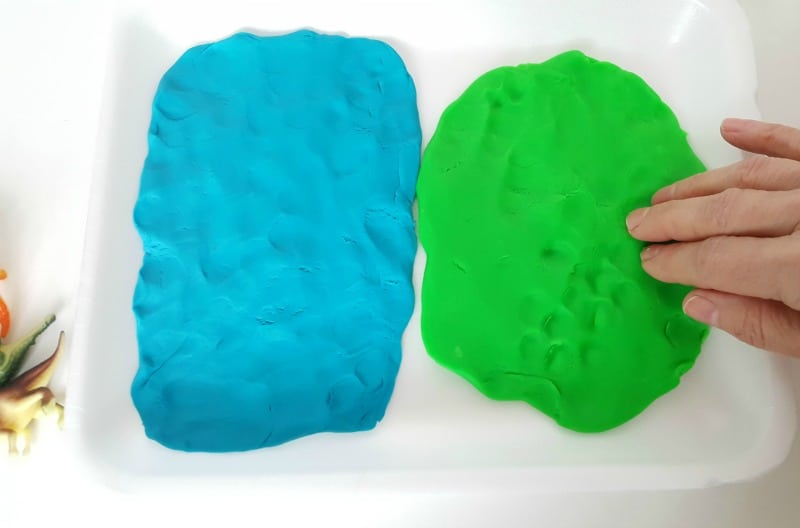 Line a small plastic or foam tray with play dough. Work with your toddler to spread the dough over the tray, using fingers and palms to spread the dough.
If you have more than one play dough color, create separate areas such as a forest, a pond, or walkways.
The dough can be shaped, squeezed, and shaped again as the creative play evolves.
Small world play with dinosaurs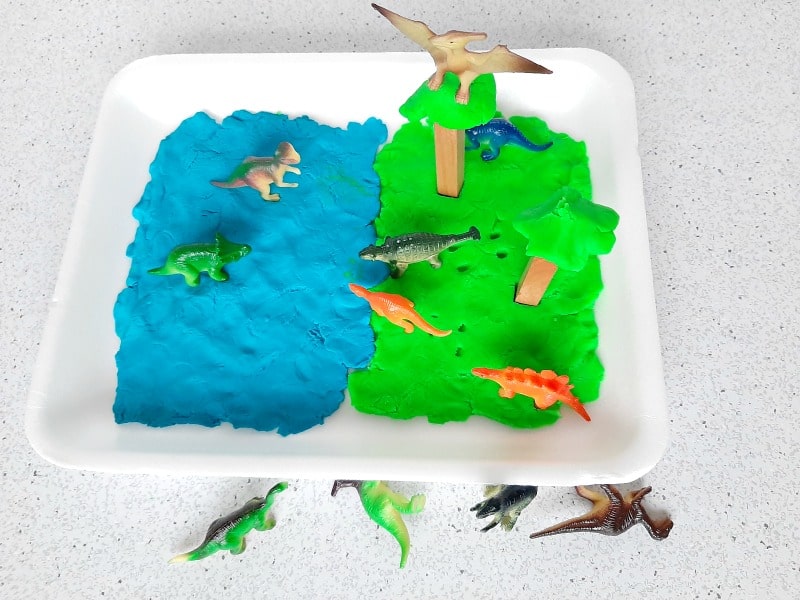 Make trees with small wood sticks topped with green play dough. Add other props as preferred but keep the play simple at first to see how your toddler responds to the materials.
Observe the footprints the dinosaurs make in the play dough as they stomp through the forest or pond.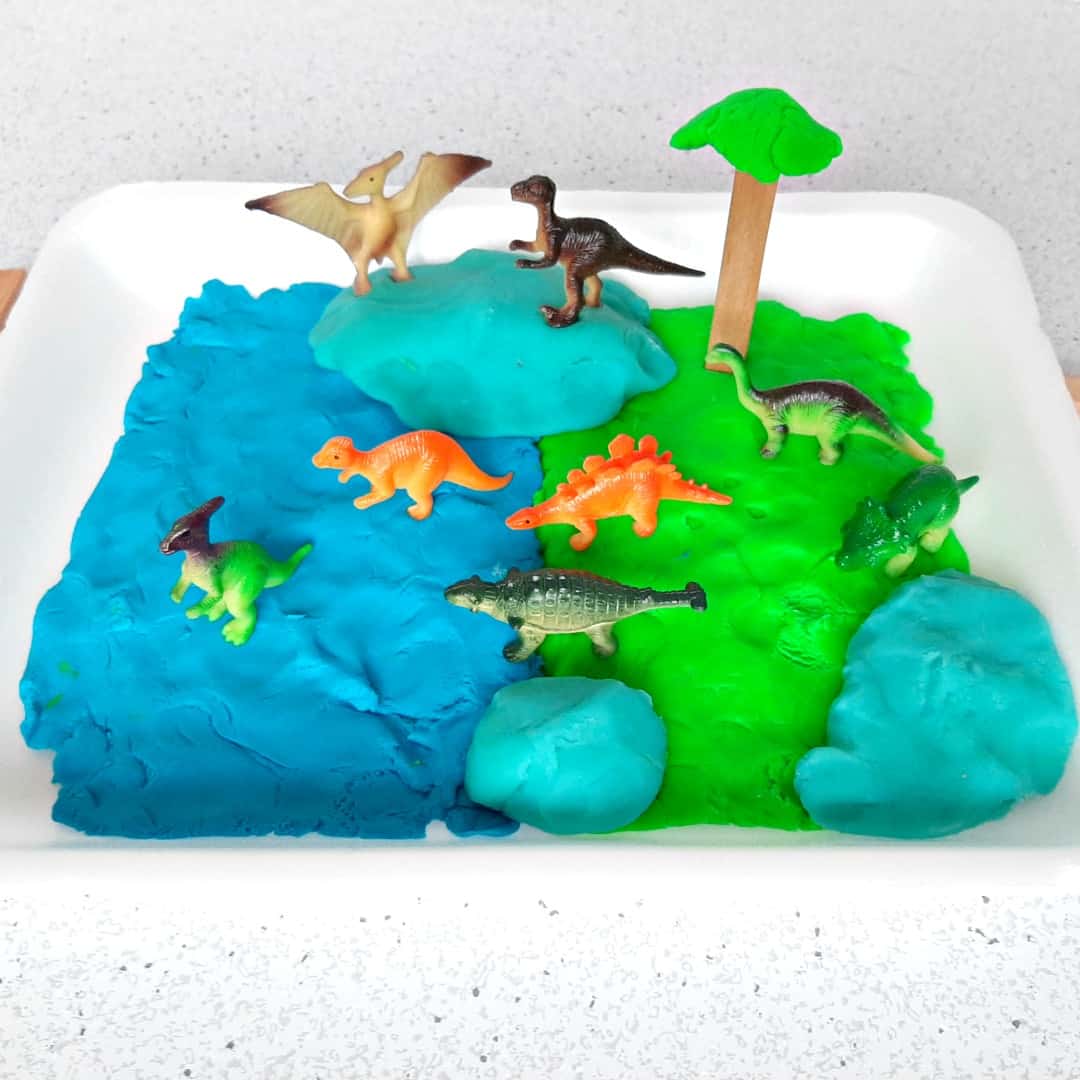 Follow the lead of your toddler, offering comments and suggestions to guide the play.
• Add play dough hills and plants.
• Hide a dinosaur behind a tree.
• Move characters around the forest and pond, making footprints in the play dough.
How many dinosaurs are in your forest?
Where is the t-rex hiding?
Let's bury a dino under a mound of clay.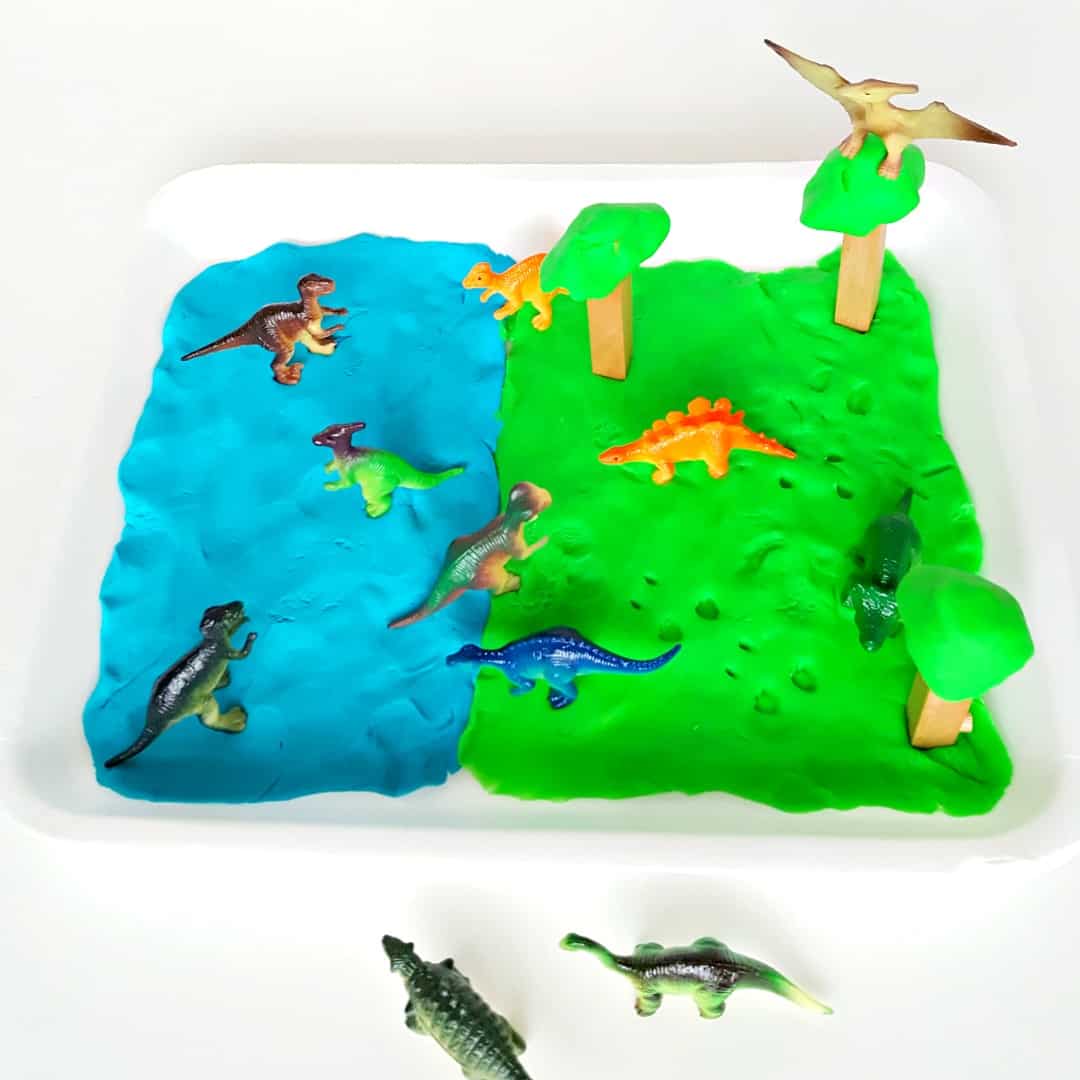 This small world activity supports early learning:
• sensory experiences - exploring colors and shapes of the dinosaurs, texture of the play dough
• fine motor skills - moving the dinosaurs around the small world environment
• language skills - imitating the sounds of the dinosaurs and tell stories about their adventures.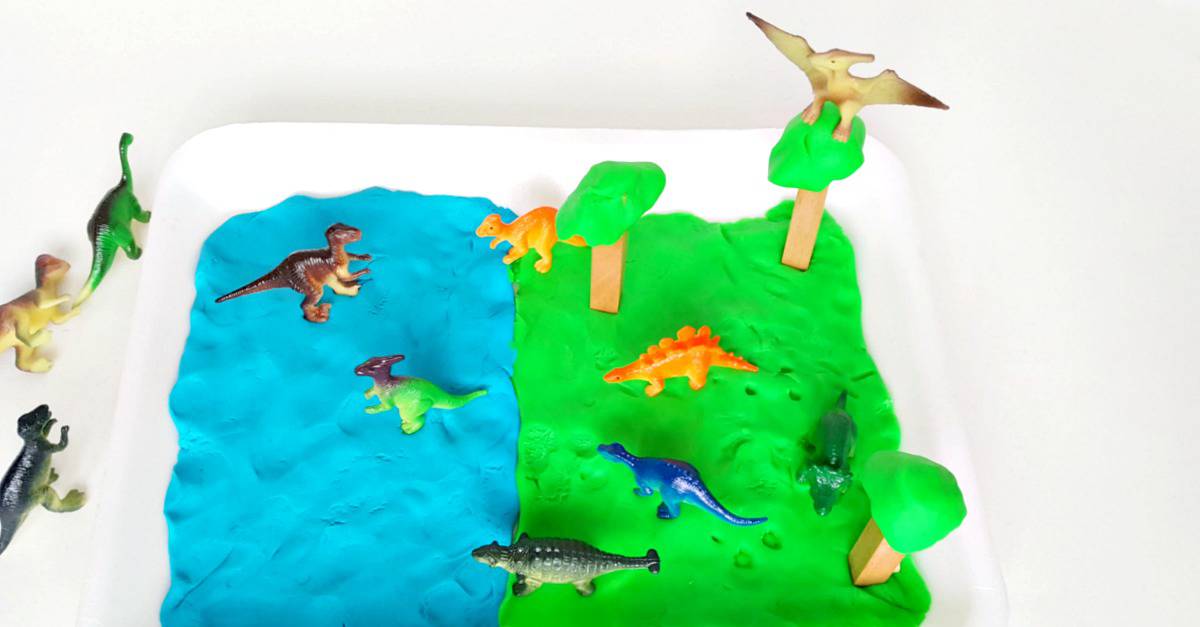 Try this play dough activity with dinosaurs for some awesome creative play!
If you are looking for more fun toddler activity ideas why not join our Facebook Group or follow us on Instagram.
Some more toddler dinosaur activities you might enjoy are: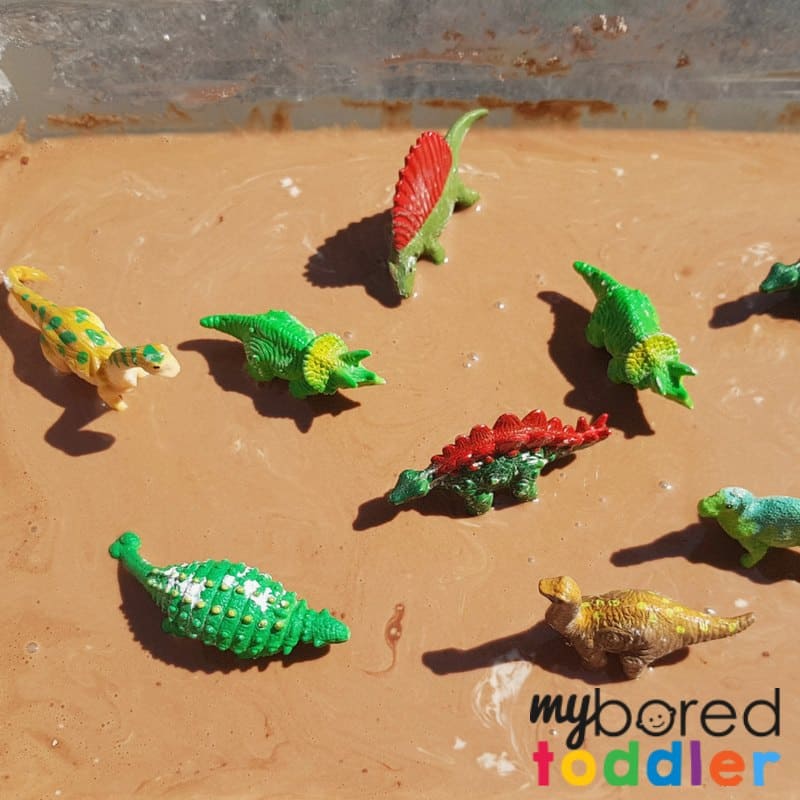 Dinosaur Activities for Toddlers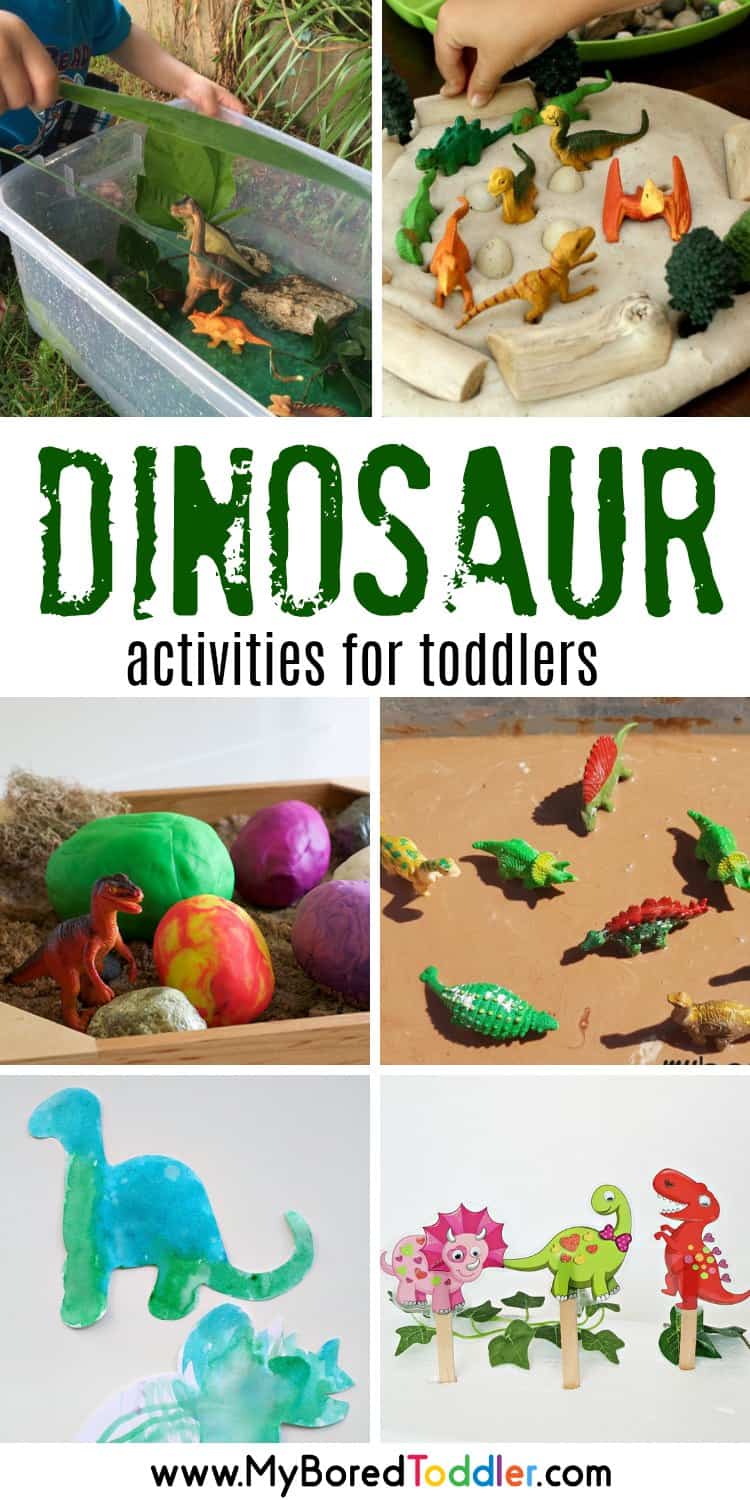 About the Author
Heather is a former preschool teacher and founder of preschooltoolkit.com, a website providing early learning resources for teachers and parents. She focuses on creating fun crafts and activities that engage developmental skills while promoting hands-on learning through play. Follow her on Facebook, Pinterest, Twitter, Instagram