If you are looking for dinosaur activities for toddlers, then this is where you need to be! We've found some super fun, pretty easy (a few are more tricky than others) dinosaur activities that are perfect for the toddler and preschool age group.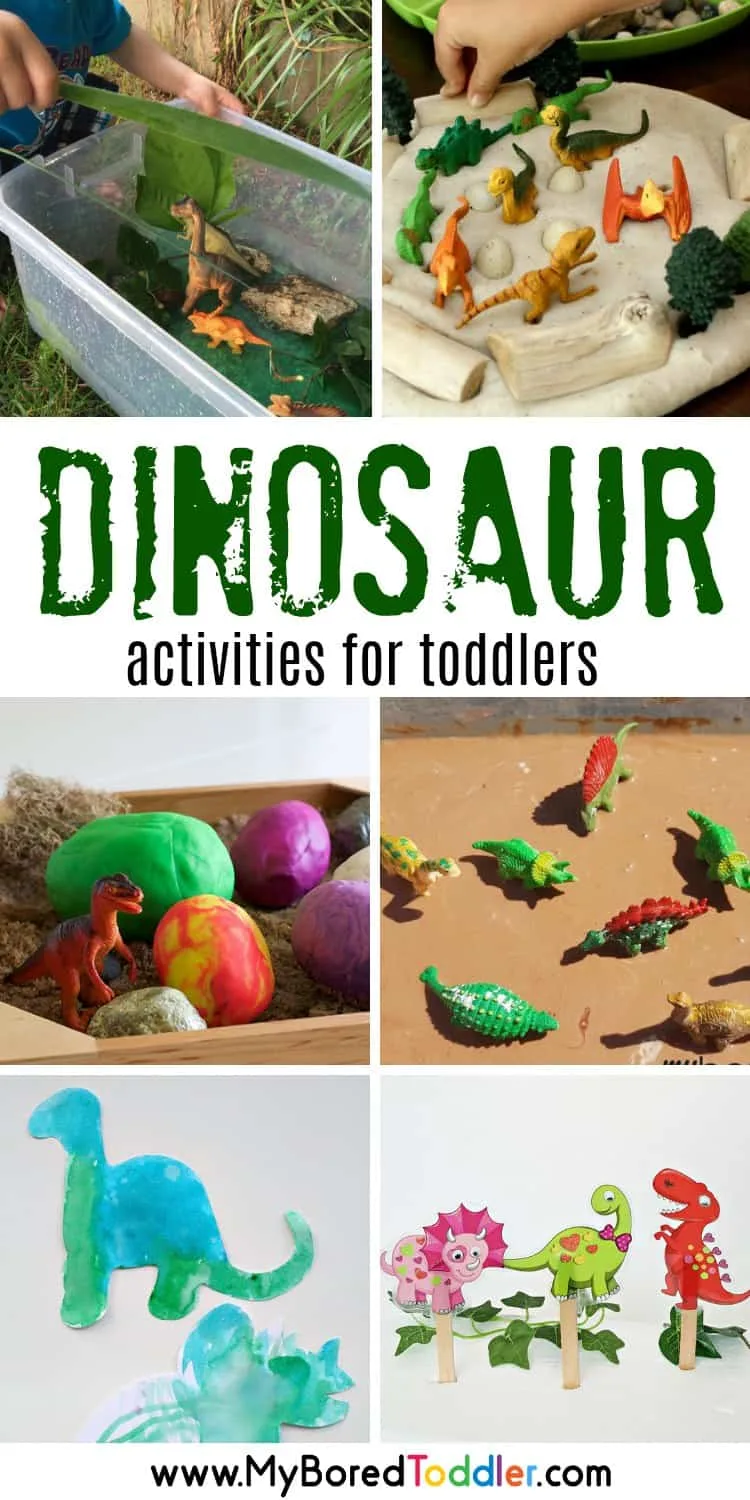 Dinosaur Activities for toddlers
I've yet to meet a toddler who doesn't love dinosaurs which makes this theme so perfect! Our dinosaur toys are some of our most played with items (especially THESE toy dinosaurs). It's perfect to team up with a great collection of toddler dinosaur books too.
For these activities, we've taken the hard work away and have found some fantastic toddler activities with a dinosaur theme.
If you try any of them I'd love you to share them over on Instagram (use #MyBoredToddler) or in our Facebook group.
Easy Toddler Dinsoaur Activity Ideas
We recently had a dinosaur-themed week in our new Weekly Activity Toddler Facebook Group and it was great to see so many 'real life' dinosaur activities. I've shared some of my favorites below:
Dinosaurs in Playdough Eggs
This is a really fun dinosaur activity idea. Hide your toy dinosaurs in playdough 'eggs' and have your toddler hatch them. So much fun.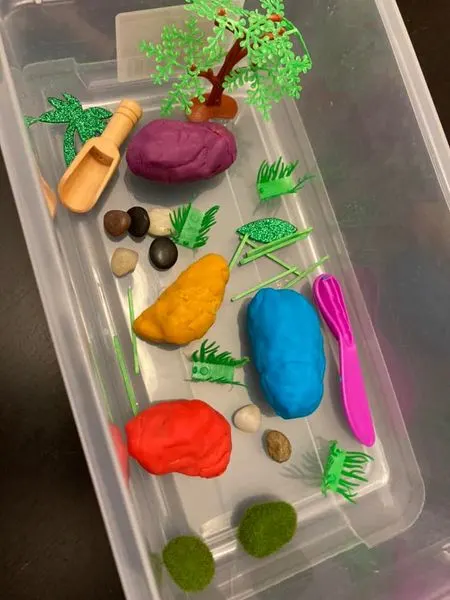 Go on a Dinosaur Hunt
Hide dinosaurs around the house and have your child find them. You can use stuffed dinosaurs or smaller ones. Laura used a wagon to go on their hunt - great idea!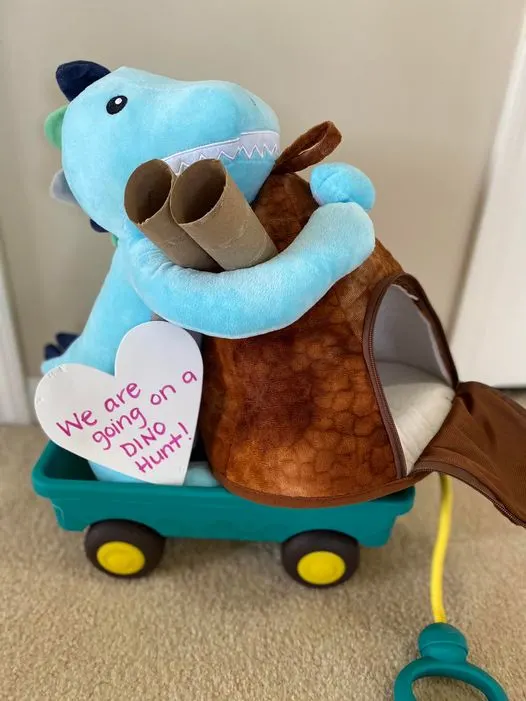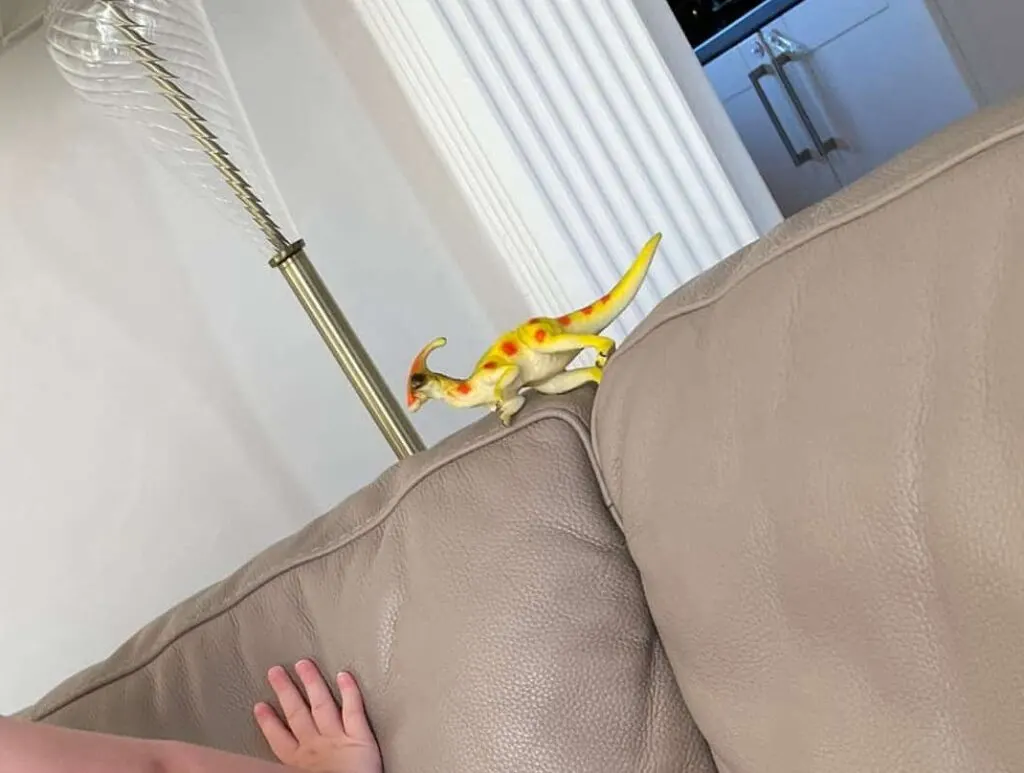 Dinosaur Footprints
Use your dinosaur toys to make footprints - this works really well in playdough (we always have a pack of playdough like this one at home).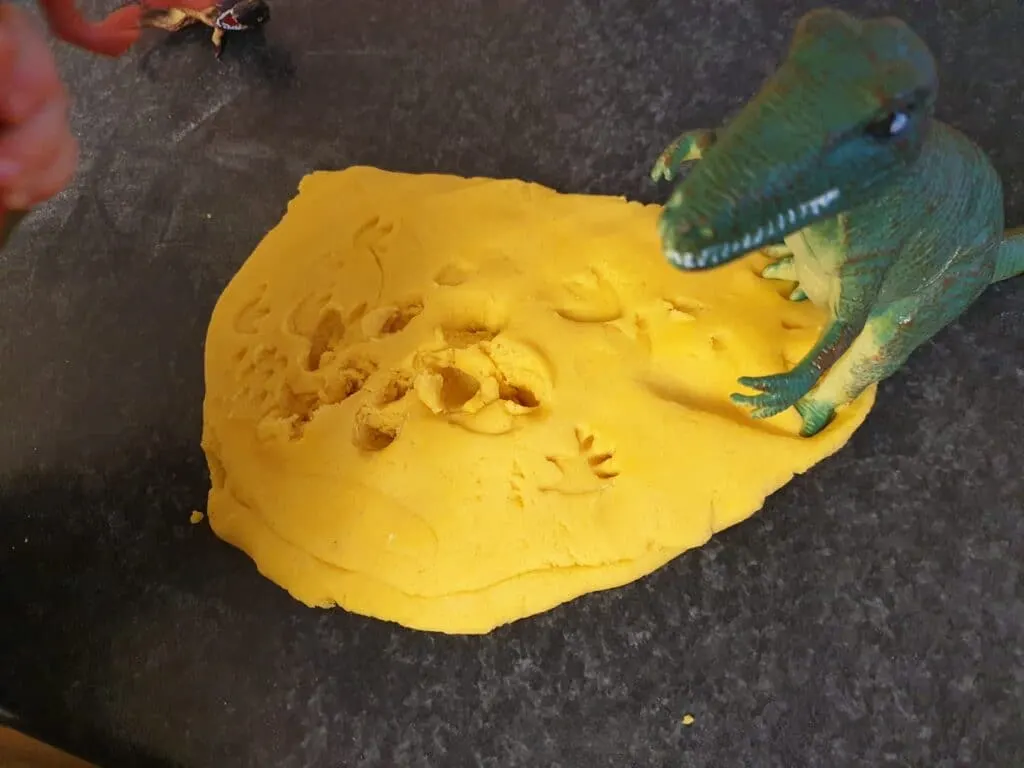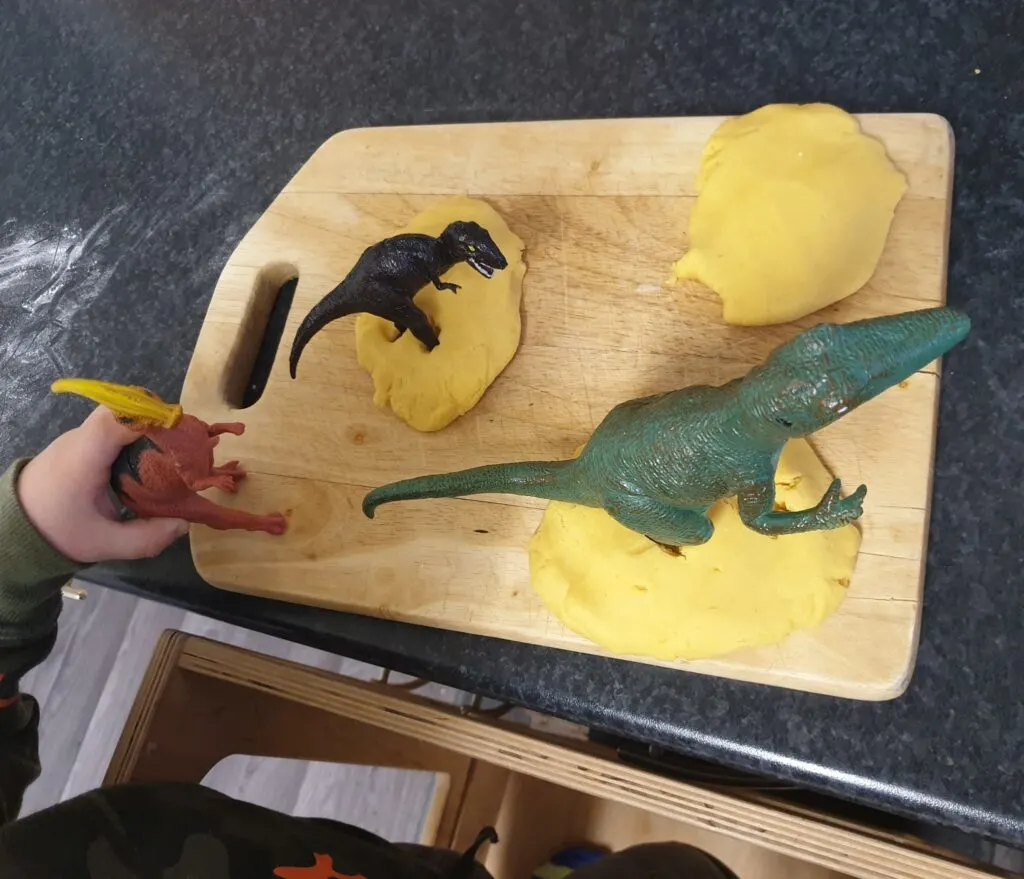 Kinetic Sand works well too! You can buy kinetic sand HERE.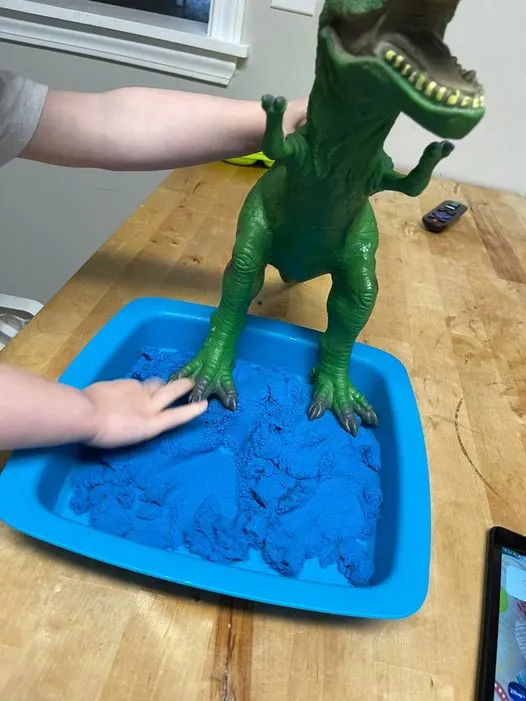 Dinosaur Sensory Bin
You can easily make a Dinsoaur sensory bin or a Dinsaur Dig sensory bin (hide the dinosaurs and have your toddler find them). As well as your toy dinosaurs try to add a magnifying glass (Melissa and Doug make a shatterproof one) and a paintbrush for dusting.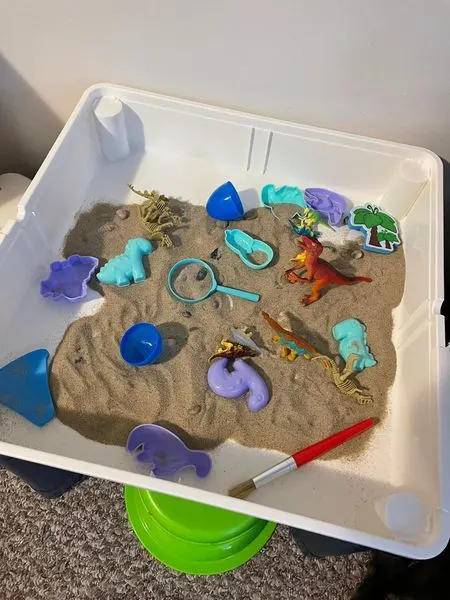 Laura made a wonderful sensory bin using shredded paper (you often find that in delivery packaging). You can actually buy Caution tape on Amazon which is always fun for pretend play.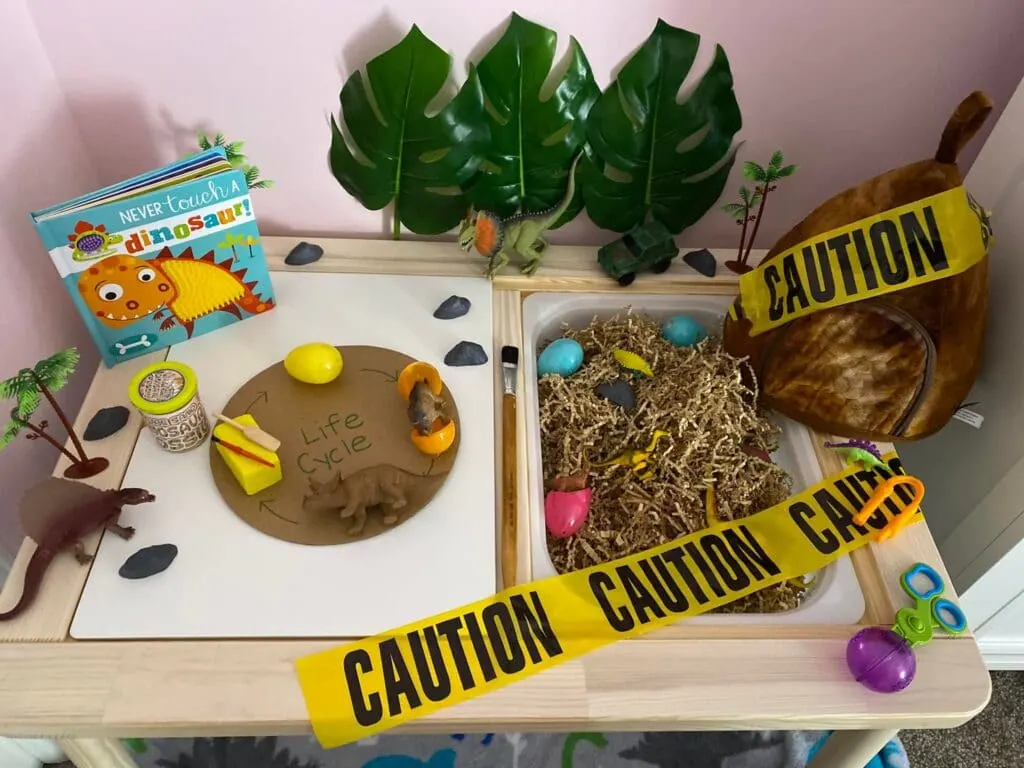 Andrea made a simple dinsoaur dig using rice and rocks - she hid small dinosaurs in the rice.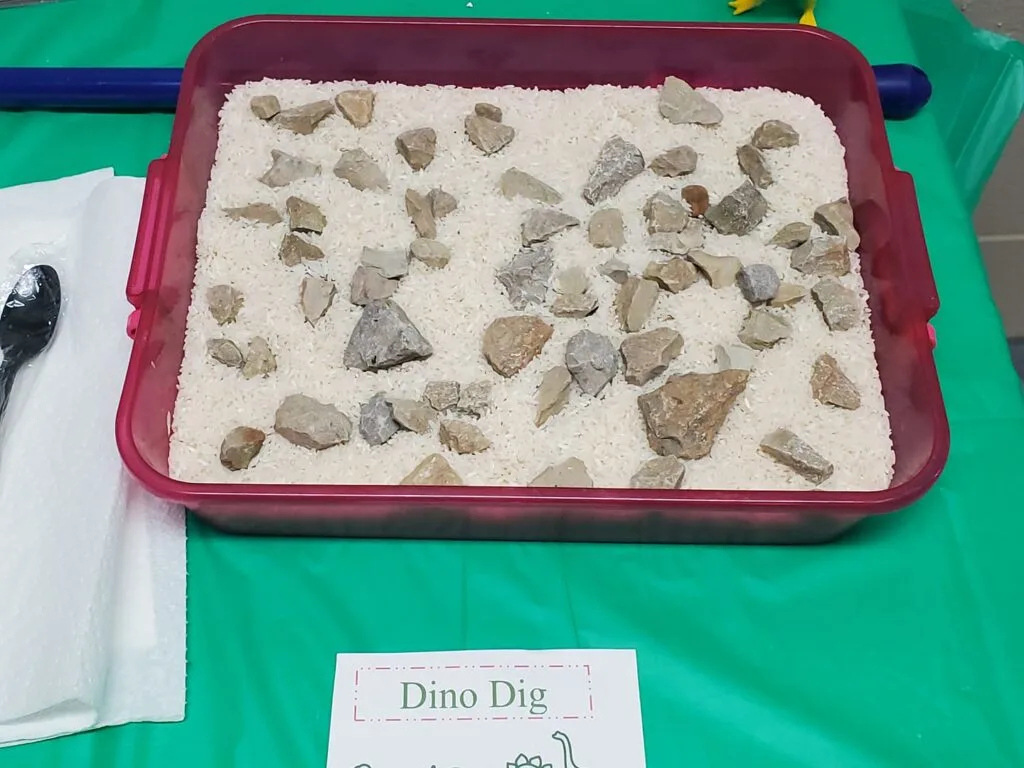 Freeze dinosaurs in ice and add them to your water play. Fill water balloons or normal balloons with water and add your dinsoaurs to them and freeze. So easy and a great water play idea for a hot day.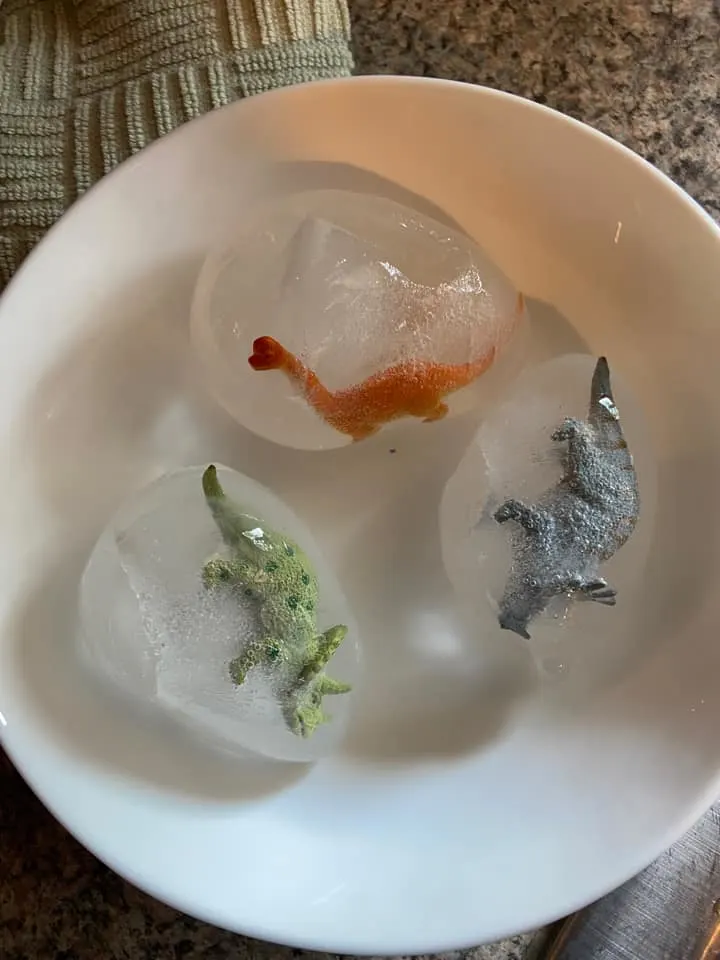 Make a dinosaur bath - I LOVE this idea from The Woodlets (follow on Instagram HERE). How much fun would a dinosaur bath be! You can get bath color drops from Amazon HERE.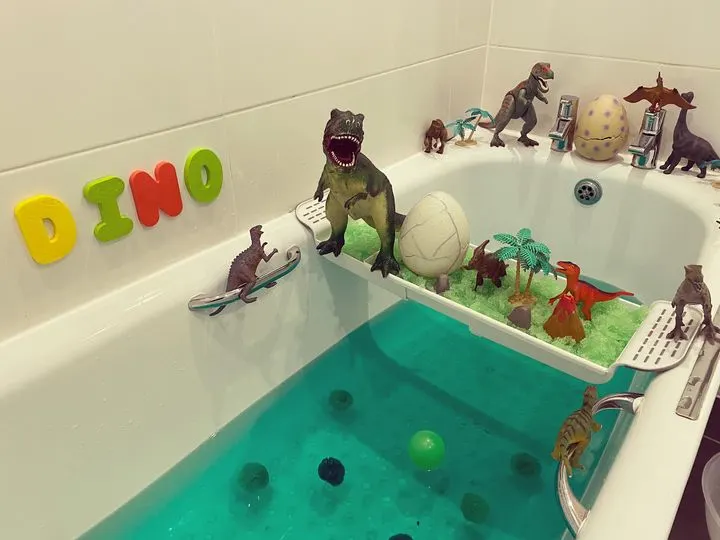 Hebe shared this photo of dinosaur footprint painting. This activity id always fun - dip their feet in paint (if you use washable paint it will come off) and make footprints.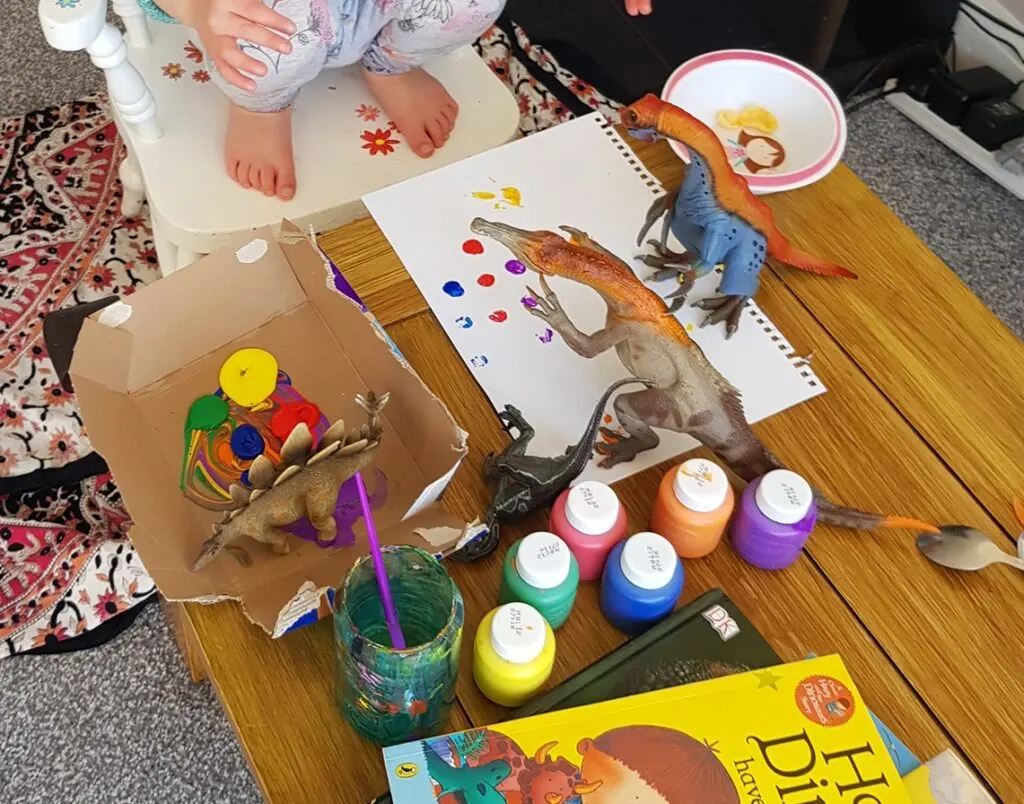 Another great toddler dinosaur activity is washing them in mud! See how to make the taste safe dinosaur mud HERE.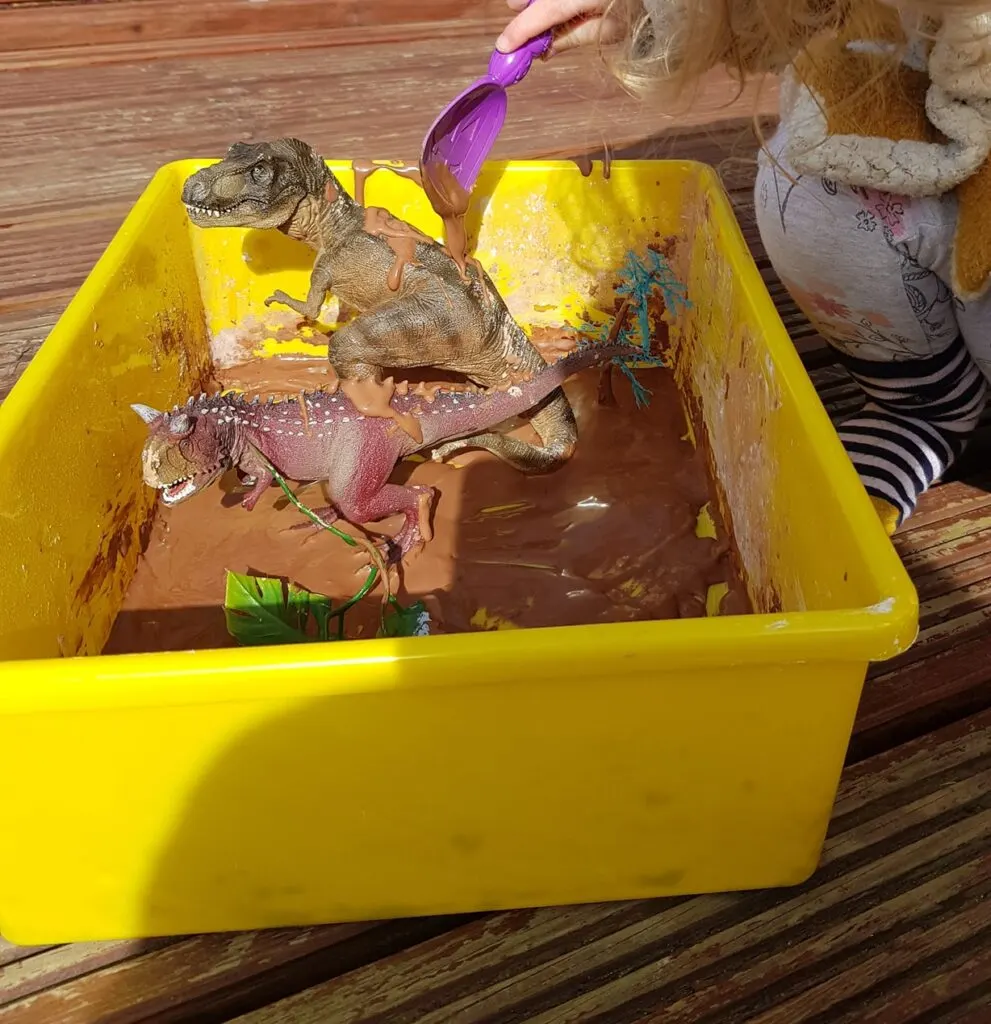 Samm set up a dinosaur washing station - all you need is a bucket and some dish soap (if you whisk the soap it makes if go fluffy!).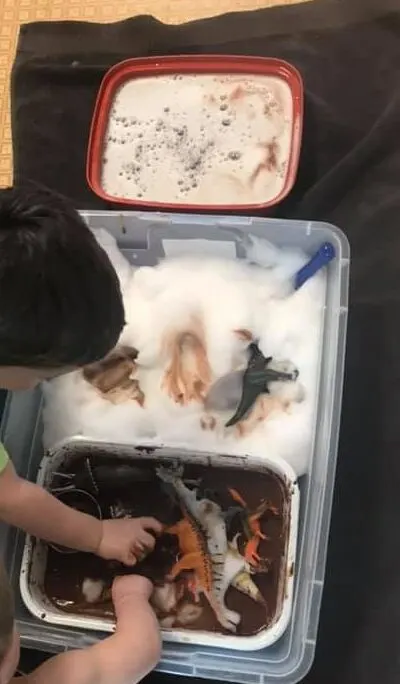 Even More Dinosaur Activity Ideas for Toddlers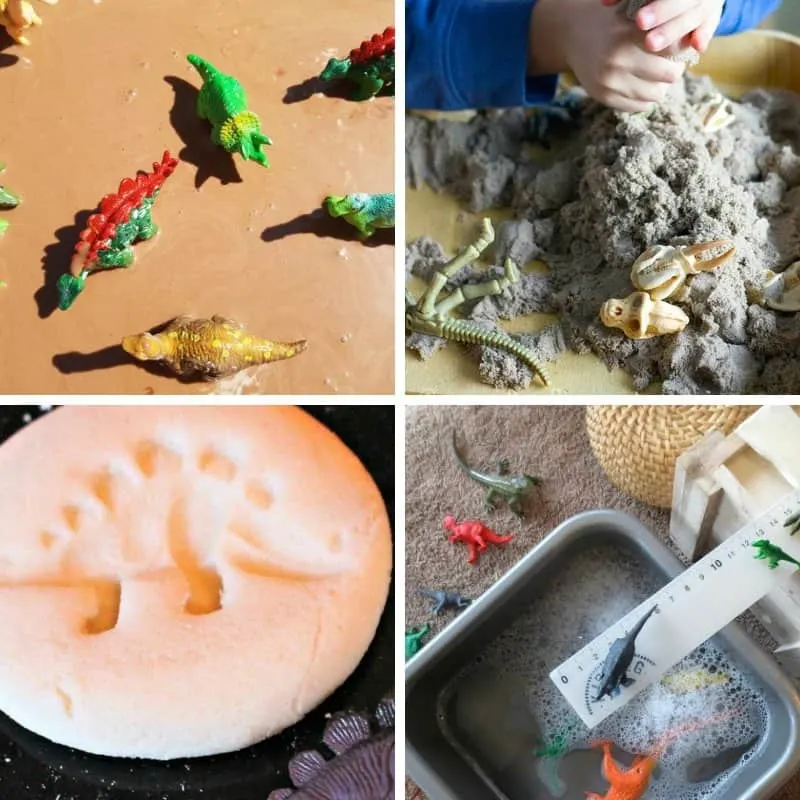 Taste safe muddy dinosaur sensory bin
Dinosaur Dig - Fireflies & Mud Pies
Dinosaur Fossils - Messy Little Monster
Jump and Wash dinosaur play - Little Worlds Big Adventures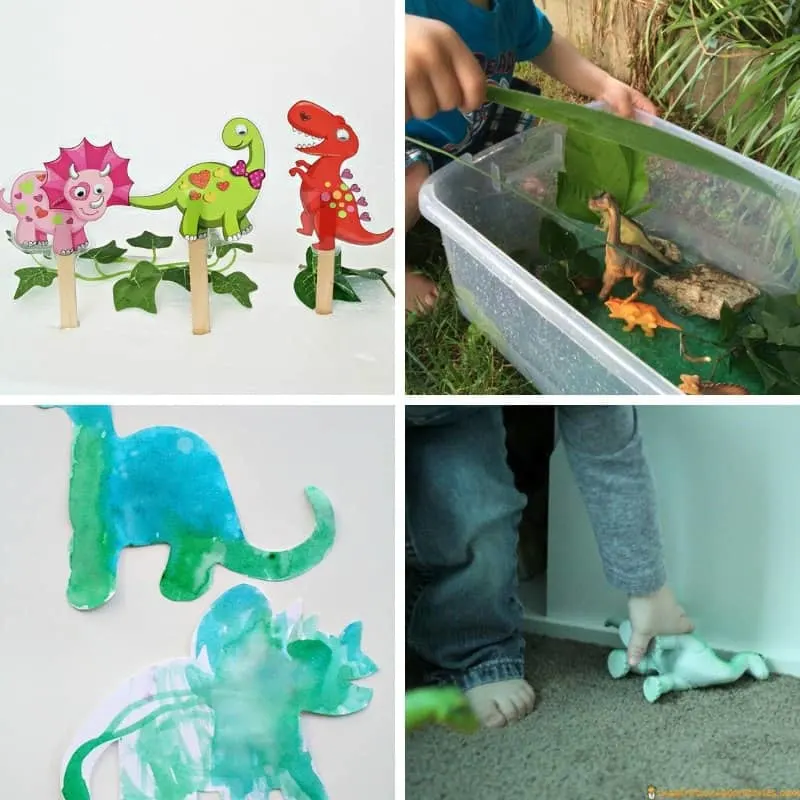 Dinosaur swamp sensory bin - Mommy's Bundle
Easy dinosaur watercolor craft - Fantastic Fun and Learning
Dinosaur Hunt - Inspiration Laboratories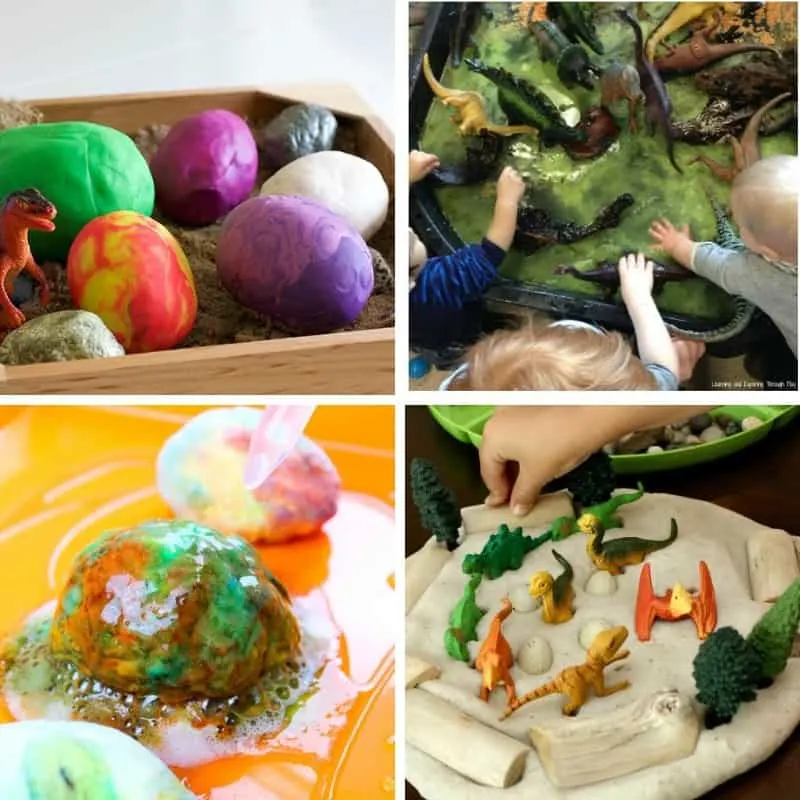 Playdough Dinosaur Eggs - Little Fish Blog
Dinosaur Swamp Tuff Tray - Learning and Exploring Through Play
Dinosaur Fizzing Eggs - Simple Everyday Mom
Dinosaur Playdough - Fantastic Fun and Learning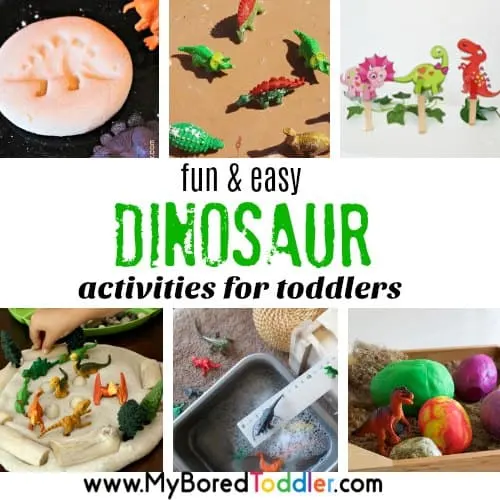 Follow us for more toddler activity ideas
Some other posts you may enjoy are: