We put a little bit of colour into a classic favourite game! The humble egg and spoon race was taken to another level by personalizing our eggs! My kids are busy creatures. While the current climate has kept us at home more, we are still finding ways to keep minds and bodies active!

Egg and Spoon Race
Egg and spoon races are so much fun! There are so many learning opportunities to have with this quick and easy game
. From problem-solving, hand-eye coordination, logical thinking to motor skills, balancing an egg on a spoon while trying to be the first across the finish line can be quite the task! To make it more fun. We coloured our eggs!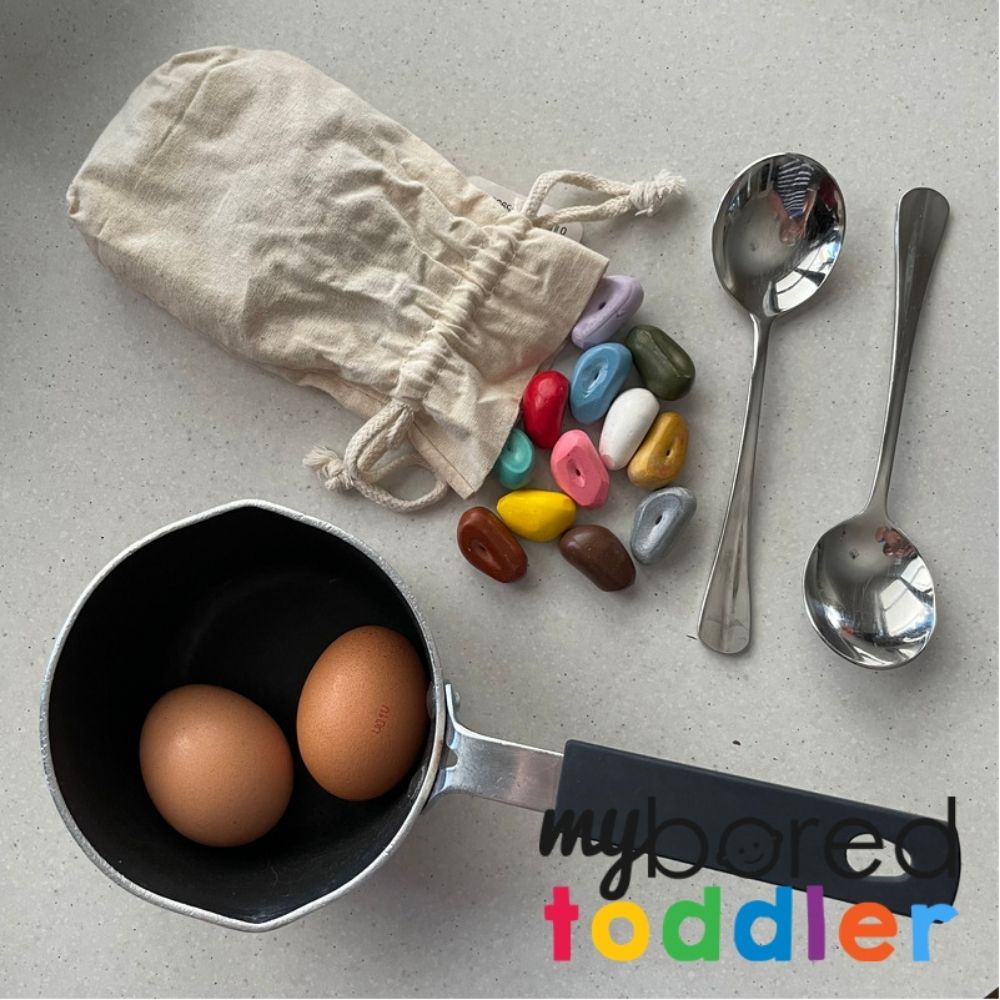 What you need to create this Egg and Spoon Race activity:
Colouring your egg is completely up to you. The game will be just as successful if you would like to skip this step. We used Crayon Rocks! They are great for developing the tripod grip, to transfer over to handwriting in years to come.
How to create your Egg and Spoon Race activity:
To save ooey gooey egg from being ran from one side of the yard to the other, I hard boiled our eggs.
Place the eggs into the saucepan and cover with water. Set the pan onto the stove to boil.
After ten minutes, place the hard-boiled eggs into an ice bath. The cold iced water helps to cool the eggs quickly. Let them sit for ten minutes in the ice water to ensure the egg has completely cooled all the way through.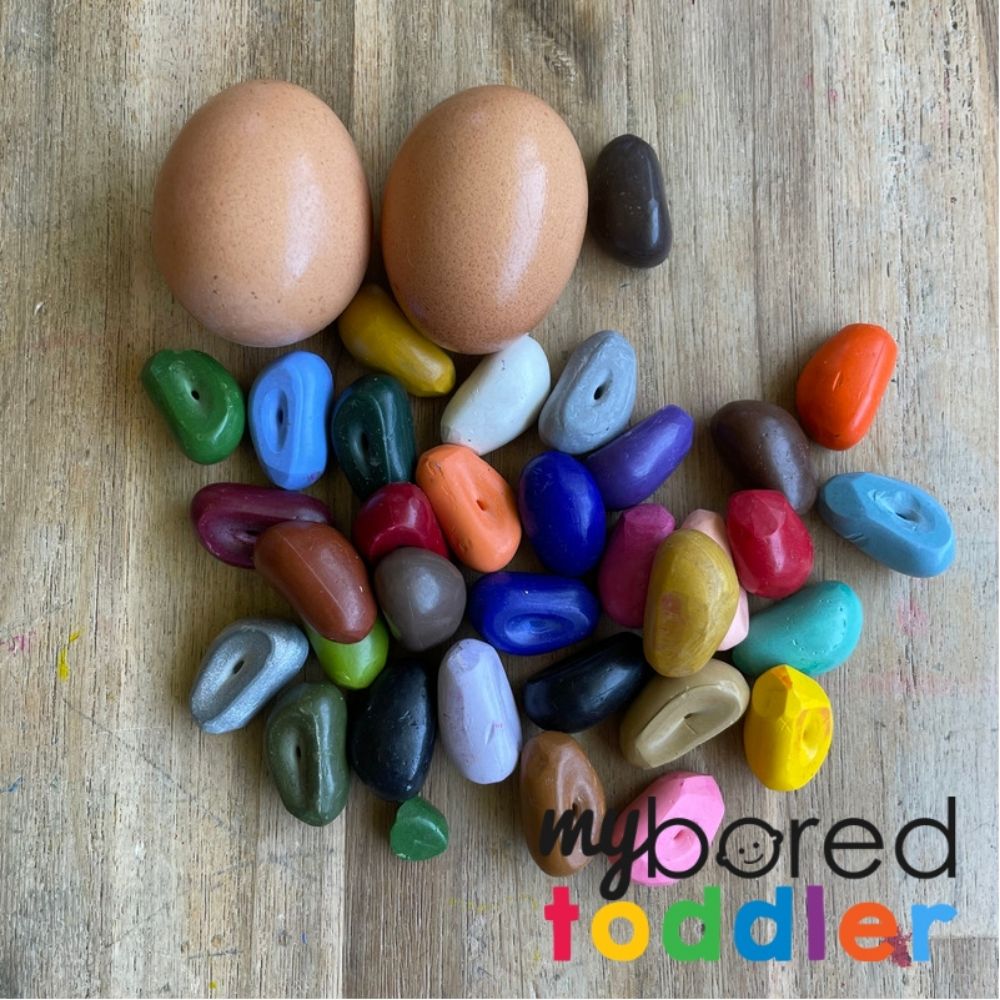 Once cooled, it is time to decorate your eggs! Press too hard and you risk damaging your egg, press too lightly and the colour won't be bold enough. While it seems like a simple task, there is a lot going on to ensure the egg is designed beautifully.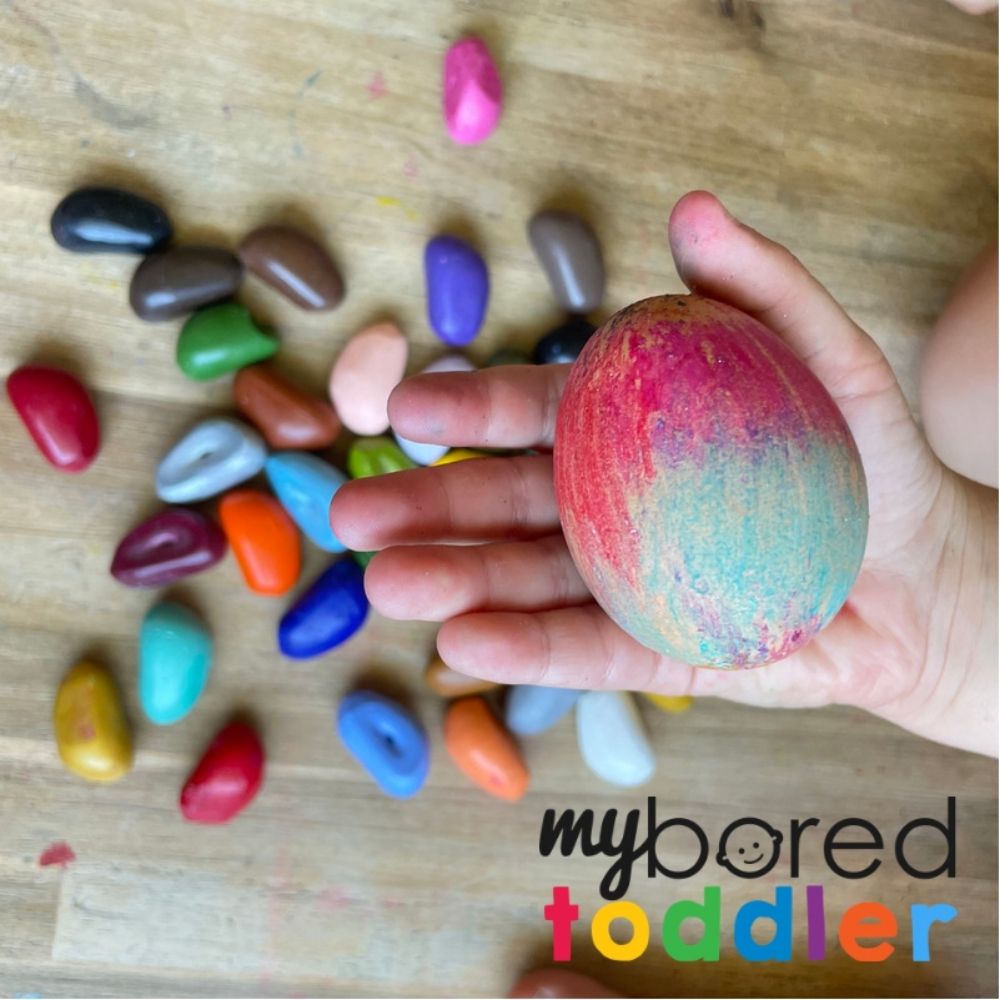 Now the laughs begin -it is time to race!
Balancing the egg on a spoon, race your component without dropping the egg! If it drops, you need to stop, pick up the egg and reposition the egg before continuing the race.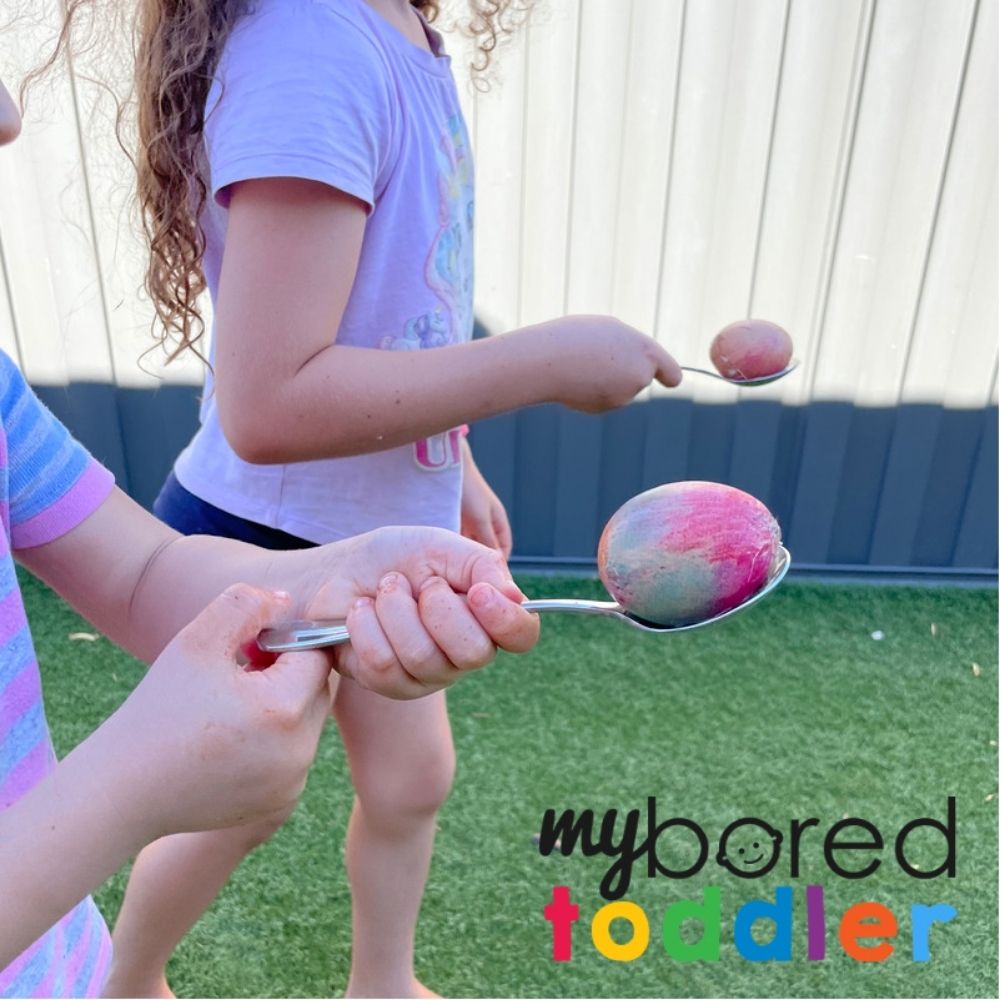 Hard boiling the eggs certainly saves a lot of eggs being used. Even with some cracks, the decorated eggs can still be balanced on the spoon for more balancing fun. Once the play has finished, they make for a tasty post active time snack and with all the cracks, are easy to peel!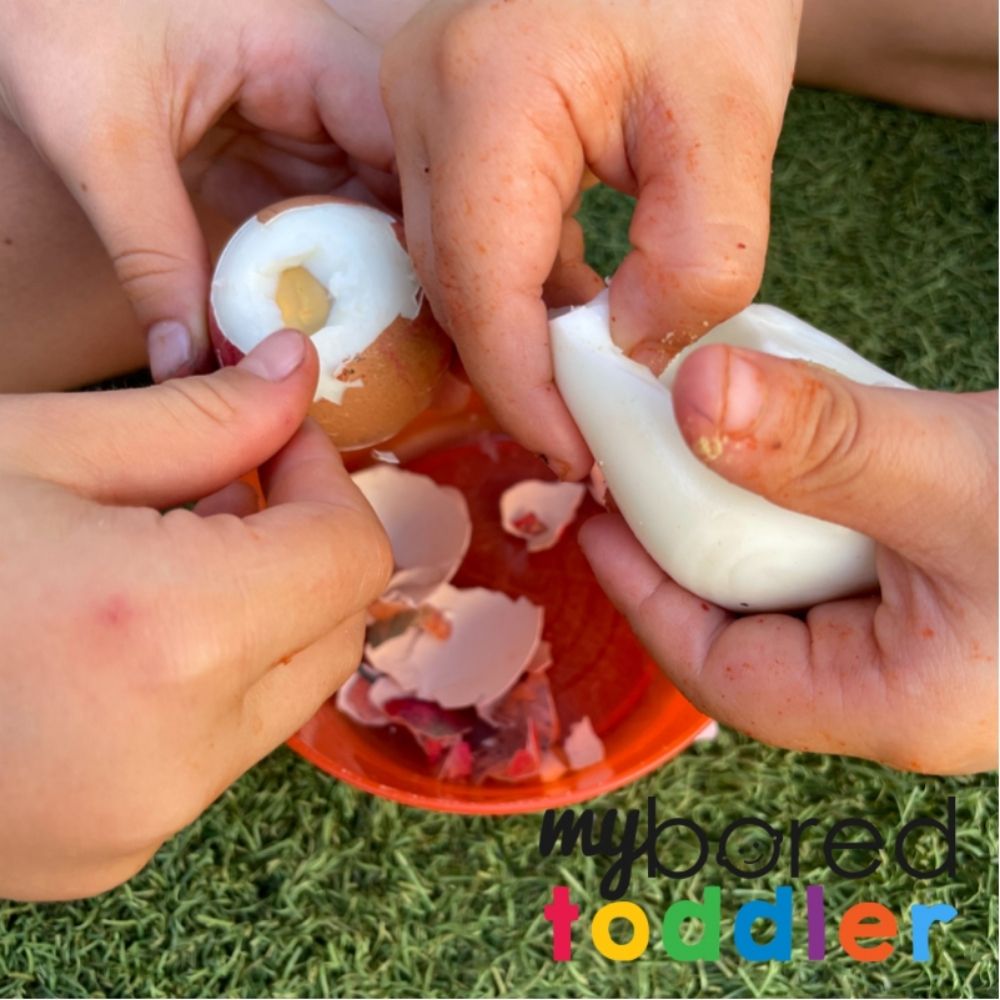 Egg and spoon races are a fun way of getting your kids active outside. Personalising their eggs was an unexpected adding bonus that my kids loved. I hope yours do too!
For more fun toddler activity ideas why not join our Facebook Group or follow us on Instagram – follow @myboredtoddler and use #myboredtoddler.
SOME MORE FUN TODDLER ACTIVITY IDEAS YOU MIGHT ENJOY ARE: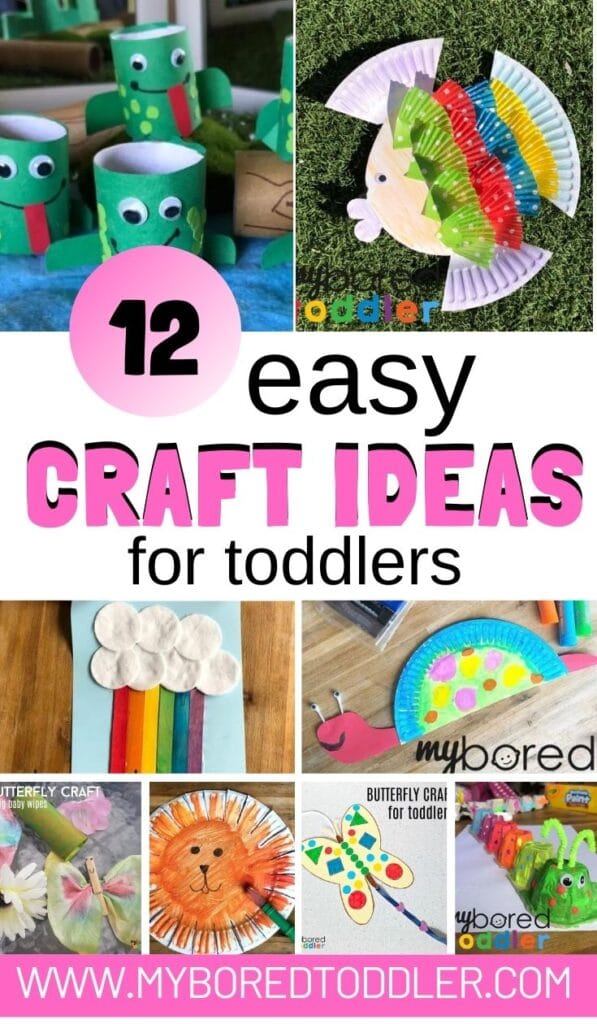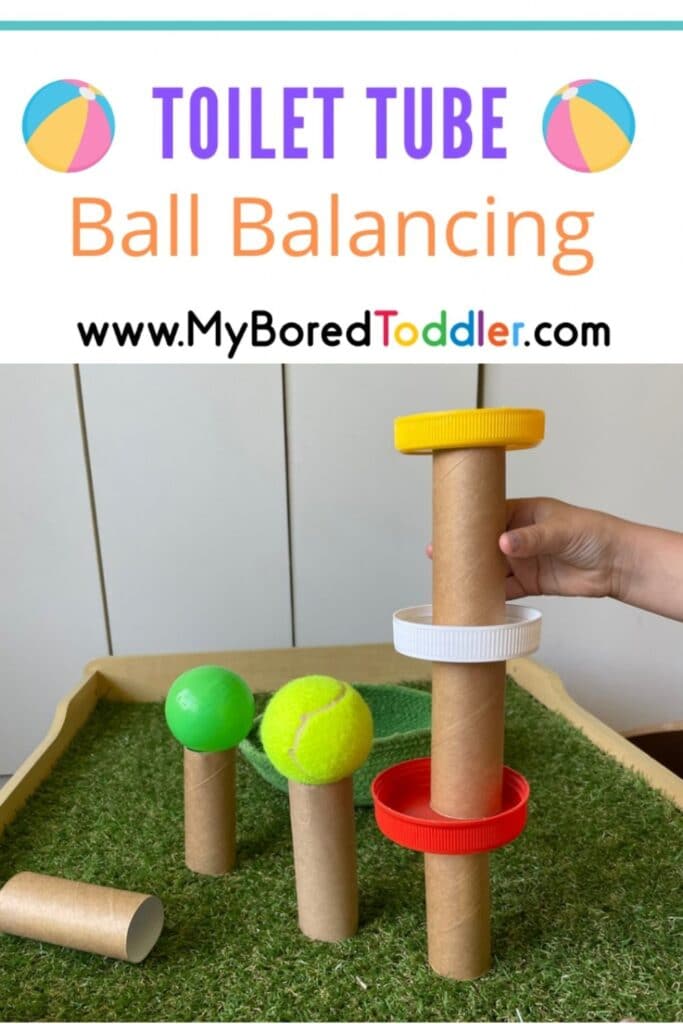 About the Author
Dani is a busy stay-at-home Mum of 3 and an early childhood teacher in training who is passionate about play-based learning throughout early childhood. For educational play ideas that you can do at home and parenting tips visit Play Inspired Mum Check her out on Instagram andFacebook