We are loving the toddler farm activities and farm crafts! I've yet to meet a toddler (or any child really) that doesn't love the farm, which is why we've put together a fun collection of easy farm activities for toddlers.
With a mix of sensory play, crafts and activities, your one, two or three year old will love these fun farm activities.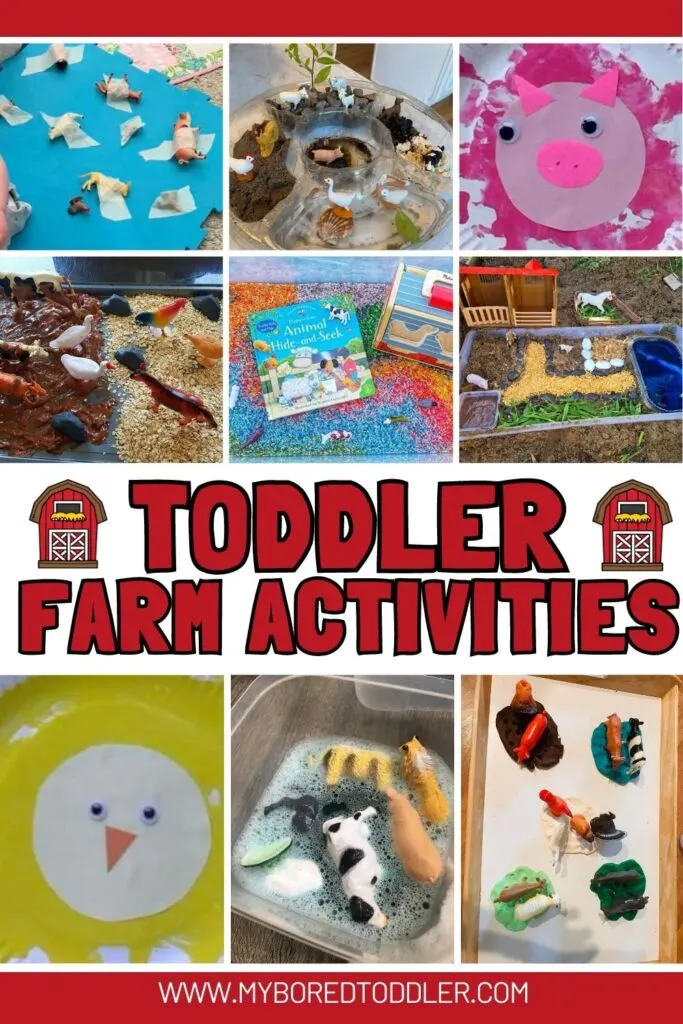 Farm Activities for Toddlers
Does your toddler love the farm as much as mine did? These farm crafts and activities will definitely keep them busy.
Would you like a planned weekly activity guide with a Farm theme? Get your free copy HERE.
I love to have a theme going when we do crafts, and try to pair these activities with my favorite toddler farm books too. If you're in search of some classic farm toys you can't go past this farm set and these farm animals.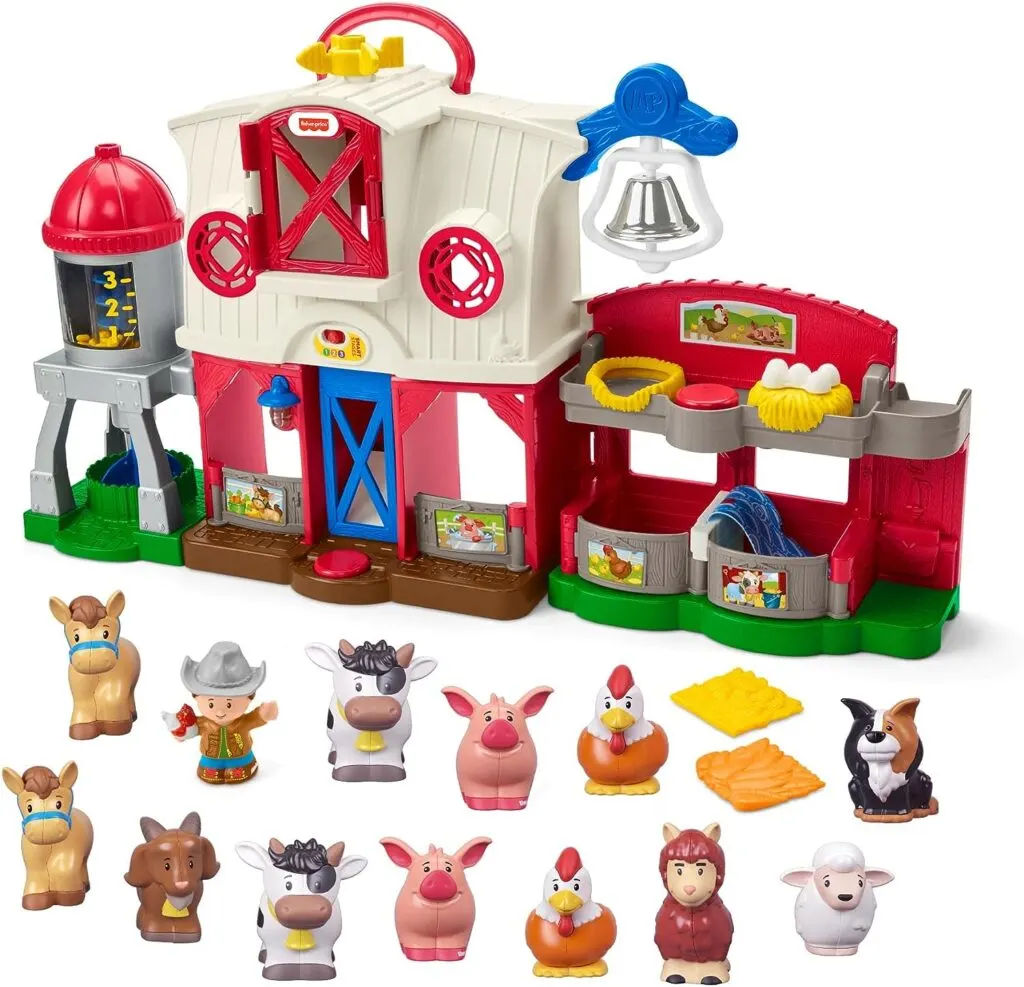 Some more easy farm activities for toddlers are:
We reached out to our Facebook Group for some of their toddler farm activities and I know that you'll love these ideas as much as I do!
Farm Week Shelf Setup
A great way to setup your toddler space for a themed week is with a shelf setup.
These normally include easily accessible books, toys and puzzles related to the theme. Vanessa shared this farm shelf setup with us.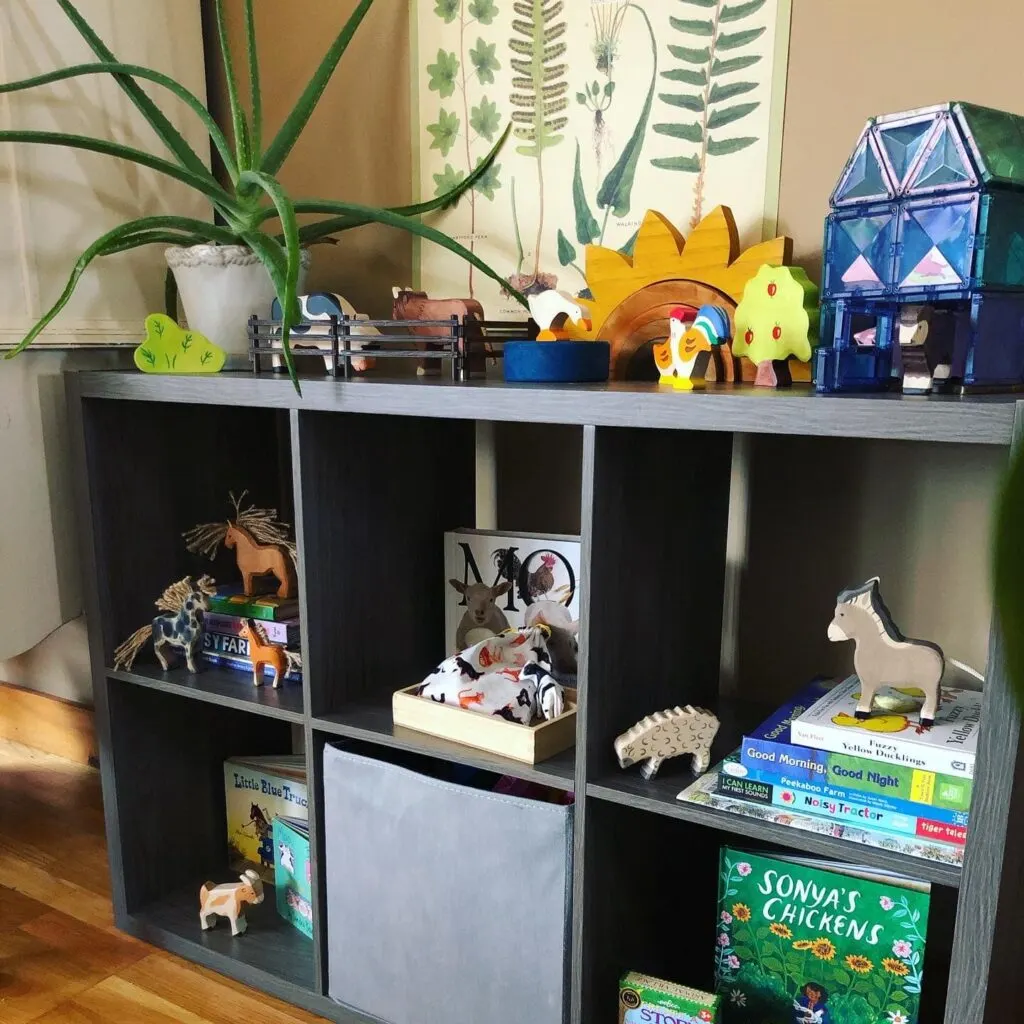 Liz shared her farm setup with us as well. You can see she has some farm puzzles, a small farm sensory bin, some playdough with farm playdough cutters and of course some farm books too!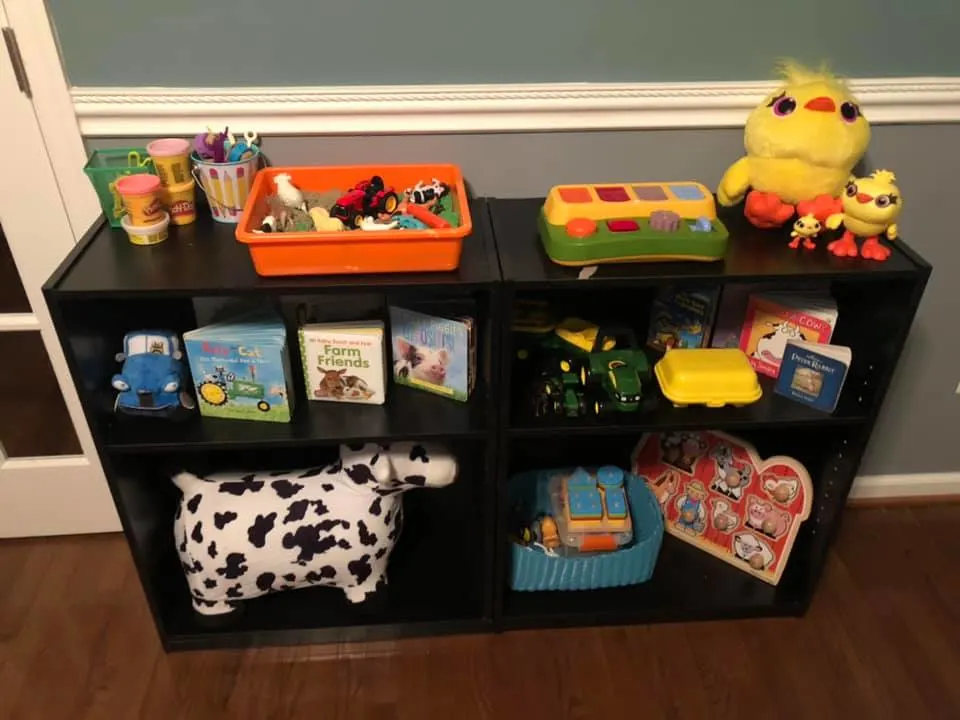 Nicole also shared her farm setup. She used easily accessible baskets to store the farm activities in.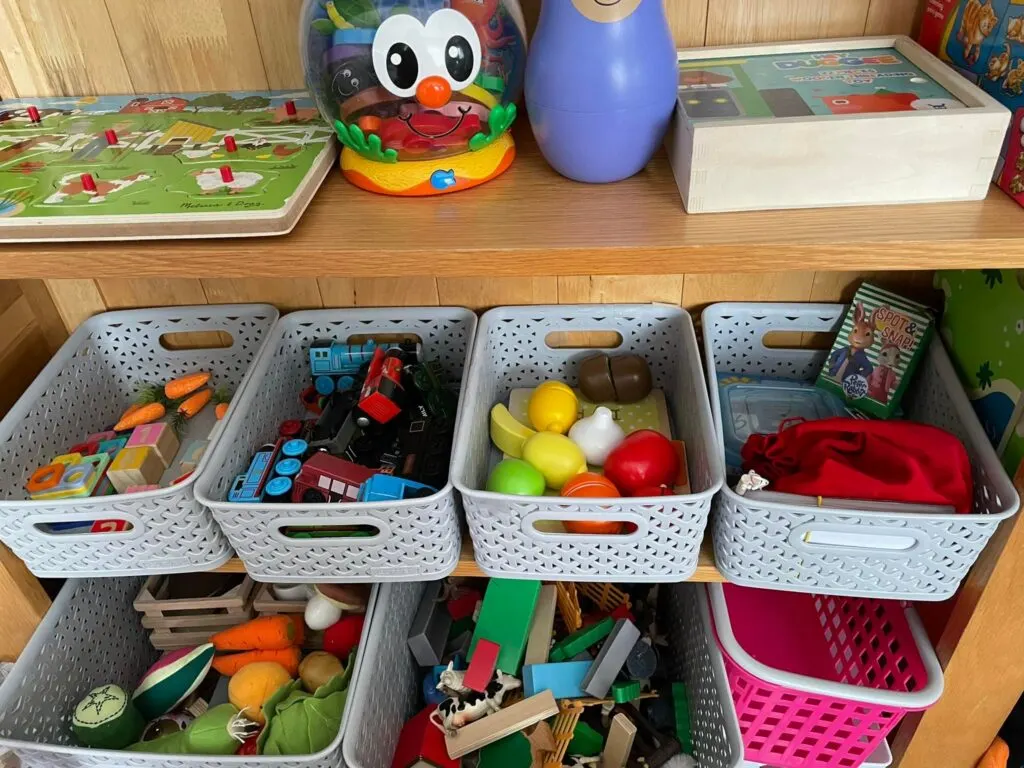 Rescue the Farm Animal
Aimee shared this fun and easy toddler farm activity idea - tape your farm animals to a board or mat (masking tape works well) and then have them 'rescue' them.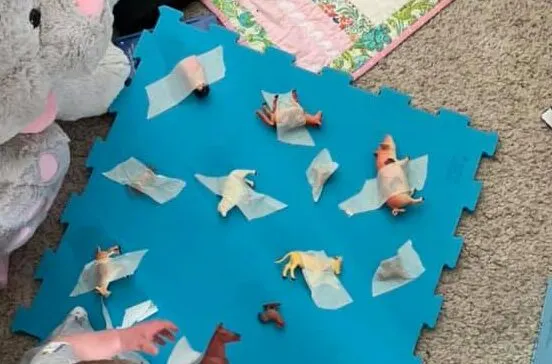 Farm Playdough Tray
This is a fun and easy farm animal playdough tray to set up.
Let your toddler explore the footprints that the animals make and then encourage pretend play as the animals interact with each other.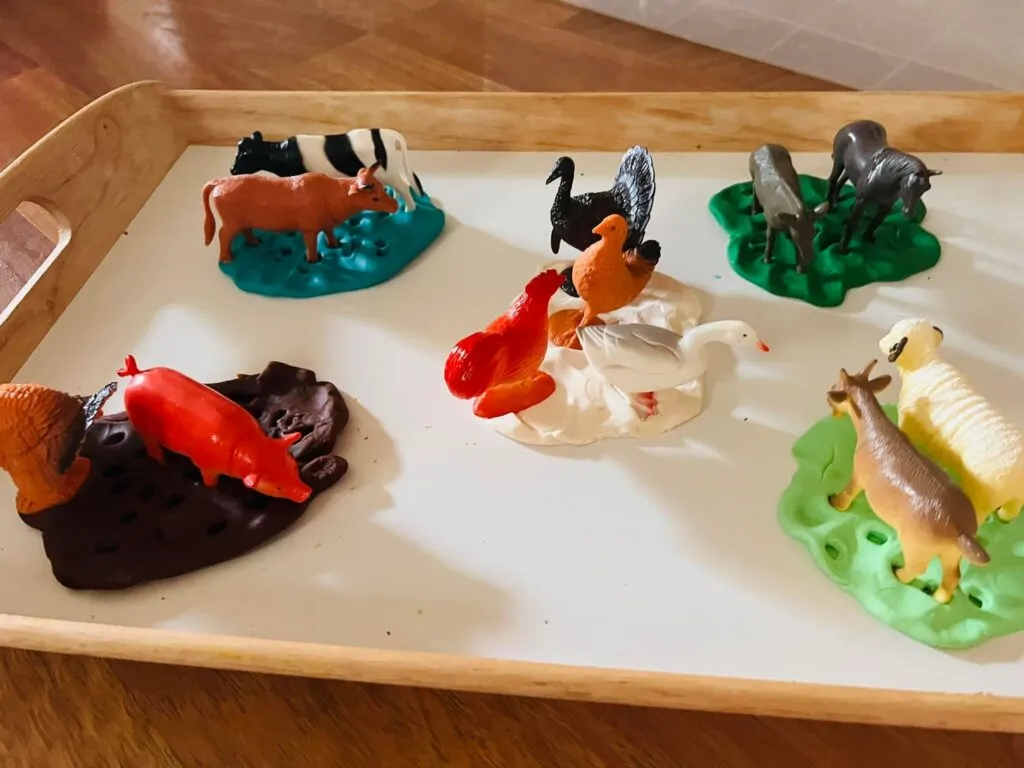 Paper Plate Pig Craft
Crystal shared this fun pig paper plate craft idea. Paint your plate pink, add some googly eyes and a snout and some ears.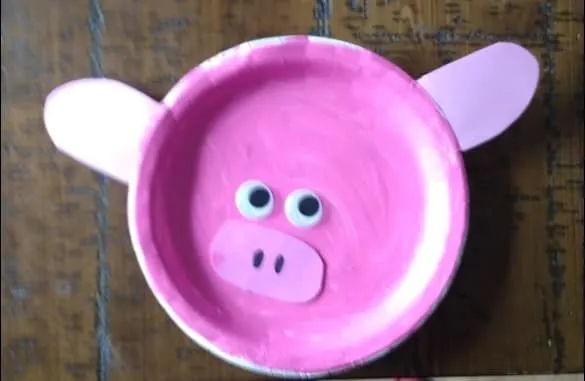 Nicole made her paper plate pig craft differently - painted the plate pink and then used construction paper for the face.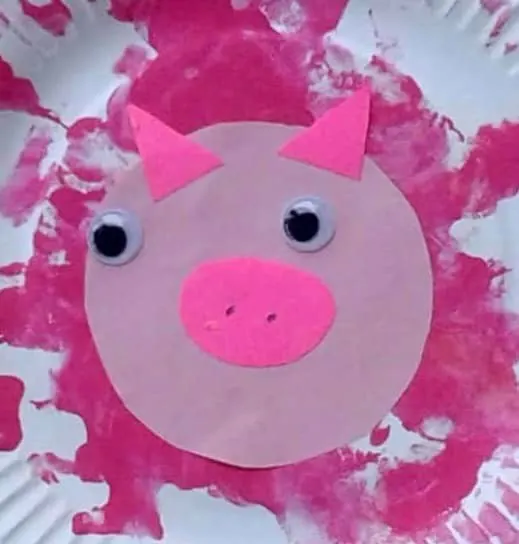 Paper Plate Chick Craft
Nicole used the same process to make a paper plate chicken.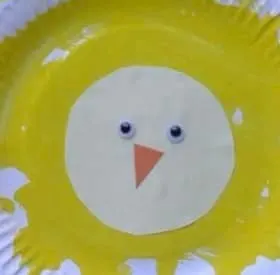 Make a Paper Plate Sheep Mask
Crystal shared her paper plate sheep mask idea. Cover a paper plate (with a hole cut out of the middle) with cotton balls and add some ears with black card.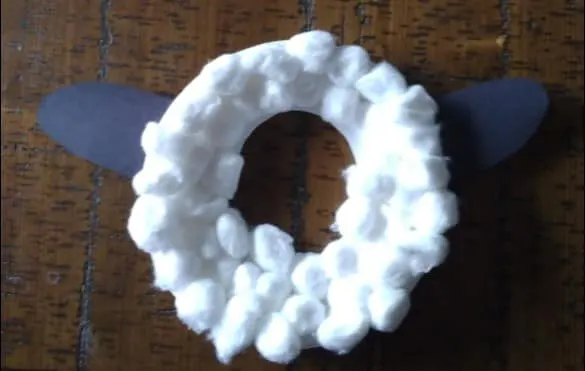 Cotton Ball Wooly Sheep Craft
Use a toilet paper cardboard roll (or a craft roll) and cover it with cotton balls. Add some craft sticks for legs (painted black) and use construction paper for the face. Thanks to Rebecca for sharing this sheep craft with us.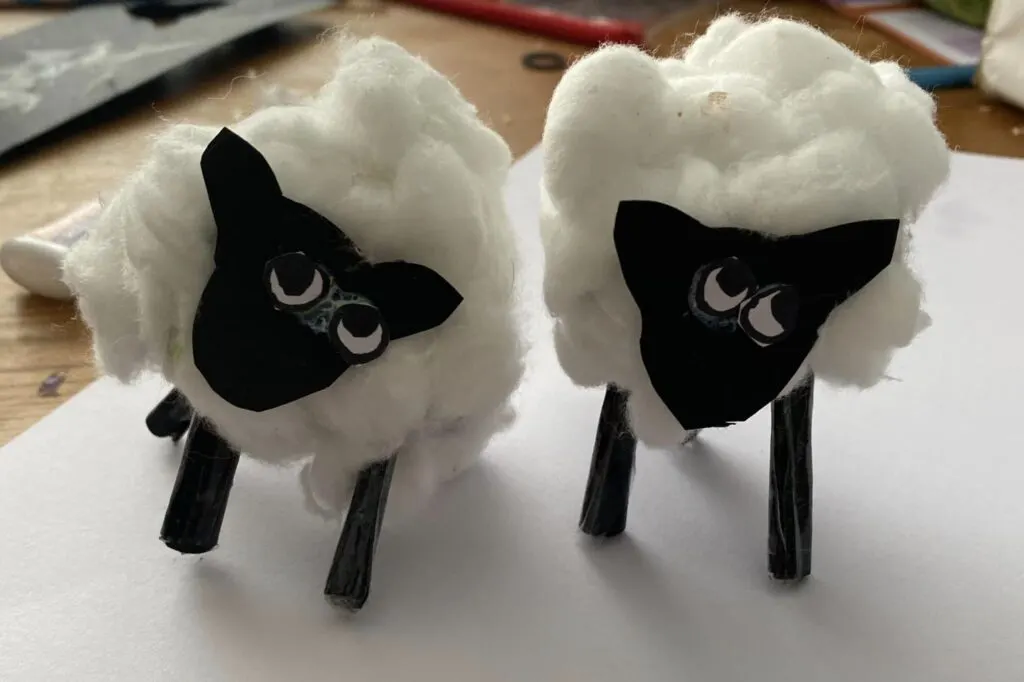 Washing the Farm Animals
Washing toys is always a fun and easy toddler activity. Add some farm animals to a container of soapy water and let them have fun!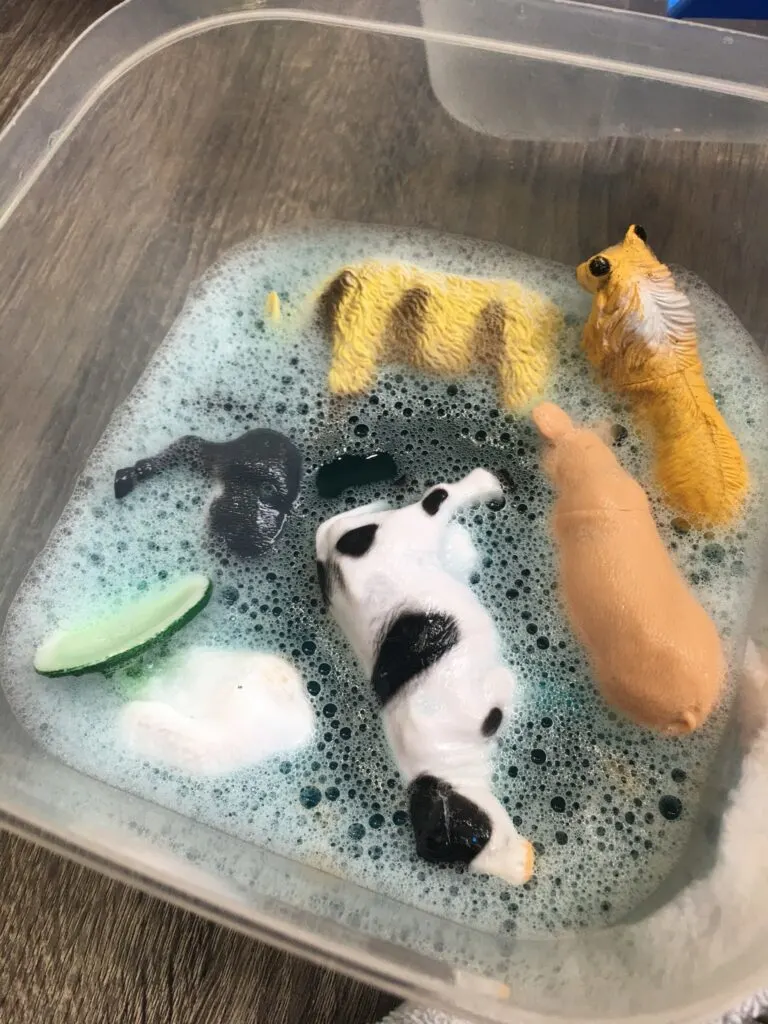 Muddy Pig Painting
Make a muddy pig painting - this is actually a mess free (sort of!) activity. Rebecca showed us how she used a picture in a zip lock bag to paint the pig with 'mud'.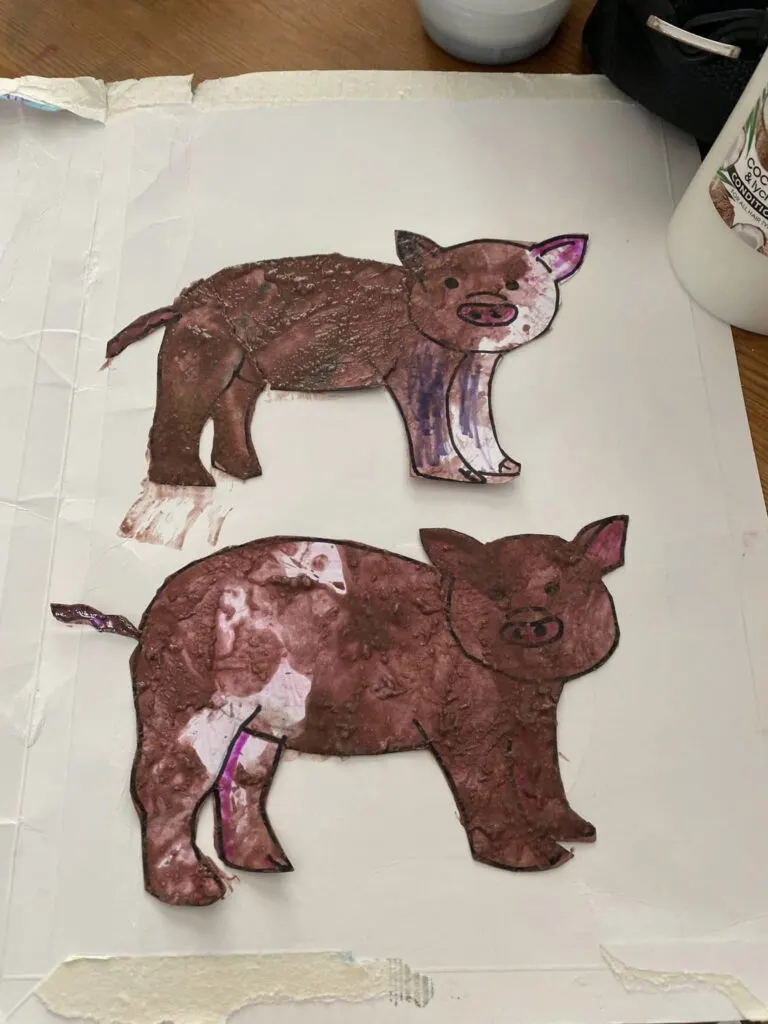 To make this muddy pig craft you need a picture of a pig. Rebecca had her toddlers color them first. Place the picture into a ziplock bag and add the mud (a mix of brown paint and shaving cream).
Securely close the bag and have your toddler mix the mud around. What a great farm activity idea!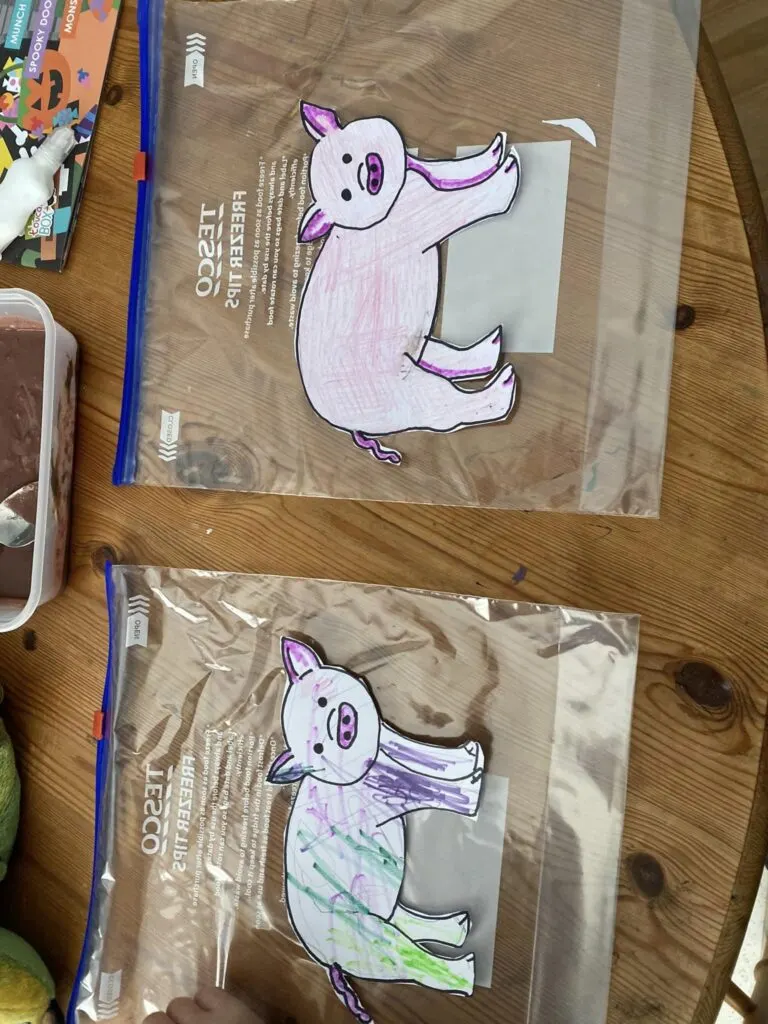 Milk the Cow
I love this farm activity idea shared by Nicole. Fill a rubber glove with water put a pin hole in the bottom of each finger) and have them 'milk' the cow!
Make a Farm Sensory Bin
If I'm setting up a themed week of activities I like to start with a sensory bin or small world play as you can normally leave these out for most of the week and they will get played with each day. For a farm theme I really love this small world farm sensory play.
More Farm Sensory Bins for Toddlers
We had so many great farm sensory bin ideas shared in our Facebook group that I have to show you them all!
Danielle shared this amazing farm sensory bin. She used cornflakes and some packet cake mix for the dirt and shaving cream mixed with a little bit of blue paint for the water.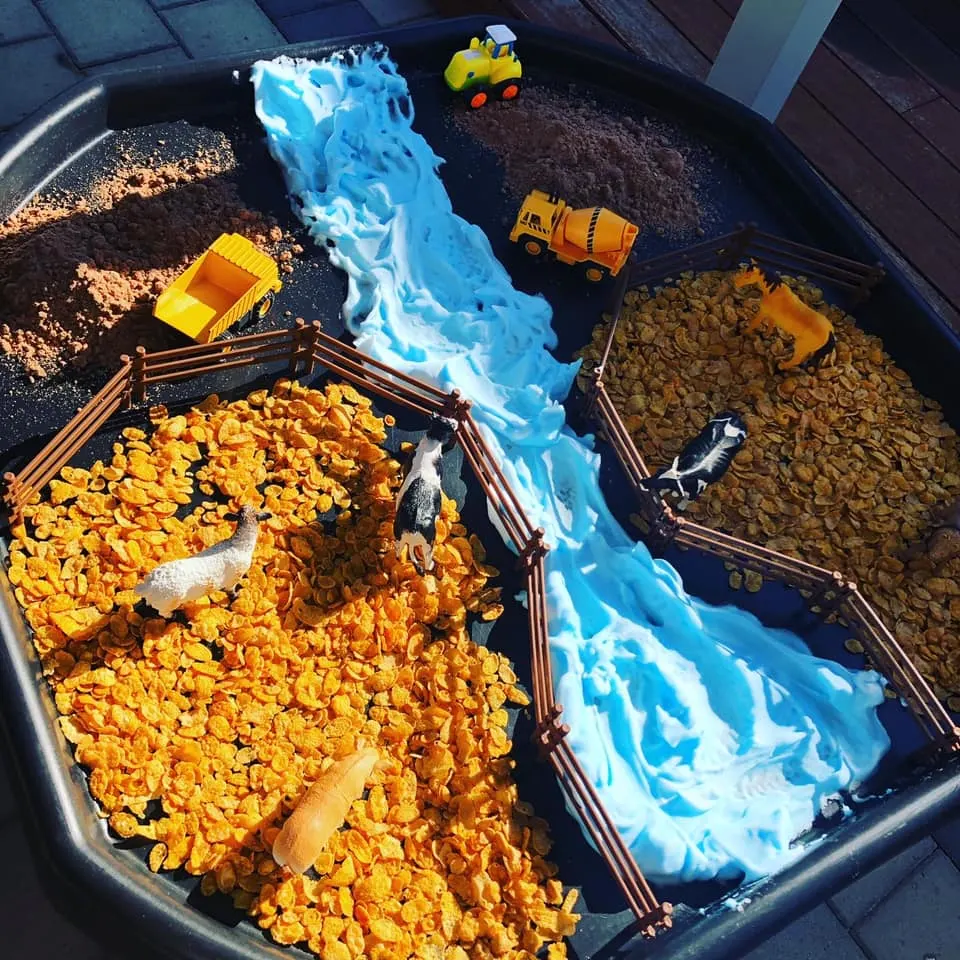 Fatema shared her farm sensory bin using craft sticks for the fences and felt for the floor.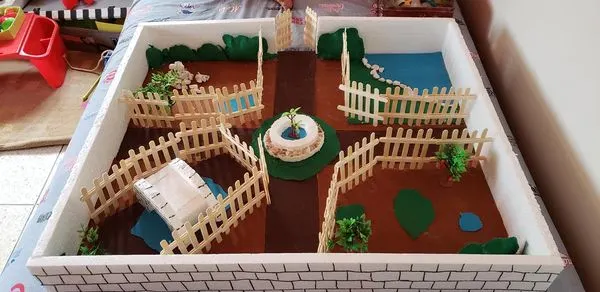 This outdoor farm sensory bin was shared by Gemma - you can see that she has used some blue food coloring in the water for the pond, corn for the path, pudding for the mud and some real grass too!
Iza made a farm sensory bin out of cardboard boxes.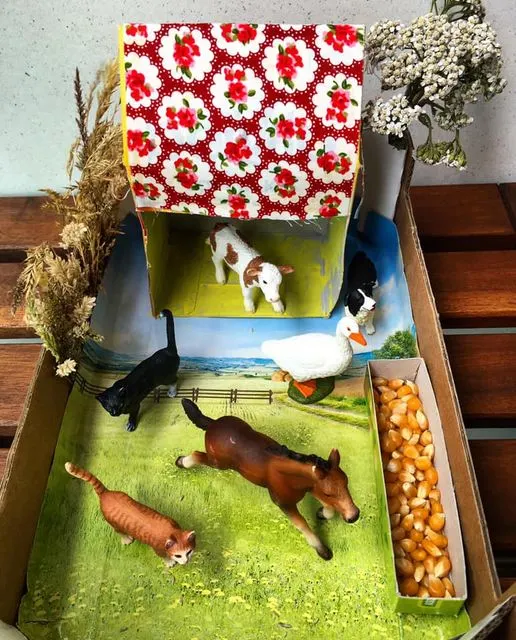 Ashley shared this simple farm sensory bin with us. She used green paper strips for grass, some water and some black beans. Simple but entertaining!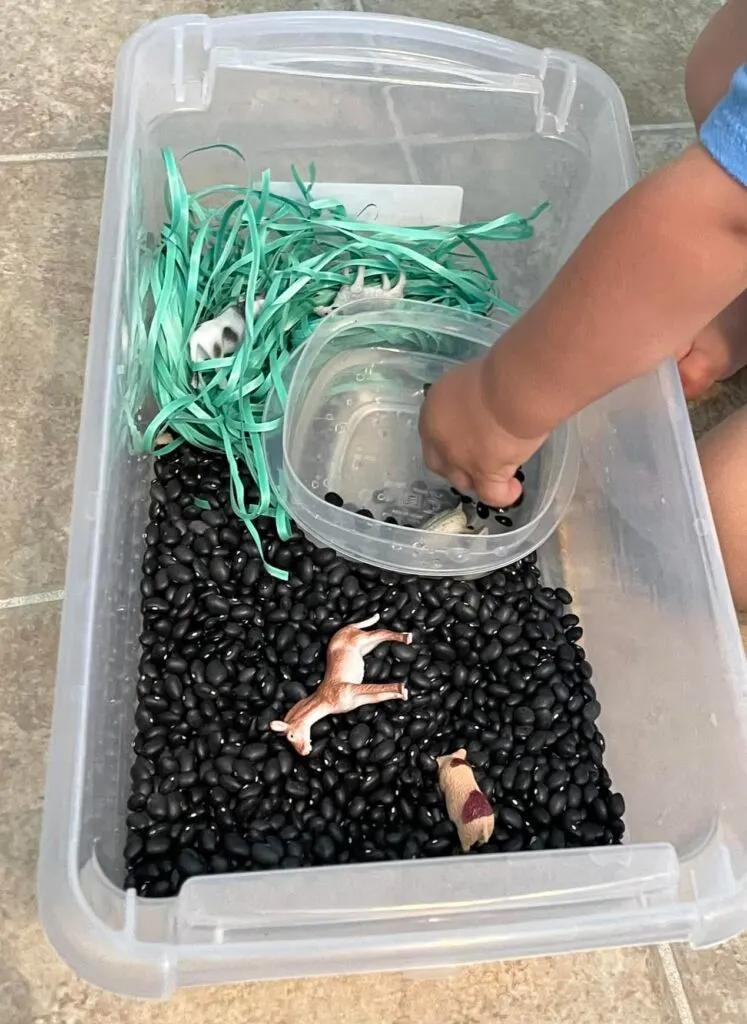 This farm sensory bin was shared by Katie using toys she already had. You could use sand as a base or crushed crackers or cereal to make a taste safe farm sensory bin.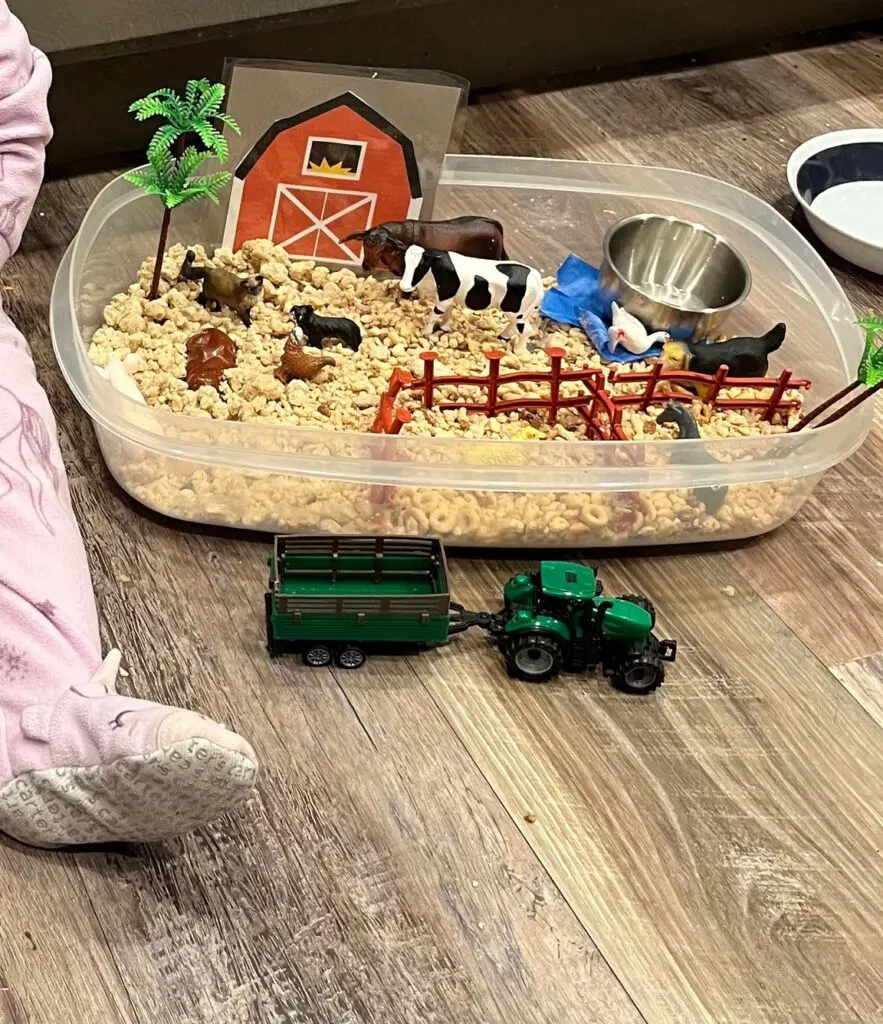 I love how Jennifer used a sectioned tray to create individual pens for her farm animals!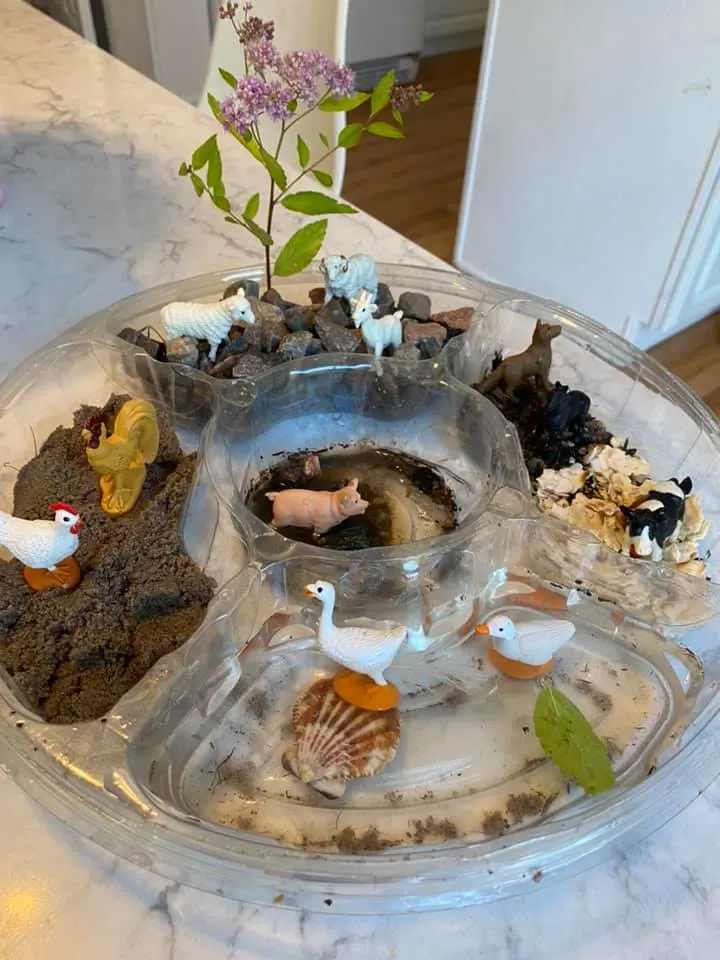 For this sensory bin Jennifer used colored rice (see how easy it is to color rice HERE), and some black beans for her farm sensory bin. I like how she used a kiddie pool to keep the mess contained!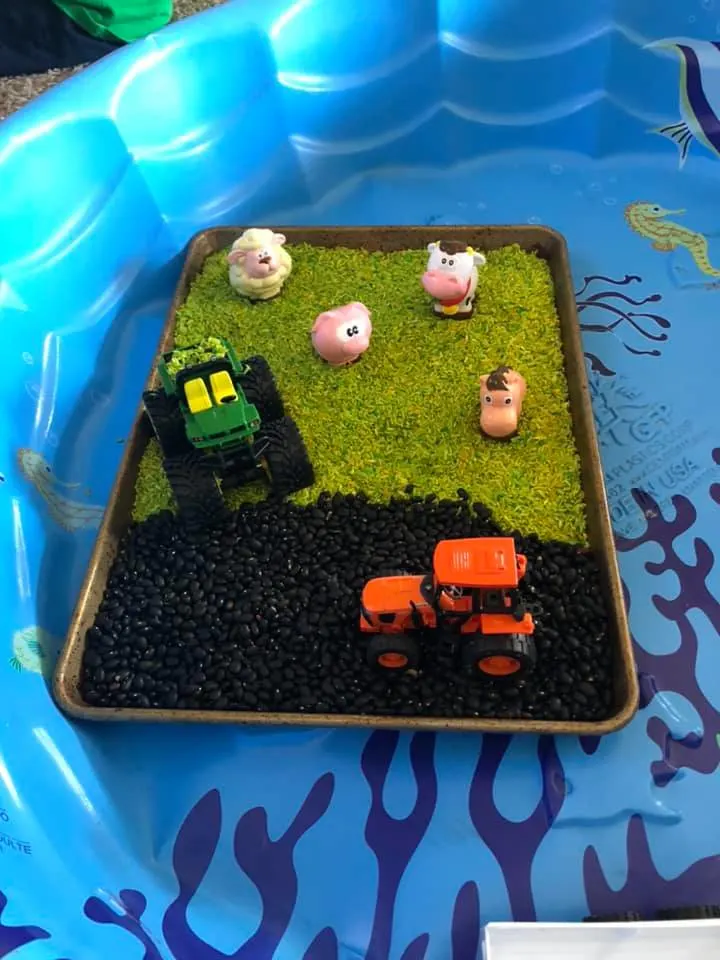 Kendra made a colorful rainbow rice 'hide and seek' farm sensory bin. You can get the Animal Hide-and-Seek book HERE on Amazon.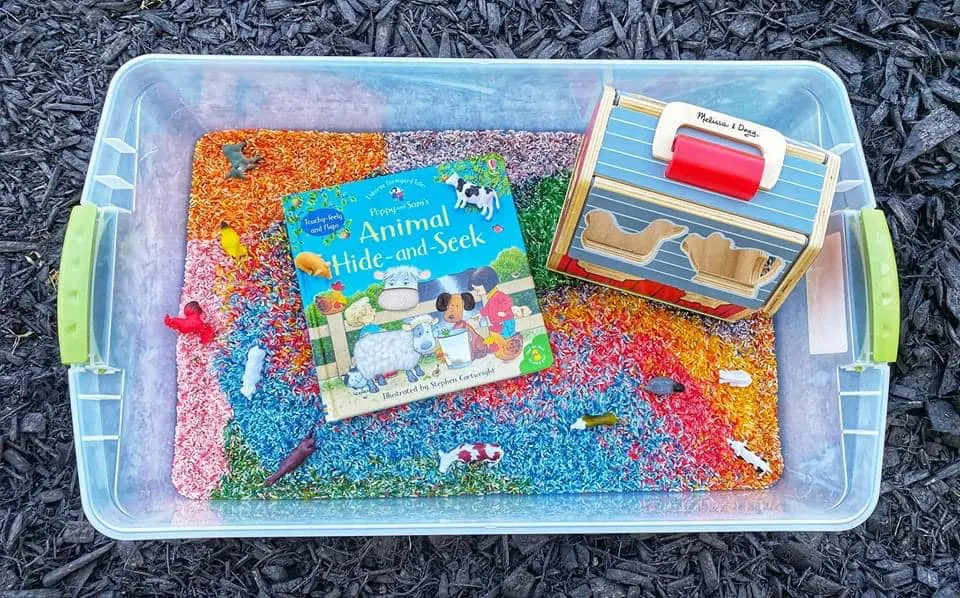 Jodie made a muddy animal sensory tray - you can use pudding for the mud or can make taste safe mud by mixing corn flour, cocoa and water. Oats make a great base for a farm bin too.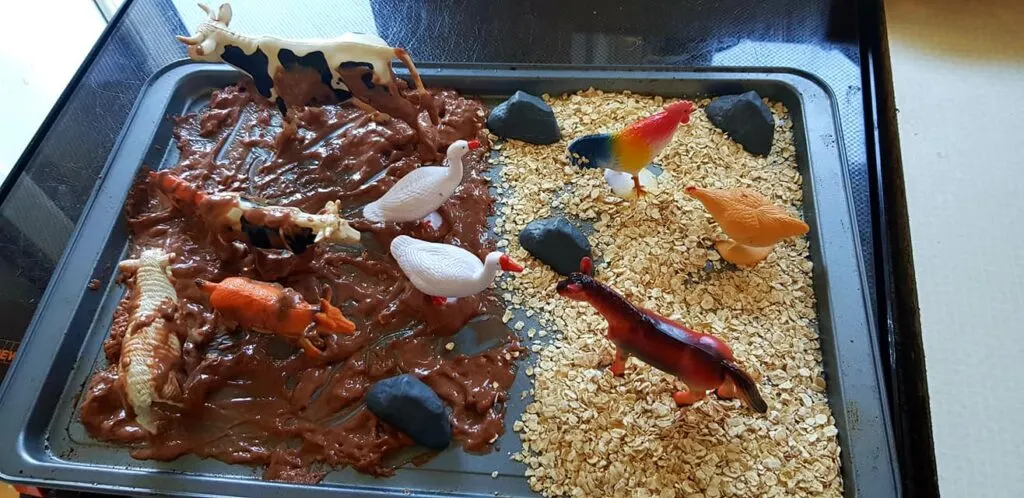 We would love to see your toddler activities. Why not join our Facebook group or follow us on Instagram for more ideas.
Follow us for more toddler activity ideas
Some more toddler activities you might enjoy are: