There's something special about toddlers and the farm. Boys and girls seem to love this theme equally as much, and it's a great topic to incorporate some great toddler books into. We've found 10 great farm books for toddlers that I know you will love – I'm sure you've probably read some of them already!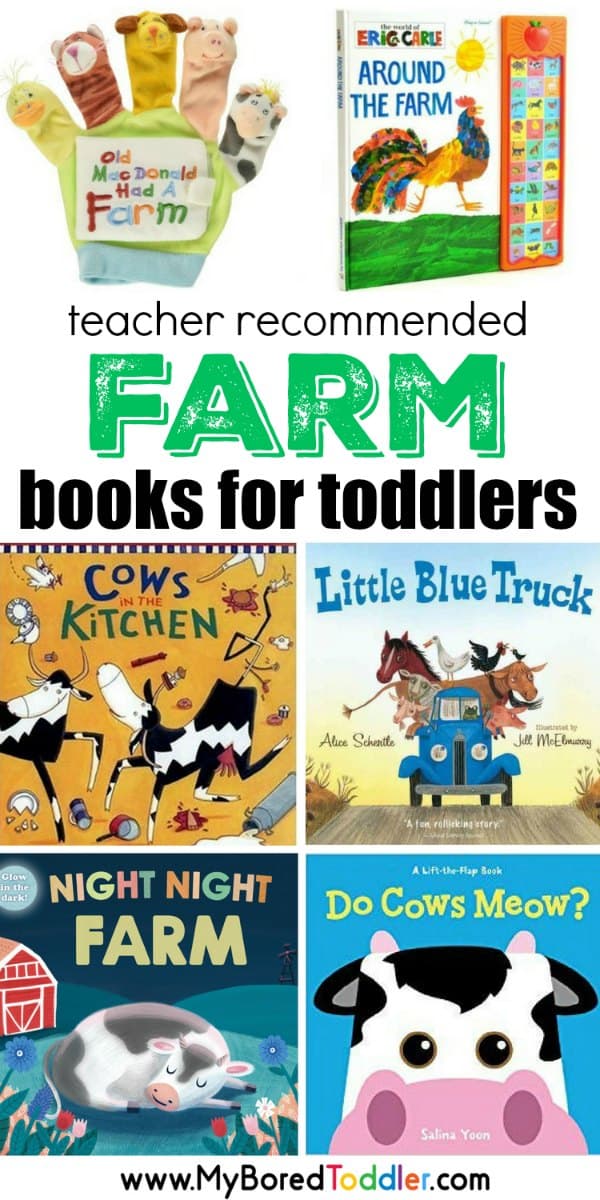 10 Great Farm Books for Toddlers
I put this list of toddler farm book recommendations together to go along with our Farm Activities post.  I always like to incorporate books into our activities wherever possible and the farm theme has some great ones. I've linked directly to the books on Amazon as that seems to be the most popular place to get them from, but don't forget about your local library too!
My children LOVE this book. I posted on Instagram a while ago about how it was the book that they were chose to read each night for about 2 months in a row! It's a really fun book, with very easy to remember words. You'll find that as your children get older, they'll be able to remember the words to this book and it's great for when they're learning to read. It was one of the first books my 6 year old could read on her own since we had been reading it since she was about 18 months old! It's a great book for children to learn the sounds that the farm animals make and they'll quickly be making the sounds at the right part in the book.  You can find it on Amazon HERE.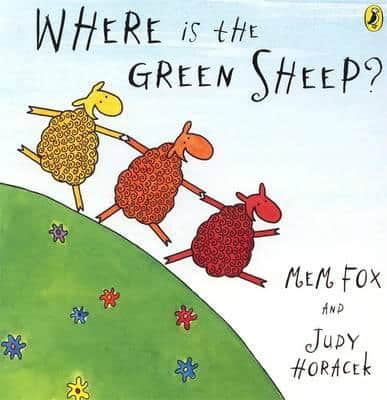 I may be biased as I live in Australia, but Mem Fox is such an amazing author of children's books (Possum Magic is a must read) and Where is the Green Sheep is a book that you'll find in every early learning center in Australia. It's a lovely story about the hunt for a lost green sheep. With a focus on repetition and opposites, it's another book that the children will be joining in with very quickly. Available HERE from Amazon. 
3. Do Cows Meow? by Salina Yoon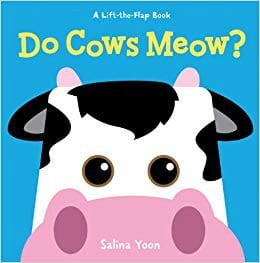 Do cows sing? Do cows cuckoo? All I know is cows go . . . MOO!  This is a fun lift the flap book that is super engaging for this age group. They'll be mooing, clucking and meowing along with the story. Each page has a new 'mouth' to lift up and explore the sounds – brilliant! Definitely a highly recommended farm toddler book and one you can get HERE on Amazon. 
4. Old MacDonald Had a Farm Hand Puppet Book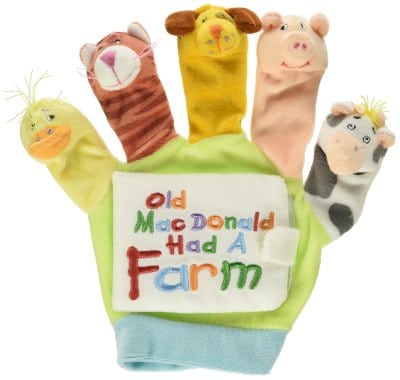 This is a very simple version of the Old MacDonald book (it's a very short version too) but what makes this book a favorite is that it's attached to a hand puppet! The children will LOVE the puppets and it's a great way to get them to join in the song. I recommend this one for the younger toddlers (around 6 – 18 months). You can get this one HERE on Amazon. 
5. Around the Farm by Eric Carle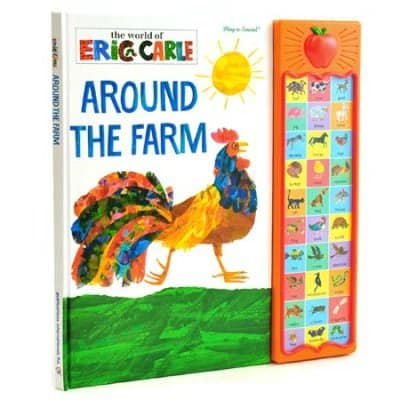 I'll let you decide if you love the make a sound books (they can drive you a bit crazy!), but I can guarantee that your toddlers will love them! I highly recommend all of Eric Carle's book (the author of The Very Hungry Caterpillar) and this one is perfect book for toddlers who have an interest in the farm. One of the things I love most about this book is that the children have to find which sound matches the picture and there are 30 different ones to choose from. You can get Around the Farm HERE on Amazon.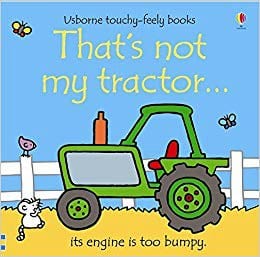 I love the series of books in the 'That's not my' range and children do too. These books are aimed at the younger market (6months+) and are a touch and feel book. If your child loves these kinds of books there's quite a few box sets available too.  That's not my tractor is a fun one, and there's a lot more farm themed ones to explore too. You can get That's not my Tractor HERE on Amazon.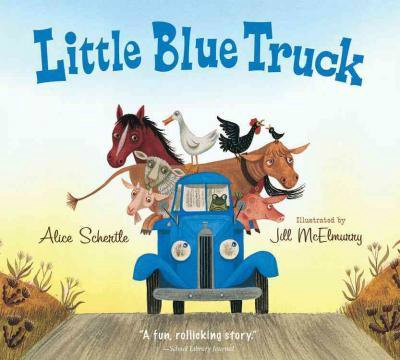 There's a reason that this book continues to top the best seller lists in the picture book categories. A lovely story about a truck and some farm animals that help him out when he gets into trouble. With beautiful pictures, catchy rhyming and a focus on being kind, Little Blue Truck ticks all the boxes! You can get Little Blue Truck HERE on Amazon.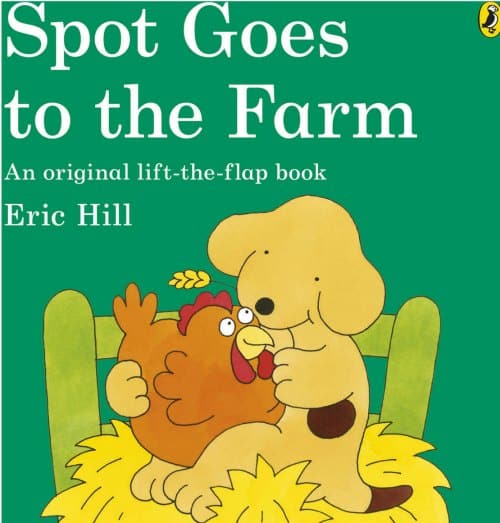 The Spot series of books have been a favorite in our house and I'm sure we've read all of them by now. They've certainly been around for a long time as I remember reading them when I was little too! Spot goes to the Farm is a fun lift the flap book where Spot is looking for baby animals. You can find it HERE on Amazon.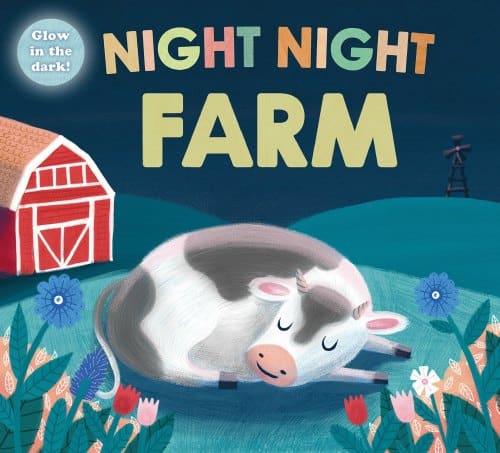 This book is a sweet farm book for toddlers to read at bedtime. The story has you saying Night Night to all of the farm animals and it's one I love to read aloud to them. A few of the pages even glow in the dark for an added surprise! You can get Night Night Farm HERE on Amazon 
10. Night Night Farm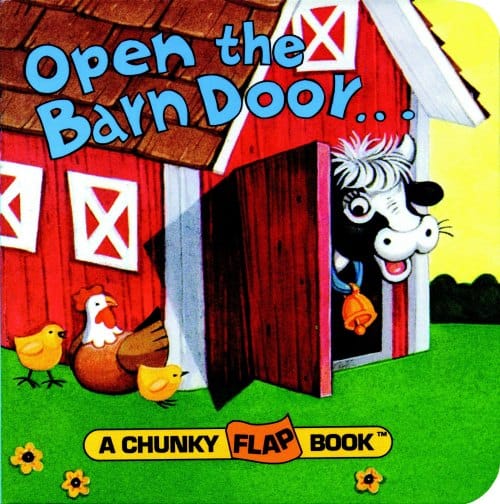 This is a chunky lift the flap board book that focuses on the sounds that the farm animals make. This is quite a small book and is a great one to have in your bag for those times you need a distraction while you're out! You can get this toddler book HERE on amazon. 
If you love these books or have any other great toddler farm books that you think we need to add to our list, join in the discussion in our Facebook Group.  You can also subscribe to our weekly newsletter and follow us on Facebook, Twitter , Pinterest and Instagram.
Make sure you enjoy these fun farm activities for toddlers after you've read your books!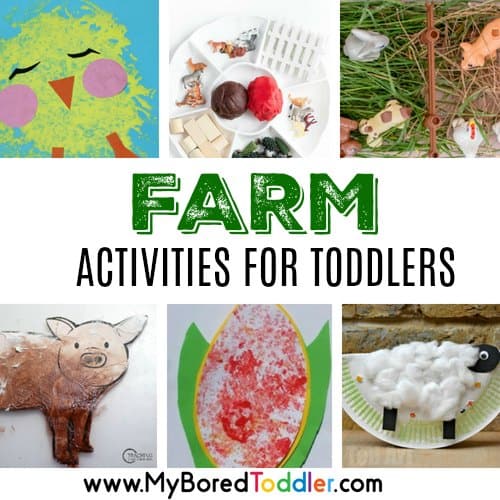 If you're looking for more great toddler book recommendations then this list will have you covered!