This collection of easy Fall activities for toddlers will keep your one, two or three year old busy this Fall with these easy toddler activities.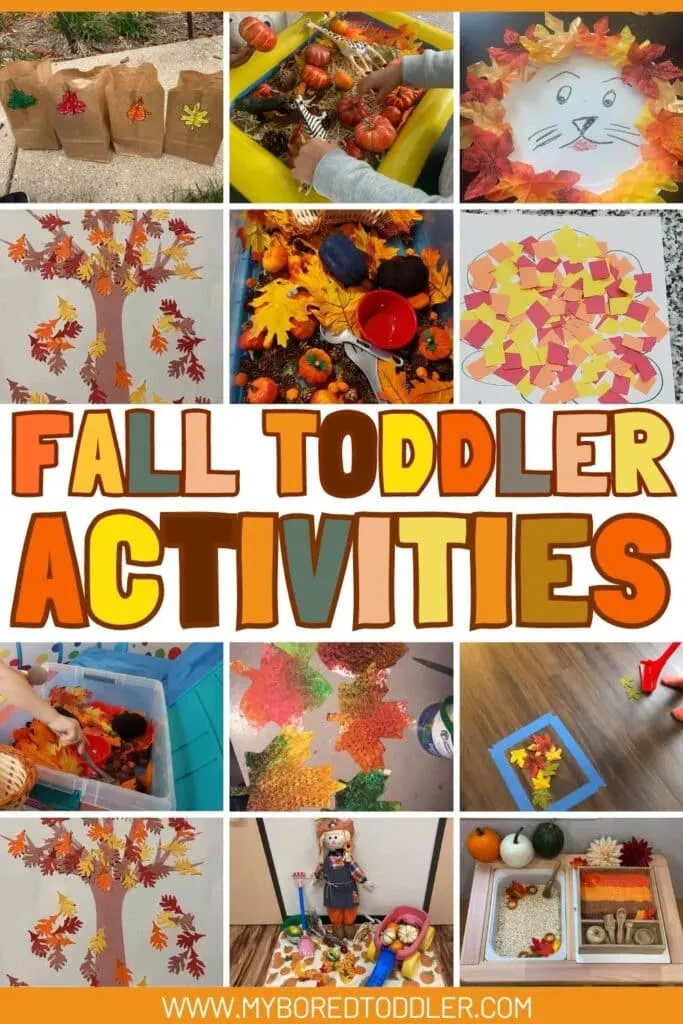 Fall is one of my favorite seasons. The colors are beautiful, the weather is perfect and there are so many great Fall crafts and Fall activities for toddlers that you can do!
If you're looking for Fall themed crafts, activities and sensory play then this collection of over easy Fall Activities for toddlers will have you covered! Honestly, you have no excuse now!
Fall Activities for Toddlers
We put the call out in our Facebook group for some of their favorite easy fall toddler activities and I'm sure you'll love their activity ideas as much as I do.
Fall themed sensory bin for toddlers
Ada shared her beautiful Fall themed sensory bin setup using colored rice, oats and craft fall leaves.
While this looks amazing, it's actually pretty easy to set up.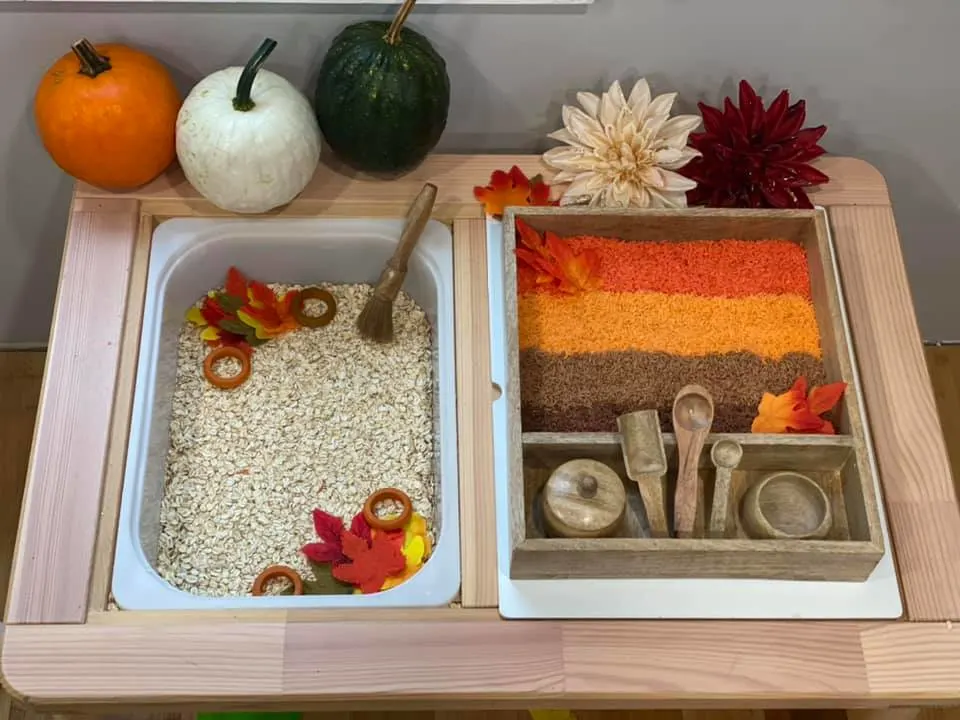 Fall leaf themed dramatic play setup
April shared here Fall inspired dramatic play setup with us.
She used some small pumpkins (you could use pretend one like these), a pumpkin themed tablecloth and some fall craft leaves.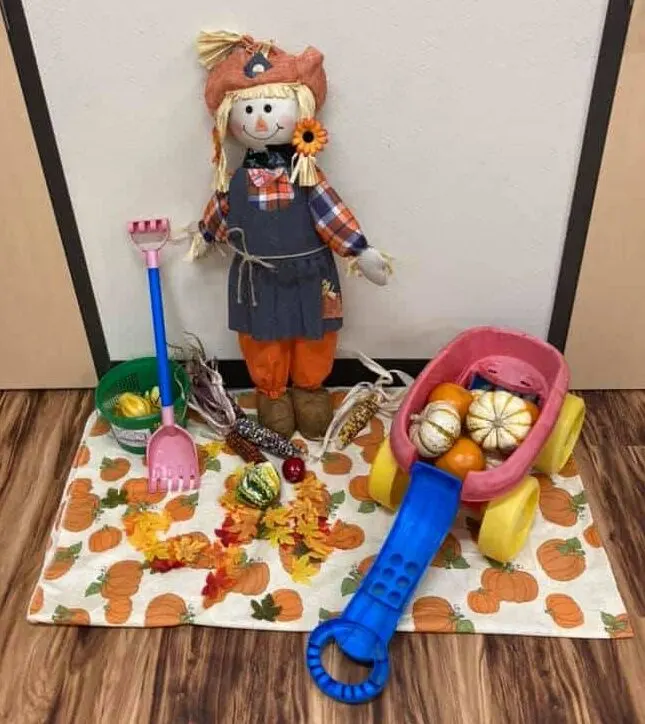 Sweeping Leaves
Emily shared her fall toddler activity idea - sweeping leaves.
Once again these craft leaves work great for this, but you could also set it up outside with real leaves too (use chalk instead of tape).
You can get a cute toddler size broom set HERE on Amazon.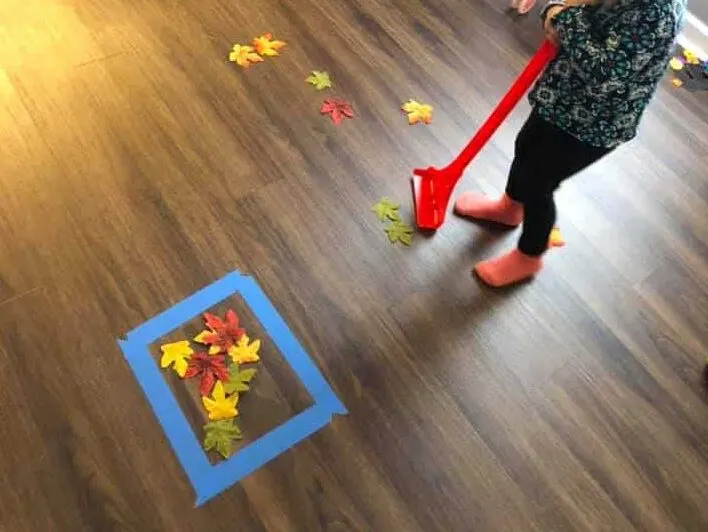 Painting Fall Leaves
Another fun toddler Fall activity is to paint leaves. Elise shared her fall leaf painting with us.
I love how bright the colors are and how she displayed the finished work in a frame.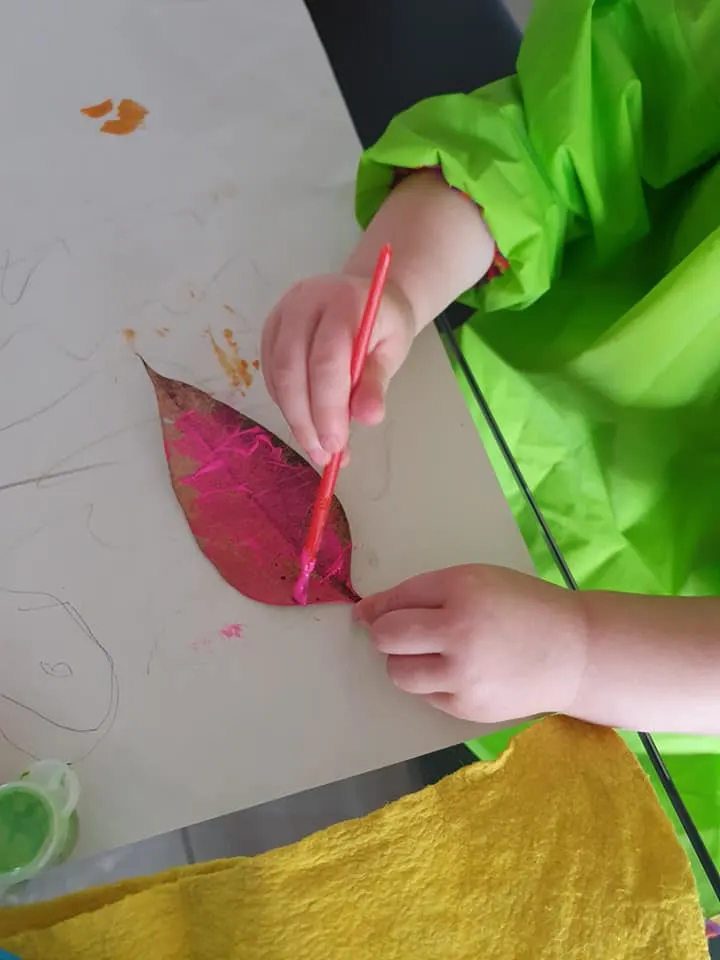 Emily also set up some leaf painting uses paper leaves (you can get sets like this ready to decorate).
By using a dropper (I LOVE this set) and watercolor paints it creates a really great effect.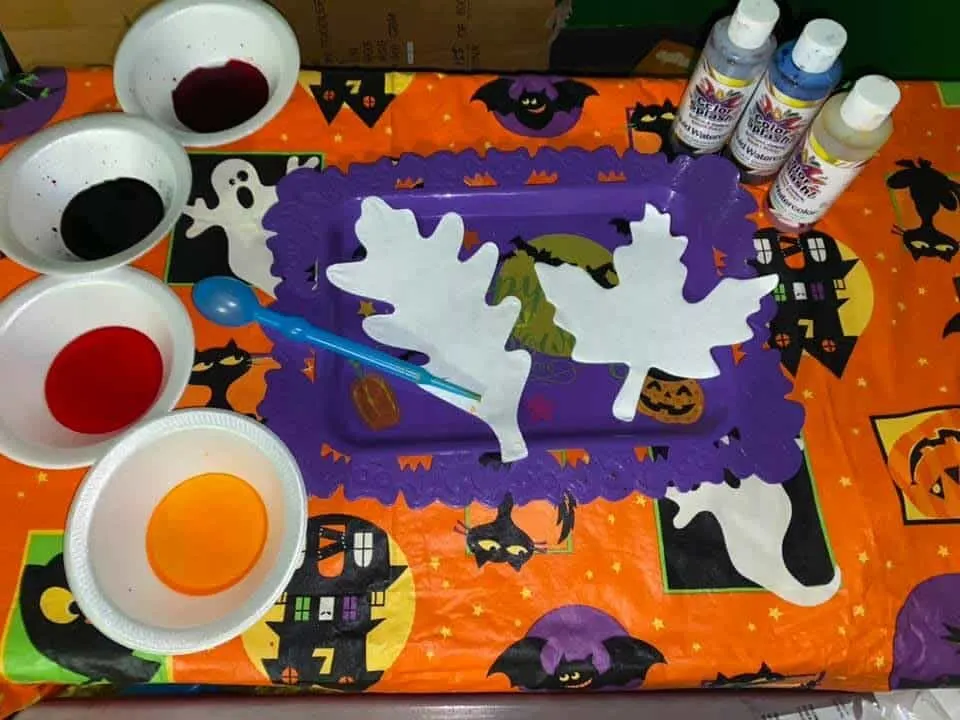 Raking Leaves Sensory Play for Toddlers
This is such a relaxing Fall activity for toddlers.
We used a base of sand (you want to use play sand for these) and then added the craft leaves and a rake. So simple.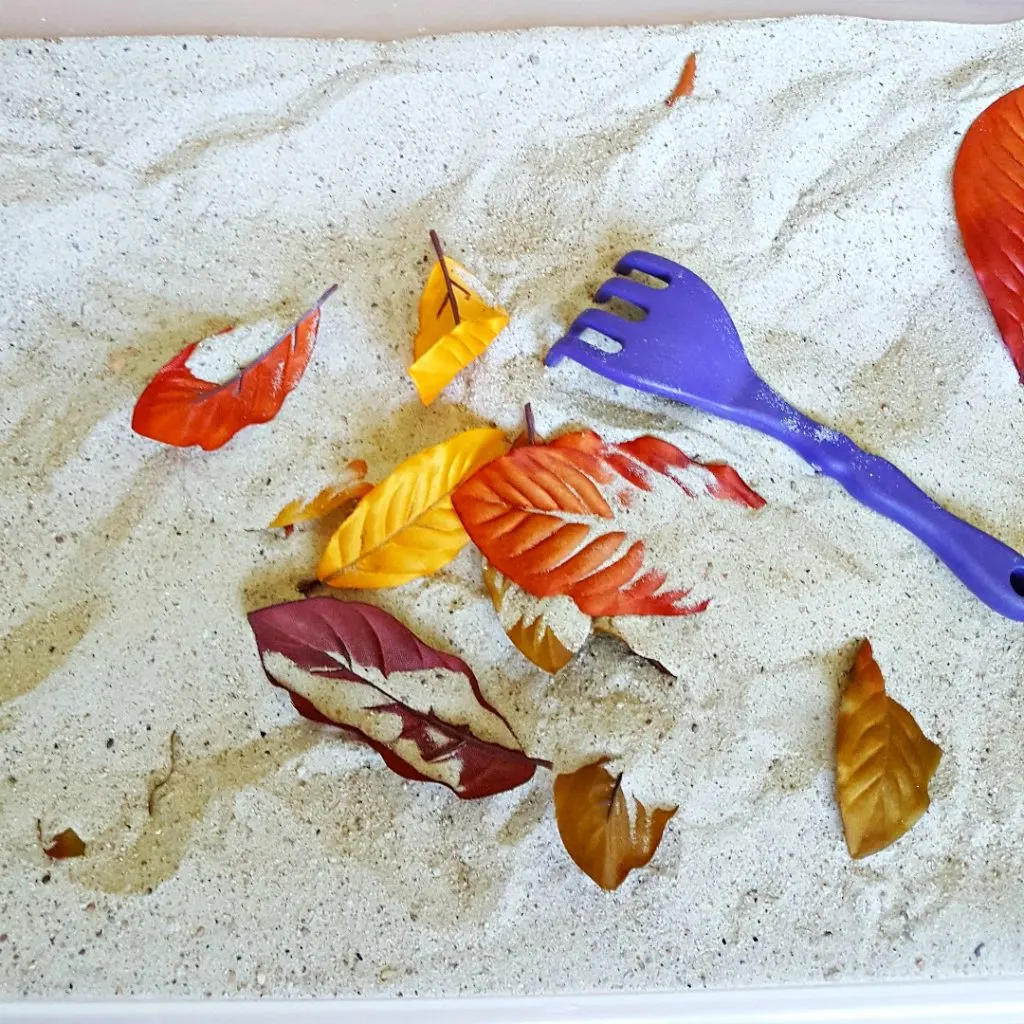 Easy Fall tree collage craft
Nilofer shared this easy fall toddler activity idea - draw a simple tree and then used colored paper to create a collage.
When creating a collage with a toddler I recommend using a glue stick and then covering the whole picture with glue and then letting them stick on the paper.
As they get older they can try using the glue stick themselves.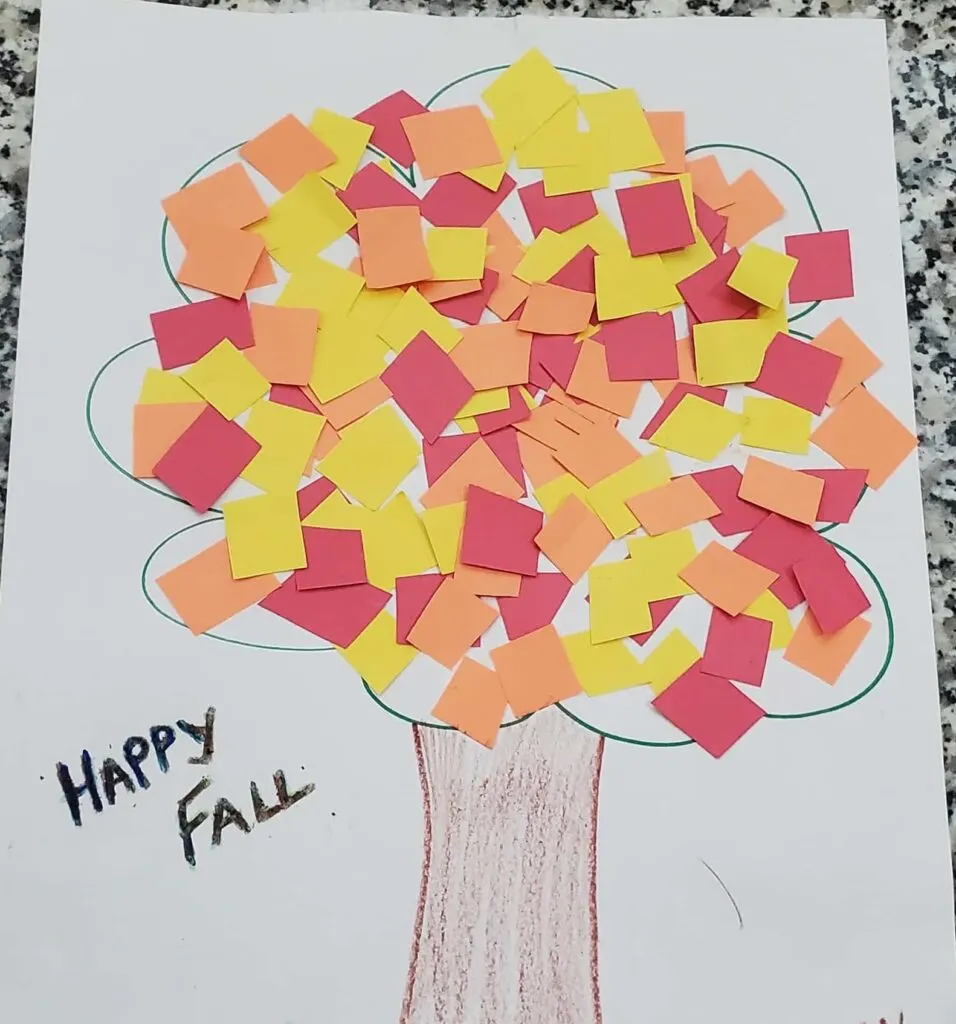 Fall Counting, Coloring and Drawing Free Printable
These free printable fall coloring pages are a great way to learn numbers to ten. Get your free copy HERE.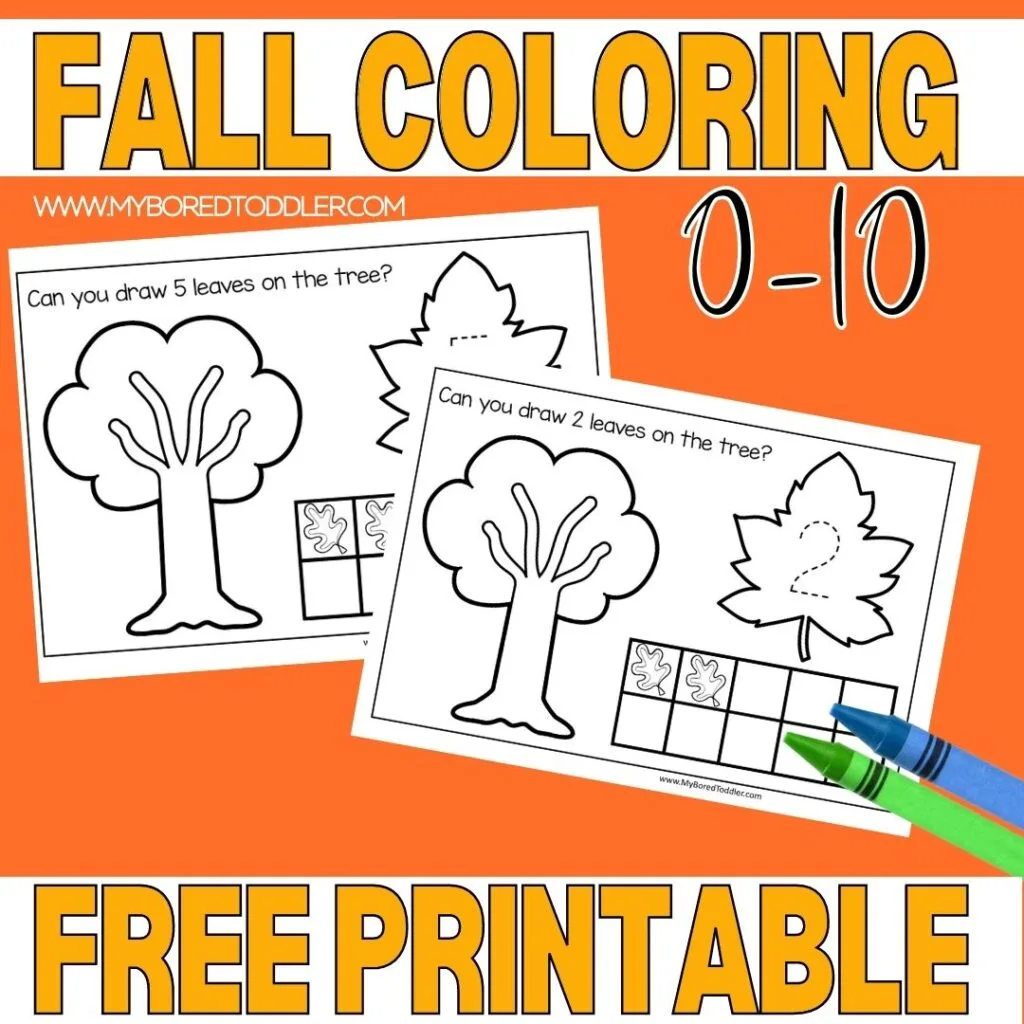 Cotton Ball Fall Tree Painting
Another fun Fall painting toddler activity was shared with us by Fame.
Once again using our favorite droppers to paint the cotton bud tree leaves. You can use food coloring & water or watered down paints to make this work.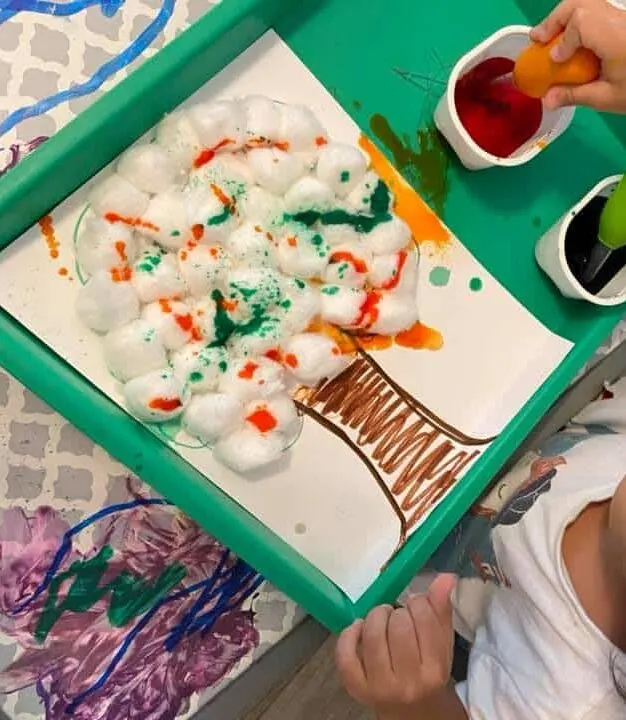 Fall Handprint Toddler Craft
This Fall handprint leaf craft was shared by Heather. Simply use paints on canvas and then use a sharpie to draw the leaf outline.
I would recommend acrylic paints like these for this however they are not washable paints to old clothes are a must when doing this toddler activity!
This could make a great gift idea.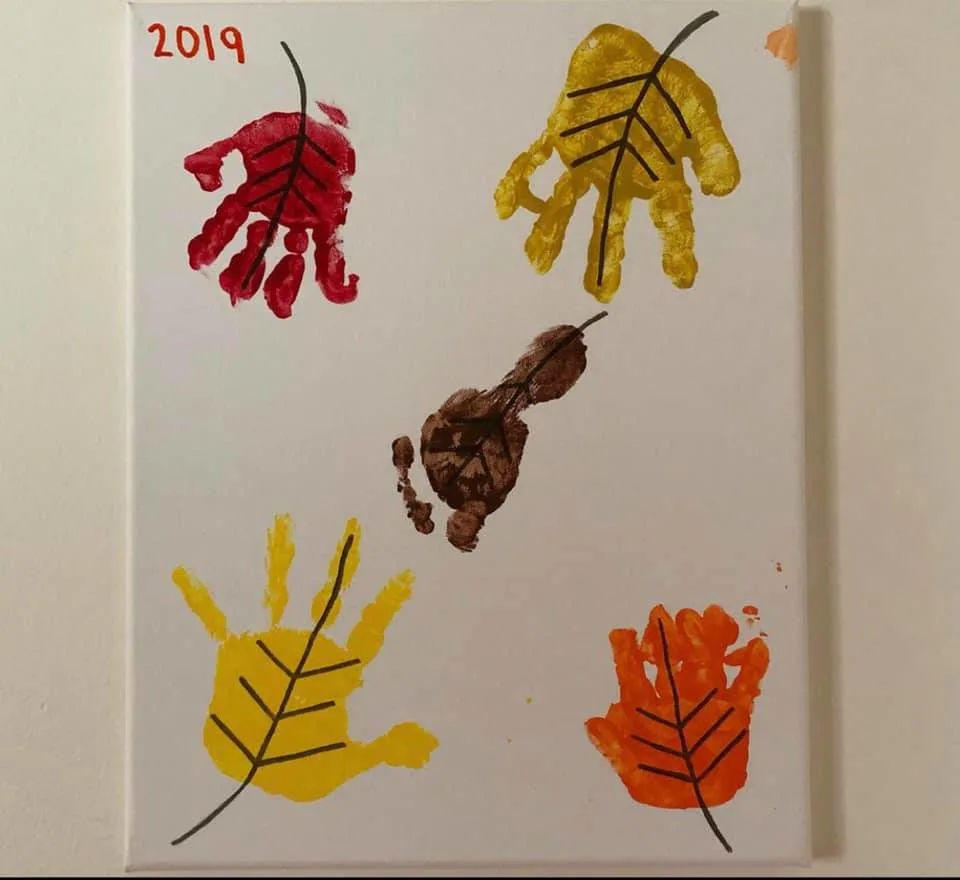 Fall Leaf Sticker Craft for Toddlers
I LOVE using stickers with toddlers and they are great for crafts like this fall leaf tree shared by Patrice.
You can get large packs of stickers like these ones HERE.
I prefer the foam stickers as they are easier for younger toddlers to use.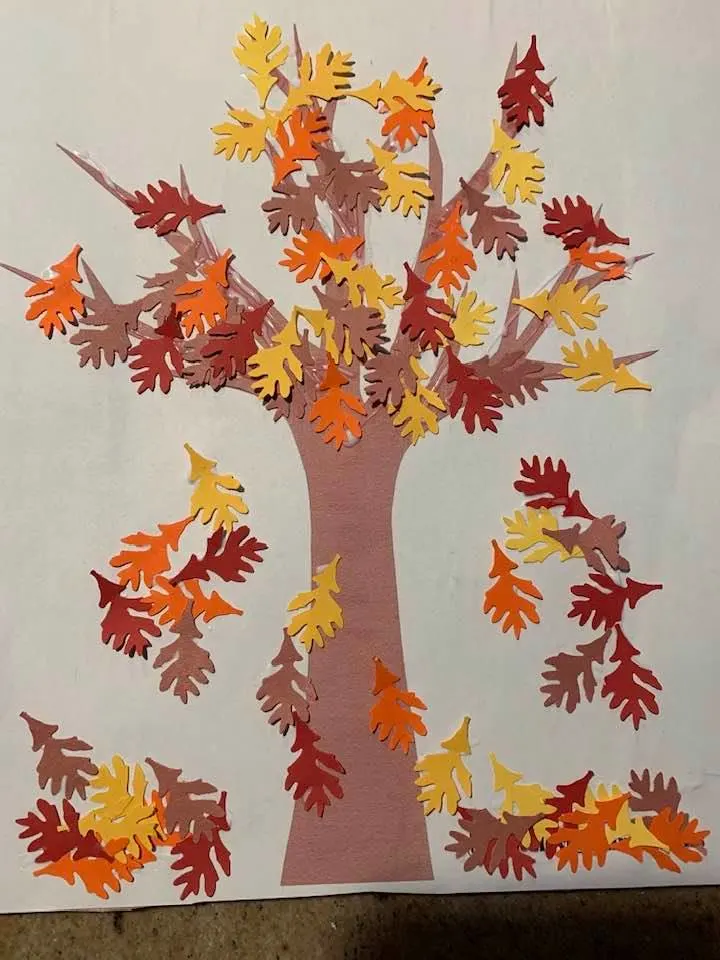 Fall Tree Craft Using Real Leaves
Samantha used real leaves for her Fall tree craft - doesn't it look great!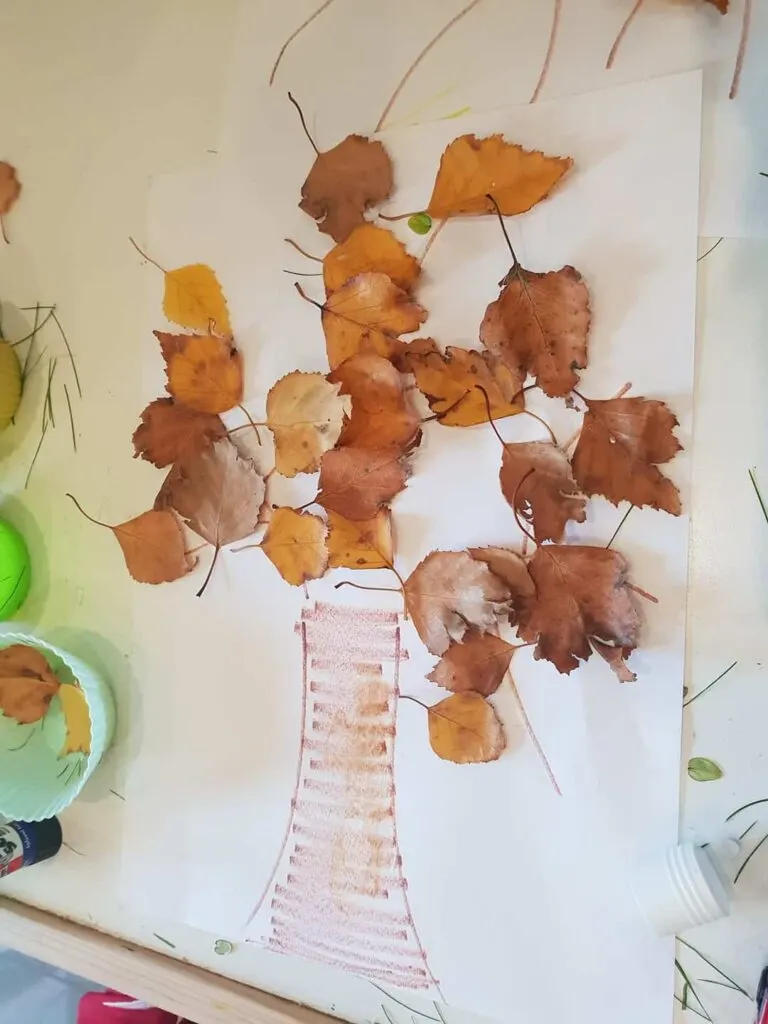 Easy Fall Leaf Sorting Activity for Toddlers
This Fall toddler activity was shared by Stephanie - so easy too! All you need is some bags and draw or stick on a picture of different colored leaves.
What a fun way to take a nature hike or walk in the park and turn it into a fun Fall themed toddler activity idea.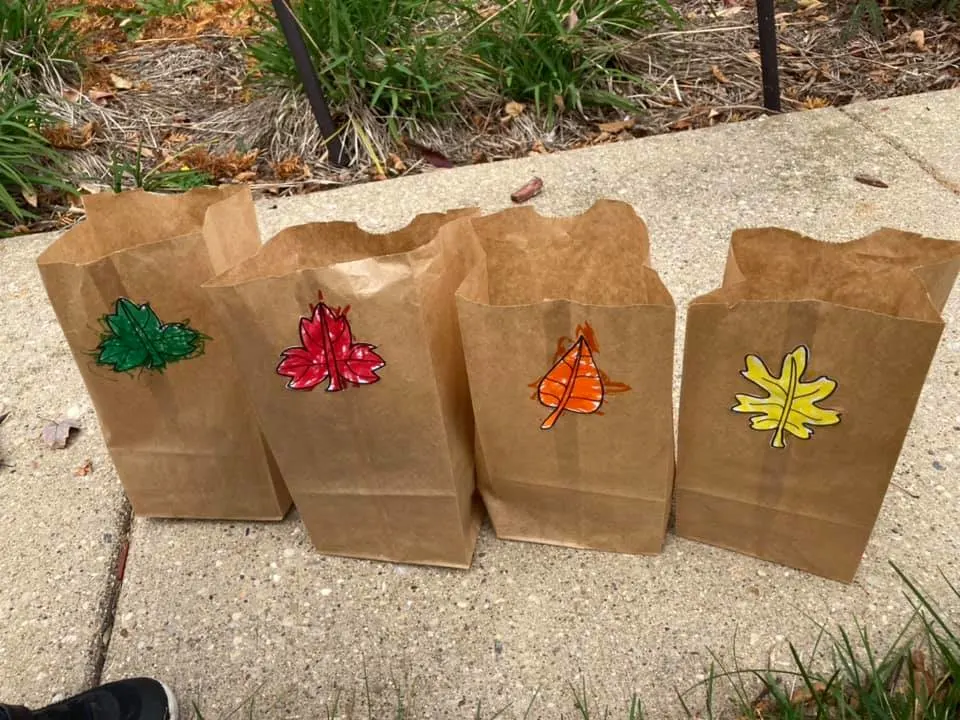 Bubble Wrap Fall Leaf Painting
I love this toddler painting activity shared by Tylisha - using bubble wrap to paint.
Wrap your child's hand in bubble wrap and have them dip it in the paint and stamp it onto the leaves. It creates a great pattern.
You can get pre-cut leaves or make your own and I if you don't have bubble wrap you can get some easily on Amazon HERE.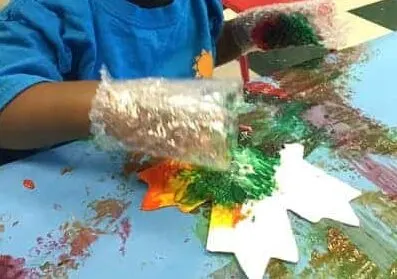 Don't these bubble wrapped fall leaves look amazing when finished!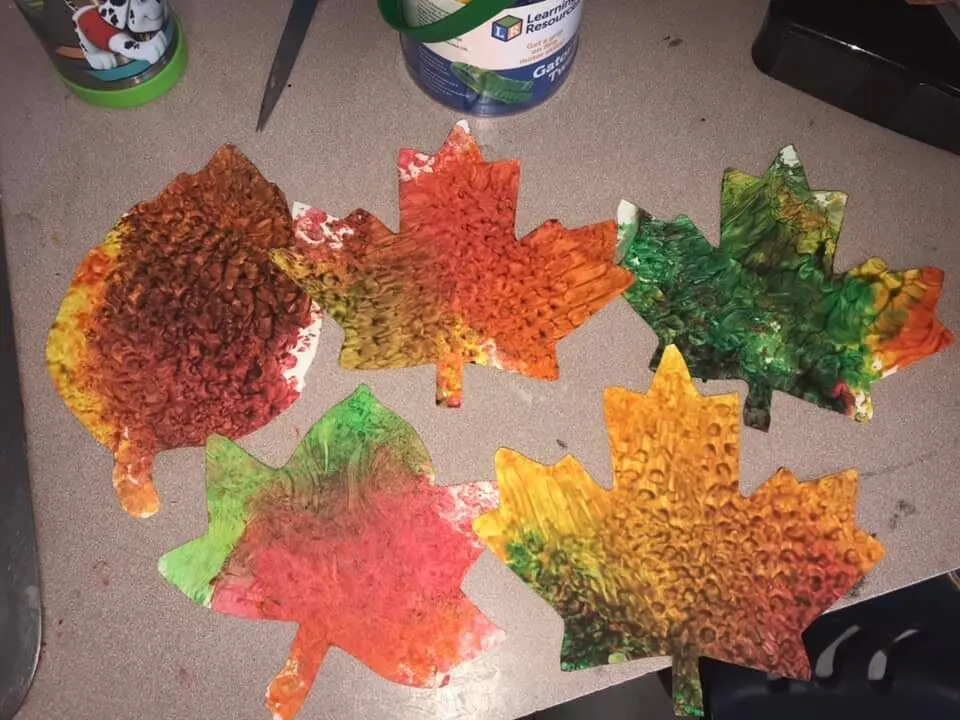 Apple Wash Fall Activity
Sara shared this fun apple washing activity idea - another really easy Fall toddler activity idea. You can use real apples or the pretend play ones like these.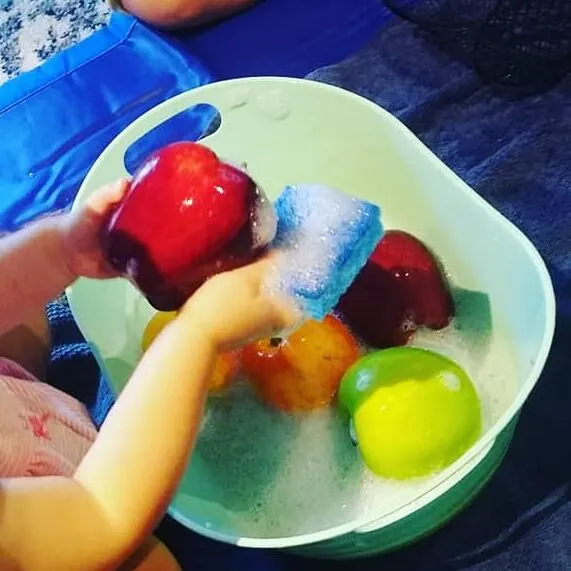 Easy Fall Themed Sensory Bin
Sandy shared her fall sensory bin made with straw and some fall themed items she already had (pumpkins, craft leaves).
She also added some animals (not technically Fall themed but who cares - it makes it fun!)
Don't be afraid to let your toddler get a bit messy with their sensory bin. Placing a mat next to it so play can move onto the floor is a great idea.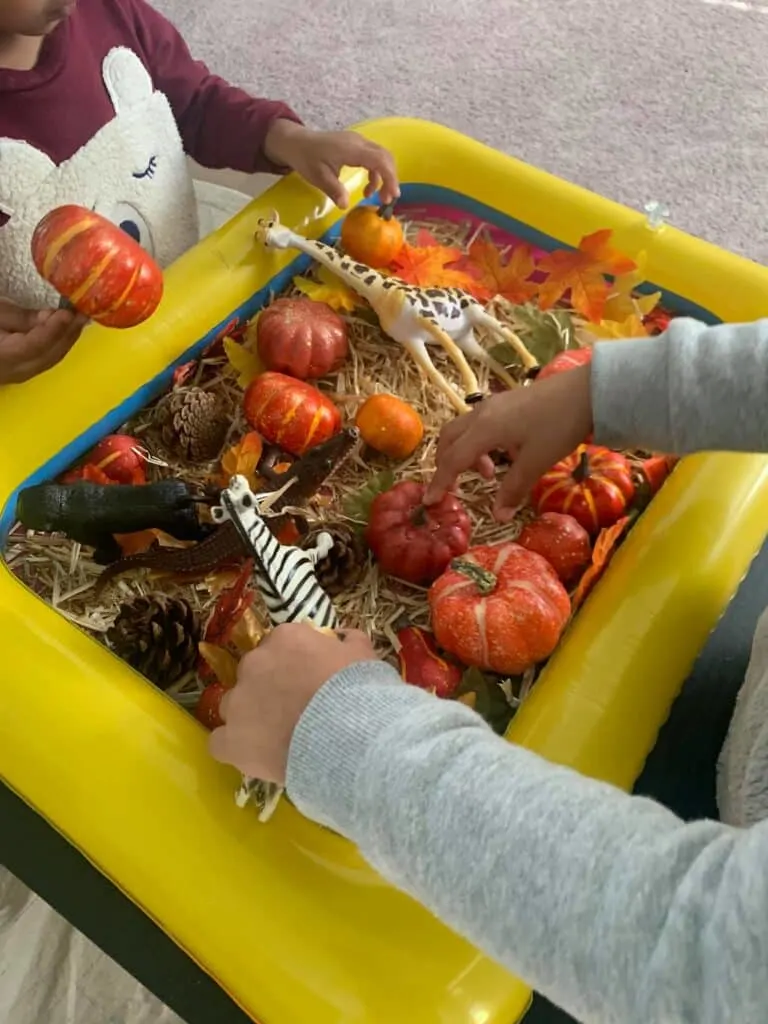 Fall themed paper plate lion toddler craft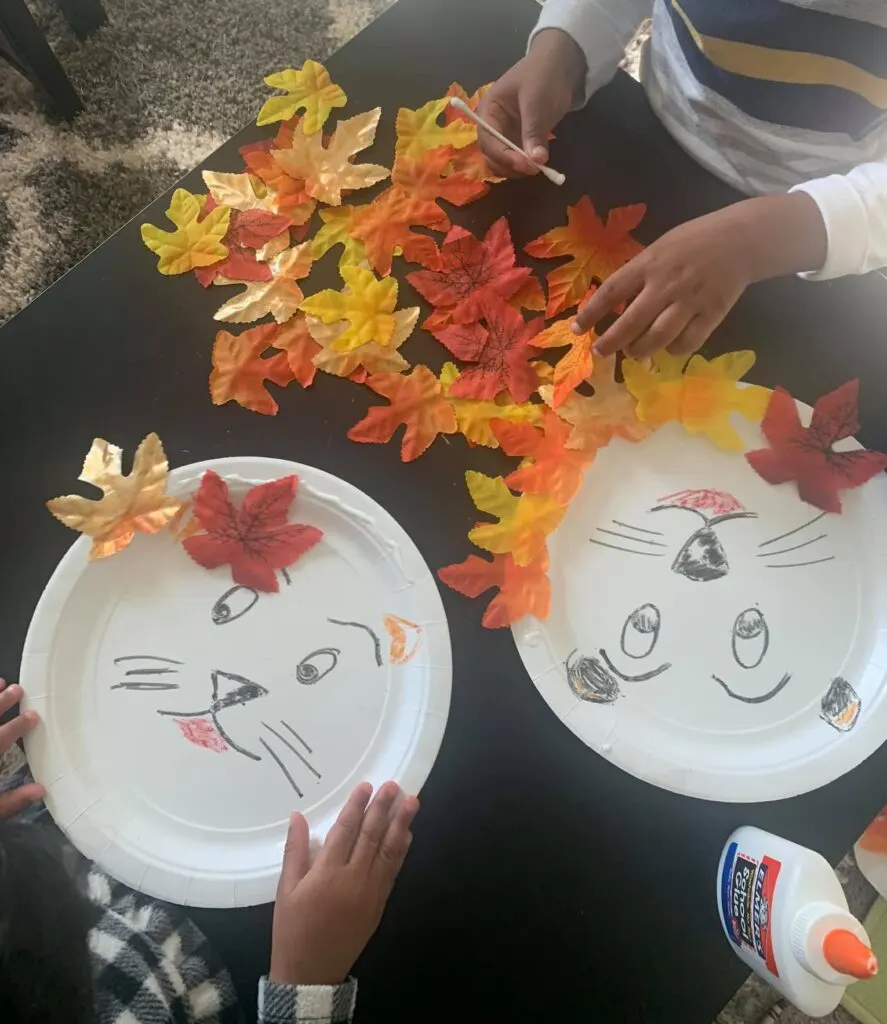 Fall Themed Paper Plate Lion Craft
Sandy shared her fun fall themed paper plate lion craft - once again using the humble paper plate and those craft leaves that we are loving so much!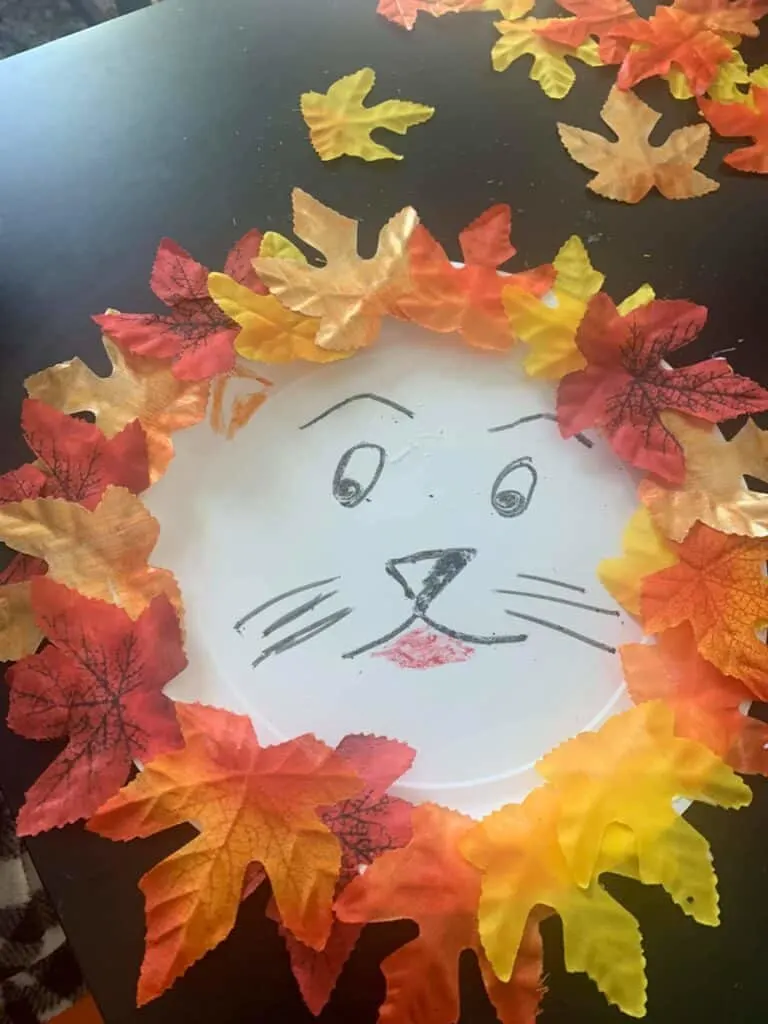 Fall Themed Toddler Sensory Bin
Noelle's Fall themed sensory bin shows that a sensory bin doesn't need to be messy. This is a simple collection of Fall colored items, some spoons and scoops and that's all you really need.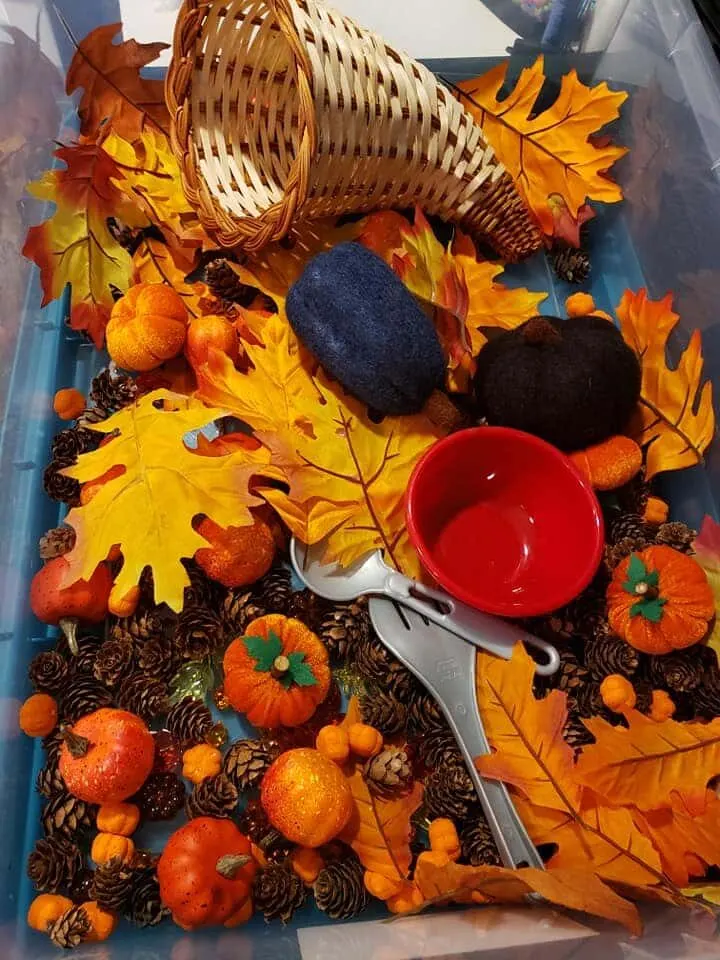 Easy Apple Collage Craft for Toddlers
Michelle shared this fun and easy apple collage craft.
Simply cut out an apple shape and use red or green scrap paper to make a collage.
Remember that it's always easier with younger toddlers to put the glue all over the picture first and then all they need to do is stick the paper on.
Let your toddler rip up the paper themselves if they can, as this is a great fine motor activity.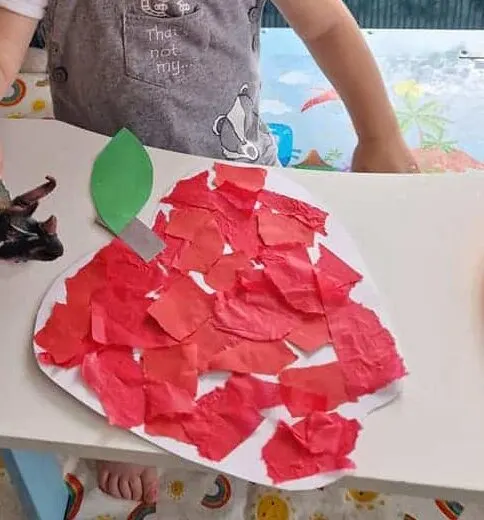 Fall Leaves with Playdough
This activity shared by Laura is a great one to setup if you want a few minutes to yourself!
All you need is playdough (I always recommend THIS pack) and some leaf cookie cutters - I have this set at home and it's great for Fall activities.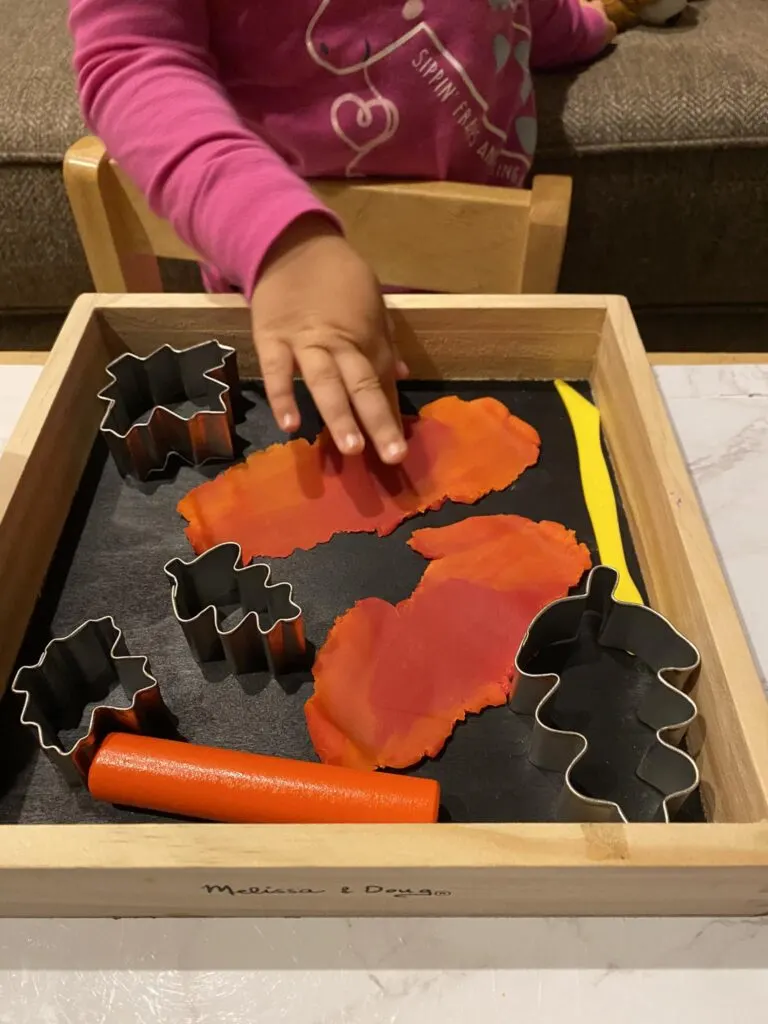 Leaf Coloring and Tracing
This easy Fall toddler activity was shared by Emily. Coloring precut Fall leaves and then tracing around them.
The idea to put craft paper underneath is such a good idea!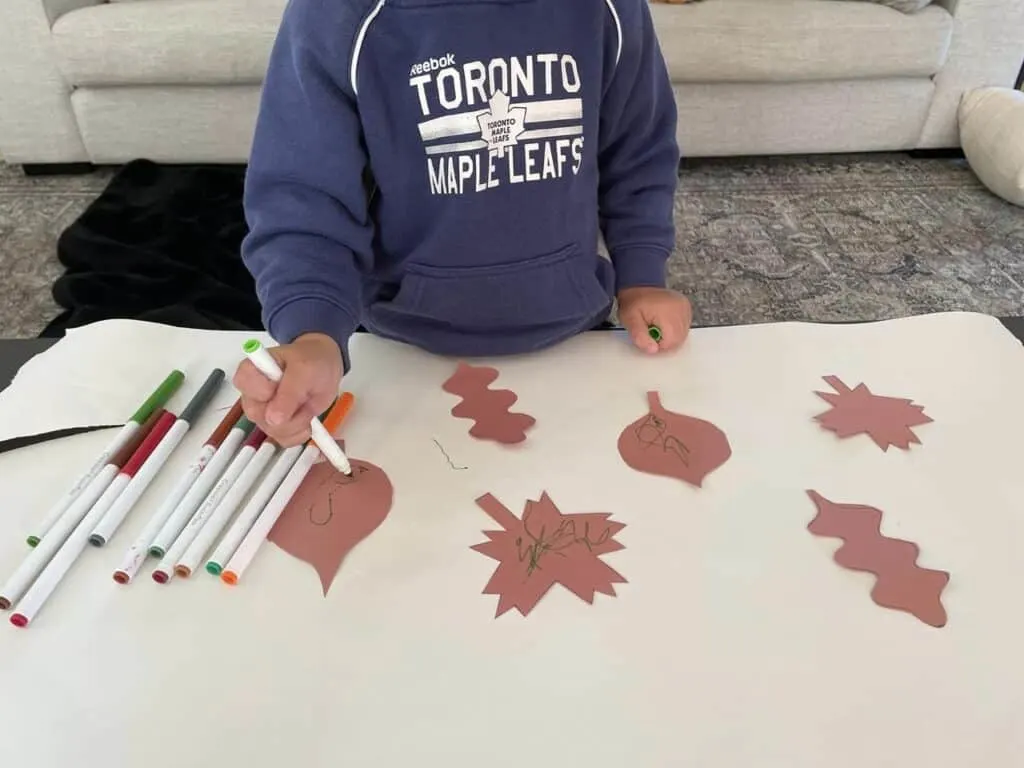 More Fall Toddler Activity Ideas that you might like...
If you need more Fall activity ideas then check thse out. Containing crafts like apple rubbings, leaf paintings, wreaths and nature crafts, you can find over 40 Fall Craft ideas for toddlers HERE.


Along with crafts, I love creating sensory play activities for the Fall season and we've found some of the best sensory play ideas. There are over 60 easy and fun toddler sensory play ideas that are just perfect for Fall HERE.


If that's still not enough, we have a great collection of Fall themed sensory bins for toddlers. You'll never run out of toddler Fall ideas again! You can find our huge collection of Fall themed sensory bins for toddlers HERE.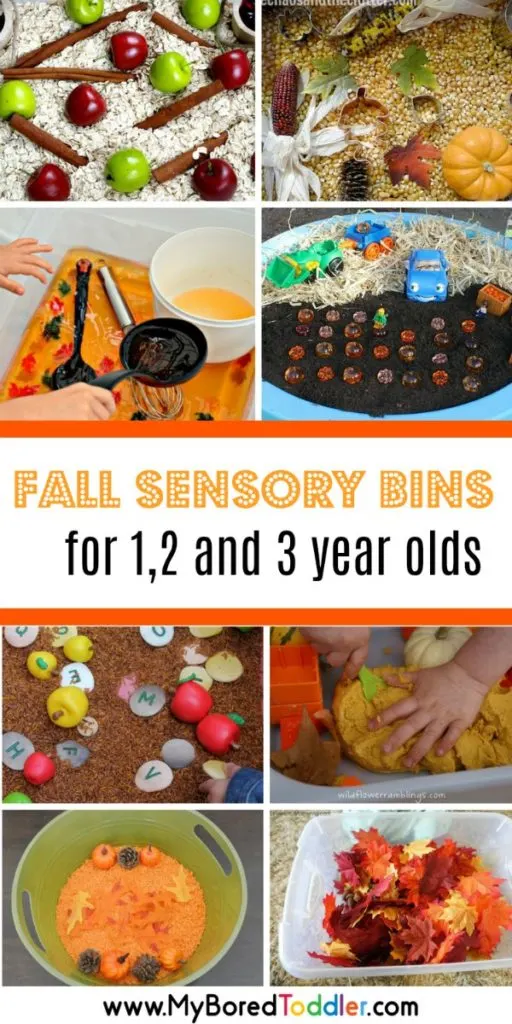 Do you associate Fall with apples like I do? Check out all of our apple themed toddler crafts and activities HERE.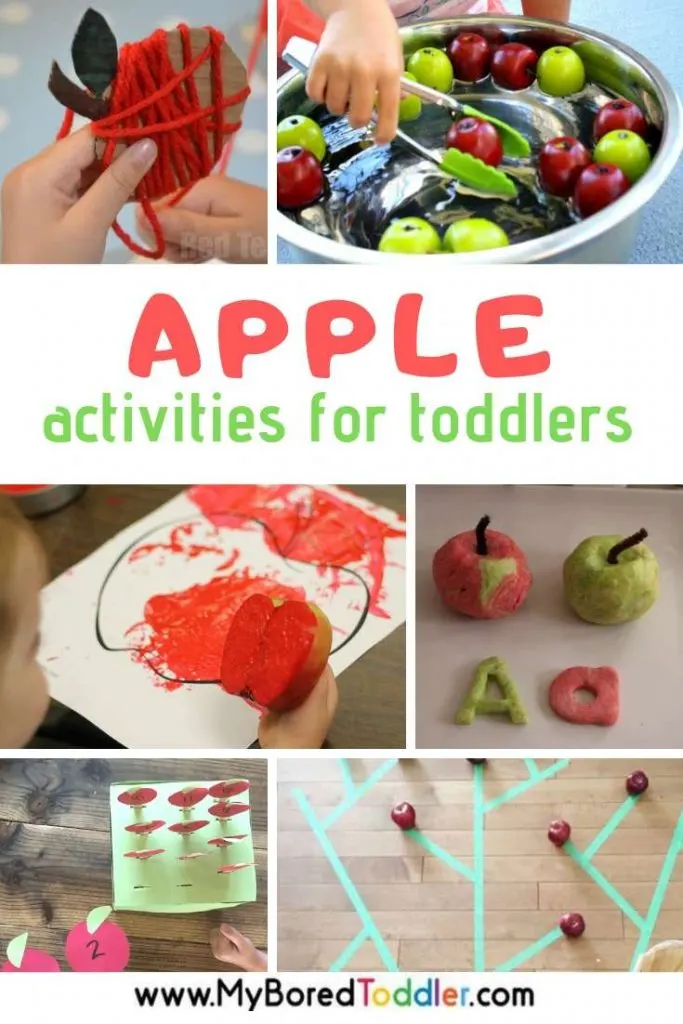 I hope you enjoy all of these toddler Fall activities! Make sure you share photos of your toddler fall crafts and activities in our Facebook Group or over on Instagram.
Follow us for more toddler activity ideas