If you're homeschooling your toddler or are looking for fun toddler activities ideas, these construction-themed toddler activities will have you covered! The best part is that you can use the construction toys you already have!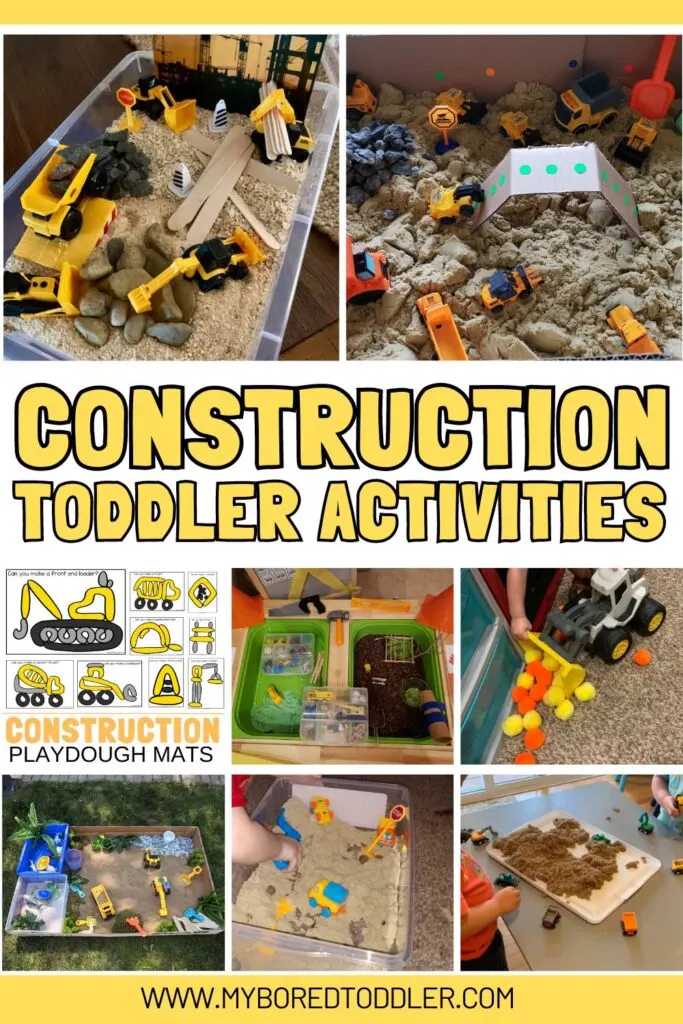 Last month we shared some great car & truck activities for toddlers that were a HUGE hit, and we've extended on that theme with a construction twist.
If you already have construction themed toys, you can use them for these fun toddler activities, or there are plenty of sets available. I like a set like this one (available HERE on Amazon).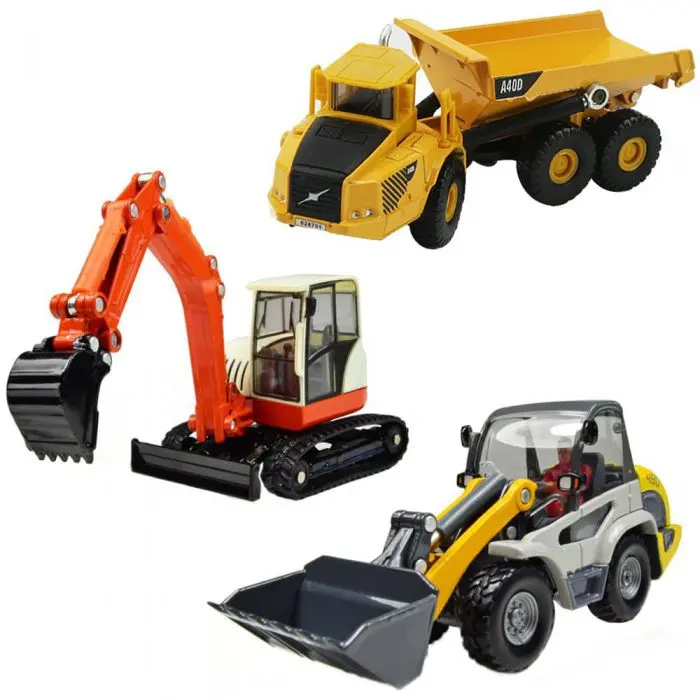 I also really like this construction worker dress up set too (you can get that one here on Amazon)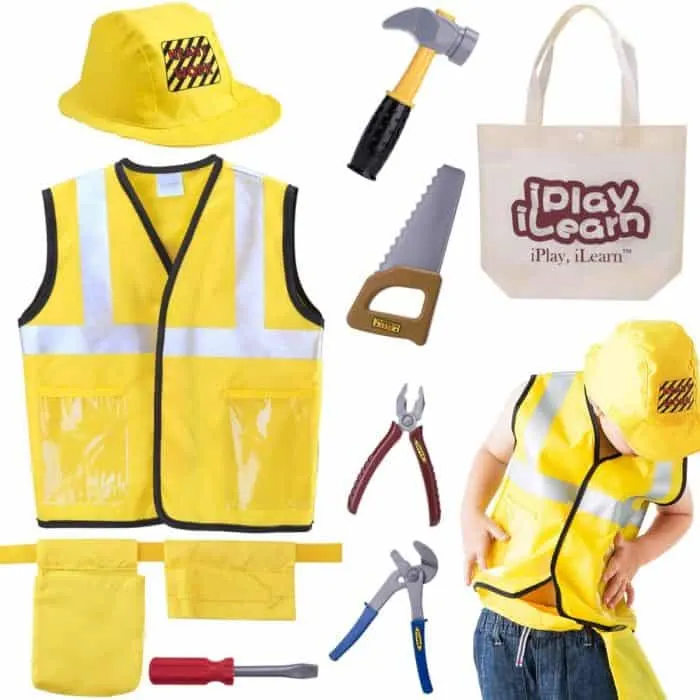 If you're like me you also want to match your themes with a great toddler book and for this one you just can't go past the classic Goodnight, Goodnight, Constrution Site (get a copy HERE).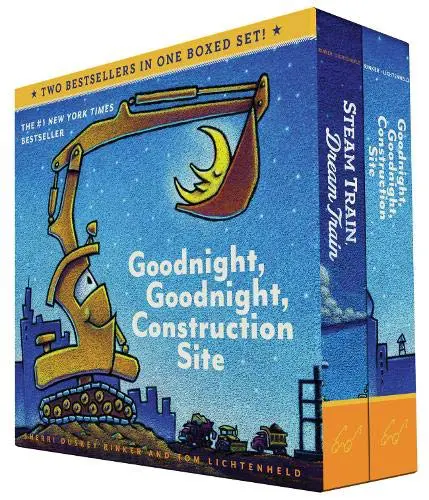 Construction Themed Activities for Toddlers
Let's get started! Here are our favorite construction themed activities for toddlers. I
'd love you to share a pic of your toddler engaged in one of these activities (or one of your own). You can share in our Facebook Group or over on Instagram - follow @myboredtoddler and use #myboredtoddler so we can all see.
Get out the playdough and have fun with these construction themed playdough mats! They come in color and black and white and are a great fine motor activity.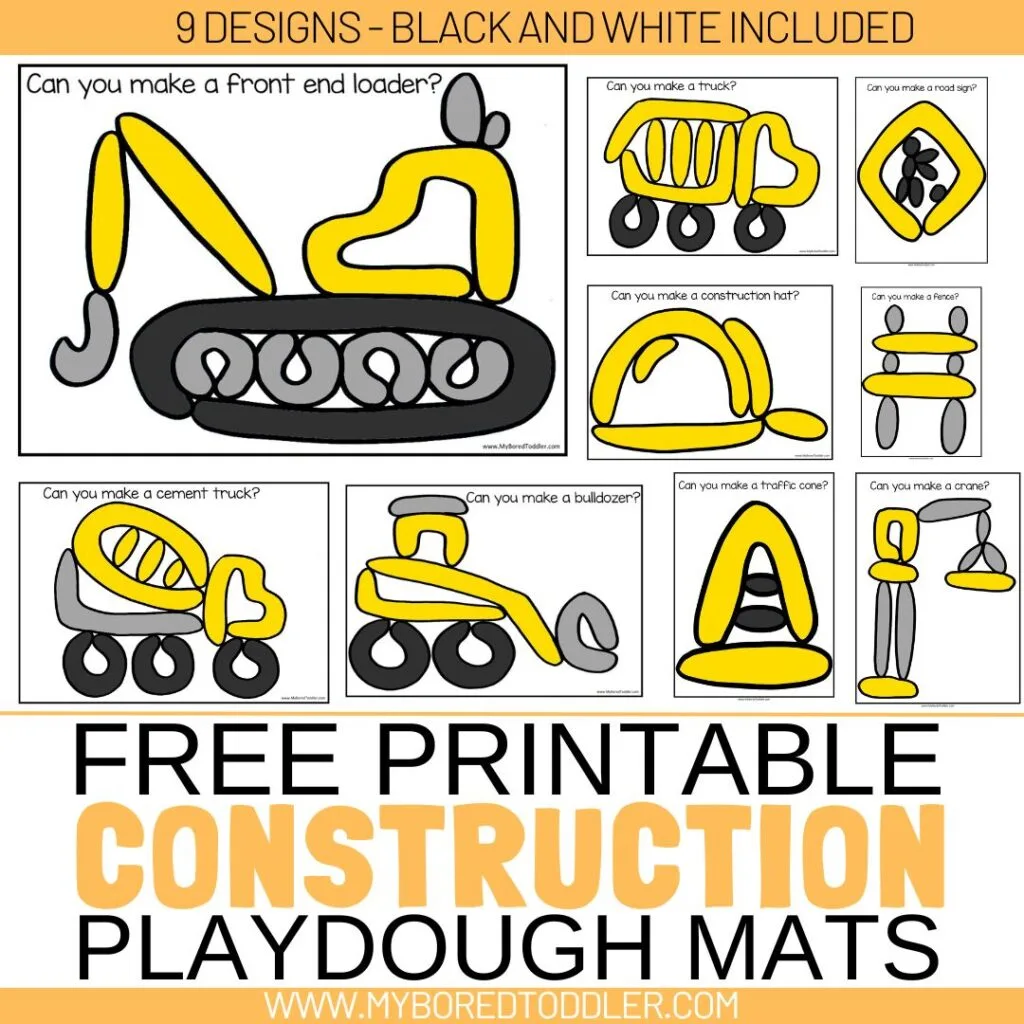 This really is such and easy toddler activity to set up. You can see how to make the soap foam HERE.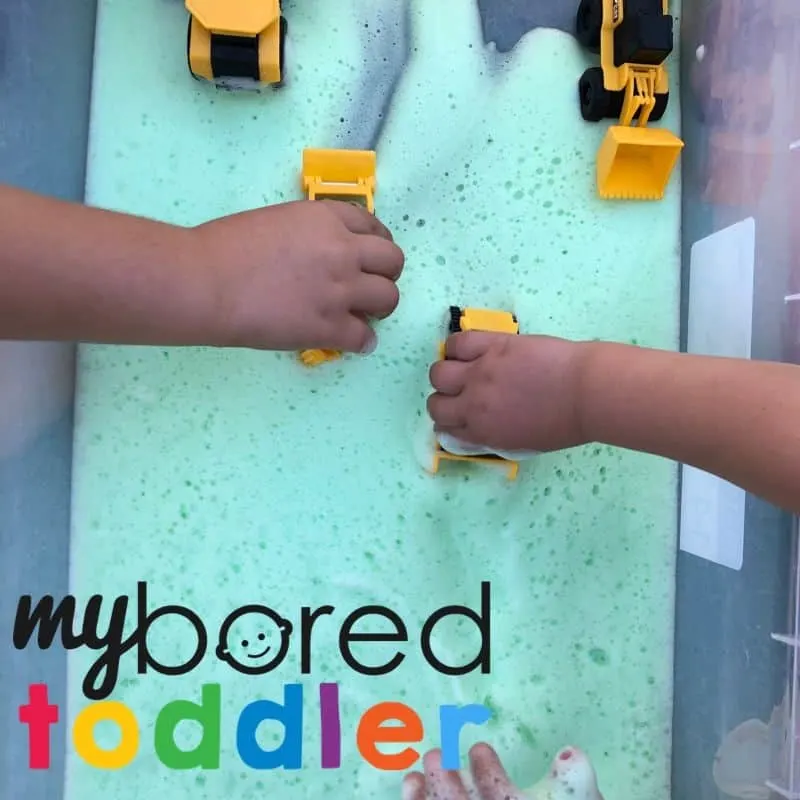 Construction Sensory Bins for Toddlers
These toddler construction sensory bins were shared from our amazing Facebook group members - they're a creative bunch!
This sand construction sensory bin was shared by Mithra and is a really easy one to set up. You can use regular play sand or kinetic sand and then add in your construction toys.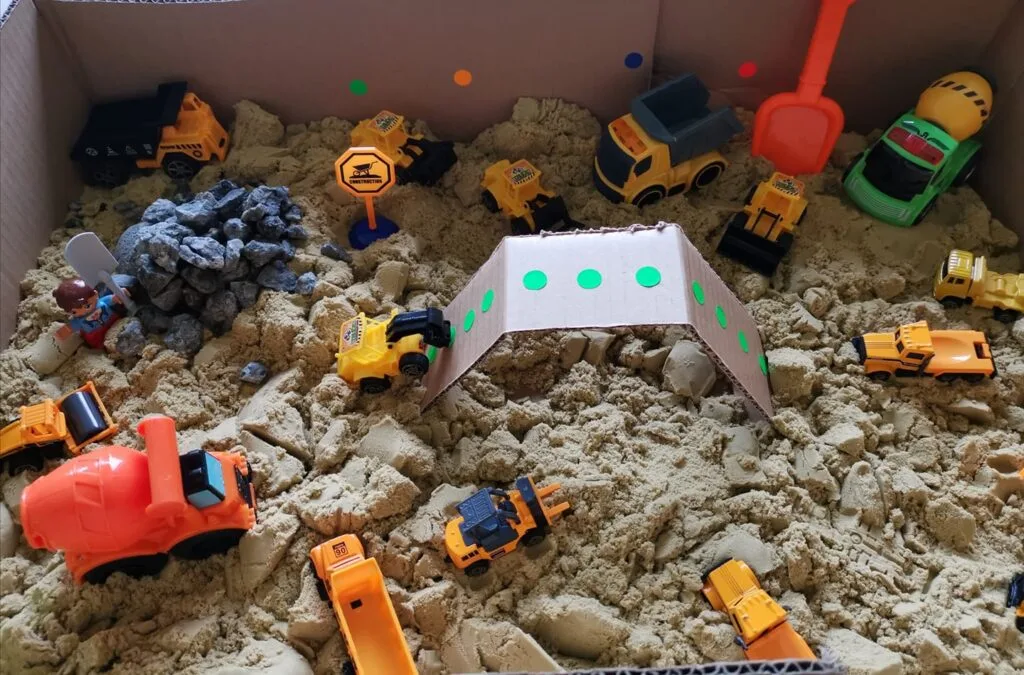 Kristina used fake snow for the base of her construction sensory bin (you could even use real snow if you had some!). You can buy fake snow from Amazon HERE.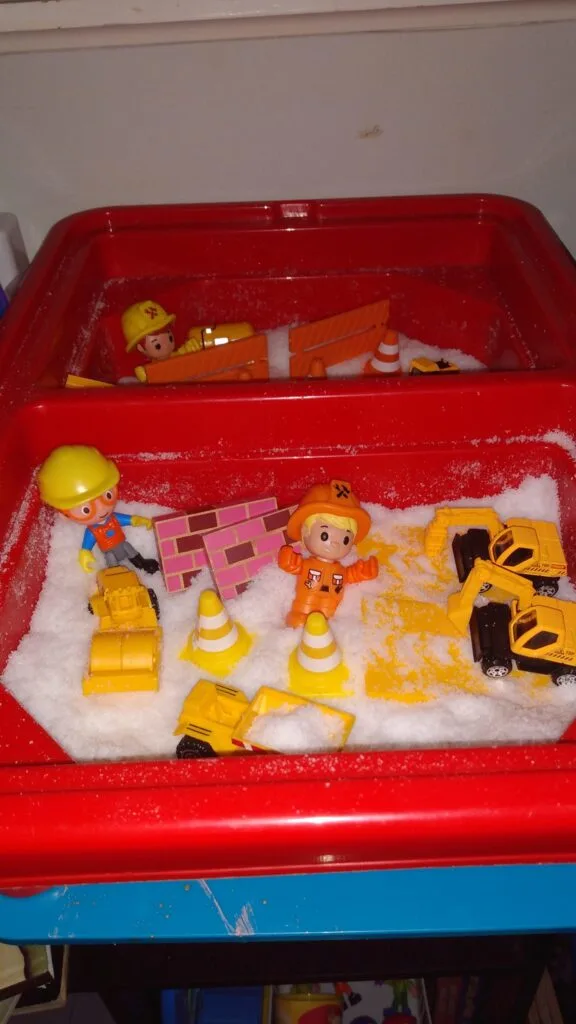 Sara shared a pic of this sand construction sensory bin she set up from a kit. These premade kits are such a great idea - you can get similar ones HERE on Amazon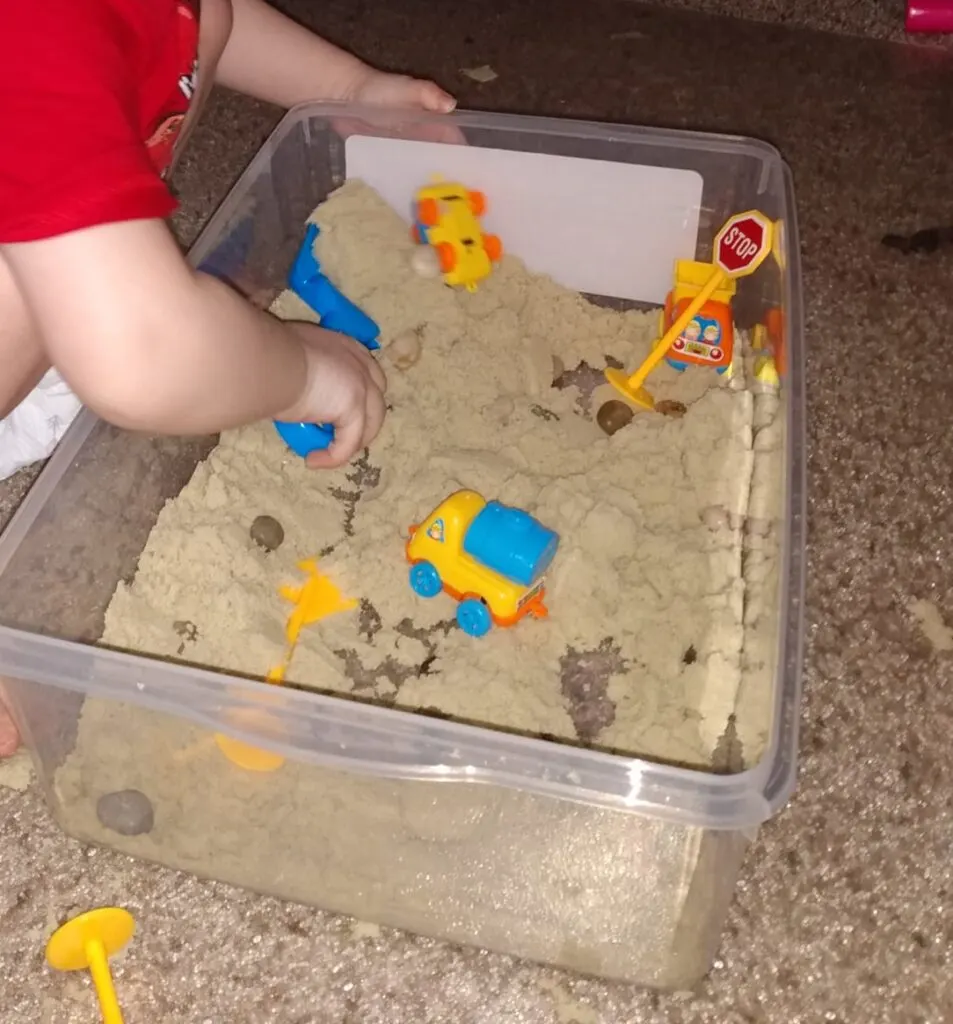 This construction sensory bin was shared by Val - she used kinetic sand in one side and crushed cocoa pops in the other.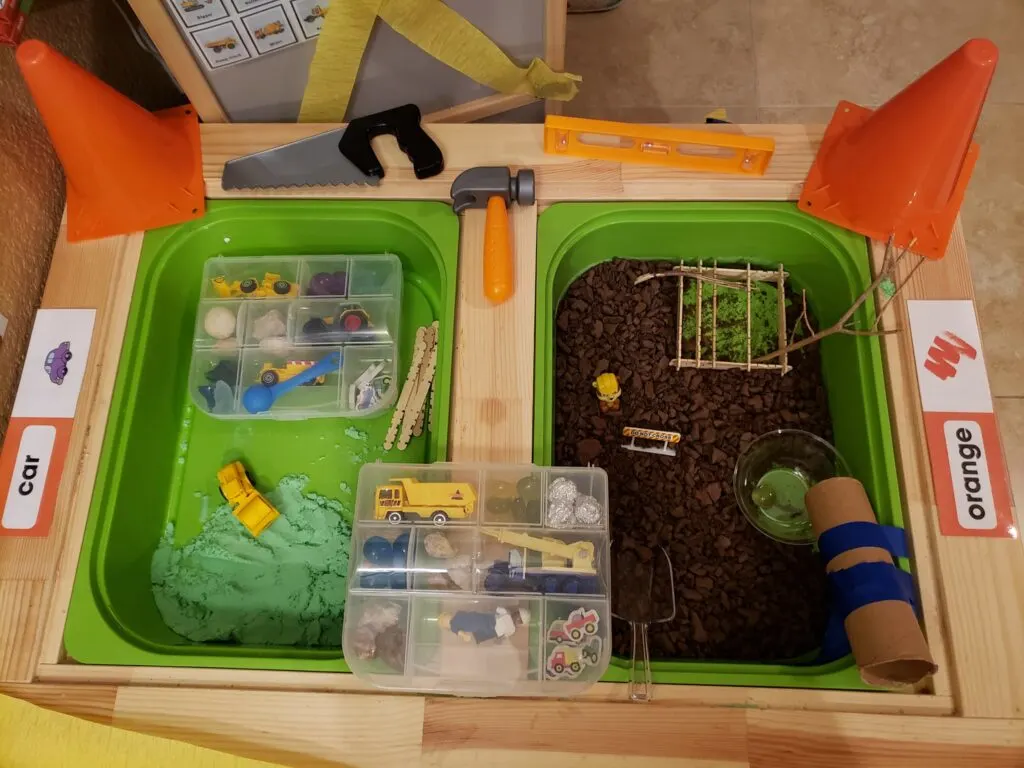 This construction themed sensory bin was shared by Deb - she used rolled oats and bread crumbs as the base and added in her construction toys and some rocks.
I love the little road signs she has too - you can get a similar set HERE.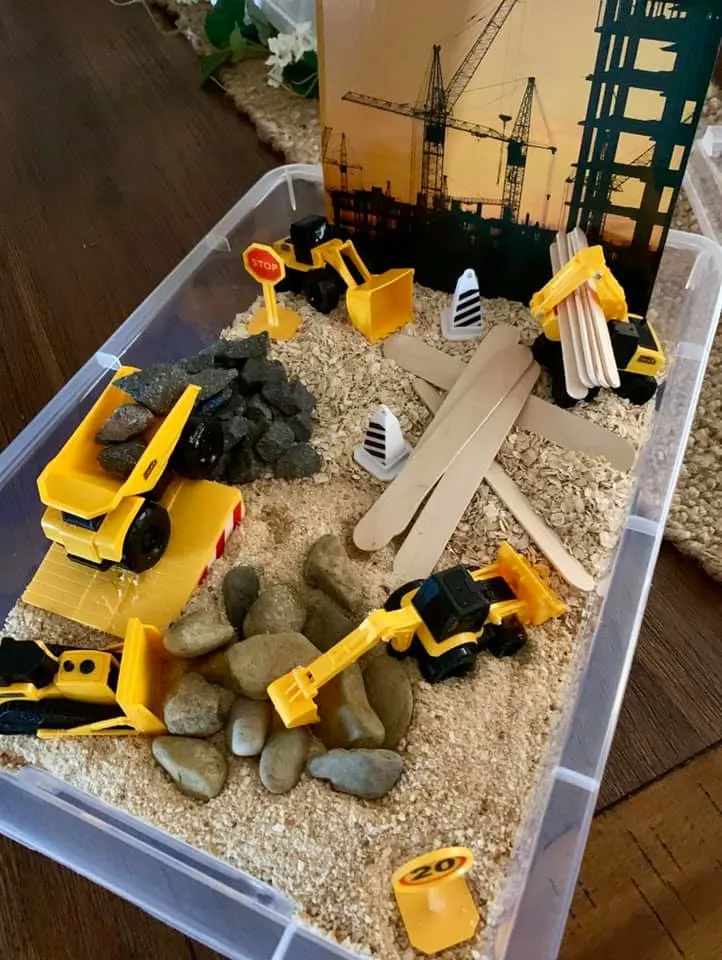 Jamie also used kinetic sand for her construction play. She used a tray for hers proving that simple really does work!
This would only take a minute or two to set up and I bet they played with this a lot!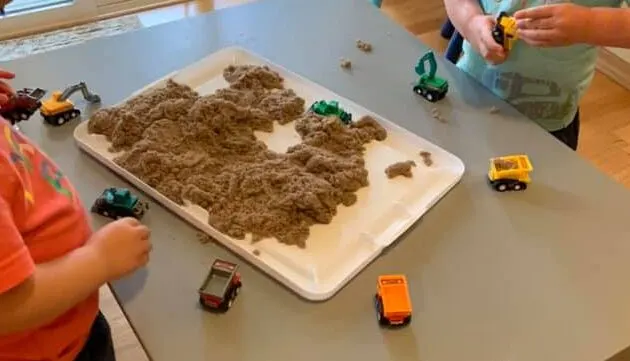 I couldn't leave out this amazing tuff tray construction sensory play idea shared by Sylvia (you can find her on Instagram @the_woodlets)
She used road tape (you can get it HERE - it's cheap and such a fun thing to create setups with!). She also used some guttering for the ramp. What a great idea!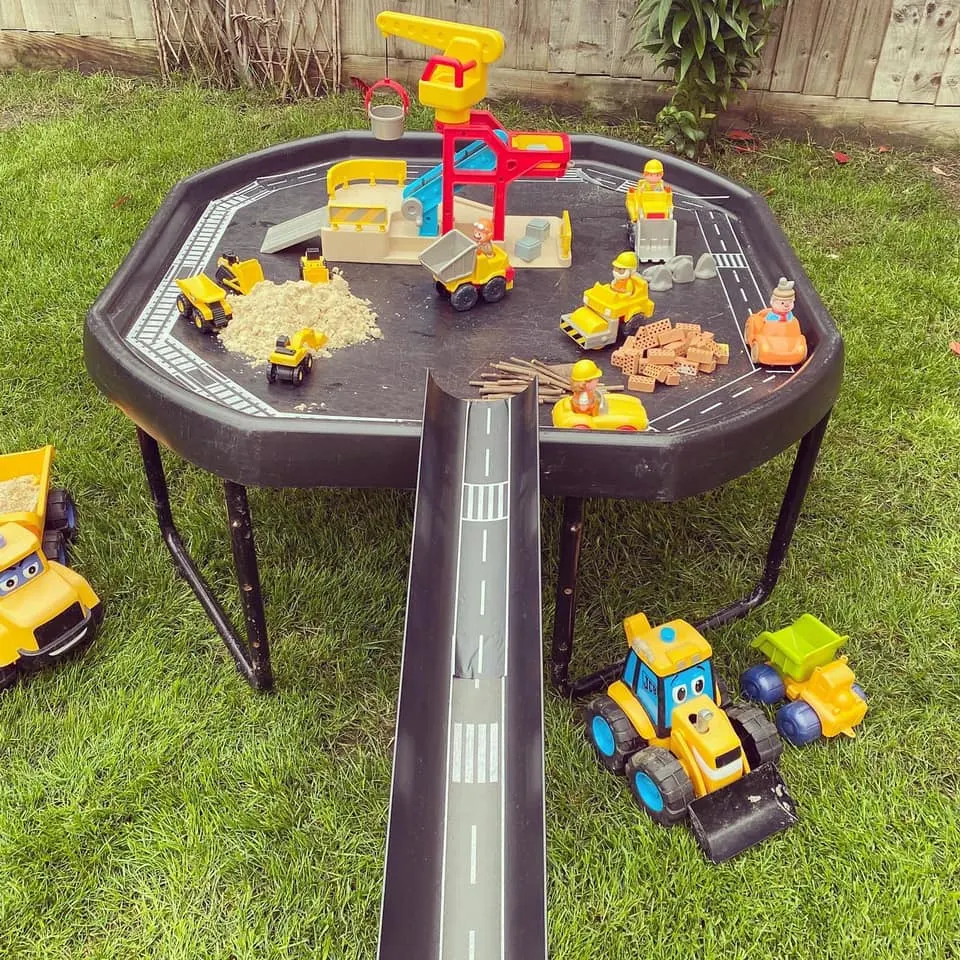 This construction setup by Alija looks amazing but isn't as difficult to setup as you might think.
She shared this in our group as a birthday party activity but you could do it at home too.
You can see the base is a large tv box filled with sand and then some smaller containers with water. Such fun!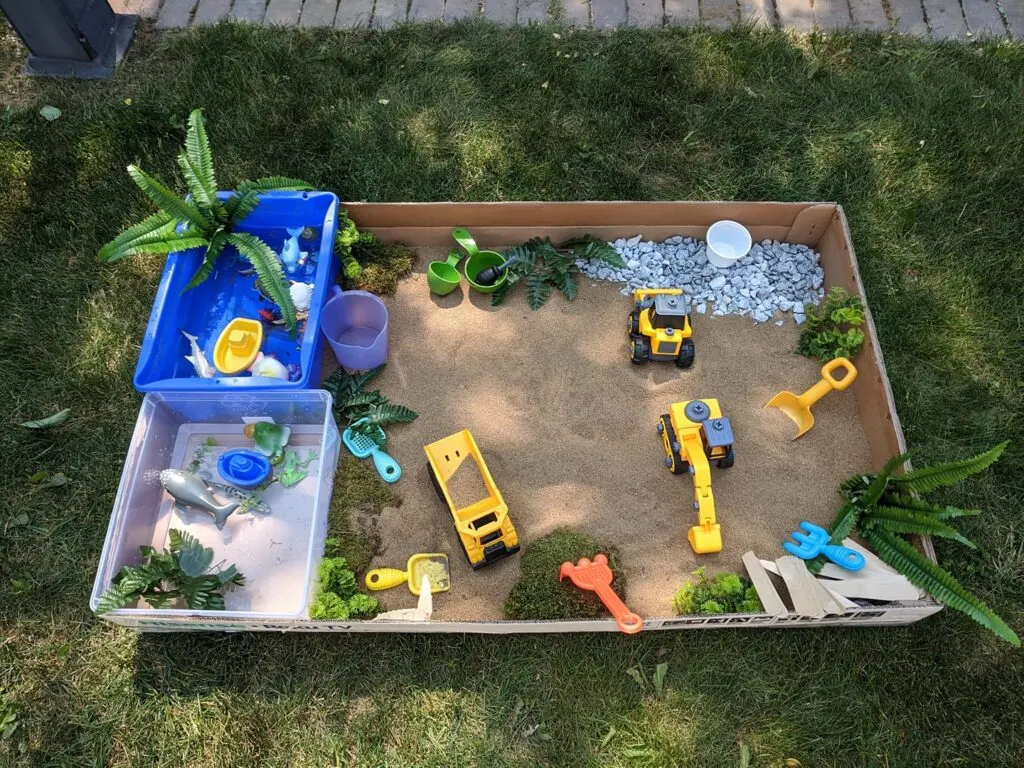 More Construction Themed Toddler Activities
Scooping Pom Poms - This activity was shared by Stacey. Use your diggers to scoop up pom poms.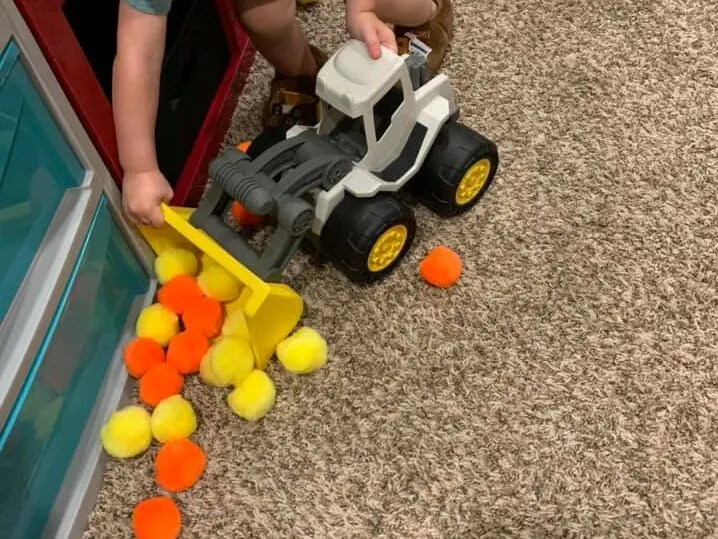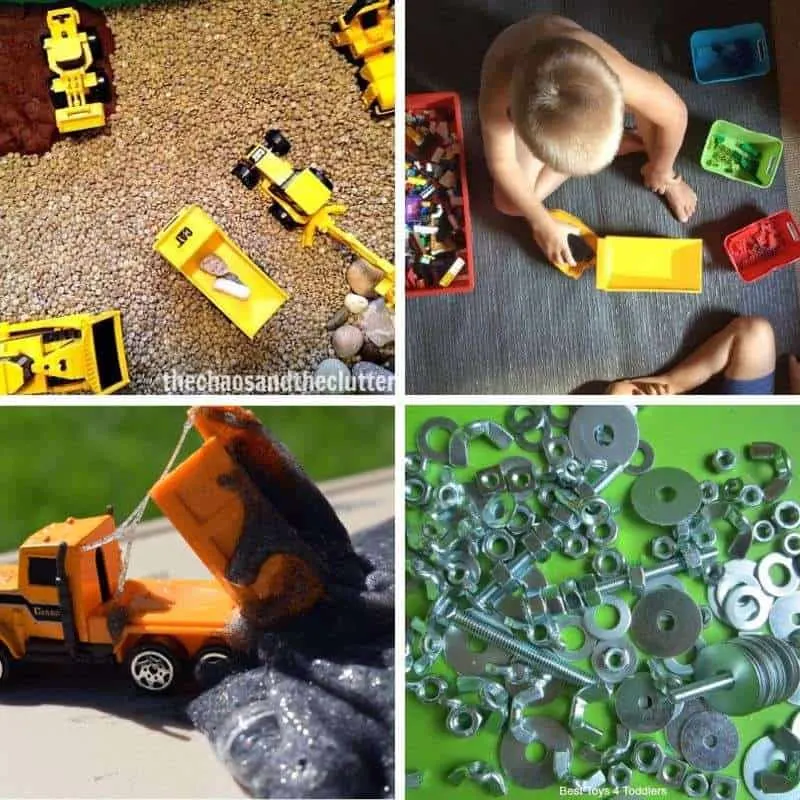 Construction Sensory Bin - The Chaos and the Clutter
Lego Dumping Color Sorting - Teach Me Mommy
Construction Slime Recipe - 123 Homeschool 4Me
Nuts and Bolts Sensory Bin - Best Toys 4 Toddlers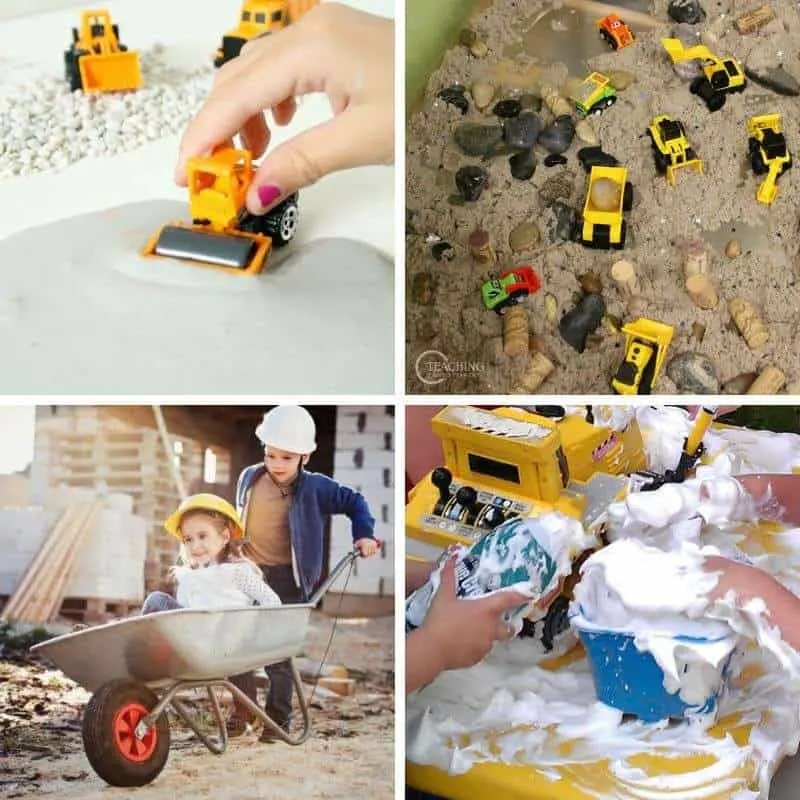 Construction Site Slime Sensory Play - Fantastic Fun and Learning
Kinetic Sand Construction Sensory Bin - Teaching 2&3 Year Olds
12 Awesome Ways to Learn at Construction Site - Carrots are Orange
Construction Sensory Table - Preschool Powol Packets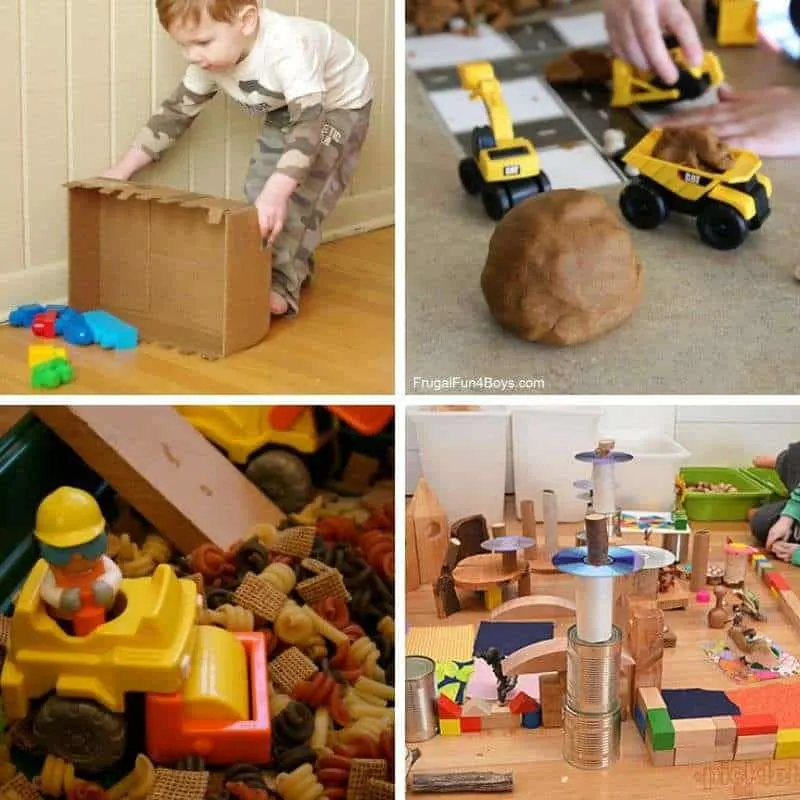 DIY Bulldozer Toy - Laly Mom
Dirt Playdough for Constuction Play - Frugal Fun 4 Boys and Girls
Small World Constuction Site - The Imagination Tree
Block Play at Home - Picklebums
I hope you enjoy these construction toddler activities as much as we did! Don't forget that we can't wait to see a picture in our Facebook Group or over on Instagram.
Have you seen our Construction Printable Bundle? You can get it on sale for only $4 (normally $12) HERE.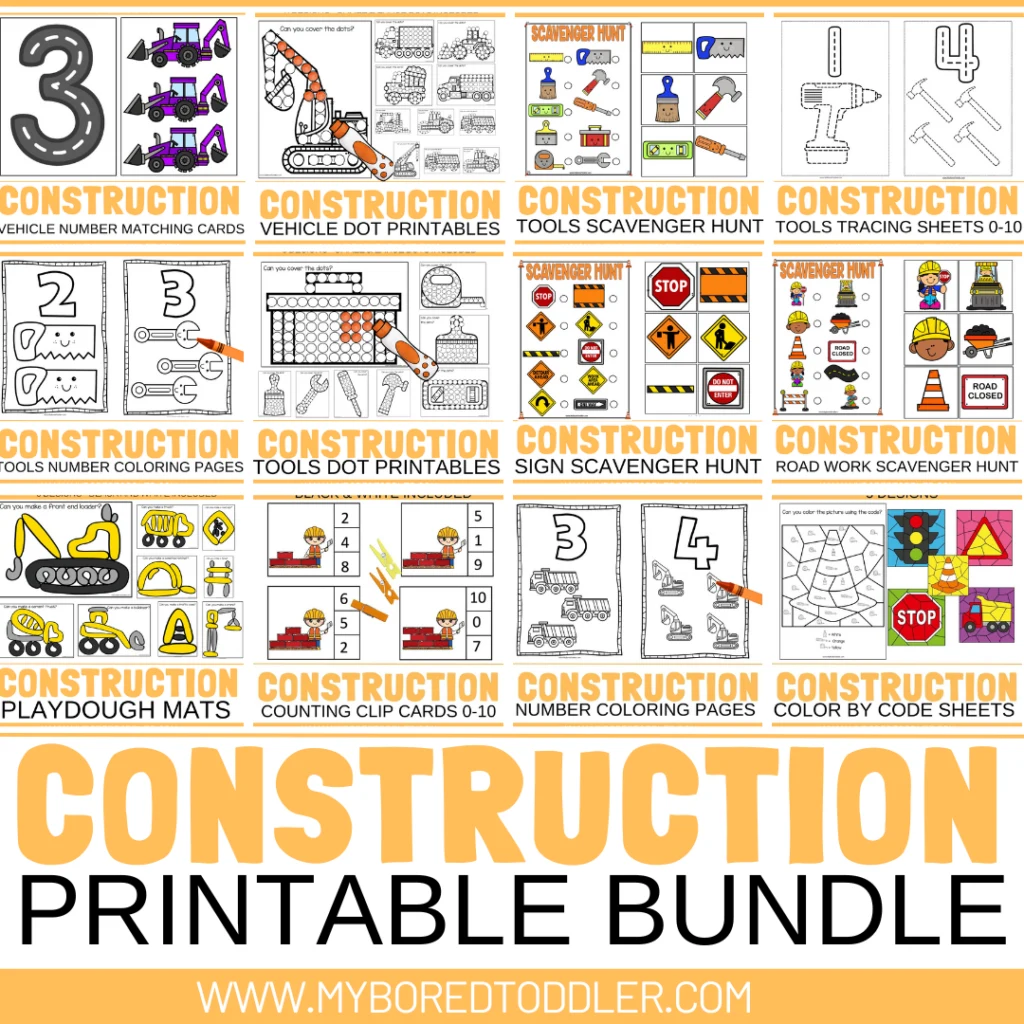 Some more toddler activities that you might enjoy are: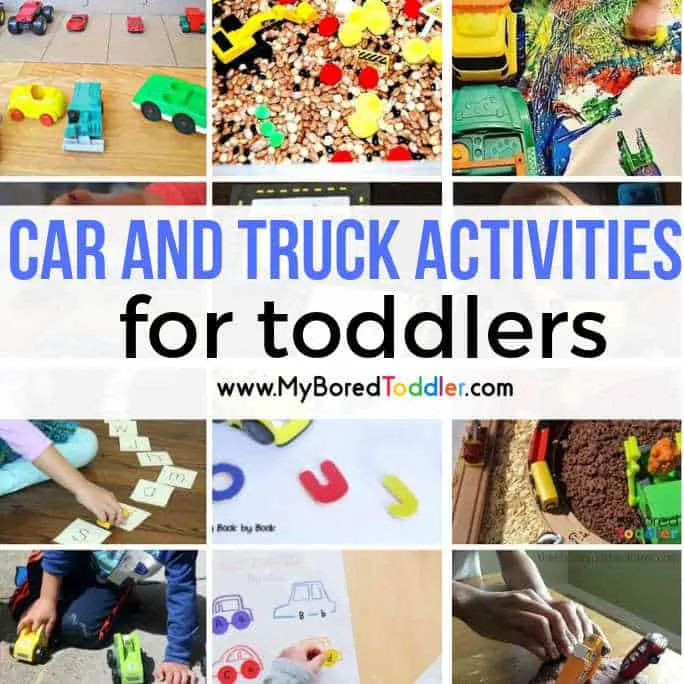 Dinosaur activities for toddlers