Are you looking for the best toys for a 2 year old? I've put together a list of some of my favorite gifts that are perfect for 2 year olds for their birthday or for Christmas.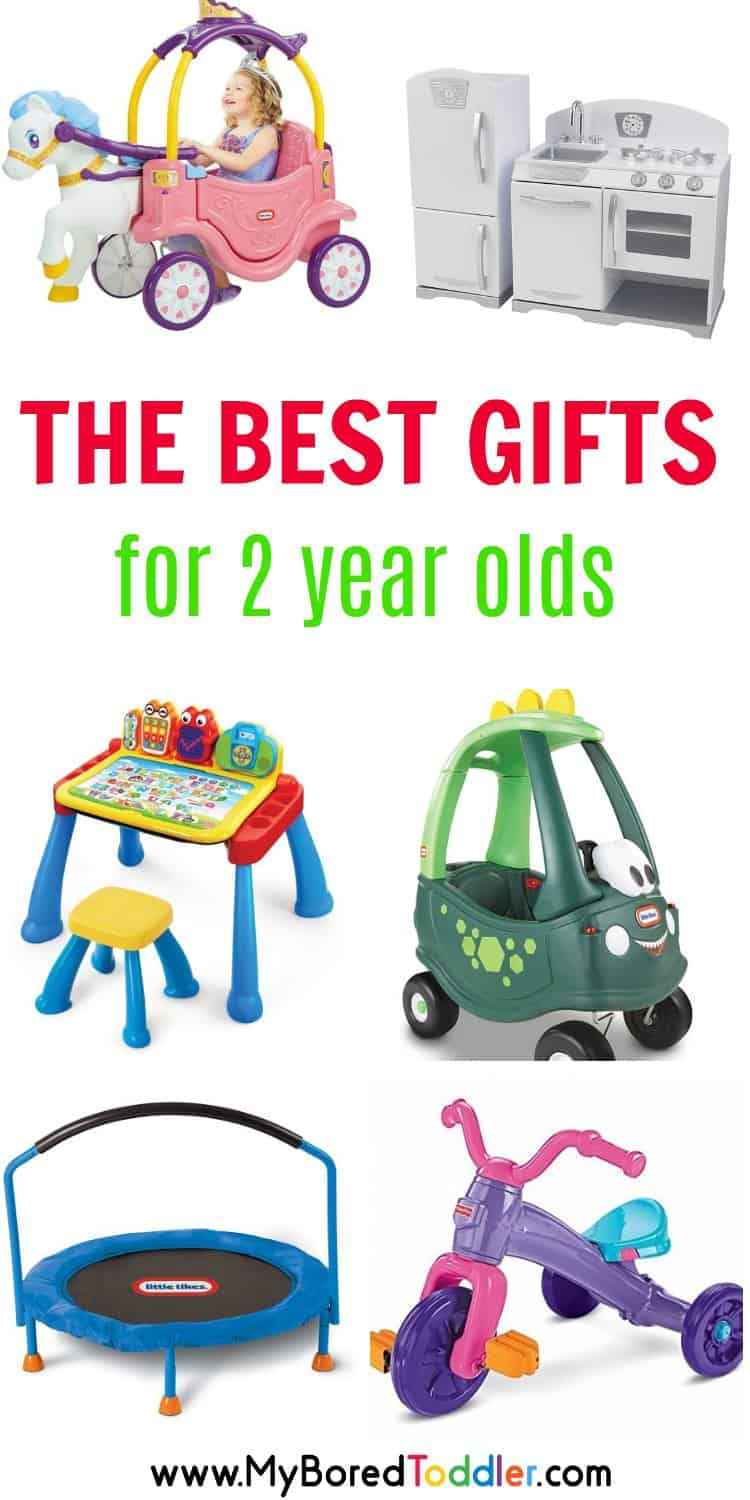 Best Toys for a 2 Year Old - Christmas 2019
I recently created a list of my recommendations for the best toys for a 1 year old. Almost immediately I was asked to make one for 2 year olds too (you can find our 3 year old gift guide HERE)While a first birthday or first Christmas is always special, I found that the second one was the one that they really enjoyed. At 2, they've got the idea of Christmas, they're excited about presents and they can do so much more!
As I mention in all of my gift guides, when you're looking for gifts try to look for toys that encourage creativity. You want toys or resources that can be used for more than one purpose. Some questions to ask are:
Does this teach them anything?
Does the toy encourage pretend play?
Can I use this toy in more than one way?
Will this toy still be fun next year?
Toys can be expensive and it's worth taking your time and making some good purchases. The best gifts for your 2 year old are gifts that they will still be using when they're 3 and 4! While I haven't included them on this list I always love to give a book (well lots of books really!) for birthday and Christmas presents too. You can find my list of favourite toddler books HERE or my favorite toddler Christmas books HERE.
Are you ready to shop!
Here are my recommendations for the best gifts for a 2 year old!
I've tried to keep this list to the larger purchase items (around $50 or more) but will put together a stocking stuffer list soon for the smaller gifts that we love too.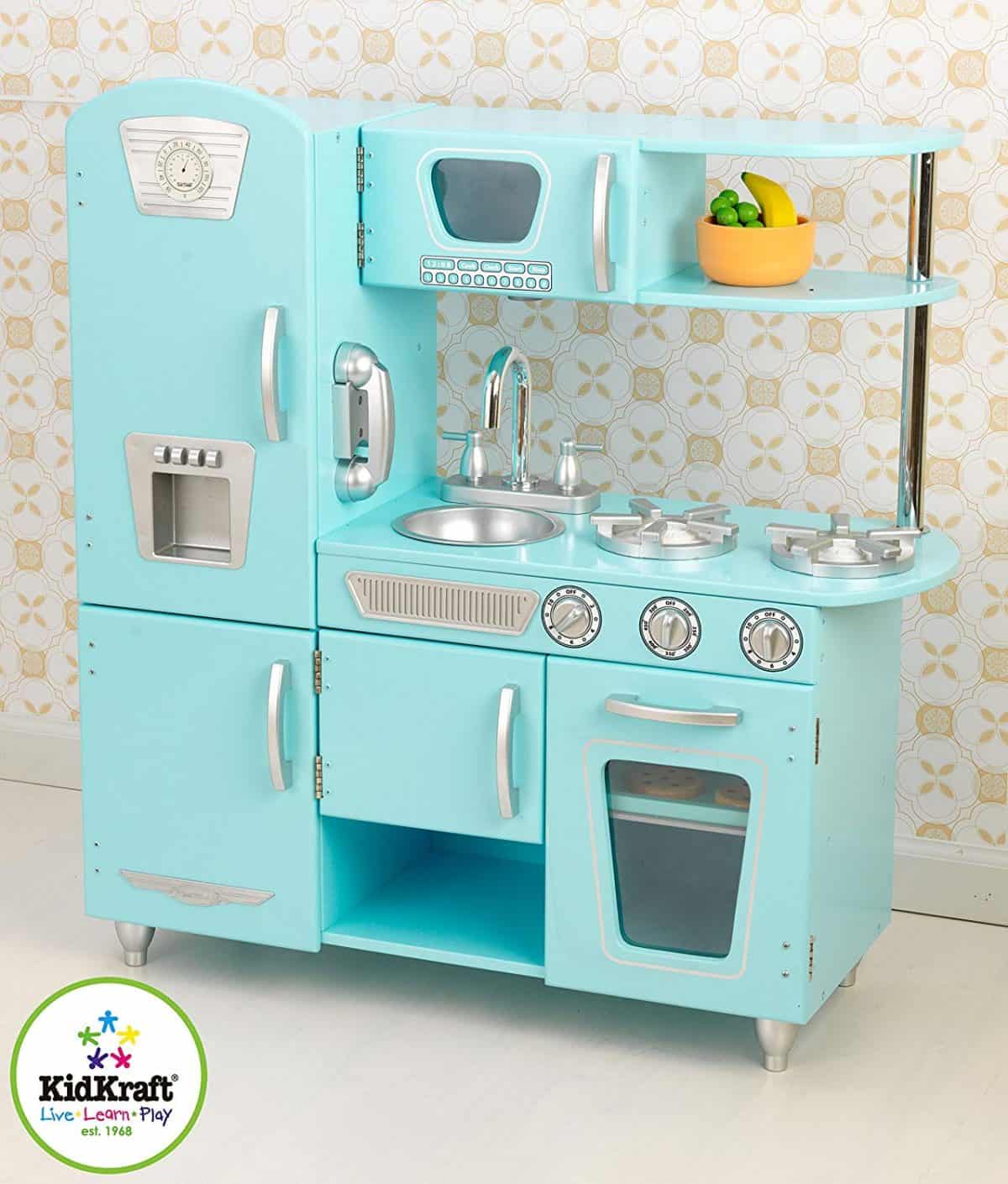 A toy kitchen is such a great way to encourage pretend play. Your child will love cooking their pretend food, and opening their own cafe or restaurant. We still use our kitchen and my older daughter makes menus and takes our order too! A toy kitchen is definitely a gift that your child will be using years from now. There are so many great toddler play kitchens to choose from. The KidKraft Retro Kitchen is great and you can get that HERE from Amazon. You can also find my list of other great toddler toy kitchens HERE. Make sure you get your pretend cooking items (we love these ones) and food sets like these too!
Fisher Price Grow With Me Trike
A trike is a great gift for a 2 year old. At this age they are just starting to get the hang of pedals and I recommend starting with a smaller, easier trike like this one. These ones have adjustable pedals and are small enough to pop in the back of the car to take to the park too. You can get this one HERE on Amazon. It also comes in blue and green which you can find HERE.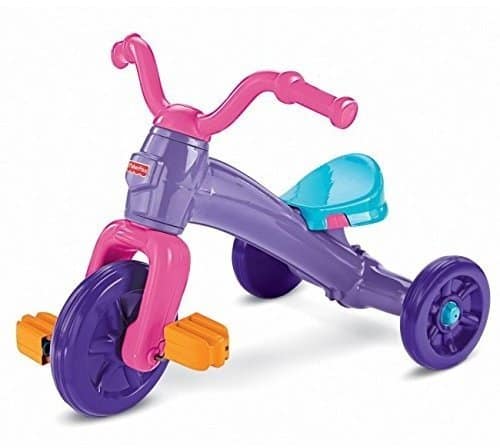 Grow'n Up Crayola 3 in 1 Double Easel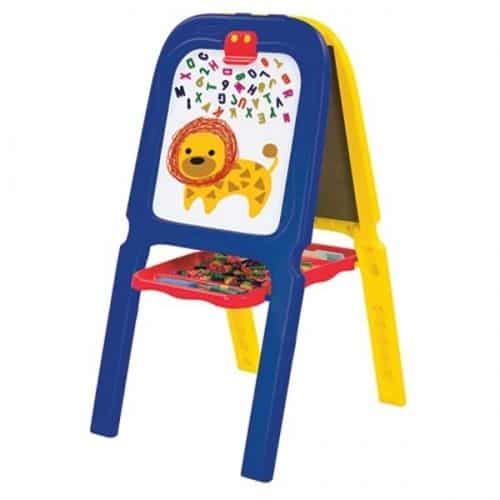 We still have our easel and it still gets used often. There are plenty of different easels on the market but this is my pick of them. I like that's it's sturdy than some of the others. It's also not as high as some of them so it's perfect for this age group. This one has a blackboard, whiteboard and clips so that you can use it for drawing and painting too. It also includes 77 magnetic letters & numbers, (the magnets on these are a bit small for this age though so I recommend using THESE ONES instead), 1 storage tray, 12 count Crayola colored chalk, and 1 green Crayola eraser. You can get this one HERE on Amazon. It also comes in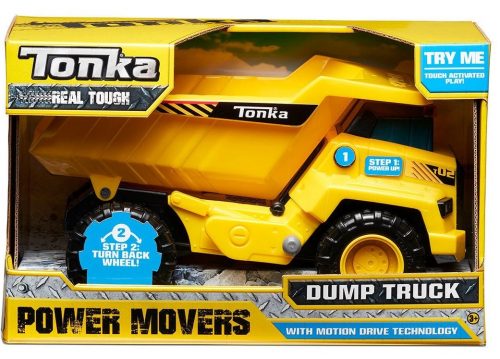 I hate when toy trucks get put on 'toys for boys' lists as I have two girls and they LOVE their trucks. We've got a range of Tonka trucks at home but our new favorite is the Tonka Power Movers. It's like a real dump truck with flashing light, back up beeping sounds, an engine that revs and a working dump bed complete with hydraulic sounds. You can get these at all major department stores or HERE on Amazon. There are other trucks in this series too.
Peppa Pig Lights and Sounds Family Home
If you've got a toddler then there's no escaping Peppa Pig! Love her or hate her, you know your kids will LOVE her! This year the Peppa Pig range has added even more great toys and resources to their range. We love this Peppa pig Lights and Sounds Family Home - it's perfect for encouraging pretend play and goes perfectly with the Peppa's Family Car toy too. You can get this one HERE from Amazon.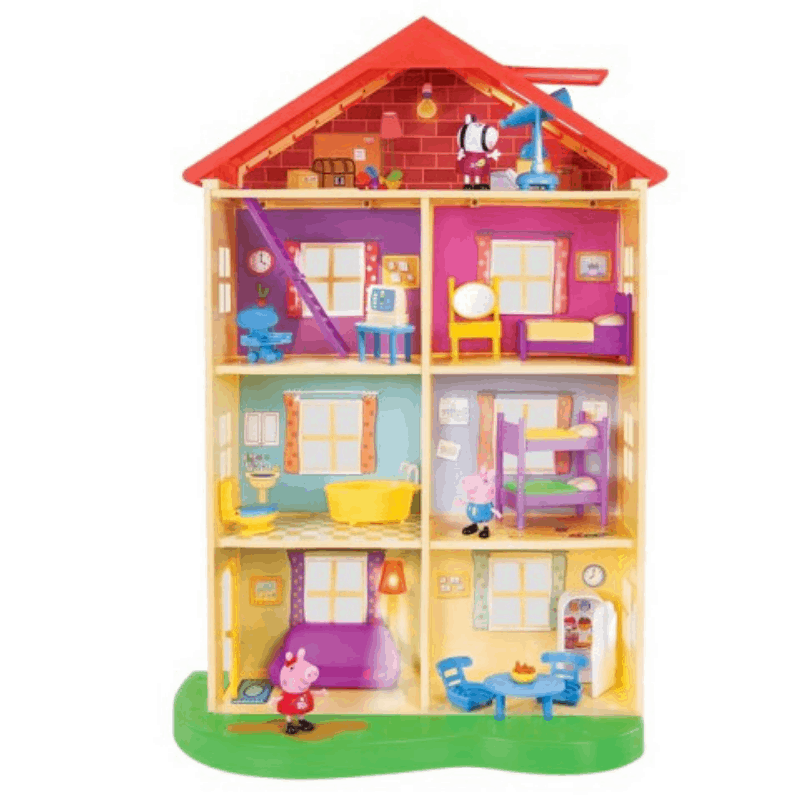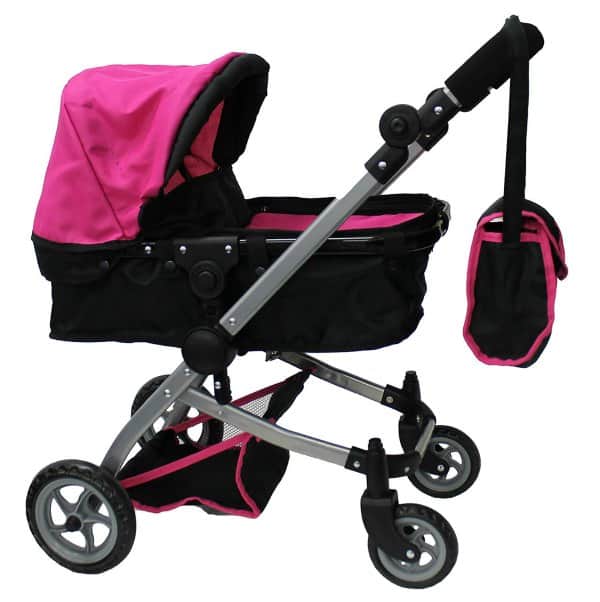 Two is the perfect age for a doll's pram or stroller! There are so many cute ones out there and I really love this BabyBoo Deluxe Toy Pram. It's sturdier than some of those cheaper stroller ones (they tip up easy) which is great for toddlers. There's a whole matching range too! You can get this toy pram HERE on Amazon and can see the rest of the range HERE.
V-Tech Touch and Learn Activity Desk Deluxe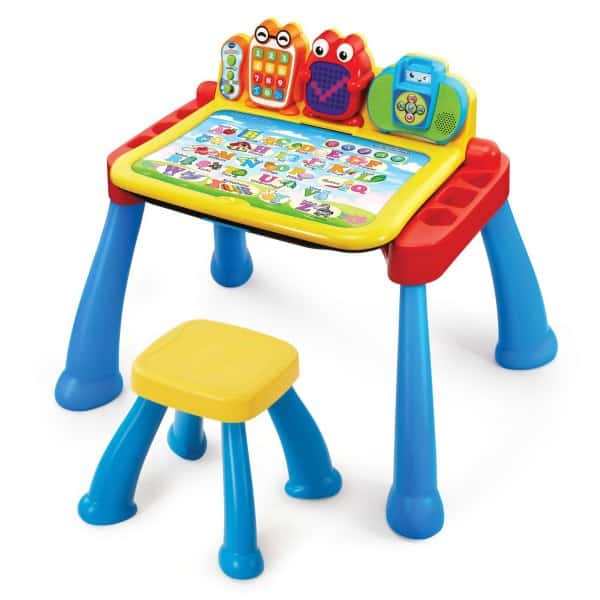 This V-Tech activity desk is a great activity desk for 18 months plus. As well as being able to be used as a regular desk, it has so many interactive features. It can also transform into an easel and chalkboard too (see all the different ways to play here). There's a pretend phone, a music player and over 100 words to learn, not to mention the 20+ activities you can do as well. You can get this one HERE from Amazon or in Pink HERE.
Cozy Coupe - Princess Carriage and Dino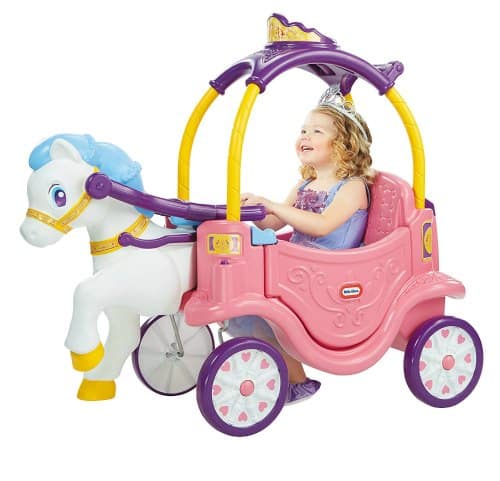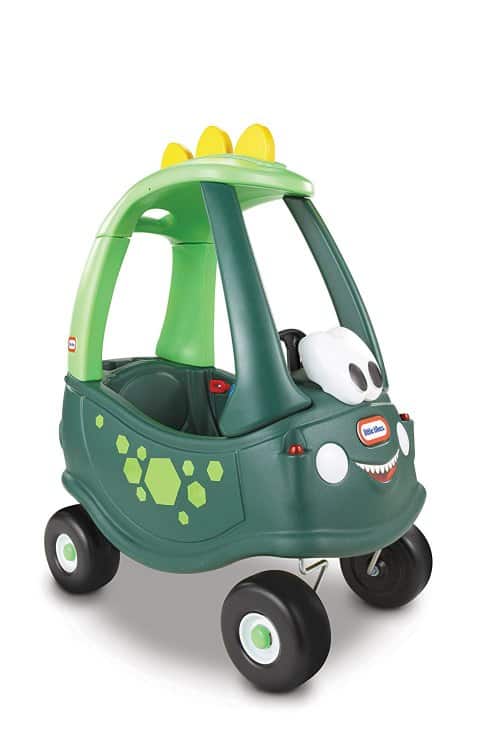 I've been a fan of the Cozy Coupe cars for a long time and there expanded range is fantastic! There are lots to choose from and my two current favorite are the Princess Carriage (available HERE) and the Dino Cozy Coupe (available HERE). These are guaranteed to be a hit!
LeapFrog Tad's Fridge Phonics Magnetic Letter Set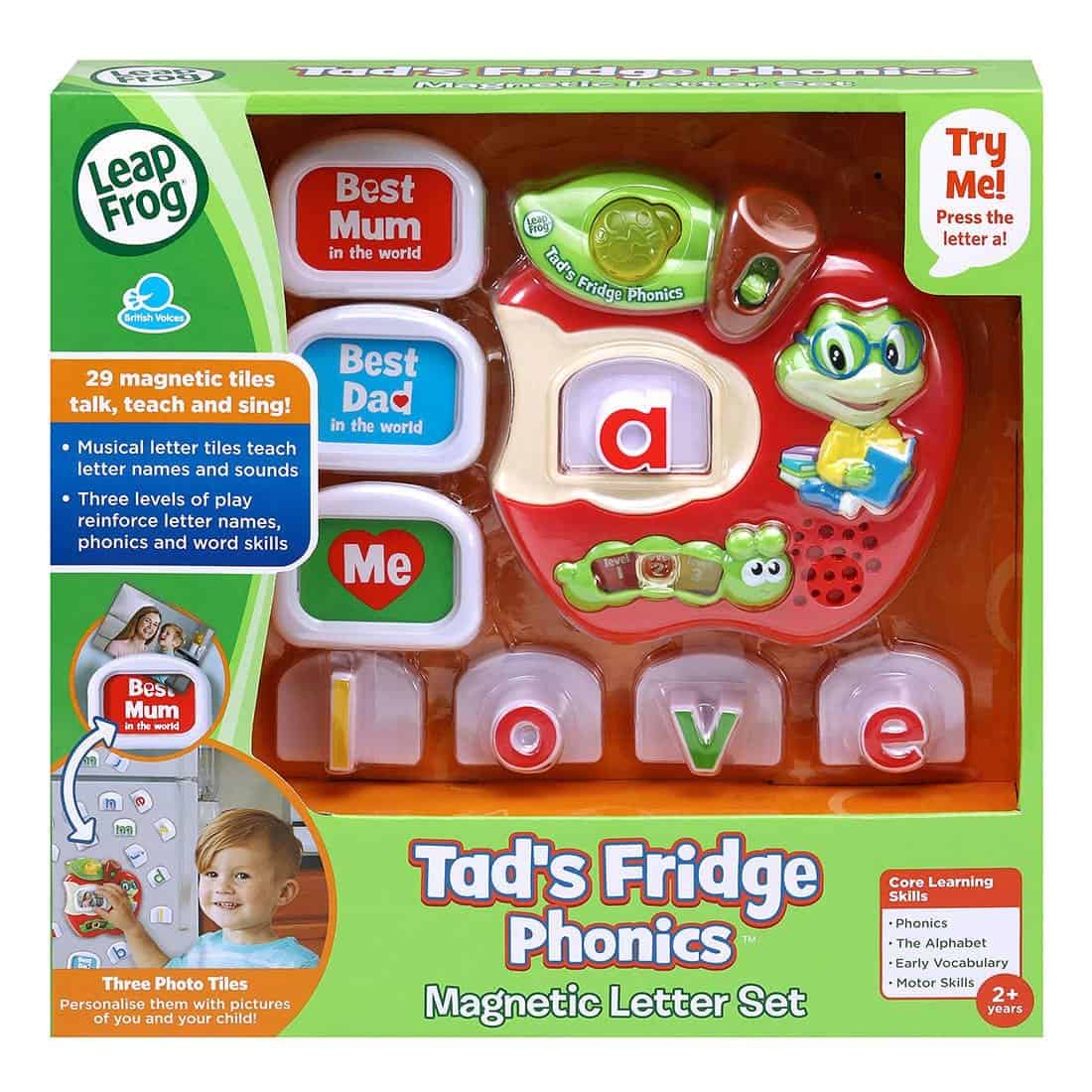 This magnetic phonics set is a great way for your toddler to learn their letters and focuses on talking, teaching and singing. Because you can use it on the fridge, it is fantastic for when you need to be in the kitchen (I like to set it up for when I'm making dinner). The musical letter tiles teach letter names and sounds and there are three different levels of play to reinforce letter names, focus on phonics and begin learning word skills. Aimed at ages 2-5 this is a great 2 year old gift idea that they can use for at least a few years. You can get this at Target and other good toys stores for $29.95.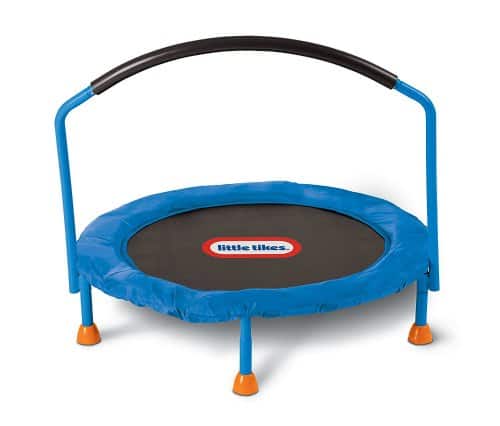 Does your 2 year old have too much excess energy? Ha! Of course they do! If a proper trampoline isn't in the budget or you don't have the space then these indoor trampolines are perfect. They come with a handle for them to hold onto and they are a great way for toddlers to burn off some extra energy. You can get this one HERE.
Melissa and Doug 130 piece Train Set

You have to have a train set! These are always popular and you'll often find the Dad's playing with these too! There are plenty of train sets on the market but I like the Melissa and Doug range. This one is available HERE.
I hope you find this list of the best gifts for 2 year olds helpful. I'd love to know what you bought, or if you have any other recommendations. Pop into our Facebook group and let us know.
If you want to keep your toddler busy makes sure you subscribe to our weekly newsletter and follow us on Facebook, Twitter, Instagram and Pinterest.
For more great toddler gift ideas you might like:
Personalized Christmas Gifts for Toddlers