Weather puppets are fun for toddlers to help make and are great for pretend play. Make these cute characters with your toddler.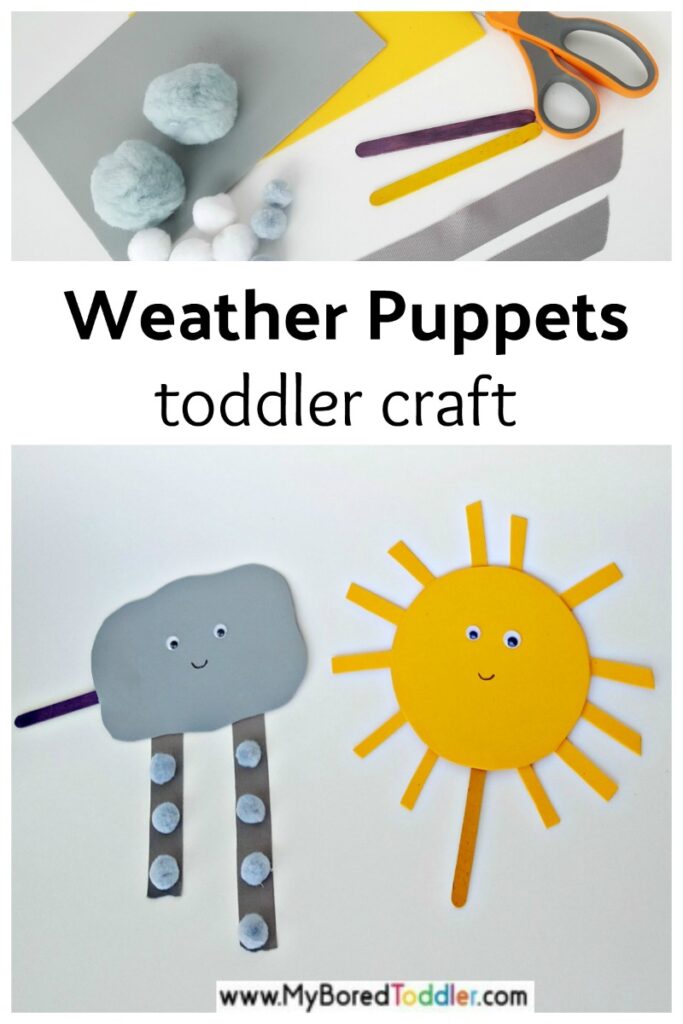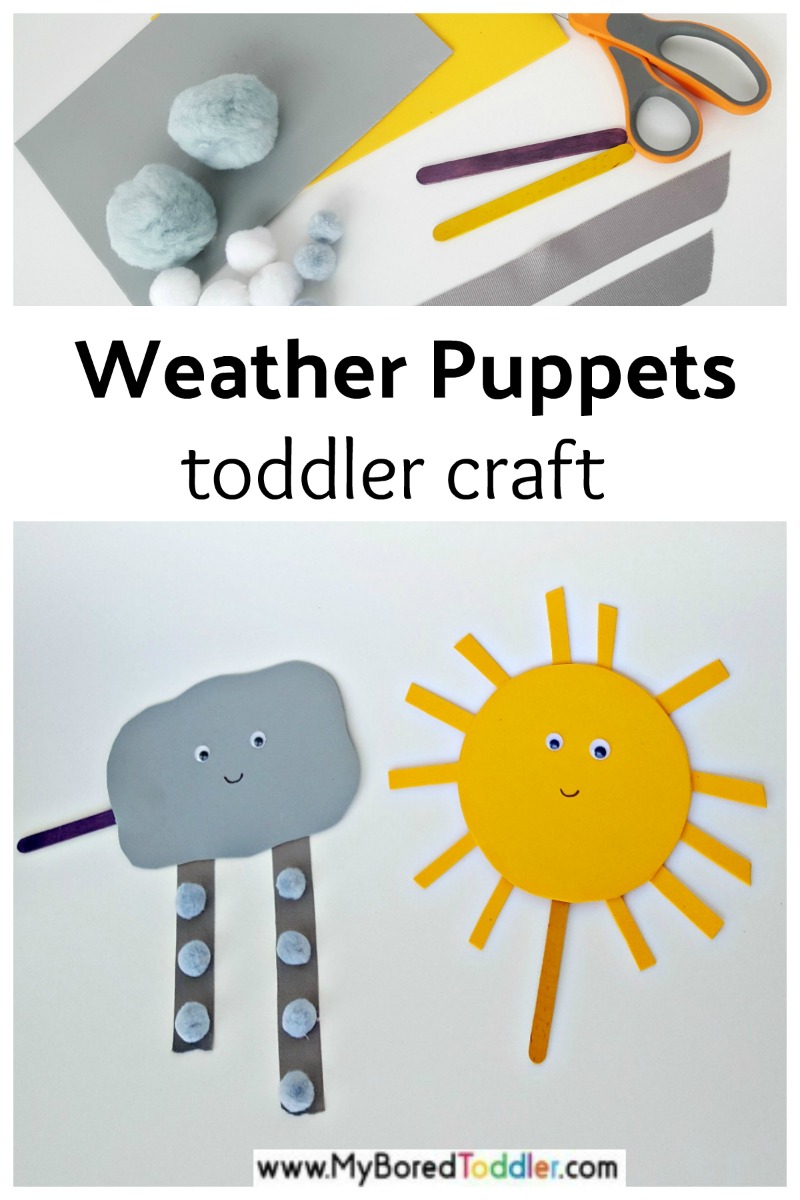 Weather Puppets for Toddler Pretend Play
Puppets promote language and imaginative play in early learners. Holding a puppet gives a toddler control over the movements as well as the voice of the character.
These weather puppets are easy to make and promote fine motor and creative skills. Toddlers will love how the raindrops jiggle when they give the cloud a wiggle!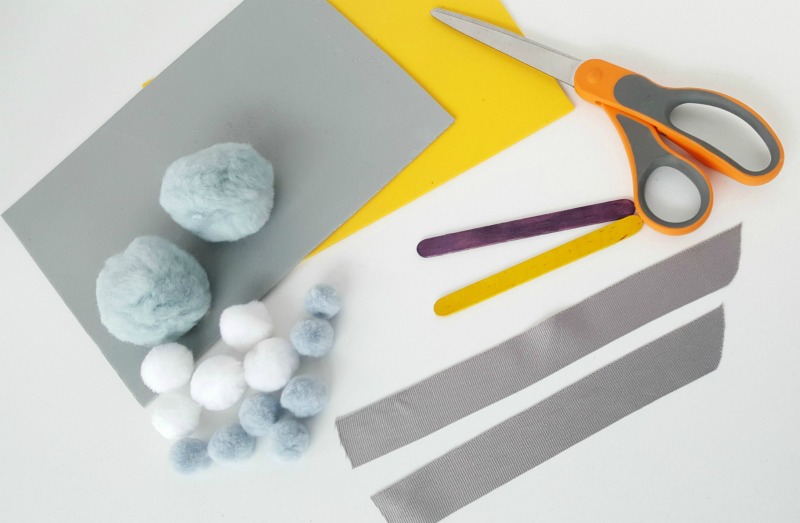 What you need to make your puppets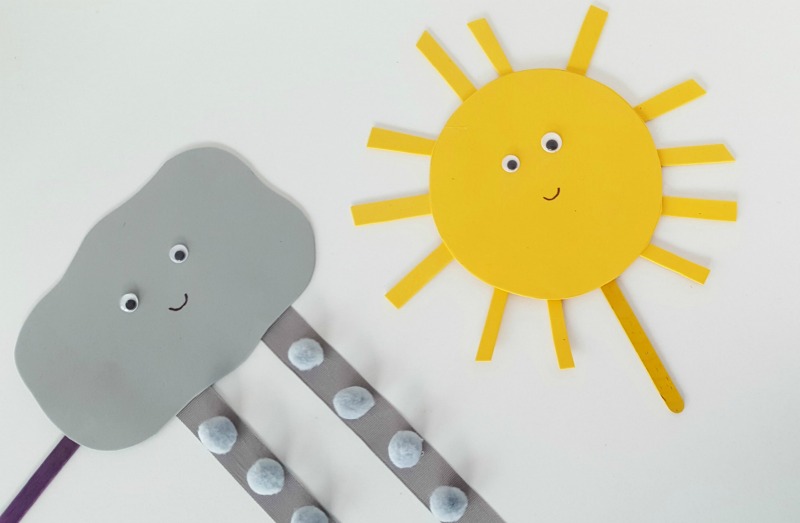 Instructions
Draw and cut out a circle for the sun from the yellow foam sheet. Cut long and short rectangular pieces for sun rays.
Cut a cloud shape from the grey foam sheet.
Cut 2 (or more) pieces of ribbon.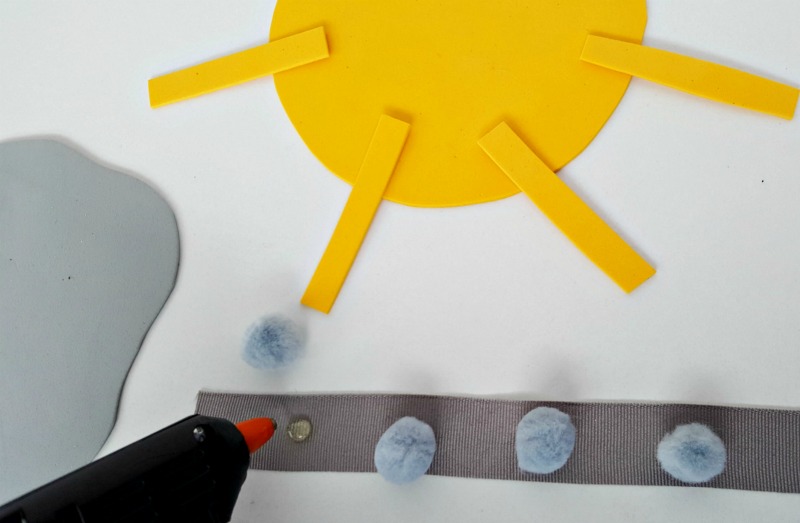 Layout all the pieces for your child to create the sun and rain cloud. This is great for strengthening fine motor and creative skills.
P

lace

rays

around the sun.

P

lace

pompoms

on the ribbon for raindrops.
Use a glue gun to attach the pieces as white glue may not be strong enough to hold the pieces in place.
Glue the

rays to the back of the sun.

Glue

the

pompom

s to the ribbon, then glue the ribbon to the back of the rain cloud.

Glue a craft stick to each puppet. Alternately you could use a wooden spoon or paint stir stick.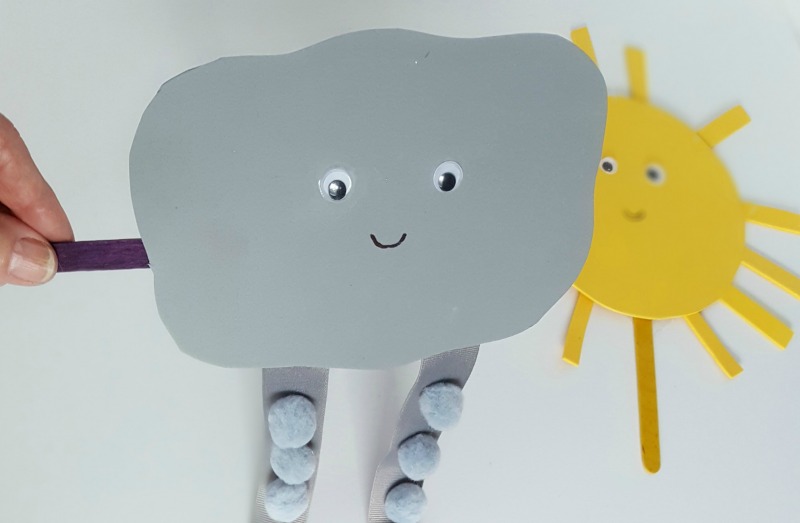 Add facial features with a black marker, or glue on other pieces of craft foam if preferred.
Add craft eyes to give the puppet's character!
Create simple stories with your toddler. Go on an adventure with changing weather being part of the story.
For more fun toddler activity ideas why not join our Facebook Group or follow us on Instagram – follow @myboredtoddler and use #myboredtoddler.
SOME MORE FUN TODDLER ACTIVITY IDEAS YOU MIGHT ENJOY ARE:
Crazy Hair Fine Motor Toddler Craft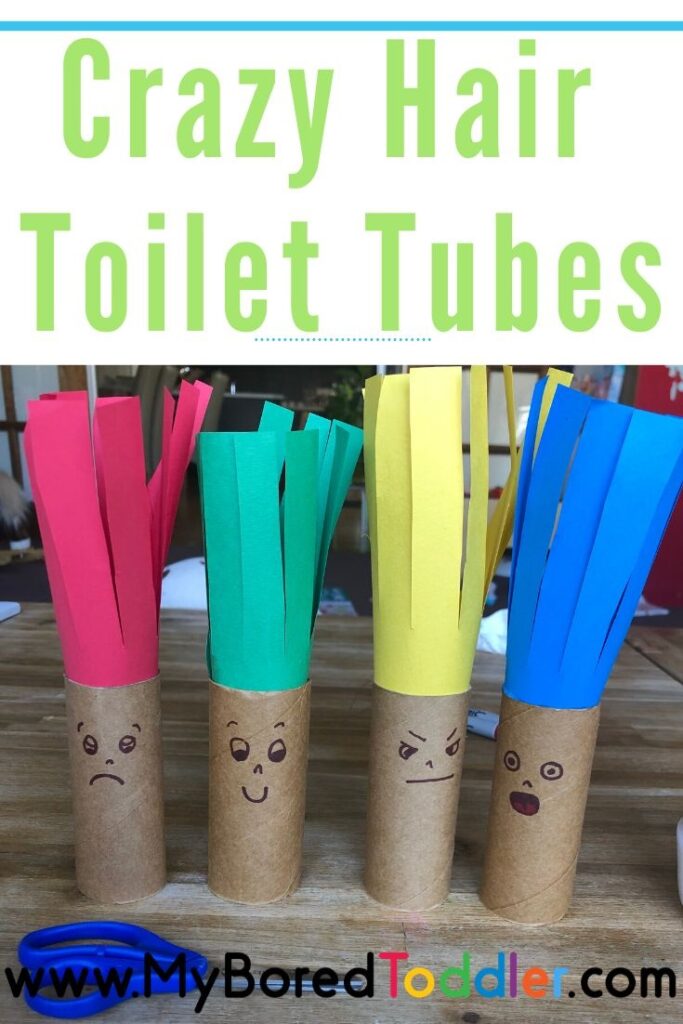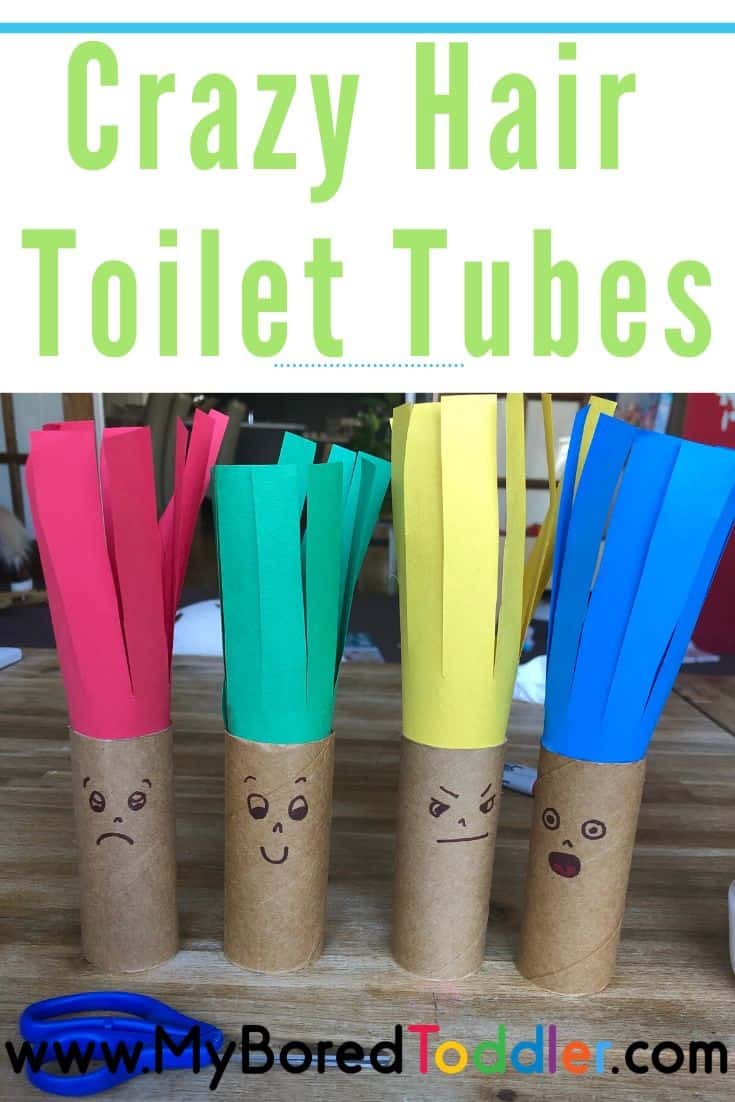 Painting with Artificial Flowers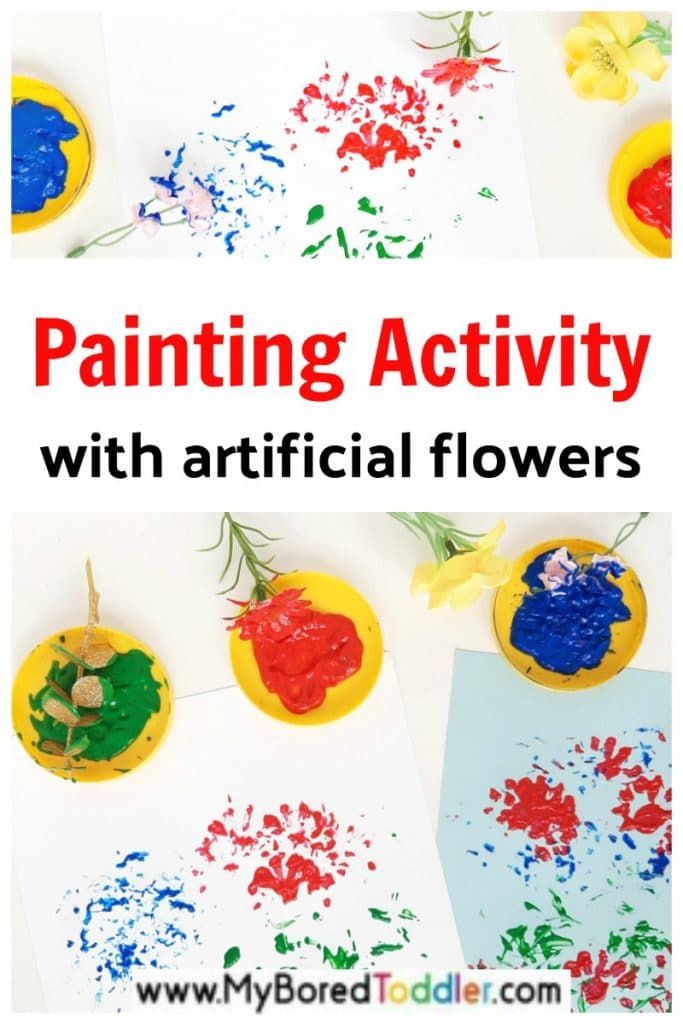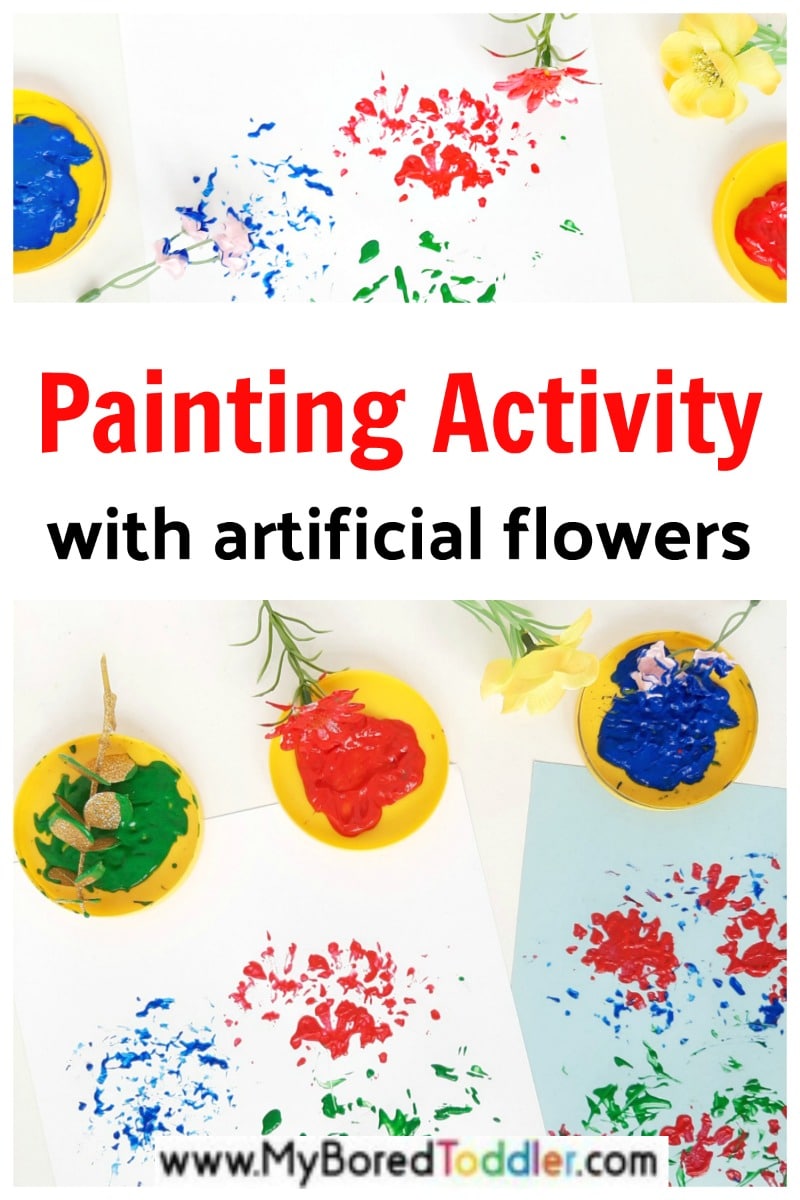 About the Author
Heather is a former preschool teacher and founder of preschooltoolkit.com, a website providing early learning resources for teachers and parents. She focuses on creating fun crafts and activities that engage developmental skills while promoting hands-on learning through play. Follow her on Facebook, Pinterest, Twitter, Instagram