Water play is always a welcomed activity at our place. All three of my kids love scooping and pouring streams, mixing and stirring the water.
Today we took our familiar water play and took it to another level – we added fresh oranges to create our own Orange Sensory Water Play.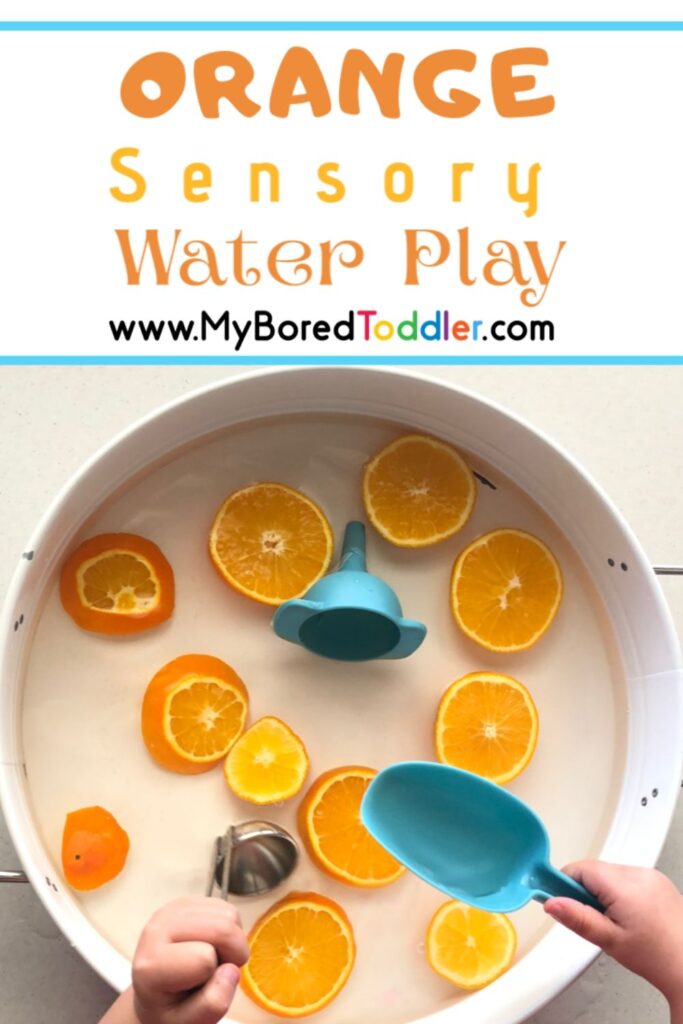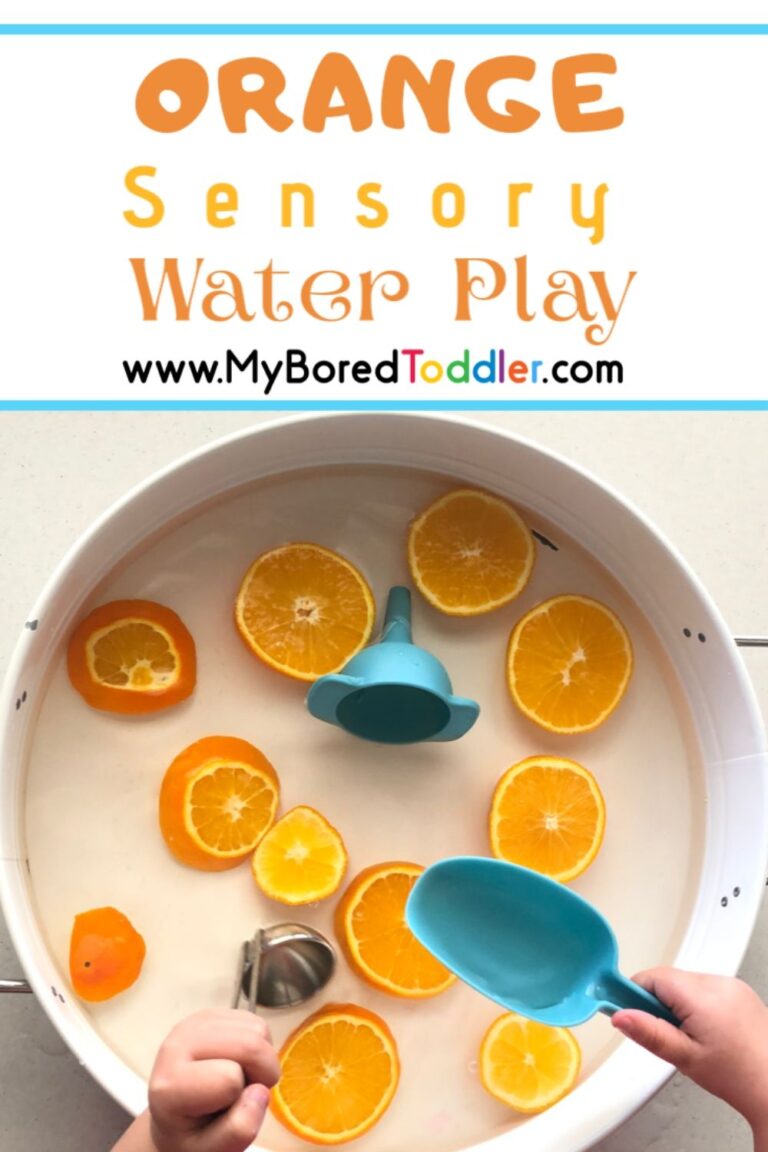 Orange Sensory Water Play
Sensory play has a long list of benefits that can aid your toddler's development. Engaging your toddler's five senses not only engages them in the activity but also helps provide their brain with information to further develop and grow.
This Orange Sensory Water Play activity is definitely one to engage all the senses!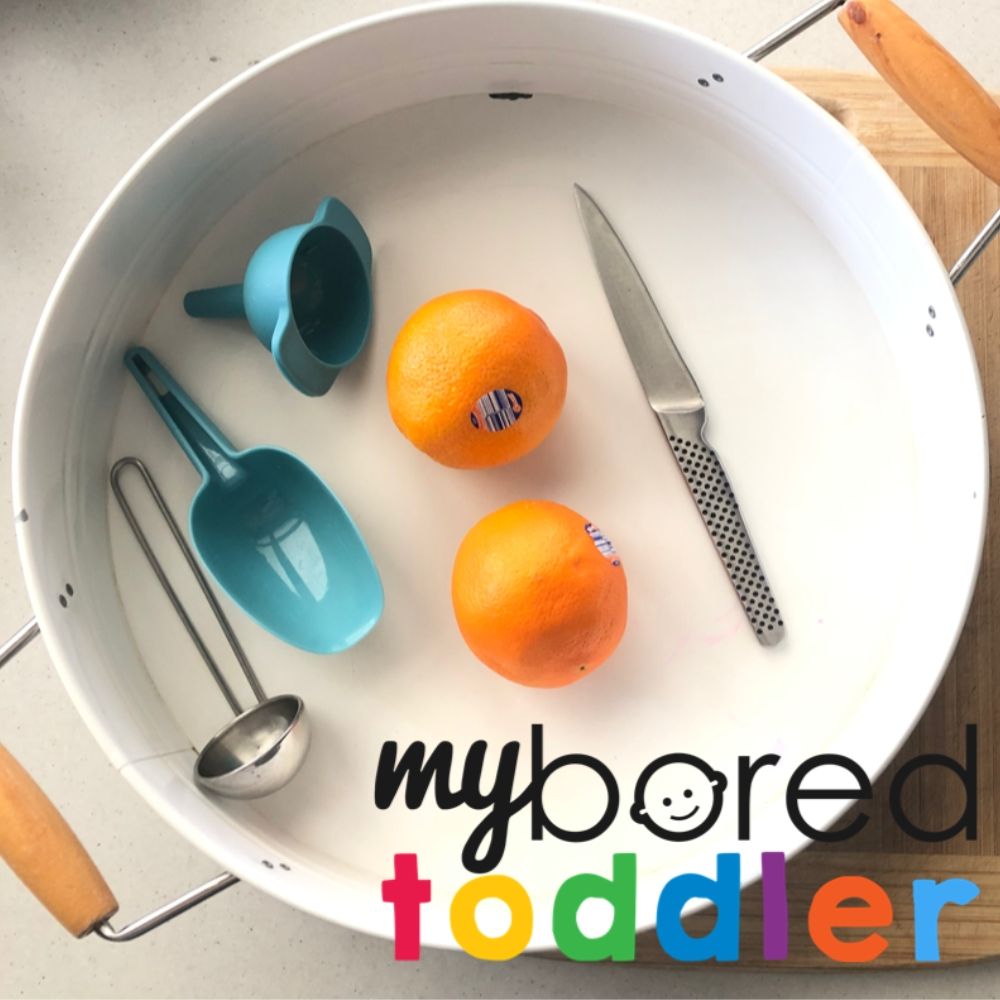 What you need to

set up your

Orange Sensory Water Play:
If you have a tree of lemons or mandarins, why not swap the oranges for what you have on hand?
We chose a funnel, scoop, and ladle to accompany our oranges. Cups, bowls, mega blocks, spoons, and bottles would all be great utensils to add into this play experience.
How to

set up

your Orange Sensory Water Play

activity:
A beautiful thing about water play is that it is so quick and easy to set up.
No complicated steps here! Carefully slice your oranges, pop them into the play tray, add water and you are ready to play. The amount of water is determined by the size of your play tray. We added enough water to our tray so that the orange slices would float.
Miss 3 started off by pouring the water from the scoop into the funnel before exploring the orange. Busy hands and fingers then began exploring the orange slices.
Firstly, picking them up and inspecting them before requesting to break the slices into pieces. She loved watching the juice and oil leaching from the fruit and staining the water along with small segments of pulp.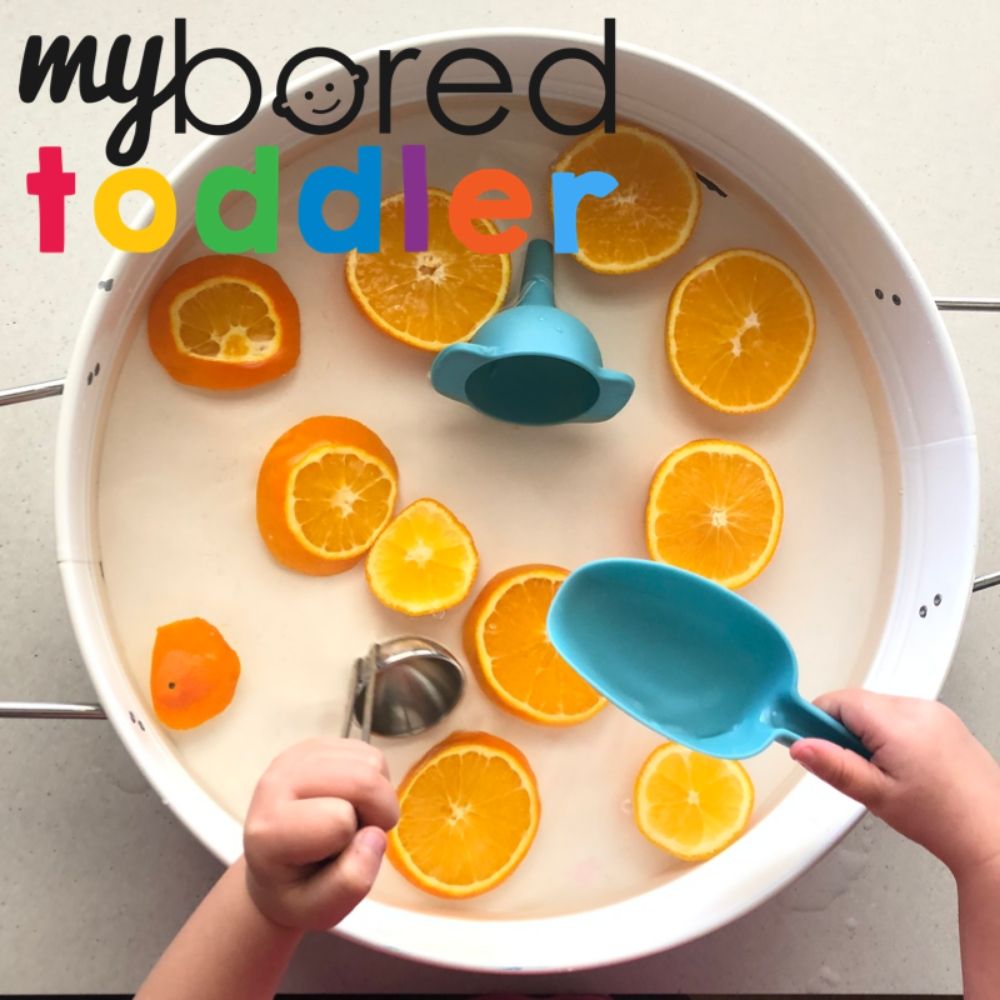 While she was playing, I was asking Miss 3 how the peel felt different to the flesh and what the smell made her think of. These open-ended questions helped broaden her awareness of the situation along with introduced opportunities to expose her to different words.
Miss 3 enjoyed playing with the water and orange slices for ages! Stacking the slices, trying to rebuild the spheres, knocking them down and watching them splash as they toppled into the tray. The entire room smelt amazing!
This orange sensory water play literally took minutes to set up and had Miss 3 actively engaged in all sorts of play – experimental, explorative and meaningful play. Learning through play – it is so much more than just having fun!
For more fun toddler activity ideas why not join our Facebook Group or follow us on Instagram – follow @myboredtoddler and use #myboredtoddler.
Some more fun water play activities for toddlers are:
Water Play Activities for Babies and Toddlers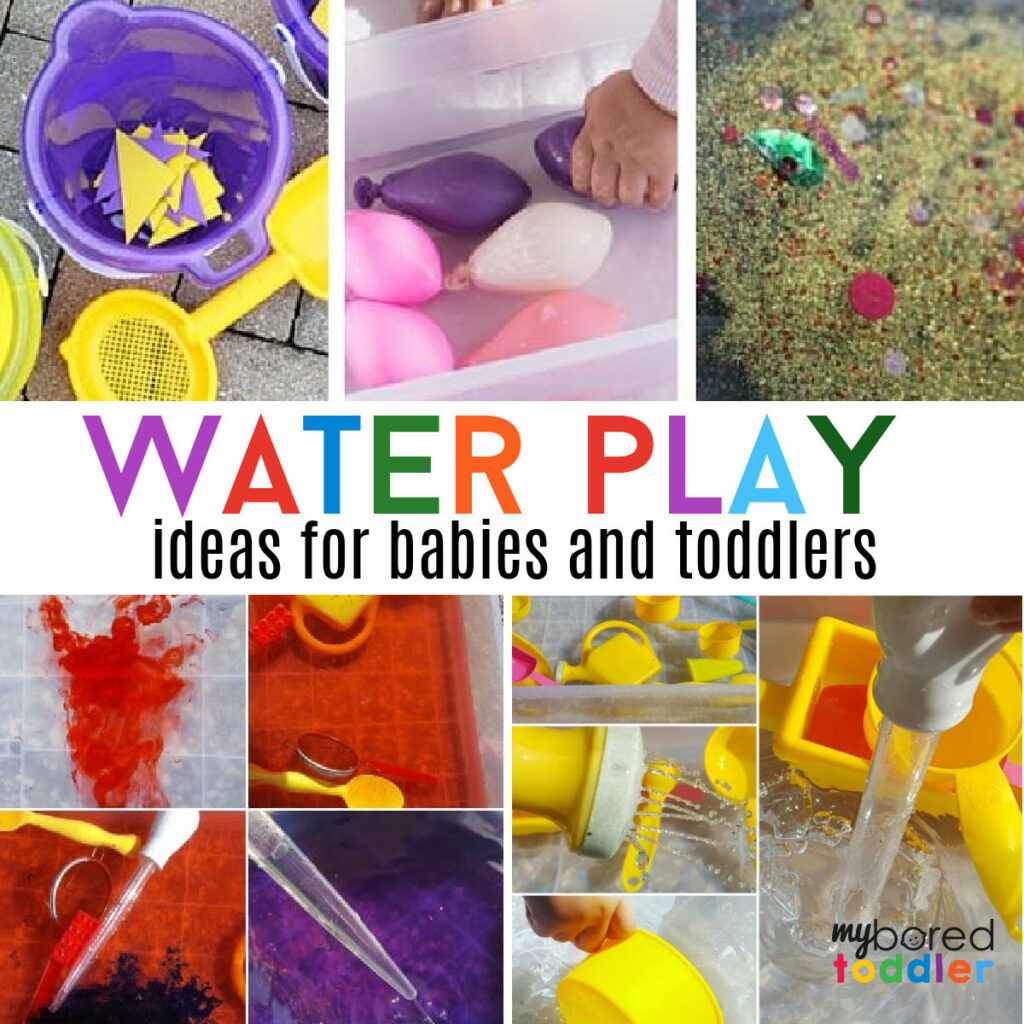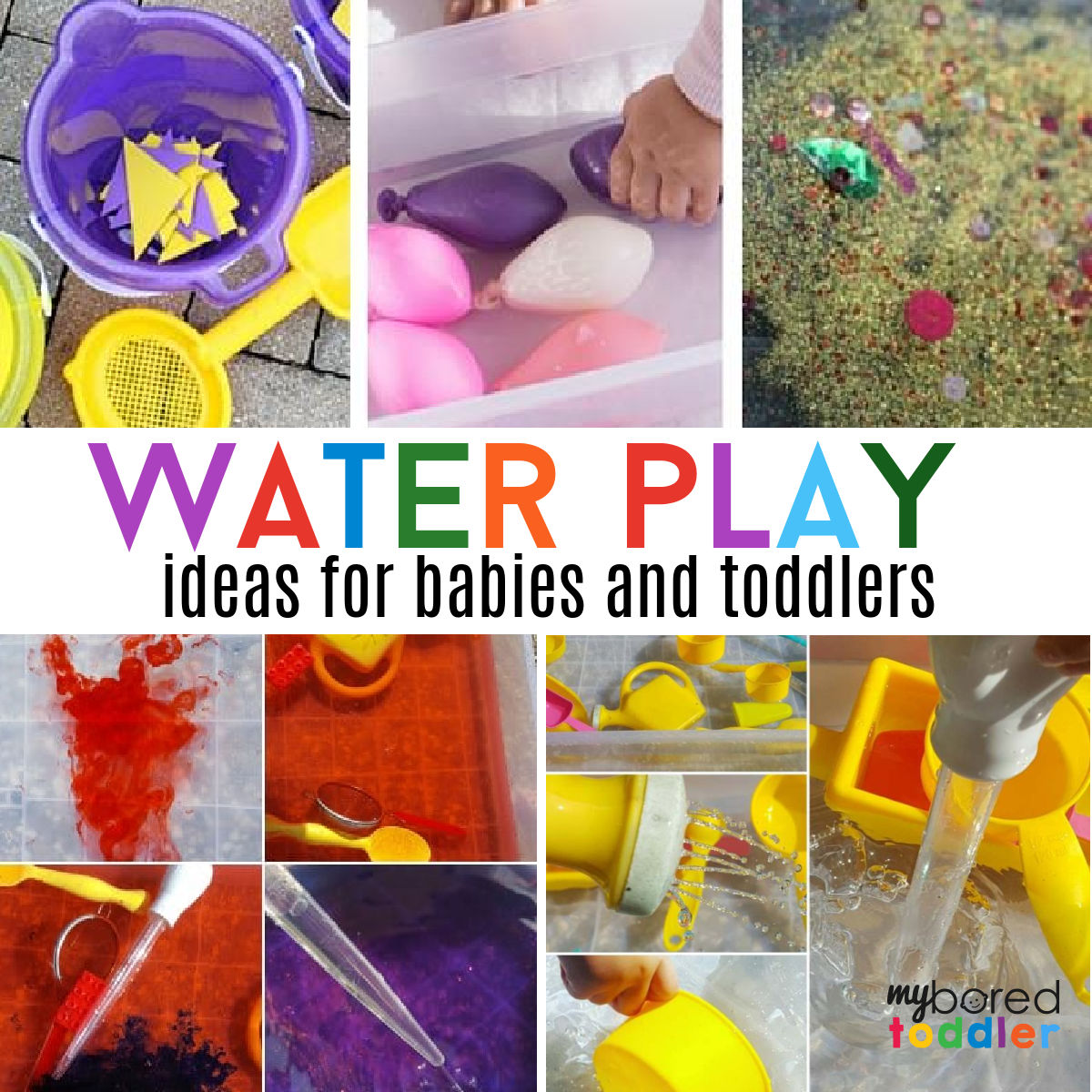 About the Author:
Dani is a busy stay at home Mum of 3 and early childhood teacher in training who is passionate about play based learning throughout early childhood. For educational play ideas that you can do at home and parenting tips visit Play Inspired Mum Check her out on Instagram and Facebook