Everyone loves receiving a gift wrapped in our toddler painting wrapping paper. It makes a great impression on Christmas day and is perfect when paired with our toddler made Christmas card and gift tags. It's a fun easy Christmas craft for toddlers and a great way to use up any paintings that they've made through the year (you know you can't keep them all!).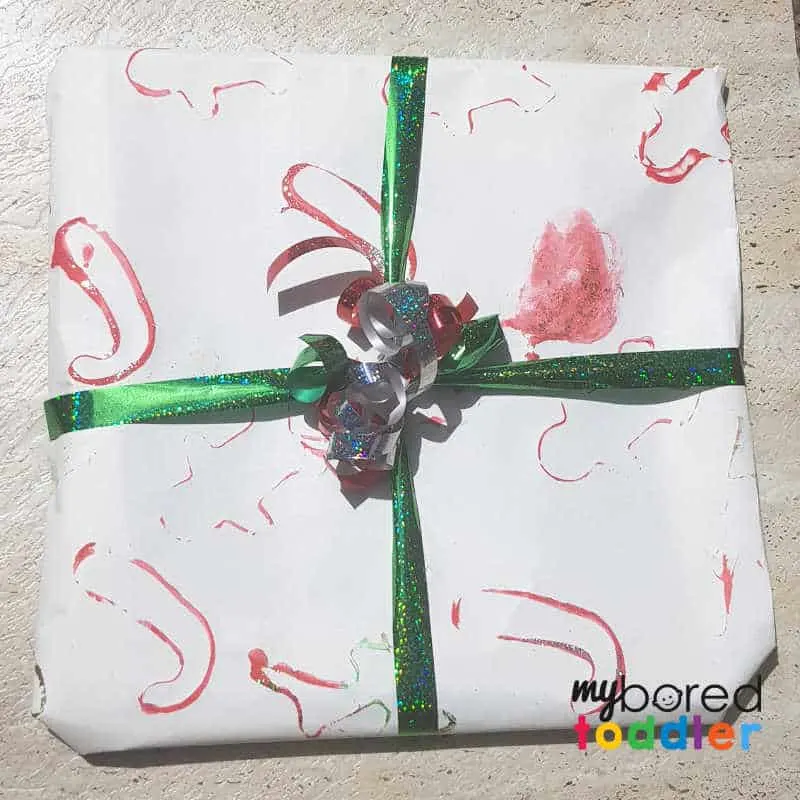 I love wrapping our Christmas gifts in wrapping paper made by my toddler. It's a perfect simple toddler Christmas craft that you can work on all year long. We buy large rolls of blank butcher's paper and you can do any kind of painting that you like.
By using the paper as Christmas wrapping paper it solves the problem of what to do with all the paintings that your toddler has painted but you don't want to throw away. The gift recipient always loves these! We always use this Christmas wrapping paper to wrap our personalized calendars that we make each year for family members.
The best part about this activity is that there's no right or wrong way to do it. Everyon'e Christmas wrapping paper will look different and that's great! In fact I'd love to feature some of your designs on this blog post - simply share your finished product over in our Facebook Group or on Instagram using #MyBoredToddler and I'll select some to feature on THIS page!
For our wrapping paper in the pictures we used cookie cutters and stamped them like we did in yesterday's Christmas gift bag craft. You can also paint them however you like -roller paints are perfect for this activity too.
What you need to make your toddler painting Christmas Wrapping Paper
How to make your painted Christmas wrapping paper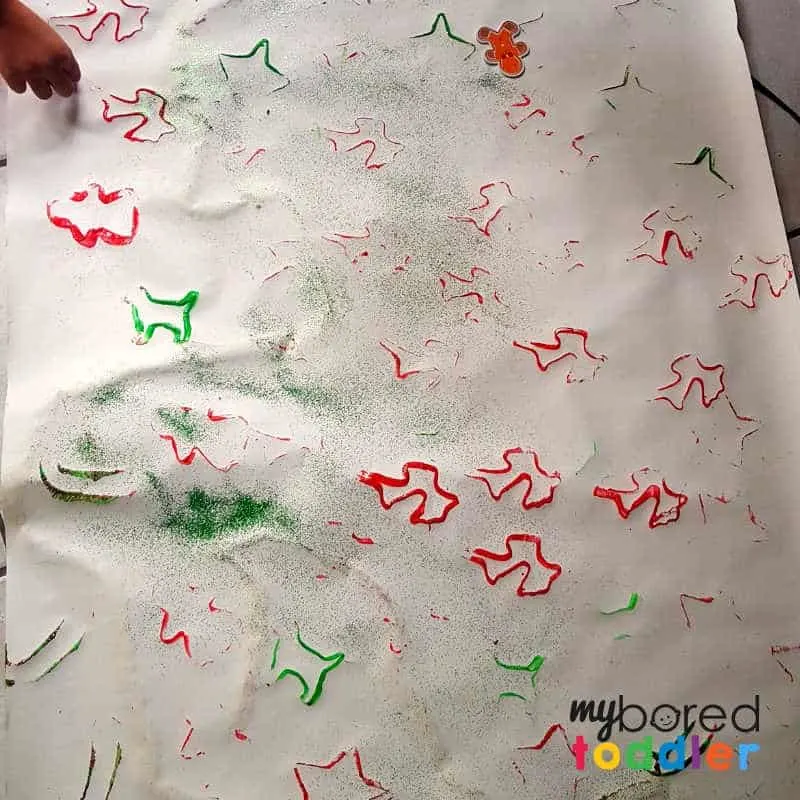 Dip cookie cutters into the paint and stamp onto the paper or paint using your roller paints.
Add your glitter (or add to the paint at the start of the activity). You may be able to see that we had a little accident with the glitter on ours - let's just say that our lounge room still sparkles!
Let the paper dry and store until needed.
Wrap your gift, add some ribbon and make it look unique and amazing!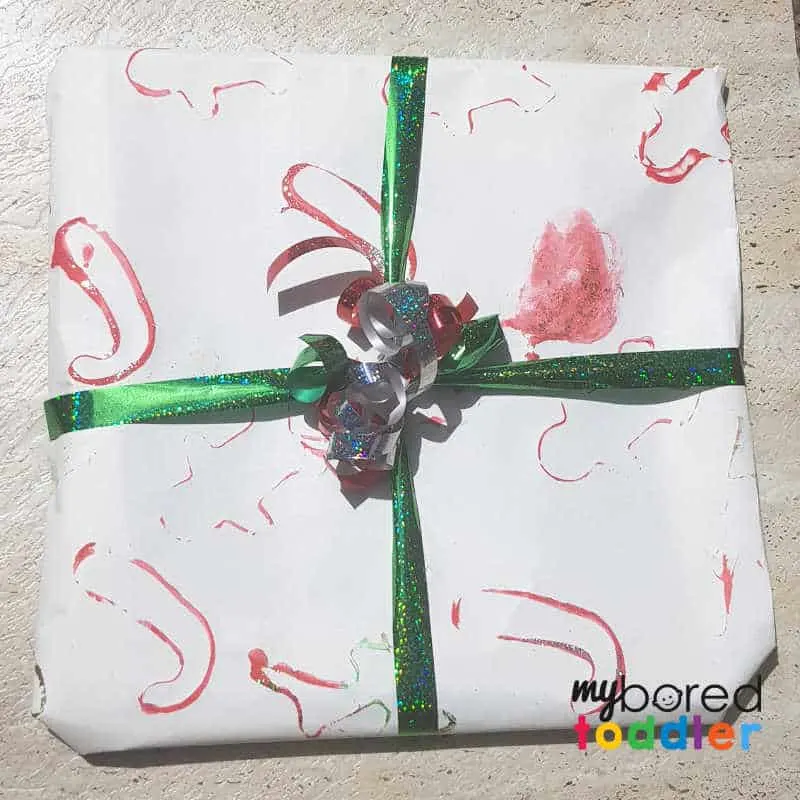 For more fun toddler ideas why not join our Facebook group or follow us on Instagram – use #myboredtoddler to share your pics so we can see!
More Christmas toddler activity ideas you might enjoy are: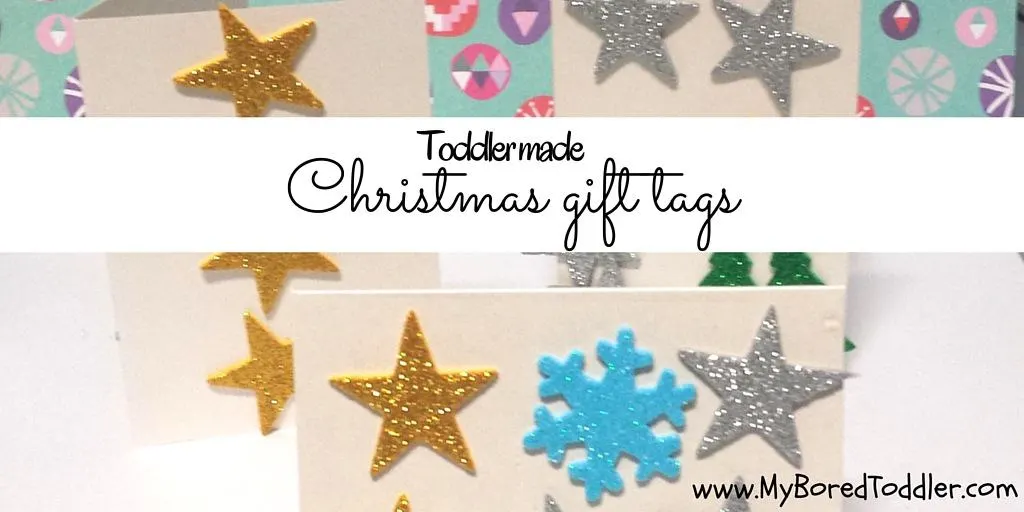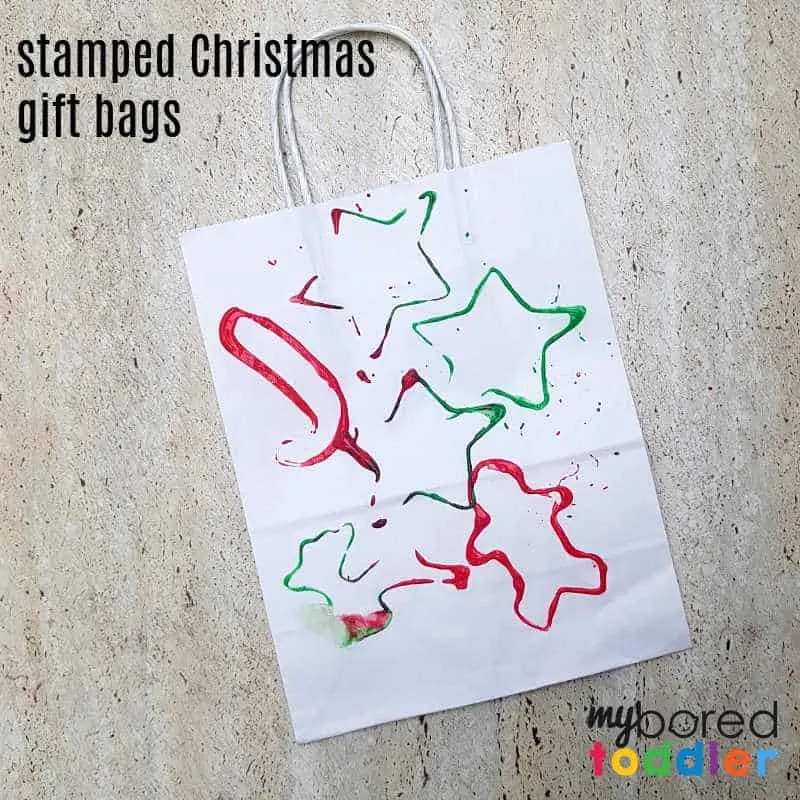 Easy Christmas Crafts for Toddlers