Finger painting is so much fun! It is a great way to introduce your baby into the world of expressive creativity and is certainly still loads of fun for, us, bigger kids too!
This Springtime Fingerprint Flowers project is a colourful way to take a humble finger paint session into something a bit more controlled and refined.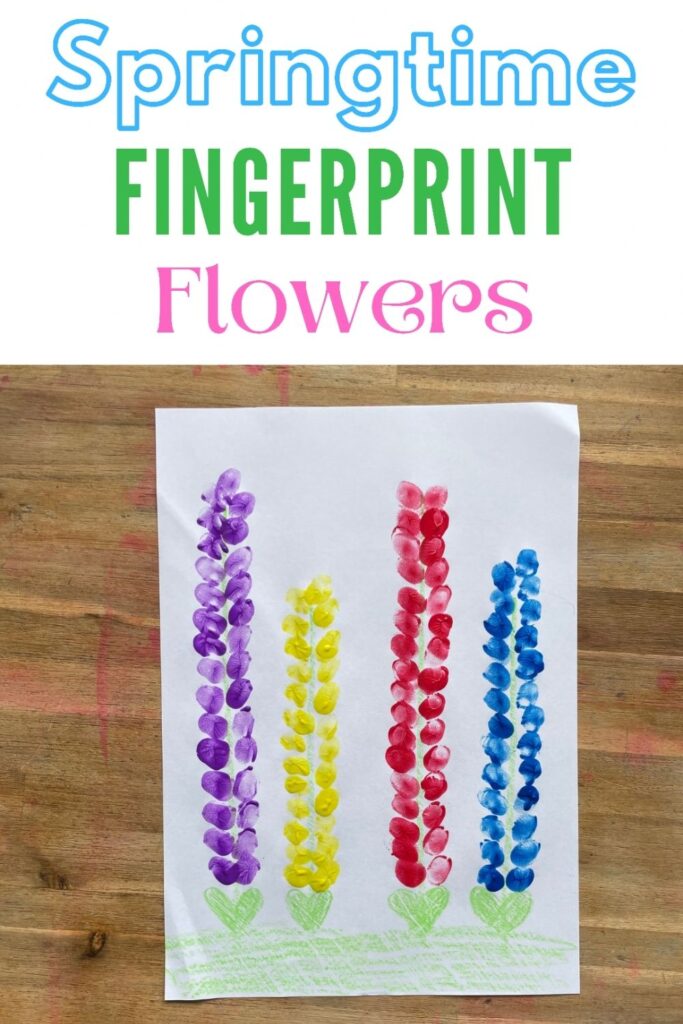 Springtime Fingerprint Flowers
The simplicity of this toddler painting idea should not overshadow how effective it is!
Armed with a paint pot and trusty finger, your child can create a beautiful piece of art without the need for fancy equipment or waiting for the postman to deliver supplies.
Celebrate all spring with this easy springtime fingerprint flower activity!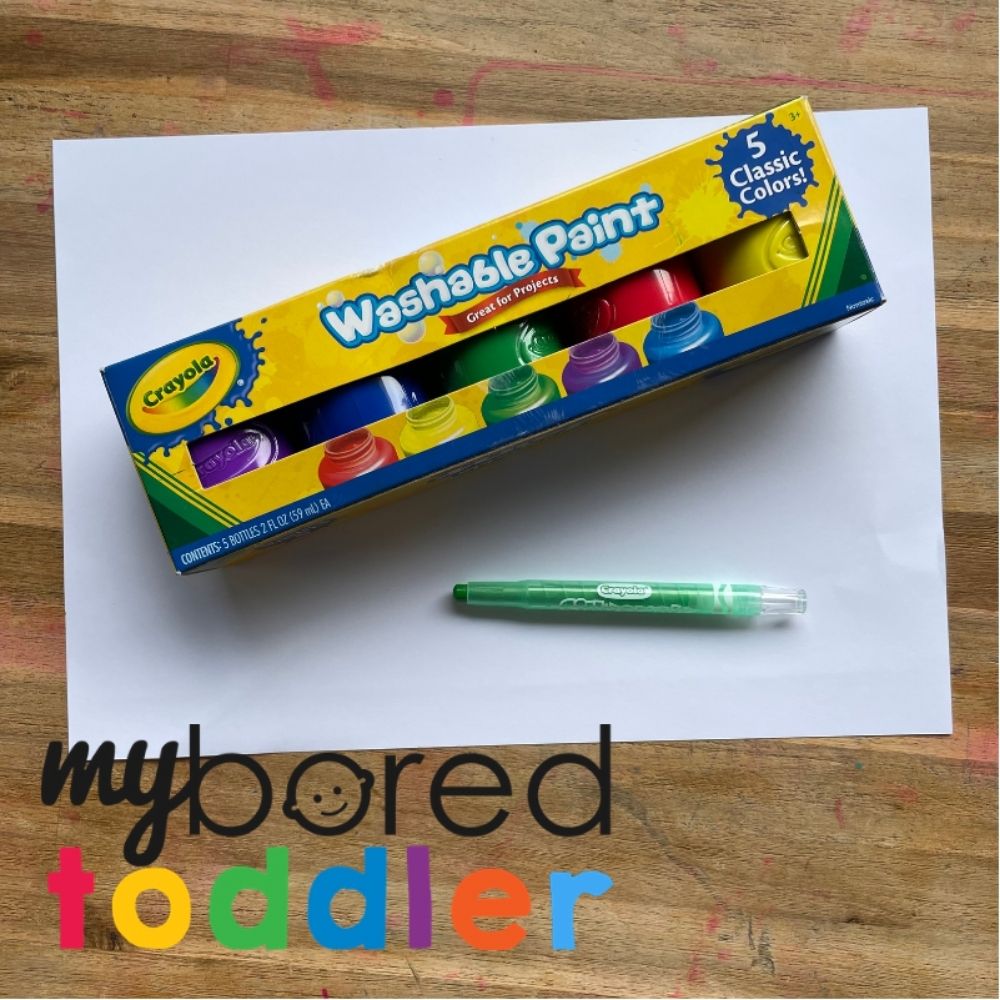 What you need to make Springtime Fingerprint Flowers:

How to set up your Spring Fingerprint Painting
For some children, getting their hands dirty can be a huge deterrent from activities like this one. If your little one is hesitant, why not offer them a glove to wear?
The support may encourage them to participate, still, have a sensory experience, and be included without the risk of the paint actually being on their skin.
Who knows where that could take them? You never know... curiosity may tip the boat and they may drop in a sneaky pink anyway?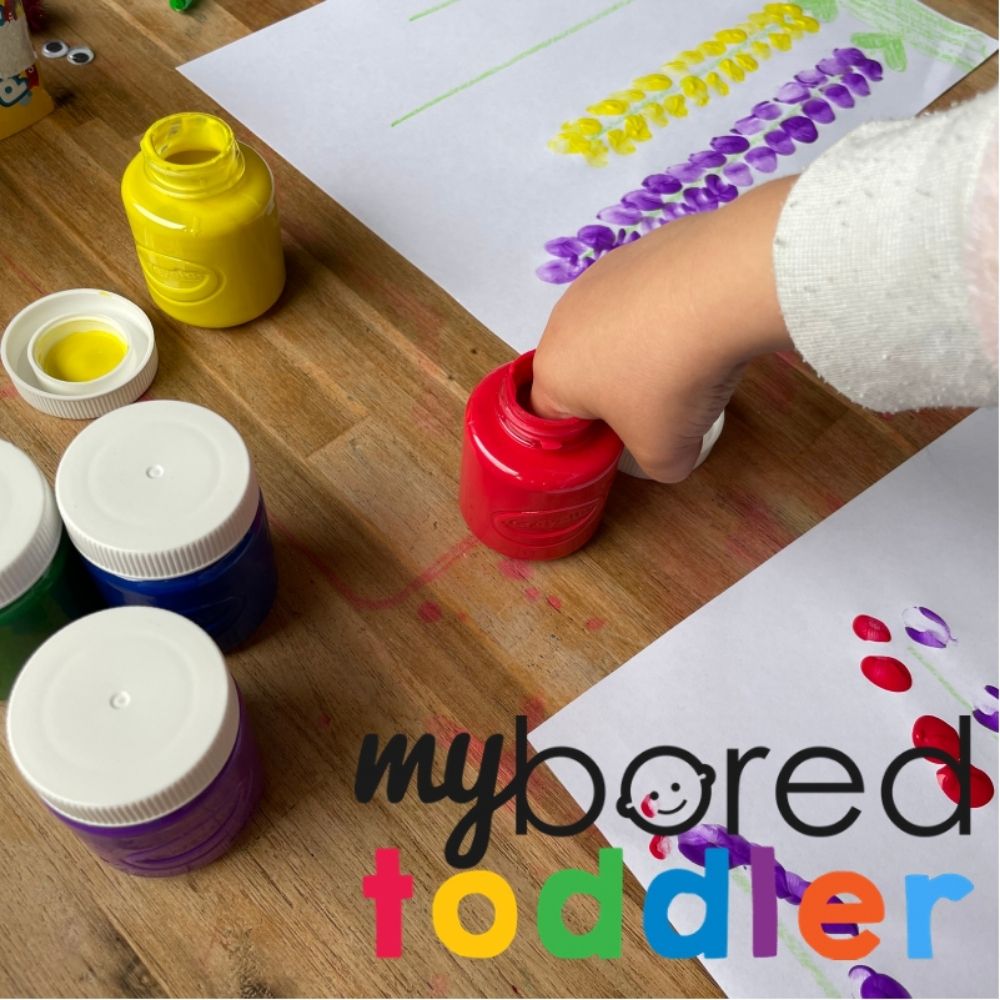 How to make your Springtime Fingerprint Flower Activity:
While preparing our page for finger painting, little Miss and I had been talking about the concept of short and tall. Given this, I extended our chat into our painting.
Using our crayon, we coloured the bottom of the page green to replicate the grass before drawing four stems. Relating back to our chat about tall versus short, we made a pattern with our stems; tall, short, tall, short.
Once the stems are done, it's time for petals! Little Miss was so excited to dip her finger into the paint pot! With paint on its tip, her little finger got working its way up the stem. Starting with the left side, she started at the bottom of the stem before moving up towards the top.
Pressing her finger to the page, she admired the swirls of her fingerprint in the paint.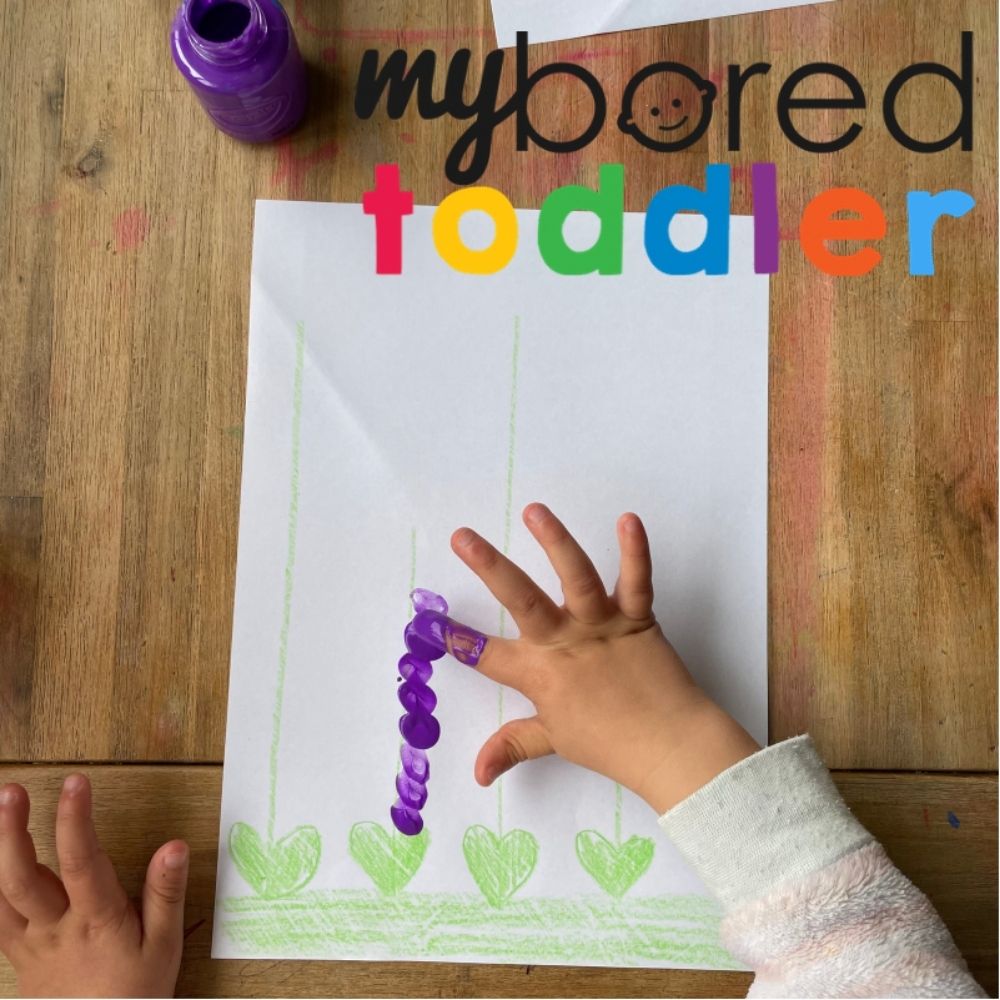 She loved guessing how many prints she could make before the paint went faint. At one point it all got a bit much and instead of a fingerprint, she delivered a 'finger sweep'. She regretted it straight away, preferring the fingerprint effect. These things are all part of the learning process!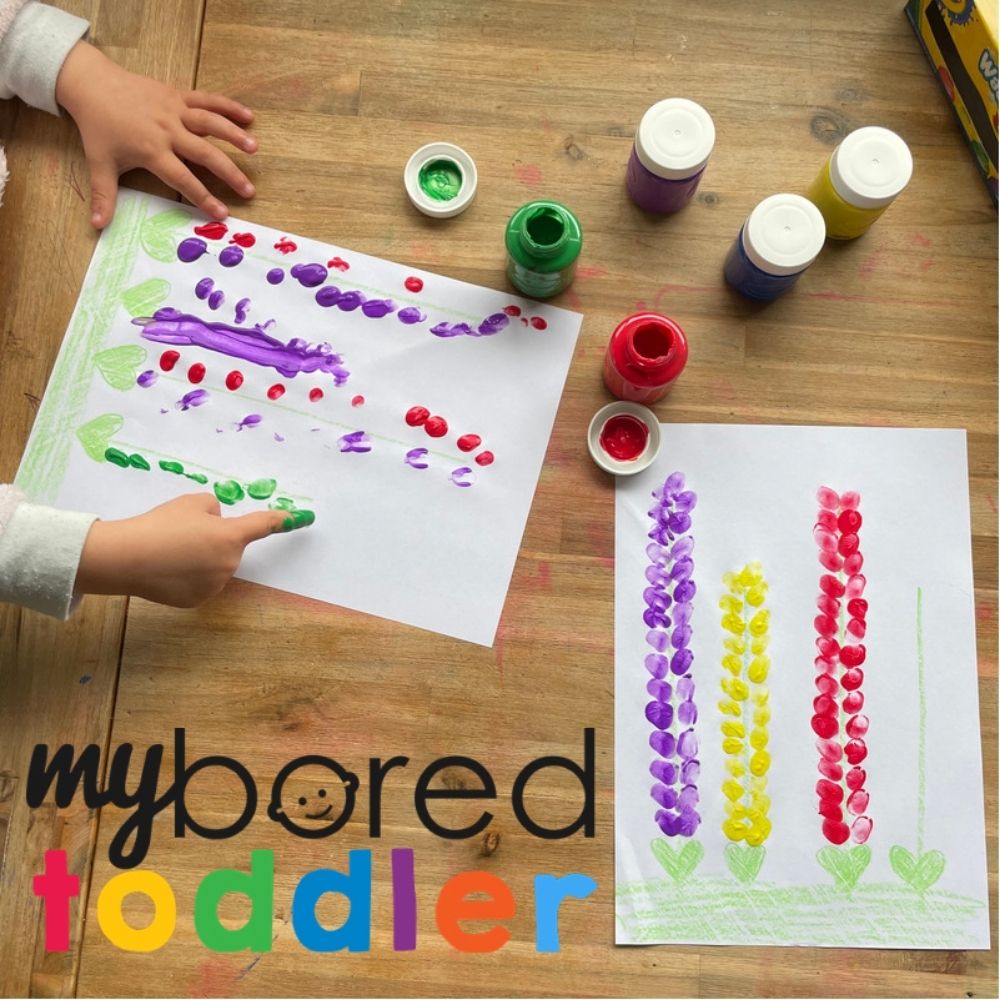 This Springtime Fingerprint Flowers painting idea is a great introduction to early number and fine motor skills. The fingerprint petals are so effective. Your child can create a keepsake that is really special. Pop it in a frame, make your own gift cards or create your flowers on a platter with ceramic paints as a gift for someone special.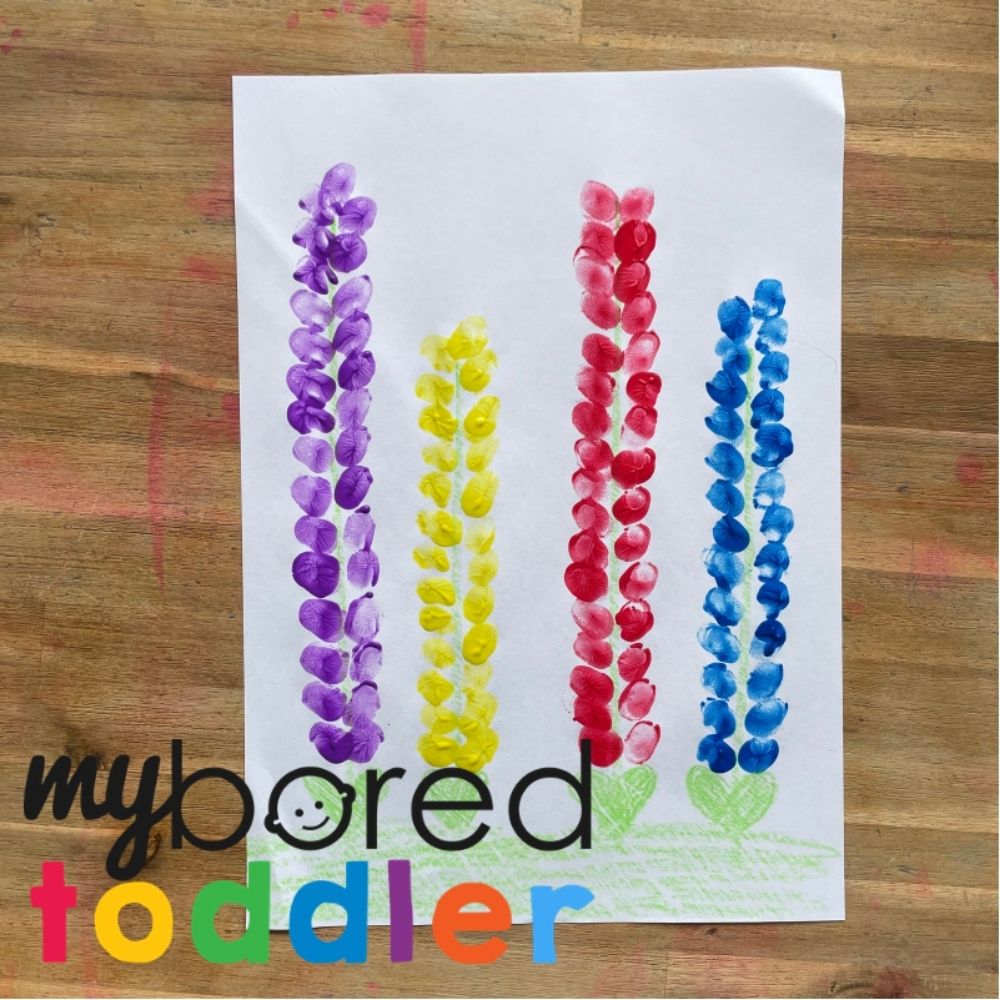 For more fun toddler activity ideas why not join our Facebook Group or follow us on Instagram – follow @myboredtoddler and use #myboredtoddler.
SOME MORE FUN TODDLER ACTIVITY IDEAS YOU MIGHT ENJOY ARE:
Spring Crafts for 2 and 3-Year-Olds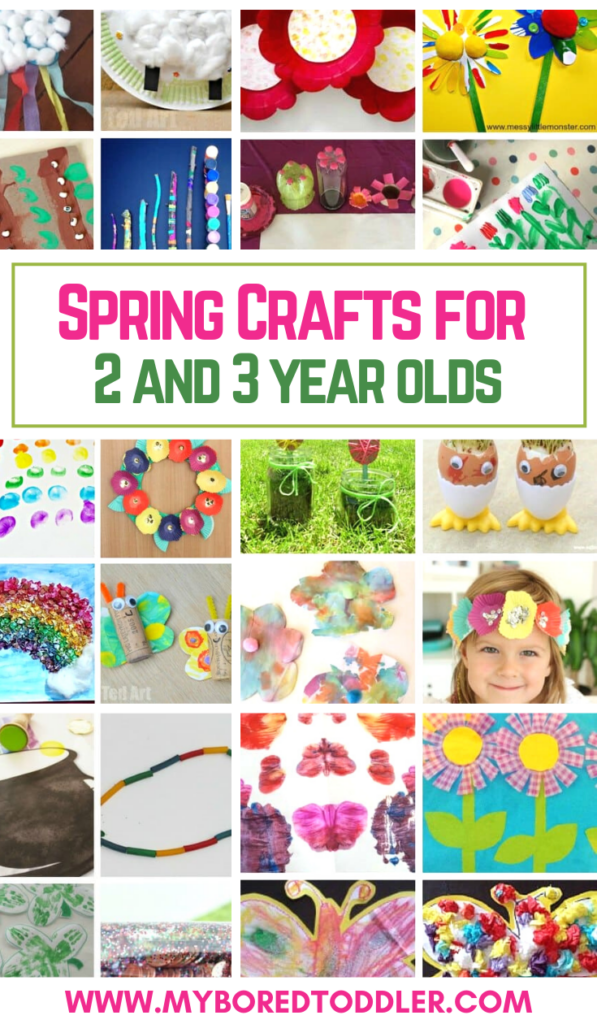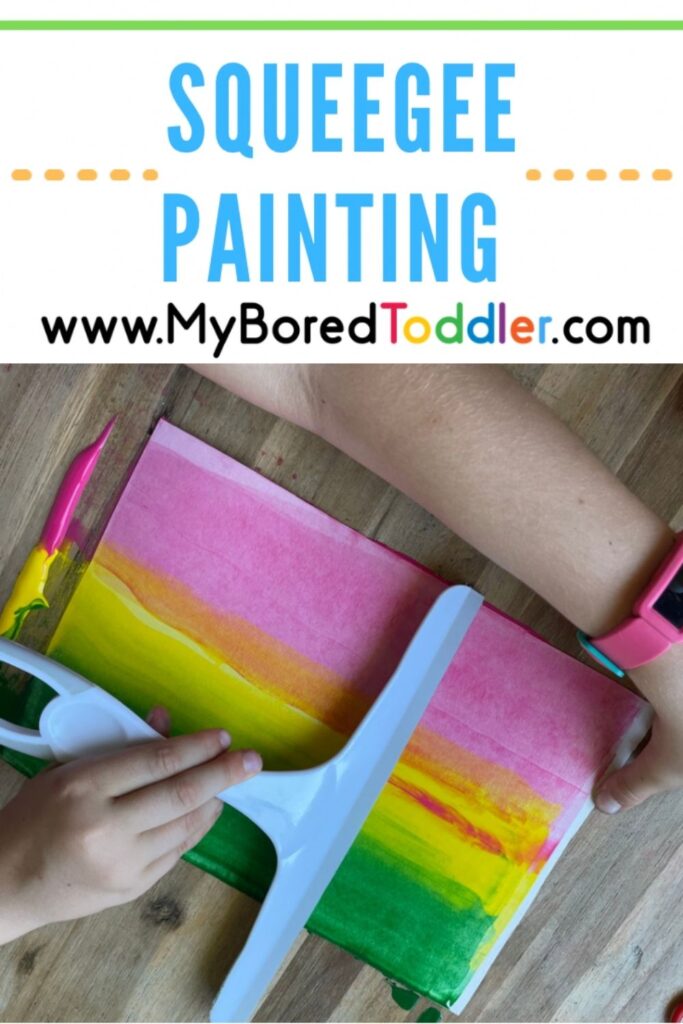 About the Author
Dani is a busy stay-at-home Mum of 3 and an early childhood teacher in training who is passionate about play-based learning throughout early childhood. For educational play ideas that you can do at home and parenting tips visit Play Inspired Mum Check her out on Instagram andFacebook