This fun toddler play idea combines a paper-tearing activity with a simple sensory bin. Using paper as a filler is a convenient way to use paper scraps, while providing interesting sensory experiences for your toddler.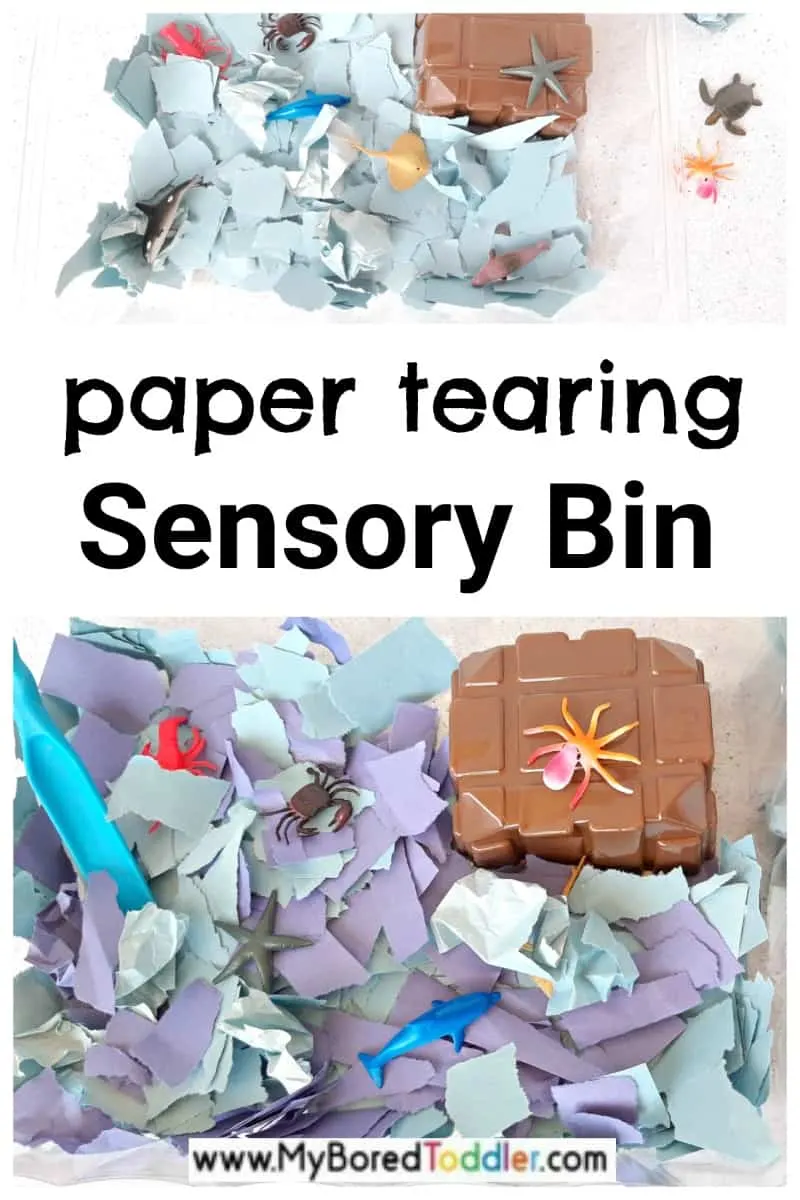 Sensory Bin with Torn Paper
When weather or other circumstances keep the play indoors, it helps to have play ideas that can be provided with everyday materials.
A sensory bin filler can be anything from pompoms to colored rice to torn paper.
Reuse items you have around the house in creative ways.
Keep things simple to reduce setup and cleanup.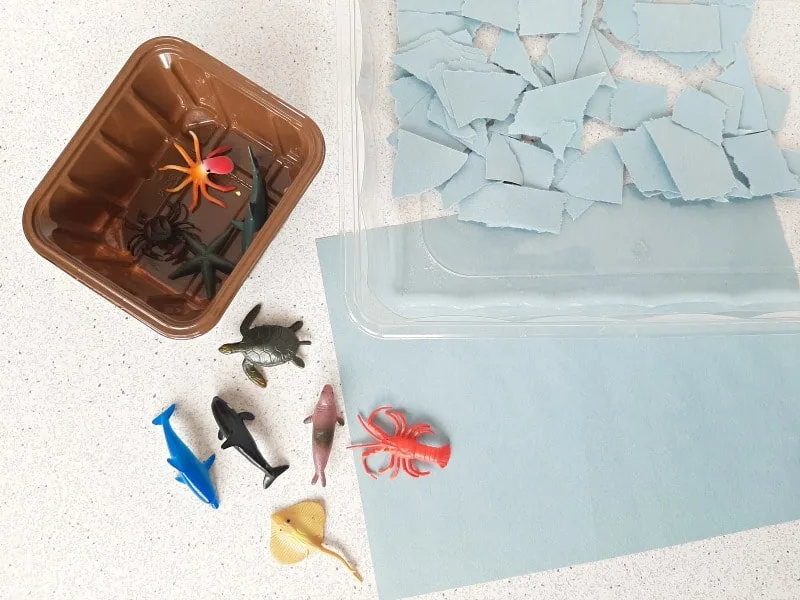 This sensory activity is perfect for indoor play with toddlers. Paper can be shredded, torn or crumpled to fill a medium size plastic bin.
A theme for the sensory bin isn't necessary but it helps with planning and setting up the contents. This torn paper activity is inspired by an under-the-sea theme. Small sea animals added to blue shredded paper create an ocean scene.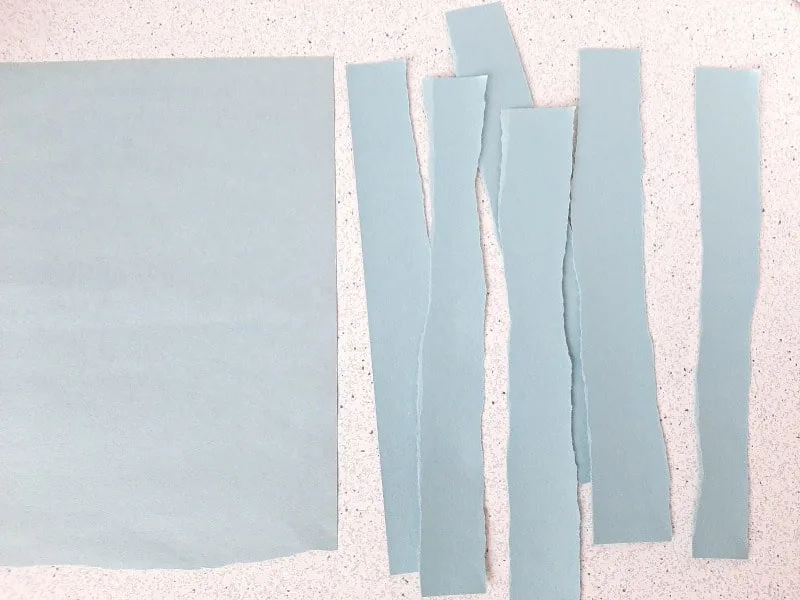 Provide strips of paper for your toddler to tear into small pieces.
Allow kids to explore the materials on their own. Child-led activities promote independent play and discovery.
The pieces can be large or small, depending on the fine motor skills.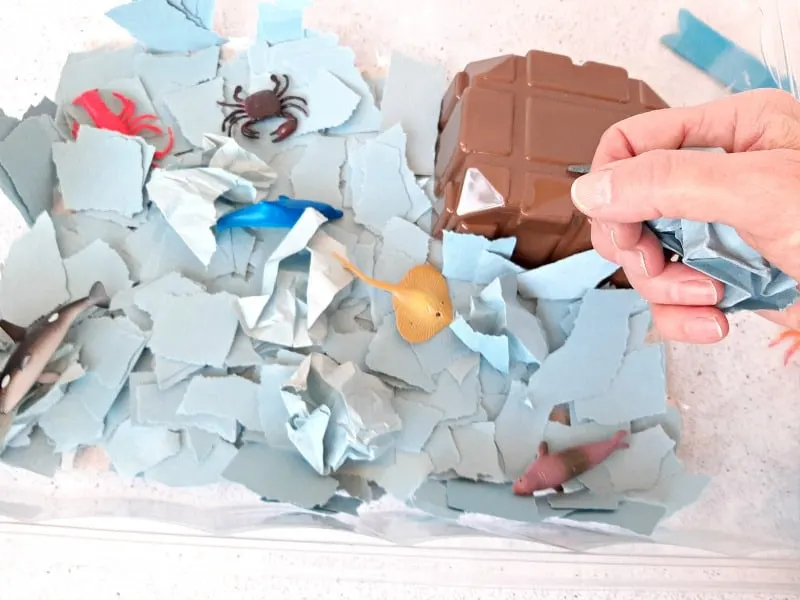 Larger pieces can be crumpled in the hands for more fine motor work!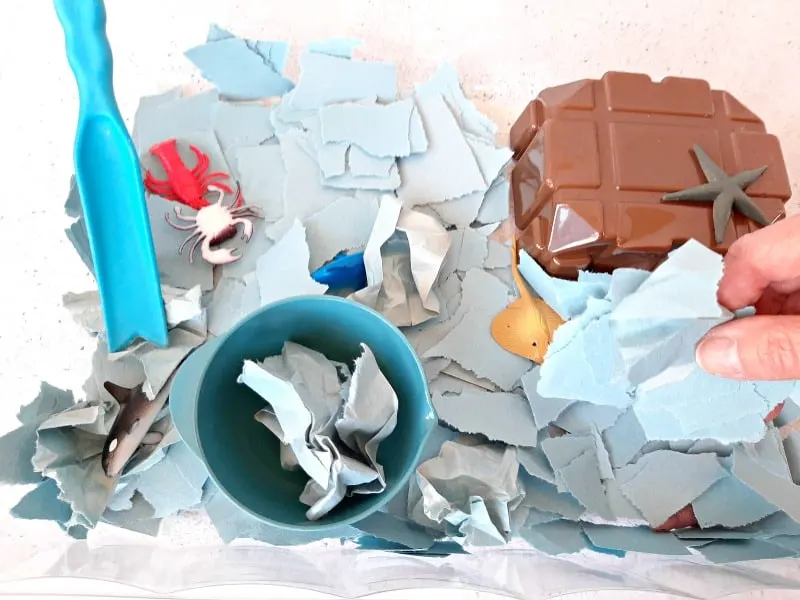 Add fine motor tools such as shovels or tongs (we LOVE this fine motor kit)
A recyclable plastic container becomes a sandbar for a starfish or a large rock for a turtle to climb onto.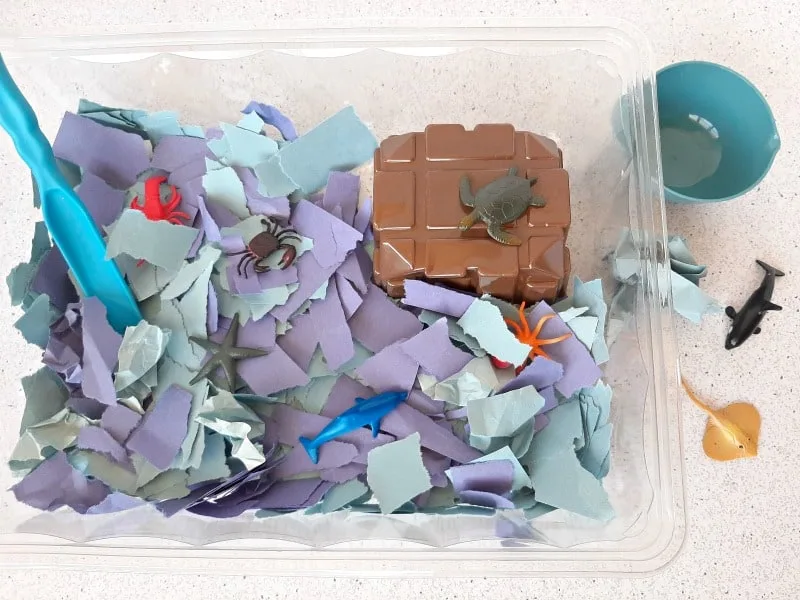 Combine more than one color of paper in the bin for interest and sensory experiences.
Guide the play with suggestions as your toddler explores the materials.
Can you hide the turtle in the water?
What color is the lobster?
Let's count the big fish in the sea.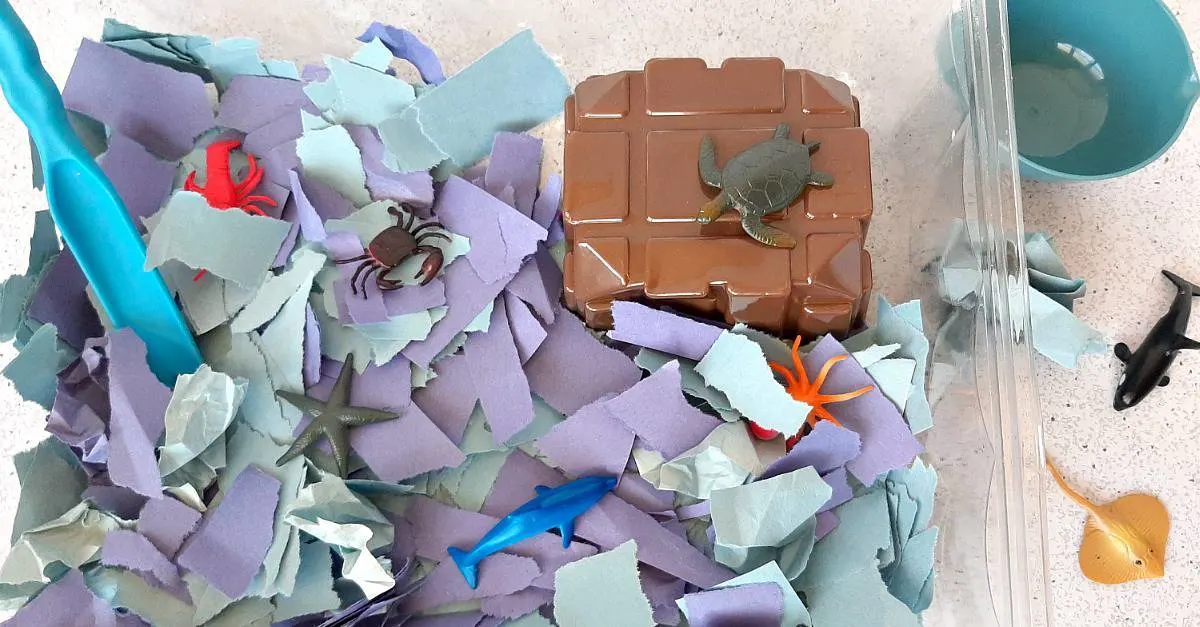 Sensory play is easy with simple fillers. Take a look outside the box when looking for ways to entertain and educate your toddler.
Explore different ways to use everyday materials and toys. The experiences you provide will support fine motor and creative play for your toddler.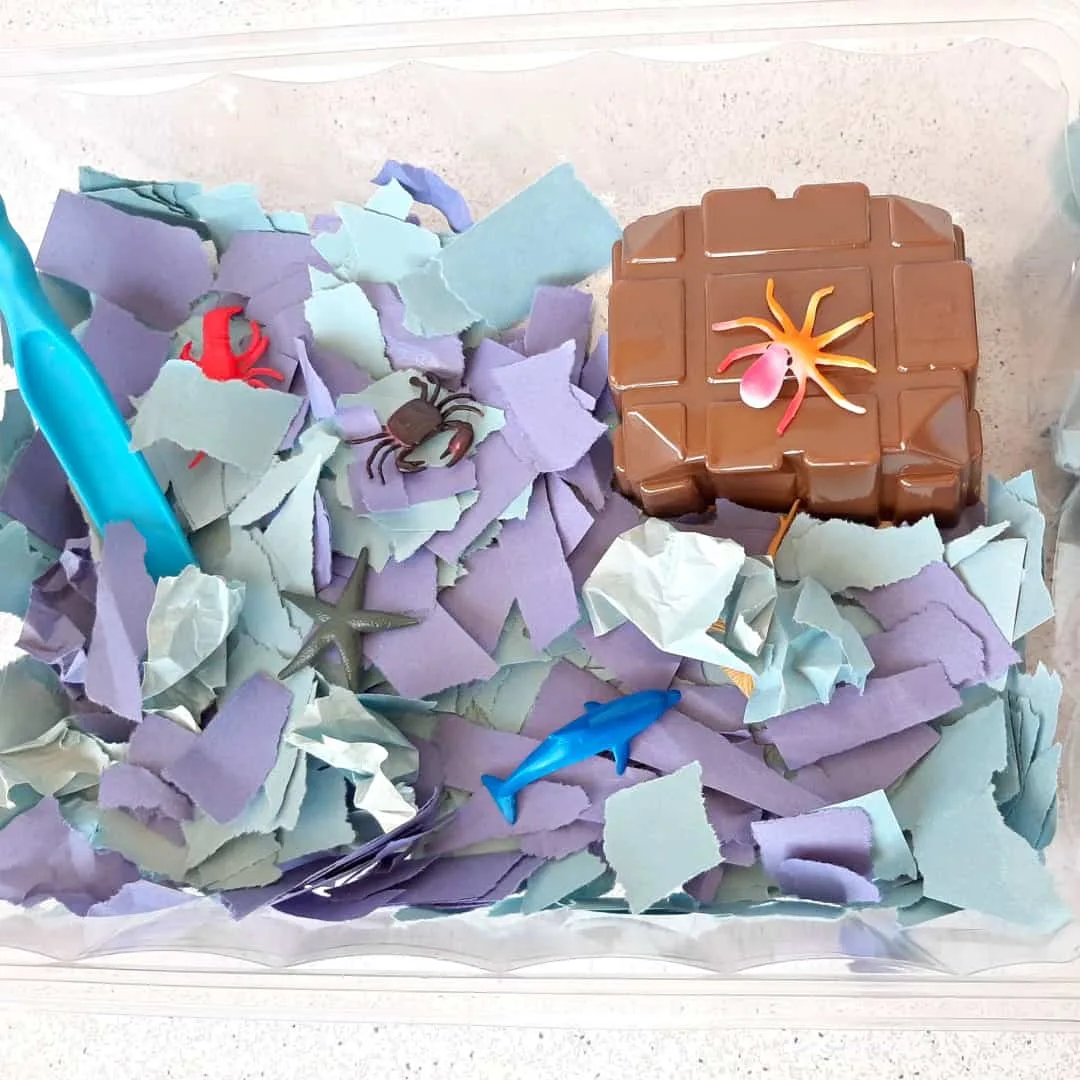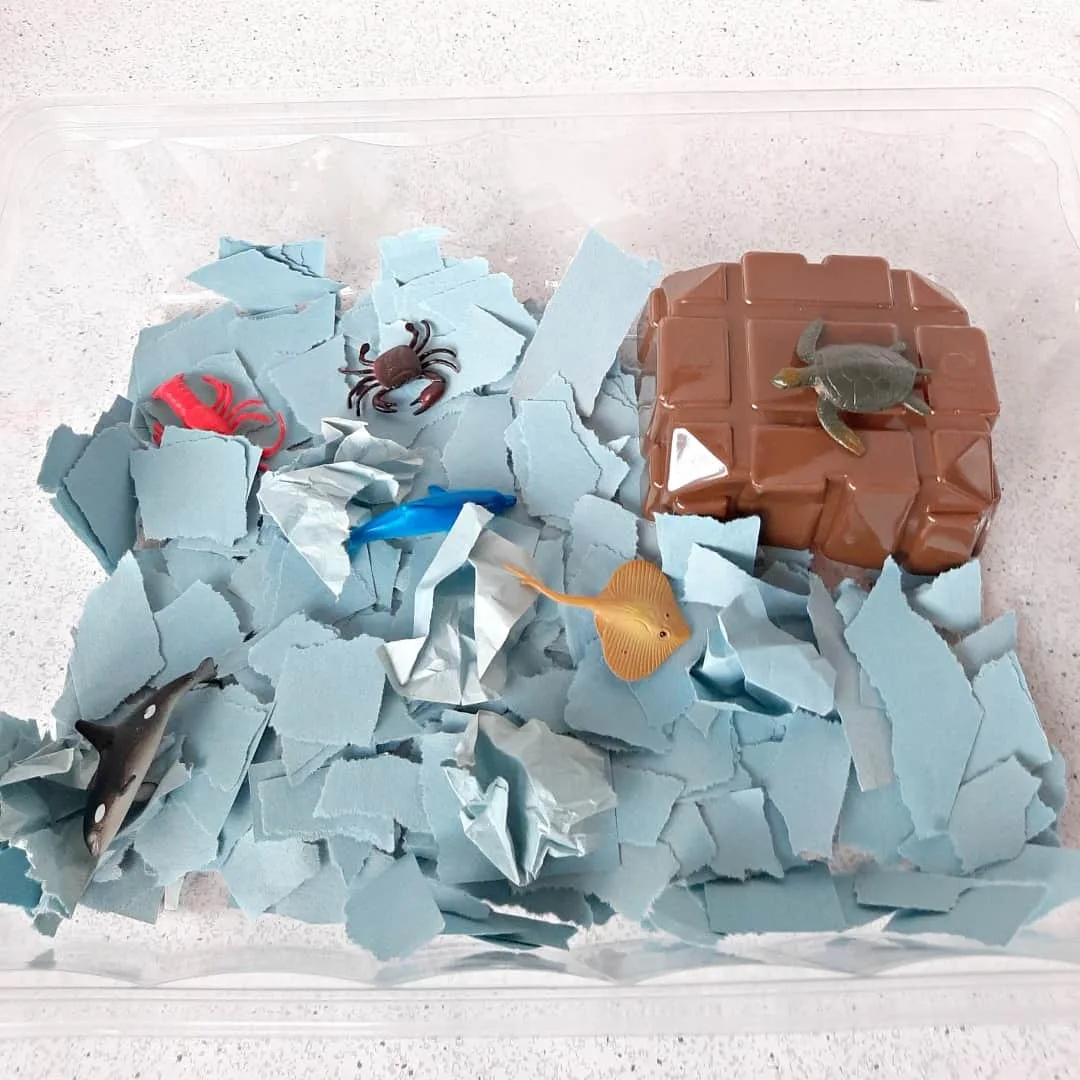 If you enjoyed this torn paper sensory bin for toddlers why not join our Facebook Group or more fun toddler activity ideas. You can also follow along on Instagram - follow @myboredtoddler and use #myboredtoddler
Some more toddler activity ideas you might enjoy are:
Simple Sensory Bin Ideas for Toddlers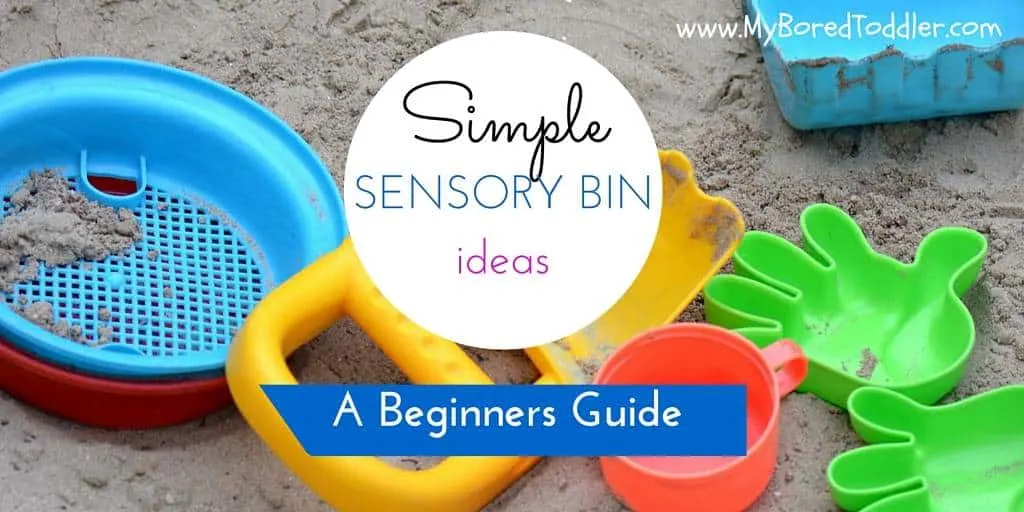 Rice Sensory Bins for Toddlers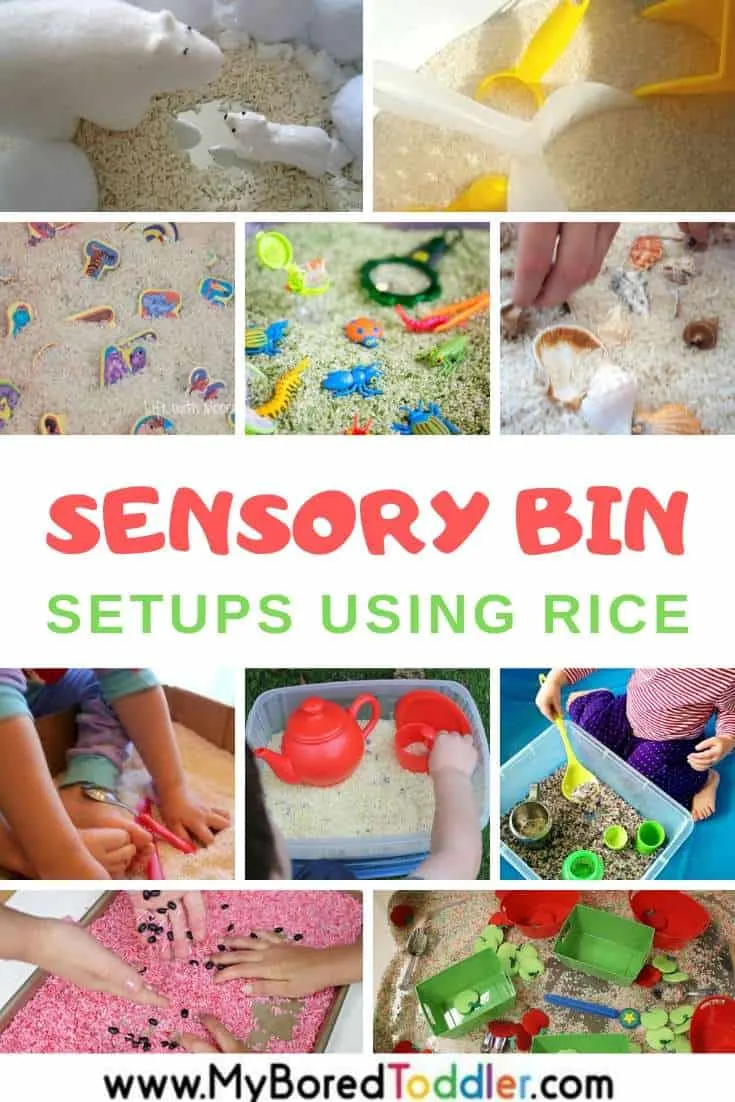 About the Author
Heather is a former preschool teacher and founder of preschooltoolkit.com, a website providing early learning resources for teachers and parents. She focuses on creating fun crafts and activities that engage developmental skills while promoting hands-on learning through play. Follow her on Facebook, Pinterest, Twitter, Instagram