This caterpillar & twigs sand play activity for toddlers is a great summer sensory bin idea!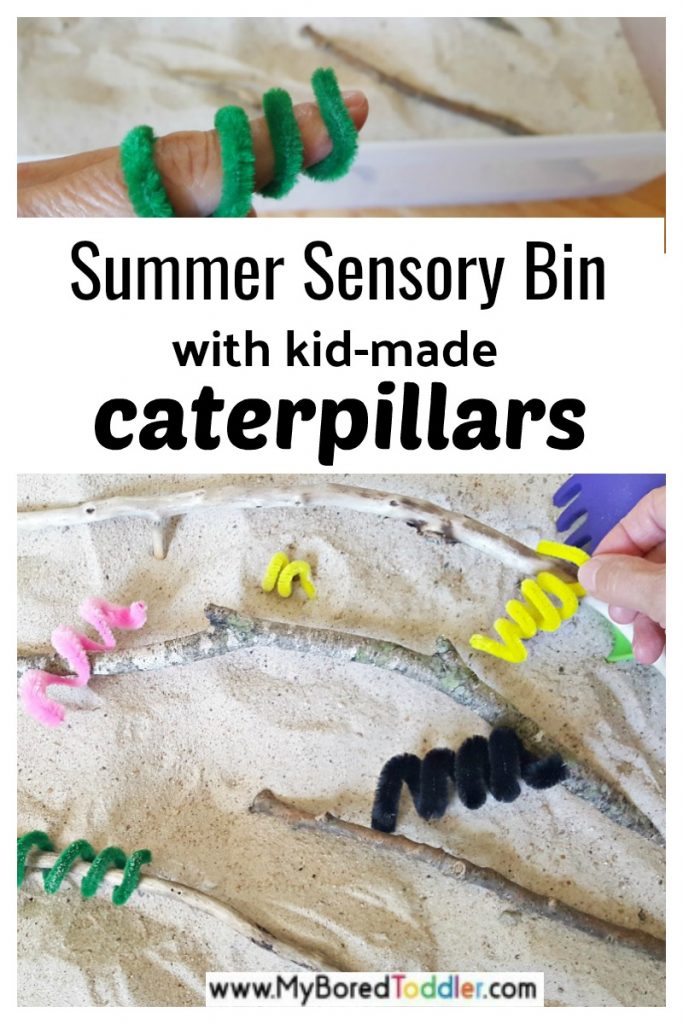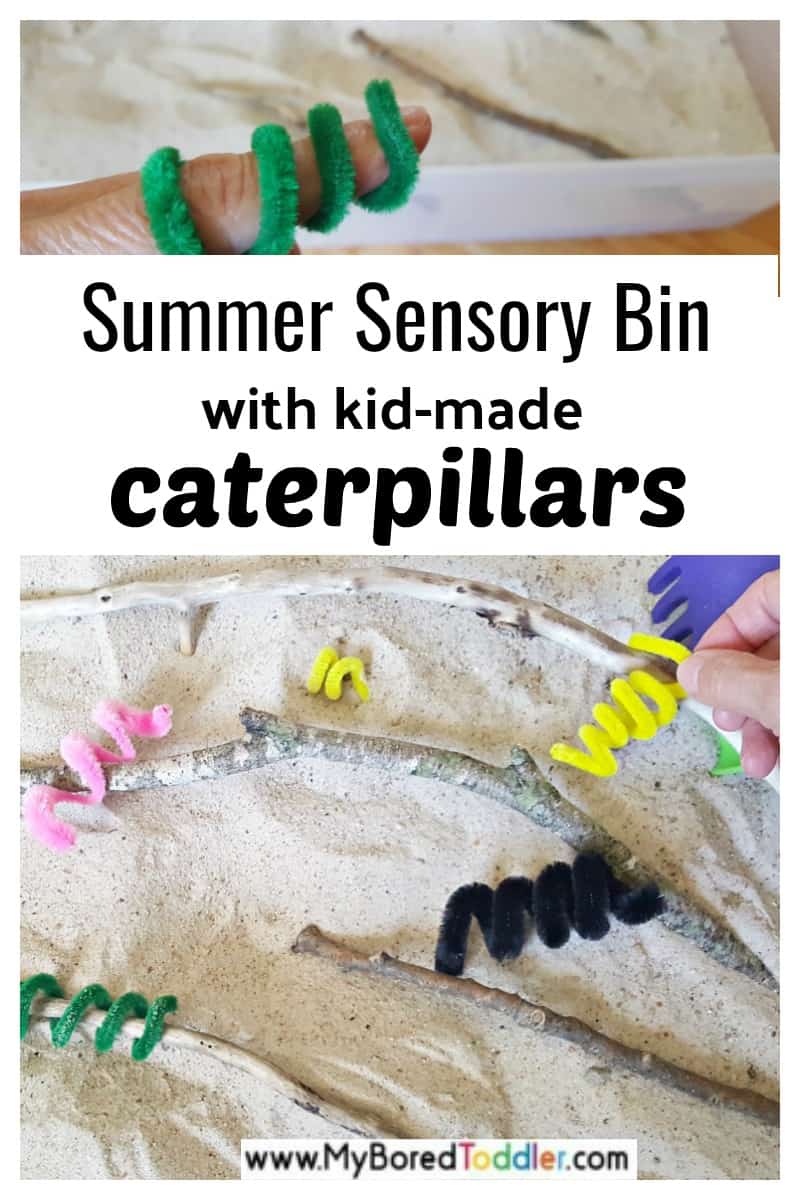 Summer Sensory Bin with Caterpillars & Twigs
A sandbox becomes an awesome summer sensory bin when it includes kids-made caterpillars and a few small twigs. Kids will love the combination of textures in this fun sensory play.
With all of our toddler activities we love to link it to a book and the obvious one for this is The Very Hungry Caterpillar ( we love the finger puppet version available HERE on Amazon).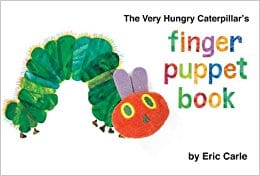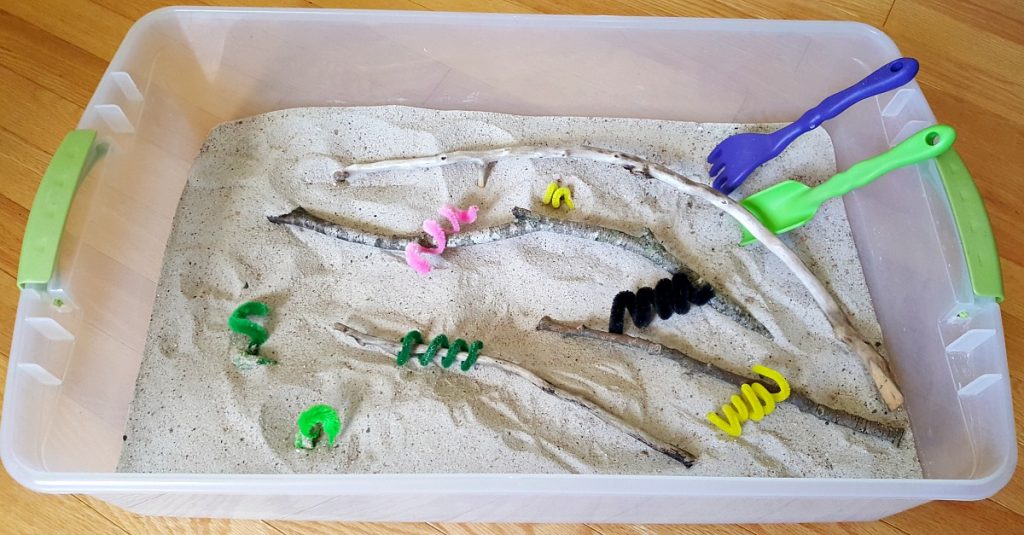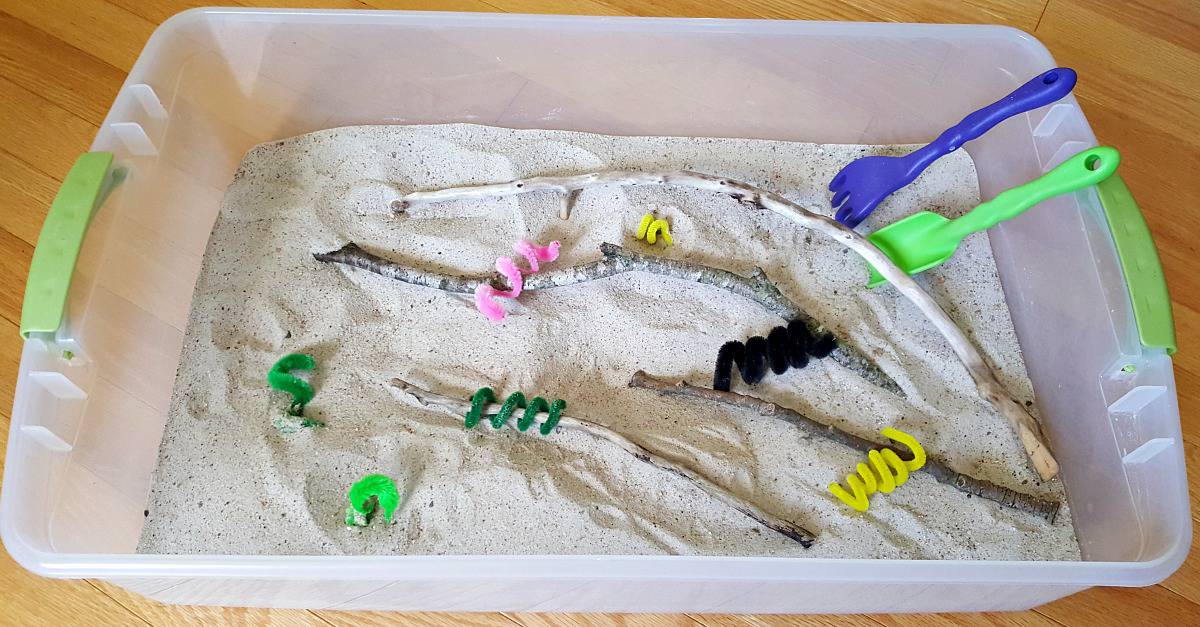 Caterpillars in a variety of colors and sizes jumpstart the fun with this summer themed sensory bin.
The caterpillars are easy to make with fluffy chenille stems or pipe cleaners. With a variety of colors and sizes of chenille stems it's easy to create an interesting sensory play with both sight and touch.
How to set up your sensory bin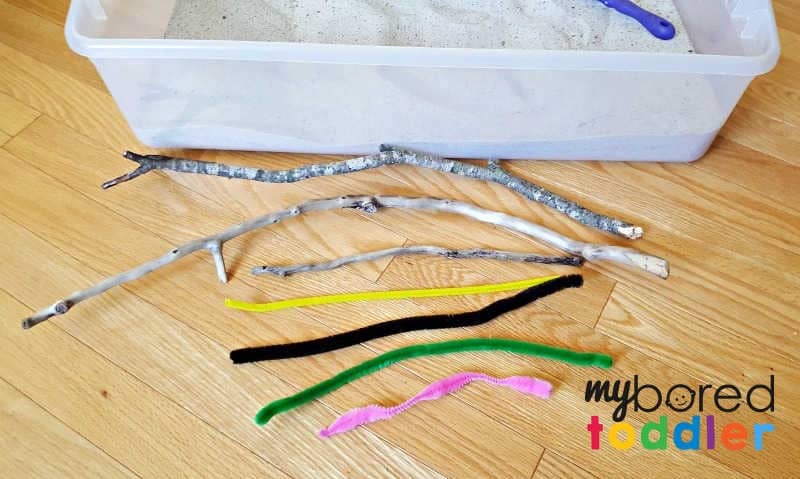 You will need:
Plastic container - one with a lid like this one is great
Sand (you can get play sand HERE), rice or beans to use as a filler,
Digging and scooping tools - a pack like this is great.
Small twigs
Chenille stems/pipe cleaners in different colors and sizes.
Setting up your summer sensory bin with caterpillars
Set up the activity with plastic tub and a filler of your choice – sand, rice or beans for example. Add some digging or scooping tools such as a small shovel or cup.Include small twigs from nature if possible. Otherwise small dowels or wooden spoons can substitute for twigs and tree branches.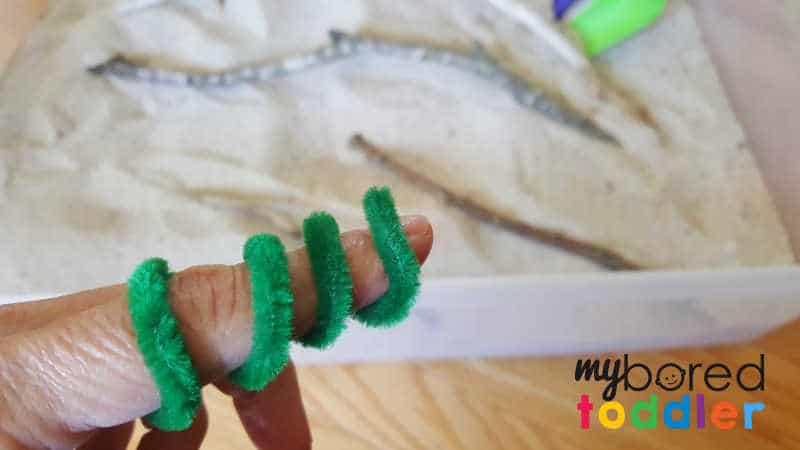 Make the caterpillars by winding a chenille stem or pipe cleaner around your, or your toddler's, finger.
Creating the caterpillars is a fun sensory experience for your toddler.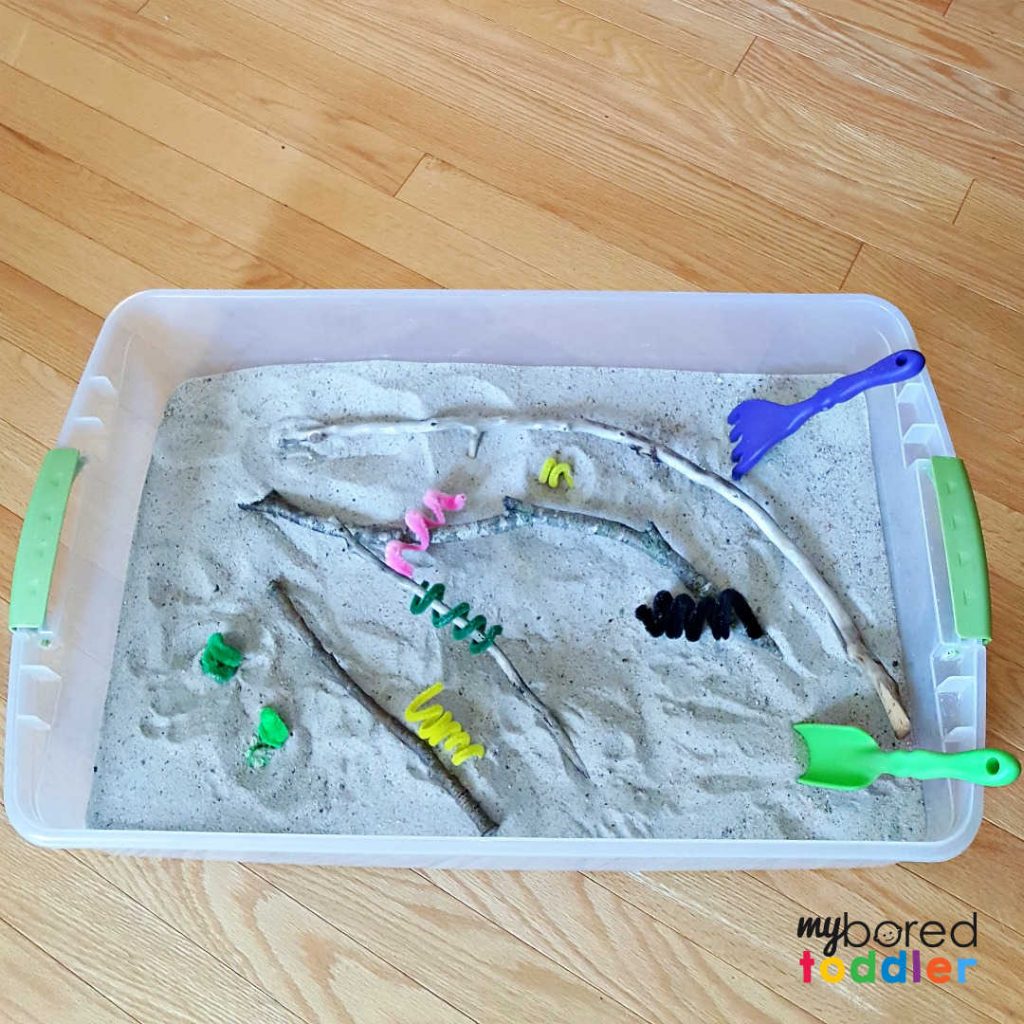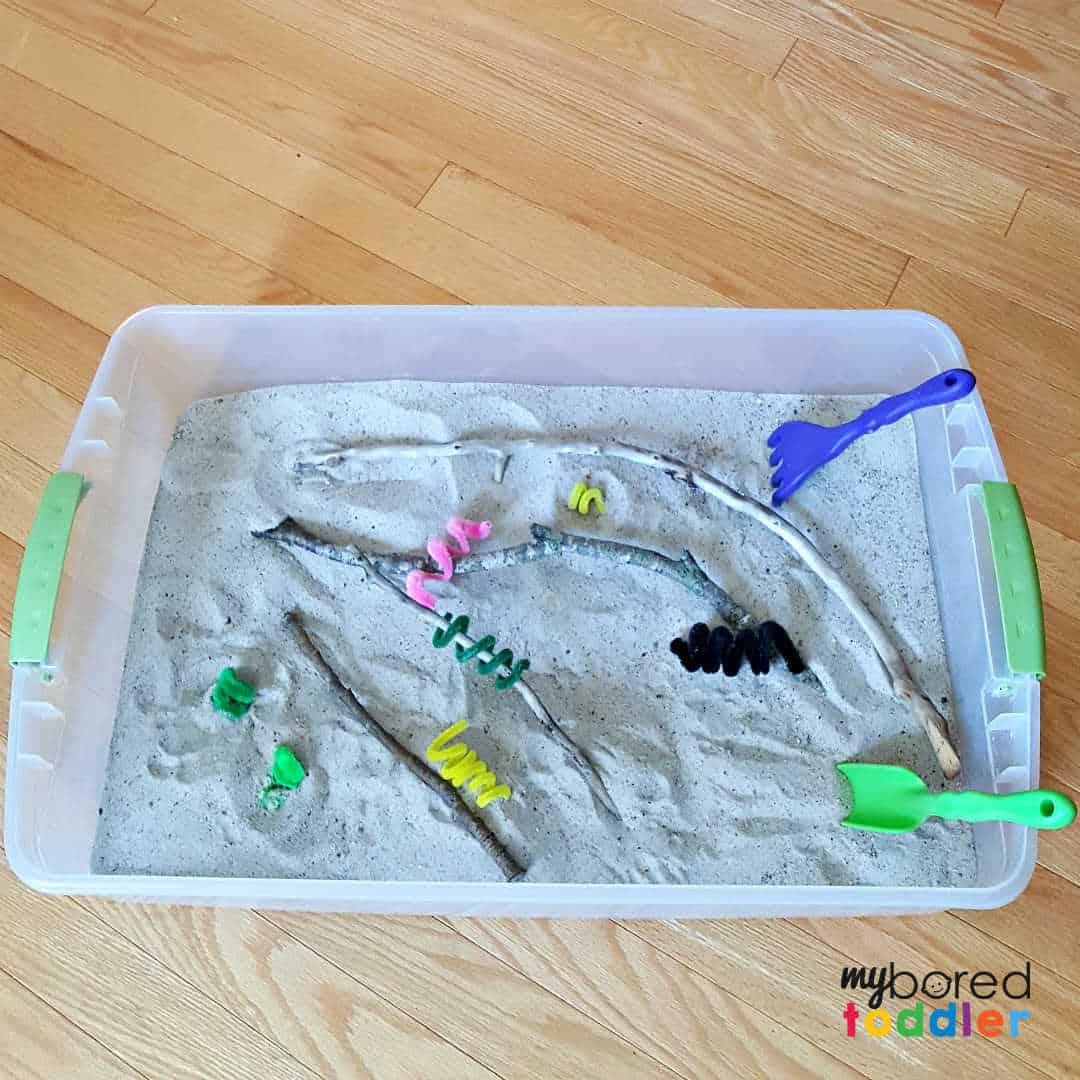 Place the caterpillars in the sandbox with the other items.
There are lots of ways to play and explore with the materials.
Line up the caterpillars, bury the caterpillars and hide them under a shovel.
Fill a small bucket with caterpillars.
Help your caterpillar crawl along a twig.
Your child might decide to pull the chenille stem from both ends, stretching it into a long wavy caterpillar. This will create a different looking character to add to the play.
Kids can squeeze, pull, scrunch or bend the pipe cleaners to make new shapes.
Use the sticks to stir the sand, dig in the sand, and pick up caterpillars.
These activities are also great for encouraging fine motor skills.
Encourage opportunities for pretend play
Build sand castle houses for the caterpillars
Meet caterpillar friends on a tree branch
Go exploring in the sand at the beach.
Engage language and fine motor skills as you name colors and sort sizes.
Talk with your toddler as you play.
My yellow caterpillar is sleeping on this twig.
How many green caterpillars are hiding in the sand?
Caterpillars and twigs naturally go together for a summer theme that kids will love.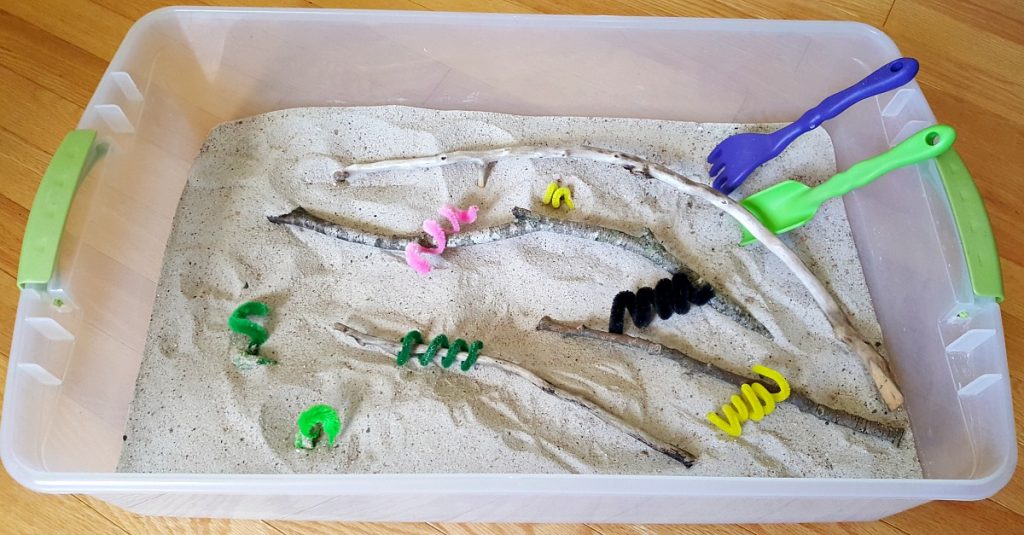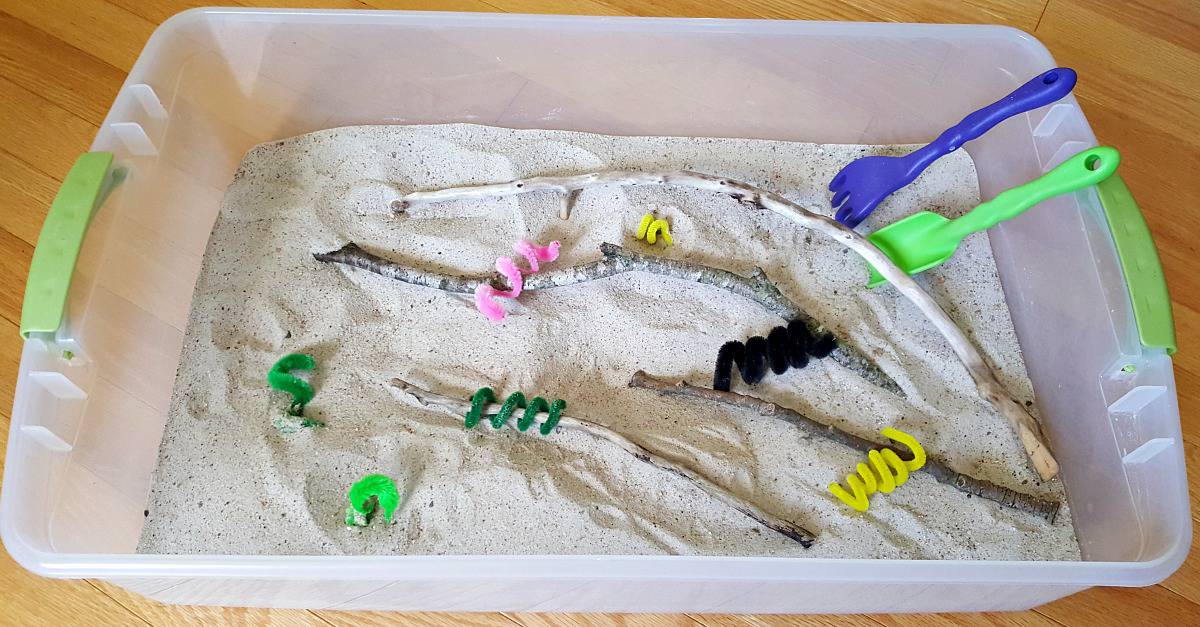 If you enjoyed this Summer sensory bin with caterpillars why not share a photo on Instagram (follow @myboredtoddler and use #myboredtoddler ) or in our Facebook Group.
You can also pin this to Pinterest to save for later (follow us on Pinterest HERE).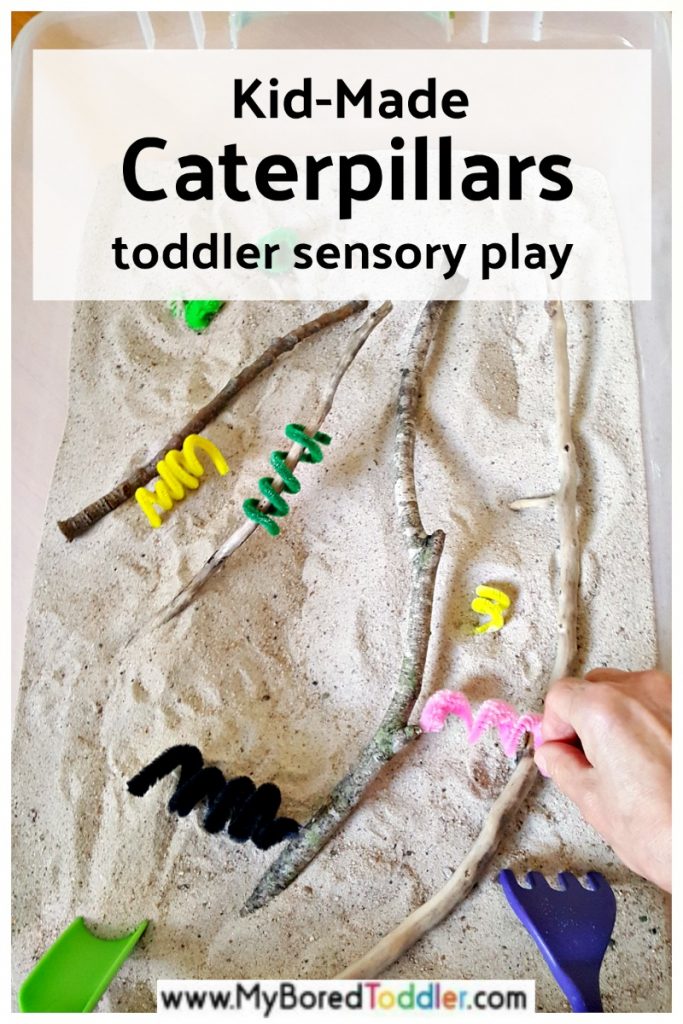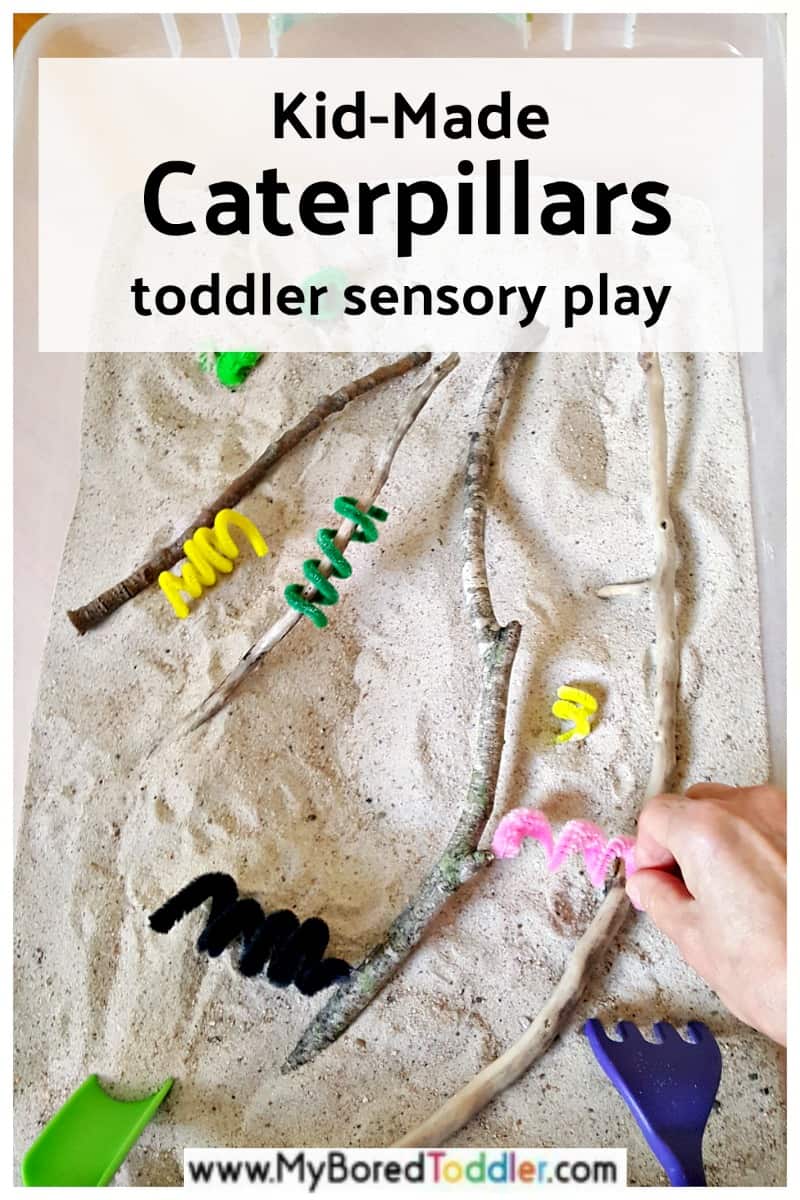 Some more toddler activities you might enjoy are:
Bugs & Insects Activities for Toddlers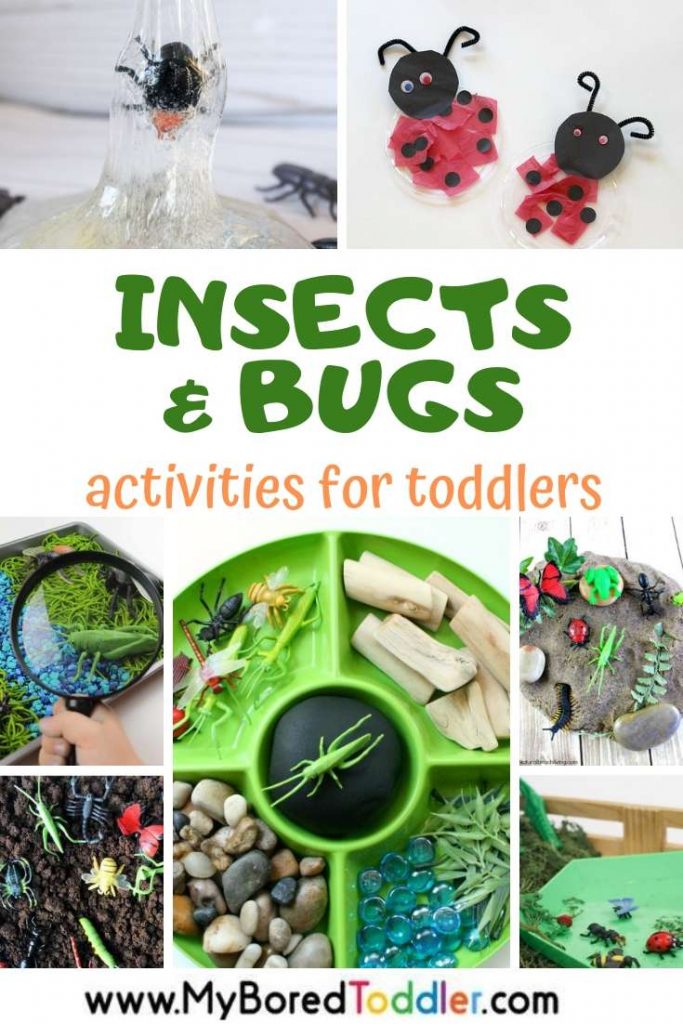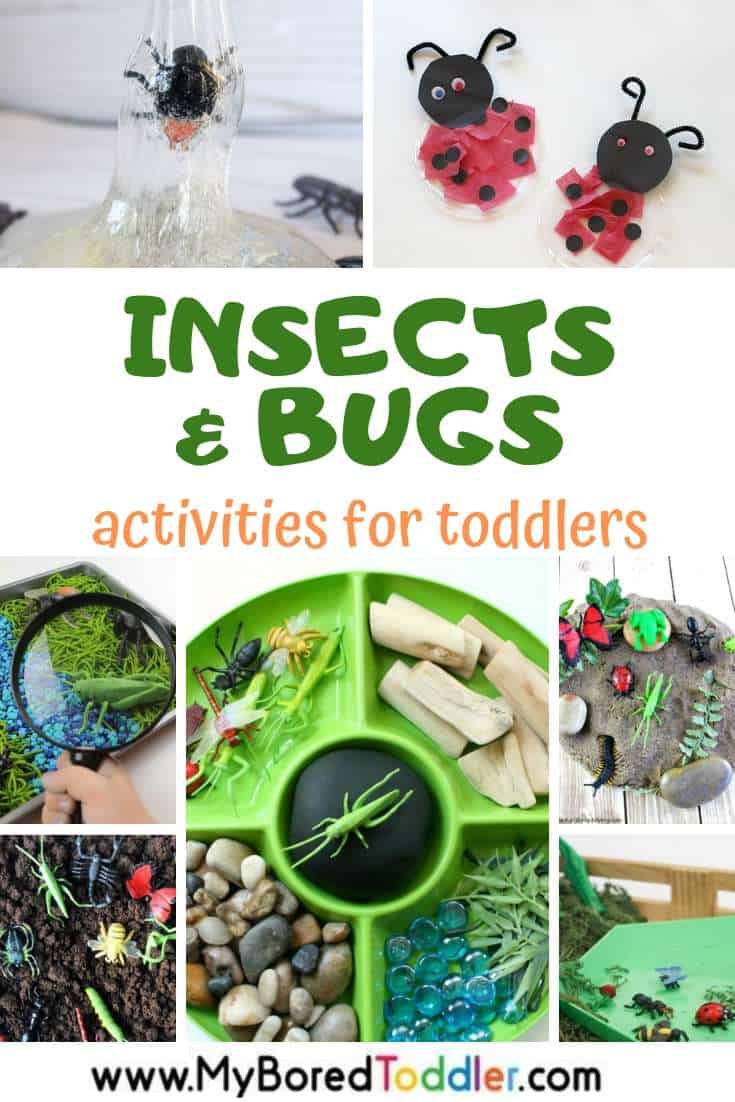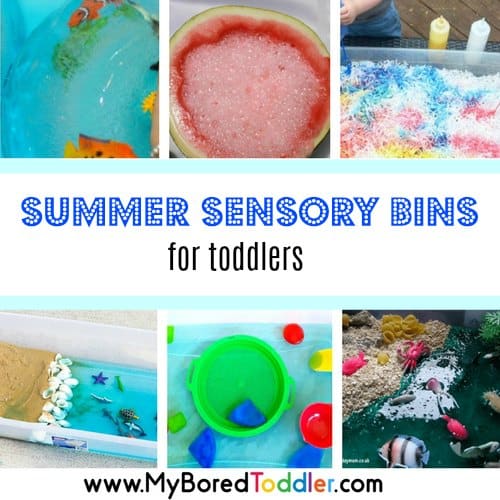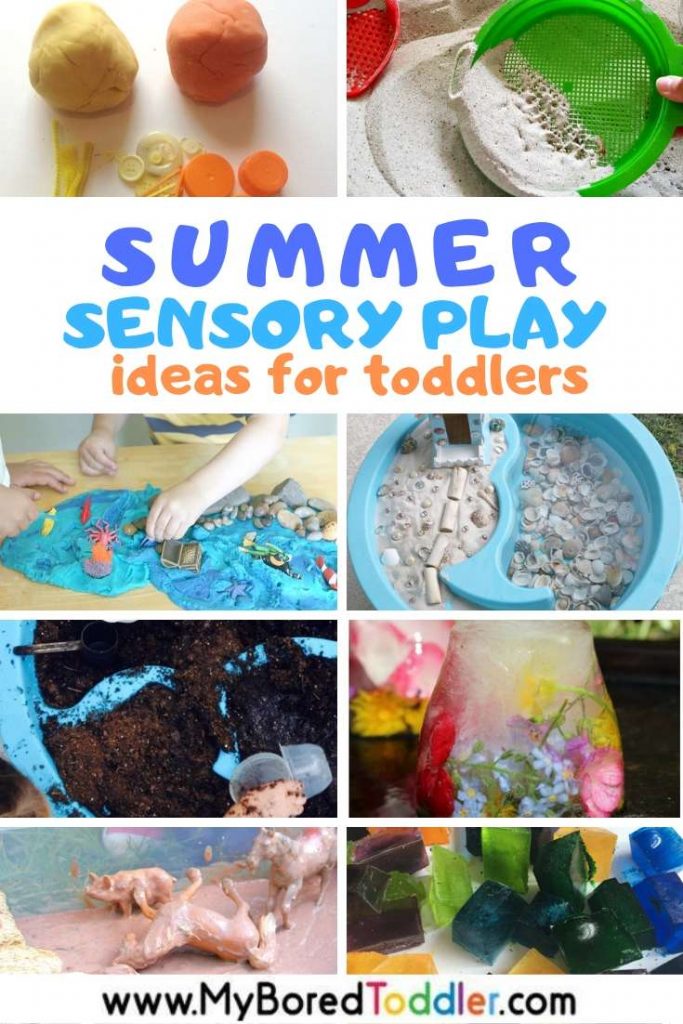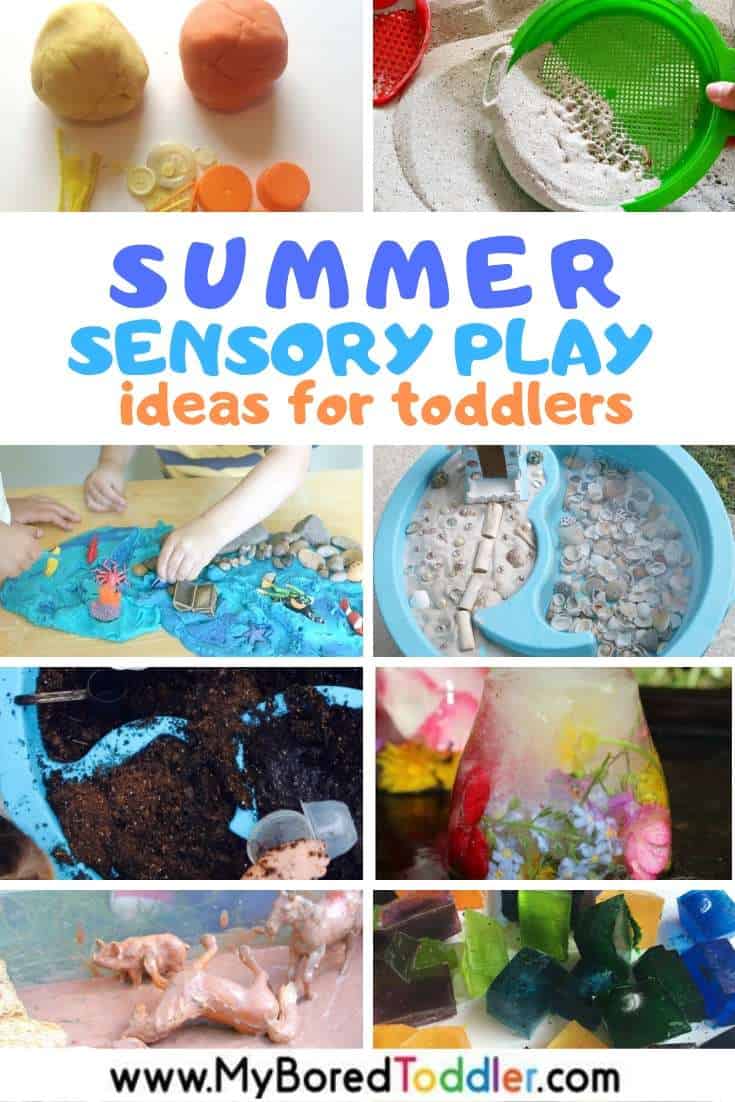 About the Author
Heather is a former preschool teacher and founder of preschooltoolkit.com, a website providing early learning resources for teachers and parents. She focuses on creating fun crafts and activities that engage developmental skills while promoting hands-on learning through play. Follow her on Facebook, Pinterest, Twitter, Instagram and Google+