Recycle a tissue box for this fun craft and pretend play activity with your toddler. Kids will love taking their favorite stuffy for a ride in this little car with cardboard wheels that really move!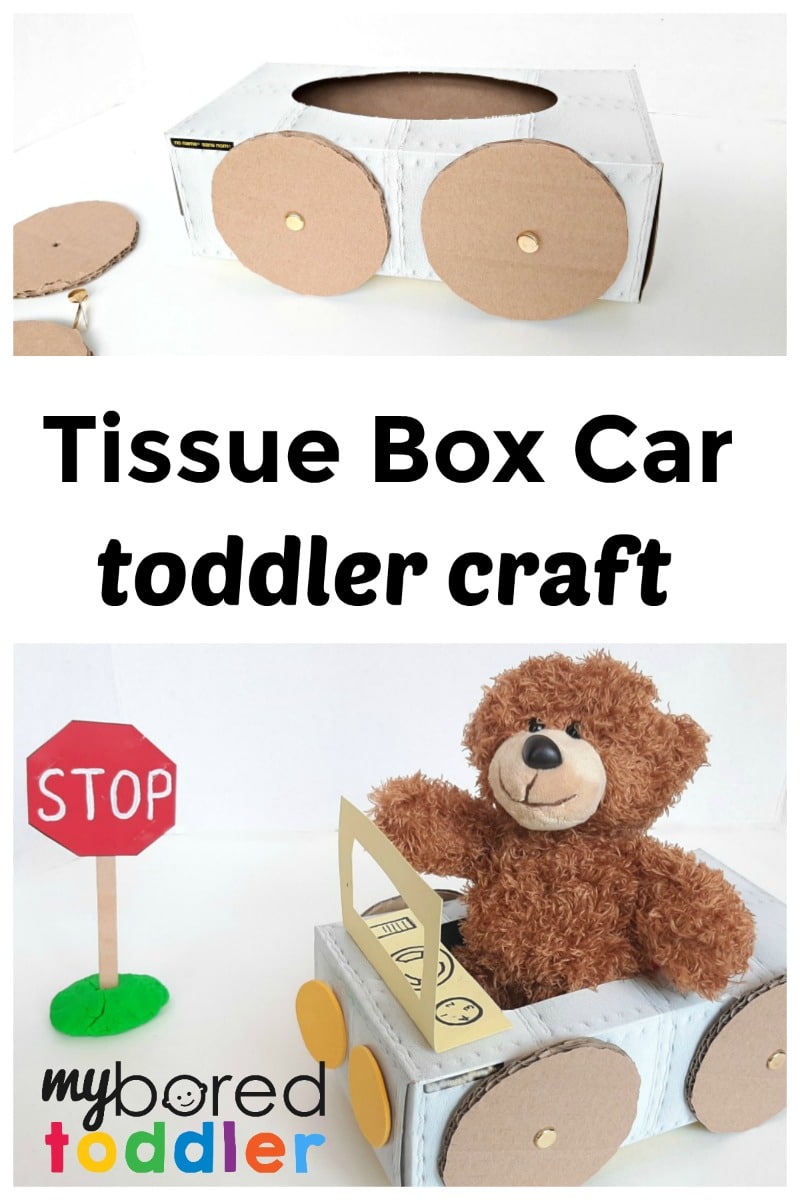 Tissue Box Car Toddler Craft
This simple toddler craft is a welcome activity for a busy afternoon or rainy day. All it takes is a recycled tissue box and some cardboard.
If you make this tissue box car we would love to see a photo - why not share it in our Facebook Group or over on Instagram - follow @myboredtoddler and use #myboredtoddler
What you need to make a tissue box car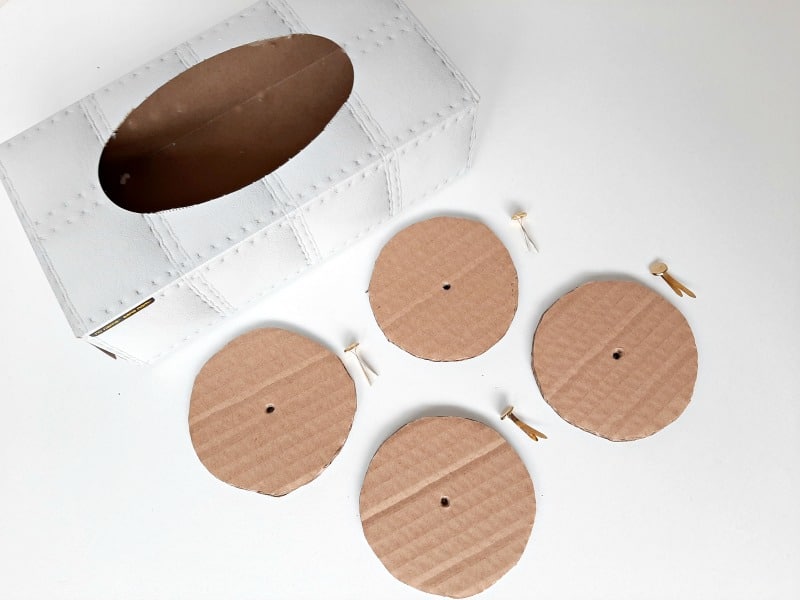 You can easily substitute construction paper, felt or simply cardboard for the foam.
Kids can color their tissue box with crayons or decorate with stickers, paint or markers.
How to make a tissue box car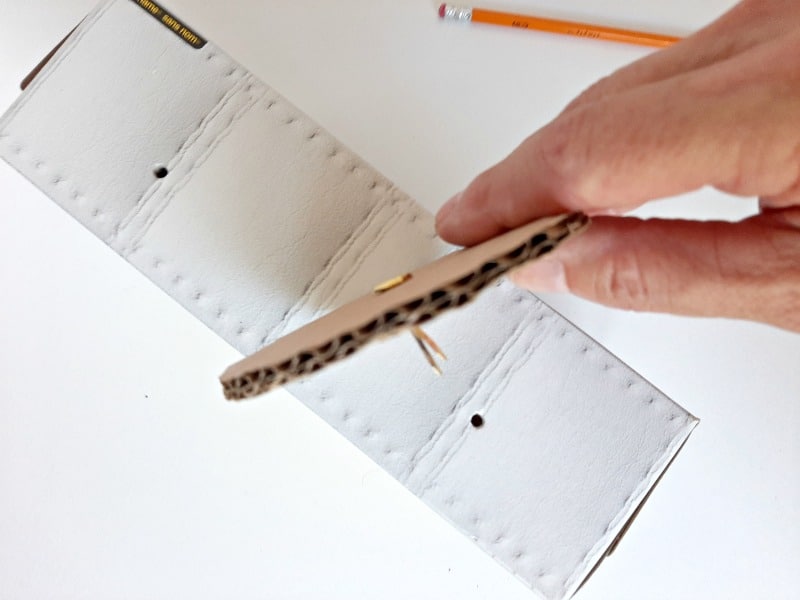 Cut 4 wheels from cardboard.
Poke a hole in the center of each wheel. You can do this with a sharp pencil tip.
Poke two holes on each side of the tissue box.
Push the paper fastener through the hole in the wheel and then through the hole in the box. Your toddler can help push the paper fastener through the hole in the wheels for some awesome fine motor work.
Spread the end of the fastener inside the box to secure the wheel. This is a little awkward to do, and might be a job for a grownup.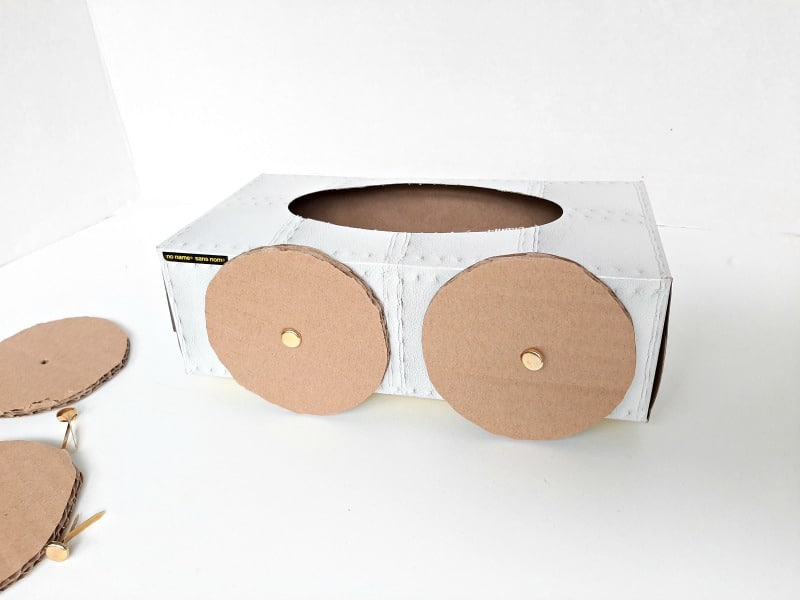 Don't fasten the wheels too tightly or it they will not rotate freely.
Also, make sure the wheels are not flush with the bottom of the box - they needs some clearance in order to roll around.
The wheels will rotate best on carpet or other surfaces with a bit of friction, but a smooth surface will also work.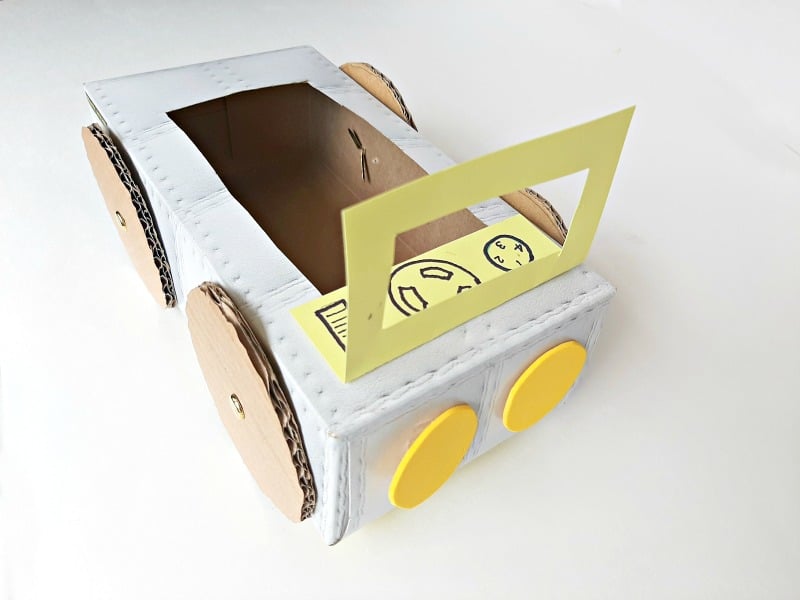 Cut the top opening of the tissue box into a rectangle shape. You can also just leave the oval shape if preferred. Make the opening wide enough for the toys that will be placed inside.
Cut out circles from the craft foam for headlights. Your toddler can help draw and cut out the lights. The shapes don't have to be perfect.
Cut out a rectangle from the construction paper to make a simple windshield and dashboard. You can help with the general construction and your toddler can make the drawings on the dashboard.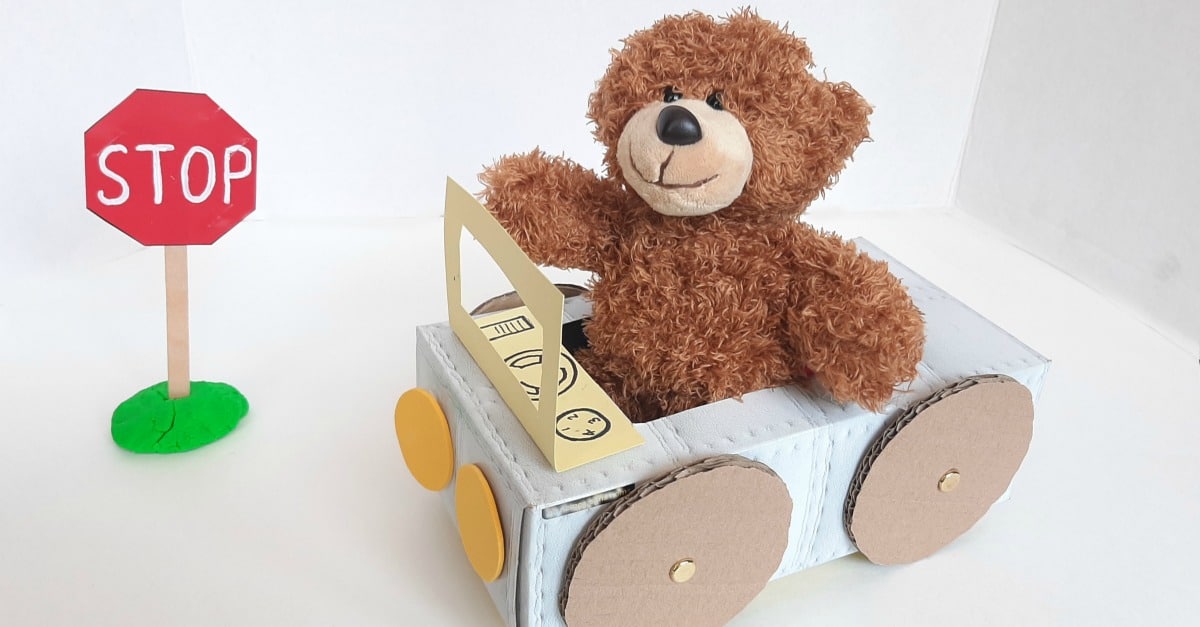 Include fun props like road signs, tunnels, and bridges. Guide the play with other ideas.
Outline a road and a parking space on the floor with masking tape.
Have your toddler pick up small toys on the floor, put them in the car and return them to the toy shelf.
Link two or more tissue boxes together with pipe cleaners to make a train.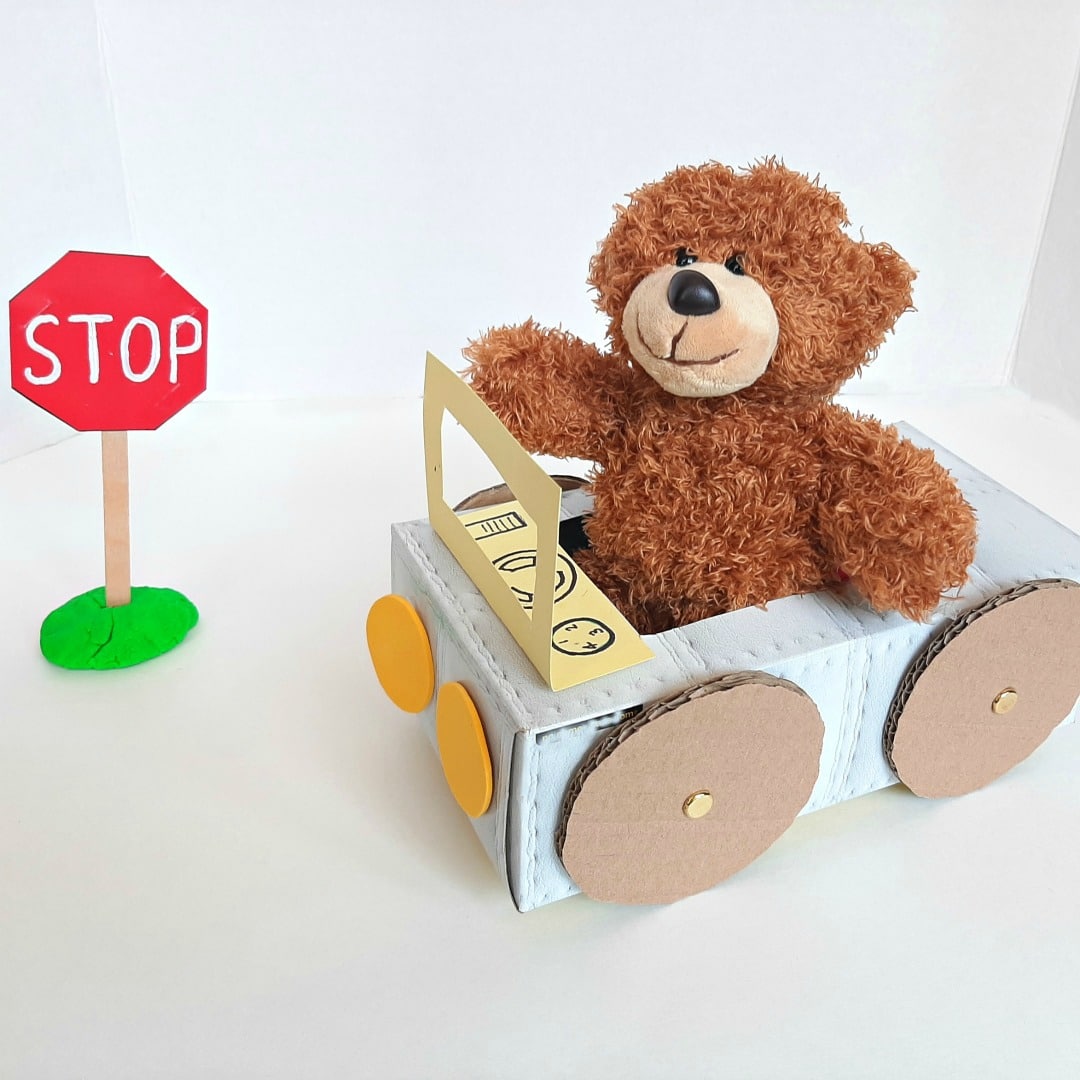 This simple craft not only supports fine motor and creative skills, it extends an invitation for pretend play.
Kids can take their favorite stuffy on a ride around town in their own little car. As they play, they'll engage in language skills, build imagination, and prompt gross motor and sensory experiences.
Some more fun toddler activity ideas you might enjoy are:
Cardboard Box Creations to Make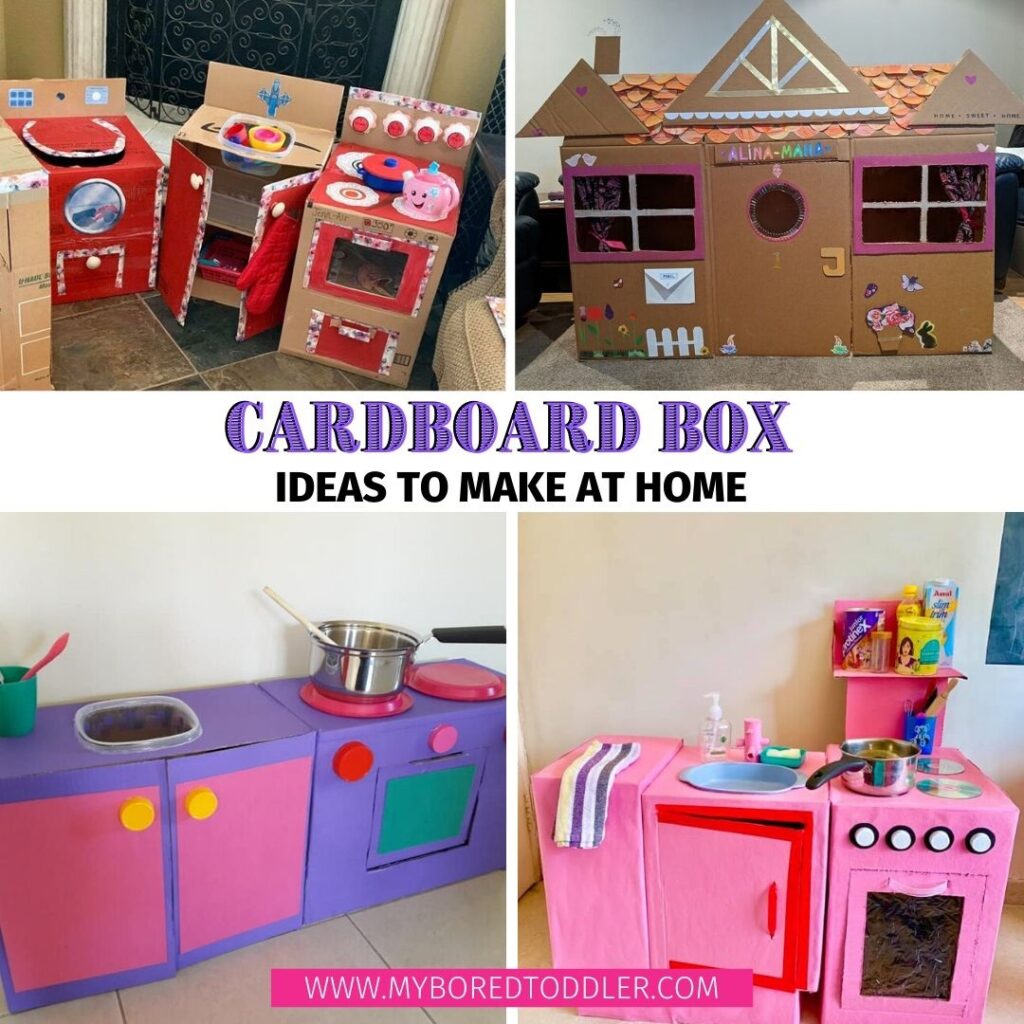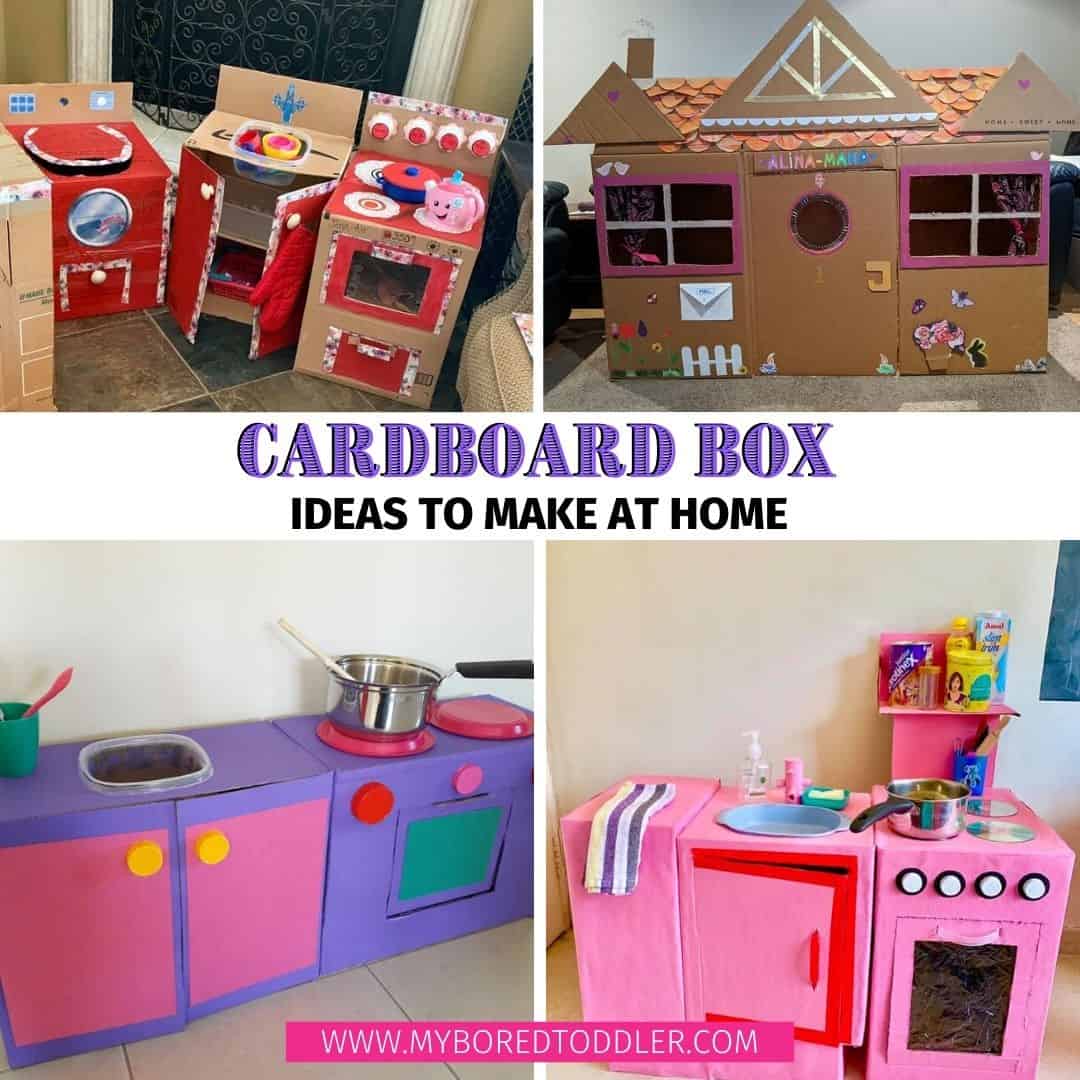 Indoor Activities for Toddlers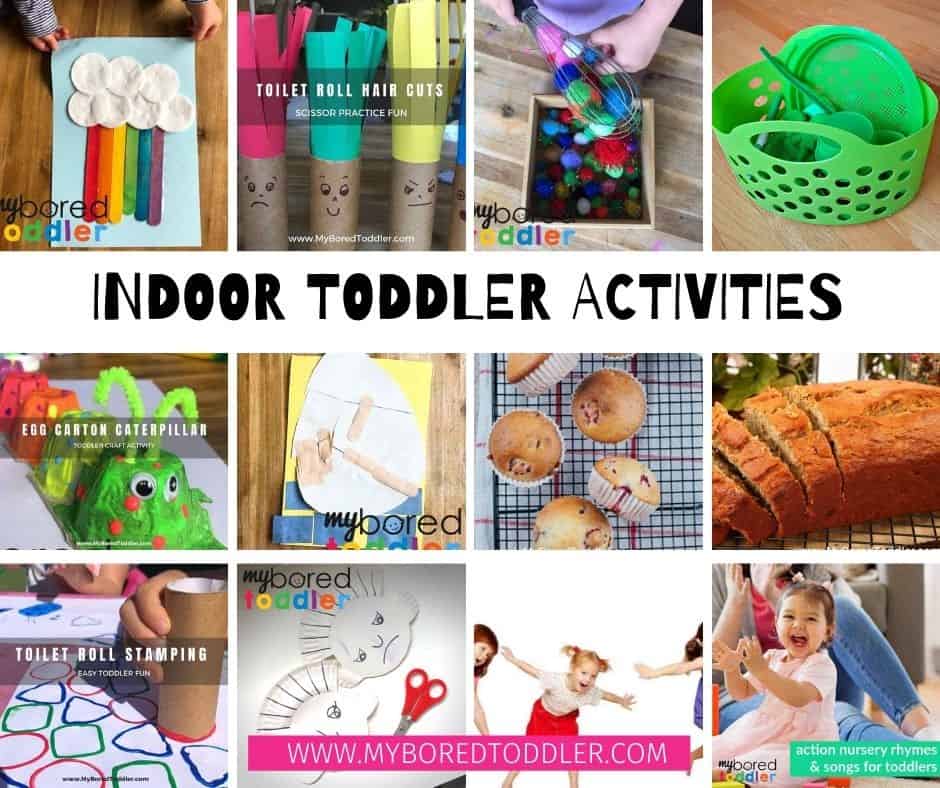 About the author
Heather is a former preschool teacher and founder of preschooltoolkit.com, a website providing early learning resources for teachers and parents. She focuses on creating fun crafts and activities that engage developmental skills while promoting hands-on learning through play. Follow her on Facebook, Pinterest, Twitter, Instagram