These toddler & preschool spider crafts and activities are great for Halloween activities.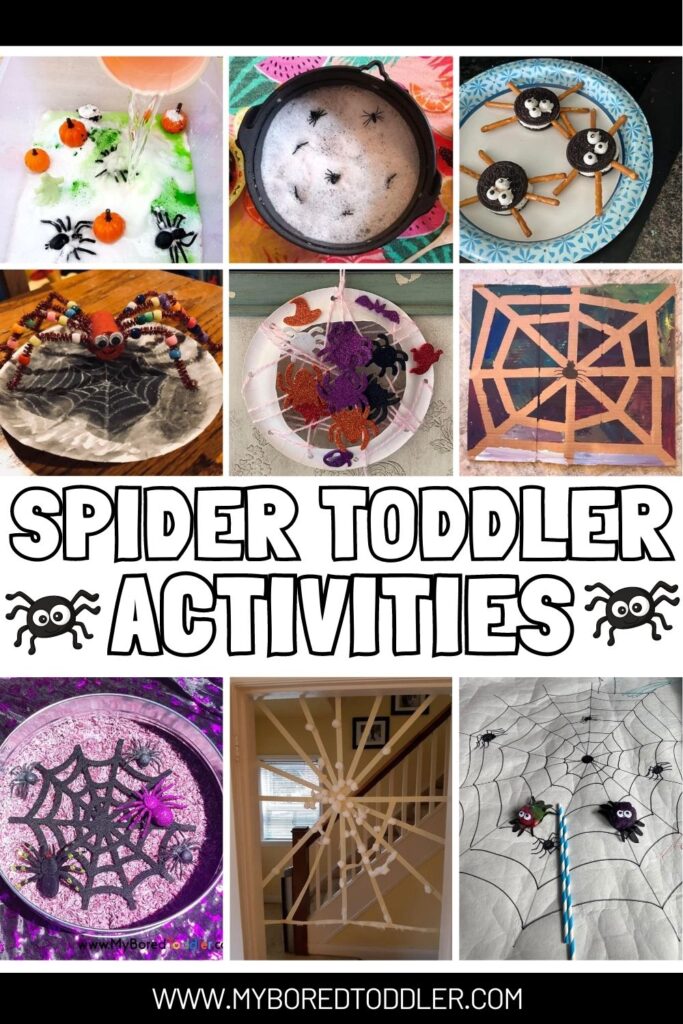 Spider Activities for Toddlers & Prechoolers
Halloween is always such a fun time for toddler activities and it can be hard to choose which one to start with.
We're focusing on Spiders and there are lots of fun spider activities and spider crafts that are perfect for the toddler and preschool age group.
I recommend getting some pretend play spiders in various sizes and some spider webs so you can easily set up your spider crafts and activities.
This spider sensory bin is nice and easy to set up - colored rice (optional) and some pretend play spiders and spider web. See how to set this spider sensory bin up HERE.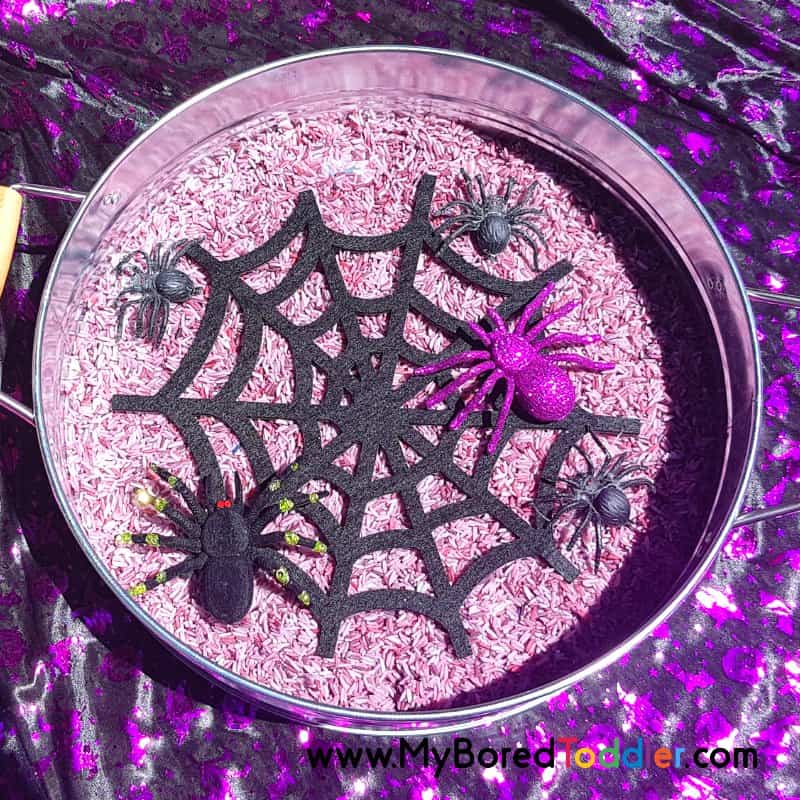 Add some spiders to your fizzy sensory bin for a lot of Halloween fun! See how to set up your fizzing spider sensory bin HERE.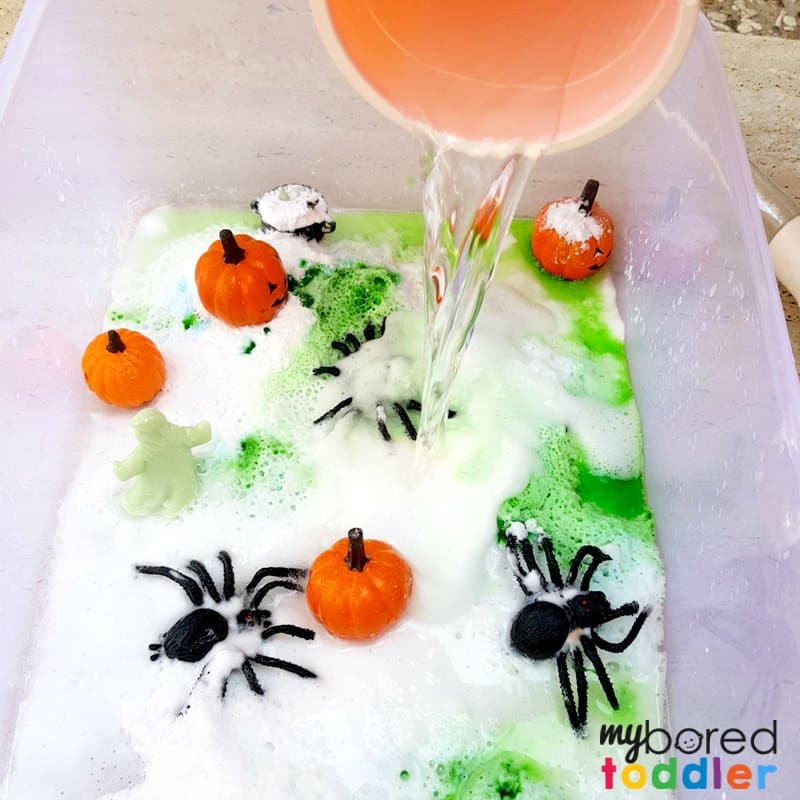 Spider Web Painting Using Painters Tape
Caitlin shared this spider craft with us. She used painters tape to create the web, then had her toddler paint the cardboard and then add in a spider.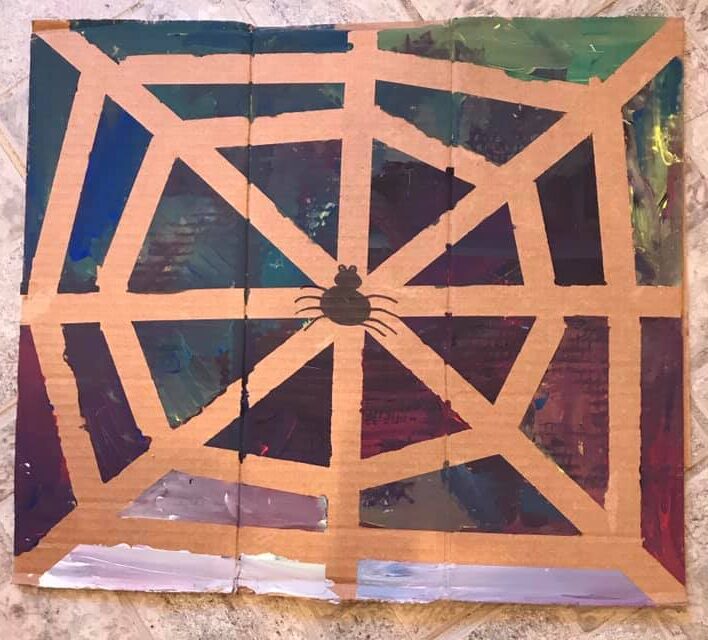 Katie also made a painters tape spider web - this is a nice colorful one!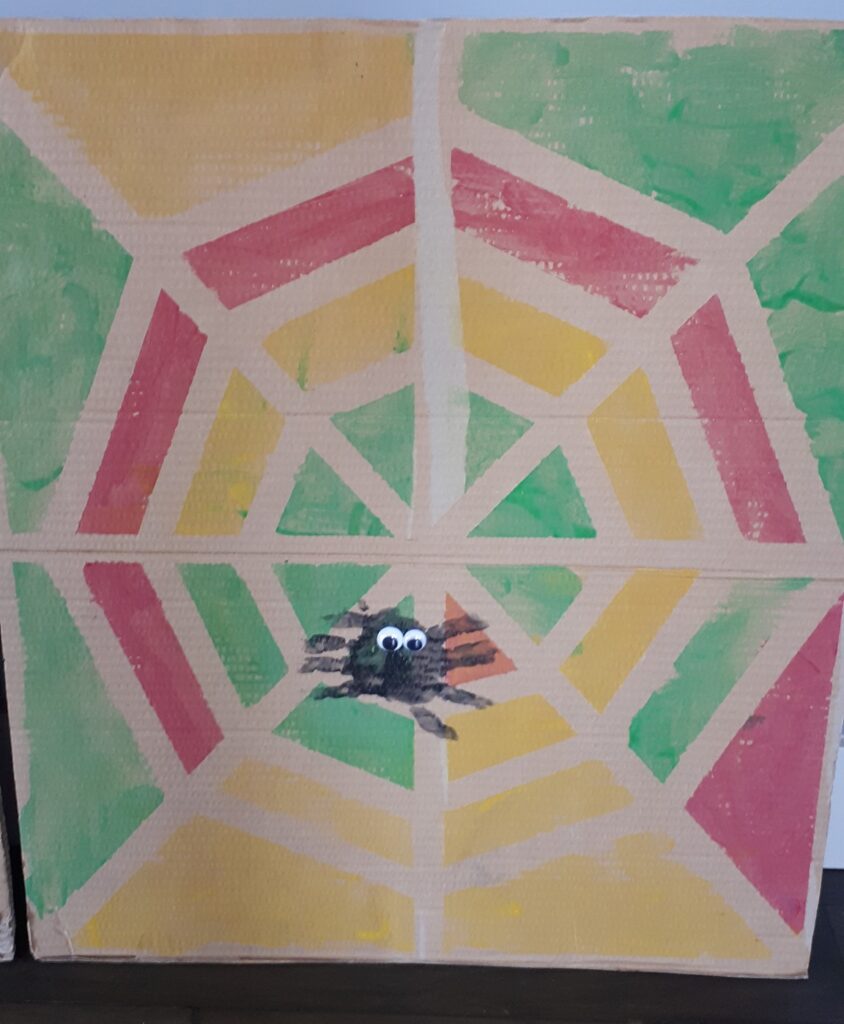 Spider Web Hand Print Craft
Claire shared this cute hand print spider craft with us - this would make a great Halloween decoration.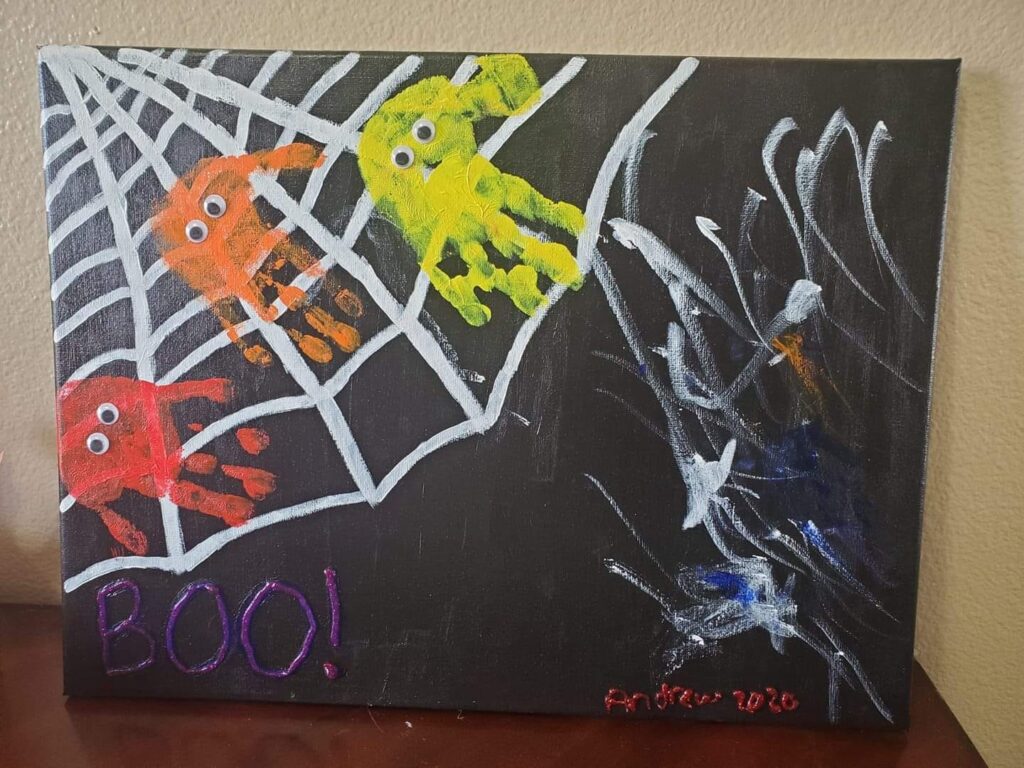 Hand Print Spider Craft
Julie made these hand print spiders. Use black paper or card stock (I like to keep a mixed pack like this in our craft box) to trace and cut out the hand prints and then add the googly eyes.
I prefer the sticky backed googly eyes as they are much easier than trying to glue them on (you can get a mixed pack from Amazon)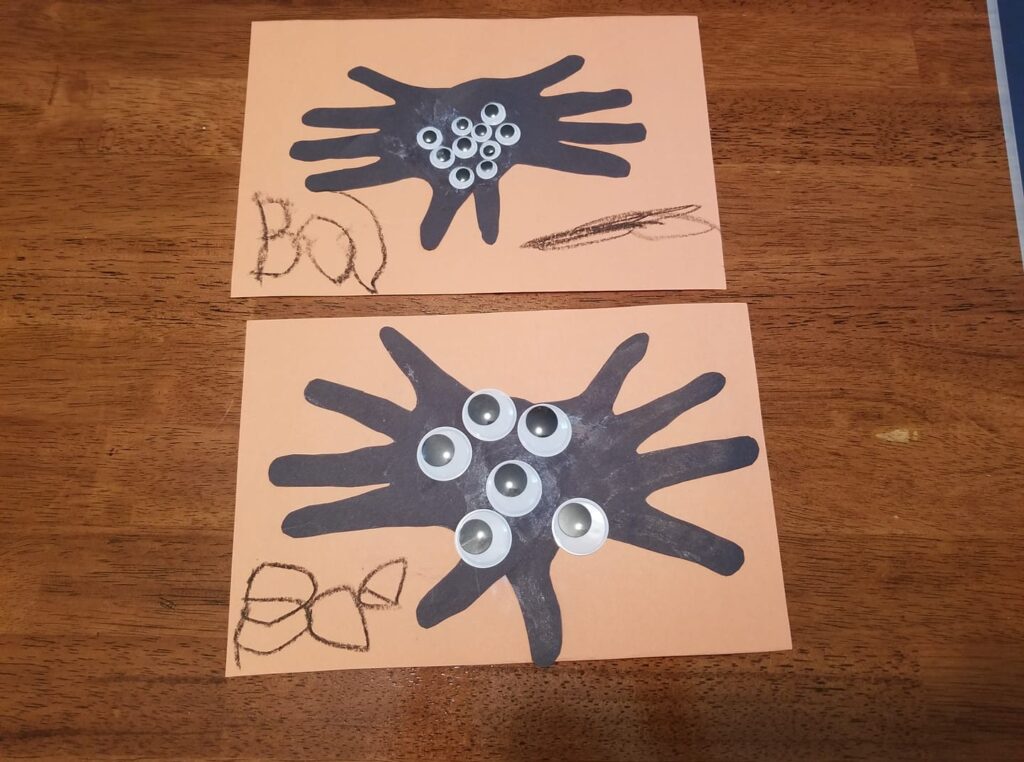 Megan did a similar hand print spider craft.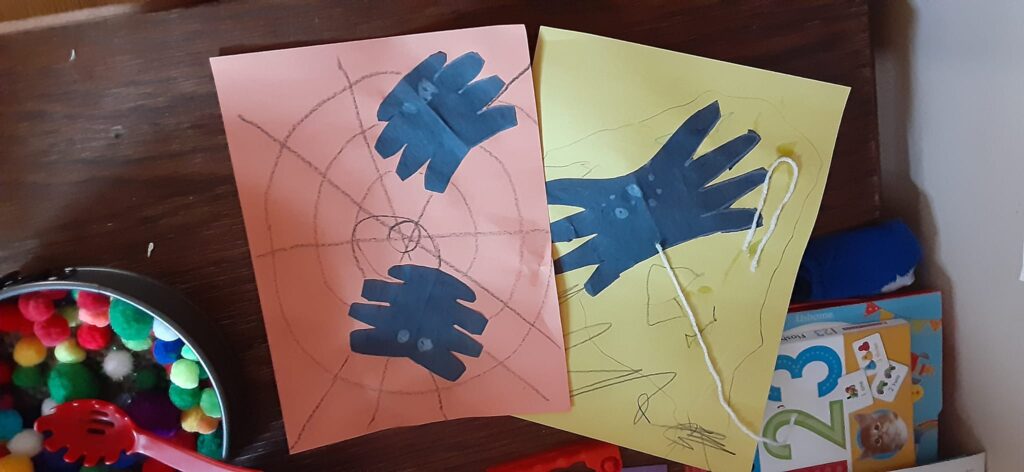 Paper Plate Spider Web Craft
Marlee made a paper plate spider web by cutting out the middle of a paper plate and then used a hole punch around the edges. She threaded the string around but an older toddler could do this themselves with some help.
Her toddler then used foam Halloween stickers (foam is easier for toddlers to pick up with their small hands) to decorate the web.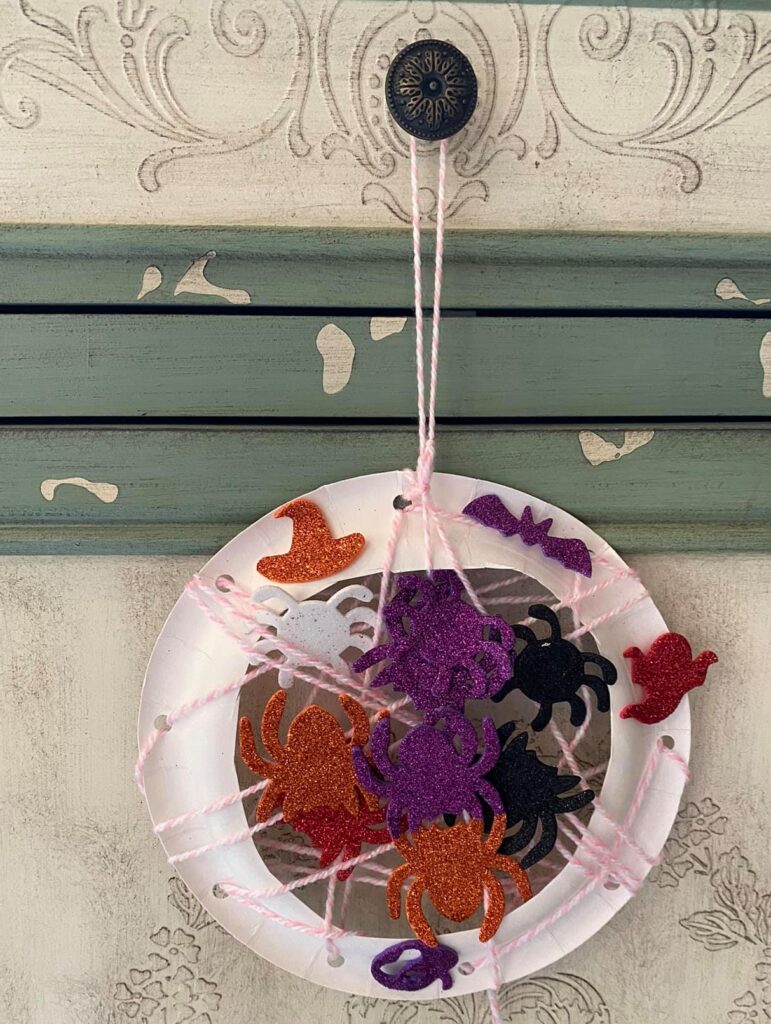 Spider Races Game
Rebecca set up a spider racing game. She drew a large spider web and the children used straws to blow their spiders to the center of the web!
What a great idea. You could make your own spiders (keep them light weight) or use craft spiders.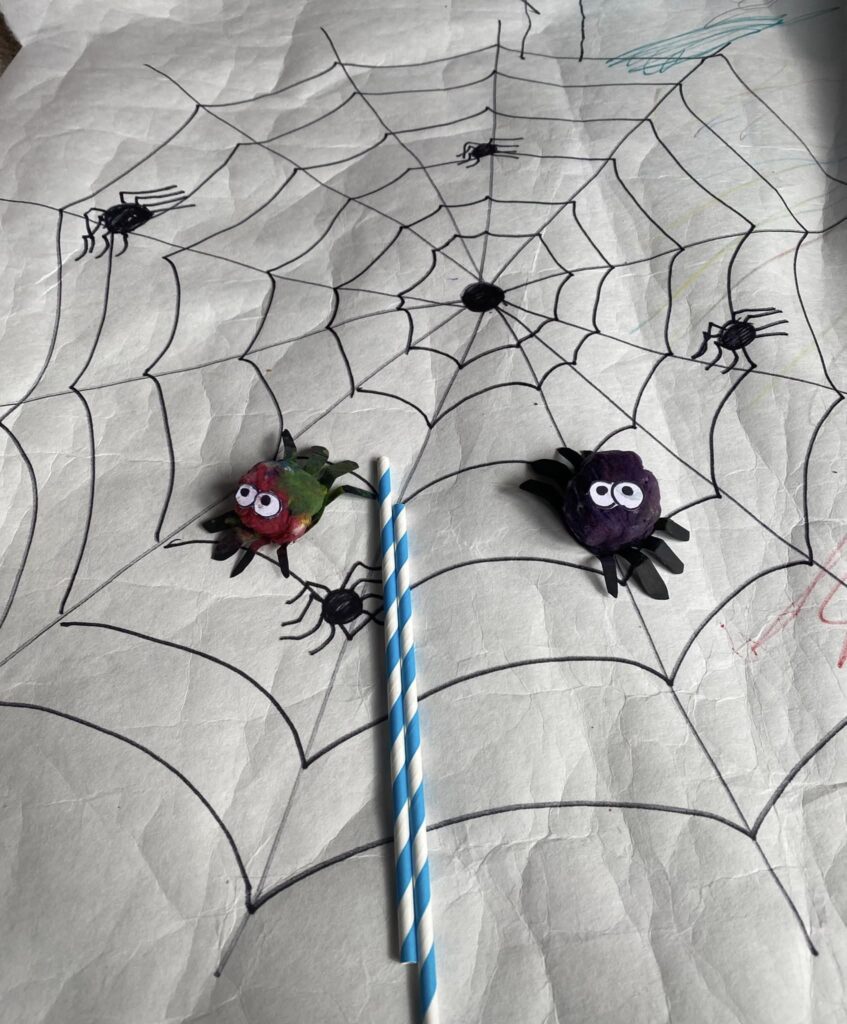 Spider Water Play with Bubbles
Rosie set up a Witch's Potion using warm water and bubbles and added in some spiders. Fun!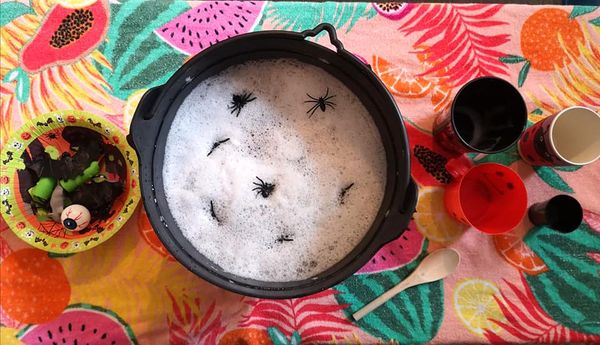 Large Sticky Spider Web Activity
I LOVE this activity idea shared by Deanna. She used masking tape to create a sticky spider web and had her toddler use cotton balls to stick them on. This is such a great spider themed toddler activity idea!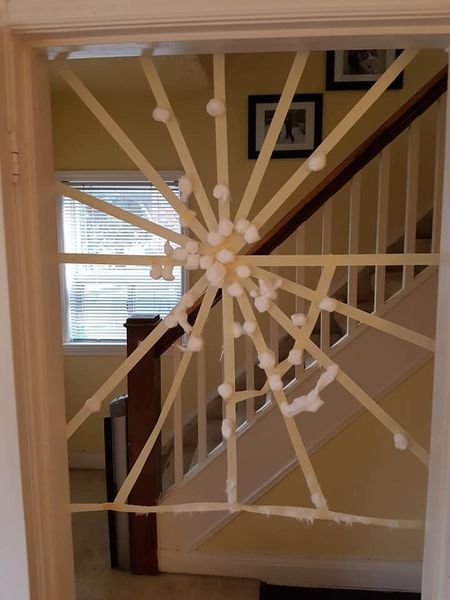 Cardboard Spider Craft
Natasha used cardboard to create this fun spider craft. You could also use a paper plate for this activity too.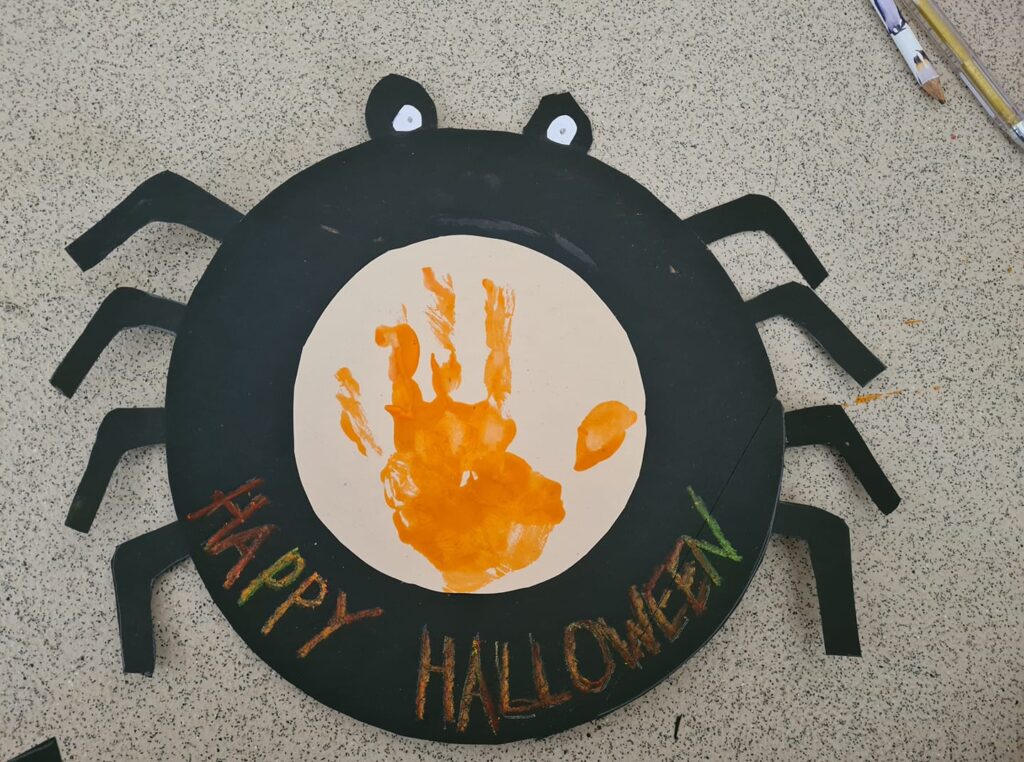 Spider Web Fine Motor Craft
Megan set up this fun fine motor spider web craft using craft sticks. She glued them together and tied on string.
Let your toddler wrap the string around (it really doesn't matter how they do it - random patterns work well!). Add some fun play spiders.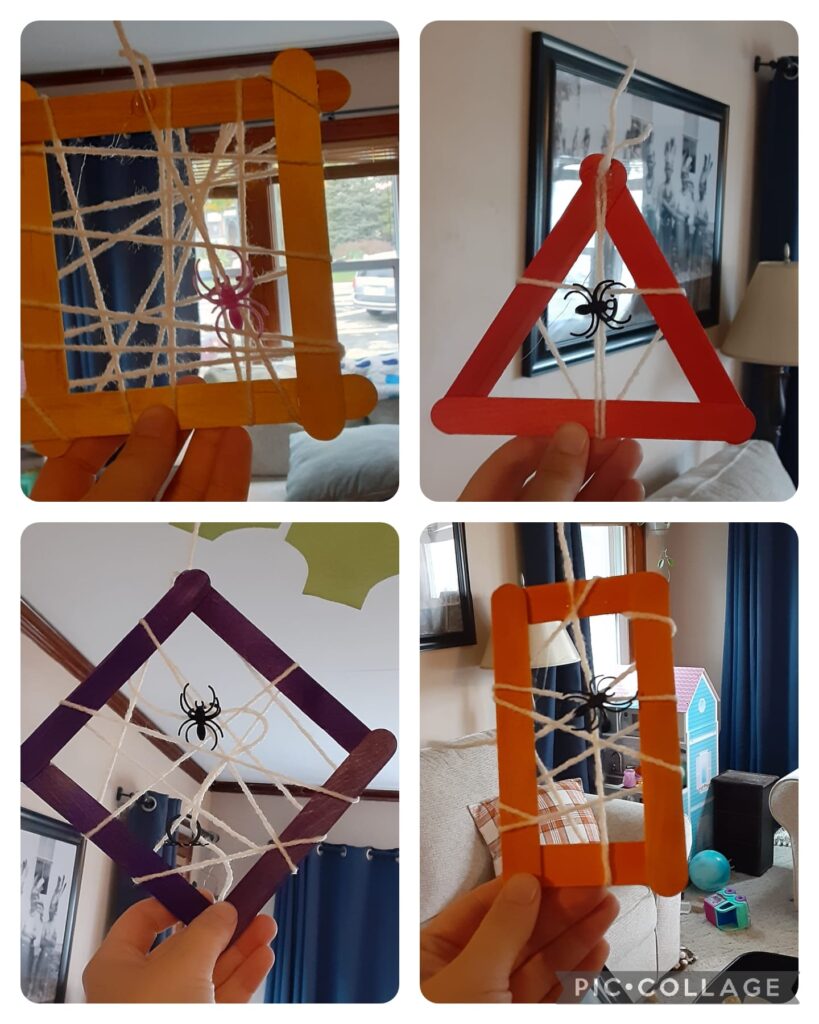 Spider Transfer Fine Motor Activity
This is such a great toddler fine motor activity idea. Use tongs (I recommend the ones from my favorite fine motor toddler set) to transfer the spiders from one container to another.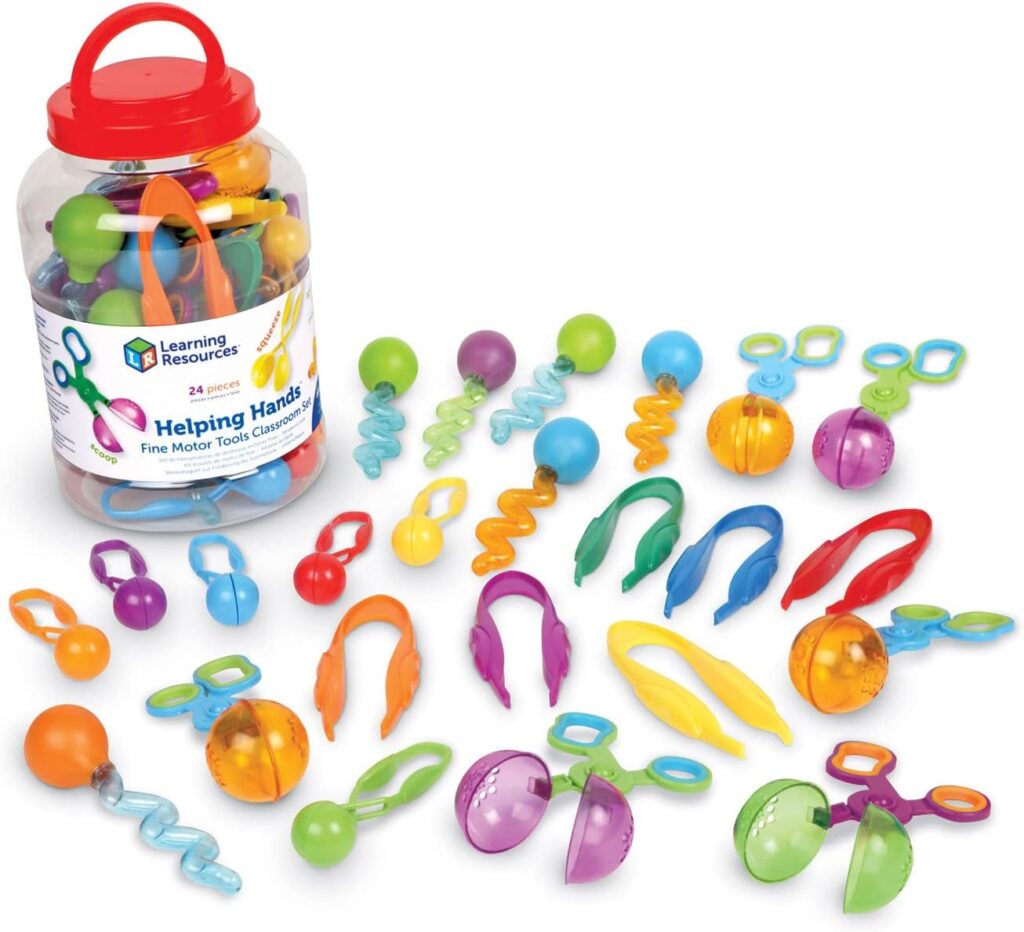 Younger toddler can start with the scoops, moving up to the tweezers for the older age group.
This may sound really simple but toddlers LOVE activities like this.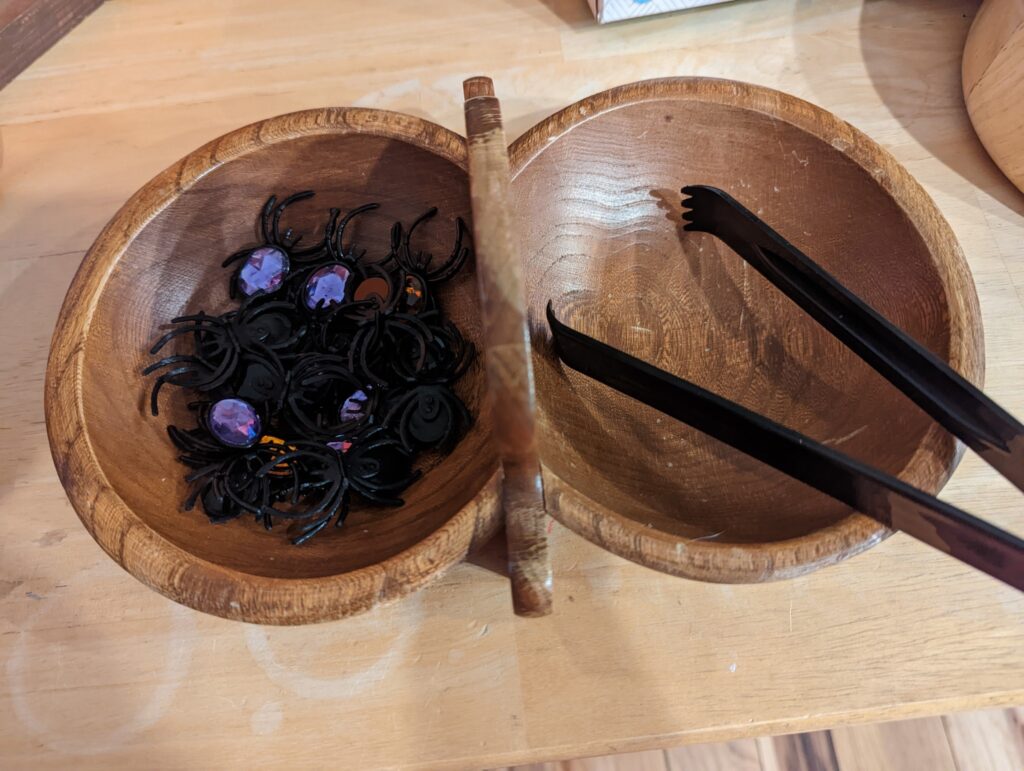 Paper Plate Spider Web & Pipe Cleaner Spider
Sarah made a paper plate spider web by using a white crayon to draw the web and then having her toddler paint over it with black paint (watercolor paints would be best for this).
To make the spider she used a wine cork (you can get sets of craft corks HERE on amazon) and then used pipe cleaners and beads for threading.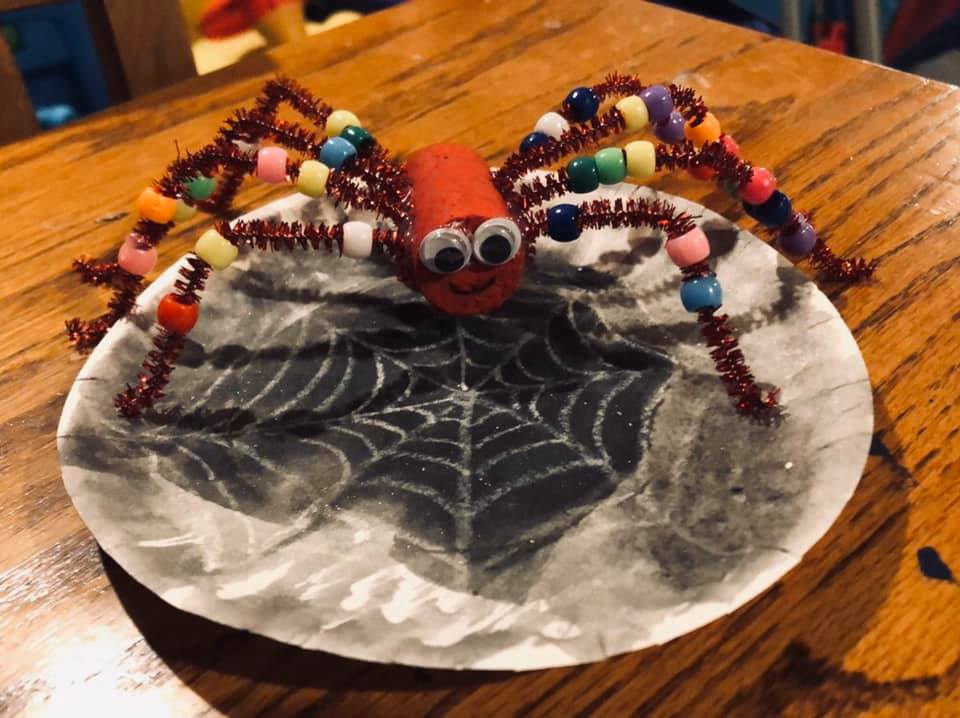 Spider Oreo Cookies
Why not end your spider activities by making some spider oreo cookies! Use pretzel sticks for the legs and then add edible eyeballs (you can get them HERE on Amazon in a mix of colors).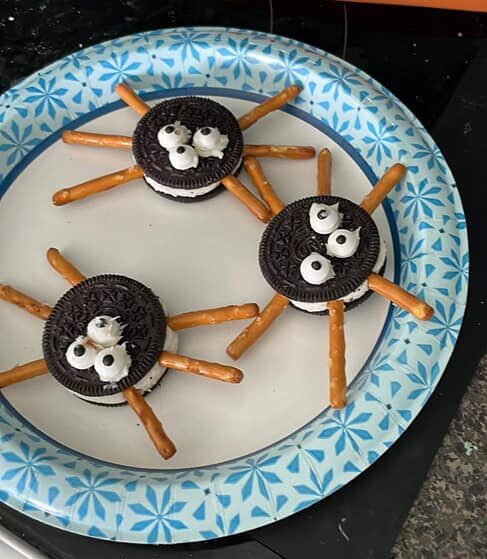 Spider Cookies
Rebecca made these spider cookies - you could make your own cookies as the base or use store bought ones. use the same edible eyeballs as the above oreo cookies,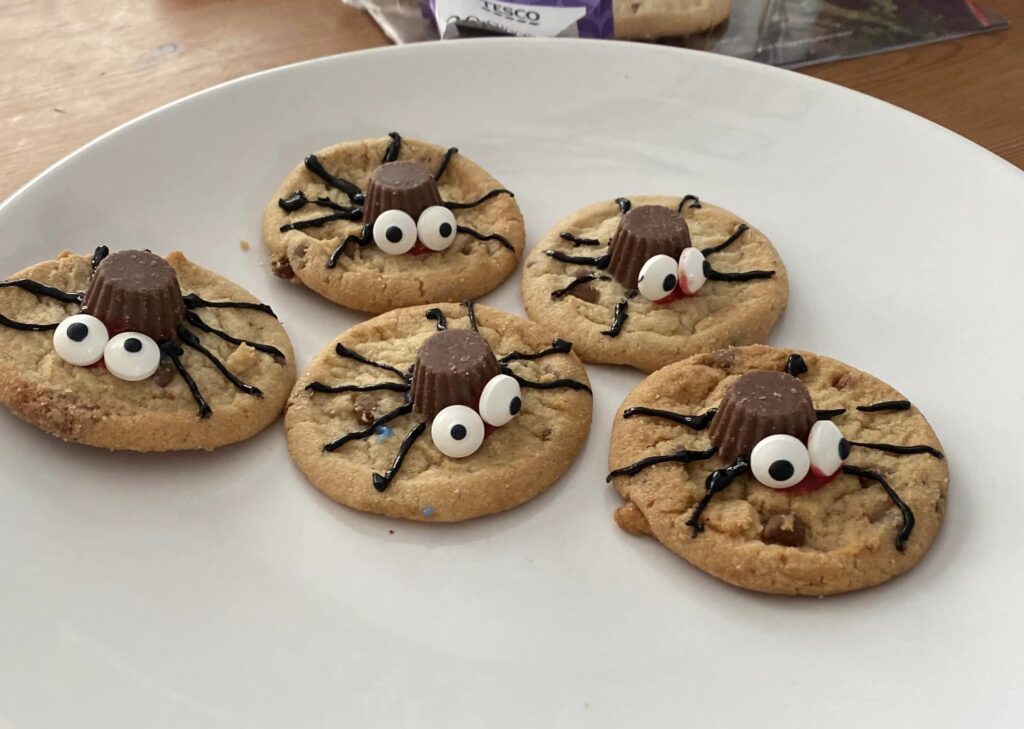 I hope you enjoyed these fun spider crafts and activities for toddlers - they should be a fun way to keep entertained over Halloween.
Follow us for more toddler activity ideas
More Toddler Halloween Activities for you to try...
Free Printable Halloween Playdough Mats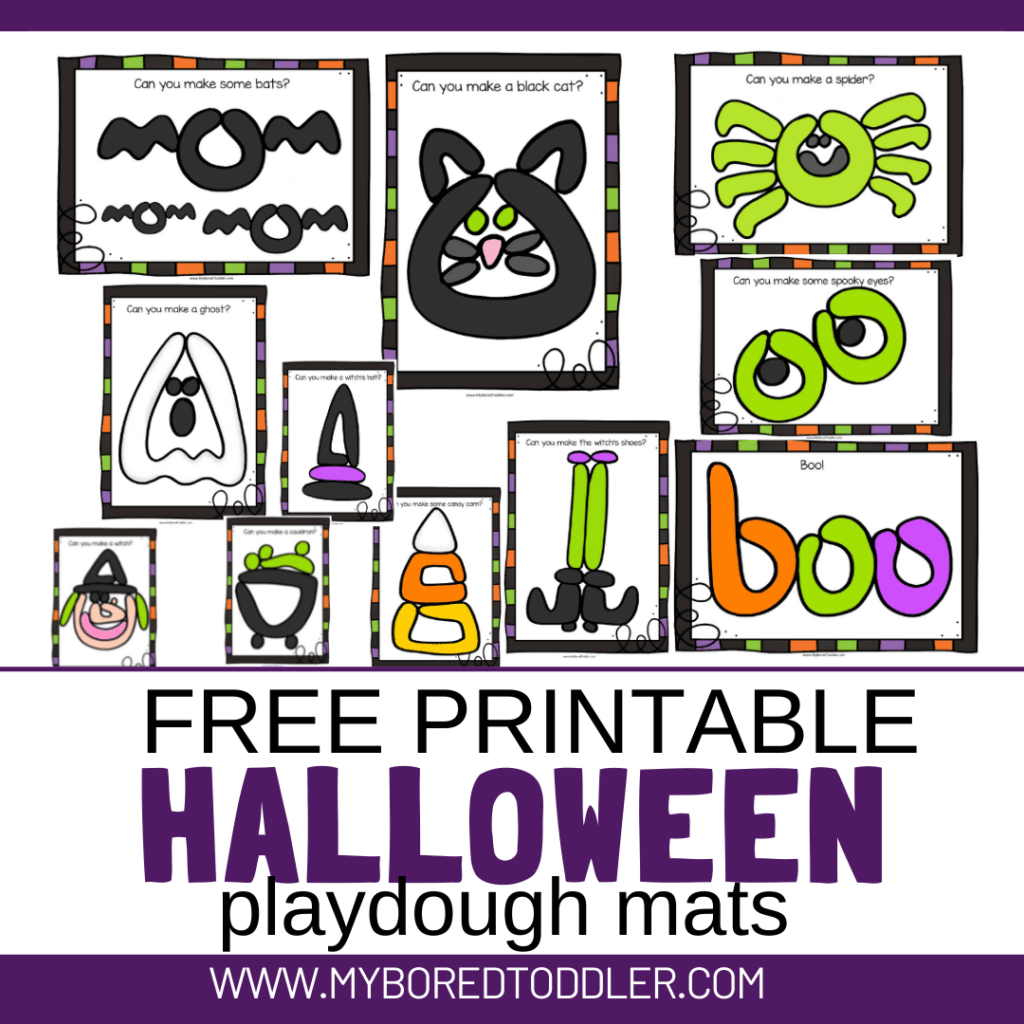 Halloween Dance Songs for Toddlers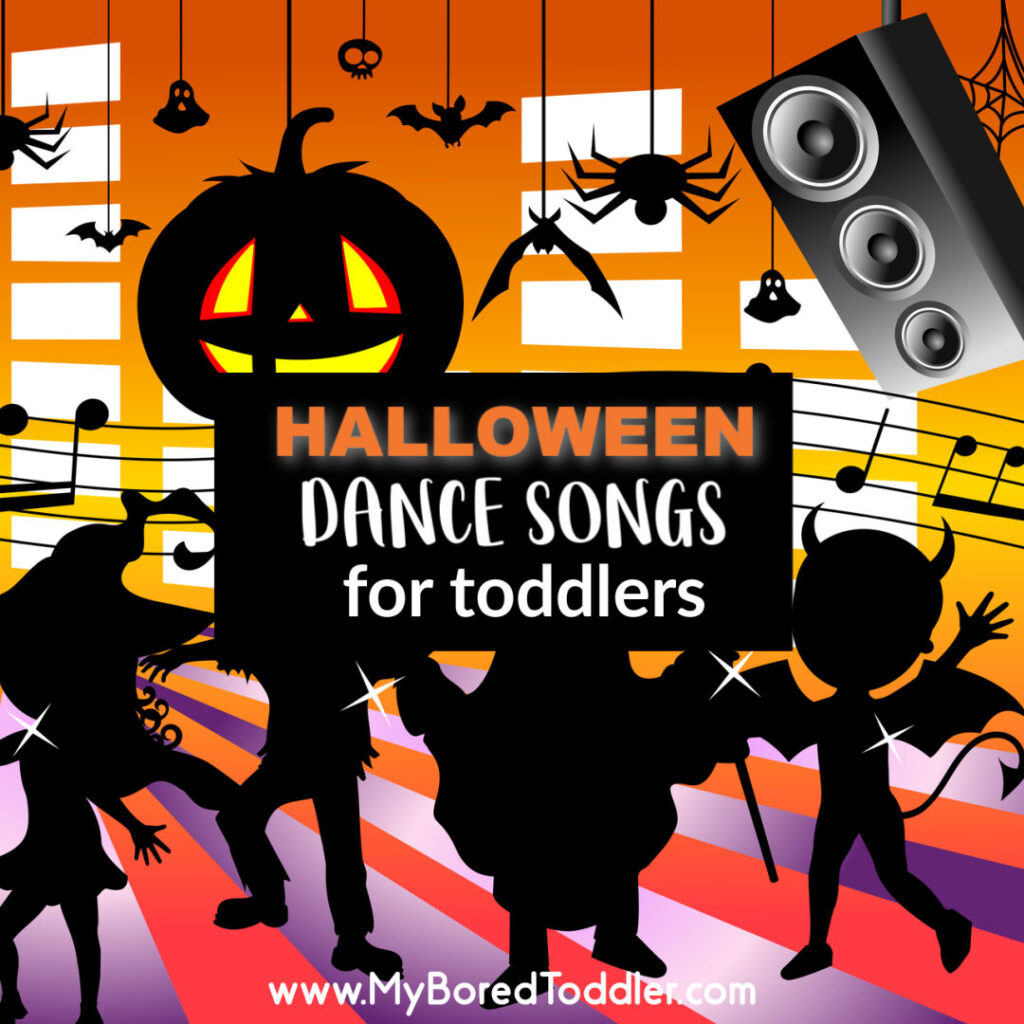 Easy Halloween Crafts for Toddlers