Recycle colorful ribbons in a sensory bin for your toddler. The colors and textures are an open invitation to play. Toddlers and preschoolers will love scooping up and squishing ribbons with their hands, and filling a container with colorful ribbons.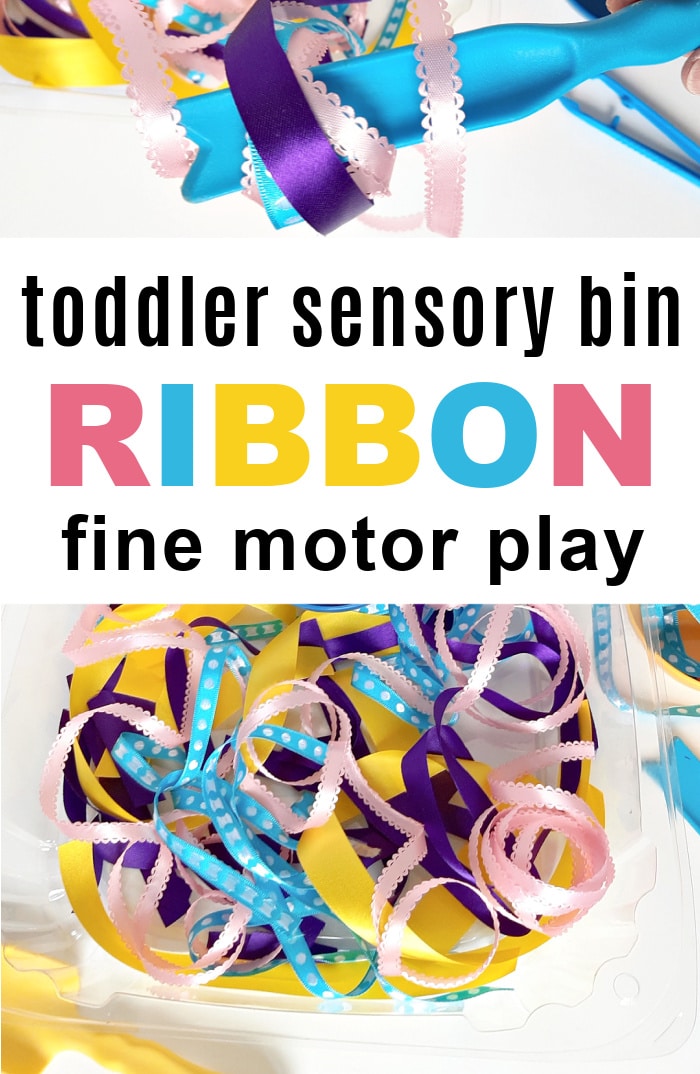 Ribbon Sensory Bin - Fine Motor Play

Ideas for sensory bins are as varied as the materials you come up with around the house. From pompoms to rice, sensory bin fillers provide unique play and learning opportunities for toddlers and preschoolers.
If you're crafty, you probably have lots of fabric and trim scraps just waiting to be put to good use. If not, no worries, trims like ribbon and lace are readily available at craft or department stores for little cost. You might even rescue some trims from discarded clothing.
The main purpose is to engage early learning skills, like fine motor and sensory, to give kids well-rounded experiences with real-life materials.
**Supervision required**
What you need for a Ribbon Sensory Bin
Unwrap the ribbon from the cardboard holders. Cut different types of ribbon into strips - long and narrow, short and wide, patterned or plain.
Add digging tools, and maybe some toy animals or other figures.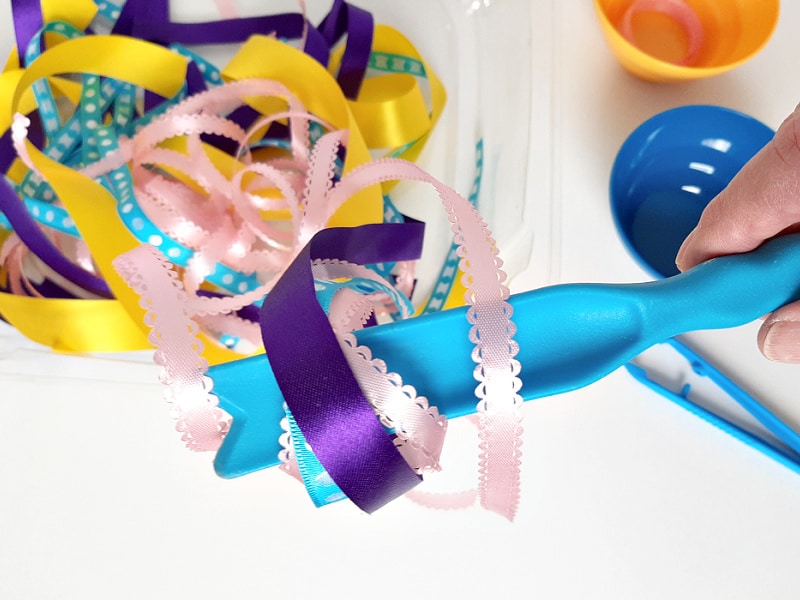 The ribbon has a natural curl when it's removed from the round cardboard holder. This gives it interesting properties for kids to explore. Wind it around a finger or palm, squish it in your hand and release, hold an end in each hand and extend it to its full length.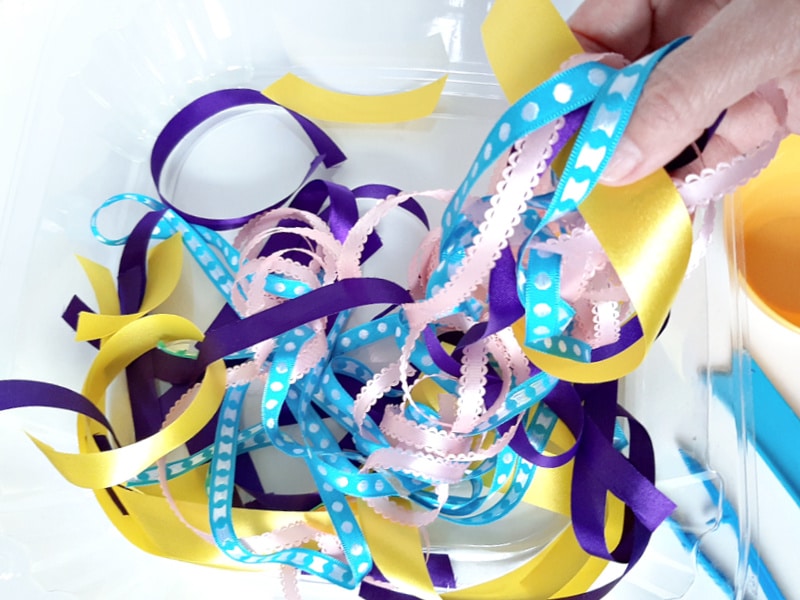 Guide your toddler in the play to discover new ways to play with the materials.
Squish a handful of ribbons in your hand.
Fill the bucket with ribbons.
Wrap a long ribbon around the shovel.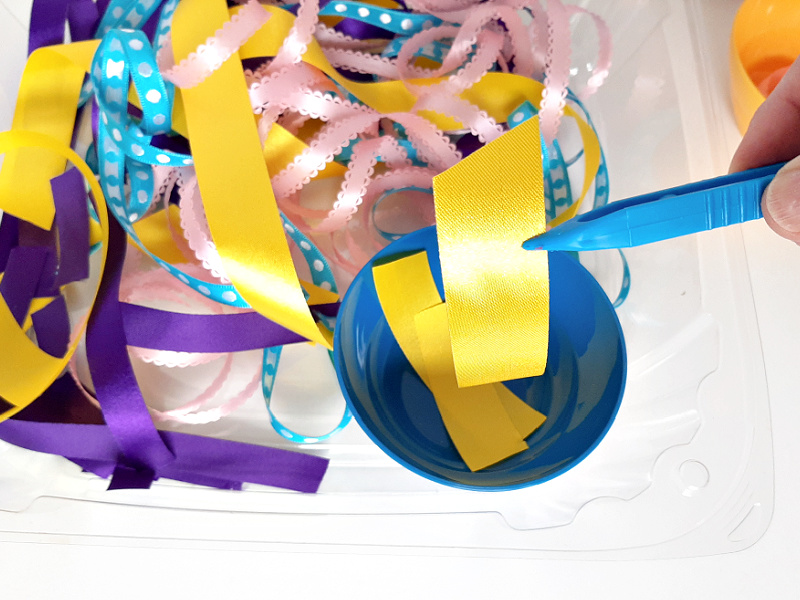 Kid-friendly tools like tongs or tweezers are perfect for fine motor work.
Talk about the materials and name colors.
Can you scoop up some ribbon with a shovel?
What different colors can you see?
Let's count the ribbon pieces in the bowl.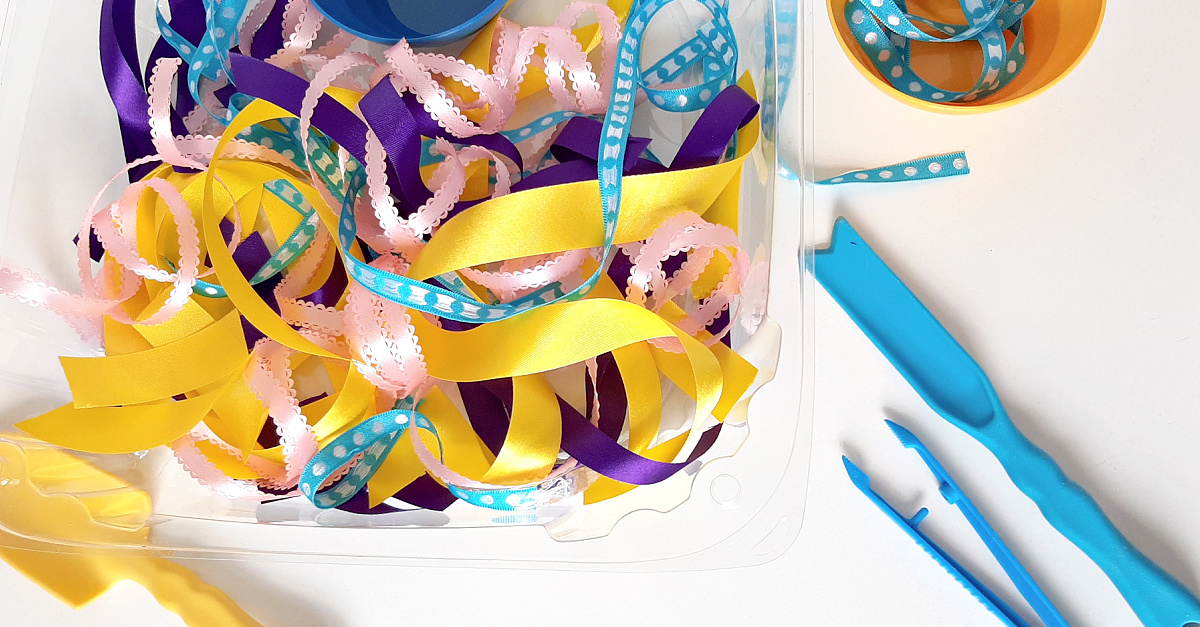 This simple activity is easy to set up and practically mess-free. What starts out with minimum prep results in maximum play time!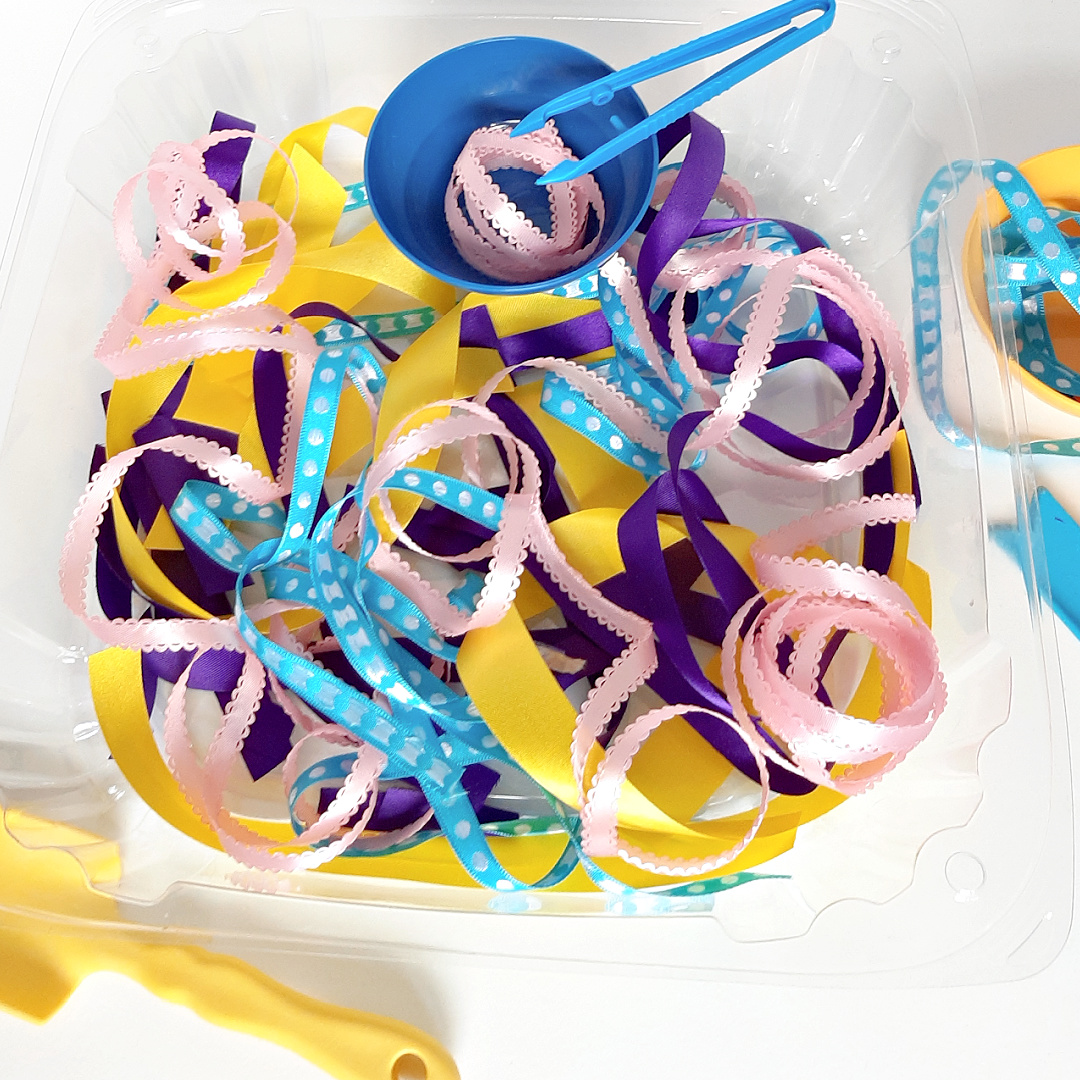 Introduce recycled material activities like this ribbon sensory bin when your toddler is restless or bored. Store sewing scraps in a plastic bin to easily create simple play opportunities when needed.
A new activity created with used or recycled items in bright colors and interesting textures is an invitation to play. The kid-friendly tools especially encourage independent play. Toddlers can be creative and hands-on as they engage those important fine motor and sensory skills.
For more fun toddler activity ideas why not join our Facebook Group or follow us on Instagram – follow @myboredtoddler and use #myboredtoddler.
Looking for more Toddler Sensory Bin Ideas? See them all HERE.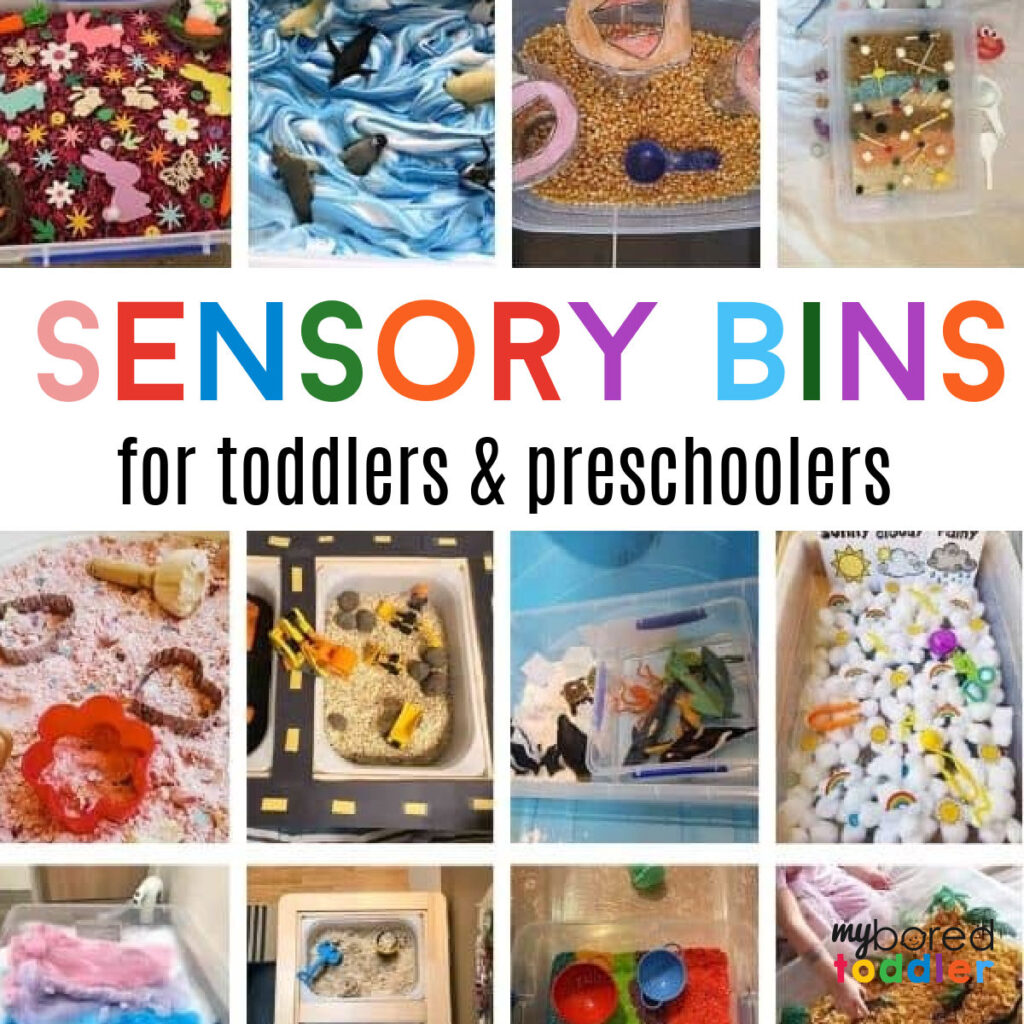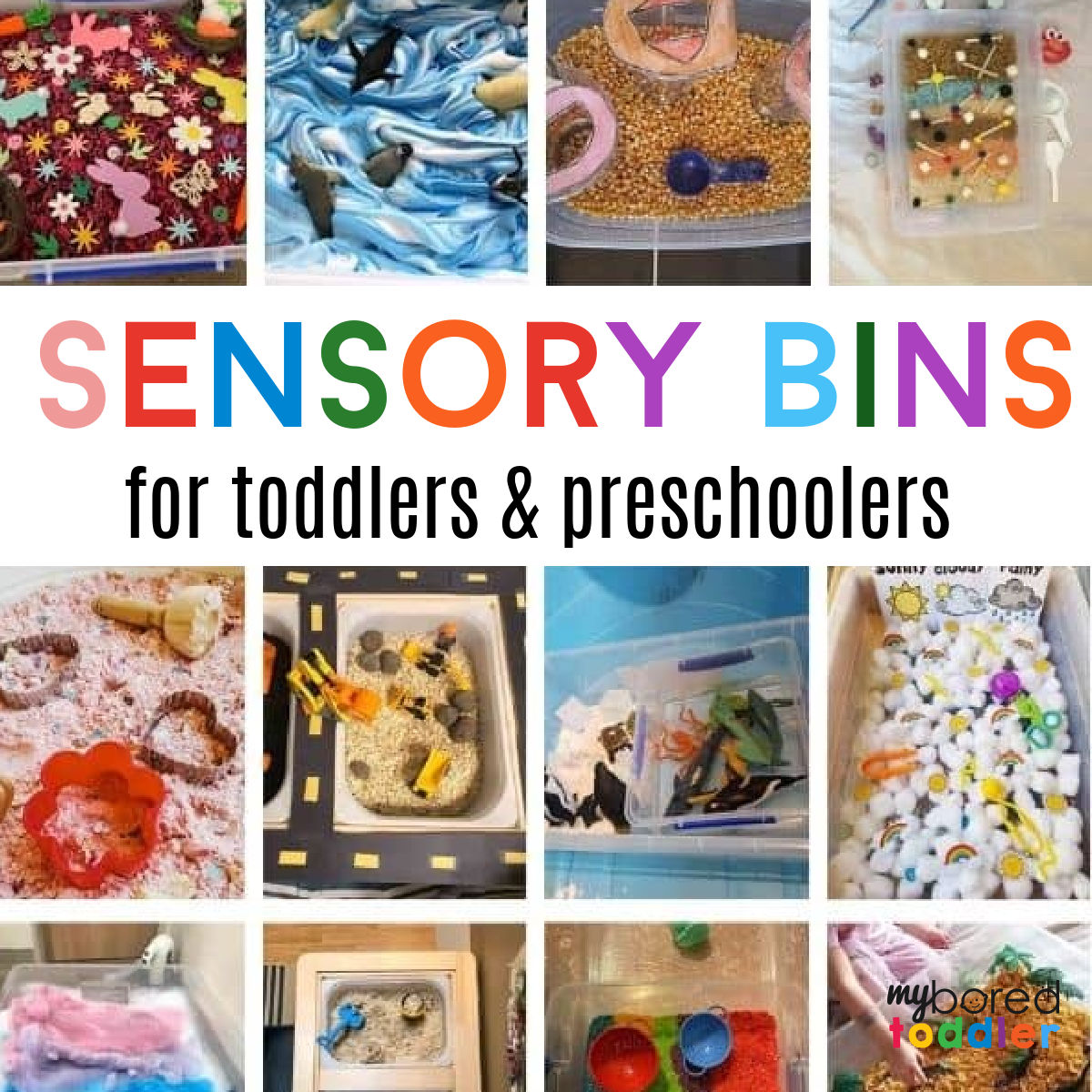 Find more Fine Motor Activity Ideas for Toddlers HERE.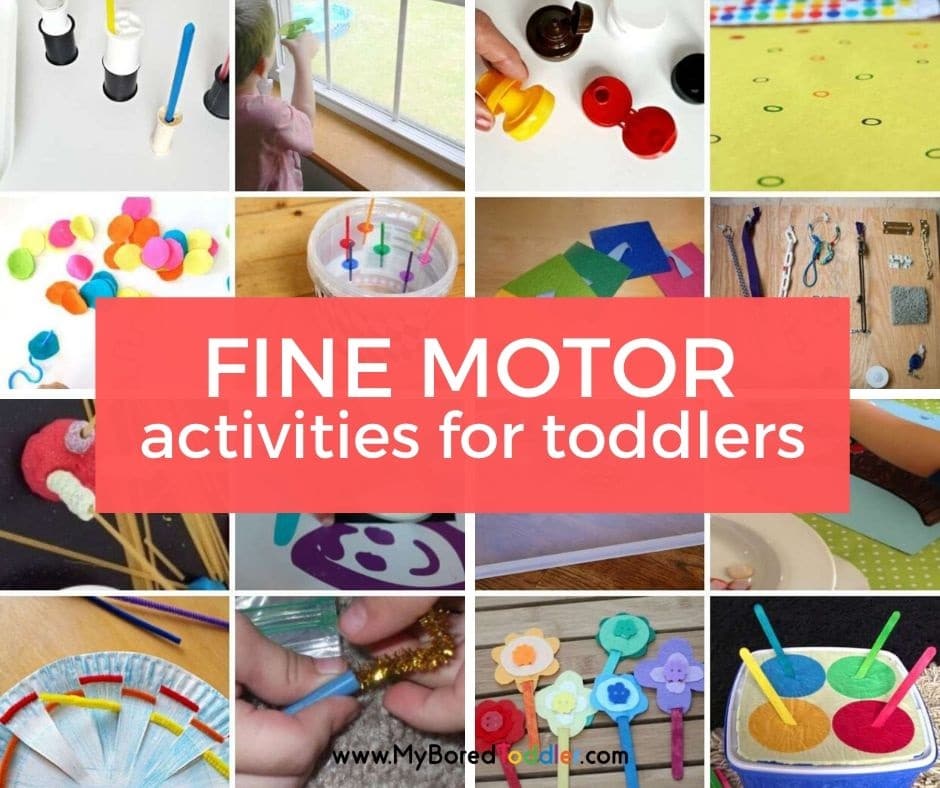 About the Author
Heather is a former preschool teacher and founder of preschooltoolkit.com, a website providing early learning resources for teachers and parents. She focuses on creating fun crafts and activities that engage developmental skills while promoting hands-on learning through play. Follow her on Facebook, Pinterest, Twitter, Instagram