Add an ocean theme to a playdough activity with little toy sea animals. This activity is a fun spring or summer toddler activity idea.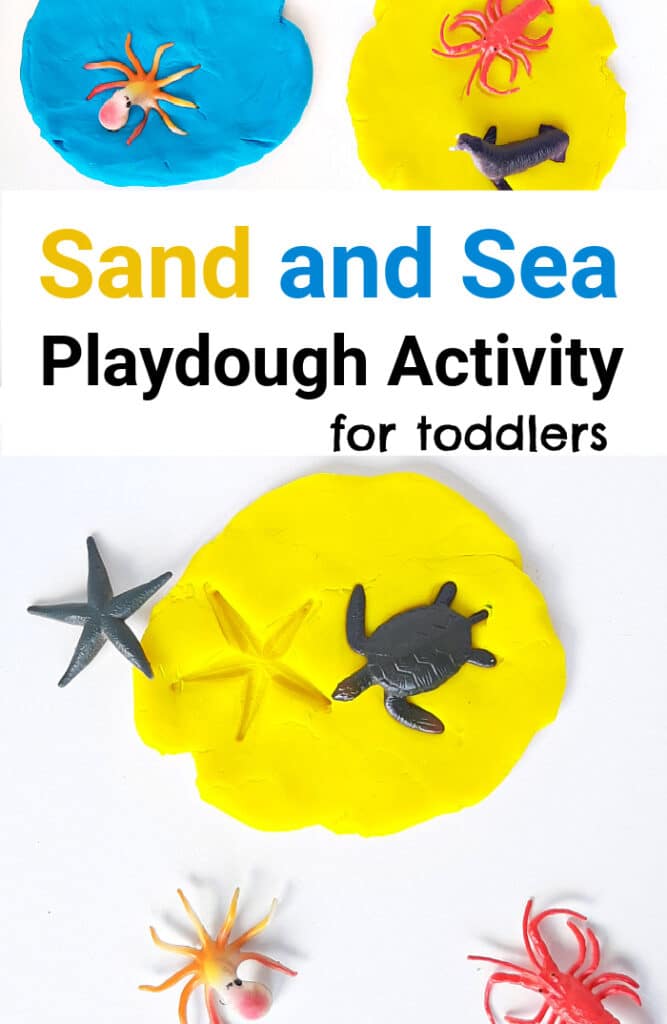 Ocean Animals Playdough Activity
A trip to the beach can be more than just a swim and a sand castle. There is so much to explore on the sand and in the water.
The beach in the summertime offers a wealth of plants and animals, moving about on land and in the water, just waiting for us to discover.
Indoor activities that support a love of exploration are ideal for extending nature study with toddlers and preschoolers. Playdough is a perfect medium for promoting this creative play.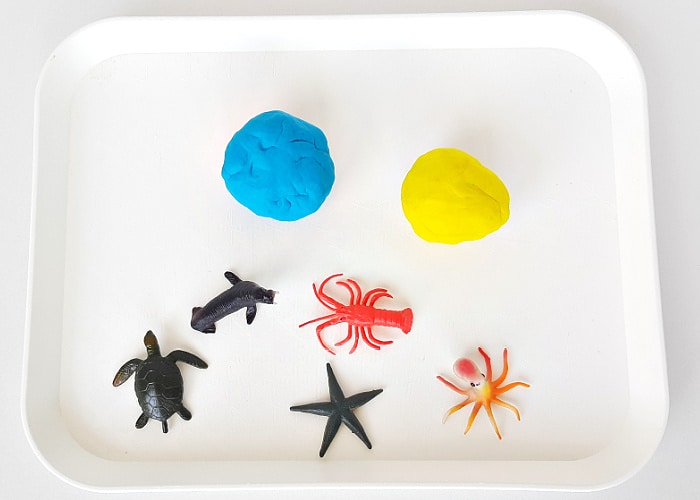 What you need for the Ocean Animals Playdough Activity:
Use store-bought or homemade playdough. ( I always recommend THIS playdough pack)
Include a variety of toy figures.
How to do the Ocean Animals Playdough Activity:
Flatten play dough with fingers and palms. This is great fine motor work for toddlers.
You could also use a rolling pin for this part of the activity.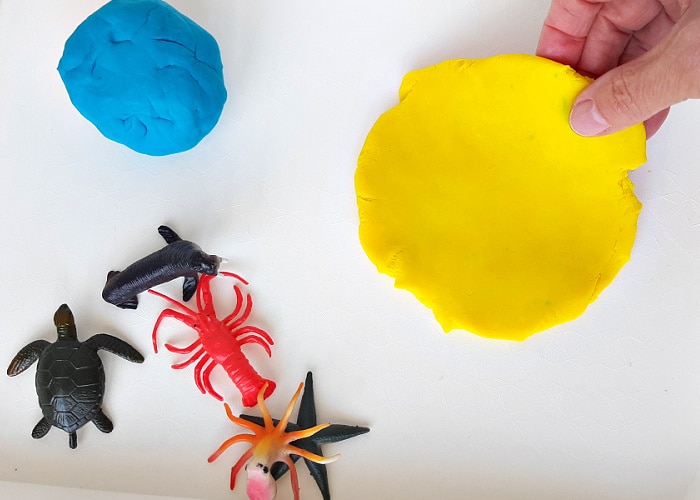 Flip the play dough over to reveal a nice flat side for making impressions.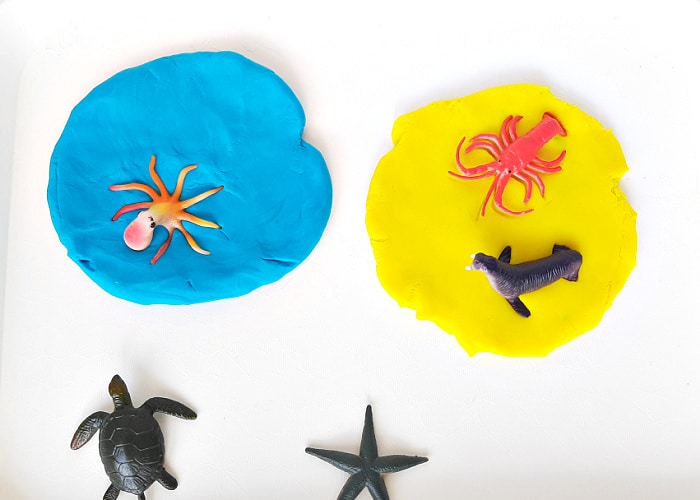 Choose a sea animal. Press firmly into the play dough with fingertips or palm of your hand.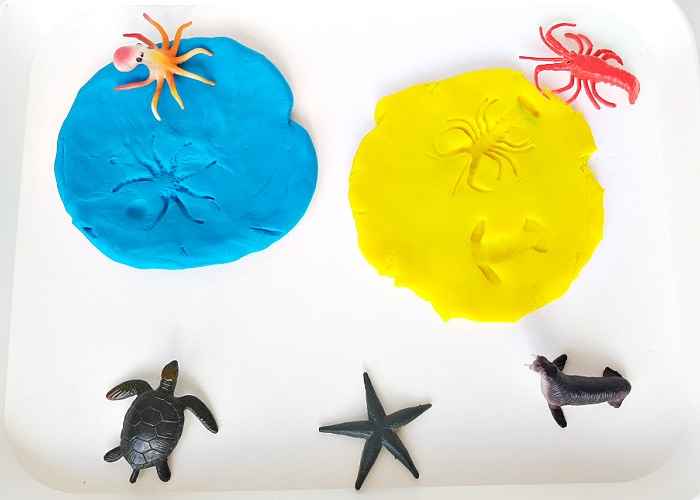 Remove the toys. Observe the impressions.
How many legs can you count?
Does the sea creature have a tail?
Where is the head of the sea animal?
More Ways to Play:
Create a game for your toddler.
Make impressions in the play dough with a few sea animals. Ask your toddler to match the sea animal to the imprint.
Use blue play dough for water, and brown or yellow for sand, if these colors are available. You can separate the animals that live only in water (sand dollars), prefer the sandy beach (crabs), or are able to live in both environments (snails).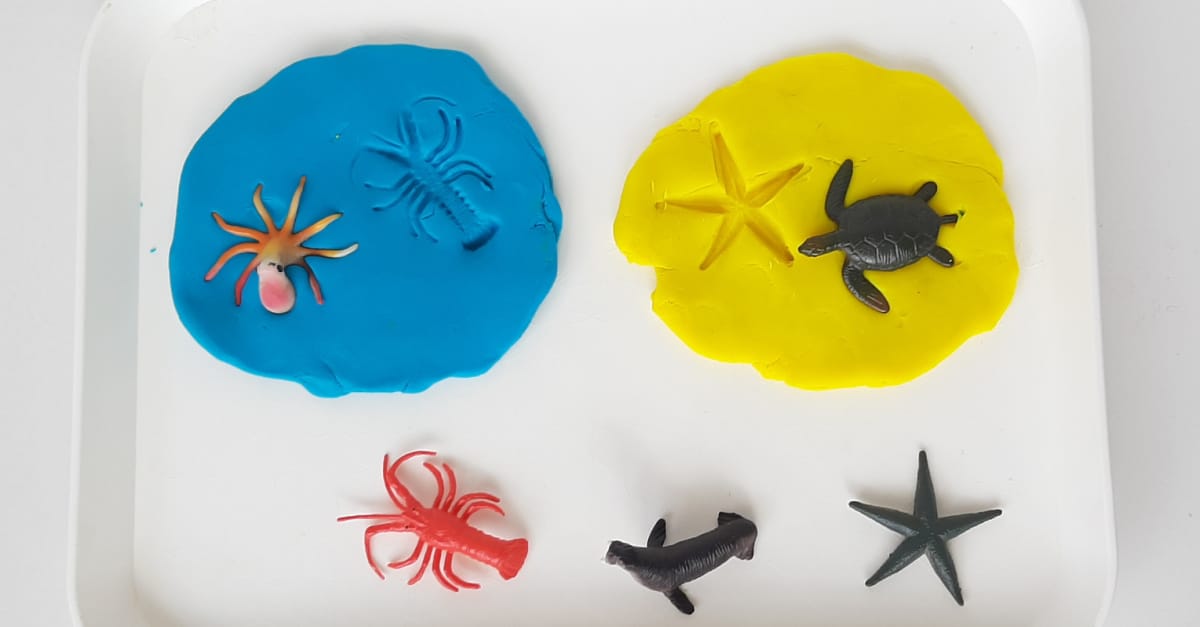 This is a fun child-led activity. The progression of the play will depend on your toddler's skill and interest level. Be prepared to simply guide, make suggestions and answer questions, as you explore the theme together.
Ask questions to prompt discussion.
How does this animal move – swim or crawl?
Which creatures have you seen on the beach as well as in the water?
This simple activity is great for science play - observing, comparing, and making decisions.
At the beach, kids can actually feel different textures on the bodies of sea animals like snails or sand dollars and notice differences in how creatures move on land and in water.
In this playdough activity, kids will notice differences in the number of legs; the position of fins or tails; length of bodies or heads.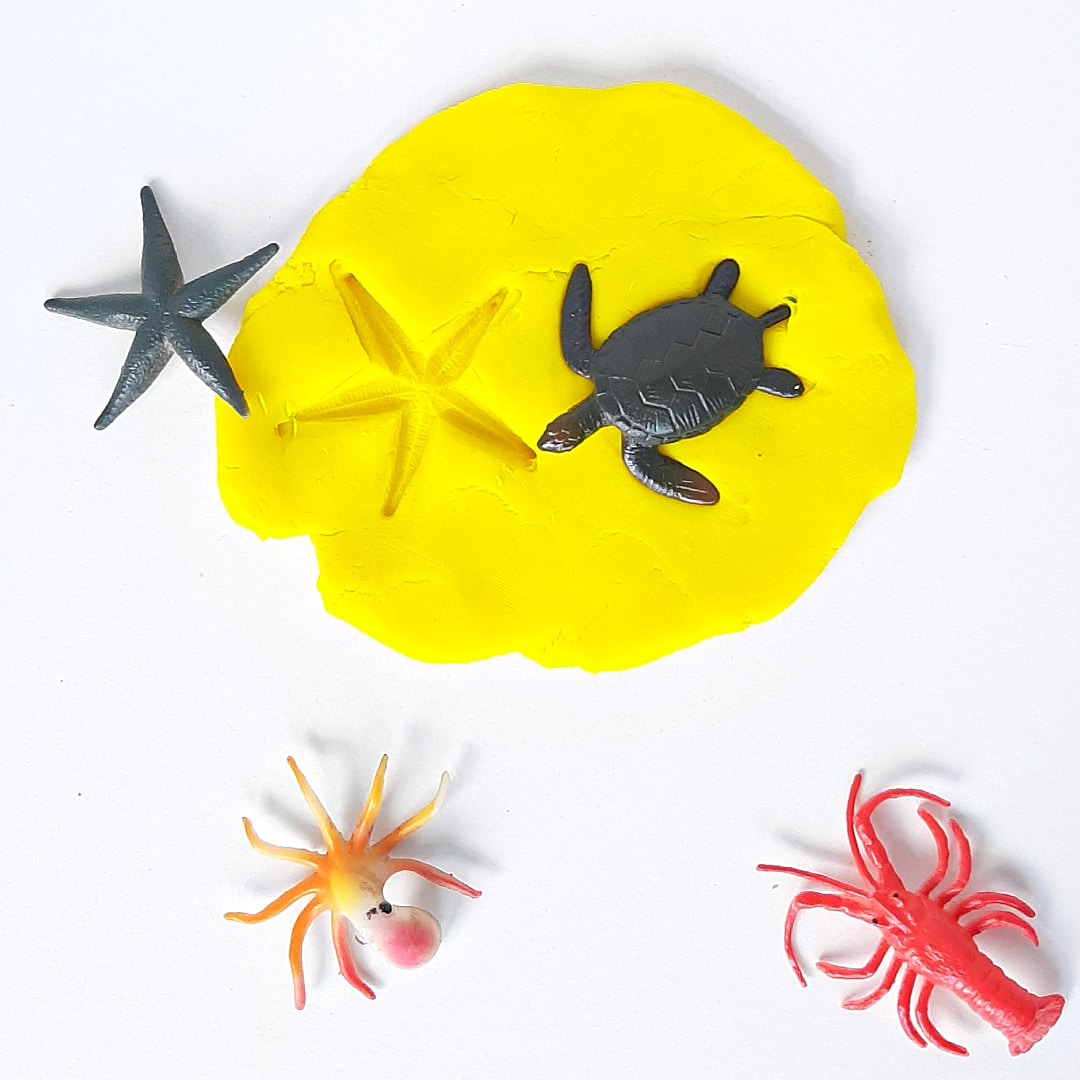 Making observations is important for building kids' early scientific skills with everyday PLAY.
Providing activities like this sea animals play dough activity starts the discussion and raises interest in further exploration and discovery!
For more fun toddler activity ideas why not join our Facebook Group or follow us on Instagram – follow @myboredtoddler and use #myboredtoddler.
SOME MORE FUN TODDLER ACTIVITY IDEAS YOU MIGHT ENJOY ARE:
10 Fantastic Underwater Books for Toddlers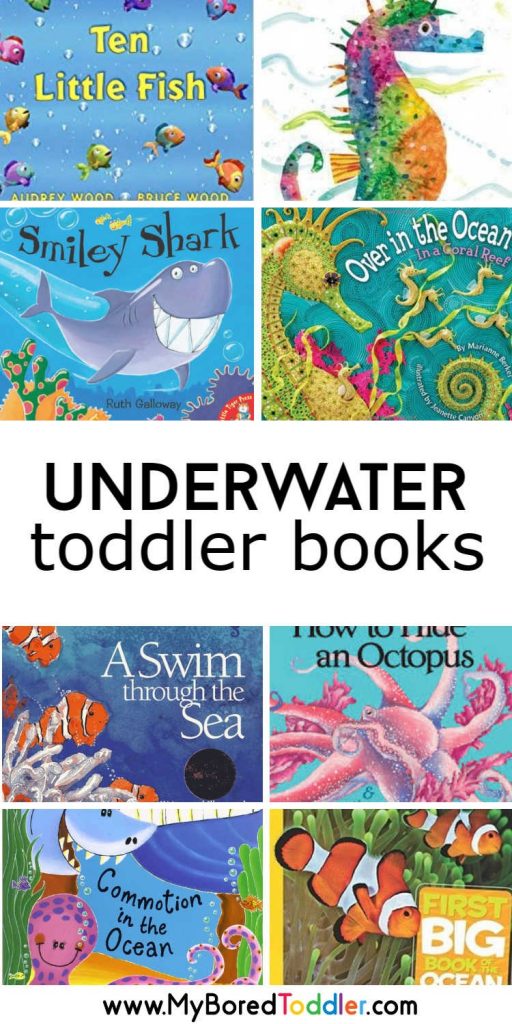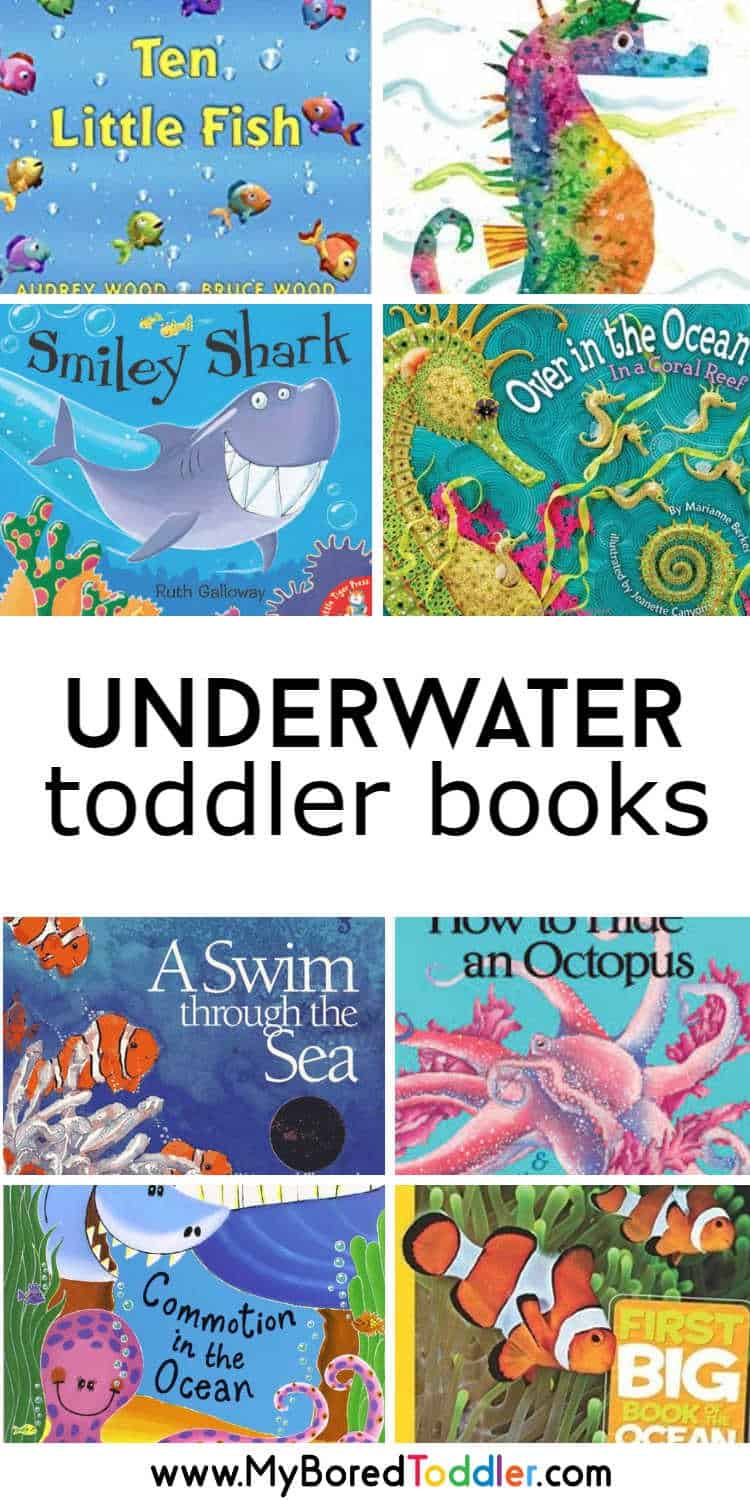 Under the Sea Crafts and Activities for Toddlers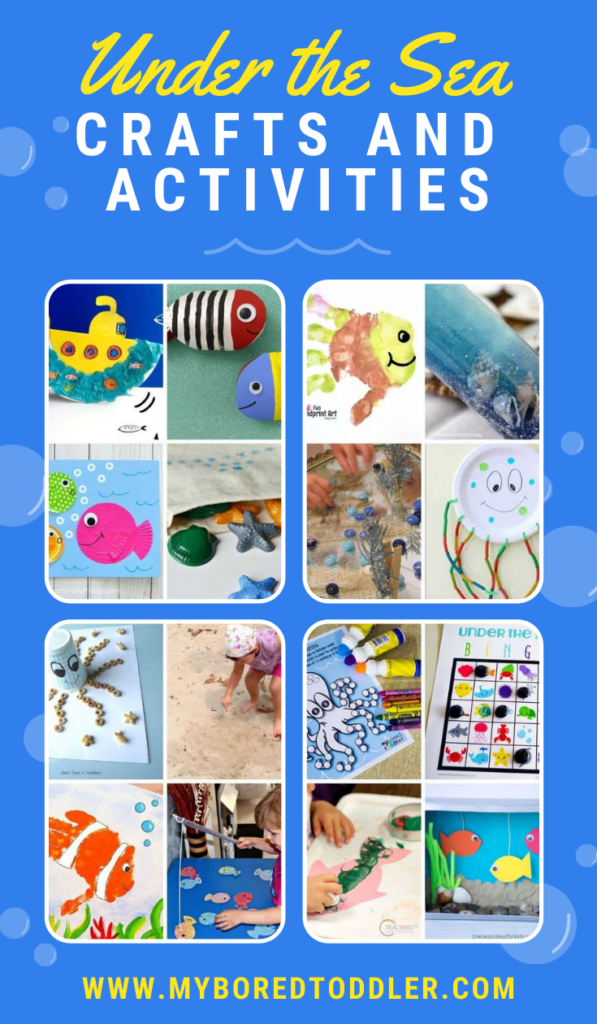 About the Author
Heather is a former preschool teacher and founder of preschooltoolkit.com, a website providing early learning resources for teachers and parents. She focuses on creating fun crafts and activities that engage developmental skills while promoting hands-on learning through play. Follow her on Facebook, Pinterest, Twitter, Instagram